August, 10, 2012
8/10/12
4:30
PM ET
Thanks for your emails and
Twitter questions
(we'll keep using Twitter for mailblog questions going forward).
Brian will be driving the blog bus next week, so my next mailblog comes your way Aug. 21.
Let's do it ...
Justin from NYC writes:
Hi Adam, Hope all is well in the Midwest, or wherever it is you're based out of, my question is 2 parts. First, Going off a question that was asked in yesterday's mailbag, do you think we will ever see Jim Delany reconsider his stance on a 9-game conference schedule? It seems absurd to me that teams will have to wait 4 years to play an out of division non-protected game with teams in their own conference. Secondly, If we were to move to a 9-game conference schedule, how do you think this would effect bye weeks and overall schedule timing? As a Buckeyes fan I feel that playing the Michigan game on Thanksgiving weekend is terrible for the students who have to travel back and forth from home and hurts the pre-game week festivities.
Adam Rittenberg:
Things are great here in Chicago, Justin. Regarding the nine-game conference schedule, it's not Delany's call. It's the athletic directors who make that decision. Delany supported the move to nine games last August, and he has often talked about the importance of conference teams playing one another more, not less. But in the past year, momentum has slowed among the ADs to go to a nine-game league schedule. While some ADs like Michigan State's Mark Hollis never supported the idea, others also joined the movement to stay at eight. The league's coaches, not surprisingly, want to keep the eight-game league slate. Although the longer lulls between two Big Ten teams playing each other are an issue, the bigger concern among ADs was having unbalanced schedules (five Big Ten home games, four Big Ten road games) and the problems that creates when deciding a league champion. The eight-game schedule also helps the Big Ten's chances of reaching the national title game.
Regarding your second question, unless the season started earlier across college football, the Ohio State-Michigan game would remain on the Saturday after Thanksgiving to accommodate championship Saturday the following week. It doesn't have to do with bye weeks or number of league games, but when the season actually starts.
---
Brian from Atlanta writes:
Adam, I'd like to propose a follow-up to your players poll. Without revealing any personal info, did you notice any interesting correlations to the answers? Were skill position players more likely to answer the same way than teammates, etc. Did linemen and skill players see eye to eye, etc.
Adam Rittenberg:
Brian, I didn't see too many huge differences between skill players and linemen for most of the questions. The linemen seemed more willing to identify dirty players, and typically named linemen on the other side of the ball. At least one of the "would leave Penn State" votes came from a star player with legitimate NFL skills. I think if we'd surveyed more freshmen and sophomores, we would have gotten more saying they'd leave Penn State. But overall, there weren't too many strong correlations.
---
@DoWorkLaRoy (via Twitter) writes:
what highly ranked team are we most likely to look back on in December and say, "Wow, we really screwed that one up..."?
Adam Rittenberg:
Michigan and Wisconsin are the likeliest candidates. While I understand why Michigan is the Big Ten's highest-ranked team entering the season, the Wolverines schedule is among the nation's toughest. As I've stated many times, the Wolverines easily could be a better team than 2011 with an inferior record (i.e. 9-3) this season. It's just very hard to get through a slate featuring Alabama (neutral), Notre Dame (road), Nebraska (road), Michigan State (home) and Ohio State (road), especially when the team has question marks on both lines. Wisconsin also could take a step back this fall.
Danny O'Brien
isn't Russell Wilson, and the offense likely won't maintain its incredible pace from the past two seasons. The more I look at Wisconsin's defense from 2011, I see a very average unit with good numbers because it wasn't on the field that much. If the Badgers don't find an elite pass-rusher and improve in the secondary, they'll have some problems.
---
Buckingham U. Badger from Madison, Wis., writes:
It seems as though the Badgers haven't had someone really step-up and take hold of the second receiver slot. Obviously [Jared] Abbrederis and [Jacob] Pederson will be the top targets, but two targets is hardly enough. Can you envision a scenario in which the Badgers move James White into that slot role, sort of like Percy Harvin did at Florida? Especially given that Montee [Ball] will receive the majority of the carries and
Melvin Gordon
seems poised to take over as the feature back.
Adam Rittenberg:
While I think White can be used in different ways this season, I don't see him as a No. 2 receiver. He can be a nice change-of-pace guy, but Wisconsin would really benefit if someone else stepped forward during camp.
Jeff Duckworth
made some big plays in the Big Ten title game, and
Manasseh Garner
,
Marquis Mason
and
Chase Hammond
are three intriguing players, all with good size. If one or two of those guys takes a step during camp and can complement
Jared Abbrederis
, Wisconsin's offense will be that much better. I agree that White needs to have a more expanded role, but he just doesn't strike me as a No. 2 receiver.
---
Jay from Colorado writes:
"At some point, it stops becoming about restoring legacies or wins or blasting the NCAA or the university president or the board of trustees. At some point, the focus and energy needs to shift toward what's happening now and what will happen in the future. "Why don't you let the PSU community do that without providing a judgmental timeline...determined by the media. Despite what you may think, you don't know what kind of effect this has had on the community. Graduating from PSU for meteorology was a life goal and source of pride for me. Cheering for an icon was a privilege. Just because the reporters are not there anymore, espousing their narrative, does not mean the pain has healed and that we need to move on because you think we have to. On the contrary, the PSU community has repeatedly been dealt blow after blow. We are trying to assess and assimilate all that has happened in less than a year. Nobody knew, outside of the select few, anything about what was happening. So it is an understatement to say PSU was rocked by this. And if you expect us to work through it in the speed of the twitter-verse that we now live in, it is you that has lost touch.We are dealing with it...and 'it' has a lot of layers (child abuse and victims, failing of our leaders, media bombardment, failing of the BoT, firing Paterno, a riot, Paterno's death, the Sandusky trial, the Freeh report, and seeming blind acceptance of the Freeh report despite not interviewing key witnesses. So sorry if we are reeling...and would like due process and objectivity...even though that doesn't meet your or ESPN's timeline for how things should go. Stick to the football side of this...please don't moralize about our reaction as this ongoing saga continuously unfolds before our eyes.
Adam Rittenberg:
I never wrote Penn Staters didn't deserve time to process all that has happened. React how you want to react. My comment is directed more toward those who clearly aren't helping the situation. What's the point of appealing the NCAA sanctions, which aren't subject to appeal? To show that you're not weak? To show that you're standing up to evil? I understand those folks are hurt by what happened, but they're not making the situation any easier, especially for Bill O'Brien and the current team. Of course, Penn State has been rocked by this, and it will take a very long time to get through what has gone on there. But to keep blaming the media or the Freeh report investigators or the board or whatever, doesn't seem to serve a purpose at this stage. Neither does throwing out the term "due process" without understanding that the NCAA viewed the Freeh report as a self-report from Penn State. There's little need for an infractions hearing at that point.
Some very bad things happened in State College. No one can refute that. The perception of the school has been harmed, and is further harmed by these appeals. Doesn't it matter how this looks to the outside world? Again, quietly processing all that has happened is completely fine. Doing so while supporting O'Brien and the current team seems like the best approach.
---
@AdoubleD (via Twitter) writes:
What are your impressions of MSU's defense that stands out above all others?
Adam Rittenberg:
Michigan State's defense has the best combination of talent and depth in the Big Ten. There's no obvious weakness on the unit, and even the defensive tackle position should be fine with
Anthony Rashad White
,
Tyler Hoover
and others. I love the way the Spartans have recruited on the defensive side, bringing in a lot of top-shelf athletes to East Lansing. They're not overly reliant on one or two stars, and they can go two or three deep at almost every position. Barring a wave of injuries, Michigan State should have a top 5 defense this season.
---
Patrick from Alexandria, Va., writes:
Two comments on the "poll" results you have been posting. First, I think this is a terrible idea. Seriously, you are asking a bunch of kids which coach on other teams they'd least like to play for? Which opposing players are "dirty"? I know you guys like to get a little "edgy" but this is insulting. Second, you can't really ask for "anonymous" answers face-to-face; that's one reason why so many players did not respond to the negative questions. If you wanted to assure them of anonymity you should have used a simple on-line polling software (e.g., PollMonkey). That also would have allowed you to take a representative sample of players, giving you more valid and reliable results, rather than answers from a small, non-random group of interviewees. If you don't want to take the time how to do this right, then just stick to reporting and stay away from polling.
Adam Rittenberg:
Patrick, some fair points here. It was our first go-round, and we certainly can improve our polling methods going forward. Maybe we'll poll Big Ten blog readers to get better questions next time, although I thought they worked out pretty well for the most part. Still, I don't know why you're "insulted" by a poll question, and as far as the edginess, deal with it. It's a blog. It's going to be opinionated and edgy. If you want to read about the loveliest things about each team and each program, all the rainbows and unicorns of the Big Ten, this isn't the place for that. I've made that clear a few thousand times. There are plenty of fanboy blogs out there for you to feel warm and fuzzy. But we'll make a better effort on the methods for polling next time around. We'll need cooperation from the schools, which isn't always easy, but we'll definitely give it a shot.
June, 19, 2012
6/19/12
3:10
PM ET
Our series continues looking at a player or a group of players from each Big Ten team who needs a home run type of summer before preseason camp begins. Who needs to hit it out of the park in preparation for the season?
For previous entries, click
here
.

In the batter's box:
Wisconsin
Who needs to step it up:
Receivers
not named
Jared Abbrederis
One of the most memorable moments of my spring trip to Wisconsin
came after several dropped passes by Badgers wideouts during a scrimmage. An obviously frustrated Bret Bielema yelled out, "Somebody step up at receiver. You'll play!" While that seemed to light a fire under some of the receivers during the rest of that practice, spring definitely was an up-and-down time for players at the position with leading pass-catcher Abbrederis sitting out drills because of an injured foot. Abbrederis should be full go by August, but he'll need some help to keep defenses honest, because he is not the type of player who can impose his physical will on defensive backs. Wisconsin has some intriguing options in the passing game, including rangy receivers like
Marquis Mason
and
Chase Hammond
.
Isaiah Williams
and 5-foot-8 jitterbug
Kenzel Doe
bring different things to the table, and Big Ten championship game hero
Jeff Duckworth
will look to put together a full season of productivity. The wideouts will need to develop more consistency this summer while building chemistry with presumed starting quarterback and recent Madison arrival
Danny O'Brien
. The Badgers are pretty well set at just about every other position. Can Wisconsin win a lot of games without excellent play from receivers beyond Abbrederis? For sure, because of its outstanding running game. But to win another Big Ten title and chase greatness, the team likely will need those players to have a home run summer.
May, 14, 2012
5/14/12
3:45
PM ET
During the course of spring practice, Big Ten bloggers Adam Rittenberg and Brian Bennett visited 11 of the 12 league schools, getting an up-close look at the players and coaches who will shape the 2012 season.
Now it's time for them to share their thoughts on what they saw and learned this spring, and you can follow along as they exchange emails. First, they'll discuss the teams in the Leaders Division. A Legends Division email exchange will arrive in the near future.
Brian Bennett:
Adam, I guess the biggest story in the Big Ten this spring was the culture change at both Penn State and Ohio State. You went to both places. What was your sense of how different things are there now, compared to your previous visits to State College and Columbus?
Adam Rittenberg:
There's definitely a new energy in both football complexes, Brian. Change can be tough on fans, especially at a place like Penn State where they've only known their program under Joe Paterno's watch, but the players seem to be excited about the new ways things are operating. At Penn State, they're excited to play for a coach (Bill O'Brien) who comes straight from the NFL and has made some much-needed modernizations to certain areas of the program (strength program, offensive philosophy). The enthusiasm about strength and conditioning coach Craig Fitzgerald and his philosophy really stood out to me at Penn State. I was also impressed by some of the younger players like freshman tight end Jesse James and redshirt freshman defensive end
Deion Barnes
.
[+] Enlarge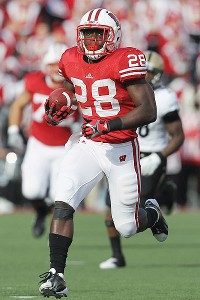 Jonathan Daniel/Getty ImagesWisconsin is one of the teams to beat in the Big Ten, thanks in part to running back Montee Ball returning for another season.
The changes aren't as dramatic at Ohio State because Urban Meyer retained so many assistants from the previous staff. On the other hand, the thought of Ohio State running a true no-huddle, spread offense amazes players as much as it does the rest of us after so many years of TresselBall. One welcome change with both programs is greater accessibility for the media (and, through us, the fans). I had to pinch myself a few times while watching a Penn State practice.
You made your first visit to Madison, where, judging by the
pictures you posted on Twitter
, you likely gained 15 pounds and lost that Kentucky twang. What stood out about your time in Mad-city?
Brian Bennett:
I'm just now shedding the last of those cheese curds from my system. Change was not really a buzzword with the Badgers, even with a slew of new assistant coaches and some turnover at key positions. This program has a system it believes in and will continue to do the same things year in, year out with new faces.
Wisconsin is still all about running the ball, and
Montee Ball
looked terrific during the practice he participated in while I was there. If possible, he's even a step faster, and backup
Melvin Gordon
is going to be a star someday as well. The quarterbacks and receivers weren't nearly as impressive or consistent, but
Danny O'Brien
wasn't there and
Jared Abbrederis
was out with his foot injury. I am intrigued by the size of some of the Badgers wideouts, like
Marquis Mason
(6-foot-4) and
Chase Hammond
(6-5). The Badgers could be effective throwing some jump balls to those guys, and with their tight ends and offensive line, their offense is going to be just fine.
There are more questions on the defense, but I liked what I saw from the defensive tackles and the secondary, which looks a little more athletic. We know the linebackers will be good with
Chris Borland
and
Mike Taylor
. If
David Gilbert
or someone else can come back and give them a pass rusher from the defensive end spot, this team should be loaded for a run at repeating in the Leaders Division.
I see Illinois as a bit of a mystery team in the division, with a new coach and a new system. How much progress did the Illini make in learning the spread under Tim Beckman, and do they have enough offensive playmakers to run it?
Adam Rittenberg:
I don't think they do, although running back
Josh Ferguson
's performance in the spring game raises hope. Illinois also has some versatile players in cornerback
Terry Hawthorne
and quarterback
Miles Osei
who can fill in at receiver and/or running back if need be. But Beckman has been candid about the lack of depth at running back, and we both saw how that offense fared after opposing teams limited A.J. Jenkins' effectiveness. I do think quarterback
Nathan Scheelhaase
could end up being a good fit for the spread. He obviously has the mobility you need at that position, and while his arm strength is a question mark, he should be able to spread the ball around if enough weapons emerge. I think it's critical for receiver
Darius Millines
to stay healthy. He really had stood out in practices, but he just can't stay on the field.
I liked what co-offensive coordinator Chris Beatty said about the offense needing to regain its swagger. It's still hard to pinpoint exactly what happened to the unit last year, but I know when a spread offense establishes a nice tempo, it's awfully hard to stop. But here's the thing with Illinois: it might only need to score 20-24 points a game. The defense should be really, really good, and potentially better than last year's crew. The coaches are really excited about
Michael Buchanan
at end, and the front seven could be the best in the Big Ten.
You also spent some time in the Hoosier State this spring. Purdue coach Danny Hope feels this is his best team. Things couldn't get much worse for Kevin Wilson at Indiana after a 1-11 clunker in 2011. What sense did you get from being in West Lafayette and Bloomington?
Brian Bennett:
I sensed quite a bit of confidence coming out of Purdue's camp. That will happen when you have 18 starters back, three healthy quarterbacks and are coming off a bowl win (granted, only against Western Michigan, but it beats the alternative).
The Boilermakers didn't let reporters watch any meaningful parts of spring practice because they're installing Tim Tibesar's new defensive system, so I didn't learn as much about them as I'd like. Still, it's clear this team has experience and some major talent with guys like
Kawann Short
and
Ricardo Allen
on defense. I think Purdue is very much a sleeper in the division, though we're going to need to see this team cut down some of its mental mistakes and play with far greater consistency than it has in the Danny Hope era.
The best thing I saw from Indiana was competency on defense. Wilson played so many freshmen last year, and the benefit is that those guys are now a year older and know the system. They were able to execute it much better this spring, and the juco kids will help a lot. The Hoosiers have some nice players on offense, like young quarterback
Tre Roberson
, running backs
Stephen Houston
and
Isaiah Roundtree
and tight end
Ted Bolser
, and I think Seth Littrell's system will play well to their strengths. Yet you look at the roster and compare it to the upper echelon of the Big Ten, and it's clear that Indiana has a long way to go to catch up and be any sort of factor in the league race.
I came away from the spring still thinking Wisconsin will win this division, but I also believe it will be a tight race and that Penn State could very well take it. Ohio State might end up being the best team in the Leaders but can't play for the league title. Did your spring visits make you feel any differently about the division?
Adam Rittenberg:
I agree that Wisconsin remains the team to beat, but I came away thinking the division could have greater depth. The Legends still looks stronger with Michigan State, Michigan and Nebraska up top, and every Leaders Division team has some flaws. But Wisconsin knows how to win, returns a nice core and added a key piece in O'Brien. Ohio State will be a better defensive football team -- end
John Simon
is poised for an enormous senior season, and hopes are high for tackle
Johnathan Hankins
, too -- and while there will be some growing pains on offense, it's not as if the Buckeyes set an impressive benchmark in 2011. They were mostly awful.
Penn State and Illinois are very similar teams to me. Both have new coaches whose hiring elicited some skepticism. Both look extremely strong in the defensive front seven. Both retained excellent D-line coaches from the previous staff (Larry Johnson, Keith Gilmore). Both have standout linebackers (
Gerald Hodges
,
Jonathan Brown
) and stout defensive tackles (
Jordan Hill
,
Akeem Spence
). And both have major question marks on offense: Penn State more so at quarterback, Illinois more so at running back/receiver. Still, if the defenses perform to their capability, Penn State and/or Illinois could really make some noise in a wide-open division.
May, 11, 2012
5/11/12
6:00
AM ET
2011 record:
11-3
2011 conference record:
6-2 (Big Ten champions)
Returning starters:
Offense: 5; Defense: 6; kicker/punter: 0

Top returners:
RB
Montee Ball
, LT
Ricky Wagner
, OL
Travis Frederick
, WR
Jared Abbrederis
, RB
James White
, TE
Jacob Pedersen
, LB
Chris Borland
, LB
Mike Taylor
,
CB
Marcus Cromartie
Key losses:
QB Russell Wilson, OG Kevin Zeitler, C Peter Konz, WR Nick Toon, DT Patrick Butrym, S Aaron Henry, CB Antonio Fenelus
2011 statistical leaders
(*returners)
Rushing:
Montee Ball* (1,923 yards)
Passing:
Russell Wilson (3,175 yards)
Receiving:
Jared Abbrederis* (933 yards)
Tackles:
Mike Taylor* (150)
Sacks:
Beau Allen
* (4)
Interceptions:
Shelton Johnson
*, Aaron Henry and Antonio Fenelus (4)
Spring answers
1. Keep on running:
The Badgers are enjoying the luxury of returning last year's Heisman finalist and record-breaking running back Montee Ball, who somehow managed to look a step faster this spring. They also still have the very capable James White, who produced 713 rushing yards a year ago. And while both sat out the spring game -- Ball as a precaution, White with a minor injury -- redshirt freshman
Melvin Gordon
stepped in and showed he could be the next star tailback in Madison. The Badgers can always run the ball, and this year could be a special season for the ground game.
2. Secondary matters:
All-conference performers Aaron Henry and Antonio Fenelus are gone from the secondary, but Wisconsin was feeling good about its defensive backs this spring. Head coach Bret Bielema said
Dezmen Southward
and Shelton Johnson could be the best safety duo he's had during his tenure.
Devin Smith
is coming back from a foot injury and should fare well as a fifth-year senior starting cornerback. With fifth-year senior Marcus Cromartie also returning at corner, this is an experienced group that is looking to atone for a couple of late breakdowns last season.
3. Strong in the middle:
Despite a few snapping problems in a late spring scrimmage, Travis Frederick looked good in replacing star center Peter Konz this spring.
Ryan Groy
appears ready to become an all-conference type player at left guard. Across from them lies the strength of the defensive line, with Beau Allen,
Ethan Hemer
and the developing
Warren Herring
looming as potentially disruptive defensive tackles. If football is won in the middle of the trenches, then Wisconsin is well set up to defend its Big Ten title.
Fall questions
1. O'Brien to the rescue:
The Badgers' passing game had its share of struggles this spring, with only
Joe Brennan
and walk-on redshirt freshman
Joel Stave
healthy at quarterback. Stave moved ahead of Brennan by the end of spring, but neither showed great consistency. Of course, Maryland transfer
Danny O'Brien
is on the way, hoping to replicate the success of Russell Wilson. That's far from guaranteed, though, and O'Brien will have to play more like he did as a freshman for the Terps than as a sophomore to make Wisconsin's passing game a true threat.
2. Who else at receiver?
Abbrederis missed the spring with a foot injury, giving the coaching staff a long look at the possible contenders to complement him in the receiving corps. It was a very young and inexperienced group that had its ups and downs. Players like
Marquis Mason
and
Chase Hammond
have good size and ability but need to learn how to compete every down.
Isaiah Williams
showed some potential late in the spring. Having good tight ends and excellent pass-catchers out of the backfield should help, but the receiving group remains very much a work in progress.
3. Living on the edge:
Wisconsin's defensive line was stout in the middle this spring but lacked a dynamic pass rusher on the edge. The coaching staff hopes that junior
David Gilbert
can fill that role, but he was out all spring with a foot injury that cut his 2011 season short. If Gilbert isn't all the way healthy or falls short of expectations, there aren't a lot of other candidates. The Badgers' defense is going to be solid with an experienced secondary and two stars at linebacker in Mike Taylor and Chris Borland, but it only reaches the elite level if someone can consistently get to the quarterback.
April, 27, 2012
4/27/12
1:15
PM ET
There are just two spring games left in the Big Ten, and both are this weekend. We're here to get you ready for both, starting with Wisconsin.
When:
5 p.m. ET Saturday
Where:
Camp Randall Stadium

Admission:
$5 (proceeds go to the UW Center for Nonprofits). Stadium gates 1, 8, 9 and 10 open at 3 p.m. CT. Parking is available in Lots 16, 17 and 18 as space allows for $10. Lot 60 is free, but there will be no shuttle buses.
TV:
The game will be streamed live on the Big Ten Digital Network and BTN2Go. The Big Ten Network will televise the game at 8 p.m. ET on Sunday.
Weather forecast:
High of 45 degrees. Cloudy, with a 60 percent chance of rain.
What to watch for:
If you're hoping to see a completely accurate preview of the 2012 Badgers, you'll be disappointed. Star running back
Montee Ball
will be held out for precautionary reasons, and several other stars are either out this spring (linebacker
Mike Taylor
, wide receiver
Jared Abbrederis
) or figure to be limited at best on Saturday (linebacker
Chris Borland
, running back
James White
, tight end
Jacob Pedersen
). And, of course, Maryland transfer quarterback
Danny O'Brien
isn't with the team yet.
Still, there are some interesting things to watch. Will the rebuilt right side of the offensive line live up to the Badgers' high standards?
Robert Burge
has had a few struggles at right tackle this spring. Which receiver out of a group that includes
Isaiah Williams
,
Marquis Mason
and
Chase Hammond
might emerge as a complementary threat to Abbrederis? How good is the defense, especially playing without projected starting defensive end
David Gilbert
and Taylor? And will
Joel Stave
stay ahead of
Joe Brennan
for the starting quarterback (for now) job? Can redshirt freshman
Melvin Gordon
make some noise at running back?
It should be a fun day in Madison, as the Crazylegs 8K run will end inside Camp Randall Stadium and several finishers are expected to hang around and watch the game.
April, 26, 2012
4/26/12
5:15
PM ET
MADISON, Wis. -- After watching a slew of incomplete passes during the first half of Saturday's scrimmage, a frustrated Bret Bielema yelled out, "Somebody step up at receiver. You'll play!"
Wisconsin's wideouts responded after that appeal from their head coach with some better play the rest of the day. Still, the limitations of the Badgers' passing game have been all too clear this spring.
Much of that was to be expected. The team no longer has quarterback
Russell Wilson
, who set an NCAA record for pass efficiency rating last year. Leading receiver
Nick Toon
will be selected by an NFL team sometime this weekend, and top returning pass-catcher
Jared Abbrederis
is out all spring with a foot injury.
[+] Enlarge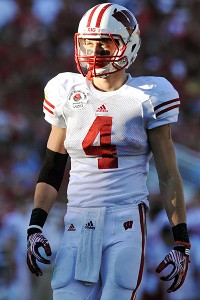 AP Photo/Cal Sport MediaDespite nagging injuries, Jared Abbrederis caught 55 passes for 933 yards last season.
A lack of experience from those throwing the ball and catching it has made for some ragged play at times by the offense this spring. The inconsistent play from the quarterbacks underscores the importance of Maryland transfer
Danny O'Brien
arriving this summer.
Redshirt freshman
Joel Stave
appears to have moved ahead of
Joe Brennan
for the No. 1 job right now, but neither can feel too secure. It sure looks like, for the second straight year, a transfer will come in and jump ahead of all the quarterbacks on campus. But with
Curt Phillips
and
Jon Budmayr
hurt and incoming freshman Bart Houston likely headed for a redshirt year after shoulder surgery, Bielema felt he had little choice but to go the transfer route again.
"I don't think it's something [the returning quarterbacks] were high-fiving over," Bielema told ESPN.com. "But I was very open and honest about everything. I spoke to the team and said, 'Hey, the truth of the matter is we've got a really good football team. But that position just by pure numbers is weak. If Curt and Jon don't come back, we can't go into the season with just two healthy quarterbacks.'"
Like with Wilson, Bielema says he has not promised anything other than O'Brien can compete for the job. O'Brien cannot even receive a copy of the Wisconsin playbook until he enrolls. The quarterbacks on campus will try to beat him out.
"My reaction to it was it was nothing I could control," said Brennan, who backed up Wilson last year. "Obviously, it was what Coach Bielema felt needed to be done. I'm just focusing on getting better each day and what I have to do to improve. I feel I have the ability to play college football and be a leader on this team."
Even if O'Brien shores up the quarterback spot, the question of to whom he will throw remains in doubt.
Abbrederis should slide into the No. 1 receiver role after catching 55 passes for 933 yards and eight touchdowns last year. His season was even more impressive considering he hurt his left foot in the fourth game of the season and played through discomfort all season. Doctors discovered he had a fracture after the Rose Bowl, which should heal through rest.
"If I have any more problems, maybe we'll do something after the season," he said. "If worse comes to worse, I'll just play with it again this year."
His absence has allowed younger receivers to get a lot of reps this spring, and they need them. Each has had moments but not enough of them in a row. A perfect example came in last week's scrimmage, when promising sophomore
Marquis Mason
caught a long pass to set the team up in the red zone, then jogged to the sidelines to take himself out. Wisconsin coaches were planning on calling a fade to the end zone for him.
Mason needs to develop toughness and to get over the mental hurdles presented by knee surgery last year. The good news is he's 6-foot-4 and 223 pounds. With him and 6-foot-5 sophomore
Chase Hammond
, the Badgers have the kind of tall, athletic receivers they've lacked over the years. Smaller guys like sophomore
Isaiah Williams
and the 5-foot-8
Kenzel Doe
have shown flashes this spring as well.
Abbrederis is there to give advice to the youngsters, though he's not pestering them with coaching.
"I try to let them go out and play and not yell," he said. "When I was playing, I never liked the guy that sat out who wasn't doing all the hard work with me and then would be like, 'Hey, let's get going. Why aren't you running fast?' Well, I'd been running for like 20 days, and I'm tired."
Wisconsin has a long time before its passing game has to round into form, and it will have some pieces that are missing this spring. But for the Badgers to repeat as Leaders Division champs, they'll have to solve some issues at quarterback and receiver.
April, 2, 2012
4/02/12
12:00
PM ET
I had to get these links done early so I could hit up a lunch buffet with Betty Draper.
March, 26, 2012
3/26/12
3:10
PM ET
Wisconsin kicked off spring practice late last week, but with most of the team's media corps in Boston for the NCAA basketball tournament, head coach Bret Bielema held a news conference Monday during which he touched on several topics.
He addressed the team's personnel makeup, which I
posted about last week
after Wisconsin released its spring roster. The Badgers have only nine players classified as seniors, and only one true senior in running back
Montee Ball
. Wisconsin signed only 12 players in February, five fewer than any other Big Ten team, and might only sign nine to 10 players in the 2013 class. Despite limited recruiting opportunities, Bielema remains optimistic about the team's future, particularly in 2013.
"Next year we have a chance to be a very, very good football team," he said. "... Our two-year forecast is pretty exceptional."
Other nuggets from the Badgers' head coach:
The outlook seems to be a bit brighter for quarterback Jon Budmayr, who has been dealing with nerve issues in his throwing elbow since last summer. Bielema said Budmayr received some good news about what could be causing the elbow trouble. Budmayr is at the Mayo Clinic this week getting further evaluation.
As for the quarterbacks on the field, Joe Brennan and Joel Stave, Bielema said they've completed 70 percent of their passes in the first two spring workouts.
Cornerback Devin Smith, who missed most of last season with a foot injury, is close to returning to practice. Wide receiver Jared Abbrederis and tight end Jacob Pedersen also are making progress. All three are projected starters.
Wisconsin needs more help at wide receiver after losing Nick Toon to graduation, and it could get some from sophomore Marquis Mason. Bielema said Mason is making significant strides this spring after missing all of the 2011 season with a torn ACL suffered last spring.
Bielema praised early enrollee Dan Voltz, a 6-foot-4, 288-pound offensive lineman, and said another new arrival, running back Vonte Jackson, is up to 198 pounds despite recovering from ACL surgery.
Junior linebacker Chris Borland checks in at 250 pounds, 15 pounds more than his freshman year weight, but remains "as gifted as he's ever been," according to Bielema.