August, 29, 2013
8/29/13
11:05
PM ET
It's one of football's unwritten rules: If a team scores two touchdowns on special teams and another on defense, it virtually can't lose.
When two of those touchdowns sandwich halftime, a win becomes even more secure.


Minnesota scored the trifecta Thursday night and quickly made a shaky game against UNLV turn into a rout. The Golden Gophers used big plays in all three phases and a huge second half to
pound the Rebels 51-23
at TCF Bank Stadium. They set a stadium scoring record and eclipsed 50 points for the first time since 2006.
The lopsided score and Minnesota's dominance after halftime made it easy to forget that UNLV outplayed the Gophers in the first half and led 16-13 after recording a 34-yard touchdown on fourth down with 5:04 left in the half. But Minnesota stepped up in one of the most important stretches of any game: at the end of the second quarter and the beginning of the third.
Sophomore quarterback
Philip Nelson
, who showed off his mobility all night, made a terrific touchdown pass to tight end
Maxx Williams
with 18 seconds left in the half.
Marcus Jones
then had a 98-yard kickoff return for a touchdown to open the third quarter.
Minnesota coach Jerry Kill told the Big Ten Network that he kept calm at halftime and stressed the need for big plays. Message received. Minutes after Jones' return, Gophers standout defensive tackle
Ra'Shede Hageman
blocked a 37-yard field goal attempt, and
Martez Shabazz
scooped it up and raced 51 yards to the end zone. Early in the fourth quarter,
Briean Boddy-Calhoun
stifled a good UNLV drive by returning an interception 89 yards to the end zone.
Minnesota also received a 48-yard touchdown run from Nelson and a 60-yard scamper from
David Cobb
that set up a late score from backup quarterback
Mitch Leidner
.
So it was a night of big plays for Minnesota, which avoided the tension it went through in last year's opener against UNLV. But the Gophers have a lot to work on after the opener. The offense didn't dominate the line of scrimmage and the run game outside of Nelson was suspect. Top back
Donnell Kirkwood
left the game in the third quarter with what appeared to be a right ankle injury.
Minnesota must be more physical at the line of scrimmage on offense and get off the field more on defense, as UNLV piled up 418 yards and went 4-for-4 on fourth down.
Big plays win games and the Gophers had more than enough Thursday night. But they'll need to be more polished on both sides of the ball before a Week 4 test against
David Fales
and San Jose State.
March, 26, 2013
3/26/13
9:00
AM ET
Minnesota coach Jerry Kill guided the team to a bowl game during his second season in Minneapolis despite some depth and injury problems in 2012. What's in store for Year 3 of the Kill era? I recently caught up with him to get his outlook for the Gophers' spring practice, which opens today.
How has the offseason gone for you guys so far?
Jerry Kill:
Well, I think the bowl game, even though we lost, the kids played very hard and well. We got healthy, for one, before we went to the bowl, and we had a great month with our kids and a great experience. And coming into the offseason, I think there was a lot of confidence gained. All our kids' strength and testing numbers went up. I guess I can use
Ra'Shede Hageman
as an example, He benched 450 pounds, squatted well over 500 and cleaned 350, with a 38-inch vertical. So kids like that got a lot better.
We feel up front and on the defensive line, we've gotten stronger. I think we've added some depth to the defensive line, and secondary-wise, we played several freshmen in that game against Texas Tech. We've got the flexibility to play
Derrick Wells
at corner and safety. I think the biggest question mark we've got going in is, we lost five scholarship linebackers. It's like a year ago when we lost seven secondary players and kind of hit the jackpot in recruiting. Damien Wilson, a junior college transfer, has had a great spring, and I'm looking forward to seeing him on the field. The guys who need the reps this spring are
James Manuel
,
Aaron Hill
,
Lamonte Edwards
, and young men we redshirted named
Jack Lynn
and
Nick Rallis
. And then we've got four other kids coming when fall camp starts. Our secondary a year ago had a lot of questions and really played well. I think, this year, linebacker is where we need to step up on defense.
And then on offense, I feel we'll be a much better football team than we were a year ago because we get everybody back except for
Brandon Green
and Q [
MarQueis Gray
], really. So I think that unit will be much improved.
[+] Enlarge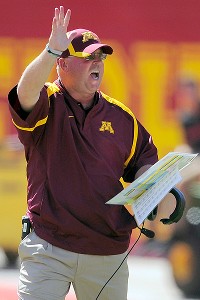 AP Photo/Mark J. TerrillJerry Kill begins his third season as head coach of the Gophers.
You showed off a good power running game in that bowl game. Is that what we should expect from your offense going forward?
JK:
Yeah, that's what we were at Northern Illinois. We could run the power at you, but then we were athletic enough to turn and run the zone read with the quarterback. Both [Chandler] Harnisch and [Jordan] Lynch, when we needed to throw it, we completed it. But we still made our living on running the football. It was the first time, in the bowl game, that we had the same offensive line that we had at the beginning of the seaon. We had so many people get experience there. But that's what we want to be -- a team that gives you a lot of different looks, shifting and motion and different personnel grouping. But you've still got to be able to run the football, and certainly in the Big Ten.
Speaking of that offensive line, after a lot of injuries there last year, how is the position looking this spring?
JK:
Well, we've got a lot of depth, no question. Eddie Olson, he won't go through the spring, but he had a good year a year ago. If we can get his foot healed up and done right, it kind of works out. He'll continue to get stronger. We redshirted
Jonah Pirsig
, who's a 6-foot-8, 6-9, 320 pound tackle,
Ben Lauer
, who's 6-7 and probably 305, and
Isaac Hayes
, who is a 6-2, 300-pound offensive guard. So those kids, I'm anxious to see them in the spring.
We've got
Zac Epping
,
Jon Christenson
and
Caleb Bak
-- in the weight room, he benched 350, squatted 550, so he's gotten stronger.
Josh Campion
is a strong kid; he benches well over 400 pounds. So the same guys who when I first got here were getting pushed around have gotten stronger. And then we've added these young kids that have come in.
Marek Lenkiewicz
is up to 290 pounds,
Tommy Olson
is healthy again and
Brian Bobek
, who transferred from Ohio State and had great credentials when he went to Ohio State, he's another one who's very physically strong. Then there's
Foster Bush
and
Joe Bjorklund
. They're all young kids, but they've gotten physically stronger.
When we got here, I think we had about seven or eight offensive linemen. So we've built it through walk-ons and kind of did it the hard way. But I feel good about that position, along with our tight ends, quarterbacks and receivers. Our defense improved tremendously from one year to the next. For us to be competitive in the Big Ten -- which I think we can be -- our offense has to take the steps our defense did a year ago. And I think we can.
Philip Nelson finished the season for you at quarterback and had a nice bowl game, but you also have some talented young guys there. Is it his job to lose this spring or a more open competition?
JK:
We took the redshirt off Philip last year, and he did some good things and had some things he struggled with, as you'd expect for a freshman. He did some great things in the bowl game. When we go into camp, somebody is going to have to go in there and beat him out. But the thing that's good about that is the competition.
Mitch Leidner
and Chris Streveler are great athletes who can play another position if needed, but they both want to play quarterback and they're very capable of giving someone a run for their money. I can tell you, our defense is very high on Leidner. Mitch is probably close to 6-5 and 230, and he is a 4.6, 4.65 guy [in the 40-yard dash]. And very strong. And then Streveler is quicker than that. He came in during the second semester, and I think he's the third-fastest guy on our team. When we had him in camp, he played receiver also.
So all three of those guys are great kids, students of the game, and the type of kids you want playing quarterback leadership-wise. We'll let it work out. Leidner and Streveler are the type of kids who would say, "Coach, if it helps the team if you move me, I'll do that." But in the spring we're going to let them compete and make sure we're solid at that position. If you look at last year, it was kind of a miracle we got to a bowl game, because we had three different quarterbacks and three different centers. Not many people can win doing that.
September, 18, 2012
9/18/12
3:10
PM ET
Some key personnel notes and nuggets from around the Big Ten ...
IOWA
Running back Damon Bullock (head) is doubtful and running back Greg Garmon (elbow) is questionable for Saturday's game against Central Michigan. Although Garmon's injury looked pretty gruesome against Northern Iowa, he has a better chance of playing, head coach Kirk Ferentz said. Mark Weisman will start for Iowa following his three-touchdown performance, while fellow walk-on Michael Malloy will be the backup.
The good news at running back is that Jordan Canzeri, who suffered a torn ACL in March during spring practice, has been medically cleared and should play at some point this season, Ferentz said. It's amazing how quickly some players come back from ACL tears these days.
MINNESOTA
Quarterback MarQueis Gray is clearly a very fast healer. How fast? Gophers coach Jerry Kill said Tuesday that there's a chance Gray is available as a backup Saturday night against Syracuse despite suffering a high ankle sprain last week. Gray is still sore, Kill said. It would be a pretty big surprise to see him return so soon from an injury that can take up to six weeks to heal, but the senior seems to be ahead of schedule. Kill said Minnesota has a plan if Max Shortell struggles or gets hurt -- whether it includes using true freshman Philip Nelson remains to be seen.
Cornerback Martez Shabazz will miss at least another week with a dislocated toe.
PENN STATE
Senior defensive end Pete Massaro (shoulder) and linebacker Nyeem Wartman (knee) have been ruled out for Saturday's game against Temple. Massaro, who has dealt with injuries throughout his career, missed last week's contest with Navy. Standout redshirt freshman Deion Barnes will start in his spot.
Running backs Derek Day (shoulder) and Bill Belton (ankle) are both day-to-day for the Temple game, with Day having a better chance to return than Belton, coach Bill O'Brien said. "They're running backs," O'Brien said. "That's the nature of the position, so the next guy has got to be ready to go." That next guy would be junior Curtis Dukes.
Left tackle Donovan Smith (ankle) also is day-to-day after missing the Navy game. Smith's chances to play this week depend largely on how he moves around in practice Tuesday and Wednesday. "If he comes out today and he's gimpy, then [he] probably won't play," O'Brien said. Mike Farrell started in Smith's place against Navy.
INDIANA
The Hoosiers are off this week, but starting quarterback Cameron Coffman possibly could play if there was a game. Coffman left last week's loss to Ball State with a hip pointer, and Nate Sudfeld entered the game and performed well. Coach Kevin Wilson said Coffman remains the starter, at least right now, for next week's Big Ten opener at Northwestern. "He's just not full tilt pushing off yet," Wilson said. "We'll see. We'll get him checked out here later today. ... We'll decide tomorrow and Thursday how much he needs to do. It will be our trainer's call. Will it be best to take the whole week on the low key or does he need the reps?"
Sophomore quarterback Tre Roberson, who suffered a season-ending broken leg Sept. 8, said Tuesday that he "should be back" by spring practice. He said he can throw and put a bit of pressure on his surgically repaired leg.
ILLINOIS
September, 14, 2012
9/14/12
10:00
AM ET
Some notes and nuggets to hopefully make you smarter as you check out Big Ten action in Week 3. Thanks to the ESPN Stats & Info crew, as well as sports information staffs around the league for these.
Michigan State running back Le'Veon Bell has gained 39.6 percent (111 of 280) of his yards after contact this season. Bell gained 84 or his 210 yards (40 percent) against Boise State and 27 of his 70 yards (39.6 percent) against Central Michigan after contact. Bell is averaging 5.6 yards per rush when there are six or fewer defenders in the box. That number drops by 2.1 yards when there are seven or more defenders in the box.
Wisconsin's 10-7 loss to Oregon State was the first regular-season non-conference loss for head coach Bret Bielema. His 25 straight regular-season nonconference wins marked the second best start to a career by a Big Ten head coach. Bielema trails only Michigan's Fielding Yost, who started 41-0 in nonconference games from 1901-06.
Through two games, Nebraska has posted an average gain of 7.8 yards on first down. The Huskers have had 71 first-down plays this season and totaled 553 yards, producing 52 percent of their total yards on first down. Nebraska racked up 359 yards on 38 first-down snaps in the season opener against Southern Miss, averaging 9.4 yards on first down. Against UCLA last Saturday, the Huskers gained 194 yards on 33 first-down snaps, an average of 5.9 yards per play.
Iowa's defense has allowed only 19 points on seven red-zone trips by opposing offenses through the first two games. The Hawkeyes recorded three red-zone takeaways against Iowa State last week (2 fumbles, 1 interception). On the flip side, Iowa's offense has yet to score a touchdown in six red-zone possessions this season.
Michigan quarterback Denard Robinson completes 66.2 percent of his passes with 12 touchdowns and one interception when taking the snap under center. He completes 56.4 percent of his passes with 31 touchdowns and 32 interceptions when not under center. Robinson had 10 rushes against Air Force last Saturday during which he did not get touched until at-least five yards past the line of scrimmage, the second most in his career. He had 11 in Week 3 last season against Eastern Michigan.
Ohio State quarterback Braxton Miller averages eight yards per rush on scrambles during his career with 17 of his 51 runs gaining 10 yards or more. Miller most frequently takes off on third down with 21.9 percent of his third down drop-backs ending in scrambles. Those third-down scrambles have led to 11 first downs for the Buckeyes.
Penn State is facing a program record 10 teams that played in bowl games last season, with five games at home. Navy, which visits Beaver Stadium on Saturday, was 5-7 last season and had played in eight consecutive bowl games before missing by one win in 2011. Penn State is 18-17-2 all-time against Navy and 41-37-5 all-time against the four FBS independents (Navy, Notre Dame, Army and BYU).
Minnesota has four interceptions this season, already equaling its total from last season. Derrick Wells picked off two passes and Brock Vereen had one interception at UNLV. Martez Shabazz notched his first career interception against New Hampshire. The Gophers are tied for eighth nationally in interceptions. However, they have only one return yard, which is the fewest of the 13 teams who have four or more interceptions this season.
Michigan State has won four straight night games in Spartan Stadium, including two on the last play of the game. Against Notre Dame in 2010, Aaron Bates' 29-yard touchdown pass to Charlie Gantt off a fake field goal gave MSU a 34-31 overtime victory. Against Wisconsin in 2010, Kirk Cousins completed a 44-yard Hail Mary pass to Keith Nichol on the final play of regulation. Spartans coach Mark Dantonio is 5-1 in night games played in Spartan Stadium.
With a come-from-behind 23-13 victory against Vanderbilt in Week 2, Northwestern's streak of consecutive home victories against nonconference foes reached 11 games, the 15th-longest active streak among FBS programs. The Wildcats have not lost to a team from outside the Big Ten at Ryan Field since falling to Duke on Sept. 15, 2007.
Illinois has controlled time of possession in both of its games this season, owning a margin of more than 11 minutes against both Western Michigan (35:02-24:58) and Arizona State (35:15-24:44). The Illini rank sixth nationally and second in the Big Ten (after Michigan State) in time of possession (35:09).
Indiana held one opponent under 20 points last season. In its first two wins in 2012, IU has surrendered 17 points to Indiana State and six points to Massachusetts. Indiana last held an opponent in single digits back in 2008, a 45-3 victory over Murray State. The Hoosiers also held the Minutemen to 78 yards on the ground, the first time they held an opponent under the century mark since Nov. 27, 2010 (at Purdue, 58).
A season removed from needing seven games to amass at least seven sacks, Purdue has reached that total in merely two games after recording five against Notre Dame last weekend. Purdue enters the Eastern Michigan game tied for 13th nationally and tied for first in the Big Ten in sacks per game (3.5). Purdue's five sacks against Notre Dame equaled the season highs for each of the past four years.
May, 11, 2012
5/11/12
9:00
AM ET
2011 record
: 3-9
2011 conference record
: 2-6 (sixth, Legends Division)
Returning starters
: Offense: 7; Defense: 6; kicker/punter: 2
Top returners

QB
MarQueis Gray
, CB
Troy Stoudermire
, LB
Keanon Cooper
, LB
Mike Rallis
, WR
Brandon Green
, LT
Ed Olson
Key losses
WR
Da'Jon McKnight
, S
Kim Royston
, RB Duane Bennett, DT
Anthony Jacobs
, DT
Brandon Kirksey
, TE
Collin McGarry
2011 statistical leaders (*returners)
Rushing
: MarQueis Gray* (966 yards)
Passing
: MarQueis Gray* (1,495 yards)
Receiving
: Da'Jon McKnight (760 yards)
Tackles
: Kim Royston (123)
Sacks
:
Gary Tinsley
(4)
Interceptions
: Troy Stoudermire* (2)
Spring answers
1. Better secondary play:
The Gophers looked overmatched defending the pass at times last season, but things appear to have changed dramatically. The secondary took a major step forward this spring and looks to be as deep and talented as it's been in a few years. Head coach Jerry Kill brought in three junior-college defensive backs who should all contribute, including Martez Shabazz, and Troy Stoudermire returns at starting corner after getting an extra year of eligibility from the NCAA. The Gophers were also able to move corner
Brock Vereen
to safety with the extra depth. Once a weakness, this position now figures to be a strength.
2. Gray matter:
Quarterback MarQueis Gray had some big moments last year in his first year of starting but also struggled with inconsistency. That was expected from a guy who played receiver the previous year. Well, Gray greatly improved his mechanics in the offseason, and Minnesota coaches went to Baylor and other places to study how to best utilize his dynamic skills. Gray looked like a more accurate passer this spring, and he has a chance to rush for more than 1,000 yards and throw for more than 2,000 this season as the team's main weapon.
3. Need for speed:
Minnesota hasn't had much of a pass rush for the past few years, but the team is hoping a move toward a lighter, speedier defense helps in that regard. Guys like redshirt freshman
Thieren Cockran
(a listed 235 pounds) and sophomore
Michael Amaefula
(245) fit the mold of what the Gophers are looking for in a defensive end: athletic, if undersized, quarterback chasers. Along with moving some former safeties down to outside linebacker, Kill and defensive coordinator Tracy Claeys are expecting to field faster players on the edge.
Fall questions
1. Skill set:
Gray lost his favorite target in departed senior Da'Jon McKnight, and though several options are available, Minnesota lacks a clear No. 1 receiver. Senior
Brandon Green
and sophomore
Marcus Jones
-- coming off an ACL injury -- are among the veterans hoping to contribute. But the Gophers will likely need help from incoming freshmen like
Andre McDonald
and Jamel Harbison. Junior-college transfer James Gillum could help in the running game, but the team is not deep at tailback. Skill-position players need to step up to keep Gray from being a one-man show.
2.
Strength up the middle:
While the defense is getting swifter on the perimeter, is it tough enough inside? The team lost both starting defensive tackles from a year ago, and there is very little experience or depth there. Junior college import Roland Johnson could help but is not arriving until the summer. Middle linebacker is another spot without much depth behind starter Mike Rallis. Will Minnesota be able to stand up against power teams like Wisconsin and Nebraska?
3. O-line depth:
The good news is that four players who started on the offensive line return, with only right tackle really up for grabs right now. Yet this is an extremely young group overall, and an injury or two could thrust some players into action before they're quite ready. Kill brought in six offensive linemen in his first recruiting class, knowing he needed to rebuild the group. They'll be better off waiting another year before seeing major action.