July, 18, 2013
7/18/13
12:00
PM ET
It's good to be back. Let's check out today's links ...
February, 6, 2013
2/06/13
1:55
PM ET
Gary Andersen's roots are on the defensive side of the ball, which came in handy the past six weeks. Andersen's first priority as Wisconsin's new coach was to defend and retain the team's verbally committed players from other potential suitors. He and his staff also had to add a few pieces to their first recruiting class. They did a good job of achieving both objectives as Wisconsin on Wednesday finalized a
class of 17 scholarship players
, headlined by ESPN 150 running back
Corey Clement
and junior college quarterback
Tanner McEvoy
.
ESPN.com caught up with Andersen on Wednesday to discuss his first recruiting haul.
What are some of the challenges you faced coming in when you did, trying to keep the committed guys, and then trying to go out and get some new guys?
Gary Andersen:
I think the biggest challenge first of all was getting a staff put together. Thomas Hammock and Ben Strickland did an unbelievable job of really calming the waters when the transition took place. Once I was able to retain them on the staff, it took off from there. They had the parents settled, the coaches settled, the young men settled to say, 'Hey, let's just wait and see what happens here.' So that was a big first step. Secondly, it was getting the [remaining] staff hired, and thirdly, it was getting into their homes and presenting who we are as a program. The positive thing is you didn't have to go out and talk about education or a great program or facilities. What you had to do is go in and lay the groundwork of who we are as coaches, and work to start the trust factor that's really built over a period of six or seven months in the recruiting process, and try to get that down in three weeks. That's very difficult. But those were the major challenges. Most of our young men, except for the four we signed once we came here, had already taken [recruiting] trips, so we did have a little bit of a convenience there, being able to be out on the road some of those weekends. For me, there are 17 total kids, and the goal is to get into 17 homes in a very short period of time. We started with the commits we had and sort of went from there. There's a lot to it, but I'm very pleased with the coaches and grateful to the mentors, the parents, the kids and the coaches who hung in there with us and gave us a chance. It all ended very well.
[+] Enlarge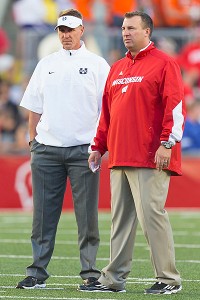 Jeff Hanisch/USA TODAY SportsGary Andersen, left, who replaced Bret Bielema as Wisconsin's coach, said his staff worked hard to earn the trust of recruits and their families in a short amount of time.
How were you received by those players and their families? Did it surprise you one way or another?
GA:
We were received at first cautiously, which I would expect. You get somebody walking into your living room or picking up the phone that is brand-new. They want to get to know you. They're people who have been through this recruiting process, and have great care for each one of the young men. So everybody's going to be guarded when they first get into that scenario. I'm never a guy who walks in and says, 'Hey, trust me right now.' I want to be able to earn your trust. But we got that done in a short period of time. They understood the direction we're headed. My big push, and it always is and always will be, is to let them understand that we're going to take care of the kids first. As we went through that process and they understood who we were. When we walked out of those homes, they felt very comfortable with us.
You inherited a roster that has three quarterbacks with starting experience (Joel Stave, Curt Phillips and Danny O'Brien). Why did you feel the need to bring in another quarterback, and why did Tanner appeal to you?
GA:
You're right, there is great competition at the quarterback spot here. Last year, we had three young men start and play in games, and [they] have done some good things. But for us, just like every position, the key is to create as much competition as we possibly can. We had some injuries at the quarterback position. There were a couple young men who had injuries, a couple young men recovering from injuries. All of them look good, but there's still that question mark of 'are we healed and can we really get through a season in the Big Ten the correct way?' That played a factor into it. The next thing is Tanner's a tremendous athlete, a tremendous quarterback, and he does a lot of things that we like at that position. He strengthens our competition for next fall, and he has three years left. That was another thing that was very intriguing to us.
The other thing I liked is Tanner has had to fight his way here. He started off strong and got himself in a Division I school [South Carolina], and then he had to go back into the junior college and fight his way through there for a year. The story he tells about going through that process and making his decision in about four days to hop on an airplane to Yuma, Ariz., where he'd never been before. That builds toughness. It builds commitment to the sport of football. It helps him grow as a young man, which I think will continue to make him be a very good quarterback going forward. And he brings a lot of athleticism to the position. As we move forward, we'll see how that all filters out, but the best players are going to play, bottom line, and we have great competition there.