September, 20, 2013
9/20/13
2:00
PM ET
Northwestern is averaging 43.3 points and 520 yards per game, all without the services of arguably its top weapon, senior running back
Venric Mark
. The biggest reason why the Wildcats haven't hiccuped offensively is Mark's replacement, junior
Treyvon Green
. Entering the season No. 3 on the depth chart, Green finds himself in a featured role after rushing for 353 yards and five touchdowns through the first three contests. He has rebounded from a scary situation in the 2012 preseason that left him briefly questioning if he'd ever play football again. The Mesquite, Texas, native also slimmed down to speed up after recording only 22 carries last fall.
Green's emergence has been so impressive that quarterback
Kain Colter
wondered after last week's win
whether Green should remain the starter when Mark returns from injury
.
[+] Enlarge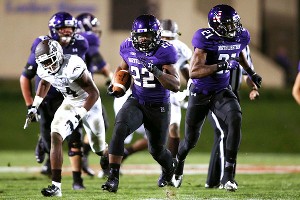 Jerry Lai/USA TODAY SportsRunning back Treyvon Green has rushed for 353 yards and five touchdowns for Northwestern this season.
I caught up with Green earlier this week.
How has your approach changed these past few weeks?
Trevyon Green:
I'm just progressing each game, trying to pick up the slack for V (
Venric Mark
) being out right now. Before I knew about Venric's injury, I'm thinking that he's our guy, I'm going to be a special teams guy, just trying to contribute in any way I can. And then when I found out V wasn't able to go, my mindset kind of changed. I had to prepare myself to be ready to play and contribute to our wins.
Are you still approaching things with that mind-set?
TG:
Exactly. After the first three games, my mindset has totally changed. I know I'm not as much of a special teams guy now. I'm more of an offensive guy, getting our run game going. I take that with a lot of pride. Me being our workhorse right now, me and [Mike] Trumpy, I know I have to contribute.
Are you performing in a different way when you get those opportunities now than before?
TG:
I would say so. Before, I really wasn't certain whether I'd be in our run game or what exactly my role was. Now I know exactlty what I'm getting into in a game. The way I run the ball, it's a little different because I have to do well. I put pressure on myself to make sure that I perform well enough for our run game to be successful.
Physically, how are you different this year?
TG:
My body type has changed. Last year, I was a chunky guy. I was 220. At one point, I was 225, and I wasn't as quick and as fast as I am now. Now I'm down to about 208, I'm a lot quicker, I'm a lot faster, I'm leaner, so all those show up on the field.
How did that change come about?
TG:
They initially told me [to lose weight] last year during the season. I wasn't doing it so well. I wasn't working with our nutritionist well enough. That's on me. But after our bowl win, I took it upon myself to make sure I get with the nutritionist and do the proper things to lose the right weight and be ready. I met with her and then my diet changed. I have two salads a day. I'm actually eating 3-4 meals a day. Before, I was only eating one, which is not good. Now I'm heating healthy meals. My snacks aren't junk food any more. And the way I work out now, after practice every day in the preseason, I'll go inside and get on the elliptical for 30 minutes. All that contributed to what you see now.
Have your teammates noticed a difference?
TG:
Yeah, they used to call me Lil' Chunky. Now they call me quick and slim, so my teammates definitely notice. It took me a while to notice myself, just because I'm not a cocky guy, so I'm not going to see myself all of a sudden be quicker. But as I study my own film, I see my feet move faster and my speed is a lot faster.
You had a scary situation in the preseason last year. What was that like to go through?
TG:
It was tough, but the teammates I have, I know they have my back. My family back home, and even my family here, Coach [Pat Fitzgerald] is like the dad I never had. Growing up, it was just me, my brothers and my mom. Having them back home supporting me, it really helped me get through the situation.
Did you ever think football was over for you?
TG:
When we were in the hospital, I thought I was done. Coach Fitz and [running backs coach Matt MacPherson] came and visited me. The first thing I told Coach Mac was, 'I should have kept a lower pad level.' But honestly, I thought I was done. After that injury, I thought I'd be sidelined and my football career would be over. Fortunately, that didn't happen.
When did you know you'd be OK?
TG:
That next morning, when I went to go see the doctor. They released me that night I got hurt. Then the next morning, he told me I had a severe concussion and a neck sprain. After that, he told me I'd be out for a little while, but then I'd be able to get back into it.
Do you follow what has been going on with concussions in football? Is it a concern for you, or have you moved beyond it?
TG:
I think I'm beyond it. It's a part of the game, so of course it's going to happen and of course you're going to get injured, but you have to keep going. Concussions, obviously right now it's getting a lot of attention because of the new rules and everything. But it's really just all about playing the game and having fun.
The other day Kain said Venric might not get his starting job when he comes back because you're playing so well. What did you think about that?
TG:
I took that as a compliment, really. With the season Venric had last year, it's hard to top that or even get on that level. Right now, I'm just trying to do the best I can, but I took it as a huge compliment when our starting quarterback is having that much faith in me to lead the team like I am in running.
What's your relationship like with Venric?
TG:
Real close, real close. Him being out, we still get in the film room and study our opponents. It's so funny because Venric and I have the same eye for things. Our vision together, we see things that most running backs don't. When we see it, we take it.
What does he think about the way you're playing?
TG:
Actually, the Cal game, on the sideline, he was getting mad at me because I wasn't hitting the hole hard enough. He was telling me, 'C'mon, you've got to see it, it's going to be there, just trust it.' I was like, 'All right,' and then the first play I get the ball, I score. He's been like my little coach. We call him 'Little General' on the team because he tries to lead his troops. He's been really helpful.
May, 21, 2013
5/21/13
3:30
PM ET
Northwestern's recruiting wish list and sales pitch hasn't changed much in recent years.
Head coach Pat Fitzgerald and his staff still seek a certain fit: an academically oriented player who clicks with the program's culture and recognizes the benefits of playing Big Ten football miles from the city limits of the nation's third largest market. Northwestern's coaches talk about "not only a four-year decision but a 40-year decision, the rest-of-your-life type decision," Matt MacPherson, the team's recruiting coordinator and running backs coach, recently told ESPN.com.
[+] Enlarge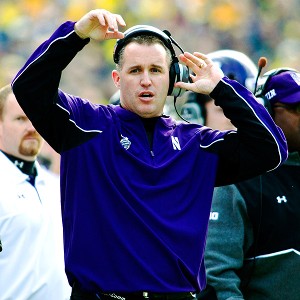 AP Photo/Tony DingPat Fitzgerald has the Northwestern football program headed in the positive direction, winning games and attracting quality student athletes.
Northwestern is still identifying and bringing players who fit, but more of its targets are higher-level prospects and more of its competitors are higher-level programs. The Wildcats are hitting their mark at an unprecedented rate, leading the Big Ten with 10 commitments for their 2014 class, which ranks 17th nationally in
RecruitingNation's latest ratings
.
Colleague Jared Shanker writes that
Northwestern's recent success on the field has boosted its recruiting to the next level
.
The Wildcats went 10-3 in 2012 and ended the season No. 17 in the final AP poll. It was the first time that Northwestern had won 10 games in a season since 1995, when it went 10-1 and appeared in the Rose Bowl. It also marked the first time Northwestern finished a season ranked since 1996.

Fitzgerald was a linebacker on those '95 and '96 teams. He was an ambassador for recruits who signed in the winter of '97, one of Northwestern best classes ever.

Northwestern landed several national recruits in that class, much like it is doing in the 2014 class. Craig Albrecht, Chris Jones and Sam Simmons were all highly sought-after recruits who signed with Northwestern out of high school. Fitzgerald said then-coach Gary Barnett never broke the mold of what he was looking for in a recruit to bring in the higher-profile prospects.

Now Fitzgerald is following a similar path.

"[The 2014 recruits] stayed true to what fits our program," Fitzgerald said. "We feel great about all the young men, feel great we recruited the right fit. We respect you if you do it differently, but we're more focused on the right fit and if he fits the culture of our locker room."
According to MacPherson, Northwestern's message to potential recruits remains the same, but the way they view the program has changed after five straight bowl appearances and, finally, a postseason win on Jan. 1 in the Gator Bowl.
"From what we do and how we do it, not a whole lot has changed," MacPherson said. "From the perception of where our program is, that's changed a bunch. People see us now as a perennial bowl team. ... You look at Northwestern and you talk about winning football games, a great education, being in Chicago. What's not to like? Tell me when that gets bad.
"There's always been the great education, there's always been the great city of Chicago. Now you throw the football success on top of that, and it's just a great package that opens a lot of people's eyes."
Northwestern's coaches also are talking up a new
$220 million on-campus facility
, announced in September, that will house the football program along the shores of Lake Michigan. Athletic director Jim Phillips said last week that $70-80 million has been raised toward the project, and ground could be broken this fall.
Fitzgerald talked with Shanker about the "great momentum" currently around the program. MacPherson sees it on the recruiting trail.
"We are getting in some battles with some different programs than we have in the past," he said. "Obviously, that's a good thing. But at the end fo the day, you still have to do your evaluation and those guys you bring into your program have to be valuable players and be productive players for you. Is it great for our profile and be competing against teams that you see in the Rivals and the ESPN Insider ratings? Yeah, that's great. But it'll always go back to production once you get 'em on your team."
May, 9, 2013
5/09/13
2:40
PM ET
Most muttering about the Big Ten's new division alignment came from fans of teams in the seemingly loaded East division.
Their teams suddenly have a tougher path to their top goals, whether it's the Big Ten championship game, the College Football Playoff, a top bowl game or merely any postseason spot. The main complaints from the West -- mostly from Cornhusker country -- pointed to the potential lack of exposure their teams would receive by not playing as often in mega venues like Michigan Stadium, Ohio Stadium and Beaver Stadium, not to mention in the new Big Ten markets of New Jersey/New York City (Rutgers) and Maryland/Washington, D.C./Northern Virginia (University of Maryland).
The theory is less exposure could damage recruiting, not only in the Big Ten's fertile new territories but in the existing ones like Ohio and Pennsylvania.
But four recruiting coordinators from future Big Ten West division programs contacted by ESPN.com this week don't sound concerned about division placement hurting their recruiting reach.
"I really don't think coming into the West division will affect us from a standpoint of kids trying to see what we're about," said Ross Els, Nebraska's recruiting coordinator and linebackers coach. "The biggest thing for us is to obviously get the TV exposure out on the East Coast, whether we're playing the guys in the East or not. With the Big Ten Network market picking up in Jersey and Maryland, it's going to help us, even though we are on the West side."
[+] Enlarge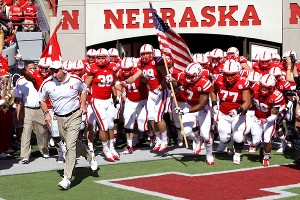 AP Photo/Nati HarnikAlthough West division teams like Nebraska will get less live exposure on the East Coast, the visibility they'll get from the Big Ten Network makes up for it.
The power of TV can't be minimized, Els said, noting that recruits in Texas, a former Nebraska recruiting hotbed, have less awareness of the Husker program because Husker games aren't televised as often as they were when Big Red played in the Big 12.
"But we are seeing the positive in the Midwest and now hopefully on the East Coast because we're on TV and that's what the kids are watching," Els said. "I'm interested to see what the response will be when we start playing Rutgers and Maryland or at least them watching us on TV more often. I think we'll even take another step as far as familiarity, but that's unproven right now."
Although West division teams will be getting less live exposure on the East Coast and in states such as Ohio and Pennsylvania, the Big Ten's television exposure more than makes up for it, several coaches said. Every Big Ten home football game is nationally televised on Big Ten Network, ESPN or ABC, and most non-league road games are picked up by a national outlet.
Although players' family members still want to see them play live, they won't miss games if they can't make the trips.
"The Big Ten is a national brand, and with the Big Ten Network, you still can sell a lot of games being on TV, crossover games closer to home and have an opportunity to play new teams like Rutgers and Maryland," Wisconsin recruiting coordinator and running backs coach Thomas Hammock said. "With TV and having access to games online ... there's probably less value placed on closer to home and more of the exposure of how much you can watch them play."
All of the West division teams assign coaches to recruit New Jersey andn Maryland. Purdue head coach Darrell Hazell, a New Jersey native, and running backs coach Jafar Williams, a Philadelphia native who played wide receiver at Maryland, handle the area for the Boilers.
Hammock, who hails from Jersey City, N.J., will continue to recruit his home state, where he plucked ESPN 150 running back prospect Corey Clement (Glassboro, N.J.) for the 2013 class. New Badgers assistant Chris Beatty, who grew up in Virginia and coached high school ball there, will target the areas around the University of Maryland.
Although the new markets already are priority areas for programs like Purdue, the effort there likely will ramp up in the coming seasons.
"It's certainly an area we want to pay attention to because of Coach Hazell's roots and Jafar's," Purdue recruiting coordinator and tight ends coach Gerad Parker said. "[The new additions] certainly perked our eyes because now we have a tie-in with the conference."
Matt MacPherson, Northwestern's recruiting coordinator and running backs coach, lists Ohio, Pennsylvania and Texas as the three most important areas for the program's recruiting efforts outside of Illinois. The Wildcats have played at Penn State in two of the last three seasons, but the new alignment means they'll likely visit State College and Columbus just once every four years.
Still, MacPherson doesn't anticipate changing the team's recruiting plan because of the division alignment.
"When you're talking to a kid about the reasons for coming to Northwestern, you're talking not only a four-year decision but a 40-year decision, the rest-of-your-life-type decision," he said. "A lot of the kids we recruit and the families we recruit to can see beyond making that decision based on whether you're going to play in a certain football stadium one or two times in your entire career.
"I don't see it affecting us a whole lot as far as where we spend our time and resources, at least not until there's some evidence to say otherwise."
Although many Wisconsin fans didn't like the Leaders/Legends alignment because they moved away from regional rivals Minnesota and Iowa, former
Badgers coach Bret Bielema often pointed to the recruiting/exposure advantages
of playing Ohio State and Penn State every year. Hammock, meanwhile, had "no reaction" to Wisconsin being in the West, noting that the Badgers must play the schedule in front of them.
Some even see recruiting advantages to being in the West division.
"Being able to recruit the Midwest and push up to Chicago, being on that side of the line doesn't hurt us," Parker said.
Only time will tell how West division placement impacts teams' recruiting on the East Coast and in the eastern half of the league. But the coaches don't sound worried.
"Sure, we won't be playing in the state of Ohio every year or every other year, but when people talk about the teams in the East, they normally talk about the teams in the West also," Els said. "So hopefully our exposure will still be pretty good in Big Ten country, regardless of which side we're on."
May, 9, 2013
5/09/13
9:00
AM ET
Northwestern's offense has been rooted in the same philosophy -- players, formations, plays -- since coordinator Mick McCall arrived in 2008. McCall shapes his scheme around the players first before choosing formations and plays that maximize their skills.
In the first four seasons under McCall, most of the players ended up being wide receivers and quarterbacks. Most of Northwestern's formations highlighted the wideouts and most of the plays were passes. Northwestern's offense had a clear passing lean, especially in 2009, when the Wildcats ranked 13th nationally in pass offense. The Wildcats didn't neglect the ground game, but when it came time to identify the best players, the running backs didn't make the cut.
[+] Enlarge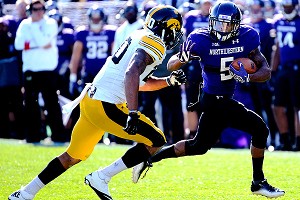 Mike DiNovo/USA TODAY SportsLast season Venric Mark became the first Northwestern running back to eclipse 1,000 yards in a season since Tyrell Sutton in 2006.
"There's been some times in the past at Northwestern in the running back room where there was one guy, and that was it," Matt MacPherson, the team's running backs coach since 2006, told ESPN.com.
MacPherson clearly has his one guy in senior
Venric Mark
, who earned second-team All-Big Ten honors in 2012 after rushing for 1,366 yards and 12 touchdowns. Mark, who earned All-America honors as a return man, was Northwestern's first 1,000-yard rusher since Tyrell Sutton in 2006.
But MacPherson thinks Northwestern's options in the backfield go beyond Mark.
"I feel like we have four or five guys in my room right now that we can go win Big Ten football games with," MacPherson said. "That gives you a lot of flexibility, and it allows you to do a lot of different things. I came out of spring very pleased with the way they performed."
Mark remains the undisputed starter and will get the lion's share of the carries in the fall. He sat out most live-tackling drills this spring as a precaution, which allowed the other backs --
Mike Trumpy
,
Treyvon Green
,
Stephen Buckley
and
Malin Jones
-- to get more reps.
Trumpy racked up 349 yards and three touchdowns on 76 carries as Mark's primary backup in 2012. Green endured a tough season with injuries and personal issues but bounced back and "had a great spring," MacPherson said. Both Buckley and Jones redshirted in 2012 but likely worked their way into the carries rotation with good springs.
"Our running back room has gotten deeper," McCall said. "We've got some guys that can play in a lot of different situations there. We've continually gotten better in that room."
Northwestern made a noticeable shift toward the run last fall behind Mark and dual-threat quarterback
Kain Colter
. After finishing no better than 45th nationally in rushing in McCall's first four seasons as coordinator, Northwestern surged to 19th nationally last year (225.4 ypg).
The rushing focus should continue as long as more running backs meet the first principle of McCall's philosophy. MacPherson thinks they will, and Northwestern might go with a two-back formation, which it used for 10-12 plays per game in 2012, more often this season.
"In my room, those eyes light up when they know we're going to start running the ball a bunch," MacPherson said, "and we're going to have two running backs on the field at the same time. That's something for them to get excited about. That just gives another aspect of competition, knowing that, OK, Venric may be the guy, but when we get into the two-back set, who's going to be the other guy?"
It's a question MacPherson is glad to be asking.
October, 17, 2012
10/17/12
3:30
PM ET
EVANSTON, Ill. -- Northwestern running back
Venric Mark
doesn't need a doctor to make the diagnosis.
Like most things in his life, he can do it all by himself.
"I have little man's syndrome," Mark told ESPN.com. "I've had that all my life, since Day 1. I've always been the small guy in the group. I've always been the guy that people go, 'Oh, no, let's not pick him.' So in my head, I'm thinking, 'OK, you're not going to pick me. I'm going to show you why you should have.'"
Any college coach who wouldn't pick Mark after the first half of the 2012 season hasn't been paying attention.
[+] Enlarge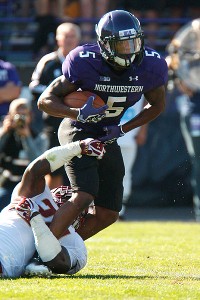 AP Photo/Matt QuinnanRunning back Venric Mark is on pace to break 1,000 yards.
Mark might be 5-foot-8 and 175 pounds, but he's the single biggest reason why Northwestern sits at 6-1, right in the thick of the Legends division race. Along with Iowa running back
Mark Weisman
and Penn State wide receiver
Allen Robinson
, Mark has been one of the Big Ten's surprise offensive stars through the first seven weeks, rushing for 792 yards and eight touchdowns.
He ranks fifth in the league and 15th nationally in rushing average (113.9 ypg). He also leads the league and ranks fourth nationally in all-purpose yards (184.6 ypg), recording two punt returns for touchdowns and 15 receptions, one for a touchdown. After putting himself in position to break most of Northwestern's career return records, Mark's emergence at running back has put the team's all-time career all-purpose yards mark (5,271 by Damien Anderson) very much in play.
"He's just playing at a high level right now," Northwestern coach Pat Fitzgerald said. "... He's a joy to coach."
Northwestern had 1,000-yard rushers every season from 2002-06, but none since. The team has lacked a true threat at running back since Tyrell Sutton departed after the 2008 season. For an offense born out of the Rich Rodriguez-style spread, it was a problem.
Few would have pegged Mark, a return specialist who struggled to find a true position for two years, to be the answer. Just don't tell him that.
"He has a level of intensity that if he was Muhammad Ali, he'd be knocking everybody out," said Northwestern linebackers coach Randy Bates, who recruited Mark out of Houston's St. Pius X High School.
Several times after runs, Mark has confronted defenders more than a half-foot taller than him.
"With football, emotions run high, people talk," Mark said. "For me, that's fuel. When they say, 'You ain't getting this,' that just motivates me."
Mark's edginess is his defining trait, even more so than the top-level speed that got him on the field at Northwestern as a returner and has been showcased on long runs, like scoring bursts of 48 and 26 yards last week against Minnesota. He's not a scat back who spends all his time on the perimeter.
He's a between-the-tackles runner who, along with quarterback
Kain Colter
, has boosted Northwestern's red zone run game, a weakness of the offense in previous years.
"Inside zone is his favorite play," Northwestern running backs coach Matt MacPherson said. "You have to be a special kid, a tough kid, and Venric is pound-for-pound one of the toughest guys on our team. He embraces that role. He wants it."
McPherson likened Mark to former Northern Illinois star Garrett Wolfe, who checked in at 5-7 and 185 pounds and while displaying tremendous speed in space, also had success between the tackles. Wolfe led the nation in rushing (1,928) in 2006.
When Bates began recruiting Mark, he heard some doubts about whether Mark could play in the Big Ten because of his size. Mark won Bates over with his intensity, a quality they share ("We're both pretty whacked-out in our own way," Bates joked).
The question always seemed to be where Mark would play.
Special teams was a given, and Mark became Northwestern's primary returner as a true freshman in 2010, averaging 26.2 yards on kick returns with a touchdown, and 12.9 yards on punt returns. He also stood out on kick coverage.
"There's no doubt in my mind if ever played anywhere at the next level, he could be on all special teams," Bates said. "He was a punt gunner and he was a kickoff guy, and obviously great returning. All that special teams value, even if he never played a snap on offense or defense, he already was a good player."
The coaches tried Mark at slot receiver, but he had just six receptions in his first two seasons, playing behind All-Big Ten selection Jeremy Ebert. There was some talk of using him on defense, but it never materialized. Although Mark came to Northwestern with the idea of simply being the team's starting returner, he wanted more and wasn't happy at receiver.
"I wanted the ball," he said. "I'm that type of player, I'm not going to lie to you. I like having the ball in my hands."
The coaches moved Mark from receiver to running back midway through the 2011 season.
"We weren't quite sure what position we were going to start him at, and as you can see, we were wrong," Fitzgerald said. "Hindsight being 20-20, we wish he would have started in the backfield sooner."
MacPherson knew Mark could make plays in space. His concern was how Mark would handle the mental challenge of being a running back in the Big Ten, where "you get the crap beat out of you," while remaining effective as a receiver and a blocker in Northwestern's offense.
Offensive coordinator Mick McCall wants to get Mark 25 touches per game. While MacPherson admits those won't be 25 inside zone plays, Mark has shown he can be a featured back, despite his size.
"I can take licks," Mark said. "Being a running back, you're going to get bumps and bruises. But it's how you play with them, it's your mindset. Coach MacPherson always talks about [defenders as] nameless, faceless victims. That's what they are."
How many victims has Mark taken this season?
"A lot," he said. "Us as a team, we've taken a lot. And we plan on taking a lot more."
August, 18, 2011
8/18/11
5:30
PM ET
A few notes from around the league two weeks from the season kicking off in Madison.
December, 4, 2008
12/04/08
3:00
PM ET
Posted by ESPN.com's Adam Rittenberg
EVANSTON, Ill. -- Tyrell Sutton's third and final hard cast will be removed next week, along with the pins inserted into his left wrist after an injury that usually occurs only in a car accident or during a fall from great heights.
| | |
| --- | --- |
| | |
| | Icon SMI |
| | Tyrell Sutton needs only 22 yards to move into second place on Northwestern's all-time rushing chart. |
The Northwestern senior running back likely will be fitted with a soft cast and begin the rehab process. After that, there are no guarantees.
Northwestern will play in a bowl game, most likely the Outback or Alamo, and Sutton hopes to suit up.
"It could go either way," he said at Northwestern's practice Thursday morning. "I've got three weeks to see what will happen. We're all preparing as if I'm going to play. My mindset is to play."
But Sutton knows there's a chance his college career, one that began with a Big Ten Freshman of the Year Award in 2005, could already be over.
He dislocated his wrist on a freak play in the third quarter Oct. 25 against Indiana. He remembers the scene after the game, as a team of doctors huddled around him. Only one of the M.D.'s had ever seen a wrist injury like his, from a victim of a car accident.
Sutton underwent surgery the next week and was ruled out for the rest of the regular season, but not a bowl game.
"It would mean a lot," Sutton said of participating in the bowl. "I don't want my last memory to be being in a cast, my last play here being an injury. ... You've got to prepare yourself for the worst. The worst scenario is I don't play at all, but hopefully it won't come to that."
Sutton still doesn't know how the injury happened, and he has no desire to find out.
"I have not watched the Indiana tape," the admittedly superstitious senior said. "I do not want to watch the Indiana tape. And I have absolutely no clue."
Sutton is right-handed and primarily carries the ball on the right side, but he'll need his left wrist to improve in order to be cleared for a bowl game. He has continued to run and catch passes with the cast on.
Running backs coach Matt MacPherson also puts Sutton through simulations, where he runs through plays from games earlier in the season with 40-second breaks in between.
Northwestern would love to have its leading rusher (776 yards) and No. 4 receiver (30 receptions, 276 yards) in the backfield for a bowl. Sutton needs only 22 yards to pass Darnell Autry for second place on the school's all-time rushing chart.
But he doesn't care how he gets back on the field.
"Even if it means me going down and hitting someone on special teams, I don't care," he said. "I want to play."