June, 7, 2012
6/07/12
5:00
PM ET
Let's talk amongst ourselves:
Rich from Denver writes:
Brian, I think a selection committee should be made up of people for whom the committee is their full-time job. Their only duties are to watch every game of every significant team in the country, break down the games, and choose the four participants. This would allow the members to be the most informed as they can possibly be. Current administrators should not be involved. Their jobs are difficult enough. The conferences certainly have enough money to pay 12-14 people to do this and I am sure there are plenty of qualified individuals who would take on this responsibility if fairly compensated. I also think a "jury-type" system should be in place whereby the four participants are unanimous choices. Some might argue that is asking for too much. But I think an arbitrary voting percentage requirement only begs for controversy. If the members of a committee can't come to a unanimous decision, how can they possibly convince the college football public that their choices are legitimate?
Brian Bennett:
You make some good points, Rich, which is one reason why I'm much
more inclined than Adam
to include retired coaches on a selection panel. What else do those guys have to do but watch football (besides maybe play golf)? Just make sure they are balanced out by geography, and you've got a natural group of people with informed opinions. I'm not opposed to current administrators serving either, however. Athletic directors and conference officials serve on the NCAA men's basketball tournament committee, and they have a whole lot more basketball games to monitor than football games. Yet they usually do a pretty good job selecting the field.
Grant from Detroit writes:
A media presence on the selection committee!? Is Adam out of his mind!? It is bad enough that in the polls and awards voting that the media has a presence. This removes all credibility from any ratings. Media will try to get the most exciting matchups with the most national appeal, NOT the most deserving teams. All in the interest of the best possible story and best possible ratings. Media belongs nowhere NEAR the selection committee. What does he think could possibly be added by a group with an obviou$ agenda in who make$ it into the playoff$?
Brian Bennett:
I agree that the media shouldn't be a part of the process, but not for the same reasons as Grant. I disagree that the media has an agenda to create the most exciting matchups or TV ratings. If anything, the Associated Press poll is far less agenda-driven than the coaches' poll, and I think with very few exceptions most media members who take part in those types of things do their best to create an unbiased ranking, even if they are sometimes misinformed or use dubious logic. I just don't think there's any journalistic rationale for a media member to cover the sport and also be involved in the selection of postseason participants, which is why the AP pulled itself out of the BCS formula a few years ago. While I have no doubt that a guy like Kirk Herbstreit, to use an example, would provide very informed analysis to a selection committee, he'd also have a hard time appearing unbiased in his broadcasts if he were that involved in the playoff selection.
Jeremy T. from Jim Thorpe, Pa., writes:
I don't understand how you can break down
Ohio State's chances of going undefeated
without even mentioning THE GAME with Michigan. Ask anyone on OSU's roster or coaching staff about their season and that is the first game they will mention. Do you have something against the Maize and Blue or are you completely clueless about the Big Ten and one of sports greatest rivalries?
Brian Bennett:
Jeremy, I didn't mention that game for two reasons. One, it's completely obvious to anyone who follows the Big Ten, and I'll be writing more about it later this week for Ohio State's most important game installment (hint, hint). Two, while it will be a very difficult and passionate game, I actually think the Buckeyes have a great shot at winning it this year with the game in Columbus. Since they are on NCAA probation, the Michigan game will be their bowl game. And if they somehow went into that game 11-0 with a chance to go undefeated, can you imagine how fired up everyone in Scarlet and Gray would be?
John from Ann Arbor writes:
Sorry, Brian, as usual, you are wrong.
The top five individual seasons
are as follows (since 1985, it is foolish to rank accomplishments prior to the point you can put them into context). 1.
Larry Johnson
, Penn State. 2002. 2. Orlando Pace, Ohio State. 1996.3 (tie). LaVar Arrington, Penn State. 1999.
Courtney Brown
, Penn State. 1999. 4. Charles Woodson, Michigan. 1997.5. Charles Rogers, Michigan State. 2002.
Brian Bennett:
Well, at least we agree on Woodson. Look, doing those kinds of lists is an impossible task that's highly subjective. The fun thing about them is they start some serious debates. You can make a strong case for everyone on your list, just as I can for mine. But I would argue with you that we can't look back past 1985. College football has been around a long time, and there were great players doing great things before
these guys
inexplicably made it big.
Mark from Phoenix writes:
If you look back at history, Iowa has had great teams when they utilize the tight end position. For example, Dallas Clark 2002 - 11-2 record, Brandon Meyers 2004- 10-2 record, Tony Moeaki 2009 - 11-2 record. The other years, tight ends were not consistently used. In those years who thought Shonne Green was going to break out in 2004, or Fred Russell in 2002, or Adam Robinson who went completely underrated and had 834 rushing yards despite missing 3 games. C.J Fiedorowicz is getting a lot of hype this year and Greg Davis says he's going to use him. That opens up Iowa's entire offense, running backs even with inexperience is gonna blow it open like it has been done before. Wide receivers are gonna have more one on one coverage. Athlon has Keenan Davis as a preseason first team, and
James Vandenberg
being the the No. 1 pro quarterback prospect. Just by having a solid tight end I think Iowa will have one of the best offenses in the big ten. Defensively they are only weak on the line. The defensive backfield has experience and stats to back themselves up. I don't see a bottom tier team with Iowa this year. Where am I wrong?
Brian Bennett:
You might not be. I think Iowa is a bit of a mystery team and somewhat of a sleeper this year, though there's a lot of youth on that defensive line. Fiedorowicz is getting a lot of hype, but he has yet to really produce at a high level. It's one thing to have a big spring; it's quite another to play like Dallas Clark.
Keenan Davis
has also been inconsistent. I'm fascinated to see what the Hawkeyes offense might look like with Greg Davis at the controls and the potential for more reliance on the passing game. The big question is if the running game and defensive line -- hallmarks of Kirk Ferentz's best teams -- can get up to speed.
Nate from Clemson, S.C., writes:
How would the conferences react to a modification of their own championship games? Would they be open to a requirement that would match up the 2 highest rated teams at the end of the season regardless of division? This would have had Alabama vs. LSU in the conference championship game and would have certainly knocked the loser out of contention for the championship game or perhaps a playoff. It seems that this would help bolster the B1G argument for the value of winning the conference championship.
Brian Bennett:
Hello down there in SEC/ACC country, Nate. Your idea makes some sense, except for the fact that conferences with divisions don't feature full round-robin schedules. So it's not always possible to determine which two teams are best. It only gets more complicated when a league grows past 12.
Ryan from Geneva, Ohio, writes:
Brian, since our names rhyme you are obligated to answer my question: Do you think that Jim Delany and his sidekick Larry Scott have the power at the playoff negotiating table to stonewall until they get what they want? Should/could Delany and Scott try to turn the tables on Mike Slive by demanding a playoff that would give the ACC and the mid-major champs more access (i.e. 8 team playoff) thus ensuring that the SEC gets outvoted?
Brian Bennett:
Any proposal by either the Pac-12 or Big Ten to expand the playoff system to eight teams would likely be met with shocked expressions or outright laughter, as both leagues have steadfastly maintained they're totally against "bracket creep" or anything more than one extra game. So I doubt Scott or Delany could even say such a thing with a straight face. I am interested in finding out just how much leverage the Big Ten has in these meetings. The SEC has all the championship rings, but the Big Ten
has a whole bunch of money
and TV eyeballs in its corner.
Mike from Chicago writes:
If you are a true fan of any conference, super conferences are a horrible, horrible idea!!! Yes I get the fact that conferences want to add more and more teams in order to expand their TV footprint in order to rake in even more dough. However, I think this type of thinking is flawed and can potentially backfire on a conference by alienating its fan base. The SEC is trying to schedule a 8 game conference schedule with 14 teams and its turning out that teams might only face certain cross divisional opponents on their home turf once every 12 years!!!! I can tell you right now that if the BIG 10 added an additional two teams and that meant my Badgers hosted Iowa, MSU, Michigan, and Nebraska once every 12 years, I would immediately cancel my BTN package. And I'm pretty sure a lot of fans feel the same way.
Brian Bennett:
Well, I'd suspect you'd still watch your Badgers, because we simply can't give up our favorite teams. But I'm with you on everything else. Superconferences may be good for TV deals but not much else, as far as I and the average fan is concerned. I hope Jim Delany is right and they are
not the wave of the future
.
Johnny from East Lansing, Mich., writes:
Can attrition at a program ever be considered a good thing?
Matt Ramondo
of MSU recently left the program to be close to home and more importantly, get more playing time. With the bevy of red-shirts over the past two years, I feel the attrition of players in East Lansing will increase. Part of me thinks it's good because it shows the programs' increased competition and talent. Part of me thinks it's bad because the best recruits want to play immediately and they may not get that opportunity here. Which part of me is right?
Brian Bennett:
You never really want to lose talented players who are not causing problems, but there's not a program in America that doesn't suffer some attrition. Kids get homesick, seek more playing time, get injured, whatever. The real key is developing enough depth to where one or two defections at a given position don't put you in a bind. That's what Mark Dantonio and his staff have been so good at lately, building what may be the deepest overall team in the Big Ten this year, especially on defense.
Brett from Chicago writes:
Brian, a rule question for you: Even though
Jon Budmayr
has already redshirted, he'll redshirt again due to his injuries for his hip and throwing arm. Which makes me wonder: because this is a medical redshirt, could Bart Houston redshirt again?
Brian Bennett:
The way I understand it, an additional redshirt year for a injury problem is never guaranteed. Players have to apply for a sixth year from the NCAA and have proper documentation showing that it was injury, not a voluntary redshirt, that forced them to miss a year. Cincinnati's Ben Mauk famously fought the NCAA on this, claiming he had an injury that held him out his freshman season at Wake Forest, but the NCAA eventually ruled against him. Houston wouldn't be able to take a voluntary redshirt year for development purposes, but if he suffered another season-ending injury early enough in one of his four Wisconsin seasons, he could apply for a sixth year.
Kevin from Ann Arbor writes:
No, Brian,
Michigan's most important game
is not Michigan State. They are not going to beat Sparty until they either find a QB who can reliably throw the football or Michigan State stops playing defense. The most important game is not Ohio State as the season could already be lost prior to their meeting. The most important game is Notre Dame. UM could realistically be 1 and 2 heading into that game and a loss would be very bad. Michigan's margin of error this year is very slim and will very likely looking at a trip home for New Years with a loss.
Brian Bennett:
Interesting take, Kevin, and I can understand your reasoning. If the Wolverines lose to Alabama in the opener, then Notre Dame becomes an even bigger game. Yet when looking at this series, I'm focused much, much more on the Big Ten picture. Brady Hoke and his players have said over and over this offseason that their main goal is to win a league championship. If that's the case, it doesn't much matter what happens in the offseason. I'm betting Wolverines fans would be happy with a three-loss season that led to a Big Ten title and Rose Bowl appearance. That's why the Michigan State game, especially being a division game at home, is so important this year.
Jeff from Lorain, Ohio, writes:
You wrote
, "Ohio State fans will miss out on visiting a special environment in Athens, one of the best college towns around and home of the famous hedges. But Buckeyes coach Urban Meyer, who used to play the Bulldogs every year as part of the Georgia-Florida rivalry, probably won't miss it too much." Personally Brian, I think Georgia fans will miss out the most by not visiting the Shoe and the great atmosphere of OSU, but since you hate Ohio State you wouldn't know.
Brian Bennett:
Of course, because always we try to aim most of this blog's content toward Georgia fans, who can't get enough travelogue information about the Big Ten.
June, 4, 2012
6/04/12
12:00
PM ET
These are questions for wise men with skinny arms.
April, 4, 2012
4/04/12
9:00
AM ET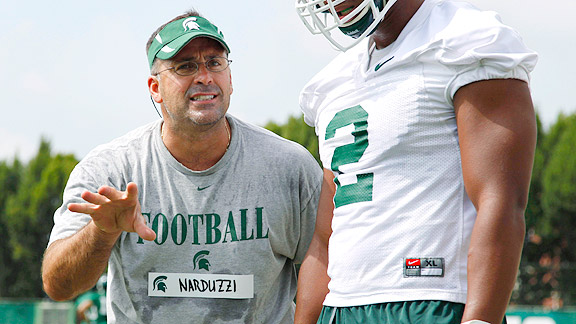 AP Photo/Al GoldisPat Narduzzi returns to Michigan State to head up the Spartans' highly-ranked defense.
Michigan State finished sixth nationally in total defense last season and returns nine starters. Just as importantly, the Spartans return defensive coordinator Pat Narduzzi, who was wooed by Texas A&M over the winter but chose to stay in East Lansing. Narduzzi's defense figures to once again be one of the very best in the country. I recently caught up with him to chat about the state of the defense this spring:
When you have so many starters back, how does that affect what you do in spring practice?
Pat Narduzzi:
One thing it does for us is it gives us the opportunity to know that hopefully there's a lot of carryover from last season. We don't try to install any more defenses. We try to keep it at the same pace. You know, kids forget. Coaches can sit in the office 24/7 and talk about it, but for them, as soon as that bowl game against Georgia is over, those guys go on with their lives, with their girlfriends and studying English. But it allows you to come in and not make as many mistakes as you would with a young defense.
Yet you have to be excited about the potential for this defense with the players you have back, right?
PN:
Yeah, it's exciting, but we still have to go out and make plays. We do have a lot of players back, so hopefully we can go out and be as productive as we were a year ago. But you can't get complacent, because what you did last year or the last game or even last week doesn't really matter. It's what you do right now. So every day we're building the 2012 defense.
You used the word complacent. How do you make sure the starters don't get too comfortable and that there's still a lot of competition?
PN:
There are certain positions you can look at and say, "There's no way he's getting beat out." And there's probably, of the 11 positions out there, you've got to say there's six or seven of them. But we're starting to do such a good job recruiting that there are some battles out there at different spots, particularly at the defensive tackle spot, the safety spot and even the linebacker spot. There's a lot of spots that are really wide open. If a guy makes a mistake with the 1's, you pull him down to the 2's and really keep him on edge, in a positive way. With the starters, you expect perfection. When you make mistakes, that's not helping you. Another guy can get in and make mistakes, too.
February, 2, 2012
2/02/12
4:00
PM ET
After recording 11 victories in each of the past two seasons, Michigan State hoped to carry over the momentum to the recruiting trail. The Spartans on Wednesday signed a class headlined by standout skill players and
added another Thursday morning
in four-star receiver
Monty Madaris
. Along with the addition of wide receiver transfer
DeAnthony Arnett
, Michigan State has put itself in position to replace standouts like receivers
B.J. Cunningham
and
Keshawn Martin
, and safety
Trenton Robinson
. The Spartans also faced increased competition in the region from Michigan and Ohio State, and talk of a
Michigan State-Ohio State recruiting firestorm
is building.
[+] Enlarge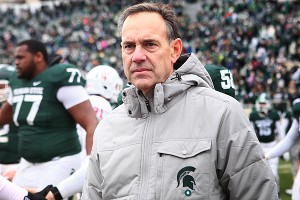 Mike Carter/US PresswireMichigan State's Mark Dantonio says his latest recruiting class is loaded with skill-position talent.
ESPN.com caught up with Spartans coach Mark Dantonio on Thursday. Here are his thoughts about the class.
What were your top priorities in this class?
Mark Dantonio:
We felt like we needed to go out and get a great class of skill players. Last year, we were pretty deep on our team, so we only (signed) two wide receivers and two defensive backs last year. We felt like we really needed to concentrate in those two areas, and I think we came away with a great class. We've got five wide receivers signed and four defensive backs, and a very skilled tailback [
Nick Tompkins
] who really can play any of those positions. He'll play tailback here off the start. We've got guys like
Demetrious Cox
who can play anywhere: tailback, slot receiver, safety, probably even corner. We've got guys like Jermaine Edmonson, who is coming in as a defensive back but can play wide receiver.
Aaron Burbridge
is another guy who can cross the realm and play corner, play wide receiver, tailback. He'll play wide receiver for us. Madaris,
MacGarrett Kings
, DeAnthony Arnett has to be included in this class, and he's a phenomenal player, one of the top wide receivers in the country last year.
It's a tremendous group, wide receiver especially. When you lose a B.J. Cunningham, Keshawn Martin and
Keith Nichol
, that's a lot of offense. Those guys will have an opportunity to play immediately. And on the defensive side,
Ezra Robinson
and Cox, Edmonson and
Mark Meyers
are guys that can tackle, play the ball in the deep part of the field, change direction very well, they run very well, they're very explosive players. All 10 of those guys are kick returner, punt returner guys.
I also think that because we lose [Kirk] Cousins, we needed to bring a quality quarterback into the program. We don't overload our football team with quarterbacks. We don't have six or seven guys on scholarship. We'll have three quarterbacks on scholarship next year, and
Tyler O'Connor
was an Elite 11 quarterback, a guy that has great mechanics, has the ability to run with it, he's big, he's very intelligent, he's got a great release and great arm strength. He's going to be a tremendous asset to this program as time goes on. And then we took three offensive linemen who are going to be able to play, and one defensive lineman in
David Fennell
. Two outstanding linebackers in [Jamal] Lyles and [Riley] Bullough, who are very, very good athletes and played a variety of positions. Fennell's a defensive tackle flying under the radar from Oregon, who just moved to the U.S. from Canada. He shows great punch. His dad is in the Hall of Fame in the CFL. The guy has great explosiveness, extremely strong, very quick, plays with a high motor. I think he'll be an outstanding player.
With the wide receivers you're losing, how many of the guys you're bringing in will stay at receiver and have a chance to play immediately?
MD:
All of these guys are going to have a chance to play. We basically have five wide receivers on scholarship, so our numbers are low in that area, not just because we lose the three [starters], but we lose two backups as well.
Edwin Baker
going [to the NFL] hurts at the tailback position, so there's opportunity to play and play early. They're quality players. They're guys who we've either had in camp or watched play in person. They're big-time players, and they'll all have an opportunity to play. And there are some guys who might cross over and be pretty versatile as well. And on the defensive side, you can pretty much say the same thing.
Jeremy Langford
is going to go back to tailback, so it's going to open a possibility at corner.
Tony Lippett
's a guy we played at corner last year. He'll go back to wide receiver. So it was important to get a defensive back class as well.
I'll make this statement. I've been coaching for a long time, and I don't know I've been anyplace where we've recruited 10 quality athletes like this at the skill positions. I think they're excellent football players, and they all fit our identity, they fit our mold in terms of our chemistry. Great people with good values, all with the vision of being outstanding. I think Cox is a tremendous player.
Do you guys now have pipelines at defensive backs and wide receiver?
MD:
I think we are. If you're good enough, you're going to play here. We only played one freshman [defensive back] last year, but the year before, our entire second unit was made up of freshmen. We've had to move people around a little bit, so there's opportunities for these guys, and they see themselves playing early in their careers. They also see the success that we're having. The other thing everyone has to realize is last year, we took seven defensive linemen. We redshirted every single incoming freshman last year except for one. So we're going to have about 40 freshmen in August camp. This is a very bright future at Michigan State. We've got some excellent young players, predominantly defensive players ... who would have played in the bowl game. We probably would have played six of them in the bowl game if they were eligible to play.
You mentioned the lineman from Oregon. How do you feel about the defensive tackles with Jerel [Worthy] moving on? Is it something you looked for in this class, or might look for in the junior college ranks?
MD:
We looked more in terms of defensive end at the junior college route a little bit. We felt like we wanted to stay the course with our guys. We came down to the end on a couple guys that, if they come our way, maybe solidify that a little bit. But you've got to go back to last year. We recruited six defensive linemen and had a seventh transfer in from Vanderbilt, as an offensive [lineman] for them. He was a four-star player,
James Kittredge
. So we've got seven defensive linemen, and five of them are defensive tackles. So our numbers are good. We've got guys like
Damon Knox
and
Joel Heath
and
Brandon Clemons
and
Matt Ramondo
and Kittredge, those guys are all pushing about 280. We'll be fine there. Obviously, we're going to miss Jerel. You can't replace a guy who was first-team all-conference, a first-team All-American and maybe a first-round draft pick. But we've got guys coming, and I'm sure coach [Pat] Narduzzi will get those guys ready to play.
Mark, you've recruited the Midwest for a long time. Was there any different dynamic this year competing for recruits with some of the staff changes at Ohio State, and with Michigan's staff having a full year to recruit?
MD:
I really don't think so. It's always difficult to recruit in the Midwest when you're surrounded. Michigan State has its own identity, but Michigan certainly and Notre Dame and Ohio State and Wisconsin and Iowa. We're right in the middle of all those guys. And usually when we want 'em, they want 'em. You can throw Penn State into that mix, and you have some teams coming up from the Southeastern Conference, so it's extremely competitive in terms of the guys you're going to get. But we're competing on a scale with those guys. We're very competitive with them, and this is a great opportunity for young people to look at, so we're going to get our guys.
Recruiting has accelerated. There's no question about that. With that said, you've got to get guys on your campus earlier, and usually those guys have to be within four or five hours of your campus. After that, they have to fly, or they're taking cross-country trips. It's so important you get players on your campus to see the place with a parent or a loved one, because when you come down the stretch, for a guy to make a visit like they used to, come in January on a visit by himself, if they have not been here before, the opportunity for you to get them to come to Michigan State or anyplace else goes down drastically.
Are you guys changing the types of players you're going after at all?
MD:
Not really. We've always tried to look to see who's going to fit our program. Just because you can play corner at one institution doesn't mean you can play corner here based on how we play the corners. We're looking for a different type of player at times than maybe somebody else would. Doesn't mean it's right or it's wrong. We try and look for who's going to complement our football team. There's a foundation that's being laid here, there's good things happening. We're not to the end yet, and we want to continue to push forward, but the guys we've recruited have helped us win, there's no question about that. They've won. So we're taking the right guys. We have very little attrition on our football team, so consequently we have a smaller class. I don't think we've ever taken 25 guys. I think the biggest class has been maybe 21, 22. We make assessments based on guys who can play for us, in our schemes and fit our chemistry, our profile. I think we've done a great job with that. We've got some guys here who have been two-star players who are going to play in the NFL, there's no question.