November, 26, 2011
11/26/11
9:45
PM ET
MADISON, Wis. -- The game ended one debate and added intrigue to another.
Wisconsin's
45-7
dissection of Penn State left no doubt as to which is the best team in the Leaders division. After falling behind early, the Badgers outclassed the Nittany Lions, as they're prone to do in a building where they've now won 16 consecutive games. They earned the right to face Michigan State next week in the inaugural Big Ten championship game.
But the decisive victory only brought more uncertainty to a question Badgers players and coaches love to get asked even though few have an answer.
Who is the Big Ten's Offensive Player of the Year: quarterback
Russell Wilson
or running back
Montee Ball
?
[+] Enlarge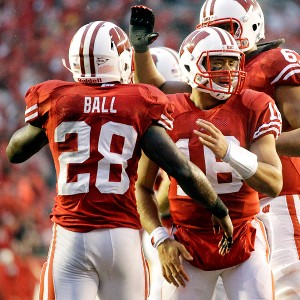 AP Photo/Morry GashWill Russell Wilson and Montee Ball end up sharing the Big Ten's top offensive player of the year honors?
"I'd split it," Wisconsin coach Bret Bielema said. "I don't know if there's ever been co-offensive MVPs off the same team. I don't know if that's ever been done, but I don't know how you can give it to one without the other."
It has happened once: Big Ten coaches voted Iowa quarterback Matt Rodgers and running back Nick Bell as co-Offensive Players of the Year in 1990. Will it happen again next week?
Wisconsin wouldn't be where it is without the contributions of Wilson and Ball, who are putting together the best combined quarterback-running back performance in a season in Big Ten history (more on that later). The senior quarterback and junior running back both sparkled again Saturday, having a hand in all six Wisconsin touchdowns against the nation's No. 8 defense. Wilson finished the game 19-of-29 passing for 186 yards and two touchdowns, while Ball recorded 156 yards and a touchdown on 25 carries.
It's rare when one NCAA record is set in a game, much less two. How about two records by two players in the same half? Wilson and Ball delivered Saturday.
Ball's second rushing score late in the second quarter gave him 12 consecutive games with multiple touchdowns, breaking Barry Sanders' NCAA record of 11 straight games. Wilson's 21-yard touchdown strike to
Jared Abbrederis
in the first quarter gave him 36 consecutive games with at least one touchdown pass, tying the NCAA record held by former Texas Tech star Graham Harrell.
Wilson's team single-season touchdown passes record stands at 28. Ball, meanwhile, has his sights set on a loftier mark, one thought to be unreachable. His four touchdowns Saturday give him 34 for the season, the second-most in NCAA history behind only Sanders' 39 scores in 1988.
"It's extremely rare," Wilson said of his and Ball's performances this season. "It's a once-in-a-lifetime type thing. You don't see it very often, but I think with Montee's ability to do a lot of different things, and then with my ability to throw the ball extremely well and to improvise when I have to, it's pretty dangerous."
You think?
Big Ten awards voting wraps up Sunday, and all-conference teams will be announced Monday night. The league's Offensive and Defensive Player of the Year awards are announced Wednesday afternoon, so the debate about Wilson vs. Ball will continue until then.
Don't expect much help from the Badgers.
"I'm very happy I don't have to make that decision," offensive lineman Travis Fredrick said.
"I couldn't say," added fellow offensive lineman Ryan Groy. "I'd be split between both of them."
Ball appeared to provide a definitive answer the first time I asked him.
"I'd pick myself," he said. "Of course, I'd pick myself."
But when asked during a
video interview
, Ball flip-flopped, saying he'd vote for "the pretty boy, Russell. Because what he brought to this team was a lot." When called out, Ball tried to backtrack, the first time all afternoon he had to.
Wilson was a bit more decisive.
"I'd definitely vote for Montee," he said.
While the debate carries on about which individual performance is superior, the combined effort from Ball and Wilson is more notable.
There's never been anything quite like it in Big Ten history. Wilson's passer rating of 192.9 this season keeps him on pace to break Colt Brennan's single-season NCAA record of 186. He should have no trouble breaking the Big Ten season record of 175.3 set by Michigan's Bob Chappuis in 1947.
Ball already has shattered the Big Ten season touchdowns mark of 26 and should finish among the league's top 10 in single-season rushing (he currently has 1,622).
While the Big Ten has witnessed better individual rushing and passing performances, the combined effort from Ball and Wilson stands alone in league annals. It's the best since Penn State's Kerry Collins and Ki-Jana Carter 1994: Collins passed for 2,679 yards and had a quarterback rating of 172.8, which ranks second in Big Ten history; Carter rushed for 1,539 yards and 23 touchdowns.
Former Wisconsin coach and current athletic director Barry Alvarez brought up Iowa's Chuck Long and Ronnie Harmon in 1985. They had impressive numbers -- Long racked up 3,297 pass yards, 27 touchdowns and a rating of 153.1; Harmon had 1,166 rush yards and nine touchdowns -- but not as impressive as the Wilson-Ball tandem.
"They're both really special," Alvarez told ESPN.com. "You only have one ball, so it's hard to have two guys with numbers like that."
It wasn't hard for Ball and Wilson to mesh. They play different positions and have different responsibilities, but they're driven in the same way.
"It goes back to how hard I worked in the offseason and how hard he worked when he got here," Ball said.
When Wilson arrived July 1, he told Ball he would compete to become one of the best quarterbacks in the country.
"He gravitated to that," Wilson said. "Every day in practice, we work together and communicate extremely well. Our desire to be great and to never be afraid to excel is something we definitely have in common."
For those arguing that Wisconsin and its stars feast on inferior competition, consider this: Ball racked up 495 rush yards and seven touchdowns and added two receiving scores against three top-10 defenses (Michigan State, Penn State and Illinois). While Wilson wasn't at his best in the Michigan State game, he still rallied his team brilliantly in the fourth quarter and stepped up against an excellent Penn State defense on Saturday, completing 15 of 21 passes for 149 yards in the first half.
"Two of the most complete players at their respective positions that I've ever seen play the game," Bielema said.
Wilson and Ball could share Big Ten Offensive Player of the Year. One or both could earn an invitation to New York for the Heisman Trophy presentation.
But the two are more focused on sharing a podium in two other places -- Indianapolis and Pasadena.
September, 21, 2009
9/21/09
5:00
PM ET

Posted by ESPN.com's Adam Rittenberg
Kudos and criticism from Week 3 in the Big Ten.
Thumbs up, Iowa's defense
-- The Hawkeyes throttled an undermanned Arizona team, holding the Wildcats to eight first downs, 253 total yards and just one offensive touchdown when the game was out of reach. Safety Tyler Sash and defensive end Adrian Clayborn led the way. Despite all the chaos on offense, Iowa's defense has been the team's constant heading into Big Ten play.
Thumbs down, Northwestern's defense
-- Sherrick McManis' absence really hurt the Wildcats at Syracuse, but this unit has seen a decline in fundamentals and overall explosiveness. Northwestern controlled the line of scrimmage in most of its games last year, but the defense looked a step slow throughout a heartbreaking loss to the Orange.
Thumbs up, Eric Decker
-- The rest of the country finally got a glimpse of why No. 7 is such a special player. Decker accounted for all three Minnesota touchdowns against Cal (2 receiving, 1 pass) and became the school's all-time receptions leader with his second scoring grab. He might have made the toughest catch of the college football season on his first touchdown, leaping for the ball and taking a vicious hit from Cal's Sean Cattouse.
Thumbs down, Minnesota's offensive line
-- Despite the arrival of guru Tim Davis, the Gophers' front five has underperformed this season. You can't live by the motto "Pound the Rock" and average a Big Ten-worst 85.7 rush yards a game. Minnesota now ranks 109th nationally in rush offense after finishing 104th nationally last season.
Thumbs up, Indiana's secondary
-- The unit took advantage of Akron backup quarterback
Matt Rodgers
, picking off four passes in Saturday's road win. Safety Austin Thomas collected two picks for the second time in his career, and cornerback Ray Fisher made his mark on special teams, returning the game's opening kickoff 91 yards to the end zone.
Thumbs down, Michigan State's secondary
-- What had been billed as the team's deepest unit struggled for the second straight game. Notre Dame's
Jimmy Clausen
passed for 300 yards and two touchdowns against the Spartans, and he would have had more if not for an injury to star wideout
Michael Floyd
. This secondary is Mark Dantonio's baby, and he needs to get it on track Saturday against Wisconsin's
Scott Tolzien
, who has exceeded expectations.
Thumbs up, Terrelle Pryor
-- Pryor deserves some credit for playing the way he's supposed to playing and utilizing all of his natural gifts as a quarterback. The sophomore threw for a career-high 262 yards but more important, he rushed for 110 yards in a romp against Toledo. It marked the first time Pryor recorded 200 pass yards and 100 rush yards in the same game. I would anticipate we'll see many more from No. 2
Thumbs down, Purdue's defensive line
-- The Boilers led the Big Ten in pass defense a year ago, but was it simply a facade that masked their inability to stop the run? They certainly struggled Saturday against Northern Illinois, which piled up 280 rush yards in a 28-21 victory. Huskies running backs
Me'co Brown
and
Chad Spann
had little trouble finding room in the Boilers defense.
Thumbs up, Carlos Brown
--
Brandon Minor
hasn't been healthy all year, but Brown continues to answer the bell for Michigan. The senior rushed for a career-high 187 yards and two touchdowns, including a 90-yard burst, in the Wolverines' victory against Eastern Michigan. Minor will be a factor when his ankle heals, but Brown deserves to be a big part of the Michigan run game.
Thumbs up, Evan Royster
-- Despite battling the flu last week, Royster looked at his peak against Temple, rushing for 134 yards and a touchdown. Penn State needed some semblance of a run game to emerge before Iowa came to town, and Royster provided it against the Owls.
Thumbs up, Chris Borland
-- I feel terrible for not picking Borland as my Big Ten Special Teams Player of the Week, so this has to suffice. The Wisconsin freshman linebacker blocked a punt and forced a fumble on another punt against Wofford. Wisconsin recovered Borland's blocked punt in the end zone for a touchdown. No wonder the Badgers' coaches were so high on this guy in training camp.
Thumbs down, Purdue's punt block unit
-- Northern Illinois made an extremely gutsy call on the fake punt deep in its own territory, but Purdue simply can't let that happen. The Boilers needed to make sure they get the ball back with enough time to do some damage. Instead, Purdue ran out of time.
Thumbs up, Mike Kafka --
Kafka set a Northwestern record by opening the Syracuse game with 16 consecutive completions. He also set a team record for single-game completion percentage (83.3 percent) and caught his first career touchdown pass. Though his fourth-quarter interception proved costly, Kafka proved he's more than just a runner.
September, 21, 2009
9/21/09
9:00
AM ET

Posted by ESPN.com's Adam Rittenberg
Ohio State answered the bell and finally dominated a team, while the Big Ten's upper crust has separated itself. The top five look pretty solid, while the bottom six are a muddled mess.
1. Penn State (3-0)
-- The exhibition season is over for Penn State, which looked better on offense and just as stingy against Temple. The Lions finally established a decent running game, and not a moment too soon with Iowa visiting Happy Valley this week. Linebacker Sean Lee has been fabulous in his return to the field, and Penn State's defense is setting the tone. But things are about to get much tougher.
2. Ohio State (2-1)
-- I probably punished the Buckeyes a little too much last week, but I needed to see them deliver a convincing performance against an inferior opponent.
Terrelle Pryor
and the much-maligned offense clicked against Toledo, and the defensive line was merciless against
Aaron Opelt
and the Rockets. The Buckeyes defense has things rolling right now as
Juice Williams
returns to Columbus this week.
3. Michigan (3-0)
-- This has more to do with Ohio State's overdue performance than anything Michigan did against Eastern Michigan. Wolverines freshman quarterback
Tate Forcier
looked his age at times Saturday, but
Carlos Brown
and the rushing attack picked him up nicely. A young Michigan defense still has some things to shore up against the run as it opens Big Ten play against Indiana.
4. Iowa (3-0)
-- No Big Ten team has looked more impressive the last two weeks than the Hawkeyes, though national respect is still hard to come by. The good news? Iowa can gain a ton of cred by upsetting No. 5 Penn State on Saturday night in the Whiteout at Beaver Stadium. The defense must maintain its edge and quarterback
Ricky Stanzi
needs to limit his first-half mistakes in Happy Valley.
5. Wisconsin (3-0)
-- The Badgers took care of business against FCS Wofford and continued to get steady play from junior quarterback
Scott Tolzien
. The schedule really favors Wisconsin this year, with four consecutive home games to begin the season, and Bret Bielema's team has capitalized. Michigan State will be a desperate team Saturday, but Wisconsin gets the Spartans and Camp Randall Stadium.
6. Minnesota (2-1)
-- After a rough start, Minnesota rallied against Cal and made the nation's eighth-ranked team work for a victory at TCF Bank Stadium. Kevin Cosgrove and Ron Lee have the defense playing extremely hard, especially in the front seven.
Eric Decker
is a stud, but the offense remains far too one-dimensional. The Gophers will struggle in the Big Ten if they can't run the ball.
7. Indiana (3-0)
-- Surprised to see the Hoosiers here? Well, they deserve it after their second 3-0 start in the last three seasons. Akron clearly missed suspended quarterback
Chris Jacquemain
, but Indiana took advantage of the situation and intercepted backup
Matt Rodgers
four times. The competition gets much harder this week at Michigan, but kudos to Bill Lynch and Indiana for the hot start.
T-8. Northwestern (2-1)
-- The Wildcats resume looks pretty weak right now, with a blowout win against Towson and a close call against Eastern Michigan followed by a loss at Syracuse. A banged-up defense let
Greg Paulus
and
Mike Williams
pile up yards and points Saturday, leading some to believe that last year's improvement was a fluke. Quarterback
Mike Kafka
's play was very encouraging, but if the defense reverts to pre-2008 form, Northwestern will struggle in the Big Ten.
T-8. Michigan State (1-2)
-- Credit the Spartans for playing extremely hard in South Bend, but they still came out with a tough loss. Listening to quarterback
Kirk Cousins
, who
handled a difficult situation well
, you'd think these Spartans won't go the way of their predecessors. A trip to Madison this week has to be classified as a must win before arch-rival Michigan visits East Lansing on Oct. 3.
10. Illinois (1-1)
-- The Illini didn't play on Saturday, but they lost a huge piece of their defense last week as middle linebacker Martez Wilson (neck) will miss the rest of the season. Wilson will be missed, and linebackers Ian Thomas and Russell Ellington must pick up the slack. The biggest boost must come from Juice Williams,
Arrelious Benn
and the offense. Illinois season could be decided in the next three games (Ohio State, Penn State, Michigan State).
11. Purdue (1-2)
-- A home loss to Northern Illinois carries a price, even though the Huskies are an improved team. NIU loaded up against the run and held
Ralph Bolden
in check, and Purdue couldn't get its downfield passing game going. It's hard to know what to make of Purdue, which should have beaten Oregon on the road but really struggled against NIU. The Boilers can strike back this Saturday night against Notre Dame (ESPN, 8 p.m. ET).
September, 19, 2009
9/19/09
6:59
PM ET
Posted by ESPN.com's Adam Rittenberg
Quick thoughts on the recently completed wins by Iowa and Indiana.
Iowa 27, Arizona 17
-- Maybe the Northern Iowa game was the best thing for Iowa. The near disaster certainly got the Hawkeyes' attention. Iowa delivered another impressive second-half performance to beat Arizona and set up the first significant game of the Big Ten season next Saturday at Penn State. Redshirt freshman Adam Robinson came up big in the run game along with true frosh Brandon Wegher, and Iowa's defense once again limited damage. Ricky Stanzi has got to stop hurting his team with turnovers, but Iowa found a way to win by controlling the clock with the run.
Indiana 38, Akron 21
-- I've picked against the Hoosiers the last two weeks and got burned in both games. It's time to give out some credit to Bill Lynch's crew. A balanced running attack helped Indiana improve to 3-0, and the Hoosiers capitalized on Akron backup quarterback Matt Rodgers by intercepting him four times. Indiana obviously caught a break with
Chris Jacquemain's suspension
, but the Hoosiers took advantage with a complete performance on the road. The running game definitely looks better, and who knows, maybe Indiana makes some noise in the Big Ten this fall.
September, 18, 2009
9/18/09
7:24
PM ET
Posted by ESPN.com's Adam Rittenberg
Akron has
indefinitely suspended starting quarterback
Chris Jacquemain
for an undisclosed team policy violation, meaning Indiana will see backup
Matt Rodgers
on Saturday (ESPNU, 3:30 p.m. ET).
Jacquemain had started Akron's first two games, passing for 320 yards with four touchdowns and an interception. Rodgers has completed 3 of 8 passes for 24 yards on the season.
Needless to say, this is a huge break for the Hoosiers (2-0). Jacquemain is Akron's biggest weapon and the type of quarterback who can challenge an unproven secondary. Indiana will surely turn up the heat on Rodgers with defensive ends Jammie Kirlew and Greg Middleton.
Is it too late to change
my pick
for the game? For what it's worth, Indiana wins Saturday.