December, 18, 2012
12/18/12
8:00
PM ET
Wisconsin got a close-up look at Utah State coach Gary Andersen earlier this year. He brought his Aggies into Madison in September and nearly pulled off the upset, losing 16-14 on a late missed field goal.

Could Andersen's next trip to Camp Randall Stadium be as Badgers head coach? ESPN's
Brett McMurphy and others are reporting
that Wisconsin athletic director Barry Alvarez interviewed Andersen for the job on Monday. The Wisconsin State Journal reports that
Andersen is now Alvarez's top choice
.
Andersen led Utah State to an 11-2 record and victory in the Famous Idaho Potato Bowl this season. He was also the defensive coordinator at Utah in 2008, when the Utes went undefeated.
Andersen has spent most of his career in the Utah area and has no apparent ties to Wisconsin. His team also runs a spread offense, which goes against the power-football mentality Alvarez has used to build the Badgers program and wants the next coach to continue.
Jacksonville Jaguars assistant Mel Tucker is also thought to be a top candidate.
SI.com's Pete Thamel
reports that Alvarez has also interviewed Bowling Green head coach Dave Clawson.
December, 17, 2012
12/17/12
9:00
AM ET
Wisconsin athletic director/interim football coach
Barry Alvarez met with local reporters Sunday
after practice and discussed his search for a new head coach.
Alvarez said he has one more coaching candidate to meet with before deciding "on the best person." He reportedly has met with two candidates -- Jacksonville Jaguars defensive coordinator Mel Tucker and
recently named South Florida coach Willie Taggart
. Tucker said early last week that
he's not interested
in the position, although
his name keeps coming up
. It seems unlikely Taggart would make another move after accepting the USF job on Dec. 7.
[+] Enlarge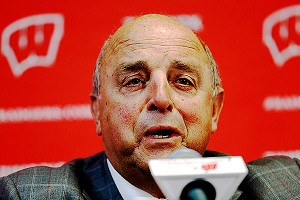 AP Photo/Morry Gash"For those that are panicking, don't panic. We'll take care of business here and this program will be in excellent hands," AD Barry Alvarez said.
Would Alvarez consider returning to the sideline on a permanent basis? He said Sunday that he thought about the possibility for "like a day" last week, noting that he felt badly for some of the assistant coaches he wants retain but who received offers elsewhere and tight deadlines to decide their futures.
"I was thinking of doing it myself just to keep them," he said. "But if I did it for a year we'd be in the same situation next year."
(Alvarez could coach for a year and name a coach-in-waiting to stabilize recruiting. Say, former assistant and ace recruiter Joe Rudolph? Just sayin' ...)
Alvarez acknowledged that several potential candidates on his short list already had been hired by other programs, while other coaches he had interest in are remaining loyal to their respective programs. Although he didn't mention any names, potential targets like Pitt's Paul Chryst, Miami's Al Golden and Oregon State's Mike Riley all are staying put.
Although angst is building among Wisconsin fans the longer the program is without a head coach, Alvarez doesn't sound worried. He noted that university policies prevent him from hiring anyone until later this week (Thursday specifically). He also pointed out that it's a dead period in recruiting at the moment and that Wisconsin's verbal commits for 2013 appear to be on board.
"We're spoiled here because we were probably one of the most stable programs in the country with me being here 16 years and elevating an assistant [Bret Bielema] for seven years," he said. "This happens around the country. I'll hire a good coach. This program will continue being very good. For those that are panicking, don't panic. We'll take care of business here and this program will be in excellent hands."
Alvarez expressed some frustration at the quick deadlines given to assistant coaches for other jobs. Wisconsin has lost five assistants from Bielema's staff -- defensive coordinator Chris Ash, co-defensive coordinator/defensive line coach Charlie Partridge, offensive coordinator Matt Canada, wide receivers coach Zach Azzanni and linebackers coach Andy Buh. Both Ash and Partridge joined Bielema's new staff at Arkansas, and Wisconsin running backs coach Thomas Hammock reportedly also has an offer from Bielema.
All the assistants will remain with the team through the Rose Bowl, and there's some talk Ash could be in the mix for Wisconsin's top job.
"I'd like for them to stay, but they had to protect their families," Alvarez said. "A coach says you've got 24 hours to make this decision or the job isn't there, they have to do something. I couldn't promise them that the next coach would retain them. ... I couldn't have sped the process up. I have to get to the people that I want to talk to. I just have to do it right. I feel bad for losing some very, very good coaches."
Alvarez didn't rule out the possibility of Wisconsin trying to bring back some of the assistants it will lose after the head coach is named.
Several of the departing assistants also spoke Sunday, including Canada, who sounded particularly peeved at how things have played out.
"There is some frustration with the way all this went down," Canada told reporters. "... I came here with the intention of being here for a long, long time. That's what we came here for. That was the plan. Sometimes plans change and you have to trust that and move forward."
December, 15, 2012
12/15/12
11:50
AM ET
Wisconsin's search for a head coach remains somewhat mysterious at the end of its second week, but there is some news about the school's assistant coaches.

Defensive coordinator Chris Ash recently accepted the same position on Bret Bielema's staff at Arkansas, but reports surfaced Friday that Ash is
considering applying for Wisconsin's head-coaching vacancy
. Although athletic director/interim coach Barry Alvarez said he planned to target sitting head coaches for the job, he didn't rule out qualified coordinators. Ash has done a nice job in his three seasons on Wisconsin's staff, the past two as defensive coordinator.
Wisconsin reportedly will
lose wide receivers coach Zach Azzanni to Tennessee
, where he'll rejoin former boss Butch Jones with the Vols.
Two other top Badgers aides,
offensive coordinator Matt Canada
and co-defensive coordinator/defensive line coach Charlie Partridge, are reportedly weighing offers from other programs. Both men appear to want to wait for Wisconsin's head coach search to play out before making their decisions.
The Milwaukee Journal Sentinel also reports that
Wisconsin linebackers coach Andy Buh has interviewed
for the defensive coordinator job at Cal.
It's not surprising that the assistants have other offers, and it's likely others will leave. But it's also notable that several assistants want to wait on the Wisconsin search, indicating their desire to stay.
Coaches like Miami's Al Golden and Oregon State's Mike Riley aren't candidates for Wisconsin's vacancy, and Jacksonville Jaguars defensive coordinator Mel Tucker said he spoke with Alvarez but isn't interested in the job. Is Toledo's Matt Campbell a candidate? We could find out after Toledo's bowl game today.
One possibility I wouldn't dismiss is Alvarez naming himself coach for a year and bringing in a coach-in-waiting, which could help stabilize recruiting. It's probably not the first option, but I've heard all week that this isn't out of the question.
December, 11, 2012
12/11/12
12:00
PM ET
It's not gonna work, Mickey. My bladder's as big as your betrayal.
December, 5, 2012
12/05/12
10:50
AM ET
Former Wisconsin defensive coordinator Dave Doeren isn't a candidate to return as the Badgers' next head coach, a source close to Doeren told ESPN.com on Wednesday morning.
NC State hired Doeren as its head coach Saturday, the day after he led Northern Illinois to its second consecutive Mid-American Conference championship. Doeren went 23-4 in two seasons at NIU after serving as a Badgers assistant from 2006-2010, the last three seasons as defensive coordinator.
Doeren is on the road recruiting for NC State, and has no intentions of leaving the job.
The interesting question here is whether Wisconsin athletic director Barry Alvarez should have reached out to Doeren before Doeren accepted the NC State job. Alvarez reportedly knew about Bret Bielema's potential departure for several weeks, although
he said in a statement Tuesday night
that he was "very surprised" when Bielema took the Arkansas job.
With Doeren out of the mix and Pitt coach Paul Chryst, the former Wisconsin offensive coordinator, affirming his commitment to the Panthers, it will be interesting to see where Wisconsin's search turns next.
Keep an eye on two NFL assistants who played at Wisconsin: Seattle Seahawks offensive coordinator Darrell Bevell, and Jacksonville Jaguars defensive coordinator/assistant head coach Mel Tucker.