January, 25, 2013
1/25/13
1:00
PM ET
By now, you've seen
where several Big Ten recruits stack up in the final ESPN 300
for 2013. Check back in three or four years to see who met expectations and who did not.
What about the most decorated Big Ten recruits from four years ago? In preparation for national signing day Feb. 6, the folks at RecruitingNation took a
look back at the ESPN 150 from 2009

(there wasn't an ESPN 300 back then) and recorded what each recruit did at the college level.
A total of 21 Big Ten recruits made the 150 from 2009. Some turned out to be stars, others never got on track and a few haven't written the final chapter of their college careers.
Let's take a look (positions listed according to ESPN recruiting profiles):
Top 50
No. 22: Jaamal Berry, RB, Ohio State -- Played sparingly in 2010 and 2011 before off-field issues led to a suspension. Transferred to FCS Murray State and recorded 675 rush yards this past season.

No. 32: Dorian Bell, LB, Ohio State -- Appeared in eight games for Ohio State in 2010 before being suspended the following year and eventually transferred to FCS Duquesne, where he performed well in the 2012 season.

No. 47: Craig Roh, DE, Michigan -- Started 51 games for Michigan, a team record, and earned honorable mention All-Big Ten honors in each of the past two seasons.
Nos. 51-100
No. 67: Je'Ron Stokes, WR, Michigan -- Played sparingly at Michigan before the coaching transition from Rich Rodriguez to Brady Hoke. Transferred to Bowling Green and caught 15 passes this past season.

No. 69: David Barrent, OT, Michigan State -- Played in seven games as a reserve before back problems ended his career in May 2011.

No. 74: Eric Shrive, OT, Penn State -- Shrive appeared in every game as a reserve guard in 2012 and could compete for a starting job in 2013.

No. 81: Quinton Washington, G, Michigan -- Washington has moved to defensive tackle and entered the starting lineup in 2012, recording 32 tackles and a sack.

No. 87: Terry Hawthorne, WR, Illinois -- Hawthorne played mostly cornerback at Illinois and made starts in all four seasons, earning honorable mention All-Big Ten honors in each of the past two. He also returned kicks and punts and should be selected in April's NFL draft.

No. 88: C.J. Barnett, CB, Ohio State -- Barnett has been a mainstay in Ohio State's secondary the past two seasons, recording 56 tackles, two interceptions and six pass breakups in nine games in 2012. He is expected to start at safety for the Buckeyes in 2013.

No. 94: Isaiah Bell, S, Michigan -- Bell didn't play a snap for Michigan before leaving the program in March and playing for Division II Lake Erie College this past season.

No. 99: Jamie Wood, S, Ohio State -- Wood has appeared in 30 games for the Buckeyes, mostly on special teams, but has battled shoulder problems and underwent surgery last fall.
Nos. 101-150
An interesting mix, for sure. Lewan, the last player listed, might turn out to be the most successful. So few of the Big Ten's top 100 recruits panned out, and Ohio State fans have to be shaking their heads a bit at this list, as only Mewhort and Barnett look like success stories. There were unfortunate injury situations like Michigan State's Barrent and Ohio State's Fellows, some academic casualties (Carter, Forcier), and a downright sad story with Appleton. Baker was the only player on the list to make an early jump to the NFL.
Although several players didn't pan out, Michigan undoubtedly has to feel the best about the 2009 class as Robinson produced a record-setting career, Roh was a solid player, Lewan is a star and Washington could be a star in 2013.
Eight Big Ten teams are represented on the 2009 list. Those that aren't: Indiana, Nebraska, Northwestern and Purdue.
RecruitingNation also
re-ranks the top 10 classes

, with both Ohio State (No. 9) and Michigan (No. 10) holding their positions.
October, 7, 2011
10/07/11
8:11
PM ET
The
NCAA dropped the hammer
Friday on Ohio State wide receiver
DeVier Posey
.
Is the Ohio State program next?

We'll soon find out if Friday's NCAA ruling on Posey foreshadows what will come from the infractions committee when it renders a more important decision on Ohio State, but Buckeye Nation can't be feeling too comfortable.
Posey, whose five-game suspension for his role in Tattoo-Gate was set to expire Saturday at Nebraska, received an additional five-game ban for accepting approximately $720 from ex-Ohio State booster Bobby DiGeronimo for work he didn't perform and approximately $100 in golf fees from Ohio State fan and freelance photographer Dennis Talbott.
Attorney Larry James told the Cleveland Plain Dealer
the NCAA ignored documentation that showed Posey worked proper hours, but said the NCAA had made up its mind.
Three other players -- running back
Dan Herron
, defensive end Melvin Fellows and offensive lineman Marcus Hall -- received one-game suspensions for receiving money from DiGeronimo for work not performed.
The good news is Herron, Ohio State's most experienced running back, and Hall, who has started at guard, will return next week against Illinois. Fellows is taking a medical hardship for the season and will serve his suspension next year.
Posey's additional suspension means Ohio State will be without its only proven receiver until a Nov. 18 matchup against Penn State. Although Corey "Philly" Brown is getting healthy and had some
amusing tweets Friday about Nebraska topography
, the Buckeyes really need help at receiver to assist freshman quarterback
Braxton Miller
.
Ohio State coach Luke Fickell said this week that Posey and Herron won't be dismissed from the team despite multiple NCAA violations.
"I am extremely disappointed with the NCAA's decision regarding DeVier Posey," Ohio State athletic director Gene Smith said in a prepared statement. "This penalty is harsh considering the nature of the violation and the five game suspension already served by this student athlete."
The penalty says the NCAA isn't taking a series of violations lightly, and Posey had three separate issues on his record (tattoos, work for DiGeronimo, golf with Talbott). He received significantly more money than the others, and the NCAA ruled in all the cases involving DiGeronimo, the overpayments "occurred over an extended period of time."
Smith is trying to convince the NCAA that
these are isolated incidents
and not indicative of a systematic problem with Ohio State. He might be successful in this endeavor, and the fact Ohio State has self-reported all the violations and cooperated with the NCAA during its investigations helps the school's cause. Smith reiterated Monday that he's confident the infractions committee won't hit Ohio State with serious charges of failure to monitor or lack of institutional control.
Is Smith still confident after Friday's ruling?
The NCAA could view the Ohio State case a a chance to make a strong statement about violations. The Posey decision suggests as much. We should find out sometime in November.
The infractions committee is now on the clock ...
October, 3, 2011
10/03/11
5:30
PM ET
Gene Smith's spit list started out with seven names.
It included the six Buckeyes football players who violated NCAA rules by trading memorabilia items for cash and tattoos, and Edward Rife, the tattoo parlor owner with whom the transactions were made.
At a December news conference announcing the violations, Smith, the Ohio State athletic director, first declared the program did not have a systematic problem with compliance. Give Smith credit: Once he makes an argument, he sticks to it, even when it becomes harder and harder to believe.
While Smith's case has lost credibility, his list continues to grow.
A prominent name was added in March, that of Ohio State football coach Jim Tressel, who admitted he knew of the violations the previous April but did not come forward.
When Tressel resigned on Memorial Day, Smith and the Ohio State brass shrewdly began placing blame on the coach, especially during a scathing self-report to the NCAA.
It seemed then that Smith's list would be complete. Not quite.
More players have been added, along with a booster, Bobby DiGeronimo, who reportedly has employed Buckeyes players for years and invited them to charity events. DiGeronimo's connection led to three players being suspended for the first two games of the 2011 season.
Bobby D is back in the news, as an NCAA probe into his employment of players has revealed that three Buckeyes received too much compensation for the work they did. Wide receiver
DeVier Posey
and running back
Dan Herron
, two players set to come off of suspension this week for their involvement in the tattoo transactions, are
ineligible for Saturday's contest at Nebraska and possibly more time
. Defensive end Melvin Fellows, who hasn't been playing because of injury, also was overpaid. Linebacker Etienne Sabino was declared ineligible but reinstated for the Nebraska game after paying $60 -- the amount he was overpaid -- to a charity.
[+] Enlarge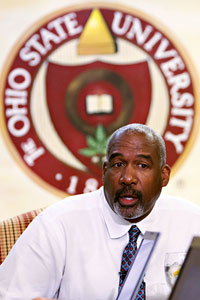 AP Photo/Terry GilliamOhio State athletic director Gene Smith says: "I am confident in our compliance program."
According to Ohio State, the overpayment amounts ranged from $60 (Sabino) to $728 (Posey).
Ohio State recently disassociated DiGeronimo from the program. The school has applied to have Posey, Herron and offensive lineman Marcus Hall reinstated.
Do Posey and Herron count once or twice on Smith's list? Just trying to keep all these individuals straight.
"These failures are individual failures, failures of individual athletes, obviously a previous coach," Smith said Monday. "It's not a systemic failure of compliance."
There's that line again. Just a few bad apples. Apple cart's fine. Nothing to see here, NCAA. Keep moving along.
"These individual decisions were made to go off the reservation," Smith said. "At the end of the day, it's not a systems problem."
Remind me to ask Smith where I can find this reservation. Getting paid for not working? Sign me up!
"These were individual decisions by individual people," Smith said. "It's not 30."
It's getting close.
The individuals on Smith's original list could cram into a double room at a two-star motel. Now Ohio State might need to rent out the presidential suite.
Still, Smith insists Ohio State doesn't have a program problem. Individual problems? Sure. A Tressel problem? Absolutely.
But the individual violations, in his mind, don't merit charges of failure to monitor or lack of institutional control. Remember, the NCAA's infractions committee has yet to rule on Ohio State's case following an Aug. 12 hearing in Indianapolis.
"Optimistic as we move forward in our broader case there are no additional allegations," Smith said. "Optimistic a failure to monitor or lack of institutional control is not an allegation that will emerge."
Smith said the August hearing was held with the understanding that the NCAA would be "investigating additional matters." Ohio State now is putting together a report about the latest violation to the committee, and Smith said a final decision -- one that might close the book on this program's darkest chapter -- will be delayed.
"I anticipate the committee will take longer and hopefully get us an answer sometime this fall," Smith said.
Smith was the one trying to provide answers Monday: on why DiGeronimo for years was approved to host Ohio State players at his charity events; on how Ohio State didn't know about his employment of players; on what lessons can be learned from these violations; on who is held accountable for this; most important, on why he believes the hammer won't drop on Ohio State.
He talked about Ohio State's 1,090 student-athletes, including 200 new ones each year "who come to us with all levels of maturity and immaturity." He talked about the hundreds of community service activities and events Ohio State approves each year for its student-athletes.
"Do we have an individual [from compliance] to be at those? No we don't," Smith said. "Will we do some things differently? No question. But the reality is that's not a systems issue."
Got it.
"I am confident in our compliance program," Smith said. "We do not have a systemic problem. Most people don't understand that."
Those of us on the outside certainly don't. Even some Ohio State fans are mystified by what has taken place in recent months.
Smith has to hope the infractions committee members understand. In the end, their views are the only ones that matter.
Ohio State isn't giving the NCAA many options. How many individual cases must be added up to result in a failure to monitor charge? How many names do they need to see before putting Ohio State on their list?
Yes, there were some incredibly stupid decisions made, particularly by Posey and Herron. But at some point, the individual cases add up to one big program problem.
Smith had better hope his math is the same as the committee's.
April, 11, 2011
4/11/11
1:30
PM ET
The Big Ten featured only
one spring game
this weekend, but plenty of teams took to the field for scrimmages. I've compiled some scrimmage highlights from around the league based on reports from official team websites and other media sources. Several teams didn't provide specifics about their scrimmages, but I included what I could find.

ILLINOIS
The
Illini scrimmaged for about 90 minutes Saturday
, and all players were involved in contact aside from starting quarterback
Nathan Scheelhaase
.
Notes
The offense prevailed in the scrimmage and gashed the defense for several big runs. Troy Pollard took most of the reps at running back as Jason Ford sat out with a sore knee, and Pollard helped his cause with 110 rush yards on 19 carries. Scheelhaase completed 7 of 12 passes for 53 yards and added 58 yards on the ground, while backup Miles Osei had a 63-yards pass to Fred Sykes and finished the day with 165 yards through the air.
Coach Ron Zook singled out linebacker Houston Bates for his play in the scrimmage. Bates had a sack and a quarterback hurry. He saw increased playing time after Jonathan Brown was kicked out of the scrimmage after throwing a punch and drawing a personal foul penalty.
INDIANA

The Hoosiers held their
second scrimmage of the spring
Saturday afternoon at Memorial Stadium. Check out coach
Kevin Wilson's thoughts
as well as some
highlights
.
Notes
The offense got the best of the defense Saturday after the D shined in Indiana's previous scrimmage. Receivers Duwyce Wilson and Kofi Hughes stood out in the highlights Indiana showed on its website, as Hughes had a long touchdown reception and Wilson was forced out just shy of the goal line. Both players have been impressive this spring and should complement top wideout Damarlo Belcher in the fall.

IOWA
No official information from Iowa's scrimmage Saturday, but here's a
photo gallery
and some recent
player interviews
from the team's website.
MICHIGAN

No official information from Michigan's scrimmage Saturday, but here are video interviews with defensive tackle
Mike Martin
and offensive lineman
Patrick Omameh
. Running backs
Vincent Smith
,
Michael Cox
and
Stephen Hopkins
had some nice runs in the video highlights.
MICHIGAN STATE
The Spartans held their first jersey scrimmage Friday and the defense prevailed 55-45 in a modified scoring system. The defense had 18 ways to score points, while the offense had 11 ways to score, including touchdowns and field goals.

Notes
The defense dominated the scrimmage, holding the offense without a first down on the first five possessions and without points for the first 13 possessions. Michigan State's D recorded three sacks and two interceptions during the stifling stanza. The only two touchdowns scored came during the goal line and red zone portions of the scrimmage.
Defensive ends William Gholston and Tyler Hoover combined for nine tackles, three tackles for loss, a sack and a pass breakup. Sophomore linebacker TyQuan Hammock recorded an interception. "The defense played well -- tackled effectively, pressured the quarterback and came away with some turnovers," coach Mark Dantonio said in a news release.
Starting quarterback Kirk Cousins had a rough day (6-for-16 passing, 41 yards, INT), although he didn't get much help from his receivers, who dropped three passes. Backup Andrew Maxwell completed 15 of 26 passes for 116 yards with an interception.
The touchdowns came from Edwin Baker (22-yard run) and Le'Veon Bell (6-yard run). Receiver Keith Mumphery caught a 43-yard pass from Maxwell.
MINNESOTA

The Gophers scrimmaged Saturday at TCF Bank Stadium and ran about 120 plays.
Notes
Minnesota's defense held the upper hand as the offense struggled to gain a first down early in the scrimmage. The defensive line had a very good day as tackles Brandon Jacobs and Brandon Kirksey both stood out. Jacobs sacked No. 1 quarterback MarQueis Gray and Kirksey recorded a blocked field goal attempt. Ends D.L. Wilhite and Ra'Shede Hageman also made some plays. "The defensive line got up the field a lot more than we have been. [It was] a lot more aggressive," coach Jerry Kill told reporters. "And we need that. We need more push. We had nine sacks last year, and that can't happen."
Gray and top receiver Da'Jon McKnight hooked up on receptions of 45 and 20 yards. McKnight also recorded a punt block in the scrimmage.
Reserve quarterback Tom Parish threw two interceptions and fumbled a snap. Moses Alipate ran a few series at quarterback and led a scoring drive.
NEBRASKA

The
Huskers ran about 150 plays in a scrimmage
Saturday in Lincoln. Quarterbacks
Brion Carnes
,
Cody Green
and
Kody Spano
took most of the reps and drew praise from coach Bo Pelini.
The coaches limited reps for quarterback Taylor Martinez after the sophomore hurt his toe in a recent workout. Running back Rex Burkhead participated in the scrimmage and "looked great," according to Pelini, although Burkhead's reps were limited as well.
Nebraska had two false-start penalties and one fumble during the scrimmage. "That's not bad," Pelini said. "Most of it is with the young guys. It shows me the emphasis is working and there's progress, but one's too many as far I'm concerned."
NORTHWESTERN

The Wildcats scrimmaged Saturday in Evanston in preparation for this week's spring game.
Notes
Top running back Mike Trumpy had runs of 33 and 25 yards, while Tyris Jones added a scoring run. Jones has had a really nice spring for the Wildcats, who are looking for more options in the backfield.
Trevor Siemian and Evan Watkins took the reps at quarterback as Kain Colter was held out of the scrimmage. Siemian completed 8 of 12 passes for 86 yards with an interception, while Watkins, victimized by dropped passes, completed 8 of 21 passes for 71 yards and a touchdown strike to Charles Brown.
Defensive end Tyler Scott picked off Siemian on the second play of the scrimmage. Siemian later responded with a 36-yard pass to Rashad Lawrence. Demetrius Fields led the receivers with five receptions, while walk-on Torin Dupper had three catches for 46 yards.
OHIO STATE

The Buckeyes held a special-teams scrimmage followed by a full jersey scrimmage Saturday in Ohio Stadium. The team went through about 20 possessions and the offense prevailed 56-45.
Receiver DeVier Posey recorded two touchdown receptions, a 33-yarder from Joe Bauserman and an 8-yarder from Taylor Graham. Freshman quarterback Braxton Miller had the only other touchdown of the scrimmage on an 11-yard run.
Bauserman completed passes of 33 and 16 yards and also threw an interception on a pass tipped by defensive lineman John Simon. Graham completed 10 of 20 passes for 80 yards, while Miller hit on 4 of 6 passes for 43 yards and looked impressive on the touchdown run. Kenny Guiton struggled at quarterback, leading the offense to only one score (field goal) in six possessions.
Posey recorded five receptions for 83 yards and two scores, while the other scholarship wideouts combined for only five receptions. Think Ohio State will miss No. 8 in the first five games?
Senior running back Dan Herron didn't get much work Saturday, and Jaamal Berry and Rod Smith stood out among the backs with several nice gains.
Defensive linemen Adam Bellamy and Melvin Fellows both recorded sacks, while other defensive standouts included cornerback Travis Howard and linebacker Etienne Sabino.

PENN STATE
The Lions scrimmaged Saturday, but there's not much info out there
aside from this
(must pay for content).
WISCONSIN

The Badgers held a scrimmage Saturday, running more than 120 snaps, and coach
Bret Bielema shares his thoughts here
.
Sophomore linebacker Conor O'Neill had a big day with interceptions on back-to-back plays, picking off Joe Brennan and Joel Stave. Wisconsin auditioned O'Neill at safety last year, and his experience defending the pass is paying off.
Bielema said center Peter Konz will miss the rest of the spring because of ankle and knee injuries. Konz will undergo minor knee surgery and should be fine for fall camp. Versatile sophomore Ryan Groy is seeing time at center and can play all three interior line spots.
Remember Zach Brown? The running back is still around in Madison and hopes to enter a crowded backfield this fall. Brown had a 17-yard touchdown reception and an 8-yard scoring run Saturday. "Zach is an angry running back," Bielema told reporters. "Everybody wants to talk about those other guys. People forget he ran for 200 yards [in a game] as a freshman, and he has won some games for us."
April, 6, 2011
4/06/11
1:00
PM ET
COLUMBUS, Ohio -- Off-field issues continue to dominate the discussion around Ohio State, but the Buckeyes have plenty to address between the lines.
Not only does Ohio State lose 24 seniors from the 2010 team, but the Buckeyes will be without five players, including four offensive starters, for the first five games this coming season. The cumulative loss in production has coach Jim Tressel calling this his youngest team at Ohio State.
Here are the five players suspended for the first five games of 2011:
* returning starter
Filling these gaps is a primary goal for Ohio State this spring. The team is in good shape at some positions and thinner at others.
Here's a breakdown of the five positions,
from the most shaky spot to the most stable
.
QUARTERBACK
[+] Enlarge

AP Photo/Terry GilliamJoe Bauserman is the most experienced of Terrelle Pryor's backups and is the favorite to start.

Sidelined: Terrelle Pryor, three-year starter (2010 stats: 210-for-333 passing, 2,772 yards, 27 TDs, 11 INTs, 754 rush yards, 4 TDs)

Fill-ins: Joe Bauserman (senior, two-year backup, appeared in every game last season and completed 16 of 22 pass attempts); Kenny Guiton (sophomore, appeared in five games last season and completed 1 of 2 attempts); Taylor Graham (freshman, redshirted in 2010); Braxton Miller (true freshman, enrolled early and participating in spring)

The skinny: Quarterback is undoubtedly Ohio State's biggest concern because Pryor has held the starting job since September 2008. Bauserman is a veteran but lacks game experience, while the others essentially have none. Although Bauserman and Guiton have an edge right now in the spring, Graham and especially Miller could close the gap. Guiton and Miller are the most mobile of the group, although Bauserman moves pretty well, too.

Quotable: "Braxton is lost. Kenny and Joe have the best grasp on it. Taylor's somewhere in between. We've had four practices. I hope in the next 11, we get a lot more looks that will really make you think, 'OK, this guy.' If I had a game tomorrow, Joe would start, but Kenny has looked good and the two young guys, they're so hesitant because they don't know much, and we have to wait until we get out there and chase them when people are allowed to tackle them." -- Tressel
WIDE RECEIVER
Sidelined: DeVier Posey, two-year starter (2010 stats: 53 receptions, 848 yards, 7 TDs)

Fill-ins: Corey Brown (sophomore, eight catches for 105 yards and a touchdown in 2010); Chris Fields (sophomore, three catches for 22 yards in 2010); James Louis (freshman); T.Y. Williams (freshman)

The skinny: If the quarterback spot weren't so important, receiver would be Ohio State's most pressing need. Posey, graduating senior receiver Dane Sanzenbacher and graduating senior running back Brandon Saine accounted for 131 of the team's 228 receptions in 2010. Brown is a good bet to start and Fields could land the other spot in Posey's absence. Ohio State also could use its running backs as receivers more this fall. The 6-foot-5 Williams is an intriguing prospect because of his size. New assistant Stan Drayton has his hands full in his first year.

Quotable: "Coach Drayton said DeVier is like Coach Posey now. He knows the offense so well and I'm sure coach Drayton is still getting caught up a little bit." -- center Mike Brewster
LEFT TACKLE
[+] Enlarge

Greg Bartram/US PresswireLosing Mike Adams for five games will really test Ohio State's O-line depth.

Sidelined: Mike Adams, started throughout 2010 season, consensus first-team All-Big Ten selection

Fill-ins: Andrew Norwell (sophomore); Marcus Hall (sophomore, redshirted in 2010 because of academic issues); Jack Mewhort (sophomore)

The skinny: Overall offensive line depth is an issue for Ohio State this spring, and the lack of bodies could prevent the Buckeyes from having a full-blown spring game. Players are rotating at several spots during practice, and Mewhort and Hall both are in the mix for starting jobs at guard, too. Hall's return should help Ohio State survive without Adams, as hopes were high for Hall before his academic issues last season. Norwell backed up right tackle J.B. Shugarts as a freshman in 2010 and could be the answer during Adams' suspension.

Quotable: "We only have 10 linemen right now. We'll get a couple more for [preseason] camp. But I'm really, really impressed by the guys. They've been rotating around, playing left tackle, left guard. It has been encouraging." -- Brewster
DEFENSIVE END
Sidelined: Solomon Thomas (2010 stats: 14 tackles and a win-clinching interception in the Sugar Bowl as a reserve)

Fill-ins: Nathan Williams (senior, 46 tackles, 9.5 tackles for loss, 4.5 sacks, four passes defended, one interception in 2010); Adam Bellamy (sophomore, 11 tackles, two tackles for loss in 13 games in 2010); Melvin Fellows (sophomore)

The skinny: Ohio State lacks many true defensive ends and will need a big year from Williams, a returning starter, at the rush end position. Thomas likely would have started if not for the suspension, but the Buckeyes have some flexibility up front. Most of Ohio State's defensive linemen play both inside and outside. John Simon, who started last season at defensive tackle, lined up at end for part of Wednesday's practice. Ohio State boasts better depth at the inside position, so players like Simon and Bellamy could see more time on the outside.

Quotable: "You've got your Johnny Simons and your Nate Williamses back, and you hope they can be the core and the leadership. They might not be production leaders because of where they are [on the field], but that's where it starts." -- co-defensive coordinator/assistant head coach Luke Fickell
RUNNING BACK

Sidelined: Dan Herron, 17 career starts, first-team All-Big Ten in 2010 (2010 stats: 216 carries, 1,155 rush yards, 16 touchdowns, 19 receptions, 180 receiving yards)

Fill-ins: Jordan Hall (junior, 37 carries, 161 rush yards, 2 TDs in 2010); Jaamal Berry (sophomore, 32 carries, 266 rush yards, 1 TD in 2010); Carlos Hyde (sophomore, 24 carries, 141 rush yards in 2010); Rod Smith (freshman, redshirted in 2010)

The skinny: Of the five positions where Ohio State loses a player to suspension, running back looks to be the strongest by far. Herron had a strong performance in Big Ten play last fall and could be missed, but the Buckeyes should be very deep in the backfield. They have variety in size, skill sets and running styles, and they will be able to give defenses different looks. Hall and Berry both looked good at times last season, and Smith generated a lot of buzz during practices before the Sugar Bowl. Fullback Zach Boren said running backs coach Doc Tressel has noted that the team has seven players capable of starting in the backfield.

Quotable: "It's a stable of backs. To me, it's one of the most impressive backfields in the country. All those guys, you can tell they're trying to do the right things because they know whoever's going to have that little edge, they need to make sure they're doing the right things off the field as well. There's so many running backs, it's going to be hard to get them all on the field." -- Brewster
August, 16, 2010
8/16/10
1:30
PM ET
As we move closer to the season, I'll be ranking the Big Ten, position by position. After some deliberation, I've decided to change things up and
rank only the top 5 units
from around the league. While I know you love to rag on the lower-ranked teams and send me spirited e-mails if your team comes in at No. 11, I don't really see much difference between the units ranked in the bottom half of the league.
No intelligent fan base should be celebrating, "We're No. 6!" Truth: your team's unit is probably a lot closer to No. 11 than No. 1. If a certain position group is stacked at the top, I'm open to including multiple teams tied for the No. 5 spot.
The criteria: past performance, 2010 potential, game-changing players and overall depth.
Let's get it started with the defensive line.
1. Iowa:
The Hawkeyes' front four is not only the best in the Big Ten, but quite possibly the country (Rivals.com
thinks so
). Everyone knows about beastly defensive end Adrian Clayborn, but Broderick Binns can be just as effective on the other edge. Veterans Karl Klug and Christian Ballard solidify the middle. This group can flat out dominate games, as it showed last season against Penn State and Georgia Tech, and should be even better in 2010. My lone concern: depth.
2. Ohio State:
You know a position group will be fine when three key contributors (Thaddeus Gibson, Doug Worthington, Todd Denlinger) depart and there's talk of even better days ahead. Cameron Heyward could be the Big Ten's most disruptive defensive player, as USC and Penn State learned last season, and there's a lot of optimism about young players like
John Simon
, Melvin Fellows and Garrett Goebel. Dexter Larimore brings experience to the interior line.
3. Penn State:
Like Ohio State, Penn State can lose key players like Jared Odrick up front and not miss a beat. We should know better than to doubt veteran line coach Larry Johnson, who recruits and develops players better than just about anyone. Penn State has high hopes for defensive end Jack Crawford, and veteran tackle Ollie Ogbu also returns. Odrick leaves a major void in the middle, but the Lions expect big things from Devon Still if he can stay healthy.
4. Purdue:
I'm taking a little leap of faith here, as Purdue has to
get a lot better against the run
. But the Boilers have a bona fide star in end Ryan Kerrigan, some experience with Gerald Gooden and Kawann Short, and they should benefit from coach Gary Emanuel's return to West Lafayette. Purdue is thin at defensive tackle after Mike Neal's departure to the NFL, but Kerrigan leads what should be a formidable pass rush after finishing third nationally in sacks in 2009.
5. Wisconsin:
Here's a case where I feel great about one line position and nervous about another. Emerging star J.J. Watt leads a talented group of defensive ends --
ends, not tackles!
-- that also features Louis Nzegwu and David Gilbert. The situation at tackle is a bit shakier because Wisconsin lost both starters from 2009, but Patrick Butrym boasts experience, and hopes are high for Jordan Kohout.
Up next:
Linebackers
July, 19, 2010
7/19/10
3:00
PM ET
My look at three newcomers to watch for each Big Ten team in 2010 continues with Ohio State.
OFFENSE: Chris Fields, WR, Fr., 6-0, 185
I considered going with one of Ohio State's young running backs (
Jordan Hall
,
Jaamal Berry
, Carlos Hyde), but the coaches really like what they see from Fields, who plays a position of need for Ohio State. The Buckeyes boast two solid options at receiver in
DeVier Posey
and
Dane Sanzenbacher
, but they need a No. 3 target after Duron Carter left school.
Taurian Washington
is a veteran option, but Fields should get ample playing time this fall. Fields added some weight during the offseason and boasts excellent speed.
DEFENSE: Melvin Fellows, DE, Fr., 6-5, 249
Cameron Heyward doesn't have to worry about his job security, but Fellows is the latest in a line of dynamic young Buckeyes defensive linemen. He worked his way into the two-deep with an impressive performance this spring and forms a very exciting young nucleus with John Simon, Nathan Williams, Solomon Thomas and others. Fellows isn't an every-down player yet, but he gives Ohio State the ability to be flexible with a guy like Heyward.
SPECIAL TEAMS: Ben Buchanan, P/K, So., 6-0, 195
Special teams are a
bit of a concern
entering the season, but Buchanan could put a lot of folks at ease with his play. He takes over the starting punter spot after averaging 42.8 yards on four attempts in 2009. Ohio State finished 41st nationally in net punting last fall, a stat Jim Tressel would like to see improve. Buchanan also likely will handle long field goal attempts for Ohio State and might move into a featured role at kicker if Devin Barclay or Drew Basil doesn't nail down the job.
April, 16, 2010
4/16/10
10:00
AM ET
COLUMBUS, Ohio -- Cameron Heyward still enjoys being a kid at Ohio State.
He might be the first college football star in history to gush about new facilities and not be referring to a weight room, a players' lounge or some other addition to the detached athletic complex.
"Being on campus, all these new facilities we got are great," he said last week. "You know, the
new [student] union
."
You mean college football players spend time on campus, at the student union, with other, um, students?
Apparently Heyward does. And he loves it.
"Everybody always tells me you're only in college once," he said. "And I want to make the most out of it."
Of course, his desire carries over to the football field, where he'll lead the Ohio State defense as a senior this fall.
He didn't have to come back and might have been a first-round pick in April's NFL draft had he chosen to declare after the 2009 season. Heyward recorded 6.5 tackles for loss and 10 sacks as a junior, playing both defensive line positions, but his dominating performances against two of Ohio State's toughest opponents, USC and Penn State, suggested he was next-level ready.
In the end, another year at Ohio State and another year to sharpen his game brought him back to Columbus.
"Cam can be good," Buckeyes head coach Jim Tressel said. "He works so hard. Great person, excellent student. He's what a college player should be all about."
Nebraska's Ndamukong Suh elevated the national profile of defensive linemen last season, earning a trip to New York as a Heisman Trophy finalist. Could Heyward follow suit this year?
"I haven't watched much of [Suh], heard great things about him," Tressel said. "I'd like to think Cam can be that national kind of guy."
Heyward has lofty expectations for both himself and a defensive line that loses three starters but boasts plenty of young talent.
His strength and national ability are indisputable, but he wants to improve technically this fall. He played last season at 285 pounds, down from 290, and felt better with his movement. Despite being listed at 288 pounds, he still wants to get bigger and add some muscle mass before the fall.
"You always see these D-linemen, a little bit bigger than me," he said. "I want to try to fit the prototype, except be more."
Heyward attributed his improvement last season to an enhanced preparation routine and an adjusted defensive scheme that allowed him greater flexibility. He began coming to the film room early Monday mornings to study film, and he'd maintain his focus throughout the week. Although Heyward had started his first two seasons, he "wasn't as involved [in preparation] and didn't understand it as well."
By grasping the whole defense, Heyward became more comfortable playing end or tackle. He plans to once again fill in at both spots this fall.
"Inside, you have to be a little more careful of double teams," he said, "as opposed to the outside, it's mostly a pass rush, just squeezing around the block."
No matter where Heyward lines up this fall, double teams almost certainly will greet him.
"You know it's going to happen," he said. "I've just got to be ready for it. I've got to try to fight it, and other guys have got to step up as well. I'm not going to make all the plays, but I'll make as much as I can. That's going to leave a lot of 1-on-1s for [other] guys."
Fellow veteran Dexter Larimore returns at defensive tackle, but Ohio State will lean on less proven linemen like John Simon, Nathan Williams, Garrett Goebel, Solomon Thomas and Melvin Fellows. The Buckeyes need more depth up front, but Tressel knows he has a linchpin in Heyward.
"He's going to be a great leader for this team," Tressel said. "Obviously, we will count on him a lot on the field. He has a good knack of helping bring other people along. He's a real inclusive guy. He knows that we lost a great deal of personnel on that defensive front.
"His performance will be crucial for us, but his leadership will be just as important."
February, 24, 2010
2/24/10
9:00
AM ET
Perhaps more than any other Ohio State player, Cameron Heyward rose to the occasion in 2009.
In two of the Buckeyes' biggest games -- against USC and Penn State -- Heyward looked like the best player on the field.
[+] Enlarge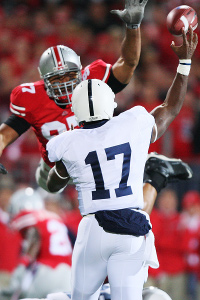 Jamie Sabau/Getty ImagesCameron Heyward had some of his biggest moments against Ohio State's toughest opponents last season.
He manhandled USC's celebrated offensive line in a Sept. 12 contest, recording seven tackles, two for a loss and a sack, while playing both defensive line positions. Ohio State lost the game, but Heyward played brilliantly. Two months later at Penn State, Heyward once again had his way with an opposing offensive line, recording 11 tackles, including three for a loss and two sacks, en route to winning National Defensive Player of the Week honors.
Big games in big moments put Heyward on the map in 2010. But when he steps on the field this fall, he doesn't plan to wait for the spotlight to shine his way.
"One thing I want to become is more consistent," Heyward said. "I can have some breakout games, but I want it to be every game. I want to dominate games from the get-go. Any defensive lineman can have a great performance, but if you can have a consistent base and build up a name for yourself and show you can be dominant against any offensive lineman, that's one of the goals for me."
Fortunately for Ohio State, Heyward will aim for consistency at the college level. The 6-6, 287-pound lineman could have entered the NFL draft and never looked back, as he projects extremely well to the pro game.
Instead, he'll return to Columbus for his senior season as a bona fide national award candidate. While former teammates like Thaddeus Gibson, Doug Worthington and Kurt Coleman gear up for the NFL combine, Heyward is looking toward 2010.
"I wish them the best with everything, and I think they're going to do big things in the future," Heyward said. "But I'm happy with my decision. Guys kind of tease me about it, but I think I made the right decision, and hopefully next year, I'm in that same position."
If Heyward builds on his 2009 performance, he'll be in an excellent position to make the jump.
Heyward leads a defensive line that loses three starters -- Gibson, Worthington and Todd Denlinger -- but gets Dexter Larimore back from injury and boasts some exciting young players in John Simon, Solomon Thomas and Nathan Williams. Heyward identified Melvin Fellows and Keith Wells as two players ready for bigger roles this spring.
"We learned a lot last year, and it can only help us to our advantage," he said. "We're worried about getting the W's and hopefully getting the national championship. If it means us sacrificing whatever it takes, we'll do it, because we're all dedicated and all on the right path."
June, 22, 2009
6/22/09
10:18
AM ET
Posted by ESPN.com's Adam Rittenberg
With the real games more than two months away, Big Ten fans turned their lonely eyes to Hershey, Pa., on Saturday night to get a glimpse of several incoming recruits in the annual Big 33 Football Classic. The Ohio All-Stars ended up beating their counterparts from Pennsylvania 38-31, snapping a three-game slide, but the event featured strong performances from both sides.
Big Ten prospects played instrumental roles in the game's outcome:
Penn State recruit Curtis Drake earned MVP honors for the Pennsylvania side after rushing for 104 yards and two touchdowns on 17 carries. Drake tied the game at 31-31 on a 1-yard quarterback sneak and completed 8 of 16 pass attempts for 166 yards. He's expected to play slot receiver at Penn State but could fill the Derrick Williams-type slash role in the backfield.

Iowa recruit Micah Hyde accounted for the game's biggest play, a 99-yard touchdown reception in the third quarter after Drake fumbled on the Ohio 1-yard line and Ohio State recruit Adam Bellamy recovered. It marked the longest touchdown in game history, and Hyde finished with five receptions for 138 yards.
Indiana recruit Adam Replogle scored the game-winning touchdown on a 1-yard dive with 20 seconds remaining. Replogle, projected to be a defensive lineman with the Hoosiers, was surprised the coaches called his number.
The Ohio squad featured seven Ohio State recruits, including offensive lineman Marcus Hall and defensive ends Jonathan Newsome and Melvin Fellows. Newsome's play drew good reviews, while Hall had a bit of a slow start in the game. Some Buckeyes fans are wondering what might have been after watching quarterback Austin Boucher win MVP honors for the Ohio team. Ohio State made a late push for Boucher in recruiting after losing Tajh Boyd to Clemson, but Boucher stuck with his commitment to Miami (Ohio). Boucher completed 18 passes for 253 yards and two touchdowns in the Big 33 game.

Michigan recruit Fitzgerald Toussaint had a 54-yard touchdown reception and a 6-yard touchdown run for the Ohio squad.
Drake hooked up with tight end and future Penn State teammate Garry Gilliam for a 31-yard gain that set up the tying touchdown.