July, 13, 2010
7/13/10
9:00
AM ET
The mercury is supposed to hit 90 degrees this week in Chicago, so forgive me for being a little reluctant to write about snow, sleet, ice, frost and any other reminders of winter. While I can't wait for early September, thinking about early December gets me a bit depressed.
That said, I'm a man of the people, and this morning, I'm all about the brrrr.
[+] Enlarge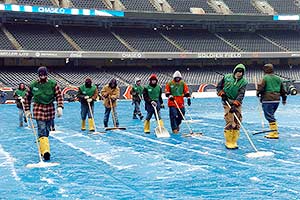 Al Messerschmidt/Getty ImagesWorkers clear snow off the field prior to the 2007 NFC Championship game at Soldier Field. Would a Big Ten title game yield similar weather?
It's funny how almost every Big Ten football topic seems to trace back to Big Ten weather. Shows how the climate is such a major part of the league's fabric. When we think Big Ten, we think snow, we think cold, we think
this
.
When it comes to a potential football championship game, the Big Ten's first must determine if it wants one. The league must decide whether before it can consider weather.
Pretty much everyone expects the Big Ten to say yes to a title game, at which point the bids from different venues around the Midwest will begin to roll in. The expected candidates include indoor venues like Lucas Oil Stadium (Indianapolis), Ford Field (Detroit) and the Metrodome (Minneapolis), as well as outdoor venues like Cleveland Browns Stadium and Soldier Field (Chicago).
From
the Chicago Tribune
:
Soldier Field general manager Tim LeFevour told the Tribune on Monday that if and when the game is announced, his group "absolutely" has interest in hosting it.
"We'll take a very strong look at it and put together a proposal," said LeFevour.
It's no surprise that a potential Big Ten championship game would garner tons of interest. For the venues, it's a no-brainer ($$$+national exposure).
But what's best for the Big Ten?
The league could pick a permanent venue for its title game or go with a rotation. The SEC has found a great fit in Atlanta's Georgia Dome after playing its first two title games at Legion Field in Birmingham, Ala. The Big 12 has rotated its championship game between sites in Missouri (Arrowhead Stadium, Edward Jones Dome) and Texas (Texas Stadium, Alamodome, Reliant Stadium, Texas Stadium, Jerry World).
Although the Big 12's model hasn't worked out great, I think a Big Ten rotation could be really cool. Maybe alternate indoor and outdoor each year.
The safe choices for the Big Ten are unquestionably the indoor facilities, particularly Lucas Oil Stadum and Ford Field. The weather wouldn't affect game operations, logistics would be easier and everyone would be comfortable.
But this is the Big Ten, and we don't care about being comfortable. We love feeling the brrr.
If a championship game is supposed to reflect a league, maybe the Big Ten should go outside on the first Saturday of December.
The first Big Ten title game likely would be played on Dec. 3, 2011.
Here are the average high and low temperatures on Dec. 3 for the outdoor NFL stadiums located in the Big Ten footprint (from Weather Underground):
Chicago (Soldier Field):
High of 36, low of 26
Cleveland (Browns Stadium):
High of 43, low of 33
Green Bay (Lambeau Field):
High of 34, low of 18
Cincinnati (Paul Brown Stadium):
High of 46, low of 30
Pittsburgh (Heinz Field):
High of 47, low of 29
Actually, not too frigid. Big Ten players, coaches and fans certainly could handle it.
I wouldn't fault the Big Ten for choosing an indoor facility, and Lucas Oil makes the most sense to me. But it would be pretty sweet to see the title game decided outside, the way Big Ten football has always been played (save for Minnesota's stay in the Metrodome).
Big Ten weather, all the way!
(Just as long as the press box is heated.)
November, 21, 2008
11/21/08
9:00
AM ET
Posted by ESPN.com's Adam Rittenberg
It's time for our final regular-season Saturday primer. Rivalry week brings no shortage of story lines.
To review the title scenarios for the umpteenth time, Penn State will clinch a share of the Big Ten championship and a Rose Bowl berth with a win against Michigan State (ABC, 3:30 p.m. ET). Ohio State can clinch a share of the league title by beating Michigan (ABC, noon ET) and would go to the Rose Bowl with a Penn State loss to Michigan State. The Spartans can clinch a share of the league title with a win at Penn State, but they also need an Ohio State loss to Michigan to reach the Rose Bowl.
1. State College in the spotlight -- It takes a lot for any Big Ten regular-season game to trump the Michigan-Ohio State rivalry, but the Penn State-Michigan State game qualifies. Penn State dominated the league for the first two months but has struggled a bit as of late, particularly early in games. Michigan State is the consummate team and could pull the upset against a more talented Nittany Lions squad by playing disciplined, physical football and limiting mistakes. The Spartans haven't won in State College since 1965 -- the season before Joe Paterno took over as Lions coach. Penn State aims for its second Big Ten title in four seasons.
2. Rich Rodriguez gets his first taste of The Game -- It has been a rough year for Michigan's new coach, who didn't help himself this week by telling a portion of college football fans to "get a life." Rodriguez's statement was blown out of proportion, but he would have been wise to steer clear of anything remotely controversial. He now tries to become the seventh straight Michigan coach to win his debut against Ohio State. But the Wolverines are three-touchdown underdogs and need a complete performance to avoid their ninth loss of the season.
3. Joe Tiller's send-off -- Purdue bids farewell to its all-time winningest coach as Tiller takes the field for the final time against Indiana (ESPN2, noon ET). This season hasn't reflected many of the good things Tiller did at Purdue, especially on the offensive side. But the crowd at Ross-Ade Stadium likely will show their appreciation for a man who revolutionized offense in the Big Ten and helped the Boilers reach the 2001 Rose Bowl.
4. Shonn Greene continues Heisman campaign -- Greene needs 107 yards to set Iowa's single-season rushing record, and another huge performance could earn him an invitation to New York as a Heisman Trophy finalist. The Iowa junior has been overlooked nationally this season, and he must continue to produce at a high rate to stay on the radar. Greene can become the first running back to eclipse 100 rushing yards in all eight Big Ten games since Penn State's Curtis Enis in 1997.
5. Terrelle Pryor reunites with Rodriguez -- The perfect quarterback for Rodriguez's spread offense will take snaps for Ohio State on Saturday. Pryor hasn't spoken to Rodriguez since hours before committing to Ohio State, and he can fuel the what-might-have-been argument with a big day against Michigan. The Buckeyes' freshman has blossomed in recent weeks, accounting for five touchdowns (4 pass, 1 rush) the past two games.
6. Juice Williams fights for bowl eligibility -- After a blistering start that included setting single-game total offense records in two different stadiums, Williams has struggled lately, committing nine turnovers (8 interceptions, 1 fumble) in Illinois' last four games. He was even replaced last week against Ohio State. The Illini must beat Northwestern to get bowl eligible a year after going to Pasadena, and they'll need a big game from Williams.
7. Joe Paterno's postgame news conference -- His team is a win away from its first Rose Bowl appearance since 1995, but the 81-year-old Paterno once again will be in the spotlight. He insists he hasn't thought about retirement, but he'll spend his seventh consecutive game in the press box with an ailing right leg/hip. Paterno could announce after the game when he'll undergo hip-replacement surgery and what the outlook will be for recovery and a return for a bowl game.
8. Minnesota closes out the Hump Dome -- Most Big Ten fans won't be sorry to see the Minnesota Golden Gophers leave the Metrodome, especially when they get a glimpse of TCF Bank Stadium. But the Gophers would like to end their residency in the dome with a victory against rival Iowa. Minnesota has dropped three straight after a 7-1 start and could slide down the bowl pecking order with a fourth consecutive loss.
9. Javon Ringer vs. Evan Royster -- Ringer has undoubtedly been one of the league's most valuable players, and Michigan State will need a huge performance from its senior running back to knock off Penn State. Royster would love to get some of Ringer's carries, and if given the chance, Penn State's dynamic sophomore running back could do big things against a stingy Spartans defense.
10. Northwestern's seniors chase history -- They're only the second class to have taken part in victories against all 10 Big Ten opponents. Now the Wildcats' seniors can lead the team to nine wins or more for just the fifth time in school history. Northwestern's range of potential bowls stretches from Outback to Insight, so a win against a talented Illinois team can move the Wildcats up the pecking order.
July, 11, 2008
7/11/08
5:08
PM ET
| | |
| --- | --- |
| | |
| | Steve Grayson/WireImage |
| | Ohio Stadium is the toughest place to play in the Big Ten. |
Posted by ESPN.com's Adam Rittenberg
It has been a year since Minnesota held its construction kickoff for TCF Bank Stadium, the 50,000-seat facility scheduled to open for the 2009 season. Of all the ongoing stadium projects in the Big Ten, Minnesota's will undoubtedly have the greatest impact on the program.
For all of coach Tim Brewster's effervescence and glass-half-full attitude, Minnesota was never going to get back to the glory days without its own on-campus facility. Athletic director Joel Maturi puts Minnesota near the bottom of the Big Ten in football income, Sid Hartman writes in the Minneapolis Star Tribune.
"Ohio State's number one at $59 million and Northwestern is at the bottom at $15.5 million, and we're not far from the bottom. We're a little over $17 million," Maturi said.
That will change soon enough.
Not surprisingly, the Hump Dome was nowhere to be found on EA Sports' gallery of the "25 toughest stadiums" in college football, according to NCAA Football 09.
Which stadiums made the list? The usual suspects. Ohio Stadium came in at No. 3, followed by Beaver Stadium at No. 4, Camp Randall Stadium at No. 8 and Michigan Stadium at No. 13.
Here's my list of the league's toughest venues.
1. Ohio Stadium: The shoe has been filled in, but it only makes this place louder and meaner. Definitely the most intimidating Big Ten stadium for a road team.
2 . (tie) Beaver Stadium: Gotta admit, I haven't been to State College in a while, but I remember this place being loud. From talking to my colleagues who attended last year's game against Notre Dame, night games at Beaver Stadium are raucous.
2. (tie) Camp Randall Stadium: I've almost upchucked my bratwurst sitting in the press box at the end of the third quarter, when House of Pain's "Jump Around" starts blaring and the stadium shakes. (By the way, what ever happened to House of Pain?) Possibly my favorite place to watch a game in the Midwest: great tailgating, rowdy fans and not a lot of fun for the road team.
4. Kinnick Stadium: The pink visitor's locker room only enhances a very hostile experience for road teams. That Hayden Fry guy was a genius.
5. Michigan Stadium: In this case, size doesn't matter. The Big House is, well, big, but it's a shallow bowl that doesn't hold sound as well as other venues.
6. Spartan Stadium: Seems like a much more hostile place to play at night than during the day, but there's a sizable student section in the southwest corner.
7. Ross-Ade Stadium: Fans are generally nice and the place doesn't get too loud. Then again, where else can you ride the elevator with Purdue alum Neil Armstrong like I did last year before the Northwestern game. Very cool.
8. H.H.H. Metrodome: The Hump has grown a bit dumpy, but it still gets very loud when the Gophers are rollin'.
9. Memorial Stadium (Illinois): The massive facelift combined with an exciting team will make this relic a feared destination again. But at the moment, it's not.
10. Ryan Field: The fact that visiting fans usually outnumber Wildcats backers for Big Ten games doesn't help much, but at night, Ryan Field rocks.
11. Memorial Stadium (Indiana): The renovations should help, as will a better team, but there's not a lot of atmosphere here. Visiting teams won't shudder stepping onto the field.