Big Ten:

Michael Amaefula
July, 16, 2013
Jul 16
2:45
PM ET
Last week, I caught up with Minnesota defensive coordinator Tracy Claeys and wrote about
the Gophers' linebacker situation
. Claeys had other interesting things to say about the defense as a whole, and here they are in Q&A form:
What were your general thoughts on the defense coming out of spring practice?
Tracy Claeys:
I think by far it was our best spring. I look forward to getting back with them in fall camp, and hopefully that carries over. I'd be disappointed if we don't play better than we did a year ago.
It appears as if more of your players pass the "look test" on that side of the ball, though that doesn't always translate into results. But you seem to have better athletes. Would you agree with that?
[+] Enlarge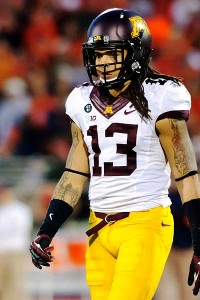 Bradley Leeb/USA TODAY SportsDerrick Wells will move to cornerback this season for the Gophers.
TC:
Yeah, and I think that was the main thing. When you're the University of Minnesota, it takes developing some kids. We've taken some kids who were a little bit smaller but who could run. Now they've had a couple of years in the weight room, and they've put on some weight. So I think all that's going well. We felt like we needed to run better with the spread offenses and the hurry-up stuff people are doing. I do think we've improved athletically, and now having had a couple of years in the weight room, I think our size is getting better. We're still not where we need to be, but I think we can make up for a little bit of that size with the strength and toughness we've added.
How did Derrick Wells' transition from safety back to corner go?
TC:
Good. I think that is his natural position. He played well at safety, but with his size that's something that will help us on the edge. He runs well enough to do it, and we have enough depth at safety that I think it balances everything out a lot better and gives us a chance to be consistent. I've been very pleased with the secondary and where we're at there.
You've got some taller guys in the defensive backfield. Is that part of your philosophy, or is it just how things have worked out?
TC:
Well, you've got to be able to run -- that's the number one thing. And playing in the Big Ten with some of the running game things people are doing, you've got to have guys who can tackle. Then the receivers are getting bigger -- everybody is putting those bigger receivers out there. I don't think you'll ever see a defense go with 6-foot-4 corners out there, but at least if you have some 6-1 guys with some strength and some length to them, you've got a chance on some of those jump balls and things that offenses are throwing up.
We always look at athletic ability first. It's important to be able to run. We've been able to develop a few kids and put some size on them -- Derrick was only 155, 160 pounds when he got here and has really benefited from the weight room. You go back and wish you could have redshirted some of them. Derrick is going to be a senior next year and so is [safety] Cedric [Thompson]; we just weren't in a situation where we able to redshirt those kids, and really their bodies, you see them just now developing as they should. They really should be redshirt sophomores with three years to play, but that's part of the situation we were in. We feel we have great kids who have worked hard to get to where they are without redshirting.
I guess the flip side to that is, they've gotten a lot of experience.
TC:
That's true, and that's part of why we changed about five years ago on secondary kids. We said, 'Hey, if they can help, we might as well play them.' Because there's a lot of space out there, and everybody is spreading the field. And then they get a lot more comfortable.
Eric Murray
, he's going to be the one this year at corner. We played him a little bit last year, and now he knows what it's like to go out in a big stadium and play in front of people. I think a lot of times [experience] does outweigh the benefit of redshirting as long as you can recruit and replace those kids.
How do you feel about the defensive end position going into the fall and your ability to rush the passer?
TC:
Theiren Cockran
continues to get bigger and had a good spring.
Alex Keith
is another guy I wish we could have redshirted, but he has good pass-rushing ability and has improved in the weight room. Michael [Amaefula] is coming back, and
Ben Perry
. So I feel really good about the defensive line. I feel the best about it since I've been here. I think we're going to have depth up there. I'm really looking forward to seeing those guys teeing it up on gameday.
It all seems to start with stopping the run in the Big Ten, and you guys have had your ups and downs there. How do you feel about your ability to do that this season?
TC:
I think sometimes our front four has taken a little too much heat. Our first year, we didn't play well in the front four. Last year, we played awfully well there, and the kids continue to get better. Our run issues were another part besides just the front four. So I think we're getting closer to getting that corrected. We're better up front than what we were a year ago and we have more depth. And I still think that's where games are won or lost up front, especially when you can keep kids healthy and get them through the 11th or 12th game.
We haven't changed a lot scheme-wise and we're not going to change a lot, just make little adjustments here and there. They're getting more comfortable, and then the more comfortable you get, the quicker you get off the ball and the more plays you make.
You should have some good competition for playing time in the front seven when training camp opens next month. How do you think that will affect the overall development?
TC:
It can help you, but you can also get some kids who are afraid of competition, make excuses and don't perform as well. When you start winning ball games is when you have kids who compete to play and don't make excuses. That's how we continue to improve as a football team. Right now, I think we've got kids who like to compete. One thing we've done since we've been here and where we've been before is, if you don't play well in the game, then the next week your spot is up for grabs. And we're going to play the people who most consistently work hard and give us the best chance to win each week. Plus, when you play as many kids as we play, then kids go through practice knowing they're going to have an opportunity to play in the game; it's just a matter of whether you take advantage of it or not. I think we do have a group of kids who like to compete and when you have competition, it keeps everybody on their toes.
You've got three experienced senior starters in Brock Vereen, Aaron Hill and Ra'Shede Hageman. Are they your obvious leaders, or have others emerged?
TC:
You're as good as your seniors. I believe that. You've got to have playmakers on the field, and they don't always have to be seniors, but the better the leadership comes from seniors, the better football team you've got. What's good about those three is that they all work their butts off -- they don't take days off in the weight room or stuff like that. I think that's the main thing for a leader. You've got to be somebody who puts in the time to be successful, and all three of those kids have. And with that, they're developing other ones. Maybe sometimes younger kids don't always know how to work the best when they get here, but then they see those seniors working hard, it puts that work ethic in everybody.
June, 5, 2013
Jun 5
9:00
AM ET
We've spent the past several days looking at which Big Ten players can reach some major single-season statistical milestones in 2013. On Tuesday, we hit the defense and which players could
compile 100 tackles
this season. Let's wrap this up now by analyzing who might record another impressive defensive achievement: double digits in sacks.
(We do so in honor of the late, great sack master Deacon Jones, who was so good that he is credited with inventing the term "sack." I have a feeling some quarterbacks in heaven are looking over their shoulders right about now).
The Big Ten didn't have any players reach 10 sacks last year, but two did so in 2011, including national leader Whitney Mercilus of Illinois. Who's the most likely to bring the pain to opposing backfields and potentially crack double digits this fall? Let's examine the candidates in order of likelihood.
Deion Barnes, DE, Penn State:
The Big Ten's reigning freshman of the year finished with six sacks in 2012, and while that leaves him pretty far away from 10, we think he'll only continue to get better. Losing
Jordan Hill
might mean he gets more attention, but Barnes still has plenty of room to grow.
Tyler Scott, DE, Northwestern:
Perhaps Scott should have topped our list, as he did have nine sacks last year. He looked like one of the most improved players in the league last year and has the strength to cause opposing offensive tackles all kinds of problems.
Adolphus Washington and Noah Spence, DE, Ohio State:
The Buckeyes' two super sophs deserve to be mentioned together right now. Both got a taste of playing time last year, with Washington having a bigger impact than Spence. Both wreaked havoc this spring against a veteran offensive line. Offensive tackle
Jack Mewhort
has predicted Spence will lead the Big Ten in sacks. But will he even lead his own team in that category?
Ra'Shede Hageman, DT, Minnesota:
The Gophers' large human being had six sacks a year ago and has been tearing it up this offseason. It's not always easy for an interior lineman to rack up big sack totals, though. It could be that he creates traffic jams and opens up opportunities for teammates like
Thieren Cockran
and
Michael Amaefula
to reach the quarterback.
Ryan Russell, DE, Purdue:
Russell had only four sacks last year and has yet to put up the big stats that his potential suggests he can. But that's just it: the potential is there. He could be ready to make the leap.
Denicos Allen, LB, Michigan State:
Allen managed only three sacks last year, but the "Waterboy" put up 11 in 2011, so the ability is there. The Spartans were strangely poor at bringing down the quarterback in 2012 despite their defensive talent, but the speedy Allen could help change that in '13 if he rediscovers his heat-seeking form.
Randy Gregory, DE, Nebraska:
If you want to speculate on sacks, Gregory is a good stock to buy. He was ranked by some as the top junior college defender in the nation last year, and he racked up 21 tackles for loss and nine sacks at Arizona Western. The opportunity for immediate playing time is definitely there on the Huskers' D-line.
Others to watch:
Frank Clark
, DE, Michigan;
Brendan Kelly
, DE/OLB Wisconsin;
Carl Davis
, DT, Iowa;
Jonathan Brown
, LB, Illinois.
May, 3, 2013
May 3
9:00
AM ET
2012 record:
6-7
2012 conference record:
2-6 (tied for fifth in Legends Division)
Returning starters
: Offense: 10; defense: 6; kicker/punter: 1
Top returners

QB
Philip Nelson
, RB
Donnell Kirkwood
, DT
Ra'Shede Hageman
, S
Brock Vereen
, DB
Derrick Wells
, LT
Ed Olson
, DE
Michael Amaefula
Key losses
QB/WR
MarQueis Gray
, CB
Michael Carter
, CB
Troy Stoudermire
, DE
D.L. Wilhite
, LB
Mike Rallis
, LB
Keanon Cooper
2012 statistical leaders (*returners)
Rushing:
Donnell Kirkwood* (926 yards)
Passing:
Philip Nelson* (873 yards)
Receiving:
A.J. Barker
(577 yards)
Tackles:
Troy Stoudermire (82)
Sacks:
D.L. Wilhite (8.5)
Interceptions:
Michael Carter (4)
Spring answers
1. Identity verified:
The Gophers figured out who they wanted to be on offense and were able to start implementing that during bowl practice last December: a physical, run-first team. It worked in the Meineke Car Care Bowl and carried over into this spring, with an offensive line that's developing a nasty streak and two power backs in Donnell Kirkwood and Rodrick Williams Jr. The Gophers will look to bring that hard-nosed approach into this fall.
2. Phil the one:
Philip Nelson took over as the team's starting quarterback as a true freshman at midseason last year, but he wasn't guaranteed the starting job this offseason. Despite getting good competition from
Mitch Leidner
and Chris Streveler, Nelson played well enough this spring that head coach Jerry Kill says it's his spot to lose. Leidner also impressed at times and is a great athlete, so Minnesota has options at the position this year.
3. Turning the corner:
The Gophers had to replace two standout seniors at cornerback in Michael Carter and Troy Stoudermire. They feel good about at least one of those spots after Derrick Wells moved from safety to corner this offseason and handled the position nicely. Wells made some big plays at safety last year, and the hope is he can do the same at his new spot. There's not a lot of proven options at the other corner role, but three players who transferred from junior college last year are pushing for time, while the safety position has good depth and is led by Brock Vereen.
Fall questions
1. Linebacker holes:
The Gophers lost most of their contributors at linebacker from last year, with
Aaron Hill
the only leftover starter. It's why they signed five linebackers in this year's recruiting class. Junior college transfer Damien Wilson lived up to advance billing, and Kill is expecting big things out of another incoming juco, De'Vondre Campbell. But anytime you're relying on newcomers and players arriving in the summer, nothing is for certain.
2. Downfield passing:
The passing game was shaky at best for the Gophers in 2012, and things didn't exactly get better when leading receiver A.J. Barker transferred. Minnesota doesn't have anyone who eclipsed 375 receiving yards a year ago. Kill is hoping to see improvement from
Derrick Engel
,
Isaac Fruechte
,
Devin Crawford-Tufts
and a healthy
Jamel Harbison
. But those guys must prove they can make plays when it counts.
3. Rushing the passer:
D.L. Wilhite and his team-leading 8.5 sacks from a year ago are gone. Defensive tackle Ra'Shede Hageman looked like a beast this spring, but no other returnee had more than two sacks a year ago. The Gophers need players who can get after the quarterback off the edge, and they're hoping Theiren Cockran, Michael Amaefula and
Ben Perry
make the same kind of strides Wilhite and Hageman did a year ago. But again, they have to prove it.
April, 29, 2013
Apr 29
10:00
AM ET
Spring practice in the Big Ten is officially over.

The final two spring games of the year took place on Saturday, and we're here to recap both. Let's start with the
Minnesota Golden Gophers
, where the Maroon team beat the Gold 24-17 before an estimated crowd of 7,700. You can find coverage of the game
here
,
here
and
here
.
Star of the game:
Quarterback
Philip Nelson
finished 13-of-17 for 179 yards and a touchdown, and was 10-for-10 in the first half. He also ran for 32 yards.
How it went down:
A big goal for Minnesota this offseason was to improve a passing game that struggled to generate much down the stretch last season. Though it as just a spring game, Saturday's results had to be encouraging to head coach Jerry Kill.
First, there was returning starter Nelson putting together a perfect (at least in terms of completions) first half. Redshirt freshman
Mitch Leidner
also impressed, going 9-for-15 for 112 yards and tossing two touchdown passes to start the second half. There was competition between the two, and there was a competent passing game on display. Nelson hit
Derrick Engel
with a pretty 39-yard strike to open the fourth quarter and set up the winning score.
"It was just really great to get out here in a game-like atmosphere and being able to have more consecutive drives and being able to really move the ball down the field like a real-life game," Nelson said. "That helps build some momentum."
While Kill said it remains Nelson's job to lose, Leidner will continue to push him throughout the summer and fall camp.
"Competition is always going to be a competition," Kill said. "I've been that way everywhere I've been. Somebody has to take Philip's job. Right now it's his job. Somebody has to take it. That's part of how you play."
Engel finished with five catches for 74 yards, and
Jamel Harbison
-- who missed most of last season with an ACL tear -- grabbed five passes for 52 yards and a score.
Rodrick Williams
led all rushers with 49 yards, including a 29-yarder early, and
Donnell Kirkwood
ran for two short touchdowns.
The defense was hard to judge on a day when four of its best starters -- defensive linemen
Ra'Shede Hageman
and
Michael Amaefula
and defensive backs
Brock Vereen
and
Derrick Wells
-- were held out for precautionary purposes.
Thieren Cockran
registered a pair of sacks, and promising junior college transfer Damien Wilson recovered a fumble.
All in all, it was a positive day for the Gophers, and a fun one for the fans who enjoyed the 70-degree temperatures and sunny skies.
"We've had a great spring," Kill told the St. Paul Pioneer Press. "I still think we've got to mentally and physically develop some toughness, and I think we're doing that."
March, 4, 2013
Mar 4
12:00
PM ET
September, 13, 2012
9/13/12
3:40
PM ET
Jerry Kill never hides the fact that he's building a program at Minnesota, which makes him somewhat hesitant to heap praise or draw conclusions after limited on-field success.
But Kill is willing to acknowledge what seems abundantly clear after the first two weeks: Minnesota's defensive line is better.
After three unproductive seasons, the Gophers' front four is disrupting offenses and making plays in the backfield. Minnesota is tied for 23rd nationally in sacks with six, and tied for 31st nationally in tackles for loss with 15. If those patterns continue throughout the regular season, the Gophers will finish with 36 sacks and 90 tackles for loss.
Minnesota had 39 sacks in the past three seasons, including an FBS-low eight in 2010.
"If I'd say there's a vast improvement on our football team through the first two games, our defensive line is much more athletic than it was a year ago," Kill said. "We're getting a lot of pressure on the quarterback. We've probably have had more hits on the quarterbacks and more pressure than we had most of the year [in 2011]."
Junior defensive tackle
Ra'Shede Hageman
and senior defensive end
D.L. Wilhite
have accounted for 5.5 of the six sacks, but other linemen are contributing, whether through tackles for loss, quarterback hurries or knockdowns. Tracy Claeys, the team's defensive coordinator and line coach, can use an eight- or nine-man rotation, which includes younger players like
Michael Amaefula
and
Ben Perry
, or newcomers like
Roland Johnson
, and not take a step back.
Hageman, pegged for a monster season by Kill and others, is tied for the Big Ten lead in sacks and tied for fourth with Wilhite in tackles for loss.
"Certainly Ra'Shede has played very, very well in the first two games," Kill said. "He's got to continue to get his pad level down because he's such a tall guy inside, but he's got so much power and has done a good job. D.L. Wilhite has played his best football since we have been here."
The sample size is small and the competition level hasn't been very good (UNLV, New Hampshire). The challenges get tougher the rest of the way, beginning Saturday with Western Michigan.
But the early signs are promising for a defense that has been waiting for a boost up front.
"As a group, overall, they've all had their moments and done well," Kill said, "but we've got to continue to get better."
May, 11, 2012
5/11/12
9:00
AM ET
2011 record
: 3-9
2011 conference record
: 2-6 (sixth, Legends Division)
Returning starters
: Offense: 7; Defense: 6; kicker/punter: 2
Top returners

QB
MarQueis Gray
, CB
Troy Stoudermire
, LB
Keanon Cooper
, LB
Mike Rallis
, WR
Brandon Green
, LT
Ed Olson
Key losses
WR
Da'Jon McKnight
, S
Kim Royston
, RB Duane Bennett, DT
Anthony Jacobs
, DT
Brandon Kirksey
, TE
Collin McGarry
2011 statistical leaders (*returners)
Rushing
: MarQueis Gray* (966 yards)
Passing
: MarQueis Gray* (1,495 yards)
Receiving
: Da'Jon McKnight (760 yards)
Tackles
: Kim Royston (123)
Sacks
:
Gary Tinsley
(4)
Interceptions
: Troy Stoudermire* (2)
Spring answers
1. Better secondary play:
The Gophers looked overmatched defending the pass at times last season, but things appear to have changed dramatically. The secondary took a major step forward this spring and looks to be as deep and talented as it's been in a few years. Head coach Jerry Kill brought in three junior-college defensive backs who should all contribute, including Martez Shabazz, and Troy Stoudermire returns at starting corner after getting an extra year of eligibility from the NCAA. The Gophers were also able to move corner
Brock Vereen
to safety with the extra depth. Once a weakness, this position now figures to be a strength.
2. Gray matter:
Quarterback MarQueis Gray had some big moments last year in his first year of starting but also struggled with inconsistency. That was expected from a guy who played receiver the previous year. Well, Gray greatly improved his mechanics in the offseason, and Minnesota coaches went to Baylor and other places to study how to best utilize his dynamic skills. Gray looked like a more accurate passer this spring, and he has a chance to rush for more than 1,000 yards and throw for more than 2,000 this season as the team's main weapon.
3. Need for speed:
Minnesota hasn't had much of a pass rush for the past few years, but the team is hoping a move toward a lighter, speedier defense helps in that regard. Guys like redshirt freshman
Thieren Cockran
(a listed 235 pounds) and sophomore
Michael Amaefula
(245) fit the mold of what the Gophers are looking for in a defensive end: athletic, if undersized, quarterback chasers. Along with moving some former safeties down to outside linebacker, Kill and defensive coordinator Tracy Claeys are expecting to field faster players on the edge.
Fall questions
1. Skill set:
Gray lost his favorite target in departed senior Da'Jon McKnight, and though several options are available, Minnesota lacks a clear No. 1 receiver. Senior
Brandon Green
and sophomore
Marcus Jones
-- coming off an ACL injury -- are among the veterans hoping to contribute. But the Gophers will likely need help from incoming freshmen like
Andre McDonald
and Jamel Harbison. Junior-college transfer James Gillum could help in the running game, but the team is not deep at tailback. Skill-position players need to step up to keep Gray from being a one-man show.
2.
Strength up the middle:
While the defense is getting swifter on the perimeter, is it tough enough inside? The team lost both starting defensive tackles from a year ago, and there is very little experience or depth there. Junior college import Roland Johnson could help but is not arriving until the summer. Middle linebacker is another spot without much depth behind starter Mike Rallis. Will Minnesota be able to stand up against power teams like Wisconsin and Nebraska?
3. O-line depth:
The good news is that four players who started on the offensive line return, with only right tackle really up for grabs right now. Yet this is an extremely young group overall, and an injury or two could thrust some players into action before they're quite ready. Kill brought in six offensive linemen in his first recruiting class, knowing he needed to rebuild the group. They'll be better off waiting another year before seeing major action.
April, 23, 2012
4/23/12
1:00
PM ET
We're wrapping up the three Big Ten spring games from over the weekend. Let's review Minnesota's Maroon and Gold Game from Saturday.
You can find coverage of the game
here
,
here
and
here
.

Star of the game:
Sophomore defensive end
Michael Amaefula
had four tackles and a pair of "sacks," helping keep the Gold team scoreless.
How it went down:
Offensive fireworks? Not so much. The Maroon squad beat the Gold 3-0, with 21-yard field goal from
Chris Hawthorne
providing all of the scoring. Though that may sound rough, the Gophers were encouraged by improved play, especially on the defensive end.
Minnesota's defense had a difficult time stopping opposing passing attacks last season but did well against its own quarterbacks in the scrimmage. There were seven pass breakups on the day.
"We've got some guys in the secondary that can run, and we're getting a little bigger in the secondary, which we needed to continue to do," head coach Jerry Kill told reporters. "I can tell you just physically watching that, that was better."
On offense, starting quarterback
MarQueis Gray
completed 4 of 8 passes for 62 yards, and backup
Max Shortell
went 4-of-10 for 68 yards and rushed for 30 yards, showing off much improved mobility. Gray sat out the second half.
"I felt like I did a lot better than last year, taking control of the huddle and being a leader," Gray said. "That's one of the positive things I look forward to [this season]."
It was a tough day for prized recruit Philip Nelson, who went 0-for-6 and was sacked three times.
Brandon Green
led all the receivers with three catches for 59 yards, including a 35-yard grab that was the game's longest play. Freshman JoJuan Harper finished with a game-high 44 yards on nine carries.
Overall, the Gophers showed off more depth and better competitiveness than they had early in Kill's first season. The victorious Maroon team got a postgame steak dinner, while the losing Gold team members were served beans.
April, 16, 2012
4/16/12
12:30
PM ET
D.L. Wilhite
has been at Minnesota long enough to remember Willie VanDeSteeg.
Wilhite's first season with the Gophers, in 2008, was VanDeSteeg's last. Although Wilhite redshirted that fall, he worked alongside VanDeSteeg at practice, and VanDeSteeg took him under his wing. That season, VanDeSteeg recorded 10.5 sacks, tied for second in the league, and 19 tackles for loss en route to earning first-team All-Big Ten honors from the media.
But since VanDeSteeg's departure, Minnesota hasn't had a pass rusher close to his caliber. The team hasn't had a player record more than four sacks in each of the past three seasons. Minnesota's sacks leaders had just three sacks in both 2009 and 2010, while the late
Gary Tinsley
, a linebacker, led the team with four last year.
After finishing 24th nationally in sacks in 2008, largely thanks to VanDeSteeg, Minnesota slipped to 78th in 2009, 120th (last in FBS) in 2010 and 86th last season.
[+] Enlarge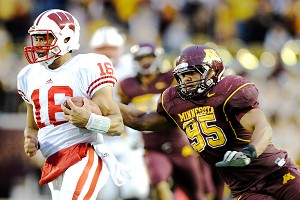 AP Photo/Cal Sport MediaD.L. Wilhite knows Minnesota's pass-rush has to help the young secondary.
"Coming up, Willie was my role model," Wilhite told ESPN.com. "He was the one I looked up to. When he left, I looked Willie in the eye and told him I was going to be better than him, and I feel like I haven't shown that up until this point."
Wilhite has one last chance to ensure his promise to VanDeSteeg. And what a boost he could provide to a defense sorely needing one from the front four in 2012.
He leads a group of young defensive ends who have made the pass rush their peak priority this spring. Gophers defensive coordinator Tracy Claeys is open to turning his linemen loose, but they have to show they can finish in the backfield.
Ben Perry
, who started all 12 games as a redshirt freshman in 2011, feels the line is getting closer and points to the season finale against Illinois, where Minnesota recorded a season-high five sacks in a 27-7 victory. But the group needs to upgrade its fundamentals, which are being stressed this spring.
"We can't be taking inefficient moves," said Perry, who recorded 15 tackles and a sack last season. "We've got to keep our hips toward the quarterback, stay low and keep leverage. We do drills, making sure we stay under the chute and keeping not just our pad level low but our legs bent."
Minnesota's defensive linemen recognize the urgency to upgrade their play, not just for the team but in a league like the Big Ten. The Gophers return most of their linebackers and should be solid there, but they once again have question marks in the secondary after finishing 11th in the league and 107th nationally in pass defense in 2011.
"If we're getting pressure, it alleviates stress on a lot of different people," said Wilhite, who had three sacks and a forced fumble last season. "The DBs aren't having to cover as long, the linebackers aren't having to cover as long. We're not having to bring people to blitz, so we can drop more people off in coverage."
The team's declining pass rush is more pronounced in a league like the Big Ten, which regularly boasts four or five top 20 defenses. The league produces many more elite NFL draft prospects from the defensive line than from any other position.
"Year in and year out, the team that's going to win the Big Ten championship probably is going to have the best D-line," Wilhite said. "In the past years, Iowa's had great D-lines, Ohio State's had great D-lines. So if we want to win, it has to start with us."
Although Wilhite is a fifth-year senior with 20 starts the past two seasons, Minnesota remains fairly young at defensive end. Perry is a redshirt sophomore, while
Michael Amaefula
, a true sophomore, made four starts last fall.
Thieren Cockran
, who redshirted last fall, should be in the rotation this year.
Wilhite singled out Amaefula's play this spring, noting that they try to mimic each other's pass-rush moves. Perry also is showing more confidence on the practice field.
"You learn so much more in a game than you ever could in a practice, just stepping on that field each play," he said. "The experience, it's incomparable."
Wilhite's college experience won't be complete without a big senior season. As the leader of the defensive ends, he still plans to fulfill his pledge to VanDeSteeg, who attends one or two Minnesota games per season.
"I want to see him one more time," Wilhite said, "and be like, 'OK, Willie, you had 10 sacks your senior year, but I had 11.'"
October, 7, 2011
10/07/11
12:00
PM ET
When people get a little too chummy with me I like to call them by the wrong name to let them know I don't really care about them.
September, 23, 2011
9/23/11
9:00
AM ET
Some news and nuggets for you to chew on before you heat up the grills for tailgating:
Illinois is now 3-0 for the first time since 2001, the program's last Big Ten championship season. With a win over Western Michigan on Saturday, the Illini can improve to 4-0 for the first time since 1951, the program's last national championship season. Ron Zook's team has now won four in a row dating back to last season, which is Illinois' longest winning streak since 2007 and is tied for the sixth-longest current streak in the nation.
Indiana led South Carolina State, 21-7, after the first quarter last week. That was the most points in the first quarter by the Hoosiers since they scored 28 versus Northwestern on Nov. 3, 2001. IU also scored 21 points in the fourth quarter the previous week against Virginia, marking the first time on record that the Hoosiers had posted back-to-back 21-point quarters.
Iowa's 21-point rally for a 31-27 win over Pittsburgh is believed to be the largest comeback win in Hawkeyes history. The previous largest was an 18-point comeback against Oregon in 1949. The Hawkeyes trailed 24-6 with 2:30 left in the third quarter against the Ducks. Iowa's 21 fourth-quarter points were the most in a final period since it had 28 in a 42-24 win over Indiana on Oct. 31, 2009.
Michigan is 10-for-10 so far in red zone chances. Nine of the 10 scores have been touchdowns. The Wolverines scored on all five red zone possessions last week against Eastern Michigan, settling for the first field goal in the red zone of the season. Michigan scored on 78.0 percent of its red zone opportunities in 2010 (44 for 55, 40 touchdowns).
Michigan State quarterback Kirk Cousins moved into second place in school history in passing yards after throwing for 329 yards at Notre Dame, the most ever by a Spartans quarterback against the Fighting Irish. Cousins recorded career highs in pass attempts (53) and completions (34) against the Irish, falling one shy of the completion record set by by Jeff Smoker against Ohio State in 2003. Cousins passed Drew Stanton and now has 6,549 career passing yards, and with 45 touchdowns passes, he is just one shy of tying Bill Burke for the second-most TD passes in school history. Cousins already owns the best completion percentage (.652) and passing efficiency rating (146.8) in Spartans history.
True freshman Michael Amaefula picked up Minnesota's first sack of the season early in the second quarter vs. Miami of Ohio last week. The Gophers finished last among FBS schools in sacks for the 2010 season with just nine. Minnesota had gone without a sack in eight of its previous 14 games before Saturday.
Nebraska scored 51 points last week against Washington, marking its third straight game to open the season with at least 40 points. The last time the Huskers had at least 40 points in the first three games was the 1995 season, when Nebraska topped 40 against Oklahoma State (64), Michigan State (50) and Arizona State (77). This is the first time the Huskers have scored 40 or more points in three straight games at any point in the season since games 10 through 12 of the 2008 season, when it did so against Kansas, Kansas State and Colorado.
Ohio State's previous two opponents -- Toledo (338 yards) and Miami (363) -- each topped 300 yards of total offense. The Silver Bullets defense hasn't allowed three straight games of 300 yards of total offense since 2004, when Michigan State (407), Purdue (384) and Michigan (399) pulled off the feat.
With its win at Temple, Penn State is now 15-3 in its next game after a loss since the start of the 2005 season. The Nittany Lions are 17-3 after a loss if the 2009 and 2011 season opening wins are included.
Wisconsin is one of five teams in the country who are averaging at least 230 yards rushing and receiving through its first three games (Georgia Tech, Oregon, Missouri and Alabama are the others). The Badgers have also given up just 24 points in their first three games and are tied for fourth in the country in scoring defense. This is the team's best three-game defensive stretch since giving up 24 points total to Northwestern (9), Minnesota (12) and Purdue (3) from Oct. 7-21, 2006.
August, 23, 2011
8/23/11
5:00
PM ET
Jerry Kill is in the middle of another reclamation project. After bolstering programs at Northern Illinois, Southern Illinois and other stops along the way, Kill has brought his turnaround tactics to the Twin Cities. He takes over a Minnesota program that went 3-9 last year and has suffered some roster attrition. Most project the Gophers to finish at the bottom of the Legends division this season.
Unlike his predecessor, Tim Brewster, Kill isn't one to make bold preseason predictions. He's trying to build a program "on concrete, not sand," and the process could take some time.
I checked in with the first-year Gophers coach Tuesday to get his thoughts on preseason prep.
What has been your top priority in camp?
Jerry Kill:
The biggest thing is when you take over a new team, you go through spring ball, but they haven't been through two-a-day camp with you. They're not familiar with what you do and how you do things. So getting everybody into a routine and familiar with the way we approach things, it's been a challenge but the kids have handled it pretty well.
Do you feel like you're still starting over?
[+] Enlarge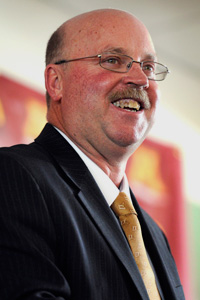 AP Photo/Craig LassigJerry Kill opened up practice for a few weeks because he believes players work harder in public.
JK:
It's a new coaching staff, and we haven't been through it. Until we go through a full year, people aren't going to understand what you expect or what you want. You can't get to know somebody in three or four months. It takes time, and trials and errors, so we are starting over. It is what it is. We've never been through two-a-day camp together, we've never been through the first game together, we've never been through a season together. Once you go through it for a year, you can get all the things figured out. That's just the way it is. And you hope you win some games along the way.
You've had quite a few open practices and scrimmages this month. What has the atmosphere been like?
JK:
I remember asking Bobby Ross, back when I was coaching Saginaw Valley State and the Detroit Lions were having training camp and Coach Ross was in charge. They had the open practices. I asked him why he did that and he said because players will practice harder. I don't think there's any question about that. So we opened up our first two weeks, it's closed now, but we had 200 people at probably every practice at least. So it's a good atmosphere for the kids to practice. They don't want to be embarrassed when there's people around, so I thought it was a good deal.
You were pleased with MarQueis Gray coming out of the spring. How has he looked to you so far this camp?
JK:
He's still going through the learning process, and he will for a while. He's never been in a game at quarterback. He has played some Wildcat or whatever, but he has never been a true quarterback in a game. There's learning going on every game, and it's certainly different from spring ball to two-a-day camp because we're getting closer to game day, and there's a lot more to do at that position. But he's working his tail end off to do something that's pretty darn near impossible, to go from a wide receiver to a quarterback.
He's worked hard at it, we're making progress. Will we be real complicated early in the year? We can't be. We've basically got four freshmen quarterbacks. So we'll have to simplify things. He's athletic enough to do some special things once we get him in the right position. He's what you look for in a quarterback and he's got the skill set to do it, but the other people around him have got to do a good job also.
How many young players do you anticipate playing, true freshmen and redshirt freshmen?
JK:
Too many. It is what it is. We've got a situation where we've got one recruiting class that only has five players left. There's a reason things are open. We've got one senior running back [
Duane Bennett
] and four freshmen, whether they're redshirt or true freshmen. We've got one senior wide receiver [
Da'Jon McKnight
] and the rest are freshmen and a junior college player. Offensive line, we've got three seniors and the rest of them are freshmen and redshirt freshmen, a couple sophomores sprinkled in there. So it's a young football team.
January, 31, 2011
1/31/11
9:00
AM ET
The final weekend before national signing day is in the books, and I thought it would be a good idea to recap things as Big Ten squads put the finishing touches on their 2011 recruiting classes.
Things kicked off Friday night as
Michigan secured a verbal commitment
from offensive lineman
Chris Bryant
, a very solid prospect. Bryant's pledge adds to the late recruiting momentum Michigan has generated under new coach Brady Hoke.
Here's more recruiting news from around the Big Ten, courtesy of
ESPN Recruiting
:
I'll have plenty more on the Big Ten recruiting scene throughout the week.