February, 13, 2014
Feb 13
1:00
PM ET
The loss of freshman tight end
Jake Butt
to
an ACL injury suffered during winter conditioning
is obviously a huge blow to the Wolverines.
It hurts not only from a production standpoint, but it's a big disappointment for a young player who showed such potential in 2013.
[+] Enlarge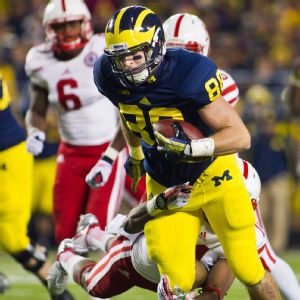 AP Photo/Tony DingMichigan will look for other options to replace Jake Butt's productivity (20 receptions, 235 yards and two TDs).
Butt's diagnosis marks the ninth ACL injury during coach Brady Hoke's tenure at Michigan. The most impressive recovery came from linebacker
Jake Ryan
, who returned in six months, coming back midway through this past season. Players such as quarterback
Russell Bellomy
and offensive lineman
Joey Burzynski
have yet to play in a game after suffering their injuries. But cornerback
Blake Countess
and defensive lineman
Chris Wormley
both made solid recoveries as well.
That number (average of three per season under Hoke) seems quite high. Following running back
Drake Johnson
's ACL tear, which happened in early September, Hoke said that there would be a self-assessment among the coaching staff. The general thought was that, essentially, sometimes these things just happen. It could be just bad luck.
"You know, I'm sure we'll look at it, but with Drake's -- he gets pushed in the back a little bit, he's busting his butt trying to make a tackle, guy kind of pushed him in the back. I mean, those things -- I don't know what else you can do about it," Hoke said on Sept. 2. "But we will, because I know our strength coach and I know our training staff. They'll get their heads together on it."
Outside of the larger issue of ACL injuries under Hoke, the Wolverines will regroup and try to figure out how to address this from a tight end production level.
Devin Funchess
is still around and will lead the way at the position. He was the team's second-leading receiver last season with 49 catches for 748 yards and six touchdowns.
Butt had been the third-leading receiver with 20 receptions for 235 yards and two touchdowns. However, outside of Funchess and Butt, the only other Michigan tight end to appear on the stat sheet was
A.J. Williams
(one catch).
So Michigan will dive into its depth now to find players who can block, catch and possibly do both. Williams is more of a blocking tight end, and while Funchess has progressed a bit in that category, he is obviously more talented as a pass-catching TE.
The Wolverines have other options, but are limited in experience.
Redshirt junior
Dylan Esterline
and redshirt freshman
Michael Jocz
both appeared in one game last fall. Freshman
Khalid Hill
redshirted, and redshirt junior
Jordan Paskorz
was a name that was mentioned during bowl season and during Williams' one-game suspension. Paskorz played in seven games and recorded one start.
Michigan signed one tight end in the 2014 class,
Ian Bunting
. He has the height factor at 6-foot-6 and with experience in basketball and volleyball, he should be productive.
Another option would be early enrollee/linebacker
Michael Ferns
. Michigan offensive coordinator Doug Nussmeier actually offered Ferns as a tight end at Alabama, so he clearly saw his potential.
Nussmeier should be able to find players to get some reps. And with six-and-a-half months until the season starts, it's not completely outlandish to say that Butt could return before or during the Big Ten schedule. However, he is eligible for a medical redshirt, and with the ACL issues Michigan has had, it might want to give the young player a longer time to recover and make sure he doesn't do any long-term damage.
Regardless, spring camp starts in less than two weeks and Nussmeier and Hoke, who already had their work cut out for them with this Michigan offense, were just given another challenge on top of that by losing Butt.
December, 5, 2013
12/05/13
2:00
PM ET
The Under Armour All-America game is fast approaching and plenty of participants still have questions surrounding their recruitment.
The Big Ten has quite a few of those recruits in the game, so here is a look at five of the bigger storylines heading into the prestigious game.
Will Jabrill Peppers take visits?
October, 1, 2013
10/01/13
8:00
AM ET
With any conference there will always be battles on the recruiting trail within the Big Ten. Coaching changes, different philosophies and geographic location all factor in to who battles who.
Here is a look at the top five Big Ten recruiting rivalries.
To continue reading this article you must be an Insider
April, 18, 2013
4/18/13
6:00
PM ET
College coaches often say the best recruiters are the players already on the team and those verbally committed to the program. Ohio State recruit
Damon Webb
and his fellow future Buckeyes are doing their part with a unique approach.
Webb, one of seven players verbally committed to Ohio State for the 2014 class, has launched a website to promote Ohio State, share recruiting stories and, most importantly, get others to play for the Scarlet and Gray. The site,
2014bucks.com
, launched Wednesday with the mission to "recruit and have fun."
"We will share on and off the field stuff, our path to national signing day, our senior football seasons, and our upcoming visits to Columbus," the site reads. "We are champions and we are recruiting champions to help us win national championships! Are you the next Buck?"
Webb, a defensive back from Detroit, was the second recruit to verbally to commit to Ohio State back in January. After returning from a 7-on-7 combine earlier this month near Chicago, Webb told his parents he wanted to do something to bring together his recruiting class and hopefully add to it. Webb's father, Damon, said Webb had watched how Michigan 2013 recruit
Shane Morris
, a quarterback from nearby Warren, Mich., had
maximized Twitter and Facebook to connect with other recruits
.
"I was like, 'Social media's where it's at,'" Webb's mom, Stephanie, told ESPN.com on Thursday. "I design websites, so I said, 'Why don't I make you guys a website?'"
Damon Jr. liked the idea and Stephanie, who teaches Web design and technology at the University of Detroit, began setting up a basic site. Before publishing anything, Stephanie Webb reached out to Mark Pantoni, Ohio State's director of player personnel, to make sure the site would be NCAA compliant. Pantoni, who informed head coach Urban Meyer of the site, gave it the green light, noting that none of the staff members can participate on it because of NCAA rules.
Stephanie finished the main page Wednesday and told her husband, who "jumped the gun" by
mentioning the site on his Twitter page
. Some of the other Buckeye commits didn't know about the site until it went live.
"They were probably shocked," Damon Sr. said with a laugh.
The site includes pictures of all seven Ohio State commits -- noting the order in which they committed -- and then asks, "Who is next?" The Webbs also launched a
Twitter page
on Wednesday that already has more than 700 followers.
"I didn't know it would get this reaction," Stephanie Webb said.
Damon Webb Jr. and the other Buckeye commits will post more content in the coming days and manage the site. Recruiting tends to bring out the worst in college football fans, so to prevent trolling, Stephanie will approve any comment before it goes live to the site.
Damon Sr. says the site allows the Ohio State commits to "show their togetherness and try to recruit other guys who are still on the fence." It also reinforces the commitment for Damon Jr., the subject of rumors about possibly flipping to archrival Michigan.
"That's still kind of going around," Damon Sr. said. "A lot of people that think he might decommit from Ohio State. I felt like if they saw this, they'll see he's pretty steadfast."
While Ohio State recruits take to the Web, a Michigan recruit is going the apparel route to promote the program for the 2014 class. Linebacker commit
Michael Ferns
in February
created Project 135
, where he sends out
blue T-shirts
to each new Wolverines recruit.
"As commits wear the shirts to events, we'll get the attention of other potential recruits who may not have been looking towards Michigan at first," Ferns wrote on his Twitter page.
It'll be interesting to see if these recruit-driven marketing campaigns become a national trend. You know coaches won't stand in the way.
"The recruiting game," Stephanie Webb said, "is changing."
February, 19, 2013
2/19/13
11:00
AM ET
By now you've had time to digest the
2013 recruiting classes in the Big Ten
. Many of you turned the page to 2014 long ago, so it's time for us to catch up.
The Big Ten has
19 verbal commits for the 2014 class
, which ranks fourth among FBS conferences and 11 behind the SEC. Nine Big Ten schools have received commitments, and future Big Ten members Maryland and Rutgers both are on the board with one commit each.
Here's a snapshot of 2014 recruiting in the Big Ten ...
ILLINOIS
Commits:
0
Comment:
The Illini didn't get their first 2013 commitment until Feb. 28, 2012, and they're
pursuing several coveted in-state prospects
. Some recruits might wait and see with Illinois as coach Tim Beckman faces a pivotal season after a disastrous 2012.
INDIANA
Commits:
0
Comment:
The Hoosiers didn't get their first 2013 commitment until last June, so there's not a major rush here. Indiana finished the past recruiting cycle very strong and was able to flip a few players who had pledged elsewhere.
IOWA
Commits:
2
Comment:
The Hawkeyes are off to a good start with offensive lineman
Ross Pierschbacher
, an in-state prospect who has received good reviews. Iowa also remained within its borders for athlete
Jay Scheel
, who had received interest from other area teams like Nebraska and Iowa State. Both men are on
ESPN's Watch List
.
MICHIGAN
Commits:
3
Comment:
Fast starts have been a hallmark of Brady Hoke's recruiting at Michigan, and the trend is continuing for the 2014 class. Size stands out among all three Wolverines' commits, including 6-foot-6, 230-pound quarterback
Wilton Speight
from Richmond, Va., who
reclassified for the 2014 class
after breaking his collarbone as a junior. ESPN Watch List prospects linebacker
Michael Ferns
and defensive tackle
Bryan Mone
are nice additions.
MICHIGAN STATE
Commits:
3
Comment:
The class is off to an excellent start as all three commits are on ESPN's 2014 Watch List. The intrigue surrounds wide receiver prospect
Drake Harris
, who has received interest from Ohio State, Michigan and other top programs and could be pried away from Michigan State. The class also includes another Bullough, this time Byron, the younger brother of current Spartans Max and Riley.
MINNESOTA
Commits:
1
Comment:
Running back
Jeff Jones
not only puts Minnesota on the board for 2014, but he's a solid in-state prospect on the ESPN Watch List. A
lack of homegrown talent hurt Minnesota
in the 2013 class, which included just one in-state prospect, so Jones' pledge is a good sign.
NEBRASKA
Commits:
0
Comment:
It's still early, Huskers fans, although your anxiety about Bo Pelini's recruiting won't be quelled until Nebraska gets on the board with some decorated prospects. Nebraska's first 2013 recruits didn't commit until mid-April of last year.
NORTHWESTERN
Commits:
1
Comment:
The Wildcats' defensive back recruiting has improved in recent years, and the coaches hope they've made another good addition in safety
Jordan Thomas
, an ESPN Watch List prospect from Klein, Texas.
OHIO STATE
Commits:
4
Comment:
Although Ohio State continues to recruit aggressively in the Southern states, its first four commits for 2014 come from the Midwest (3 Ohio, 1 Michigan). The Buckeyes went to Detroit's Cass Tech High School, a traditional Michigan hotbed, for cornerback
Damon Webb
. They
recently lost a commitment
from defensive end
Lawrence Marshall
, who is still considering the Buckeyes but also Michigan and Michigan State.
PENN STATE
Commits:
1
Comment:
Running back is and will be a major need for Penn State, especially after the 2012 season. The addition of Maryland native
Mark Allen
, who committed back in October, should help.
PURDUE
Commits:
0
Comment:
New Boilers coach Darrell Hazell took his time putting together a staff and had to focus on finishing the 2013 recruiting cycle, so the lack of commits isn't a huge surprise. It will be interesting to see Hazell's vision/strategy for his first full class at Purdue and how successful he'll be on the trail.
WISCONSIN
Commits:
4
Comment:
All four Wisconsin commits made their pledges last year, before the coaching change. New coach Gary Andersen did a good job of keeping Wisconsin's 2013 recruits on board and will need to do the same with this group, which includes ESPN Watch List selections in quarterback
Chance Stewart
and offensive lineman
Jaden Gault
.