September, 2, 2010
9/02/10
1:00
PM ET
COLUMBUS, Ohio -- Few folks outside the Marshall locker room actually think Ohio State is in danger of losing tonight's season opener.
The Buckeyes are one of the nation's most complete teams, and their debut at The Shoe is viewed as the first step toward a potential national championship push.
[+] Enlarge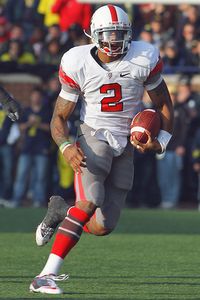 D. Jay Talbott/Icon SMITerrelle Pryor passed for 2,094 yards last season and rushed for 779 more.
So why should you pay attention to the game?
Terrelle Pryor
, of course.
Regardless of the final score, Pryor's performance against the Thundering Herd will be heavily scrutinized. Can he build off of his masterful performance in Pasadena against Oregon? How are his decision-making skills? Has he fully earned coach Jim Tressel's trust to operate in an expanded offensive system? Is he a legit Heisman Trophy candidate or just a byproduct of the college football hype machine?
Pryor is always the story at Ohio State, good or bad. He doesn't particularly like it, but he accepts it. He's used to being the center of attention.
"Everyone just praises you and holds you on a pedestal all the time," Pryor recently told ESPN.com. "Sometimes, it's hard when you're getting more recognition than some of your teammates. I don't like that individually because I feel like everyone really should get the same recognition. But at the same time, that's the life we live in, the game that we play, and people love the quarterbacks and they put some people on different pedestals.
"You have to humble yourself."
Pryor sounds more humble these days, admitting that Ohio State's dominant defense has "bailed me out in a lot of games." The Buckeyes junior certainly has his share of critics, who harp on his passing mechanics and decision-making.
Many view him as overhyped and scoff at his 19-3 record as Ohio State's starting quarterback. Most agree that he has a lot more to prove this season.
"It comes with it," Pryor said of the criticism. "I watch a lot of Vince Young and Michael Vick and guys like that, they're scrutinized guys and [critics] try to jump on people. I'm in the learning process, and whatever people have to say about me, that's what they've got to say.
"It's not going to bother me, it's not going to stop me from doing what my goals are and what I want to accomplish."
His short-term goals are simple: don't turn the ball over, make his throws in the right place and take checkdowns when necessary. Time will tell if Pryor is a better quarterback, but he sounds like a smarter one after two full years in the program.
"He's made light years [improvement] in his accuracy," wide receivers coach Darrell Hazell told reporters this week. "Understanding coverages, he's light years [ahead]. He'll be fun to watch this year."
Asked about the Heisman race, Pryor delivers the first of many stiff-arms this season.
"To tell you the truth, I just go out and ball, that's it," he said. "Lead the offense, put points on the board. It doesn't matter who we're playing. We do our thing, and we'll go into every game and execute, execute, execute.
"We do that, we'll be fine."
October, 8, 2009
10/08/09
12:00
PM ET

Posted by ESPN.com's Adam Rittenberg
One day closer to the weekend.
September, 10, 2009
9/10/09
12:30
PM ET

Posted by ESPN.com's Adam Rittenberg
In honor of the dude working the register at my local UPS store, who bears an eerily close resemblance to The Dude, I give you this:
Maude Lebowski:
What do you do for recreation?
The Dude:
Oh, the usual. I bowl. Drive around. The occasional acid flashback.
September, 9, 2009
9/09/09
12:15
PM ET

Posted by ESPN.com's Adam Rittenberg
A lot on your plate today.
September, 8, 2009
9/08/09
5:04
PM ET

Posted by ESPN.com's Adam Rittenberg
Terrelle Pryor
's right arm and legs will go a long way toward determining Ohio State's success or failure against USC on Saturday (ESPN, 8 p.m. ET), but the space under the quarterback's left eye continues to draw more attention.
Pryor displayed his support for Philadelphia Eagles quarterback Michael Vick by
wearing "Vick" on one of his eyeblack stickers
during the season opener against Navy. The sophomore explained later that he has always looked up to Vick and looks past Vick's shortcomings off the field.
"Not everybody is the perfect person in the world," Pryor said of Vick. "Everyone does -- kills people, murders people, steals from you, steals from me. I just feel that people need to give him a chance."
The tribute and Pryor's comments have drawn some mixed reviews. Buckeyes head coach Jim Tressel, who said he wasn't aware of the Vick sticker until told about it after the game, doesn't have a strict policy on eyeblack displays.
"It's a little bit tough in this country to have too much of a policy on personal expression, but it's unfortunate when that distracts from situations that were so extraordinary as the weekend we had," Tressel said Tuesday at his weekly news conference. "And I guess you'd have to know Terrelle like I know Terrelle. There's probably not a more compassionate human being in the world than Terrelle."
Tressel recalled how Pryor sent him a text message Monday night saying the team needed to provide a boost for junior wide receiver
Taurian Washington
, who dropped two passes against Navy. Pryor also sent Tressel a text after Ohio State's loss to LSU in the BCS title game, which read, "Don't worry about it, Coach. We're going to get it done in the future."
Though Pryor's tribute to Vick caused a stir, Tressel is confident the quarterback didn't intend to cause any harm.
"He's one of those guys that he feels terrible about anything that's not just right," Tressel said. "And I know he doesn't feel good that [the tribute] disappointed someone. And his intention would never be to make anyone disappointed about something.
"We all sometimes miss the mark, but as I say, teachable, learnable moment."
A few other notes from Buckeye land:
Tressel said wide receiver/punt returner Ray Small looked better after a nasty bout with illness kept him off the field against Navy. An update on Small's status for the USC game will be provided Thursday. Wide receiver DeVier Posey is expected to return to practice in the next day or two after missing the second half of the Navy game with an ankle injury.
USC safety Taylor Mays last month referred to Pryor as "the little deuce" and himself as "the big deuce." Both players wear No. 2. Tressel's response? "They're both big deuces if you ask me, man."
Tressel called USC's return men "frightening."
September, 8, 2009
9/08/09
12:00
PM ET
Posted by ESPN.com's Adam Rittenberg
It's Big Ten teleconference day, so be sure to follow my updates on
Twitter
. While I chat with well-paid gym teachers, check out these links.
September, 7, 2009
9/07/09
12:00
PM ET

Posted by ESPN.com's Adam Rittenberg
A lot of weekend leftovers after the first set of Big Ten games.