Big Ten:

Michigan State football
August, 14, 2013
8/14/13
1:30
PM ET
EAST LANSING, Mich. --
Connor Cook
sat at his table in the middle of Michigan State media day last Monday, less than a handful of reporters surrounding the redshirt sophomore quarterback.
If there was any question of which quarterback was receiving the majority of the attention during the Spartans' two-headed quarterback competition this fall, all Cook needed to do was look a few tables over to the right. There, senior
Andrew Maxwell
, the incumbent who started 13 games last season, had a full table of reporters and television cameras.
[+] Enlarge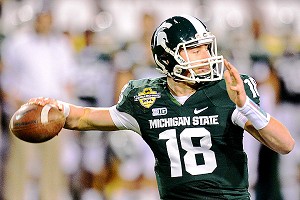 Matt Kartozian/USA TODAY SportsMichigan State sophomore quarterback Connor Cook is locked in an intense battle with incumbent starter Andrew Maxwell.
Cook recognized this. It is pretty commonplace. So when he was asked if he still feels like the backup quarterback, well, he does.
"Maxwell started the whole season last year pretty much and I only got to see time in like two games," Cook said. "But I mean, yeah, it does. After practice I only get interviewed by three people and he gets interviewed by everyone else. If everyone was interviewing me and I was the guy in the spotlight, then I would feel like the guy.
"But I wouldn't say I feel like the starter. I still feel like the backup but continuing to work to be the starter."
At some point in his career, Cook could ascend to the spot. It might be as soon as this season, as Michigan State coach Mark Dantonio has insisted he will continue to look at both quarterbacks -- and could end up playing two quarterbacks in games this season.
Dantonio does not want what happened to Maxwell last season, where as a first-year starter he was thrown into games with little-to-no experience, to occur a second straight year. Sure, Maxwell has that experience now but his production in games was questionable last season. He completed only 52.4 percent of his passes with a touchdown-to-interception ratio of 13:9.
If he had a better year, the competition aspect of playing both Maxwell and Cook would probably not be as big of a deal. But instead there is a real question and a real wonder as to who will be the starter.
"What they do in terms of decision making and creativity will define them," Dantonio said.
In Michigan State's first scrimmage Saturday, the Spartans' Twitter account said Maxwell completed 13 of 21 passes for 171 yards and a touchdown. Cook completed 13 of 18 passes for 133 yards. In other words, fairly equal.
Early on during Michigan State's fall camp -- and in spring practice -- the more experienced Maxwell was the better decision maker. Cook, though, has the ability to keep plays alive with his feet. He doesn't have the experience, but his athleticism is intriguing.
Even if Maxwell does win the job, Dantonio sounds like a coach who wants to make sure Cook has some experience --for now or in the future.
"It's been a good working environment," Dantonio said. "Not to say we're going to even split it, but especially early on, we have to give somebody some opportunities to play. Just because I think it will benefit him in the long run.
"I know with [Kirk] Cousins, we gave him an opportunity to play in the Capital One game against Georgia in 2008, and I think it paid dividends in '09."
There is the chance, of course, that either Maxwell or Cook does so well over the next few weeks they become the unquestioned starter. If that happens, so be it at Michigan State. But until it does, the Spartans plan to stick with what they are going into the season intending to do.
This gives Cook a chance to compete. Maxwell, the entrenched starter, says he also understands the situation. Being the starter last season, he could have reason to be frustrated. He insists he is not.
"I don't think there's really room for frustration because it's reality," Maxwell said. "It's the situation we're in. I think the good side is there is opportunity.
"I have another year to play. I have the opportunity to be the starting quarterback again and I have the opportunity to come back and be the quarterback of a team who is poised and ready to do a lot of good things and be very successful. That kind of trumps any frustration. I am excited to have the opportunity to be the guy again. Now it's my job to go out and prove that and earn that."
If he does, the same horde which surrounded him early at MIchigan State's media day will continue to do so. If not, Cook may finally feel like the starter instead of the guy auditioning to try and win the role.
August, 9, 2013
8/09/13
9:00
AM ET
EAST LANSING, Mich. -- Wearing big snowsuits to deal with the harsh Michigan weather,
Max Bullough
and his family -- three siblings and two parents -- piled into the car one winter to hunt for a Christmas tree.
Max waited for his chance as they searched. When he had an opening, he tackled his younger brother, Riley. Riley tackled his younger sister, Holly. Then they all piled on the third child, Byron.
Welcome to life with the Bulloughs, where everything is competitive and athletic. Max going on a tackling spree is just as likely with his family -- where it is mostly playful -- as it is at Michigan State, where he is the Spartans' top linebacker and emotional core.
"He would always tackle everyone," Holly said. "... Really playfully, though. Ever since I could remember, they would be playing football and tackling each other, everywhere they went."
In the Bullough backyard as kids or in the basement on their knees playing knee football, it was the same.
Holly, the youngest and already a high school state champion in Michigan in the 800 and 1,600 meters as a sophomore at St. Francis in Traverse City would snap the ball to the quarterback, Riley, the second child and now a redshirt freshman at Michigan State. He'd then look for Byron, now a senior at St. Francis and a MSU commit. Defending Byron would be Max, the oldest.
In the Bullough family, now three generations strong at Michigan State and four children deep as the kids of Shane and LeeAnn Bullough, one thing is clear.
Max Bullough is boss. His family even has a name for him: Tyrant. LeeAnn coined the nickname when Max was a child because, well, he was a bit demanding.
"You don't tell Max what to do," LeeAnn said. "He'll do what he wants to do in his own time. When he went off to college, Shane and I were like, 'Phew, I can't wait for the coaches to have to deal with him."
"But he's successful because of that, too. That's just who he is."
[+] Enlarge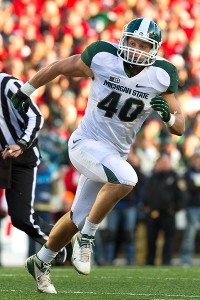 Jeff Hanisch/USA TODAY SportsMax Bullough was nicknamed Tyrant by his family, which has deep roots at Michigan State.
It has worked at Michigan State. Bullough became one of the Big Ten's top linebackers with 111 tackles and was a Spartans captain last season. At home, Byron and Holly would follow Max everywhere, listening to everything he said.
Max's personality led to some yelling when the Bulloughs were younger. Riley, the antithesis of Max as an aspiring musician and family joke-teller, learned how to agitate his brother. He'd fake being injured -- crying after Max threw a rock at him or if Max was on his neck when they wrestled -- to see Max get yelled at.
Only later would Shane and LeeAnn discover Riley was faking the whole time.
"He got yelled at," Riley said, laughing at the memory. "I did that all the time."
The relationship between the brothers, which was never bad, matured after Max left for Michigan State. The instigating stopped -- except when Max returned to Traverse City from Michigan State and Riley convinced LeeAnn to make chicken for dinner because he knew Max was sick of his staple meal from East Lansing.
Riley became the oldest child in the house. Byron took Max's room. Riley took Max's literal seat at one head of the Bullough dinner table, an honor reserved for the eldest Bullough child at home -- a tradition Max started.
Riley and Max talked more. Max texted Riley to get high school updates. Riley asked about Michigan State. When Riley committed to MSU, the relationship strengthened even more.
They'd play the same position -- linebacker -- but they would also be with each other all the time, eventually living together this year.
"He's my best friend," Max said. "He's someone I obviously have gone through my whole life with and he can say the same about me. We act a little more like brothers than best friends, but it is all with good intentions.
"I'm his number one fan out there."
Now, Max will actually watch him. Michigan State coach Mark Dantonio moved Riley to tailback in the spring. He liked his toughness. His ability to gain extra yards. Being a Bullough, Dantonio knew Riley would provide that at linebacker or tailback.
An idea of the move percolated first in a Michigan State coaches meeting, when they kicked around the idea of moving Riley to tailback. His linebackers coach, Mike Tressel, knew Riley had ball skills from linebacker drills. Dantonio had the idea stuck in his head after using Riley to simulate Iowa's
Mark Weisman
to prepare for the Hawkeyes last season. Dantonio's prior time at MSU also helped. Then, the Spartans moved a little-used linebacker named T.J. Duckett to tailback.
"With two weeks left to go in spring, I just walked in and said, 'We're moving him over there. He'll play both sides today,' " Dantonio said. "We just about wore him out."
Tressel knew the move would stick when Dantonio brought it up. Tressel knew Riley could catch. What surprised Tressel was Riley's natural vision and instincts.
By the beginning of preseason, Riley became Michigan State's top running back on the depth chart, so the possibility of a Bullough starting at two of the premier positions at Michigan State at the same time is a definite possibility. Riley always liked offense better. He just never thought he'd get a shot at it.
The fifth and sixth members of the Bullough family who played football at Michigan State might end up starting at the same time.
"How many people get to do that, where they would both start and pay quite a bit," said Shane, a MSU captain in 1986. "On both sides of the ball. We always joked it would be hard for us to get a restroom break in games this fall.
"But it'd be great."
Max doing the hitting. Riley being tackled. A Bullough on the field. Some things with the Bulloughs don't change.