March, 4, 2014
Mar 4
9:15
PM ET
COLUMBUS, Ohio -- The slogan on the banner hanging outside Mickey Marotti's office was no longer delivering exactly the right message, so the Ohio State strength coach decided to update it himself.
The last word left some room for ambiguity, so Marotti pulled out some athletic tape to cover it up, got out a marker and made his expectations much more clear for a team coming off consecutive losses to end last season.
The sign that greeted the Buckeyes used to demand that "the BEST players have to be the BEST workers," but that bar was too low for Marotti and necessitated some editing and minor redecorating during offseason conditioning ahead of Tuesday's first practice of spring.
"Anybody can be a worker," Marotti said. "Anybody can punch a clock and get a paycheck. I want grinders."
The Buckeyes can now find that word scribbled in all caps on the white tape just above the door to Marotti's office. And that hard-working mentality has clearly emerged early in the year as a driving force for a team that came up short of a couple of its most important goals after its 24-game winning streak came to an end, giving way to a two-game losing streak.
Ohio State still had plenty to feel good about last season after winning its division again, knocking off rival Michigan to cap another perfect regular season and piling up some individual honors along the way. But the loss in the conference title game that kept the Buckeyes from claiming the top prize in the Big Ten and likely from playing for the national championship, and the defeat in the Discover Orange Bowl that followed it, still sting in the Woody Hayes Athletic Center.
And part of the process in erasing that pain and reaching a higher level in 2014 started with tweaking their vocabulary along with their mindsets.
"Last year, I don't want to say the word entitled," Ohio State coach Urban Meyer said. " … Last year it was kind of, well, you were 12-0, you're preseason this, you're this, and I haven't had many people ask about our preseason [ranking]. Right now we're just trying to find out who's going to play for us in some spots.
"I don't want to diminish what happened because we came back and took the lead in the fourth quarter and lost a couple [leads] in those last two games, and that happens. If I felt like there was a lack of fight, then we'd blow the whole thing up. There was certainly not lack of fight."
There were, perhaps, a few critical pieces missing in terms of personnel and maybe a defensive philosophy that didn't quite match up with what Meyer ideally wants from his program. Those were obviously at the top of his list when he reported for practice on the indoor field Tuesday.
Ohio State still has some questions to answer at linebacker, but it attacked that weakness on the recruiting trail by signing four guys in the most recent class and appears like it might have a somewhat unexpected solution to replace
Ryan Shazier
on the weakside with
Darron Lee
emerging with the first-team unit to start camp.
The process of installing a more aggressive secondary under new co-defensive coordinator Chris Ash has only just begun, but his approach appears to be more in line with what Meyer is expecting even in the early stages.
But again establishing Meyer's standard for work ethic and reinforcing his emphasis on "4-to-6 seconds of relentless effort" on every play was just as important in shaping his team to compete for a title, and Marotti did his part to help cut down on any wiggle room.
"We just have to improve, we've got to finish and I like where we're at as a team," Meyer said. "I want an angry, blue-collar team, and I'm hoping that's what we have."
The key for the Buckeyes is apparently making sure those blue-collar workers are showing up to do more than punch a clock.
February, 27, 2014
Feb 27
12:00
PM ET
November, 15, 2013
11/15/13
2:00
PM ET
Much has been made about quarterback
Braxton Miller
's transformation under coach Urban Meyer at Ohio State, but another group of Buckeyes is enjoying an extreme makeover. After underachieving for years, Ohio State's offense line is now a force in the Big Ten, creating plenty of room for Miller, running back
Carlos Hyde
and others to operate. Senior left tackle
Jack Mewhort
has witnessed the evolution of the line. He has started at three different positions -- left guard, right guard and now left tackle -- and earned second-team All-Big Ten honors in 2012. Elected a team captain before this season, Mewhort has received plenty of praise from Meyer, who called the Toledo, Ohio, native "one of the best leaders I've ever been around."
Mewhort and the third-ranked Buckeyes continue their push for a national title Saturday at Illinois. ESPN.com caught up with Mewhort earlier this week.
[+] Enlarge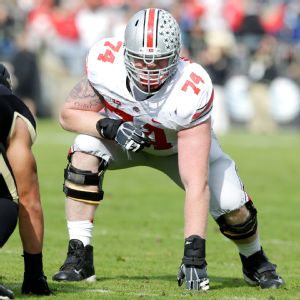 AP Photo/Michael ConroySenior captain Jack Mewhort has anchored a much-improved offensive line for the Buckeyes.
How have you evolved as a leader during your career?
Jack Mewhort:
I've had the good fortune of seeing a lot of leaders come through here and who did a great job at Ohio State, guys like Cam Heyward, Jake Ballard, Jimmy Cordle, the list goes on. I did a good job when I was younger observing and making sure I picked up things from those guys that if I was ever in a position to be a leader, I could apply. Somehow, I got myself in a position where people think I'm a leader, so I can apply those things now. I was very lucky.
What was the moment like when you found out you would be a captain?
JM:
It was a big honor. You're happy for a second, and then you think about the responsibility that goes with it. I just got real serious about it. Being a captain at Ohio State is a pretty prestigious thing. I don't want to fail my team or the coaching staff, so I've tried to be a good example and do things the right way, set the tone for this team and make sure guys are doing things right.
When did you realize you had to take things up a notch from a maturity standpoint?
JM:
In 2011, [Mike] Brewster and Mike Adams and J.B. Shugarts, it was their last year, and I got a lot of good playing experience and general life experience. When they left,
Corey [Linsley]
and
Andrew [Norwell]
and
Marcus Hall
all realized at the same time that we were the oldest guys in the O-line room, and we were going to be in position to lead the team. There was a moment a few years ago where I thought to myself, "I'm going to have to be a guy around here now."
You guys are talked about as being the strongest unit on the team. When did that come to fruition that the line was taking it to another level after not living up to expectations earlier?
JM:
When Coach Meyer got here, there was a chip on our shoulders. He came in and he made no secret that he was not impressed with the offensive line at Ohio State the last few years, especially the 2011 team, calling it the worst O-line he's seen play in a long time. We really took that to heart and believed we had a special opportunity in front of us with Coach Meyer and his staff coming in. We had a bowl ban last year, but the reason you come to Ohio State is to be in the discussion we're in right now. We knew if we wanted to leave a legacy at Ohio State, we were going to have to start moving forward. We all took that to heart, worked really hard on our minds and our bodies and started heading in the right direction together. The chemistry we've shown together on the field, it's been a lot of fun, a great ride.
How much of it was physical and how much was mental for you guys as a group?
JM:
Mentally, it wasn't as hard as it was physically, just because we were all friends. We hadn't all been playing at the same time together, but we all knew each other. That wasn't a big problem because there was a mutual respect. But physically, it was a huge part of it. We credit Coach Mickey Marotti for that. He came in and changed our bodies for the better. We were not physically impressive when they got here, so they did a great job of motivating us in the right way and helping us eat right and establish a mindset to get mentally and physically tougher.
Everyone sees you as big guys, but what specifically did you have to change physically to meet the coaches' expectations?
JM:
We just didn't have the right template maybe before. Not to take anything away from the program that Coach [Jim] Tressel ran, because obviously he was a winner, but when Coach Marotti came in, he just took it up another notch. I don't know the exact numbers, but as an offensive line, we lost hundreds of pounds of fat and gained a lot of muscle at the same time. It was just a matter putting applicable strength on our bodies that we could use our flexibility. Speed to power is a big thing around here. We're well-oiled machines now. It's always a work in progress when you're an O-lineman, eating right and stuff like that. But they definitely helped us.
And how have those changes contributed to your success?
JM:
It shows every week on the field. [Offensive coordinator Tom Herman] always says we made a commitment to our tempo on Day 1, and that's something we pride ourselves on, wearing defenses out and being in the no-huddle and getting right back on the ball after each play. Some O-linemen can't really handle the pace or do it all the time. We really pride ourselves on being that team. We love running no-huddle, we love getting right back on the ball, because there's a certain point where you can look across the ball and see a D-lineman tap out. As an offensive lineman, there's no better feeling than that.
What has been the one thing that has surprised you most about playing in this offense versus your perception of it when Coach Meyer came in?
JM:
People talk about Coach Meyer and his offense and say it's the spread, we're not really blocking anybody, we're reading guys. We've showed in the last couple years that he likes to run the ball between the tackles and run power and inside zone as much as anybody. We obviously have our schemes, we know how to get the ball on the edge and Braxton's throwing the ball really well right now. But at the end of the day, Coach Meyer says we're a power running team, and that's been evident the last couple years here.
You guys are clearly in the national championship mix. What do you need to do to convince people that you're a team that should be in one of those top two spots?
JM:
We just need to handle our business and do it convincingly, just to show people we are legit and we mean business. Obviously, it's a big discussion that we're in, and we're not ignorant. We know what's going on nationally, but you've got to take it day by day and focus on right now beating Illinois. When you start looking too far ahead, that's when you let the little things slip, and all of a sudden you're looking back and saying, "What could I have done differently?" If we just keep playing the way we've been playing and get better every day, we'll be all right and everything will work itself out at the end.
Do you look at what Florida State and Alabama and Baylor and Stanford have done, and look at their résumés and where you stack up with them?
JM:
I don't do a lot of comparisons. Obviously, all those teams are great. We have a lot of respect for all of them. As far as résumés go, there's a lot of talk about how our schedule's weak or whatever, but we've beat every team lined up in front of us. We have a great winning streak, and that's something we want to continue. At the end of the day, if we win all our games, we're hopefully where we want to be. If we're not, winning a lot of games is good, too.
You guys would be guaranteed a spot in the Rose Bowl if you don't make the title game. How do you view that possibility?
JM:
I don't really know how our attitude would be toward that. I don't really want to talk about that just because I don't want to look ahead. But the Rose Bowl is a great bowl game. I was in it in 2009. It would be an honor to play in a BCS bowl, especially the Rose Bowl. It's the 100th anniversary also, so that's a very prestigious place. There's nothing wrong with playing in the Rose Bowl when you're an Ohio State Buckeye.
What would you like your legacy to be at Ohio State?
JM:
Personally, I want people to remember me as a good teammate, as a guy who did things the right way. I was serious about my business. I want to be remembered as a good teammate and a good leader. This winning streak we're on now, I'm glad to be a part of that, and when people look back at the 2012, 2013 Buckeyes, when it's all said and done, and if we do the things we want to do, it's going to be an honor just to be in the conversation with some of these guys who are around here.
June, 11, 2013
6/11/13
12:00
PM ET
June, 6, 2012
6/06/12
9:00
AM ET
Going into this offseason, Ohio State needed to find a replacement for four-year starting center Mike Brewster. Many people thought
Brian Bobek
, Brewster's backup from last season, had the inside track. Few would have predicted that
Corey Linsley
would grab the job and make it his own.
It's not that Linsley lacked talent. It's just that he hadn't shown a lot in his first three seasons. Last season, he was suspended for two games and didn't get a lot of playing time as a backup guard.
[+] Enlarge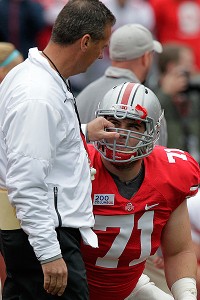 AP Photo/Jay LaPreteOhio State's Urban Meyer, left, has been pleased with the progress of Corey Linsley this spring.
"I really didn't see myself as accomplishing too much," Linsley told ESPN.com about his career. "I wasn't putting in all the time to be a great player. I was just doing enough to get by, and thought that was good enough. Obviously, last year showed that it wasn't."
That's why Linsley felt like he had approached a crossroads this winter. He had a clean slate with new head coach Urban Meyer. But he also had to push himself harder than ever when new strength coach Mickey Marotti began the team's challenging early morning workouts. Linsley called it "do or die" time for him as a college player.
"We had a series of 5 a.m. workouts right when Coach Meyer started, and that's when it kind of clicked for me," he said. "I had to make a decision: Am I going to sit back and relax, or am I going to take the initiative to get better, to become a better player and a better person?
"It was probably the hardest thing I've ever done. But every day I told myself, 'If I got through this, I can get through the next workout. And not only get through it, but get better while I was doing it.'"
Few players have transformed as much under the new Buckeyes regime. Linsley went from what Meyer called "a journeyman" to being anointed as the most improved player of the spring on offense by his coach. Linsley barely played in the Ohio State spring game because the staff was confident in and comfortable with what he could do.
"He was a pleasant surprise," Meyer told reporters last month. "He has the potential to be a very good player. His commitment to excellence right now is real strong."
Linsley embraced those early morning workouts and started showing up before they began to get in extra snaps with quarterback
Braxton Miller
. He later realized how much that offseason conditioning paid off when offensive coordinator Tom Herman introduced the high-tempo offense this spring.
"I knew I had to be in shape after probably the first week [of spring practice]," Linsley said. "I've got to be the first O-lineman up to the line, the guy making the calls, and then make sure everybody is relaying that call further down the line. If you're not in tip-top shape, you can do it, but your mental aspects are really going to deteriorate over the course of the game."
The 6-foot-3, 292-pound Linsley has all the physical tools to make a great center. Teammates say he has bench-pressed more than 500 pounds this spring. What he's trying to do now is play with the fundamentals and technique that Brewster showed during his standout career.
"Mike has unbelievable knee bend and uses his hands the way you're supposed to use them," Linsley said. "I don't have the flexibility that Mike does, but I'm probably a little stronger. So I'm trying to take the strength I have and play with the technique he does."
Once a player who did just enough to get by, Linsley is taking to heart Meyer's challenge for the team to have the best offseason in Ohio State history. For him, that means not just doing the scheduled lifts and runs, but to always add on some extra film work or position drills. He says he's also making a point to try and lead the younger linemen and backups, making sure to pull them along to additional workouts.
That's not the Corey Linsley anybody knew before this winter. But that's why he could be known as the next great Buckeyes center.
February, 16, 2012
2/16/12
12:00
PM ET
I can't express to you how badly this kid needs football.
February, 16, 2012
2/16/12
9:00
AM ET
Most college football coaches aren't shy about praising their strength and conditioning coaches, but Ohio State's Urban Meyer took things to the next level Jan. 15. Meyer
introduced his new staff at halftime of Ohio State's basketball game
against Indiana. While co-defensive coordinator Luke Fickell got the biggest ovation and new offensive coordinator Tom Herman also received a big cheer, Meyer didn't describe either as "the most important hire I made on this coaching staff."
He instead saved that designation for Mickey Marotti, who Ohio State named as its new assistant athletic director for sports performance. Marotti comes to Ohio State from Florida, where he worked with Meyer during Meyer's tenure as Gators' coach. The two men are working together for the fourth time (Florida, Notre Dame and previously at Ohio State), and Marotti and his staff are implementing their program right now as Ohio State prepares for spring practice.
ESPN.com caught up with Marotti on Wednesday. Here are his thoughts:
What was your initial message to the players as you arrived at Ohio State?
Mickey Marotti:
I wanted to let them know what to expect from us, from our staff. Our offseason program is going to be based on accountability and effort and attitude and performance and being competitive. That's what our deal was all about.
How would you describe your philosophy toward strength and conditioning?
MM:
My philosophy is to train them so they can maximize their genetic potential and train them to be ready to play the game of football. The methods that we use are a mix of power lifting, Olympic lifting, old-school strength training, high-intensity training, from metabolic alternative methods training to strongman stuff. All the different modes of training. We've made a huge focus and emphasis on acceleration and speed. Right now is our biggest acceleration cycle.
Focusing on speed and acceleration, is that different from what you've done in the past?
MM:
It's similar to what we've done, very similar to the program we had at Florida, very similar to the program we had at Notre Dame. Just trying to make it a little bit more competitive, put the kids in competitive situations.
How do you motivate players?
MM:
Well, my staff and our strength coaches, we motivate them with our energy and enthusiasm and our passion. Our athletes see that, and I think it motivates them. By some of the charts and record-keeping that we have, because we chart everything from a 'loaf' to a 'win' to a 'good lift.' Everything's charted where everybody can see. We push the accountability aspect, and here's the deal and if you're not doing well, why aren't you doing well? All those things motivate you. Putting them in competitive situations motivates them as well.
I read you have some lavender shirts for guys not performing as well?
MM:
We like to let everybody know who isn't working as hard as they need to work. And it works. Because the next time, they won't have it on.
Has it been a big adjustment for the guys getting used to you and your staff?
MM:
Any time you have new coaches, from the head coach to the strength coach to anybody who's new, there's an adjustment. There's a time where you've got to get to know each other. But they've done a great job. They've had a great attitude, been very coachable, and they've been willing. That's all you can ask for, just keep doing what you're doing and grinding away.
Urban introduced you as the most important hire on his staff. What was that like?
MM:
I'm not sure if he's never done that with me before. It's flattering. It's great for my profession, for all my peers and all the people out there. I know coach Meyer very well. I know what our goal is on a daily basis, so I'm flattered and honored. I'm going to do everything I can to uphold that.
What are some of the things coach Meyer looks for out of the strength and conditioning program?
MM:
Guys that go hard. We look for effort. That's the single most important intangible. And it doesn't matter what you're doing because we do so many different things. It's effort. It's daily effort. How much effort you give in a set, how much effort you give in a drill, how much effort you give in a run, how much effort you give in a week, how much effort you give in two weeks, how much effort you're giving to your body. It's all effort because it's not a talent issue. We tell players, 'It has nothing to do with talent, it has nothing to do with genetics, it has nothing to do with how many stars you have next to your name, whether you're a five-star or a four-star or a three-star, all of that doesn't matter. It doesn't matter if you're a scholarship player, a walk-on player, a kicker, a starting linebacker.' It's all about effort.
And how do you assess that?
MM:
We assess it from progress, from what they've done in the last workout or the last time we documented things. We do competitions in the weight room every day, so it's game day in February. We chart who wins and who loses a race, who wins and loses a drill, and you can just see it.
You have some special workouts, too, like the Harley-Davidson workout?
MM:
(laughs) Yeah, we haven't even done that one yet. I think it's a fun way to motivate the guys. They get a kick out of that stuff. I always try to reference something as part of your workout. Obviously you're doing it to become a better player. Obviously you're doing it to become a better team. But that's so far away, so you try to give them mini battles or mini goals. 'OK, we're going to do this workout. You're either going to win it or you'll lose it, you'll either conquer it or you won't.' Sometimes this stuff gets hard. You get to the end of February and you're on Week 6 or 7, it gets really hard mentally and you've got to grind through it. These are just creative ways to get them through it a little bit more when they're worn out and tired.
What's your approach toward nutrition, and have you made any changes there?
MM:
Yeah, I would say that's the biggest change we've made. We've upgraded the training table. We hired a full-time nutritionist who works out of the weight room, she has her own office in there. We instituted mandatory training table four or five days a week. We instituted Breakfast Club, which is a conglomerate of players who need to lose weight, gain weight or lose body fat, and they meet every day, Monday through Friday, for breakfast with our nutritionist and a strength coach. We monitor body fat. We just did it again for the second time this offseason, and we'll do it a few more times. We upgraded our recovery station. We upgraded our fueling station, which is before practices and workouts. We made a huge emphasis: all of our coaches are at training table, all of our strength coaches are at training table.
You get what you emphasize in this world. If you emphasize it, hopefully that's what you get. If you don't make a big deal about it, the kids, they're 18, 19 years old, they're not going to make a big deal about it. So we've made a huge deal about eating right, healing their body and trying to do the best you can to maximize your body.
Some people say players from different leagues look different. From a physical standpoint, how are Ohio State players similar or different from the Florida players you worked with or the Notre Dame players?
MM:
Maybe I live in a closed world, but I see 18-, 19-, 20-, 21-, 22-year-old young men trying to get better, working hard. From a strength standpoint, a lot of these players in this area, Midwest, Big Ten area maybe have a little different background from their high school programs. They may be [coming from] more advanced programs than some of the schools we've dealt with in the past. But it's all relative all over the country.
What are your biggest objectives with the guys as you work with them from now until spring ball?
MM:
We wanted to see changes, and we had no idea what they did in the past. That's none of my business. We really took the program over Jan. 3, whatever the day it was, and we wanted to see unbelievable, relentless effort, and to understand the core value of the program. It's not just the weight program. The weight program is part of the football program, and we're going to make sure we're aligned with the message that the head coach talks about. Everything is based on effort, and we want to make sure we get relentless effort on a daily basis and grind through tough things and accept our culture. I think that's what we're getting.
February, 2, 2012
2/02/12
2:12
PM ET
Urban Meyer hasn't coached a game yet at Ohio State, but his impact on the Big Ten has already been massive.
Though he was only hired in late November, Meyer managed to put together an impressive first recruiting class that ESPN ranked as the
sixth-best in the country
. Several players in the class were at one time committed to other league schools. The Buckeyes put together one of the best groups of defensive linemen in the country as well.
[+] Enlarge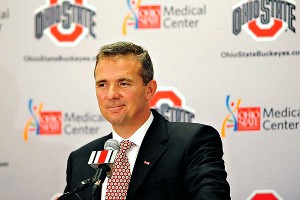 Andrew Weber/US PresswireNew Ohio State coach Urban Meyer made an immediate impact on the recruiting trail.
I caught up with Meyer on Thursday morning to talk about the class, whether there's such a thing as a "gentleman's agreement" in recruiting, and how he expects his recruits to see the field right away.
Did you expect to sign a class this highly rated, given how little time you had to put it all together?

Urban Meyer:
I think it exceeded expectations a little, especially on the D-line. If you had told me in December that we would get those four defensive linemen in this class and the two offensive tackles ... that's what separated this class I think, from being pretty good to being really good.
The class is heavy on the defensive and offensive lines. How much of that was need-based and how much of was just that's what you need to build a foundation?
UM:
I think anytime you get a premiere guy like
Noah Spence
, he knows that we need him. That's the way it is nowadays. Kids want to go somewhere where there's a need. The same with the two offensive tackles,
Taylor Decker
and
Kyle Dodson
. We just don't have those body types right now in our program, and they know that. We made that real clear. Their opportunity to play is going to be real quick here.
How did you go about evaluating what you needed in recruiting when you hadn't seen the players on the current roster much in person?

UM:
Well, that's where Luke Fickell and Mike Vrabel and Stan Drayton and when Taver Johnson was here, they were the ones [who helped]. Then when I went out to watch practice, I just walked out on the practice field and just kind of watched for a second, and I could tell our offensive line didn't look the way we needed them to look. I could tell we were short on pass-rushers off the edge. And then linebackers. So those are the three areas that we had to get just to be functional. So we attacked it as hard as we could and it all came together.
What do you like about the three big defensive linemen in this class -- Noah Spence, Adolphus Washington and Se'Vonn Pittman?

UM:
Well, number one is they're competitors. They're very high-character guys. To have three guys like that with high character who are very good people, I hate to say that's hard to come across, but it is. And they're all different body types. You've got Noah Spence, who's the pure speed guy coming off the edge, relentless effort. Then you've got Adolphus Washington, who's very thick, lower body and more power. And then you've got
Se'Von Pittman
, who's a little bit of both. So they all complement each other.
In your experience, and understanding every player is different, how long does it take players with that talent level to make an impact on the field?

UM:
We're going to rotate them right away. We don't redshirt here at Ohio State. We're changing that up. We're going to have the culture out here that there's no redshirting. If you don't play here, it's because you're not good enough. It's not because we're holding you back. We're going to recruit the kind of player where we want them on the field right now. That's the approach we took at Florida, and it's the approach we're going to take here.
Is the same thing true with offensive linemen? People say that's the position where it takes guys longer to develop.

UM:
Well, Maurkice Pouncey jumped right into it [at Florida], started every game, and in three years he went to the NFL. So if you're recruiting, you lay it out there for them. Usually, linemen take a little longer, but we've played with some young players before.
You mentioned Wednesday that you're not happy with the speed at the offensive skill positions. You're not necessarily done with this class, but was that just not out there for you this year, or is it more of a priority going forward?

UM:
Yeah, we're not happy where we're at with our speed and skill on offense. I don't know what we have. I saw on film and looked at the stats, and you would say from statistical analysis and just evaluation that we're not very good at all. But I'm going to give them the benefit of the doubt and see what happens in spring practice and evaluate them in the offseason, which starts Monday. But we're not where we need to be, by a long shot.
When you learned about the bowl ban, was there a time when you thought this class wouldn't come together nearly as well as it did?

UM:
Oh yeah. Devastated. I would say, panic button in December. Absolutely.
What does it tell you about the players who decided to sign with you anyway?

UM:
It tells you about the power of this program, too. I mean, Ohio State is Ohio State. It's the most powerful alumni base in the country. It's one of the great stadiums in the history of college football. A great tradition and a great city. So there are so many strengths about it that obviously overcame the negative hit we took.
Is recruiting in the Midwest and primarily vs. Big Ten schools different than recruiting in the SEC? The SEC has a reputation of being more ruthless.

UM:
A little bit, but it's hard for me to articulate that. It was a little bit different, but there is still a lot of intense recruiting that goes on up north, as well.
There were a couple of coaches who criticized you for recruiting players who had committed to their schools. I liked the way you answered that question on Wednesday. Is there ever such a thing as a gentleman's agreement in recruiting, or is that a phony thing?

UM:
Actually, Will Muschamp and I talked about that, about if a guy is previously committed. Up here, I was hired, and we covered our state and said to players, "Would you be interested?" We had one or two that said they would be interested, and others recruited us. Se'Von Pittman and Taylor Decker came after us.
Coming in as a new head coach at a program, would you even be doing your job if you didn't check in on those recruits?

UM:
You've got a responsibility to your home state. Absolutely. There's not a coach in America who's not going to do that, not going to check his own state. You take a job, you're going to check your in-state players to see if they're interested. And if they are, then come on now, let's talk about it. And if they're not ... The young man up at St. Edward [offensive lineman
Kyle Kalis
, who signed with Michigan] we asked. He said, "I'm solid, I'm good." We said, "Good luck," and we moved on. I didn't call him again.
Could you get a sense of how much just having a coach in place and some stability at Ohio State, as well as your background, helped recruits change their mind?

UM:
I think any time there's instability, that causes anxiety for a recruit. So I know with Se'Von Pittman, his comment to me was, "I always wanted to be a Buckeye. I just wanted it to be stable."
There are going to be lingering questions about your health, energy level, etc. Recruiting takes a lot of energy and time. How did you feel out there recruiting again, with all the time and travel it required?

UM:
Oh, it was great. Great. No issue at all.
Jamal Marcus was a signing-day addition for you, and you talked about how he blew you away on tape. You really didn't know anything about him before that?
UM:
That was one of those Christmas presents I unwrapped when they showed me the highlight video. I mean, he's as good as I've seen on a highlight video. Then you meet the kid and he's a beautiful kid, great family. Everett Withers identified him and brought him up. It's almost a shame to say this, but the first time I shook his hand and even talked to him was when he got on campus. And he blew us away.
He's been listed some places as a linebacker, others as a defensive end ...

UM:
Oh, he's a linebacker. Linebacker all the way.
What are the priorities now for you over the next month or so before spring practice begins?

UM:
We have a bunch of new coaches, a completely new offensive scheme. So the next month, the priority is to get around our players, get to know them with the new coaches. And No. 2 is to install an offense and defense, and make sure everybody is on the same page, so when we hit March we're up and running.
I talked with offensive coordinator Tom Herman recently, and he said he'd be blending the offense with your philosophies. How is that going on right now?

UM:
That's all we're doing. I've hired some very good coaches, very successful coaches. We have a system I have great belief in, but I use the term enhance. If we can enhance our system, we will. And so far we have. It's going very well.
What kind of reports have you gotten from strength coach Mickey Marotti on how offseason workouts are going?

UM:
Good. But we haven't really hit it hard yet. We've been kind of introduced to our offseason program. I meet with Mickey nonstop. Constant evaluation. But so far, it's mostly just been indoctrination. On Monday, it starts for real.
How much help has Luke Fickell been in this entire transition process?

UM:
Well, there's no agenda with him. He has a true passion and love for Ohio State, and he's a very quality football coach and family man. It's a perfect fit, and his stability and relationships really helped us.
How much are you working on the 2013 class right now?

UM:
Oh, we're killing it. We're all over it.
January, 30, 2012
1/30/12
2:30
PM ET
The Big Ten had three head-coaching changes in recent weeks, and new leading men have stepped in at Ohio State, Illinois and Penn State. We will be sharing our thoughts on the three new coaching staffs as they become complete. We already looked at
Illinois' new staff
, and Ohio State is next up on the rundown.
Here's the new Ohio State staff:
Urban Meyer -- head coach
Everett Withers -- assistant head coach/co-defensive coordinator/safeties
Luke Fickell -- defensive coordinator/linebackers
Tom Herman -- offensive coordinator/quarterbacks
Ed Warinner -- co-offensive coordinator/offensive line
Stan Drayton -- running backs
Tim Hinton -- tight ends
Zach Smith -- wide receivers
Mike Vrabel -- defensive line
Bill Sheridan -- defensive backs

So
Today's Take Two topic is:
How did Meyer fare in putting together his staff at Ohio State?
Take 1: Adam Rittenberg
Meyer set the bar high at his introductory news conference in November, saying he planned to "try to assemble the best coaching staff in college football." While I expected a little more star power in Meyer's hires, I like the cross-section of coaches joining Meyer in Columbus. He ended up retaining three assistants -- Fickell, Vrabel and Drayton -- and would have kept a fourth had Taver Johnson not left for a co-defensive coordinator spot at Arkansas. That number surprises me a bit, although keeping Fickell is huge, particularly from a recruiting standpoint. Withers is a veteran defensive coach who can take over the coordinator duties if and when Fickell leaves for a head-coaching position. Warinner seems like an excellent addition, and Meyer is close with Hinton, who also comes over from Notre Dame. The most intriguing hire by far is Herman, considered a rising star in the profession. Will he and Meyer revitalize the Ohio State offense? The unit certainly needs a shake-up, and it'll be interesting to see how Herman fares in a big-time, high-pressure job. This isn't Iowa State. The other big hire not on this list is strength and conditioning coach Mickey Marotti, who Meyer brought from Florida. Overall, this might not be a star-studded staff, but it's a very solid one.
Take 2: Brian Bennett
Several members of Meyer's staff at Florida went on to become head coaches. His first Ohio State staff included two guys who have already been head coaches, if only for one season each, in Fickell and Withers. They bring some real star power to the defensive side, and the only concern there is how two men who called all the shots themselves last year will react to working as co-coordinators. They'll have to check their egos at the door, but I think their respect for Meyer will allow them to do that. Vrabel moving to defensive line is interesting, and he'll have a wealth of talent to work with in returning guys like John Simon and Jonathan Hankins and the blue-chip recruits that are coming in, led by Noah Spence. Sheridan also brings a wealth of experience, including time as an NFL defensive coordinator. I agree with Adam that Herman is the wild card of the bunch. Meyer identified an up-and-comer rather than shooting for an established name, and Herman will be working with a higher caliber of athlete while also trying to blend his philosophy with the offensive-minded head coach. Best staff in America? Probably not, though that's a highly subjective description anyway. The important thing is that Meyer found a solid blend of veterans and young guns, program insiders and those with outside perspectives. This staff should help the Buckeyes emerge as a national powerhouse again in the very near future.
January, 17, 2012
1/17/12
12:00
PM ET
Tom, we're already late. Now be a man and sit on that girl's lap!
January, 12, 2012
1/12/12
6:45
PM ET
Urban Meyer officially completed his first Ohio State coaching staff on Thursday with the additions of former Notre Dame assistants Ed Warriner and Tim Hinton.

Warriner will coordinate the running game and serve as the team's co-offensive coordinator and offensive line coach. Hinton will be the tight ends and fullbacks coach. Both spent the past two years under Brian Kelly at Notre Dame.

Warriner is entering his 29th season as a college assistant and has spent nine years as a coordinator. Tom Herman is still expected to call the plays as quarterbacks coach and offensive coordinator.

Hinton is in his 31st year as a coach, 17 of them in college. He worked with Meyer on the Ohio State staff in 1986. Both coaches are Ohio natives, which played a big reason in why they left Notre Dame.

Meyer said he would serve as his own special teams coach, as he has in the past.

Meyer also talked Thursday about how good he feels to be back in coaching. Strength coach Mickey Marotti, who has known Meyer for years, said his boss looked "100 percent revitalized" and ready to roll.
December, 1, 2011
12/01/11
3:45
PM ET
Urban Meyer didn't hold back at his introductory news conference Monday at Ohio State.
"I'm going to go about and try to assemble the best coaching staff in college football," Meyer said.
Ohio State is
supporting its new coach on the endeavor
.
So how is the process going? Let's take a look at what we know and what could be happening soon with Meyer's staff at Ohio State.
Current Buckeyes head coach Luke Fickell is the only assistant Ohio State has officially confirmed to be joining Meyer's staff. Meyer didn't specify Fickell's role but said it would be "a significant title and significant position." It's a strong possibility Fickell's title includes assistant head coach. He also could be named a co-defensive coordinator, the role he shared with Jim Heacock on Jim Tressel's staff.
While Fickell could be a candidate for the sole defensive coordinator role, Meyer is assessing candidates and could lure in a big fish in Mike Stoops, the former Arizona head coach. Stoops confirmed he has met with Meyer but didn't say whether he has been offered a position. No one will be surprised if Stoops is named Ohio State's next defensive coordinator, a position he held at Oklahoma for five years under his brother, Bob. Stoops would be a big-name addition for Meyer, who likely will add several.
Multiple outlets are reporting that Meyer will retain Stan Drayton, in his first year as Ohio State's receivers coach. Drayton worked for Meyer at Florida and replaced Darrell Hazell in Columbus. This makes a lot of sense, as Drayton is a strong recruiter with ties to Ohio and to Florida. Drayton also can coach running backs.
It will be interesting to see where Meyer looks for an offensive coordinator. One name being mentioned quite a bit is LSU offensive coordinator Greg Studrawa, an Ohio native who served as Meyer's offensive line coach at Bowling Green. Studrawa in July replaced Steve Kragthorpe, who had to step down after being diagnosed with Parkinson's disease.
Other current Buckeyes assistants who could remain on staff include cornerbacks coach Taver Johnson and linebackers coach Mike Vrabel. If Vrabel stays, it will be interesting to see which position Fickell coaches as he used to oversee the linebackers. Defensive line seems a likely spot.
Former Minnesota head coach Tim Brewster reportedly has been offered a position on Meyer's staff, as well as one at Arizona with new boss Rich Rodriguez. While Brewster didn't work out as a head coach in Minneapolis, he's one of the nation's top recruiters and could help Ohio State on the trail, particularly in Texas. Brewster has coached tight ends most of his career.
Other potential candidates to join Meyer's staff include Notre Dame running backs coach Tim Hinton and Florida linebackers coach/special-teams coordinator D.J. Durkin and strength and conditioning coordinator Mickey Marotti.