December, 31, 2011
12/31/11
8:35
AM ET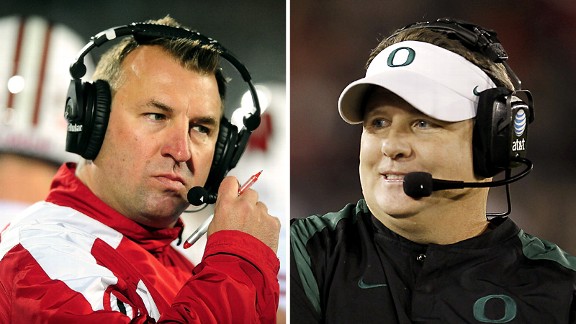 US Presswire/AP PhotoEither Wisconsin's Bret Bielema, left, or Oregon's Chip Kelly will win his first BCS bowl game Monday.
LOS ANGELES -- On Saturday morning in a hotel ballroom, Wisconsin coach Bret Bielema and Oregon coach Chip Kelly will stand together and pose for pictures with the Rose Bowl trophy. It's the kind of staged, sometimes forced, photo op that occurs before every big game.
Stare at this particular picture a bit longer, though. Appreciate the similar traits each man brought to this moment, even though they are in many ways unique. Try to imagine how they'll look in the same pose when they are older. Because this image is likely to be repeated in the future.
Here is Oregon making its second Rose Bowl appearance in three years, and here is Wisconsin back in Pasadena for the second consecutive season. Kelly and Bielema are quickly becoming the faces of the most tradition-laden bowl game, even if they are not exactly cut from a traditional cloth.
One (Kelly) played and coached for more than a decade at the relative outpost of New Hampshire before suddenly emerging as the titan of West Coast football. The other (Bielema) is thoroughly Midwestern -- born in Illinois, played linebacker at Iowa, defensive assistant for the Hawkeyes and Kansas State -- yet knows how to merge new-school fun with old-school, power football.
Kelly is hailed as a genius, the offensive innovator whose forward-thinking, high-speed spread attack plays perfectly to the video-game generation. Bielema's scheme is more brute than scoot but is almost equally as effective. Kelly's Ducks have averaged 43.1 points per game since he became head coach in 2009. In that same time frame, Bielema's Badgers have averaged 39.2.
"What Bret's done with that program, as a coach from the outside you really kind of admire it," Kelly said. "There's a consistency to it. He has a style of offense he plays and a style of defense he plays, and they stick to that. And they're really, really good at it."
Both coaches have achieved a lot at a young age. Kelly is 48, while Bielema turns 42 on Jan. 13.
"I think with his age being a little bit closer to ours, it makes him a lot easier to relate to," Wisconsin linebacker Kevin Claxton said of Bielema. "He knows what we're thinking and going through."
Both men can be described as players' coaches. Kelly handled the very difficult LeGarrette Blount punching controversy in his very first game as head coach with a solid measure of both discipline and compassion for his player. Bielema pumps up rap music at practice and gives his players the freedom to be themselves. Kelly's players buy into his cult of personality. Bielema is more like your favorite uncle.
"He's so outgoing," said quarterback
Russell Wilson
, whom Bielema recruited as a transfer from NC State over the summer. "He tried to get to know me quickly, like he was my best friend, to be honest with you. But at the same time, he makes you work. He wants to see the best out of you and all his players."
Both men are single in a profession in which being seen as a family man is a good career choice. Bielema is engaged and plans to wed next spring, while Kelly dislikes discussing his private life.
Kelly and Bielema are liked but probably not loved by all their peers. They'll ruffle feathers on occasion with the way their teams continue to pile on the points during blowouts. If you're an opposing team's fan, you'd probably describe them as arrogant. You'd also secretly wish they were your team's coach.
The only real knock on either is a perceived failure to win games. Which is mostly ludicrous, considering that Bielema is 60-18 in six seasons and Kelly is 33-6 in three years at their respective schools. One guy is going to win his first BCS game on Monday night, while the other will have to fight off the "can't win the big one" charge a little harder.
Neither is blessed with an abundance of in-state talent from which to build his program. But Kelly has Phil Knight, those wild uniforms and that offense to attract skill players from around the country. Bielema likes to say his program isn't sexy, but there is no greater destination for an offensive lineman or a running back who wants to earn national honors and go to the NFL. The success of Wilson at quarterback has signaled to other skill players that you can do more at Wisconsin than just grind it out.
Bielema and Kelly are arguably the most successful examples ever of the head-coach-in-waiting practice. That idea is falling out of vogue now, but every school would do it if the transition went as well as it looked in Madison and Eugene. Bielema inherited a Badgers team that won 10 games in Barry Alvarez's final year; Kelly took over after Mike Bellotti won 10 games his last season.
There are subtle differences between the two, of course. Kelly has a heavy hand in play calling on offense, while Bielema delegates more to his assistants (which has helped two coordinators land head-coaching jobs in the past two seasons).
"One of the things I made as a decision early on as a head coach, I wasn't going to be involved in play calling on offense or defense," Bielema said. "I just call the good plays. ... I let guys coordinate and run it, but I'll always have constant feedback on things I like, dislike, and the way I see things unfold during practice."
Bielema is as accessible as any coach at a major program. He's unafraid to open his doors to the media, like when he allowed ESPN to follow Wilson around for a special last summer. Kelly is a little more roped-off, particularly to local reporters. But when he talks, he often gives thought-provoking and colorful answers.
Kelly's reputation has taken a hit with the ongoing NCAA investigation involving recruiting service owner Willie Lyles. Bielema has steered clear of any NCAA issues thus far.
Kelly told reporters on Friday that Bielema couldn't be considered an "up-and-coming" star head coach, because six years is a long time to be in the same job these days. That's true. But these two seem like prime candidates to build a lasting legacy where they are. Bielema enjoys a close relationship with Alvarez, now the Wisconsin athletic director, and has shown no inclination toward leaving Madison. Kelly insisted on placing a $4 million buyout in his contract to ward off potential suitors.
So take a look at the trophy photo again. Or don't. You'll probably have a chance to see it staged again soon.
December, 28, 2009
12/28/09
4:00
PM ET
LOS ANGELES --
Terrelle Pryor
found a lot to like about Oregon as he went through the recruiting process.
There was the chance to play for a successful head coach in Mike Bellotti, the opportunity to work under innovative offensive coordinator Chip Kelly and the ability to play in a system that perfectly fit his skill set. And then there was The Swoosh.
So which of these factors most appealed to Pryor? The answer won't surprise you.
"All that Nike stuff," the Ohio State quarterback said Monday. "Oh, yeah. I would probably have gotten in trouble taking all that Nike stuff. They have Nike all over the place. They have, what, 20 million uniforms? I'm sure they're going to come out with something [new]. I'll look at it and be like, wow."
Ohio State and Oregon both wear Nike apparel, but otherwise the programs seem like
polar opposites
. Still, Pryor had both schools in his final pool of options.
Pryor doesn't second guess his decision to come to Ohio State and seems completely content as a Buckeye. And as one of the more coveted high school prospects in recent history, he's used to facing teams that courted him during recruiting.
"It's the same thing with Penn State and USC," he said. "It's going to be fun and it's going to be different playing against a team [Oregon] where the coaches recruited me, but it comes with the territory."
December, 21, 2009
12/21/09
12:30
PM ET
The Big Ten had a better weekend than the NFC North. Ugh.
November, 24, 2008
11/24/08
3:04
PM ET
Posted by ESPN.com's Adam Rittenberg
EVANSTON, Ill. -- Northwestern head coach Pat Fitzgerald today echoed the sentiments shared by most of his Big Ten coaching colleagues jockeying for bowl position.
"I am absolutely rooting for Mike Bellotti and the Oregon Ducks," Fitzgerald said at his weekly news conference.
An Oregon win Saturday at Oregon State likely opens up a BCS at-large berth for Ohio State, which in turn would move all the other Big Ten teams up a spot in the selection order. Should the Ducks prevail, Northwestern and Iowa likely would be competing for a spot in the Outback Bowl on Jan. 1.
Northwestern beat Iowa 22-17 on Sept. 27, finished with a better overall record (9-3 vs. 8-4) and is ranked in the BCS standings and the national polls (Iowa is not).
Iowa has a marquee win that the Wildcats lack (against then-No. 3 Penn State), boasts a superstar in running back Shonn Greene and won five of its final six games. Both teams historically travel well to bowl games, though Iowa clearly has a larger fan base.
It won't be easy for Northwestern to earn a bowl berth before Iowa, but Fitzgerald has put together quite a sales pitch, which he shared with reporters today.
Representatives from the Capital One, Outback, Alamo, Champs Sports and Insight bowls scouted both Northwestern and Iowa in recent weeks.
"We're playing our best football of the year right now," Fitzgerald said. "If a bowl site wants to have the best and brightest that college football has to offer, by far the highest per-capita income of any Big Ten team of [alumni] base in the conference. The economy has affected us the least. We'll be there to sellout our tickets and to buy all the purple and white they can sell. ...
"Our young men have earned it on the field. Any opportunity we get, we'd be excited for."
September, 13, 2008
9/13/08
11:04
PM ET
Posted by ESPN.com's Adam Rittenberg
WEST LAFAYETTE, Ind. -- Oregon defensive end Will Tukuafu first heard the phrase from his junior college coach, Ken Giovando.
As Oregon backslid in the first half Saturday, making "enough mistakes to last the rest of the season," according to head coach Mike Bellotti, Tukuafu began to repeat the line: Adversity introduces a person to himself.
"Things aren't always going to go our way," Tukuafu said. "But when those things don't go our way, how are we going to react? I think we reacted pretty well today."
More than a few things haven't gone Oregon's way during the last month, but the 16th-ranked Ducks continue to find a way. They found several on Saturday to escape Purdue with a 32-26 win in two overtimes.
Consider the stumbling blocks and the Ducks' response:
"We got as close as you could get to losing, but still we got a victory," offensive coordinator Chip Kelly said. "In the end, you're 3-0 and in January and February, no one's going to talk about the Purdue game."
Most of Oregon's mistakes Saturday stemmed from Kelly's unit, but the defense faced its own hurdles. Purdue's Kory Sheets gashed the Ducks for an 80-yard touchdown run on the second play from scrimmage and put his team up 20-3 on the first play of the second quarter.
But from that point, the Ducks' defense locked down. Purdue consistently got good field position but didn't advance past Oregon's 38-yard line on its next 11 possessions. The Boilermakers racked up just 22 yards on 17 plays in the second quarter.
"I challenged the defense to shut them out, and they did," Bellotti said. "They put the momentum on our side."
As Blount walked over to Kelly outside the visitors' locker room after the game, the coach embraced the 229-pound junior and said, "I'm proud of you."
Johnson insisted his shoulder was fine, but Bellotti acknowledged the back wasn't 100 percent. The Ducks needed Blount to step in, just as Roper did for Costa and Harper eventually did for Roper.
Though Jairus Byrd's 87-yard punt return for a touchdown late in the third quarter was undeniably the game's turning point, Blount changed field position and ignited the offense with a 72-yard dash from his Oregon's 4-yard line.
"He's one of a kind," Johnson said of Blount. "That's my boy. When I went out, he came in and did an excellent job today."
The heroics from Blount, Byrd and others helped Oregon survive a multitude of mistakes in all three areas of the game. Roper had two passes intercepted in Purdue territory, Oregon lost the turnover battle 4-3 and committed several costly penalties. The Ducks' inability to handle a short kickoff into the wind set up a Purdue touchdown.
Late in the third quarter, Bellotti slammed his headset to the turf after the defense was nearly whistled for illegal substitution on consecutive plays.
"I can't think of a game anywhere that we played that poorly," Bellotti said.
"We weren't nearly as focused," Harper said. "I don't think we had the same intensity we had for Washington or some of those other games. We came out sluggish."
They'll have to be better starting next week against Boise State, and more adversity awaits. Roper is expected to miss the game, meaning Harper or Jeremiah Masoli will start at quarterback.
Relief was the general sentiment after Saturday's win, but there were lessons, too.
"It makes me want to work harder," said Tukuafu, who had two sacks and recovered a fumble. "We want to understand the mind-set now. We faced a little adversity and our mind-set changed. Our work habits, all those things, increased a lot more this week."
September, 13, 2008
9/13/08
9:04
PM ET
Posted by ESPN.com's Adam Rittenberg
WEST LAFAYETTE, Ind. -- A month ago, the prospect of Chris Harper leading Oregon on a game-winning touchdown drive seemed remote, if not totally off the radar.
Nate Costa had been tabbed the team's next superstar quarterback after coming off a knee injury last fall. The Ducks also had Justin Roper, the 2007 Sun Bowl hero who was more than capable of carrying the load.
Harper seemed destined for clipboard duty and the occasional appearance in custom packages or during mop-up time.
But there he was Saturday, piloting Oregon's offense in the second overtime against Purdue. Despite the setting and the situation, Harper never flinched and the 16th-ranked Ducks prevailed.
"Justin was prepared last year, he came through in the bowl game," Harper said. "All of us have got to be prepared. I was ready to play, I did what I did in practice and we got in the end zone."
After taking a 5-yard loss on the first play, Harper rebounded with an 8-yard run to the Purdue 2-yard line that set up LeGarrette Blount's winning plunge. The 6-3, 230-pound freshman never got nervous, despite his first road game.
"I like playing on the road," Harper said. "I like the fans talking all that stuff. It kind of gets you fired up."
Harper will need to keep his poise next week against Boise State. Roper is expected to miss 2-4 weeks after spraining his left knee in the first overtime Saturday.
The Ducks will go with Harper and sophomore Jeremiah Masoli at quarterback, with freshman Darron Thomas as an emergency option.
"He said after last week the game started to slow down a little bit," coach Mike Bellotti said of Harper. "I'm sure again, it's going to slow down even more now. That's a big-time pressure situation for a young man. He handled it extremely well. He had no problems whatsoever.
"Harp is one of the most dangerous guys on our team with the ball in his hands, so we want to create more opportunities for that."
Harper admitted he didn't think he would play a major role Saturday, but he never forgets what offensive coordinator Chip Kelly told him during spring practice.
"You've got to prepare like you're going to be the starter," Johnson said. "That's what me and Jeremiah both do and if something happens like it happened today, we're both ready to go in and help."
September, 10, 2008
9/10/08
3:35
PM ET
| | |
| --- | --- |
| | |
| | AP Photo/David J. Phillip |
| | Oregon quarterback Justin Roper has plenty of options at his disposal. |
Posted by ESPN.com's Adam Rittenberg
Purdue knows all about big numbers and the spread offense.
The Boilermakers broke the school scoring record in each of Joe Tiller's first two seasons as head coach. Purdue ranked seventh nationally in passing offense in 1998, fourth in 1999 and sixth in 2000.
Superlative statistics became a Purdue trademark, and Tiller's offense earned the nickname basketball on grass. But even Tiller and his coaches haven't seen a beast quite like the Oregon offense, which takes the field Saturday at Ross-Ade Stadium (ABC, 3:30 p.m. ET).
The 16th-ranked Ducks are more like pinball on grass.
"This is probably the fastest team we've ever seen here in the 12 years," Boilermakers defensive coordinator Brock Spack said Wednesday. "Most teams have one or two guys that can get it done. They have one at every spot."
Oregon's eye-popping production so far this season brings back memories of Tiller's early Purdue teams. The Ducks lead the nation in total offense, averaging 592 yards a game, and rank fifth nationally in scoring (55 ppg).
No Ducks player ranks in the top 50 nationally in any major statistical category, a testament to the team's skill-position depth. Led by Jeremiah Johnson, who expects to play Saturday despite a right shoulder injury, five players with at least 10 carries average more than 35 rushing yards a game. Top wideout Terence Scott averages 16.1 yards per reception, and the next two options, Jeff Maehl and Jaison Williams, aren't far behind (13.4 ypg).
"When we first came to Purdue, we had some gaudy numbers," said Tiller, who can become the winningest coach in team history if he beats the Ducks. "We did it because the defenses weren't equipped to defend the spread, what we were throwing at them. Defenses are better equipped today to do that, but Oregon just has superior talent.
"From an offensive productivity point of view, their foot speed gives them an edge over many of the people that are trying to defend them."