December, 1, 2014
12/01/14
5:00
PM ET
Lots of news this week, so let's hit the mailbag ...
@ESPNJoshMoyer what's the rumor mill for Nebraska? Who coaches their bowl game?

— Kitrick (@kitrick22) December 1, 2014
Josh Moyer: Associate head coach Barney Cotton -- the run-game coordinator who coaches the tight ends and helps out with the offensive line -- was named the interim guy, so he will coach the bowl game. Now for the $10,000 question: Who will be the next head coach? Well, since there will be no search firm, that decision is almost entirely up to athletic director Shawn Eichorst -- which makes it a bit more difficult to project. So all sorts of names have popped up, even Jim Tressel. (For the record, I'd find that incredibly surprising considering he is still under a show-cause penalty.) But one name that Eichorst will almost certainly consider is Oregon offensive coordinator Scott Frost, the former Nebraska quarterback. If Eichorst wants an offensive mind with Nebraska connections, Frost is the right fit. (He's also currently the Bovada favorite at 5/2.) If Eichorst wants more experience? Greg Schiano, Memphis' Justin Fuente, Colorado State's Jim McElwain or Oklahoma State's Mike Gundy could all potentially fit the bill. If Eichorst wants a little more experience and those university connections? A darkhorse candidate might just be Wyoming's Craig Bohl, who was born in Lincoln and graduated from Nebraska. There are still interviews to conduct and coaches to contact but, at this point, those are six names outside the Big Ten to keep an eye on.
@ESPN_BigTen @ESPNJoshMoyer what craziness needs to happen to get Wisconsin (and maybe MSU) into the playoff?

— Timmer Shay (@TimShay17) December 1, 2014
Josh Moyer: A lot of craziness; unprecedented craziness. It's not going to happen, but I received this question so much I feel obligated to answer. Michigan State is out of it because it's not getting ranked ahead of the Big Ten champion -- and it's literally impossible for two Big Ten teams to make the playoff at this point. As for Wisconsin, even if it beats Ohio State, think about the domino effect you would need here. If Oregon loses to Arizona, how would Arizona not stay ahead of Wisconsin? The Ducks are ranked higher than Ohio State, and Arizona's currently ranked higher than Wisconsin. If Baylor loses to Kansas State, how would Kansas State not stay ahead of Wisconsin? Kansas State's only losses came against No. 15 Auburn and No. 5 TCU, while Wisconsin fell to unranked LSU and nuranked Northwestern. One SEC team should make the playoff, so that leaves just one spot after the Pac-12 and Big 12 teams from above. For Wisconsin to stand any kind of chance then, TCU would have to lose to 32-point underdog Iowa State and Georgia Tech would have to knock off Florida State ... while still somehow not jumping Wisconsin. In other words, Big Ten fans will just have to settle for a spot or two in the New Year's Six.
---
Jared Amundson writes:
As much as it pains me to ask, would Wisconsin be sitting in position to make the playoffs going into this game against OSU if they had beat Northwestern? I still have nightmares about how Wisconsin lost to Northwestern!
Josh Moyer:
Well, Jared, you might want to close your eyes instead of reading this answer then -- because the Badgers would definitely be in great position if it weren't for that Northwestern game. I could see Wisconsin and Ohio State right next to each other at the 5-6 spots, right behind TCU. And chances are a quality win in the Big Ten title game would have nudged Wisconsin (or Ohio State) over the Big 12 champ. We're talking about a lot of "what ifs," of course, and it's not an exact science. But if that Northwestern game would have gone differently? The Badgers would be set up nicely at this point in the season, and their higher ranking could have helped Ohio State more, too.
@ESPNJoshMoyer what bowl game do u see PSU going to?

— Dennis Kochis (@denk40) December 1, 2014
Josh Moyer: I hope you like New York because It's probably going to be the Pinstripe Bowl. We've projected that for quite a few weeks now. (Yes, even last week.) It's just a matter of whom Penn State's going to play. It looks as if Pitt is out of the equation because the ACC defines the Pinstripe as a Tier 1 bowl, and Pitt is in Tier II since it has six wins. Penn State's opponent in the Pinstripe could be any one of the following then: Boston College, Clemson, Duke, Louisville, N.C. State or Notre Dame. And the Irish just played in the Pinstripe last season, so it's not the likeliest opponent either.
---
Isaac from Steven's Point, Wis., writes:
Let's say, hypothetically, that Michigan State was a member of the West Division. Who would be playing Ohio State for the championship?
Josh Moyer:
Basically, what you're asking is, "Who's better: Wisconsin or Michigan State?" It's close, very close, but I'm still going with Michigan State. It's not just me, either. We Big Ten bloggers
collectively ranked MSU ahead
of Wisconsin in the conference power rankings, and ESPN did the same in the
national power rankings
. The Badgers boast the better defense, but Michigan State has the better overall offense and averages nearly six points more a game.
Melvin Gordon
might just be the best player in the nation, but Michigan State's trio of
Connor Cook
,
Jeremy Langford
and
Tony Lippett
also means you can't focus on just one guy. It's nearly a toss-up, but give me the Spartans.
.
June, 26, 2013
6/26/13
9:00
AM ET
After recording just two victories on the field in 2012, Illinois tallied a big one off of it earlier this month when quarterback
Wes Lunt
announced
he would transfer to the school
. Lunt, who opened the 2012 season as Oklahoma State's starting quarterback as a true freshman, picked Illinois ahead of Sugar Bowl champion Louisville. The Rochester, Ill., native, will sit out the 2013 season in compliance with NCAA transfer rules and have three seasons of eligibility remaining. He'll arrive at Illinois' campus by July 8 at the latest.
ESPN.com caught up with Lunt earlier this week to talk about his transfer choice and his journey to the Illini.
You've had some time to digest the decision. How do you feel about it now?
[+] Enlarge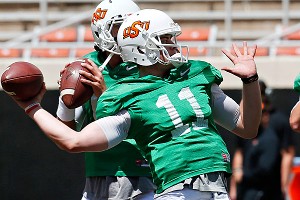 AP Photo/Sue OgrockiWes Lunt is at Illinois just months after participating in Oklahoma State spring practices.
West Lunt:
I feel the same, really excited and ready to get over there and start classes and start working out with the team.
What was the toughest or the most challenging part about the process you went through before making the decision?
WL:
The hardest thing with every process and this process is you have to tell somebody no. I developed a great relationship with both coaching staffs. Shawn Watson at Louisville and Charlie Strong had been so good to me throughout the process, and it was really hard to tell them no.
You chose between a program coming off of a Sugar Bowl championship and one that went 2-10 last year. How much for you was about the future than the present?
WL:
Obviously, the programs are in different spots right now. I've always wanted to play for Illinois. Just staying close to home and helping your state school out, there's something to be said about that. I'm excited to try to help them and move them in a lot better direction if I can. To be honest, I didn't follow them at all last year, I didn't know how their season went.
How did Illinois come onto your radar when you were looking to transfer?
WL:
My high school head coach [Derek Leonard] said they were interested if I decided to transfer, and after I got the release, Coach [Tim] Beckman called. It all started from there.
There was a lot made about the restrictions Oklahoma State placed on you (and later lifted). What was it like to deal with that as you weighed your options?
WL:
It was more of a frustration Day 1, and after you find out, you've just got to go with it and accept what was given to me. More than enough schools were available. I had like 37 blocked or something, but the ones I didn't have blocked were great schools.
When some of the restrictions were lifted, did you feel like you were too far into the search?
WL:
Yeah. I couldn't have talked to anybody. I just picked those first five schools because I had previous contact with them before I chose OSU coming out of high school. I knew the coaching staffs at those schools. Once they were blocked, I had two really good options. There were a lot of other schools that were interested, but those two schools [Illinois and Louisville] were great options.
What does Illinois offer you?
WL:
They offer me a lot. They offer a world-class education. I'm really looking forward to getting on campus and pursuing academics. The coaches created a great relationship. No matter how long they're going to be there, we're always going to have a relationship. I'm excited to get started and get working with the team. I've always wanted to play at Illinois, so I'm really excited about it.
What did you know about Coach [Tim] Beckman and also [offensive coordinator Bill] Cubit before the search started?
WL:
I knew Coach Cubit through Western Michigan because they offered me early out of high school [Cubit served as Western Michigan's head coach from 2005-12]. I never developed a huge relationship with him, just knew him a little bit. And then Coach Beckman, I didn't really know him at all. I was at OSU when that staff was hired and got on campus at Illinois. I knew he was the D-coordinator at OSU in '07 and '08. But once I got the release, they both contacted me, and throughout this month, I really talked to them a lot and built a relationship.
What about the offense Coach Cubit runs suits what you do as a quarterback?
WL:
I know his previous quarterbacks at Western Michigan have thrown for a ton of yards and had a lot of success with it. They get the ball out quick. It's a fast-paced offense, so it's exciting. I'm looking forward to it.
What were your conversations like with Coach Beckman or [Illinois athletic director] Mike Thomas about coming to Illinois and playing for this staff in 2014? Do you feel confident these coaches you committed to will still be there?
WL:
You can't predict the future. I know in college football, coaches are always going to bigger, better jobs, or getting fired. But I've committed to Illinois and to Coach Beckman, and I expect to play for him as long as I'm there. That's the mind-set you've got to have. I'm really happy about being coached by Coach Beckman and Coach Cubit, so I have the mind-set they'll be there as long as I am.
Did you have any conversations with Mike Thomas about Coach Beckman's future?
WL:
I didn't. I talked to Mike Thomas a lot, but nothing about that.
Have you had a chance to get to know any guys on the team or anyone Illinois is recruiting?
WL:
When I went on my second visit there, I met the O-line, and they told me what it was like to play for Coach Beckman. I know Malik Turner just committed, he's from SHG [Sacred Heart-Griffin High School] down in Springfield. I don't really know anybody, but I know of a lot of people, so I'm looking forward to building relationships.
What are your top priorities for this season, when you won't be playing in games?
WL:
Just getting better in all aspects of my game: in the weight room, in the film room and on the practice field just throwing. I'll play scout for the defense, just trying to make them be the best defense they can. It'll be a lot of getting better and learning the offense.
What do you think you've learned about yourself in the last nine months, going from a freshman starter at Oklahoma State to now a transfer for Illinois?
WL:
I've learned patience. There's a lot of things you can't control. And just getting closer with my family throughout. I have someone to lean on when life gets tough. It's a fun, bumpy ride, but I loved OSU and it was a great time and it was sad to leave.
I read that you didn't really want to leave. Is it bittersweet now that you've moved on?
WL:
It's definitely bittersweet. I wish the players and the coaches there the best. I'm not playing this year, so I'll follow them and see how they do.
Illinois hasn't had a lot go its way lately. Do you sense the excitement among fans about you coming to play for the Illini?
WL:
Yeah, it's exciting. I grew up when Juice Williams was playing, and everyone was really excited about Illinois football. I don't know if it's that extent now, but people are excited, and I think we'll drastically improve this year, hearing from Coach Beckman and the players. I'm just excited that Illinois is getting excited about its state school.
May, 20, 2013
5/20/13
10:00
AM ET
Oklahoma State coach Mike Gundy's decision to prohibit quarterback Wes Lunt
from transferring to the SEC, the Big 12 or Southern Miss
is being
justifiably panned
.
It's petty and hypocritical for coaches, many of whom flirt with other jobs, to restrict players from pursuing their careers at their desired programs. That Tennessee is on Gundy's no-go list -- the same Tennessee that
nearly pried Gundy away from his alma mater in December
-- underscores the hypocrisy. The Pac-12 and Central Michigan, a future Oklahoma State opponent, also
reportedly are off the table for Lunt
.
But all of this is good news for Illinois.
Now that potential transfer targets Tennessee, Vanderbilt and Southern Miss are off the table, Lunt likely will decide between Illinois and Louisville. Lunt, a native of Rochester, Ill., wants to play somewhat close to home. Illinois' campus is about 90 minutes from Rochester, while Louisville is approximately a five-hour drive.
Lunt started five games for Oklahoma State as a true freshman, passing for 1,108 yards with six touchdowns and seven interceptions. He competed this spring with
Clint Chelf
and
J.W. Walsh
for the top job but opted to transfer after Chelf emerged as the Cowboys' No. 1 option.
The 6-foot-4, 211-pound Lunt wants to play for a coach he knows, and he has familiarity with Illini head coach Tim Beckman, a former Oklahoma State assistant under Gundy. New Illinois offensive coordinator Bill Cubit also pursued Lunt while Cubit was Western Michigan's head coach. Lunt, who will sit out the 2013 season because of NCAA transfer rules,
reportedly visited Illinois on Thursday
.
Louisville looks like the more stable option for Lunt as the Cardinals come off of a Sugar Bowl championship and awarded coach Charlie Strong a long-term contract. But Lunt wants to play and could see the field earlier at Illinois, which loses three-year starter
Nathan Scheelhaase
after the 2013 season. Although Louisville star quarterback
Teddy Bridgewater
could depart for the NFL after his junior year, the Cardinals have
Will Gardner
, who picked Louisville over Alabama, ready to step in. Junior
Reilly O'Toole
and incoming freshman Aaron Bailey are expected to compete for Illinois' starting job in 2014.
Beckman needs some good news before the 2013 campaign. His team undoubtedly will need to show immediate improvement this fall, but adding a piece like Lunt would raise optimism for the future.
December, 19, 2012
12/19/12
4:00
PM ET
Our snapshots of each bowl game featuring a Big Ten team continues.
HEART OF DALLAS BOWL
Purdue (6-6) vs. Oklahoma State (7-5)
Where:
Cotton Bowl, Dallas
When:
Noon ET, 11 a.m. CT
TV:
ESPNU


About Purdue:
The Boilers returned more starters (18) than any other Big Ten team, and fourth-year coach Danny Hope told anyone who listened that he'd have his best squad in West Lafayette. Purdue looked decent through the first four games, but things felt apart once Big Ten play kicked off. Blowout home losses against Michigan (44-13) and Wisconsin (38-13) led to a five-game losing streak to begin Big Ten play. Purdue lost an overtime heartbreaker to Ohio State in a game it controlled most of the way. To the Boilers' credit, they didn't quit and won their final three games to become bowl eligible. Hard-luck quarterback
Robert Marve
played despite a torn ACL and revived the offense down the stretch. A 6-6 record wasn't enough to save Hope, however, and Purdue dismissed the coach on Nov. 25. Wide receivers coach Patrick Higgins will led Purdue in the bowl game.
About Oklahoma State:
It's a surprise to see Oklahoma State in this game as the Pokes figured to end up a little higher on the Big 12's bowl pecking order. Still, Mike Gundy's team dropped its final two games and three of its final five to finish 7-5. Despite losing quarterback Brandon Weeden and wide receiver Justin Blackmon from the 2011 team, Oklahoma State displayed its typical offensive prowess, finishing fourth nationally in scoring (44.7 ppg), fifth in total offense (548.9 ypg) and seventh in passing (333.4 ypg). The Cowboys scored fewer than 30 points in just one game and eclipsed 50 points four times. Quarterback
J.W. Walsh
and receiver
Josh Stewart
spark the passing game, but Oklahoma State also can run the ball with
Joseph Randle
. The Cowboys struggle against the pass (112th nationally) and generated only 17 takeaways this season.
Key players, Purdue:
Marve has been fairly effective even with the ACL injury, firing 13 touchdown passes and only three interceptions. He has several weapons to attack Oklahoma State's secondary in veteran receivers
Antavian Edison
,
O.J. Ross
and
Gary Bush
.
Akeem Shavers
is the Boilers' featured back, averaging 4.7 yards per carry. Purdue's best player is senior defensive tackle
Kawann Short
, a potential first-round draft pick who recorded 14.5 tackles for loss, six sacks and four blocked kicks this season. The Boilers also boast playmakers at cornerback in
Josh Johnson
and
Ricardo Allen
.
Key players, Oklahoma State:
The Pokes have no shortage of playmakers on offense, and it all starts with Walsh, who ranks fifth nationally in pass efficiency (165.7 rating). Stewart ranks seventh nationally in receptions (8 rpg) and 17th in receiving yards average (96.2 ypg). Randle led the Big 12 in rush yards (1,351) and ranks 18th nationally in rushing average (112.6 ypg). Senior linebacker
Alex Elkins
leads the team in tackles. Oklahoma State boasts an All-America kicker/punter in
Quinn Sharp
.
Did you know:
The teams have met just once before in the 1997 Alamo Bowl, a 33-20 Purdue victory under first-year coach Joe Tiller. Purdue quarterback Billy Dicken passed for 325 yards as Purdue overcame a 13-10 deficit by scoring three touchdowns in the third quarter to secure the win. ... Purdue will play in back-to-back bowl games for the first time since 2006 and 2007. ... Oklahoma State appears in a record seventh consecutive bowl game under Gundy, who has a 4-2 record in the postseason.
September, 7, 2012
9/07/12
11:00
AM ET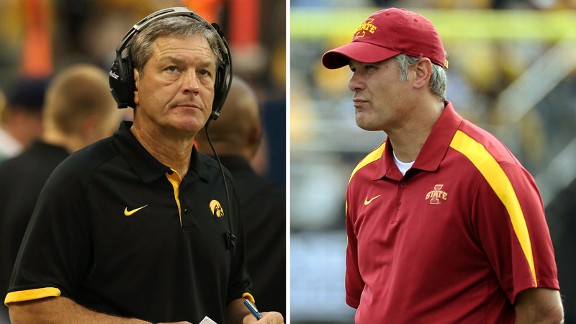 Getty Images, US PresswireWho is better in the state of Iowa, Kirk Ferentz or Paul Rhoads?
So, it's that time of year again, Brian. Let us
kneel by this bushel of corn
and debate the merits of two men on Iowan sidelines. Ultimately, we're debating Paul Rhoads versus Kirk Ferentz, but let's start with the basics.
Ferentz is the guy whose name seems to come up every other offseason for an NFL opening, but yet, here he is well beyond the seven-year itch in Iowa City. How would you describe his place in the collective opinion of the Hawkeyes fan base?
Brian Bennett:
Unless you're winning national titles every other year like Nick Saban, it's hard to coach somewhere for 14 years and not hear some grumbling. I don't think you could have found many Iowa fans who would have been upset with Ferentz in 2009, when the team started 10-0 and won the Orange Bowl. Unfortunately, the Hawkeyes have stalled a bit since then, going 7-5 in the last two regular seasons. There are some who want to see a more dazzling offense -- even though
James Vandenberg
threw for more than 3,000 yards last season -- or bigger-name coordinators. Iowa fans have high expectations for a guy who makes $3.8 million and is one of the top 10 best paid coaches in the country. But I think most reasonable Hawkeyes fans know, at least deep down, that they'd be hard pressed to land a better coach in Iowa City.
I know you're very high on Rhoads, and not just because he's highly quotable. He's masterminded some great upsets in his short tenure with the Cyclones. Still, he's got a 19-20 record. Should we be that excited about him?
David Ubben:
It's unfair to look simply at his overall record and draw conclusions from there. Simply put: It's hard to win at Iowa State. Maybe harder than any other school in the Big 12, though Kansas State and Kansas have a strong argument. All you need to do is look at history.
Iowa State's been to 11 bowls in a little more than a century of college football. Rhoads has brought the Cyclones to bowl games in two of the past three seasons, and almost made it 3-for-3 if not for a missed throw on a windy day against Nebraska in 2010. Nobody knows the danger of crossing paths with Rhoads more than Nebraska. Find me another coach who could lose his starting quarterback, running back and a handful of linemen, but still go into Memorial Stadium and beat a Big 12 North (check your history books if y'all don't know what that is) champion like Nebraska for the first time in Lincoln in more than three decades. (I don't care how many turnovers Nebraska had in that game, by the way. Somebody had to force them, no?)
[+] Enlarge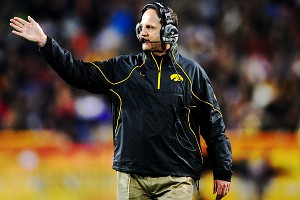 Mark J. Rebilas/US PresswireDefensive coordinator Phil Parker has been with Kirk Ferentz for 14 years.
Rhoads is unbelievable. Coaching is all about getting the most out of what you have. Rhoads does that as well as anybody in the country. Gene Chizik won a national championship at Auburn ... and went 5-19 in two seasons in Ames before he did it. Rhoads took the same two-win team from Chizik and turned them into a seven-win team, winning the first bowl game for the school since 2004. Not many guys can do that.
You also have to consider the kinds of coaches Rhoads has brought on his staff. He's only been at Iowa State a little more than three years and Urban Meyer already jacked his offensive coordinator, Tom Herman. For the uninitiated among us, who are a few coaching names we'd recognize from Kirk Ferentz's coaching tree?
BB:
Ferentz's coaching staff at Iowa has been so strongly-rooted that no new tree has needed to sprout. He had the same offensive and defensive coordinators for his first 13 years at Iowa before Norm Parker retired and Ken O'Keefe left for the NFL this past offseason. Many of his other assistants are also virtual Hawkeye lifers, like new defensive coordinator Phil Parker, who's in his 14th year with Ferentz. I guess you could point to his son, Brian, who was an offensive assistant with the New England Patriots before moving on to -- you guessed it -- Iowa this offseason.
Ferentz must be doing something right for all those coaches to want to stay on his staff for so long. Besides, wouldn't you rather have long-term stability with your coaches instead of assistants who can't wait to jump at the next opportunity? Continuity has been a hallmark of Ferentz's tenure, as has tremendous player development. NFL scouts know they must make a stop in Iowa City, because Hawkeyes players are so well-coached and prepared for the pro game. Iowa has had 18 players selected in the NFL draft in the past three years alone, which is pretty impressive. Can Rhoads make the same claim?
DU:
He can't, but you could make the argument that it only makes Rhoads' accomplishments at Iowa State even more impressive. He's only had two players drafted since he arrived, highlighted by second-rounder Kelechi Osemele last year, a four-year starter along the offensive line for the Cyclones.
Bottom line: Iowa State is the school with less tradition in a state that doesn't have a ton of Division I talent. Rhoads has to go elsewhere, and most often for him, that means Texas. He's found some gems down there, including
Jared Barnett
, the guy who engineered last year's upset against No. 2 Oklahoma State--the best win in school history. Rhoads is a great developer of talent, but ultimately, the NFL loves its measureables. Iowa State doesn't churn out many players that wow you with their physical skills. Still, the wins come, and last year, his linebacker,
A.J. Klein
, shared Big 12 Defensive Player of the Year honors. Klein and teammate
Jake Knott
may have NFL futures, and future Cyclones may as well, but Rhoads is still building. That NFL pipeline is still under construction.
The thing that ISU fans have to love most about Rhoads, though, is how much he's changed the perception of the school. It's similar to what Mike Leach established at Texas Tech. Teams fear Iowa State, and after last year's win over Oklahoma State, how could they not? Iowa State's anything but a gimme win these days. That alone is worth a lot.
What's Ferentz done for Iowa's perception across the Big Ten?
November, 24, 2009
11/24/09
4:00
PM ET
Only one Big Ten team (Illinois) is in action this week, so I've limited this to four items.
1. Illinois plays spoiler:
Ron Zook's finest hour as Illinois head coach took place on Ohio soil in 2007, when the Fighting Illini upset then No. 1 Ohio State in Columbus en route to the Rose Bowl. The Illini won't be going bowling this year, but they can notch another win against a top 5 opponent as they visit undefeated Cincinnati on Friday (ABC, noon ET). An Illinois win would kill Cincinnati's slim hopes of reaching the BCS title game and create some positive momentum heading into the season finale next week against Fresno State.
2. Juice returns to the helm:
Jacob Charest
might be Illinois' future at quarterback, but senior
Juice Williams
will get the chance to finish his fascinating college career on a high note. Williams missed Illinois' last game with an ankle injury but should return to the starting lineup Friday at Cincinnati. He played well in a win against Michigan before sustaining the injury at Minnesota. Cincinnati isn't great at defending the run, so Williams could do some damage on the ground alongside backs
Mikel LeShoure
and
Jason Ford
.
3. BCS implications at Bedlam:
Iowa and Penn State fans will be rooting hard for Oklahoma in Saturday's Bedlam game against No. 12 Oklahoma State. The Cowboys remain the Big Ten's biggest obstacle to an at-large BCS berth, but a third loss by Mike Gundy's team would certainly take them out of the discussion. Oklahoma has been both injured and disappointing this season, but the Sooners are awfully tough at home. Don't be alarmed if you hear chants of, "Boomer Sooner!" in Iowa City or State College.
4. Bowl scouting begins:
None of the Big Ten's bowl bound teams are in action this week, but those squads can get an early look at their possible postseason opponents. Wisconsin should pay attention to Tennessee and Arkansas on Saturday, Northwestern should be scouting North Carolina and Miami. Michigan State and Minnesota likely will face Big 12 opponents and should watch teams like Missouri, Texas Tech and Texas A&M in games this week. Ohio State will be glued to the Oregon-Oregon State game on Dec. 3.