January, 13, 2014
Jan 13
10:00
AM ET
The BCS is dead. RIP. As we memorialize the BCS era throughout ESPN.com today, we're selecting All-BCS teams from each conference. As a reminder, the BCS era lasted from the 1998 season through the recently completed 2013 season. To narrow our selections a bit, players had to play at least two seasons in the BCS era to be eligible. Nebraska players are part of our list even though the Huskers played in the Big 12 until 2011.
Here's our Big Ten All-BCS team.
Coach:
Jim Tressel, Ohio State -- Tressel led Ohio State to the 2002 national title, the Big Ten's only championship in the BCS era, as well as seven Big Ten titles (one vacated).
OFFENSE
QB:
Drew Brees, Purdue (1997-2000) -- He led Purdue to the 2000 Big Ten championship and finished his career with league records for passing yards (11,792), touchdown passes (90), total offensive yards (12,693), completions (1,026), and attempts (1,678). Brees won the Maxwell Award in 2000.
RB:
Ron Dayne, Wisconsin (1996-99) -- The 1999 Heisman Trophy winner set the NCAA's career rushing record with 6,397 yards (not including bowl games). He won all the major national individual awards in 1999 and became the first player to repeat as Rose Bowl MVP.
[+] Enlarge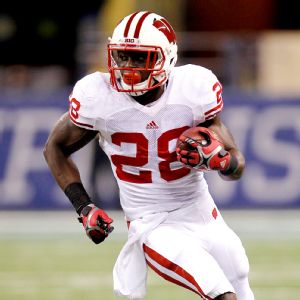 Gregory Shamus/Getty ImagesMontee Ball had 39 TDs for Wisconsin in 2011.
RB:
Montee Ball, Wisconsin (2009-2012) -- The man nicknamed "MoneyBall" tied Barry Sanders' NCAA single-season touchdowns record with 39 in 2011 and set the mark for career touchdowns with 83. He won the Doak Walker Award as the nation's top running back in 2012.
WR:
Braylon Edwards, Michigan (2001-04) -- The Big Ten's most recent Biletnikoff Award winner holds the league record for career touchdown receptions (39) and ranks fourth in career receiving yards (3,541). He's the only Big Ten receiver to record 1,000 yards in three consecutive seasons.
WR:
Lee Evans, Wisconsin (2000-03) -- Evans twice led the Big Ten in receiving yards, eclipsing 1,500 yards in 2001 before rebounding from an ACL tear to record 1,213 yards and 13 touchdowns in 2003.
TE:
Dallas Clark, Iowa (1999-2002) -- Clark earned the John Mackey Award in 2002 after recording 43 receptions for 742 yards as Iowa went undefeated in the Big Ten.
OL:
Greg Eslinger, Minnesota (2002-05) -- One of the more decorated Big Ten linemen in the BCS era, Eslinger won the Outland Trophy in 2005. He was a two-time first-team All-America selection and a three-time first-team All-Big Ten selection for one of the nation's top rushing offenses.
OL:
Joe Thomas, Wisconsin (2003-06) -- Another Outland Trophy winner (2006), Thomas earned unanimous consensus All-America honors that year. He earned first-team All-Big Ten honors in each of his final two seasons and was the No. 3 overall pick in the 2007 NFL draft.
OL:
Dominic Raiola, Nebraska (1998-2000) -- In 1998, Raiola became the first Nebraska freshman offensive lineman to start a game in seven years. He went on to earn the Rimington Trophy as the nation's top center, first-team All-Big 12 honors in his final two seasons and consensus first-team All-America honors in 2000.
OL:
Robert Gallery, Iowa (1999-2003) -- Gallery claimed the Outland Trophy in 2003 as well as first-team All-America honors. He twice earned first-team All-Big Ten honors as the anchor of a nationally elite offensive line.
OL:
Jake Long, Michigan (2003-07) -- Although Long didn't win the Outland, he twice earned consensus first-team All-America honors (unanimous selection in 2007) and twice earned Big Ten offensive lineman of the year honors (beating out Thomas in 2006). Long was the No. 1 overall pick in the 2008 NFL draft.
DEFENSE
DE:
LaMarr Woodley, Michigan (2003-06) -- Woodley claimed the Rotary Lombardi Award in 2006 as the nation's top lineman. A first-team All-American that season, he finished his career with 10 forced fumbles, tied for seventh on the Big Ten's career list.
DE:
Ryan Kerrigan, Purdue (2007-10) -- Unlike most of the men on this list, Kerrigan never played for any BCS bowl teams at Purdue but still had a remarkable career that ended with unanimous consensus first-team All-America honors in 2010. The Big Ten defensive player of the year tied the NCAA record for forced fumbles (14) and recorded 33.5 sacks and 57 tackles for loss.
DT:
Ndamukong Suh, Nebraska (2005-09) -- The most dominant defender in recent years finished fourth in Heisman voting in 2009 (should have been higher) and earned several awards, including the Bednarik, Nagurski and Outland. Suh finished his career with 24 sacks, 57 tackles for loss, four interceptions, three forced fumbles and 41 quarterback hurries.
DT:
Devon Still, Penn State (2008-11) -- Penn State produced a string of outstanding defensive tackles including Still, the Big Ten's defensive player of the year in 2011. Still earned consensus first-team All-America honors after recording 17 tackles for loss.
LB:
James Laurinaitis, Ohio State (2005-08) -- Laurinaitis won major national awards in each of his final three seasons, including the Nagurski Trophy in 2006. The two-time Big Ten defensive player of the year became just the third Ohio State player to earn consensus All-America honors in three seasons.
LB:
Paul Posluszny, Penn State (2003-06) -- Posluszny is one of only two players (Pat Fitzgerald) to twice win the Bednarik Award as the nation's top defender. He became the first Penn State linebacker to twice earn AP All-America honors.
LB:
LaVar Arrington, Penn State (1997-99) -- A freakishly athletic linebacker at Linebacker U., Arrington twice earned first-team All-Big Ten honors and won the Bednarik and Butkus Awards as a junior in 1999. He was the No. 2 overall pick in the 2000 NFL draft.
CB:
Jamar Fletcher, Wisconsin (1998-2000) -- Fletcher claimed the Jim Thorpe Award as the nation's top defensive back in 2000, won Big Ten defensive player of the year honors that year and was a three-time first-team all-conference selection. He's tied for fourth in league history with 21 career interceptions and holds the league record for interception return yards (459).
CB:
Darqueze Dennard
, Michigan State (2010-13) -- Dennard also claimed the Thorpe Award as he helped Michigan State to its first outright Big Ten title in 26 years and a Rose Bowl victory against Stanford. The two-time first-team All-Big Ten selection recorded 10 career interceptions and led the "No Fly Zone" Spartans secondary.
S:
Tyrone Carter, Minnesota (1996-99) -- The only Big Ten safety to win the Thorpe Award, Carter also twice earned first-team All-Big Ten honors and earned unanimous All-America honors in 1999. He set the FBS record for career tackles by a defensive back with 528.
S:
Mike Doss, Ohio State (1999-2002) -- A three-time first-team All-Big Ten selection, Doss earned unanimous consensus All-America honors in 2002 as Ohio State won the national title.
SPECIAL TEAMS
K:
Mike Nugent, Ohio State (2001-04) -- Nugent won the Lou Groza Award as the nation's top kicker in 2004 and claimed consensus All-America honors in both 2002 and 2004. He holds the Big Ten record for consecutive made field goals with 24.
P:
Brandon Fields, Michigan State (2003-06) -- His name is on the Big Ten's punter of the year award for a reason. Fields earned consensus All-America honors in 2004, earned first-team All-Big Ten honors three times and twice led the league in punting, tying for third in career average (45 ypp).
Returns:
Ted Ginn, Ohio State (2004-06) and Steve Breaston, Michigan (2003-06) -- Ginn holds the Big Ten single-season records for kick return average (25.6 ypr) and career punt return touchdowns (6), while Breaston claims the league mark for career punt return yards (1,599) and is tied for third in punt return touchdowns (4).
It's tough enough putting together these teams for one season, much less 16 seasons. You can't please everyone, and many exceptional players didn't make the cut.
We decided to go with five offensive linemen rather than a center, two guards and two tackles, in order to recognize the best overall players in the trenches.
There was some debate for a second receiver alongside Michigan's Edwards, as the Big Ten hasn't exactly mass-produced superstars at the position. Several players had great seasons like Michigan State's Charles Rogers in 2002, but we put more stock into overall career output and went with Wisconsin's Evans, who led the league in receiving in 2001 and 2003.
Cornerback created some debate among Fletcher, Dennard and Ohio State's Malcolm Jenkins, also a Jim Thorpe Award winner. We faced another tough decision at safety between Ohio State's Doss and Iowa's Bob Sanders.
Surprisingly, the defensive tackle spot produced few bona-fide superstars. Nebraska's Suh, who played his entire career in the Big 12, was an obvious choice but a second choice proved to be tough.
Arguably the toughest choice came at kicker between Nugent and Iowa's Nate Kaeding. Both won Lou Groza Awards and set numerous records. We gave the nod to Nugent, but not by much.
July, 11, 2012
7/11/12
11:00
AM ET
Nebraska's
Brett Maher
ended the 2011 season as the consensus selection for first-team All-Big Ten kicker
and
punter.
While Nebraska fans certainly weren't asking, "Alex, who?" Maher did a tremendous job of filling the void left by All-American do-it-all specialist Alex Henery.
Not surprisingly, Maher appears on preseason watch lists for both the
Lou Groza Award
(nation's top kicker) and the
Ray Guy Award
(nation's top punter) that came out Wednesday. Maher is the lone Big Ten punter on the Guy Award watch list, while seven Big Ten kickers made the Groza Award list.
Here's the full Big Ten contingent on the Groza watch list:
Drew Basil, Ohio State, junior
Dan Conroy, Michigan State, senior
Mitch Ewald, Indiana, junior
Anthony Fera, Penn State, junior
Brendan Gibbons, Michigan, junior
Brett Maher, Nebraska, senior
Mike Meyer, Iowa, junior
Fera, Maher and Meyer all were Groza Award semifinalists in 2011, while Conroy was a semifinalist in 2010. The Big Ten once again looks strong at place-kicker, and the best story of the group is Gibbons, who made just 1 of 5 attempts as a freshman before connecting on 13 of 17 attempts last season, including the game-winner from 37 yards out in overtime at the Sugar Bowl (the "brunette girls" boot).
It's a bit surprising not to see more Big Ten punters on the Guy watch list. Fera, who like Maher handles both kicking and punting duties, averaged 42 yards per punt in 2011. Purdue's
Cody Webster
and Michigan State's
Mike Sadler
also would have made sense for the watch list. Fortunately, the Guy Award will reveal an expanded list of candidates Oct. 26 and announce its 10 semifinalists on Nov. 9. Three finalists are revealed Nov. 19, and the winner will be announced Dec. 6 during the Home Depot College Football Awards.
The Groza Award announces 20 semifinalists Nov. 5 and three finalists Nov. 19. The winner will be announced Dec. 6
The Big Ten hasn't had a Groza Award winner since Ohio State's Mike Nugent in 2004. Ohio State's B.J. Sander is the last Big Ten player to win the Guy Award (2003).
June, 16, 2011
6/16/11
5:00
PM ET
Thanks again for sending in those questions.
I'll be off most of Friday and Monday, so you'll be in the capable hands of Brian Bennett. He can't wait
to hear from you
.
Derek from Happy Valley, Pa., writes:
For what it's worth Adam, as a Penn State fan and student, I don't understand why Penn State would choose to play Pitt. There are Pitt shirts on campus from WPIAL kids and nobody cares. It's not a rivalry to any Penn State fan under the age of 50, and it's only a rivalry to about half of them.Pitt will get to sell out their stadium (for what I assume Penn State will white-out), but Penn State already does that.And as a fan, I would rather go to more places like Tuscaloosa like we did last year. I could go to Pittsburgh, albeit a nice city, whenever I want. Penn State should spend it's main OOC game on teams like Oregon, LSU, Florida, Texas, and other top teams from top conferences.I know you don't really care about my opinion, but if you are trying to gauge hoe PSU fans are taking this 2 game series, you have at least one of our thoughts.
Adam Rittenberg:
Derek, thanks for sharing this perspective. The Penn State-Pitt hiatus has prevented the rivalry from resonating with younger fans and students such as yourself. It's a shame because, while I'm aging rapidly but hardly ancient, I remember several Penn State-Pitt games and the excitement around the rivalry. The (Harrisburg) Patriot-News Jared Shanker recently wrote a
good piece from a younger person's perspective
, asking folks to educate him on the rivalry. While I certainly understand your desire to see more games like Penn State-Alabama in the future, I'd give the Pitt series a chance.
---
Tim from Toledo, Ohio, writes:
Hey Adam,Great job with the blog! In past postings you've mentioned that you thought OSU would NOT get hammered for the infamous "lack of institutional control"? Do you still think that, in light of
OTL's recent report
about Pryor and Talbott? In your opinon, how hard will the NCAA come down on my Buckeyes?
Adam Rittenberg:
Tim, it's hard to predict NCAA charges in advance, but if more of these allegations are proven true, lack of institutional control might be in play. I think "failure to monitor" might be a bigger concern for Ohio State because of the questions about the compliance department -- what it knew, what it didn't know, what it did to monitor players, etc. Failure to monitor is considered a small step down from lack of institutional control in terms of severity, but both charges are significant.
---
Matthew from East Lansing, Mich., writes:
Adam I noticed that you had the Wisky running back tandem as possible Heisman candidates ahead of either
Kirk Cousins
or
Edwin Baker
. I was wondering if this was you looking ahead and thinking that the Badgers will have a better record (thus be in more national spot light) than the Spartans. Nothing against the Wisconsin running backs. They are great athletes and will rack up a lot of yardage, but I have to think that either Cousins or Baker will have a huge year (depending on if the line can gel for a run offense in Bakers case). I was just wondering on the reasoning.
Adam Rittenberg:
Good question, Matthew. The two offensive lines certainly have something to do with it. Wisconsin once again should have one of the Big Ten's best lines, while Michigan State's front is a major question mark. It's never easy to replace both starting tackles and the starting center. The other element is the hype factor around Wisconsin and the fact that
James White
and
Montee Ball
are players people know nationally at a position where the Badgers are famous for producing stars. I'm not saying
Kirk Cousins
or
Edwin Baker
can't enter the Heisman mix, but both men have something to prove nationally because the default perception of them/Michigan State is the Capital One Bowl disaster against Alabama.
---
Kevin from Orlando, Fla., writes:
Adam, always look forward to reading your view points on current Big Ten topics...great job! My question is, do you see Michigan eventually playing more 8pm prime time games in the Big House, depending on the success (based on ratings and performace, as attendance wont be an issue) of the Sept. 10th game agaisnt ND?
Adam Rittenberg:
Thanks, Kevin. I'd be stunned if Michigan doesn't schedule more primetime home games in the coming years. Athletic director Dave Brandon is a progressive guy who recognizes the popularity of night college football. Tradition is nice, but noon ET kickoffs simply don't generate the same type of hype and excitement as games under the lights. Honestly, noon kickoffs just aren't cool at all. Michigan will never become LSU and play most of its home games at night, but Brandon will identify showcase opportunities where playing in prime time works, and he'll capitalize.
---
Tyler from Durham, N.C., writes:
In a recent blog about Michigan's throwback unis for the Notre Dame game, you said that the numbers on the helmets were a nice touch because "Alabama's helmets are classic; it's good to see Michigan go this route." Huh? Are you saying the famed winged helmets designed by Frits Chrysler, which have been time and again confirmed as the best looking (and most classic) in college football, aren't as "classic" as Alabama's? Please, Adam, don't embarrass yourself like this. Retract the Alabama statement and you can put this all behind you as if you never said a thing. I'm just looking out for you, buddy.
Adam Rittenberg:
A little oversensitive, are we? Michigan's helmets are great. They're the best helmets in the Big Ten. I've mentioned that on multiple occasions. The numbers are simply a nice one-time feature, and they reminded me of Alabama's headgear. Both helmets are iconic, and in no way was I knocking Michigan.
---
Eric from Collins, Ohio, writes:
Adam, why do you have to come up with insane blog topics meant only to incite comments? These "Who has the better tradition" posts are meant simply to fire people up and put down schools that perhaps don't value their football program the way most schools in the Big Ten do. Honestly, when is your retirement? I can't wait.
Adam Rittenberg:
Eric, the traditions posts were simply done to have a little fun in conjunction with EA Sports and SportsNation. All the bloggers did them, as per our instructions from the folks in Bristol. As usual, several of you took them way too seriously. And this is a blog, so "firing people up" is sort of the point, especially during a slow period time like mid-June. As for my retirement, sorry to disappoint you. I'm not going anywhere for a while.
---
Bryan from Kansas City, Mo., writes:
I'm wondering if you have any thoughts about how Nebraska will fare this year without their secret offensive MVP of the past few years, kicker Alex Henery. With the offensive struggles in the past two years, Henery was always hitting clutch field goals and putting points on the board. Plain and simple - the Huskers wouldn't have won all the games they did in the past few years without him. I want to hear your take on how this could impact them this season, and if you have any insights on Alex's replacement.
Adam Rittenberg:
Great question, Bryan. I loved watching Henery from afar, particularly in the Big 12 championship games. He was practically automatic and extremely clutch. Reminded me of Big Ten star kickers like Mike Nugent and Nate Kaeding. I agree that he played a huge role in several Nebraska wins. Nebraska's offense will have to reach the end zone a little more often this season. Junior Brett Maher will be the next man in. He hit three field goals in the spring game, including the game-winner. Mauro Bondi also is joining the team. Still, it'll be very tough to replace a guy like Henery.
January, 22, 2010
1/22/10
1:30
PM ET
I hope you enjoyed the decade recap series. We had a lot of fun researching and putting it together. Not surprisingly, my
top players list
generated a ton of feedback -- mostly negative, but that's cool -- from the Big Ten faithful.
Because there were so many deserving players left off the list, I decided to put together an all-decade team to recognize some of the other standouts in the Big Ten from 2000-09. I made the offensive line a bit more general to acknowledge the best players there.
Unlike the top 10, I was a bit more lenient about players who had only one outstanding season during this decade.
Enjoy.
OFFENSE
QB:
Troy Smith, Ohio State
RB:
Mike Hart, Michigan
RB:
Larry Johnson, Penn State
WR:
Braylon Edwards, Michigan
WR:
Charles Rogers, Michigan State
TE:
Dallas Clark, Iowa
C:
Greg Eslinger, Minnesota
OL:
Joe Thomas, Wisconsin
OL:
Robert Gallery, Iowa
OL:
Jake Long, Michigan
OL:
Eric Steinbach, Iowa
DEFENSE
DE:
LaMarr Woodley, Michigan
DT:
Wendell Bryant, Wisconsin
DT:
Jared Odrick, Penn State
DE:
Tamba Hali, Penn State
LB:
Paul Posluzsny, Penn State
LB:
A.J. Hawk, Ohio Sate
LB:
James Laurinaitis, Ohio State
CB:
Jamar Fletcher, Wisconsin
CB:
Malcolm Jenkins, Ohio State
S:
Bob Sanders, Iowa
S:
Mike Doss, Ohio State
SPECIALISTS
K:
Mike Nugent, Ohio State
P:
Travis Dorsch, Purdue
Returners:
Ted Ginn Jr., Ohio State and Steve Breaston, Michigan
January, 19, 2010
1/19/10
5:00
PM ET
Hope you're enjoying flog-the-blogger week, er, I mean decade recap week.
Tell me how you
really
feel.
Kyle from Kingston, Ontario, writes:
Adam, love your post dude! I have to make a comment though. How do you not give any love to Dallas Clark. 01 and 02 he made numerous plays to Iowa on the map. I am not saying he was a top 10 player, but to not even be considered?
Adam Rittenberg: That was an oversight on my part, Kyle. Clark should have been mentioned in the "also considered," a category I now regret even putting up there. But to be honest, he really wasn't close to making the top 10. Same goes for great kickers like Mike Nugent and Nate Kaeding. It's not to say they weren't great players, but they're not going to make a top 10 list for best in the decade.

---
K.J. from Arlington writes:
Funny how you use the term infamous regarding the 2002 championship game but failed to use the term when Michigan was infamously given 2 free seconds which game football absolutely proved should not have been put on the clock by the oh so biased Ann Arbor crew in the 2005 game helping to give Michigan unearned wins in three of the previous five meetings with Penn State? Why is that? Oh wait, because you are an idiot and you hate Penn State, that's why.
Adam Rittenberg: There was some controversy in several of the games I listed, K.J., including Penn State-Michigan in 2005. The clock certainly played a role there in the end. And while I won't argue with you about the idiot part, the me hating Penn State argument is pretty lame and tired. Like I've said before, fans love me when their team is in the top 10 and think I'm a hater when they start to slip a bit. I have nothing against Penn State, which is featured prominently throughout the decade recap this week.
---
Justin from Plainfield, Ill., writes:
Adam,Since you based it on players that generally had mulitple season, I understand (and in general agree) with your list of Big Ten players of the decade. I'd like to see your take on that same list without that caveat (of multiple seasons). To me, Michael Robinson would have to be on that list. You often hear "so and so led his team to victory" get thrown around. MRob truly led his team in 2005.Also, I was glad you gave Randal El some love. That dude was the only reason Indiana football even had a chance for those 4 years.
Adam Rittenberg: This is a good suggestion, Justin, and while I probably won't do a second post with one-year stars, here are a few who really stood out: Brad Banks, Michael Robinson, Larry Johnson, Devin Thomas, Shonn Greene, Chris Perry, Rashard Mendenhall, James Hardy.
---
Andy from Chicago writes:
Adam - Love the blog and appreciate the Hawkeye pub during the season. I have a few follow-up questions/comments regarding your players of the decade list. 1. I know that Jake Long and Joe Thomas are better pros than Robert Gallery, but RG definitely should be on your list. He was the best OL in the conference two years in a row and paved the way for a B10 championship and undefeated conference season. Additionally, when he came out, Peter King said he was "the best lineman to enter the draft in years." Perhaps an oversight on your part, but wanted to get your opinion. 2. If this was about longevity in the league, then I understand your putting Mike Hart on the list. Otherwise, what Greene accomplished in one season is better than anything Hart did in four (or seemingly ten) seasons in Ann Arbor. 3. How many B10 players this decade went undefeated in conference, won a conference title, and finished second in the Heisman voting in the same season? One. Similar to Greene, Banks definitely should have made the cut. 4. Dallas Clark needs to at least make Honorable Mention. That is all. Thanks,
Adam Rittenberg: I really struggled with both Gallery and Long. Any top-10 list is going to leave off some deserving players, and you can certainly make a convincing case for those two. I really tried to identify the MVP for each program during the decade, and I think most Iowa fans would put Bob Sanders in that role. Wisconsin fans would say the same for Joe Thomas. Gallery was a tremendous player, as was Long, and trust me, they weren't far away from making the list. As for Shonn Greene and Brad Banks, lack of longevity was the main reason they didn't make it. The running back position was interesting because you had several one-year standouts in the Big Ten. I didn't want to have a top-10 list without a running back, and Hart really accomplished a lot in four years. As for Dallas Clark, see above.
---
Mike from Wausau, Wis., writes:
Hi Adam:I enjoy your work. When might we expect to hear what the NCAA will do regarding the potential violations by RichRod? I thought a decision was expected by the end of 2009. To me, the lackof public notice to date indicates there is somethingon the way, and perhaps the U of M and the NCAA are "working-out" the terms of the penalty. Also, after two years, do you really think RichRod is the right person for the job? Thanks!
Adam Rittenberg: The Dec. 31 date wasn't a fixed deadline for a decision on the Michigan investigation, but I'd expect we'll hear something soon. The NCAA holds many of its meetings at this time of year, so that could be slowing the process a bit. I don't think the delay necessarily means huge penalties are coming. As for Rodriguez, I think he's still a heck of a coach, but he's operating in a very different environment than he did at West Virginia. If he can get the players he wants throughout the admissions office and have several young defenders emerge, Michigan should be decent in 2010. But I continue to be concerned with what's happening on defense in Ann Arbor.

November, 20, 2009
11/20/09
10:30
AM ET
Big Ten weather hasn't stopped Brett Swenson from becoming one of the nation's elite kickers.
[+] Enlarge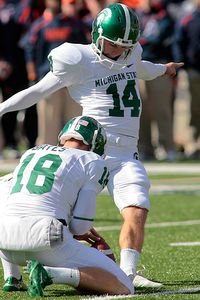 Chuck Rydlewski/Icon SMIBrett Swenson is Michigan State's all-time leader in scoring and field goals.
In fact, the conditions have only made him better.
"It provides an advantage knowing that you've handled different situations before, the cold weather, the wind," Swenson said. "I don't think it can do anything but help you, really. If you can do it in the cold weather, it'll be a little easier to do in the warmer weather."
Swenson tested his theory last week when he and his Michigan State teammates visited Purdue. The date read Nov. 14, but the weather felt more like Sept. 14, as the temperature showed 61 degrees at kickoff.
The unseasonably warm conditions suited Swenson, who had his best game as a Spartan. He tied his career high with four field goals, including the game-winner with 1:51 left. And he not only kicked a 52-yard field goal, which marked a career high. He did it twice, perfectly judging the wind that carried the ball from right to left.
Swenson's clutch kicks lifted Michigan State to a
40-37 win
, making the Spartans bowl eligible. The senior was the obvious choice for Big Ten Player of the Week.
"We got lucky in November to have weather like that," Swenson said. "The kicks went through and it was a good day."
Swenson has had quite a few good days at Michigan State. He's the team's all-time leader in scoring (368 points), field goals (70) and extra points (158) and ranks second in field-goal percentage (.787). He ranks among the Big Ten's top five kickers in career kick scoring (second), field goals (fourth) and total scoring (fifth).
He leads all active FBS players in career points. And he's done it all in the upper Midwest.
Not bad for a Florida native. Swenson hails from Pompano Beach, which is 1,165 miles from East Lansing and seems even farther away.
Last year, Swenson was
snubbed from being a semifinalist
for the Lou Groza Award, given to the nation's top kicker. The selection committee cited a poor performance against Michigan as a reason for Swenson's omission.
How did Swenson respond to being left off the list? By going 4-for-4 on field goal attempts the following game against Wisconsin, including the game-winning 44-yarder.
There's no such snub this year, as Swenson finds himself among the
20 Groza Award semifinalists
.
"It's about every kicker's dream or goal to get invited to something like that," said Swenson, who is 18-for-20 on field goal attempts this fall. "Hopefully, I have a chance to be a finalist. That would be a big step."
The Big Ten hasn't had a Groza Award winner since 2004, when Ohio State's Mike Nugent took home the honor. Nugent's clutch kicks are legendary, and Michigan State head coach Mark Dantonio, who coached at Ohio State during Nugent's time there, sees similarities with Swenson.
Former Michigan State star Paul Edinger also reminds Dantonio of Swenson.
"Nothing intimidated [Edinger], he was a gamer," said Dantonio, an assistant at Michigan State during Edinger's career. "He was going to step out there and kick the football, regardless of the situation, and do very well. ... [Swenson] also reminds me of Mike Nugent at Ohio State. Very competitive, always looked at the game very technique-oriented, very astute at how he went about his business."
Swenson could be a major factor as Michigan State wraps up the regular season Saturday against No. 14 Penn State. With the Spartans likely headed somewhere warm for a bowl, Saturday could mark Swenson's final chance to kick in cold weather.
Then again, he could get drafted by the Bills in April.
"I like the warm weather, to be honest," Swenson said, "but I'll take what I can get."
October, 20, 2008
10/20/08
12:09
PM ET
Posted by ESPN.com's Adam Rittenberg
Two out of three isn't bad.
Excerpts from the release:
OFFENSE
Iowa RB Shonn Greene
Greene broke loose for a career-high 217 yards on 25 carries (8.7 avg.) and equaled a school record with four touchdowns to lead Iowa past Wisconsin. The junior running back's 217-yard effort is tied for the sixth-best single-game effort in program annals and marks the first 200-yard outing by a Hawkeyes player since 2005, when Albert Young collected 202 yards at Northwestern. He is the first Hawkeye to score four rushing touchdowns in a single game since Tavian Banks accomplished the feat against Iowa State in 1997. Greene also surpassed the 1,000-yard mark for the season, becoming the second-fastest Iowa rusher to crack the mark behind Banks, who reached 1,000 yards in six games in 1997.
DEFENSE
Iowa LB Pat Angerer
Angerer established a career high with 16 tackles and added two interceptions to lead an Iowa defense that held Wisconsin without a touchdown until late in the fourth quarter. The junior linebacker amassed 12 tackles in the first half alone, and his 16-tackle effort marks the most defensive stops in a single game by any Big Ten player this season. With the hosts holding a 28-9 lead heading into the fourth quarter, Angerer picked off passes to end back-to-back Badgers' drives to put the game away. He returned his first interception 14 yards to give Iowa the ball at Wisconsin 's 48-yard line, which the offense turned into a touchdown four plays later for a 35-9 advantage. The Iowa native picked off his second pass on the ensuing possession and returned it five yards to the Badgers' 37-yard line, setting up a field goal and a 38-9 lead.
SPECIAL TEAMS
Penn State K Kevin Kelly
Kelly connected on three field goals and all five of his extra points against Michigan to become the Big Ten's career leader in kicking points. The senior kicker's 14-point outing boosted his career total to 376 kicking points to pass Minnesota's Dan Nystrom (1999-2002) and Iowa's Nate Kaeding (2000-03), who shared the top spot with 367 points. Kelly connected on field goals of 42, 32 and 20 yards to give him 70 career field goals, which ranks third in conference annals behind Nystrom (71 field goals) and Ohio State's Mike Nugent (72).
August, 1, 2008
8/01/08
12:30
PM ET
Posted by ESPN.com's Adam Rittenberg
Here's a look at 10 players who earned the title of "Captain Clutch" during their Big Ten careers:
Anthony Carter, WR, Michigan [1979-82] -- Carter was only a freshman when he played a part in one of the greatest plays in Michigan history, hauling in a 45-yard touchdown pass as time expired to beat Indiana in 1979. The wideout/return man had 37 touchdown receptions in three seasons.
Kerry Collins, QB, Penn State [1991-94] -- Penn State joined the Big Ten in 1993, and Collins made his mark the next year. He led the Nittany Lions to a 12-0 record, which included three road victories (Michigan, Indiana, Illinois) by seven points or fewer.
Ron Dayne, RB, Wisconsin [1996-99] -- The NCAA's all-time rushing leader made his mark in big games, winning back-to-back Rose Bowl MVP awards after rushing for 246 yards and 200 yards in Badger victories. Dayne also had a 246-yard effort in his first bowl appearance, a Cotton Bowl win against Utah.
Bob Griese, QB, Purdue [1964-66] -- Griese's near-flawless performance in Purdue's upset of No. 1 Notre Dame in 1965 stands as one of the greatest in team history. The next year he led the Boilermakers to their first Rose Bowl appearance and a 14-13 win against USC.

Brian Griese, QB, Michigan [1994-97] -- After coming off the bench to rally the Wolverines past Ohio State in 1996, Griese cemented himself as a clutch quarterback the next season. He led Michigan to a 12-0 record and a national championship, winning five games by 10 points or fewer, including a 21-16 triumph over Washington State in the Rose Bowl.
Jim Harbaugh, QB, Michigan [1983-86] -- Considered by many to be the best quarterback in school history, Harbaugh led Michigan to a 27-23 win against Nebraska in the 1986 Fiesta Bowl. He won four games by three points or fewer as a senior.
Nile Kinnick, RB, Iowa [1937-39] -- The stadium is named after him for a reason. Kinnick did it all for Iowa, including a 63-yard punt that pinned No. 1 Notre Dame at the 6-yard line in a 7-6 Hawkeyes win in 1939.
Craig Krenzel, QB, Ohio State [2000-03] -- He took heat for his arm strength, but no one could question his late-game toughness. The two-time Fiesta Bowl MVP led Ohio State to a national title in 2002 with his arm and his legs.
Chuck Long, QB, Iowa [1981-85] -- A dramatic fourth-down touchdown run against Michigan State kicked off a memorable 1985 season for the Hawkeyes and Long, who many believe should have won the Heisman Trophy. Two weeks later, Long rallied Iowa past Michigan.
Mike Nugent, PK, Ohio State [2001-04] -- Record-setting kicker was nearly unshakable under pressure. He kicked game-tying and game-winning field goals to beat Purdue in overtime in 2003, and his game-winning 55-yard kick against Marshall stands out in an otherwise forgettable 2004 season.
August, 1, 2008
8/01/08
12:00
PM ET
Posted by ESPN.com's Adam Rittenberg
Some of you probably saw the headline and spilled coffee all over your pants. He must have amnesia, you're thinking. Didn't he watch the last two national title games?
True, Ohio State was anything but clutch in back-to-back center-stage flops, especially after entering the 2006 championship as a heavy favorite. But I like to look at the larger picture, and in the last few seasons, no Big Ten team has consistently been better under pressure than Ohio State.
Since 2002, the Buckeyes are 25-7 in games decided by 11 points or fewer. The team's 2002 national championship run was defined by close victories, as quarterback Craig Krenzel & Co. claimed eight games by 11 points or fewer -- the final four contests by a touchdown or less. From Will Allen picking off Michigan's John Navarre near the goal line to seal a win in 2002, to Mike Nugent repeatedly connecting on pressure-packed kicks, to Krenzel's Fiesta Bowl heroics against both Miami and Kansas State, the Buckeyes have come up big over and over. Oh, and they've beaten Michigan four consecutive times and six times in the last seven years. Performances like those in what is always the biggest game on the schedule qualifies as clutch.
Ohio State's crunch-time poise has dipped a bit since 2003, and last season's home loss to Illinois raised some red flags. But Heisman Trophy contender Beanie Wells consistently makes big plays in big games. If quarterback Todd Boeckman solidifies his clutchness (is that a verb?) during a tough road schedule this fall, Ohio State will be back in the national title mix.