August, 3, 2012
8/03/12
5:40
PM ET
From the moment he was hired as athletic director, Mike Thomas has set out to
make Illinois the "king of Chicago"
and the state's definitive college program.

Many Illini fans would argue the Orange and Blue already had such a distinction. But mediocre football results combined with Northwestern's marketing campaign, built around the slogan "Chicago's Big Ten team," had clouded the picture a bit.
Illinois made a power play Friday,
revealing a marketing campaign built around
the theme, "ILLINOIS. OUR STATE. OUR TEAM." The theme and logo will be introduced throughout the state beginning this fall.
From the news release:
The theme will be used in a variety of ways including advertising, street banners, team posters, schedule cards, stadium signage and video board graphics. ... The "ILLINOIS. OUR STATE. OUR TEAM." campaign will be incorporated into a large-scale brand evaluation program that the DIA will partner with Nike beginning in 2013. The 18-month collaboration will result in an updated brand identity including new football uniforms for 2014."
Thomas said of the campaign, "This theme becomes a way for all of our fans to rally behind one central concept -- that the University of Illinois is our state's school. As the Fighting Illini, our student-athletes, coaches and staff are proud to represent the people of Illinois and we are proud to wear the state's name on the front of our jerseys."
Thomas certainly is looking to make a splash, especially after coming under criticism for his football and men's basketball coaching searches. Rallying the fan base always is a good idea.
On the other hand, this seems like a pretty obvious response to the campaign Northwestern launched in the summer of 2010. Led by athletic director Jim Phillips and marketing chief Mike Polisky, Northwestern made a marketing push for the Chicago market, which Illinois feels is its territory, and has been successful. Now Illinois is countering with a push to claim the state.
If there was no "Chicago's Big Ten team," would there be an "Illinois. Our state. Our team." campaign?
The rivalry between the two schools -- and athletic departments, for that matter -- clearly is getting spicier, which isn't a bad thing in my book. Illinois played "Sweet Home Chicago" over the public-address system immediately after its victory against Northwestern in football last October. New Illini football coach
Tim Beckman also is playing up the Northwestern series
with signs in the complex.
What's your take?
August, 30, 2010
8/30/10
6:30
PM ET
EVANSTON, Ill. -- For decades, Northwestern's biggest challenges lived between the lines.
The football program earned national notoriety for its futility, especially in the late 1970s and early 1980s. Sure, the stands at home games were empty, but given the product on the field, it made total sense.
One part of the equation has changed since 1995. By any measure, Northwestern is enjoying its best stretch in team history. The Wildcats have won or shared three Big Ten titles and made seven bowl appearances. The team won six or more games seven times in the past decade, including 17 contests during the past two years.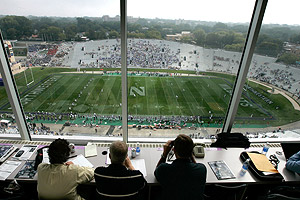 Scott Boehm/Getty ImagesAttendance at Ryan Field was often well under its capacity of 47,130 last season.
A program has finally been built, but they're still not coming.
Last season, Northwestern won eight games but finished 83rd nationally in average attendance at just 24,190 per game. Among teams from automatic qualifying leagues, only 1-11 Washington State had a lower attendance (22,509) than Northwestern. Even winning wasn't packing the seats at Ryan Field, so after Northwestern finished its season in a New Year's Day bowl game, athletic director Jim Phillips approached the school's administration.
"I showed them a couple different things," Phillips told ESPN.com. "I said, 'We can continue the course that we are and ebb and flow, depending on weather, depending on who we played, depending on some success.' But two years ago, we broke a record relative to revenue with tickets. Last year, we had just as good a season, and the revenue wasn't as good.
"With that kind of fluctuation, they understood and they embraced the idea of what we wanted to do."
Phillips' idea was to launch the first large-scale sales and marketing campaign in Northwestern's history. In recent months he has added 10 new staff members -- two more positions soon will be filled -- led by Mike Polisky, the new associate athletic director for external affairs.
The campaign launched Aug. 2 and includes seven year-round billboards that will rotate on expressways around the Chicago area. It also features stronger advertising in local newspapers and on sports radio stations. Phillips and his staff are examining the game-day experience at Ryan Field and hope to make upgrades with concessions, parking, in-game entertainment and other areas.
But by far, the most important element is an outbound sales force that has each member making 75-100 phone calls a day.
The outbound sales force is a first for Northwestern. Most college programs don't have them because they don't need them.
"Northwestern's brand recognition nationally is there, but the athletic component has been a bit of a secret in the Chicago area," Polisky said. "Most universities are recognized by their towns: Ann Arbor, Columbus, Madison, Iowa City. When you think about Chicago, you don't think about Northwestern first and foremost. There are 30 something sports teams here, so it's a really competitive place."
Most of those are professional teams, so Phillips came to a solution: run Northwestern's sales and marketing as if it were a pro franchise. In formulating the plan, he talked to several leading Chicago sports executives, including his good friend John McDonough, the Chicago Blackhawks president who had held the same post with the Chicago Cubs.
But when it came time to make his major hires, Phillips didn't look to the Cubs or Bears, teams that always have and always will dominate the market. He didn't look to college programs, either.
[+] Enlarge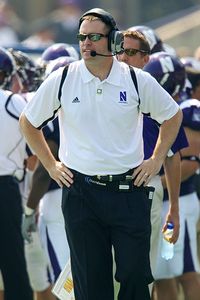 Robin Alam/Icon SMIPat Fitzgerald's Wildcats have experienced success on the field, but the school wants to see that translate into more fans in the seats at Ryan Field.
"Instead of getting somebody that has had college experience in Norman, Okla.; or Austin, Texas; or Gainesville, Fla.; or Knoxville, Tenn.; we needed somebody that knew this market and had success here," Phillips said. "And we needed people who knew how to navigate through a crowded marketplace."
Polisky had helped grow the Arena Football League's Chicago Rush and the American Hockey League's Chicago Wolves into strong franchises in a major market. Phillips also hired Kurt Hasenbalg away from the Chicago White Sox to be the school's new assistant athletic director for ticket sales and service.
"What we're doing now is treating Northwestern athletics like the Bears, Bulls, Cubs, White Sox, Wolves, everyone," Polisky said. "We absolutely have to. We have to compete with them."
The difference, though, is that people grew up rooting for those teams. Northwestern needs to cultivate new fans.
Despite being located just north of the city limits, Northwestern has the second-fewest alumni of any Big Ten school in the Chicago area (only Penn State has fewer). And that's not going to change; in fact, the gap will grow larger over time, Phillips said.
To combat the numbers game, Phillips and Polisky are taking an approach that sounds like sacrilege in the college sports world: They're appealing to fans of opposing teams.
The tagline for Northwestern's campaign says it all: Chicago's Big Ten team.
"The Chicago area is Big Ten country," said Polisky, who went to Iowa but has several family ties to Northwestern. "We're absolutely welcoming Big Ten alums to come and enjoy Northwestern for every game except the one against their alma mater. If you're a Michigan alum, we certainly expect you to come and watch when we play you in football and basketball. But we hope you'll come to the other games because you love the Big Ten competition, you love the game-day experience and you're a fan."
Northwestern has long relied on fans from other Big Ten teams to fill up Ryan Field, but now the school is trying to get them to Evanston more than once or twice a year.
Season-ticket sales for 2010 are up about 40 percent to approximately 16,000, but the surge is due mainly to Northwestern's upcoming game against Illinois at Wrigley Field, which was part of the season-ticket package. The real results from the marketing campaign likely won't be seen until 2011.
Phillips hopes for a 10-15 percent increase in season-ticket sales for next year, and steady increases afterward in what he calls a five- to seven-year campaign.
"It's been more difficult than I thought," Phillips said of the attendance struggles, "but I don't feel that way moving forward now that we have this commitment. I feel really, really confident that we can continue this, but you never know. You've got to work hard at it, you've got to be aggressive and the marketplace isn't going to get any less crowded.
"But we've got a chance."
July, 30, 2010
7/30/10
10:30
AM ET
In recent years, Northwestern has learned that its biggest obstacle doesn't exist on the field, but at the ticket booth.
The Wildcats' football program ended decades of futility with a breakthrough season in 1995. During the last 15 seasons, Northwestern has reclaimed respectability with three Big Ten titles and seven bowl appearances.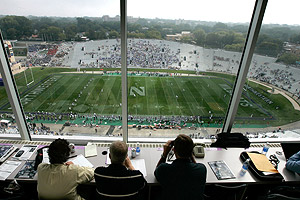 Scott Boehm/Getty ImagesAttendance at Ryan Field was often well under its capacity of 47,130 last season.
But winning isn't translating to butts in seats. Despite a 9-4 season in 2008, Northwestern ranked last in the Big Ten and 83rd nationally in attendance average (24,190) last season, the second lowest average among BCS programs. Only woeful Washington State attracted fewer fans than the Wildcats.
There are several legitimate reasons for Northwestern's struggles at the gate -- a small and scattered alumni base, a location in the sports-saturated Chicago market, a limited tradition of winning, resistance from the city of Evanston -- but the program should be doing a lot better than it is.
It's why Thursday's announcement that Northwestern will launch its first-ever major marketing campaign for athletics is long overdue. The campaign, which officially begins Monday, includes advertising in three local newspapers and on the radio, as well as seven year-round billboards in the Chicago area.
Most important, Northwestern finally has made a real investment in these areas, bringing on at least 10 new people in marketing and ticketing, led by Mike Polisky, the new senior associate athletic director for external affairs. I'll have much more on Polisky and his vision next week, but he's definitely bringing a fresh approach to a major challenge.
It's amazing to think that before now, Northwestern didn't have a ticket-sales department for athletics. This group is expected to make nearly 2,500 weekly sales calls. The marketing group is looking at ways to improve the game-day atmosphere, including a new speaker system at Ryan Field.
These are things you have to do to succeed in big-time college athletics. These are areas where Northwestern never made the right type of investment in the past.
"To be certain, the university is making a long-term commitment to marketing our great sports properties the right way," athletic director Jim Phillips said in a statement announcing the campaign. "We are not looking for a quick fix; rather, we will determine our level of success over an extended period of time."
Northwestern is billing itself as "Chicago's Big Ten team," which sounds nice but will be tough to truly achieve. There are so many Chicago teams competing for fans' dollars, and Northwestern really needs to get creative with this plan.
But for the first time, Northwestern is in a position to market its program in the right way. You have to start somewhere.
BIG TEN SCOREBOARD
Friday, 12/26
Saturday, 12/20
Monday, 12/22
Tuesday, 12/23
Wednesday, 12/24
Saturday, 12/27
Monday, 12/29
Tuesday, 12/30
Wednesday, 12/31
Thursday, 1/1
Friday, 1/2
Saturday, 1/3
Sunday, 1/4
Monday, 1/12
Tweets from https://twitter.com/ESPNCFB/lists/b1g