December, 23, 2009
12/23/09
3:00
PM ET
Michigan State will have quite a few open seats on the team plane as it takes off for San Antonio on Sunday morning.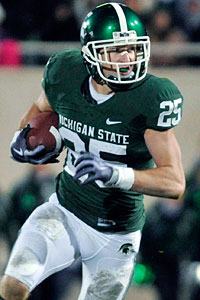 Jason Miller/US PresswireBlair White provides one reliable option for the Spartans at wideout.
And when offensive coordinator Don Treadwell assembles the Spartans' wide receivers to begin final preparations for the Valero Alamo Bowl, the meeting room might feel a little empty. Fourteen Spartans players aren't making the trip to the bowl game, as 12 have been suspended and two, running back Glenn Winston and safety Roderick Jenrette, have been dismissed from the team.
The wide receiver group has been hit especially hard as four suspended players --
B.J. Cunningham
,
Mark Dell
,
Chris D. Rucker
and
Myles White
-- play the position. Cunningham and Dell rank second and third on the team in receiving, having combined for 1,090 receiving yards, 74 receptions and five touchdowns.
Cunningham started nine games, while Dell started the final three regular-season contests. Their presence will be missed Jan. 2 against Texas Tech in a game where Michigan State likely needs to throw the ball a lot and put up points.
"We've talked about all season how at a lot of positions, we feel one of the strengths of our team is depth," Michigan State quarterback
Kirk Cousins
said. "We have lost some guys, and it's going to test our depth. There are guys who haven't had opportunities yet to play in games, who we know work very hard year-round behind closed doors when no one else is really watching.
"They're guys we know we can count on, come the bowl game."
Cousins knows what he's got in
Blair White
, a first-team All-Big Ten receiver who leads Michigan State and ranks third in the league in receiving average (73 ypg). The Spartans also can turn to sophomore
Keshawn Martin
, who, in addition to becoming a threat on returns, has 14 receptions for 325 yards (23.2 ypr) and four touchdowns.
After those two, though, it's slim pickings. Michigan State can turn to tight ends
Charlie Gantt
,
Brian Linthicum
and
Dion Sims
, but it needs more production from the wide receiver position.
So who steps up? Cousins thinks sophomore walk-on
Brad Sonntag
could emerge.
"He's got a lot of upside," Cousins said.
Sonntag and redshirt freshman
Milton Colbert
are listed as the backups to White and Martin on Michigan State's pre-bowl
depth chart
. Neither Sonntag nor Colbert has caught a pass this season.
"We're still tinkering with all that," Cousins said. "We don't have a set plan yet, and we're still figuring out what would be the best matchups to use. And we're a team that likes to use our tight ends, so we always want to get them the football, too."
April, 22, 2009
4/22/09
5:18
PM ET
Posted by ESPN.com's Adam Rittenberg
EAST LANSING, Mich. -- It was probably a good thing that neither Kirk Cousins nor Keith Nichol attended Wednesday's spring game draft at the Skandalaris Football Center.
The two Spartans quarterbacks would have felt a bit like Brady Quinn and Aaron Rodgers. They would have been waiting a while.
Michigan State's senior class divided into two teams and made the selections for the Green and White squads. They filled 16 different position groups before coming to the quarterbacks. Even the long snappers were scooped up before Cousins and Nichol.
The Green team finally relented and picked Cousins, the sophomore who backed up Brian Hoyer last season. That meant Nichol went to the White team, which seemed happy to have him.
"It was interesting how the guys who may be the MVP, the quarterbacks, they're some of the last ones picked," said head coach Mark Dantonio, who officiated the draft inside the team meeting room. "It's because everybody feels they're both very, very good players and they both can lead and they both can make plays. That's a positive thing."
This year's draft wasn't nearly as entertaining as its predecessor, in large part because Dantonio was the only coach in the room. Last year, quarterback Brian Hoyer and Pat Narduzzi got into it regarding the drafting of offensive lineman Joel Nitchman.
"We've kept coach Narduzzi out of there this year," Dantonio told the players with a smile.
It was fun to watch the normally all-business Dantonio oversee the proceedings. He split up the entire football staff between the two squads, all the way down to the trainers, operations staff, film coordinators and turf management staff.
Defensive line coach Ted Gill will serve as head coach of the White team, with linebackers coach Mike Tressel as his defensive coordinator and tight ends coach Mark Staten as the offensive coordinator. Offensive line coach Dan Roushar will be the head man for the Green squad, with quarterbacks coach Dave Warner as offensive coordinator and secondary coach Harlon Barnett as the defensive coordinator.
The national runner-up Spartans men's basketball team also will play a key role in the Green-White game. Outgoing seniors Travis Walton and Idong Ibok attended the draft and will serve as two of the honorary captains for the Green team, while the hoops assistant coaches will do the same for the White squad.
Walton, ever the team captain, seemed to be running the Green team's draft, while defensive end Trevor Anderson was the point man for the White squad. Each team received two minutes between selections.
Some highlights:
For the second straight year, All-Big Ten linebacker Greg Jones was the first player drafted, going to the Green team, which won a coin flip. Safety Trenton Robinson's stellar spring rubbed off on the White team, which selected Robinson with its first pick.

There was a bit of strategy involved, especially since the seniors had been drafted to the two teams by the coaches earlier in the day. Dantonio said Gill chose Anderson with the top pick among seniors.
A bit of a surprise as Caulton Ray, not Ashton Leggett or Andre Anderson, was the first running back drafted, by the Green team. The White team then picked Leggett and Anderson went Green.

Despite cornerback Jeremy Ware's desire to draft Mark Dell, the White team went with sophomore Keshawn Martin as the first wideout taken. The Green team scooped up Dell, while the White took B.J. Cunningham. Walk-on wideout Milton Colbert was picked before Fred Smith, a heralded 2008 recruit.
After the Green team picked Charlie Gantt as the first tight end, the White squad went with Clemson transfer Brian Linthicum instead of Garrett Celek, who played a decent amount last year.
The White team has the edge in special teams with starting kicker Brett Swenson and starting punter Aaron Bates.
The Green team ended up with most of the first-string offensive line (tackle J'Michael Deane, right guard Jared McGaha, center Joel Nitchman), while the White team will counter with several starters on the D-line (Anderson, defensive tackles Jerel Worthy and Oren Wilson). After the draft, the White squad proposed a trade that would swap Cunningham for Deane, but got shot down. "Alright, we're good to go," Anderson said, before high-fiving his teammates.
April, 21, 2009
4/21/09
7:21
PM ET
Posted by ESPN.com's Adam Rittenberg

EAST LANSING, Mich. -- It's pretty miserable outside right now, so thankfully Michigan State held practice Tuesday afternoon on its indoor field. Media were allowed to stay for nearly 13 practice periods, the most all spring, so I clearly picked a good day to visit Sparta.
The quarterback competition is clearly the burning issue in these parts, so let's get right to it.
Head coach Mark Dantonio said before practice that sophomores Kirk Cousins and Keith Nichol would split reps evenly in Saturday's Green-White Game, as they have throughout the spring. Michigan State is a long way from choosing a starter, but there's still an opportunity for both players to distinguish themselves.
"You can inch somebody ahead of the other guy, but they've both performed very well this spring," Dantonio said. "They both have strong arms. They both can create and have running ability, some a little bit more than the other. They both have good leadership skills and they're extremely hard workers. And they both have three years left.
"With that being said, you don't want to name somebody and then all of a sudden, have to reverse your thinking later on."
Both players had their moments during team periods and 7-on-7s at Thursday's practice. Cousins, who performed well as Michigan State's backup last fall, has excellent mechanics and a strong arm. He looks a little smoother on his passes than Nichol, who has a bit of an awkward motion but still get the ball out fairly quickly.
Many have characterized Cousins as the pure passer and Nichol as the versatile athlete, but offensive coordinator Don Treadwell said it's a misperception.
"It's deceptive," Treadwell said. "It's not like one guy's a runner and one guy's a pocket passer. Those guys both are able to move their feet very well, get out of trouble and keep their eyes down the field at the same time."
The competition is neck-and-neck, but Cousins looked a little more impressive at Tuesday's workout.
The sophomore showed good zip on his passes, hitting Mark Dell on several deep out routes during team drills and 7-on-7s. Dell definitely appeared to be his favorite target. After overthrowing wideout Cam Martin on a deep post, a disgusted Cousins muttered, "That's six points."
Cousins also had a nice gain on an option keeper, taking a rare hit (he and Nichol wore red "no contact" jerseys) and popping back up and nodding his head. His run delighted starting left tackle Rocco Cironi, who is out for spring ball following shoulder surgery.
"It's fun to get in there, run and get hit," Cousins said. "You feel like a football player instead of a quarterback."
Nichol had a bit of a slow start in team drills, but he heated up during 7-on-7s, hitting Chris D. Rucker on a go route and finding Keshawn Martin on a deep out. It would have been nice to see Nichol run more, but he moves his feet well.
The quarterbacks traded off on each play during 7-on-7s. There were no interceptions, though Cousins fumbled a snap during red-zone drills.
Other observations from Michigan State's practice:
The competition at running back also remains tight, and a fourth player, redshirt freshman Caulton Ray, has entered the mix. Sophomore Ashton Leggett created some separation a few weeks ago before being slowed by a knee sprain, but he was back at practice Tuesday. Leggett, Ray and senior A.J. Jimmerson each had nice gains during team drills.
None of the running backs had much success during red-zone drills, as Jones, Wilson, Neely and others recorded tackles for loss. Sophomore Andre Anderson, who most resembles Javon Ringer in body type and running style, had a nice burst. He runs very hard for a smaller guy.
I got the best look at the backs during a 1-on-1 drills against the linebackers. Anderson looked particularly impressive in the open field, juking All-Big Ten performer Greg Jones and reserve Jon Misch.
Cousins and Nichol both rotated with the first-team offense, but the top offensive line consisted of: left tackle Brendon Moss (in place of Cironi), left guard Joel Foreman, center Joel Nitchman, right guard Jared McGaha, right tackle J'Michael Deane. Dantonio singled out the offensive line as a group that has progressed more than he had envisioned during spring ball, though there's still a long way to go.

Dell, Blair White and B.J. Cunningham took most of the reps as first-team wide receivers. Michigan State will use the tight ends a ton this fall, and several players made catches during team drills, including Garrett Celek and Brian Linthicum, a transfer from Clemson who looks impressive. There's also some buzz about third-team wideout Milton Colbert, a 6-5, 211-pound walk-on who might just work his way into the rotation. Colbert definitely passes the eye test.

The first-team defense: defensive end Colin Neely, defensive tackle Kevin Pickelman, defensive end Trevor Anderson, nose tackle Oren Wilson, outside linebacker Eric Gordon, outside linebacker Brandon Denson, middle linebacker Greg Jones, safety Danny Fortener, safety Trenton Robinson, cornerback Chris L. Rucker, cornerback Ross Weaver. Several players are banged up in the secondary, including safeties Kendell Davis-Clark and cornerback Jeremy Ware.
The option might not be a major part of the offense next fall, but it will certainly be used more with Nichol and Cousins taking snaps. Michigan State ran several option plays Tuesday and also could incorporate more misdirection into its scheme.
Individual practice periods are usually pretty boring, but Michigan State's running backs were worth watching because of a familiar face. Ringer, who remains in town leading up to this weekend's NFL draft, was on the field helping running backs coach Dan Enos in a direction drill. The All-American wore a New York Jets T-shirt but told me afterward he dons apparel from all the teams for whom he worked out. So don't get too excited, Jets fans. Former Spartans right tackle Jesse Miller also attended practice.
Place-kicker Brett Swenson, an All-America candidate, looked solid on field goals and even took a pitch on a fake and raced around right end.

The Spartans paid homage to Michigan native Kid Rock and played his version of "Sweet Home Alabama" to simulate crowd noise during team drills.