August, 13, 2013
8/13/13
5:00
PM ET
Let's open the inbox. Remember, follow us
on Twitter
.
Michael from Lincoln, Neb., writes:
Adam, if you had to pick a team from the BIG other than Ohio State who could compete for a national title this season, who would it be? I realize OSU is the strongest option, but hopefully there might be another team (or teams) who you could make an argument for without using too many supporting statements that start with "if" or "with a little luck".
Adam Rittenberg:
Michael, the other team would be your hometown
Nebraska Cornhuskers
, but it's hard for me to make a case for a national title run without some qualifying statements. There are too many question marks on defense, and I don't think Nebraska's wild/erratic style -- lots of points, lots of turnovers -- translates into championships of any kind. So "if" Nebraska cuts down significantly on the fumbles and uses the first two months of the season to mature on defense, it has a chance to run the table during the regular season. The defense will need to overcome inexperience with greater talent and overall depth.
The big plus for Nebraska is a schedule that lends itself to a young team maturing. UCLA might be the only team that can outscore the Huskers in the first seven games. Nebraska's season comes down to November, and if the Huskers can win at the Big House and Beaver Stadium, a 12-0 mark is possible. The Huskers then would have to beat the Leaders champ, most likely Ohio State, in Indy. Nebraska doesn't look like a national title contender, but the schedule could help Big Red along the way to a potential surprise run.
Sly from Kansas City, Mo., writes:
Hey Adam -- I had a question about bye weeks. Assuming a bye week is positive (an arguable assumption), which three B1G teams would you say are most fortunate, and which three were most screwed (e.g., ones that have more high-level opponents coming off bye weeks)?
Adam Rittenberg:
Sly, my view is that bye weeks are typically overvalued. There really isn't much correlation to wins after open weeks. It actually has been more of a detriment in some seasons for Big Ten squads. Bye weeks undoubtedly help when key injuries surface, as players have an extra week to recover. This season features the double bye, so Big Ten teams will have two open Saturdays. I tend to like some spacing between off weeks and to have one around Nov. 1.
Let's break it down ...
Favorable
Michigan State:
The Spartans get one open week after completing non-league play with Notre Dame, before opening the Big Ten season with Iowa. The other open week follows the always emotion-charged rivalry game against Michigan. The Spartans have two weeks to prepare before road games against Nebraska and Northwestern.
Indiana:
Like MSU, Indiana gets its first bye after non-league play is complete, giving Kevin Wilson's crew two weeks to prepare for the Big Ten opener against Penn State. The second off week comes following consecutive road games against Michigan and Michigan State, a time when IU likely needs time to heal.
Northwestern:
The Wildcats also get their first bye following the completion of non-league play. They'll have two weeks to prepare for a huge home showdown against Ohio State on Oct. 5. The second open week comes in the middle of the November grind, following a road trip to Nebraska and before key division home games against Michigan and Michigan State. It should provide a nice breather.
Unfavorable
Nebraska:
Both open weeks come during a four-week span in Nebraska's easy part of the schedule (late Sept./early Oct.). The Huskers would be better served to have an off week during their November grind, when they play Northwestern, Michigan, Michigan State and Penn State.
Penn State:
Like Nebraska, Penn State gets both of its open weeks really early in the season (Weeks 5 and 8). Attrition could be a factor for a Lions team playing with reduced scholarships, and PSU really could have benefited from an off week during November, when it faces Nebraska and Wisconsin.
Illinois:
Sense a pattern here? Illinois will have two open weeks before it plays two Big Ten games. That means Tim Beckman's shaky crew must go through the meat of the conference schedule without a break.
Will from Hoboken, N.J., writes:
Hey Adam -- heading into this season, I am getting this mentality that the B1G is in a down year. Wisconsin, Michigan, Michigan State, Nebraska and Iowa all have to get over their own humps to see how "good" they are. Ohio State's schedule is a little weak this season. I can't help but have a "I hope they put up a good fight" mentality about Penn State, as their scholarship reduction takes effect this season. Northwestern is a classic underdog story and I'll be rooting for them to do well and am excited to see them potentially beat some of the powerhouse teams. I love B1G football and am an alumnus of a B1G school, but am I delusional about this upcoming season?
Adam Rittenberg:
Will, I agree there are some significant question marks throughout most of the league, but it's hard to say this is a down year after 2012, which was pretty disastrous for the Big Ten aside from Ohio State's 12-0 run, and even that came under the cloud of NCAA sanctions. The Big Ten had an 8-5 champion in Wisconsin and two of its best teams (Ohio State and Penn State) were barred from postseason play. It totally flopped in non-league play -- aside from Northwestern and Ohio State -- and didn't do much in the bowls. Can't get more "down" than 2012.
While I don't think the Big Ten will unseat the SEC this season, there's a decent chance the league improves on its performance from 2012. Teams like Michigan and Michigan State certainly could win more games, and both Ohio State and Nebraska could enter November undefeated and very much in the national discussion. Indiana and Minnesota both have a chance to improve in Year 3 under their respective coaches, and remember that Wisconsin returns 25 seniors on a team that knows how to win Big Ten titles. Sure, there's transition in Madison, but former coach Bret Bielema had been pointing to 2013 as a breakthrough year even before the 2012 season.
Carmen Ohio from Madison, Wis., writes:
Do you think it looks better to schedule an elite team from what is currently called a non-AQ conference, or a team from the lower tier of a power conference? For example, last season only Michigan and Wisconsin played two non-conference teams that ended the year in the top-20, but people constantly use Bucky as an example of weak scheduling. Do you think that this perception was due to the fact it was non-traditional powers Utah State and Oregon State? Would it have resonated louder to have scheduled Kentucky, Virginia, Colorado and Kansas?
Adam Rittenberg:
Good question, Carmen, and it speaks to the trickiness of non-league scheduling, which is typically done so far in advance that, in many cases, it's a total crapshoot as to how good/bad the teams turn out to be. Wisconsin plays Alabama to open the 2015 season. It's pretty safe to assume the Tide will be very good. Utah State, meanwhile, likely turned out to be a lot better than when Wisconsin scheduled the Aggies, typically an FBS bottom-feeder. Wisconsin deserves credit for its 2013 nonconference schedule (Arizona State, BYU), as well as its much more aggressive approach in the future. But it's important to put things into context when evaluating schedules. When Ohio State scheduled Cal, the Bears were a top-20 program. Now they're rebuilding. That's the way it goes. It's important to evaluate nonconference scheduling approaches -- over a longer span -- rather than schedules in an individual season.
Taylor from Baltimore writes:
I've been wondering what is the status of
Monty Madaris
? He was the best WR recruit for MSU that year coming out of high school, according to ESPN. I know he battled injury, but I wasn't under the impression that it was career ending. He's still listed on the roster, which needs as many playmakers as it can get at that position. Will he ever play a down at MSU? Has he been progressing similarly to the way Burbridge and Fowler have improved this offseason?
Adam Rittenberg:
I haven't heard much about Madaris so far in camp, other than that he's in the morass of Spartan wideouts hoping to break through this season. Madaris and
Macgarrett Kings Jr
. are often mentioned together as two talented young wideouts who could step up, much like
Aaron Burbridge
did in the second half of the 2012 season. Madaris had a high ankle sprain that limited him last summer and eventually led to a redshirt. We know Michigan State needs help there, but there hasn't been much, at least to this point, about Madaris emerging.
Herky's My Hero from Okoboji, Iowa, writes:
Hey Adam, just a thought on Kirk Ferentz and the
Iowa Hawkeyes
. A lot of people are calling for KF's head if he has a bad season. Sure he has had a few bad years, but I think we are underestimating his long tenure at Iowa and the potential attributes of being the Grandad of coaches in the Bigten. What if he takes on the stigma that Paterno had at Penn State? Sure it is ways down the line, but isn't it possible for him to coach at Iowa for another 20+ years? In comparison, Paterno had a few bad stretches, for example from 2000-2004 Paterno was 26-33 overall and 16 -24 in the Big Ten. That's a horrendous stretch, but he still was a great coach. I say we lighten up on KF and realize that he could become a coaching legend among the Big ten and college football. Overall KF is 100-74 and 59-52 in the big ten, with two Big Ten championships, a plethora of solid NFL players, and some great bowl wins. Such coaching stability is unprecedented in today's NCAA and could easily become our biggest recruiting attribute.
Adam Rittenberg:
Everyone who evaluates Ferentz's entire tenure objectively would conclude that he has had a very successful tenure at Iowa and boosted the program's regional and national profile. You make some really good points about the need to be patient and ride out the ups and downs rather than changing coaches every 3-6 years after the first sign of trouble. I actually talked recently with Ferentz about this, and he touched on the value of longevity at a program like Iowa.
"In Iowa, people understand that sometimes the best answer is finding solutions and working on those solutions, rather than worrying about making people walk the plank," he said. "That's a direct opposite of the way our society's going right now, which is one of the reasons I love working at Iowa. I think they get that."
I also asked him about keeping the message fresh after a stretch where Iowa clearly has lost momentum.
"If you change jobs every six years, you don't have to worry about freshness. There have been some really good coaches who have had a track record of staying somewhere typically 5-7 years, and maybe part of the motivation there is so their message doesn't get stale. Because that definitely can happen and does happen. So if you choose not to be a vagabond or an opportunist, or you choose to stay somewhere, then yeah, you constantly have to evaluate how you present, how you market, how you package, whatever term you want to use. But I also believe the things that were good two years ago were good 10 years ago, they were good 30 years ago. And if you go the other direction, they'll still be good two years from now, 10 years from now or 30 years from now. That doesn't change."
All that said, like any coach, he needs to be held accountable, especially because of the big money he's making. It's important Iowa takes a step in a positive direction this fall.
Matt from Ypsilanti, Mich., writes:
The Big Ten has had its struggles in the nonconference recently. What do you expect to see from the conference in this season's non-league games? Does the B1G have enough high-profile games to change its "down" perception before conference play starts?
Adam Rittenberg:
Your second question really is the key one, Matt. Are there enough big-deal nonconference games to boost perception? The answer is, unfortunately, no. If the Big Ten beats up on Notre Dame, the story will be more about Notre Dame going downhill after a nightmarish offseason than the Big Ten being on the upswing. Wins against Pac-12 teams like Arizona State (Wisconsin visits there in Week 3) or UCLA (Nebraska hosts the Bruins in Week 3) could help a little, but there aren't enough games with the SEC on the docket (thanks, Vanderbilt) and not enough games against preseason top 15 opponents. The non-league schedule could hurt the Big Ten, but I don't know it can really help the league's perception.
March, 18, 2013
3/18/13
2:30
PM ET
In anticipation of spring practice kicking off Tuesday, Michigan State on Monday released its
depth chart
for the session, while head coach Mark Dantonio addressed the media.

Here are some notes:
Three players will miss spring ball after offseason surgeries, including two projected starters in linebacker Denicos Allen and offensive lineman Jack Allen. Top cornerback Darqueze Dennard also is banged up but should return to the field for the final two weeks of practice, Dantonio said.
The depth chart reflects several changes along the offensive line. Dan France, who has started 24 games at left tackle the past two seasons, is listed as the starter at right guard. Fou Fonoti, who opened the 2012 season as the starting left tackle before suffering a season-ending foot injury in September, is listed as the No. 1 left tackle, while Skyler Burkland is the top right tackle. Fonoti and top center Travis Jackson both are 100 percent following leg injuries, which could be a major boost for the line. Blake Treadwell is listed as the starting left guard, but Allen could fill that spot when he returns from injury.
Michigan State also moved safety Jairus Jones to outside linebacker, where he's listed as the backup to Taiwan Jones. Dantonio said injury issues at linebacker spurred the move and that Jones can switch back to safety, but the Spartans have excellent safety depth with starters Isaiah Lewis and Kurtis Drummond, reserves RJ Williamson and Demetrious Cox and others. Dennard's injury means two largely unproven players, sophomores Trae Waynes and Arjen Colquhoun, open the spring as the team's top cornerbacks. But Dantonio on Monday sounded very excited about the team's young defensive backs.
Dantonio said the quarterbacks all will take contact during scrimmages, a move you don't see often in the spring. The coach didn't say whether the quarterbacks would evenly split repetitions, but they all will compete against the No. 1 defense. As expected, Andrew Maxwell is listed as the No. 1 quarterback, followed by Connor Cook and Tyler O'Connor.
Michigan State's defensive staff visited LSU earlier this spring. Both teams finished in the top 10 nationally in defense in 2012. Dantonio hopes the offensive staff can do a similar visit after spring ball (the offseason shuffle made it difficult to do so before).
Nick Hill is the team's top running back, followed by junior Jeremy Langford and redshirt freshman Nick Tompkins. Bennie Fowler led the team in receiving yards last season (524), but he's listed on the depth chart as a backup to Keith Mumphery. Aaron Burbridge and Tony Lippett are listed as the other No. 1 receivers, and Dantonio said Monty Madaris will be in the mix at wideout as well.
Lawrence Thomas started three games at fullback last season but appears as a backup defensive tackle behind Tyler Hoover on the depth chart. Dantonio told ESPN.com last week that Thomas could move back to offense if needed.
Linebacker/fullback TyQuan Hammock is finished with his career and soon will graduate, while guard Nate Klatt will take a medical hardship/disqualification because of several concussions.
Dantonio singled out redshirt freshmen linebackers Riley Bullough and Jamal Lyles as players to watch this spring.
March, 15, 2013
3/15/13
9:00
AM ET
A Buffalo Wild Wings Bowl win against TCU took the sting off of a mostly disappointing season for Michigan State. Picked by many (ahem) to win the Big Ten, the Spartans went 7-6, dropping five games by a total of 13 points, including all four Big Ten home contests. Mark Dantonio's squad resumes its primary mission -- to claim a Big Ten title and a Rose Bowl appearance -- when it returns to the practice field Tuesday. Dantonio
shuffled his offensive staff
after coordinator Dan Roushar left for the NFL's New Orleans Saints, and Michigan State will have competition at quarterback, running back and other positions. The defense once again looks very good but needs to fill some gaps.
ESPN.com caught up with Dantonio this week to talk spring ball.
What are some of your primary objectives for the spring?
Mark Dantonio:
The first thing we have to do is address where we're at and look forward. We have a new staff member on each side of the ball, and there's no question that we can improve on both sides of the ball. With that being said, there's a lot of experience coming back. There are areas every football team needs to address. Some of that is concept-based. We're going to try new things and move from there. Our objectives will be to get out of there without getting people hurt and move forward as a program, allow our young players, the guys who redshirted, to make a move on the depth chart and then solidify our No. 1s.
What will be different offensively with Dave [Warner] the lead play-caller and Jim [Bollman] coming in from the outside?
[+] Enlarge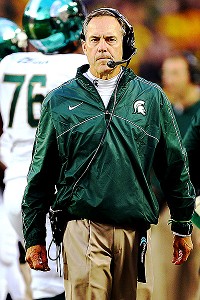 Mike Carter/USA TODAY SportsMark Dantonio's squad will look to improve on their disappointing 2012 season.
MD:
Everybody is unique with their thought process, so you can promote from within or bring from the outside, and there's going to be some difference. With the addition of Jim Bollman, you bring in a guy who has experience at Michigan State (he was a Spartans assistant from 1995-97), not just experience offensively. Dave already knows what we do. But that's going to bring new ideas into what we're doing. Brad Salem, he'll be working with the quarterbacks, so it's a little bit of change. Mark Staten will still be with the offensive line and Terry Samuel will be with the wide receivers. There is change. We have a base of where we're at, and we'll move from there. It's not like we're reinventing the wheel. We have a base, and we need to grow from that base to improve.
What areas need to be improved on that side of the ball?
MD:
When you look at where we were at last year, we need to improve in the red zone, obviously. We have to catch the ball, protect the quarterback more consistently. But we've got to score touchdowns in the red zone. We had too many field-goal attempts. We had 32. So it's not that we're not getting down there. We're getting down there and stalling out. We're going to work toward that. And then we've got to do some things conceptually that takes you forward.
We need change. There's no question we need some change in some areas, but there's also a lot of good things we've done. We've won a lot of football games here. When you look at last season, we were so close in so many different areas from having another 10-, 11-win season.
March, 13, 2013
3/13/13
10:00
AM ET
Spring practice is kicking off around the Big Ten, and we're taking a look at one potential breakout player for each team. We're spotlighting players who could take a major step during spring ball, so those who have started multiple seasons or earned All-Big Ten recognition in 2012 aren't eligible.
Let's turn now to the
Michigan State Spartans
, who open practice next Tuesday:

Monty Madaris, WR, redshirt freshman, 6-foot-1, 190 pounds
Just like last year, head coach Mark Dantonio doesn't have a lot of starting jobs to award on his stacked defense. A lot of eyes will be on sophomore
Shilique Calhoun
to step in for
William Gholston
at defensive end, and for sophomore
Trae Waynes
to earn his way into
Johnny Adams
' old cornerback spot.
But the real opportunities for playing time and impact come on the offensive side of the ball, where few roles are safe after last year's struggles. That's why we're picking Madaris, a guy who didn't even play last year.
Aaron Burbridge
made significant contributions at receiver as a true freshman last year, and Madaris might have done the same had he not suffered a high ankle injury during preseason camp. That led to a redshirt season, but the Spartans remain high on Madaris, who was a highly-regarded recruit out of Cincinnati powerhouse Moeller High School. The hope is that Madaris and Burbridge can give the offense two true stretch-the-field threats, while sophomore
Macgarrett Kings Jr
. also develops into a dependable option. That could make Michigan State's receiving corps a strength this year instead of a liability -- assuming, of course, that the team irons out its quarterback situation, too.
August, 15, 2012
8/15/12
4:00
PM ET
Michigan State's defense is getting a whole lot of offseason hype -- including a bunch in this space.
The publicity is understandable given the returning talent and the performance by that defense last year. There's also a possible hidden advantage for the Spartans to have such an abundance of playmakers on that side of the ball: It's helping the much-less-talked-about offense.
Head coach Mark Dantonio's philosophy is to match up the first-stringers in practice every day. So several new potential starters on offense aren't just beating up on backups; they're battling against established stars.
"It's always been that way with Coach Dantonio, and there's no greater way for teams to get better," Michigan State offensive coordinator Dan Roushar told ESPN.com. "You can definitely see the improvement and the overall effort that's required. Our tackles and tight ends are going against Will Gholston and
Marcus Rush
. Our interior guys are blocking
Anthony Rashad White
. We're hoping that it's going to pay dividends."
[+] Enlarge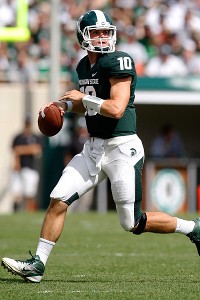 AP Photo/Al GoldisAndrew Maxwell has displayed impressive accuracy and decision-making in practice, according to offensive coordinator Dan Roushar.
Such top-flight practice competition could prepare inexperienced but key players such as quarterback
Andrew Maxwell
and a bevy of new starting receivers for the tough opener against Boise State. Roushar said he's already seen several areas of major improvement in the passing game since spring drills ended.
Maxwell, who missed the last half of spring practice with a knee injury, has been sharp in training camp. So sharp that Roushar said the junior hadn't thrown an interception in the past four or five practices combined.
"He's been very accurate, and his decision-making has been very good," Roushar said. "He seems to be more poised, more under control. He's been making good checks at the line of scrimmage and getting us into the right plays."
Roushar has also seen improvement from redshirt freshman backup
Connor Cook
, who got to take nearly every rep at quarterback this spring while Maxwell was out.
"Connor has showed some glimpses of really good stuff," he said. "He's got a big strong arm, and he can make all the throws."
The receiving corps has been stabilized by the return of veterans
Bennie Fowler
and
Tony Lippett
, who were each banged up at times this spring. Roushar said both have been running consistently with the first string and are safe bets to start the opener. The Spartans feel they have identified their top six receivers, though Roushar said they're still figuring out how exactly that rotation will be sorted out.
He admitted that the coaching staff was concerned in the spring with the young receivers' overall knowledge of the offense. But that concern has been largely alleviated now, thanks he said to the summer work put in by Maxwell and the wideouts. One of the guys who has made a jump is converted running back
Jeremy Langford
.
"He has had some outstanding afternoons," Roushar said. "His skill set is a little unique in that he runs like a tailback, with that physical nature to him, and yet he's developing into a really good wide receiver."
One thing Roushar likes about this group of receivers is that it's flush with speed. But they're not easily pushed around, even when
Johnny Adams
and
Darqueze Dennard
are doing the pushing.
"I've been pleased with how we're releasing against press coverage," he said. "We have two outstanding corners who are really good at that."
Michigan State is dealing with a few injuries on the offensive side. Potential starting left guard
Blake Treadwell
has a stress fracture in his tibia and could be out until mid-September. Treadwell started the first three games of last season at center before missing the rest of the season with a knee injury. Tight end
Dion Sims
, whom Roushar said was very impressive early in camp, has been sidelined after a hit to the head. And freshmen receivers
Aaron Burbridge
(knee) and
Monty Madaris
(ankle) haven't been able to make a move up the depth chart because of their injuries. Burbridge, a highly touted recruit, could be out up to six weeks after getting his knee scoped.
But Roushar still likes the depth on his side of the ball and thinks his players can only improve going against their own defense. Even if that defense gets more attention.
"I don't feel like our guys wake up every morning and feel like they've got to prove something because of the attention the defense is getting," he said. "They go out every day just working hard to get better."
February, 27, 2012
2/27/12
10:30
AM ET
With spring practice around the corner, Big Ten teams will start the process of replacing stars from the previous year. Some shoes are bigger to fill than others. We're taking a look at two key departed players from each team and who might take on their roles this season.
Today, we take a look at Michigan State. Though
Kirk Cousins
obviously left big shoes to fill, we know that
Andrew Maxwell
is his successor. So we'll focus on a couple of different spots on the Spartans.
[+] Enlarge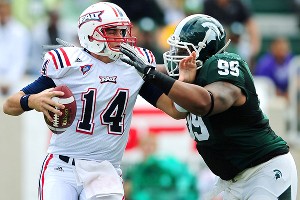 Andrew Weber/US PresswireMichigan State's Jerel Worthy (99) was a force on the defensive line for the Spartans.
BIG SHOES TO FILL: Jerel Worthy, DT
Why:
Worthy was an All-American who had such a good junior season that he decided to jump to the NFL. He registered 10.5 tackles for loss and 3.5 sacks, though that only tells part of the story about how disruptive he was in the middle of the defensive line. Worthy was also an emotional leader who provided the Spartans defense with some of its swagger. While Michigan State brings back most of its outstanding defense from last year, Worthy will be a difficult player to replace.
Replacement candidates:
Anthony Rashad White
(6-2, 316, Sr.),
Micajah Reynolds
(6-5, 320, Jr.),
James Kittredge
(6-4, 270, Soph.),
Damon Knox
(6-4, 275, RFr.),
Brandon Clemons
(6-3, 262, RFr.),
Mark Scarpinato
(6-3, 270 RFr.),
Joel Heath
(6-5, 270, RFr.), David Fennell (6-3, 275 incoming freshman).
The skinny:
Michigan State lost not only Worthy but fellow starting defensive lineman
Kevin Pickelman
and top backup
Johnathan Strayhorn
to graduation. But Mark Dantonio was prepared for this development and has a lot of players in the pipeline ready to prove themselves. Though White played the other tackle spot last year next to Worthy, he has the size, talent and experience to replicate Worthy's production. This is a key spring for Reynolds, who has also spent time on the offensive line. Kittredge sat out last season after transferring from Vanderbilt, and Michigan State was able to redshirt five other potential tackles in 2011. Fennell will likely take that route this year. This group is largely unproven, but at least there are plenty of candidates.
BIG SHOES TO FILL: B.J. Cunningham, WR

Why:
Cunningham completed his career as the school's all-time leader in receptions and yards, which is saying something given the program's history at receiver. He emerged as a true star receiver in 2011 with career bests of 79 catches, 1,306 yards and 12 touchdowns. Whenever Cousins needed a big play, he usually looked Cunningham's way. Fellow seniors
Keshawn Martin
and
Keith Nichol
also are gone, leaving a big void at the wideout position for the Spartans.
Replacement candidates:
Bennie Fowler
(6-1, 215, Jr.),
Tony Lippett
(6-2, 189, Soph.),
DeAnthony Arnett
(6-1, 175, Soph.), Keith Mumphrey (6-0, 202 Soph.),
Andre Sims
Jr. (5-8, 180, RFr.)
Juwan Caesar
(6-3, 197, RFr.), Monty Madaris (6-2, 190, incoming freshman), Aaron Burbridge (6-0, 180 incoming freshman), MacGarrett Kings (5-10, 175, incoming freshman), Kyle Kerrick (6-3, 190, incoming freshman).
The skinny:
This is a situation much like the defensive tackle spot, in which Michigan State hopes a crowd of candidates means that one or two standouts will emerge. The difference here is that some true freshmen will likely get thrown into the mix right away. Fowler is the veteran who hobbled through an injury-plagued 2011, while Lippett moves back to offense after seeing time at defensive back last year. A lot could depend on whether Arnett, a Tennessee transfer, wins his case with the NCAA to become immediately
eligible. If not, the Spartans may have to rely on at least one of the receivers they signed in this year's class or hope that a redshirt freshman takes a big step forward.
February, 2, 2012
2/02/12
4:00
PM ET
After recording 11 victories in each of the past two seasons, Michigan State hoped to carry over the momentum to the recruiting trail. The Spartans on Wednesday signed a class headlined by standout skill players and
added another Thursday morning
in four-star receiver
Monty Madaris
. Along with the addition of wide receiver transfer
DeAnthony Arnett
, Michigan State has put itself in position to replace standouts like receivers
B.J. Cunningham
and
Keshawn Martin
, and safety
Trenton Robinson
. The Spartans also faced increased competition in the region from Michigan and Ohio State, and talk of a
Michigan State-Ohio State recruiting firestorm
is building.
[+] Enlarge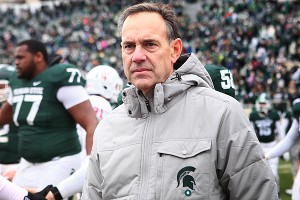 Mike Carter/US PresswireMichigan State's Mark Dantonio says his latest recruiting class is loaded with skill-position talent.
ESPN.com caught up with Spartans coach Mark Dantonio on Thursday. Here are his thoughts about the class.
What were your top priorities in this class?
Mark Dantonio:
We felt like we needed to go out and get a great class of skill players. Last year, we were pretty deep on our team, so we only (signed) two wide receivers and two defensive backs last year. We felt like we really needed to concentrate in those two areas, and I think we came away with a great class. We've got five wide receivers signed and four defensive backs, and a very skilled tailback [
Nick Tompkins
] who really can play any of those positions. He'll play tailback here off the start. We've got guys like
Demetrious Cox
who can play anywhere: tailback, slot receiver, safety, probably even corner. We've got guys like Jermaine Edmonson, who is coming in as a defensive back but can play wide receiver.
Aaron Burbridge
is another guy who can cross the realm and play corner, play wide receiver, tailback. He'll play wide receiver for us. Madaris,
MacGarrett Kings
, DeAnthony Arnett has to be included in this class, and he's a phenomenal player, one of the top wide receivers in the country last year.
It's a tremendous group, wide receiver especially. When you lose a B.J. Cunningham, Keshawn Martin and
Keith Nichol
, that's a lot of offense. Those guys will have an opportunity to play immediately. And on the defensive side,
Ezra Robinson
and Cox, Edmonson and
Mark Meyers
are guys that can tackle, play the ball in the deep part of the field, change direction very well, they run very well, they're very explosive players. All 10 of those guys are kick returner, punt returner guys.
I also think that because we lose [Kirk] Cousins, we needed to bring a quality quarterback into the program. We don't overload our football team with quarterbacks. We don't have six or seven guys on scholarship. We'll have three quarterbacks on scholarship next year, and
Tyler O'Connor
was an Elite 11 quarterback, a guy that has great mechanics, has the ability to run with it, he's big, he's very intelligent, he's got a great release and great arm strength. He's going to be a tremendous asset to this program as time goes on. And then we took three offensive linemen who are going to be able to play, and one defensive lineman in
David Fennell
. Two outstanding linebackers in [Jamal] Lyles and [Riley] Bullough, who are very, very good athletes and played a variety of positions. Fennell's a defensive tackle flying under the radar from Oregon, who just moved to the U.S. from Canada. He shows great punch. His dad is in the Hall of Fame in the CFL. The guy has great explosiveness, extremely strong, very quick, plays with a high motor. I think he'll be an outstanding player.
With the wide receivers you're losing, how many of the guys you're bringing in will stay at receiver and have a chance to play immediately?
MD:
All of these guys are going to have a chance to play. We basically have five wide receivers on scholarship, so our numbers are low in that area, not just because we lose the three [starters], but we lose two backups as well.
Edwin Baker
going [to the NFL] hurts at the tailback position, so there's opportunity to play and play early. They're quality players. They're guys who we've either had in camp or watched play in person. They're big-time players, and they'll all have an opportunity to play. And there are some guys who might cross over and be pretty versatile as well. And on the defensive side, you can pretty much say the same thing.
Jeremy Langford
is going to go back to tailback, so it's going to open a possibility at corner.
Tony Lippett
's a guy we played at corner last year. He'll go back to wide receiver. So it was important to get a defensive back class as well.
I'll make this statement. I've been coaching for a long time, and I don't know I've been anyplace where we've recruited 10 quality athletes like this at the skill positions. I think they're excellent football players, and they all fit our identity, they fit our mold in terms of our chemistry. Great people with good values, all with the vision of being outstanding. I think Cox is a tremendous player.
Do you guys now have pipelines at defensive backs and wide receiver?
MD:
I think we are. If you're good enough, you're going to play here. We only played one freshman [defensive back] last year, but the year before, our entire second unit was made up of freshmen. We've had to move people around a little bit, so there's opportunities for these guys, and they see themselves playing early in their careers. They also see the success that we're having. The other thing everyone has to realize is last year, we took seven defensive linemen. We redshirted every single incoming freshman last year except for one. So we're going to have about 40 freshmen in August camp. This is a very bright future at Michigan State. We've got some excellent young players, predominantly defensive players ... who would have played in the bowl game. We probably would have played six of them in the bowl game if they were eligible to play.
You mentioned the lineman from Oregon. How do you feel about the defensive tackles with Jerel [Worthy] moving on? Is it something you looked for in this class, or might look for in the junior college ranks?
MD:
We looked more in terms of defensive end at the junior college route a little bit. We felt like we wanted to stay the course with our guys. We came down to the end on a couple guys that, if they come our way, maybe solidify that a little bit. But you've got to go back to last year. We recruited six defensive linemen and had a seventh transfer in from Vanderbilt, as an offensive [lineman] for them. He was a four-star player,
James Kittredge
. So we've got seven defensive linemen, and five of them are defensive tackles. So our numbers are good. We've got guys like
Damon Knox
and
Joel Heath
and
Brandon Clemons
and
Matt Ramondo
and Kittredge, those guys are all pushing about 280. We'll be fine there. Obviously, we're going to miss Jerel. You can't replace a guy who was first-team all-conference, a first-team All-American and maybe a first-round draft pick. But we've got guys coming, and I'm sure coach [Pat] Narduzzi will get those guys ready to play.
Mark, you've recruited the Midwest for a long time. Was there any different dynamic this year competing for recruits with some of the staff changes at Ohio State, and with Michigan's staff having a full year to recruit?
MD:
I really don't think so. It's always difficult to recruit in the Midwest when you're surrounded. Michigan State has its own identity, but Michigan certainly and Notre Dame and Ohio State and Wisconsin and Iowa. We're right in the middle of all those guys. And usually when we want 'em, they want 'em. You can throw Penn State into that mix, and you have some teams coming up from the Southeastern Conference, so it's extremely competitive in terms of the guys you're going to get. But we're competing on a scale with those guys. We're very competitive with them, and this is a great opportunity for young people to look at, so we're going to get our guys.
Recruiting has accelerated. There's no question about that. With that said, you've got to get guys on your campus earlier, and usually those guys have to be within four or five hours of your campus. After that, they have to fly, or they're taking cross-country trips. It's so important you get players on your campus to see the place with a parent or a loved one, because when you come down the stretch, for a guy to make a visit like they used to, come in January on a visit by himself, if they have not been here before, the opportunity for you to get them to come to Michigan State or anyplace else goes down drastically.
Are you guys changing the types of players you're going after at all?
MD:
Not really. We've always tried to look to see who's going to fit our program. Just because you can play corner at one institution doesn't mean you can play corner here based on how we play the corners. We're looking for a different type of player at times than maybe somebody else would. Doesn't mean it's right or it's wrong. We try and look for who's going to complement our football team. There's a foundation that's being laid here, there's good things happening. We're not to the end yet, and we want to continue to push forward, but the guys we've recruited have helped us win, there's no question about that. They've won. So we're taking the right guys. We have very little attrition on our football team, so consequently we have a smaller class. I don't think we've ever taken 25 guys. I think the biggest class has been maybe 21, 22. We make assessments based on guys who can play for us, in our schemes and fit our chemistry, our profile. I think we've done a great job with that. We've got some guys here who have been two-star players who are going to play in the NFL, there's no question.
February, 2, 2012
2/02/12
10:30
AM ET
National signing day is in the books, and it's time to evaluate the Big Ten teams and their classes. Although several potential Big Ten recruits are announcing their plans after signing day, most of the classes are complete.
Here's how ESPN Recruiting
graded the Big Ten classes

.
Let's take a look at how teams filled their big recruiting needs:

ILLINOIS
The Illini have had a nice run at defensive tackle with 2011 NFL first-round draft pick Corey Liuget and Akeem Spence, who enters 2012 as a legitimate pro prospect. They solidified the interior line for the future with recruits like
Teko Powell
and
Vontrell Williams
.
INDIANA
It's no secret Indiana needs to make significant upgrades on defense, and coach Kevin Wilson looked to the junior college ranks for help. Indiana added six juco defenders, including cornerback
Tregg Waters
and linebacker
Jacarri Alexander
. These players give the Hoosiers a chance to get better in a hurry.
IOWA
Running back has again become a pressing need for Iowa with the departures of Marcus Coker and Mika'il McCall. While Iowa has lost running backs at an alarming rate, it also has developed young backs very well in recent years. The coaches hope to work their magic with
Greg Garmon
, who could be the most significant recruit of the 2012 class.
MICHIGAN
Arguably no staff in the country makes defensive line a bigger priority than Michigan, which has three coaches, including head man Brady Hoke, focused on the front four. The Wolverines lose standouts Mike Martin and Ryan Van Bergen from the 2011 line, but they addressed the situation in recruiting with pickups like defensive tackle
Ondre Pipkins
and defensive end
Chris Wormley
.
MICHIGAN STATE
Michigan State is creating a nice recruiting pipeline at the wide receiver position. The Spartans lose their top two wideouts from 2011 (B.J. Cunningham and Keshawn Martin) but added several nice receiver pickups in the 2012, including Tennessee transfer
DeAnthony Arnett
and four-star prospects
Monty Madaris
and
Aaron Burbridge
.
MINNESOTA
Quarterback MarQueis Gray returns, and Minnesota needed to get him some help in the passing game after the departure of Da'Jon McKnight. The Gophers added some excellent pickups at the wide receiver position in
Andre McDonald
and
Jamel Harbison
.
NEBRASKA
The Huskers were thin at linebacker in 2011 and lose standout Lavonte David to graduation. Nebraska coaches also have discussed the need to add more traditional linebackers to face Big Ten offenses. Big Red filled the need in the 2012 recruiting classes with players such as
Michael Rose
and
Jared Afalava
.
NORTHWESTERN
Defense has been Northwestern's downfall in the past two years, and the Wildcats need more difference-makers on that side of the ball. They likely landed one in end/linebacker
Ifeadi Odenigbo
, an ESPNU 150 prospect who is Northwestern's most decorated defensive recruit in recent memory. Odenigbo could help immediately as a situational pass-rusher.
OHIO STATE
No Big Ten team made a bigger impact at one position than Ohio State did along the defensive line. The Buckeyes, who were a bit thin up front in 2011, got a lot better with this class, which is headlined by ESPNU 150 prospects
Noah Spence
,
Adolphus Washington
,
Se'Von Pittman
and
Tommy Schutt
.
PENN STATE
Skyler Mornhinweg
's decommitment stings a bit, as Penn State needs more quarterbacks in the mix, but the Nittany Lions also need more difference-makers at wide receiver and tight end. They helped themselves in the 2012 class with wide receiver
Eugene Lewis
, ranked as the nation's No. 34 wideout by ESPN Recruiting. Tight end
Jesse James
is another nice pickup.
PURDUE
Offensive line has been a position of stability for Purdue the past few seasons, but the Boilers lose two starters from the 2011 squad (Dennis Kelly, Nick Mondek) and will say goodbye to several more after 2012. Purdue had to reload up front, and the two highest-rated players in the 2012 class, according to ESPN Recruiting --
Jordan Roos
and
Cameron Cermin
-- all play offensive line.
WISCONSIN
Quarterback is undoubtedly Wisconsin's top priority as
Russell Wilson
departs and Jon Budmayr and Curt Phillips battle back from major injuries. The Badgers needed a signal-caller in a small class and landed a decorated one in
Bart Houston
, a four-star prospect from California powerhouse De La Salle High School.
February, 2, 2012
2/02/12
9:42
AM ET
One of Michigan State's prized recruits didn't sign on Wednesday, but the Spartans received
Monty Madaris
' letter of intent on Thursday morning.
Madaris is a 6-foot-2, 190-pound receiver out of Cincinnati's Moeller High School. ESPN.com ranks him as a four-star prospect and the highest-ranked recruit in the Spartans' class. With Michigan State's need at receiver, Madaris has a chance to contribute right away.
His signing completes Michigan State's 2012 class at 18 players.
January, 31, 2012
1/31/12
2:30
PM ET
This is Part II of our Big Ten recruiting roundtable. Once again, our experts are senior national recruiting analyst Tom Luginbill, Midwest recruiting writer Jared Shanker and Scouts Inc. recruiting coordinator Craig Haubert.

Topic 4: After the top tier of Ohio State and Michigan, what other Big Ten schools have done a good job with this class?


Tom Luginbill: "Michigan State has done a really good job on offense. They had to replace a some wide receivers, and their top two players in the class are receivers, in my opinion. I think they've done a nice job with the offensive line and on the edge with the defensive line. But they haven't addressed maybe their defensive tackle needs. Really, David Fennell is the only one in the whole class. But they're going to recruit their style of guy and they're going to develop them and mold them, because this isn't a program that feels it has to play true freshmen.

"I've been a little bit surprised that there isn't more of a Texas presence in [Nebraska's] class. I understand their want and need to create a presence in the Midwest, because that's where half of their livelihood is during the fall. But you look at where their guys are from -- Missouri, Colorado, Utah, Georgia, Ohio, Illinois -- and you're only really talking about one Texas prospect in their entire class, and that's a little bit surprising. Michael Rose is a really good player on the inside at linebacker and in front of him Paul Thurston out of Colorado has a chance to be a really good one, too. So they've done a nice job in the front seven overall, which they obviously needed to do."

Jared Shanker: "Wisconsin really tried to swing for the fences and went after some top guys. They only have 12 commitments. It's not a whole lot in quantity, but there is some good quality. They have four four-star guys, and in the 2010 and '11 classes, they had one four-star guy combined. It looks like they really slowed down after the season started. They were going after some big guys. It looks like they're going to lose Kyle Dodson. They lost the other offensive tackle, [J.J.] Denman. They're hoping to get Jordan Diamond, but if I had to guess, I think he'll end up at Michigan. They sent out a couple last-second offers to some other offensive tackles. Wisconsin, it looks like they tried to take that next step in recruiting. They whiffed on some, but I still like what they did overall with the class, even though they don't have a whole bunch of numbers.

"Nebraska didn't have a whole bunch of room. They had 14 or 15 guys, but they're hoping to get three or four more. It looks like they'll get Andrus Peat, one of the best tackles in the nation. He's a guy they've been high on the whole time. Getting Imani Cross, the running back out of Georgia, was a big pickup. It looks like they're probably going to land three-star Vincent Valentine out of Illinois. It would be a pretty successful signing day for them [if they get Peat and Valentine]."

Craig Haubert: "Very quietly Iowa, especially down the stretch here, has put together a pretty solid class. They just picked up a four-star offensive lineman, Alex Kozan. He was their sixth four-star guy in their class, so they're doing a really good job. They've done a nice job in the trenches, especially on the offensive line where they've got some guys leaving and need some guys. They're not a team a lot of people are buzzing about, but they've quietly done a good job.

"Michigan State, Wisconsin, Nebraska, you can lump together. If you ask five people to look at those classes and rank them, you'd probably get three different answers. With Wisconsin, it's a very small class but a good class, just not much in numbers. The same can be said for Nebraska. They're going to sign a small class, too, but did a great job filling needs at linebacker. The Armstrong kid can develop into a nice fit for them at quarterback.

"Northwestern, getting Ifeadi Odenigbo was, in the six or seven years I've been doing this, the most significant defensive pickup they've gotten in that time. Over the years they've actually picked up some pretty good offensive guys, but in our eyes, they've never landed anybody quite to his caliber, especially coming out of high school."

Topic 5: What are your surprises and disappointments in the Big Ten for this class?


CH: "The team that's really surprised me is Minnesota. They've done a really good job. That being said, they're going to probably still finish in the lower half. But if you look at their class, they've done a very good job, and they're on the heels of some of the teams right in front of them. The only difference with their class and some of the Michigan States and Wisconsins and Iowas, when you get to the meat of the class, Minnesota drops off a little bit. But at the top of their class, they've done a great job. They've got two really god wide receivers in Andre McDonald, who is a Minnesota kid, and Jamel Harbison, a kid out of North Carolina who's a really good player. ... Considering how bad they've been on the field the last few years, this is a really good class. If you're a Minnesota fan, you can look at this class and say there's only a limited amount of prospects coming out of the state of Minnesota. You've got to be able to keep them. They've done that, and they've gotten some decent out-of-state pickups.

"A disappointment is Illinois. There's a real possibility they could finish last in the conference. Any time you get a coaching change, that can cause some problems, but their class is just not very strong, and they lost a few guys after Zook was fired. So it's really not a very strong class. They've been a team that has shown over the years that they can put together some pretty good classes. While they've surprised at times with some of those classes with guys like [Arrelious] Benn, it's probably equally surprising how opposite this is."

JS: "The disappointment is Michigan and Ohio State are up there and there isn't another Big Ten team in the class rankings. You'd expect Michigan and Ohio State to always be up there, but with Michigan struggling recently and Ohio State going through its turmoil, if you were the other programs you hope this is an opportunity to maybe close the gap in recruiting. And none of them were able to do that. Not that they got bad classes, but you would have hoped that they'd take full advantage."

TL: "I think Minnesota has slowly but surely put together a pretty nice looking group. When you consider the issues with Jerry Kill and his health throughout the fall and the fact they had an abysmal year on the gridiron, they've still been able to get three of the top five guys within the state. I would say their top five-to-seven guys would probably exceed expectations from what they'd normally be able to draw. It's a very big and deep class. So I think they're a surprise that's fallen under the radar to some degree.

"Another team where things weren't ideal for them on the field but they put together a pretty decent class is Iowa. They've done a pretty nice job of getting a lot of high-end three-star, low-end four-star players that aren't getting that internet notoriety, which they could care less about.

"I wouldn't say there's any disappointment. Northwestern has done as good a job as they can given their parameters. I don't want to judge Tim Beckman yet, because he's just now laying down his blueprint."

Topic 6: Give us three or four players who can make an immediate impact next season.


TL: "I think Noah Spence could have an impact at the defensive end spot for Ohio State. I think either Aaron Burbridge or Monty Madaris at receiver for Michigan State will likely be asked to contribute in some way, shape or form, just because there's a significant need there. Michigan could have quite a few guys come in and play a role. Maybe Devin Funchess at a need position [tight end] for them on offense. A guy who may surprise and get on the field pretty quickly for them is Joe Bolden, a linebacker."

JS: "Ifeadi Odenigbo, going to Northwestern, coming in he's going to obviously have to add some weight, but he's a guy that can be a situation pass rusher, coming in on third down and maybe end up with six, seven, eight sacks as a freshman just with his speed off the edge.

"Adolphus Washington, committed to Ohio State. He's another guy who could make a big impact. He had a huge senior season. He doesn't play against the best competition, but I was really impressed watching him, the few times I saw him this year.

"And if he gets a chance, even on special teams, I really like Joe Bolden, going to Michigan. I saw him play in the opener, and he has great instincts. He was making two steps in the direction the play was going to go before the ball was even snapped. I wasn't down in St. Petersburg, but I heard he tore up the Under Armour game."

CH: "Any time you're a five-star guy, you've got to look at a guy like Noah Spence. Joe Bolden, he's got a chance for two reasons: he's already on campus, and he's a pretty good football player, a pretty instinctive guy. Also for Ohio State, Adolphus Washington, a kid with good size, great motor.

"In Iowa's class, Greg Garmon. He fits their system well.

"For Nebraska, that corner they got out of juco [Mohammed Seisay] is pretty good. But sticking with the high school kids, Imani Cross was a great pickup for them. He was committed to Tennessee at one point. He's a really good running back, a bit bigger, but in addition to being a good prospect, he's a great fit for them. He's a no-nonsense runner. He finds his hole, makes one cut and gets up field. And for a need at linebacker, [Michael] Rose is really good, too. I really was impressed with the job he did down at the Under Armour game. He's got good size for a kid coming out of high school, a linebacker, pretty savvy in coverage, too, for a high school kid."
January, 31, 2012
1/31/12
8:00
AM ET
Michigan State is ending the 2012 recruiting push with a flurry, and the Spartans on Monday
beat out several Big Ten schools for safety
Demetrious Cox.
Cox, a four-star prospect rated as the nation's No. 28 safety by ESPN Recruiting, picked Michigan State ahead of Ohio State, Wisconsin and Penn State. He recently ruled out Notre Dame and Pitt. Cox made his first official visit to Michigan State on Dec. 16 and stuck with the Spartans despite receiving strong interest from Ohio State and Penn State.
Cox hails from Jeannette, Pa., and attended the same high school as former Ohio State quarterback Terrelle Pryor.
Michigan State has developed several young defensive backs in recent years, and Cox joins a secondary that could be the Big Ten's best in 2012.
The Spartans landed two commitments during the weekend: four-star receiver Monty Madaris and two-star running back Marcus Horne. Michigan State now has 20 verbals for the 2012 class and remains in the mix for Big Ten targets like offensive lineman Kyle Dodson.
January, 26, 2012
1/26/12
4:30
PM ET
Big Ten teams are making the final push toward national signing day, and several of the nation's top recruits remain uncommitted.
ESPN's recruiting experts have made
predictions on where several coveted uncommitted prospects will end up
signing on Wednesday. If they prove to be correct, some Big Ten fan bases will be pleased.
Let's take a look:
Athlete Davonte Neal (No. 8 in ESPNU 150): Five of seven experts predict Ohio State
OT Andrus Peat (No. 9 in ESPNU 150): Three of seven experts predict Nebraska
Athlete Stefon Diggs (No. 13 in ESPNU 150: One of seven experts predicts Ohio State
OT Joshua Garnett (No. 44 in ESPNU 150): Three of seven experts predict Michigan
OT Jordan Diamond No. 94 in ESPNU 150): Six of seven experts predict Michigan
DE Jamal Marcus: Five of seven experts predict Ohio State
S Trae Elston: Two of seven experts predict Penn State
WR Monty Madaris: Five of seven experts predict Michigan State
WR Andre McDonald: Four experts predict Minnesota, one predicts Illinois
Athlete Demetrious Cox: Four experts predict Michigan State, two predict Penn State, one predicts Ohio State
G Alex Kozan: Four experts predict Iowa, two predict Michigan
RB Imani Cross: One expert predicts Nebraska
It'll be interesting to see how these predictions turn out.