September, 9, 2011
9/09/11
12:00
PM ET
Greetings from cloudy Ann Arbor. This place could use some lights.
October, 19, 2010
10/19/10
5:30
PM ET
Ohio State is dealing with more than a few bruised egos on defense after Saturday's humbling loss to Wisconsin.
Injuries continue to pile up for the Buckeyes' signature unit,
claiming one of its superstars and another key contributor
.
Senior linebacker and co-captain Ross Homan will miss a few weeks with a foot injury suffered against the Badgers. Freshman Christian Bryant, the starter at the "star" position, also is out after being hospitalized with a foot infection.
The Homan injury certainly jumps out because of all he brings to the table. Aside from Michigan State's Greg Jones, Homan is the Big Ten's best and most versatile linebacker, racking up a team-high 41 tackles to go along with an interception, a forced fumble, a fumble recovery, four passes defended and a sack.
Ohio State needs Brian Rolle and Andrew Sweat to step up and help sophomore Jon Newsome, who likely will move into Homan's starting role during his absence.
But the more significant injury could be Bryant, given Ohio State's rash of health issues at the safety spot. Senior Tyler Moeller (torn pectoral muscle) and sophomore C.J. Barnett (knee) both are out for the season.
Bryant will miss at least one game and is expected to be hospitalized until Friday. His father told The Cleveland Plain Dealer that
Christian has cellulitis
, a common bacterial infection that can turn serious if left untreated.
I've known people who have had cellulitis, and it takes some time to fully recover.
"He had an infection last week and we thought we had it under control and he played a little bit in the game," Buckeyes coach Jim Tressel said Tuesday. "He had a not very good reaction to it on the plane ride back ... and he's been over at Ohio State Medical Center trying to get it under control. ... It doesn't look like he'll be out of there until late this week and [we] just want to make sure that we get that calmed down."
Tressel said he's not yet sure how the Buckeyes will proceed at the "star" spot, a safety-linebacker hybrid used in the nickel package. Starting safety Jermale Hines can play the "star," and Aaron Gant and Nate Oliver likely will see more field time.
Another option is to play the nickel with the players used in Ohio State's base defense, a tactic both Iowa and Miami employ, Tressel said.
The good news is Ohio State's next two opponents, Purdue and Minnesota, both rank in the lower half of the Big Ten in both scoring and total offense. Ohio State then has a much-needed bye week before closing the regular season against Penn State, Iowa and Michigan.
If Homan returns after the bye week, the defense should be in good shape. But Ohio State's depth will be tested, particularly in the secondary.
The Buckeyes aren't invincible on defense this year, and they could use some better fortune on the health front.
"Someone's got to step up," Tressel said. "If you want anyone to care that you've had three guys in your secondary hurt, you're coaching the wrong sport at the wrong school because we've got to be ready."
October, 13, 2010
10/13/10
9:00
AM ET
Jermale Hines laughs when told that he's the old man among Ohio State's safeties.
"Something like that," he said.
Hines is a little old by college football standards -- he turns 23 next month -- but he also boasts by far the most experience of any Buckeyes safety. He's one of Ohio State's most valuable players because if there's a spot on the depth chart that looks a little, well, young, it's safety.
[+] Enlarge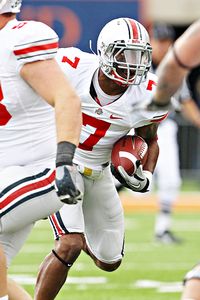 Jonathan Daniel/Getty ImagesJermale Hines has helped lead an Ohio State secondary that ranks 13th nationally in pass defense.
After the 2010 Rose Bowl, the Buckeyes said farewell to veteran safeties Kurt Coleman and Anderson Russell, with Coleman being the team's only consensus first-team All-Big Ten selection. Tyler Moeller returned from a head injury to start at the "star" position -- a safety-linebacker hybrid used in Ohio State's nickel package -- but he's now out for the year with a torn pectoral muscle. Promising sophomore C.J. Barnett also won't return following a knee injury, and junior Nate Oliver has been banged up.
Ohio State's
two-deep
for Saturday night's showdown at No. 18 Wisconsin lists Hines as the starting free safety, sophomore Orhian Johnson, a first-year starter, at strong safety, and true freshman Christian Bryant at the "star" position.
There's little doubt as to who leads the group.
"It's been an experience trying to tell guys what to do and where to be, just helping them out as much as I can," Hines said. "Somebody came along and did it to me, Kurt and Anderson and those guys, so I'm just looking to give back and do the same thing."
The 6-foot-1, 216-pound Hines knows he needs to show some patience as a leader. After all, he wasn't always the easiest pupil for Coleman and Russell.
"There were times where I didn't want to follow them, but they made me," said Hines, who moved past Russell on the depth chart in 2009 and recorded 57 tackles, 3.5 tackles for loss and two interceptions. "Just basically going to seek me out, talking to me, making me listen, telling the coaches and things like that. Or putting me on the spot. They showed me the ropes, the little things to be successful. And that's what I'm trying to do with these guys."
Hines has led by example on Saturdays.
He recorded an interception in Ohio State's Big Ten opener at Illinois and ranks third on the team with 26 tackles. The Cleveland native attributes his progress to a better understanding of Ohio State's defense and how opposing offenses want to attack the Buckeyes.
Along with cornerback Chimdi Chekwa and others, Hines has helped Ohio State lead the Big Ten and rank 13th nationally in pass defense (158.3 ypg). The Buckeyes have surrendered only four pass touchdowns through the first six games (only Miami, San Diego State and Missouri have allowed fewer).
Hines' personal project has been Bryant, who took over for the injured Moeller against Illinois and made his first career start last week against Indiana, recording one tackle.
"I'm definitely his big brother," Hines said. "Any time I can be, on the field, off the field, just making sure he understands things, checks and things like that, just making sure his head is right."
Buckeyes coach Jim Tressel said Hines could play the "star" spot if need be, a move Hines wouldn't oppose. But if Hines' tutelage works, he can stay put and Ohio State likely will be better off for it.
"Anywhere I can help the team win," Hines said. "We've all got one goal, and I'm a part of it."
A big part.
October, 5, 2010
10/05/10
2:30
PM ET
As you might have seen earlier today, Michigan State coach Mark Dantonio will once again
attempt to watch his team from the press box
this week at archrival Michigan.
Dantonio, released from the hospital Monday after being treated for a blood clot in his leg, is back in the office and started his news conference today by saying, "Can't keep me down Michigan week." The 54-year-old had planned to coach from the press box last week against Wisconsin but was readmitted to the hospital Thursday after doctors found the clot.
"As long as I don't have a setback, that's where I'll be," Dantonio said of the Michigan Stadium press box.
Dantonio feels "outstanding" and is back at the football complex after spending Sunday and Monday watching film. He watched the Wisconsin game from the hospital, where he communicated with his assistants at Spartan Stadium.
"I'll take it easy, I won't overdo things, I'll listen to what people are telling me, I'll listen to my body," Dantonio said. "But at the same time, I feel very good."
It's encouraging to hear Dantonio is doing well again, and while I'm not a doctor, allowing him to spend three-plus hours on his feet Saturday following a blood clot probably isn't a wise move. Hopefully, he'll spend the game in Michigan's spacious and luxurious new press box.
Other Big Ten health nuggets:
Ohio State coach Jim Tressel confirmed that safety-linebacker Tyler Moeller is out for the year with a torn pectoral muscle that will require surgery later this week. Moeller is a big loss after leading Ohio State in both tackles for loss (4.5) and forced fumbles (2). I'll be stunned if he doesn't receive a sixth year of eligibility from the NCAA, so we should see him back in 2011. Freshman Christian Bryant will step in for Moeller, although Tressel said Jermale Hines also can play the "star" position in Ohio State's nickel package. Nate Oliver also is getting healthy and should be able to help.
Buckeyes starting quarterback Terrelle Pryor should be fine for Saturday's game against Indiana. Pryor, who missed two series with a strained quad against Illinois, might be limited in practice early this week but will "get as close to 100 percent as one can be" for the Hoosiers.
Speaking of Indiana, starting cornerback Richard Council will miss "an extended period of time" with a knee injury, coach Bill Lynch said. Council's injury isn't season ending at this point, but Indiana will turn to others, namely Adrian Burks, as well as Greg Heben and juco transfer Andre Kates, to fill the void.
Not a health note, but a personnel nugget regarding Brandon Wegher. There had been some buzz about the running back returning to Iowa, but it's not happening. "If he comes back, we'll let you know," coach Kirk Ferentz said. "As far as I know, he's gone for at least this season and maybe forever."
Wisconsin quarterback Curt Phillips has completed his speedy recovery from a torn ACL in spring practice and has been cleared to play this week. Phillips moves into the No. 3 spot on the depth chart and likely would be used only in an emergency. Tight end Brian Wozniak also has been cleared after battling a shoulder injury.
The hits keep coming for Purdue, as coach Danny Hope said receiver Justin Siller will miss three to six weeks with a sprained foot. The good news is the Boilers are getting healthier at running back as players like Al-Terek McBurse and Keith Carlos improved during the bye week. Purdue can move Antavian Edison and O.J. Ross back to receiver.
Penn State linebacker Gerald Hodges and receiver Curtis Drake are improving from their injuries but likely won't be back for a little longer. Tight end Andrew Szczerba (back) started to do some light jogging but won't be back as Penn State turns to true freshman Kevin Haplea as its starter against Illinois. Defensive tackle Jordan Hill (ankle) is expected to play Saturday.
Finally, some good news about Minnesota receiver Connor Cosgrove, who last month was diagnosed with leukemia. He's doing well and was in the locker room before last week's game against Northwestern. "The leukemia counts in his body are way down," Gophers coach Tim Brewster said. "His body is reacting positively to the chemotherapy. The outlook for Connor is really positive." Great to hear.
October, 4, 2010
10/04/10
10:00
AM ET
The first weekend of Big Ten play came at a cost for several teams, while Purdue's misfortune on the injury front continued even though the Boilers didn't play a game.
Here's a quick recap of three key injuries around the league:
Ohio State S/LB Tyler Moeller
The situation: Results of an MRI on Moeller's chest should be known Monday, but the prognosis doesn't look good. Multiple outlets are reporting that Moeller likely will have season-ending surgery to repair a torn pectoral muscle he suffered early in Saturday's win at Illinois. Moeller suffered the injury while trying to wrap up Illinois running back Mikel Leshoure. The Buckeyes' safety/linebacker already was planning to petition the NCAA for a sixth year of eligibility after he missed all of 2009 with a head injury suffered when he was the victim of a criminal assault.
What it means: Moeller had been one of Ohio State's top playmakers on defense -- he had 20 tackles, 4.5 tackles for loss, a sack, an interception and two forced fumbles -- so his presence will be sorely missed. Ohio State already is down a safety for the season in C.J. Barnett (knee), and Nate Oliver (hamstring) also is banged up. Freshman Christian Bryant took over for Moeller at Illinois and would be the next option at the "star" position, featured in Ohio State's oft-used nickel package.
Penn State TE Garry Gilliam
The situation: Coach Joe Paterno said Gilliam suffered an ACL injury in Saturday's loss to Iowa, and the redshirt freshman could be lost for the season. Gilliam had been starting in place of Andrew Szczerba, who likely won't play this season because of a back injury. He suffered the injury in the second quarter.
What it means: Penn State entered the year thin at tight end after losing Andrew Quarless and Mickey Shuler to graduation. The injuries to both Szczerba and Gilliam make things really dicey. Penn State likely will turn to true freshman Kevin Haplea or use Brett Brackett, a big wide receiver, at the tight end spot.
Purdue WR Justin Siller
The situation: Purdue had a bye last week, but coach Danny Hope said Sunday night that Siller suffered a sprained foot Sept. 25 against Toledo and will miss "an extended period of time ... several weeks, possibly." Siller, who returned to the team after a year-long suspension from school and won a starting job, has 12 receptions for 104 yards and a touchdown this season.
What it means: Purdue loses yet another offensive skill player to an injury. Siller is particularly valuable because he started three games at quarterback for Purdue in 2008. There had been some talk he could move back to quarterback following Robert Marve's season-ending injury, but his injury situation makes it unlikely. While Purdue's health situation at running back is improving, the Boilers now are down two starting receivers (Siller and Keith Smith).
September, 11, 2010
9/11/10
4:13
PM ET
COLUMBUS, Ohio -- Fact No. 1:
Lamar Miller
is fast.
Fact No. 2: Ohio State's special teams are a mess.
The result was an 88-yard kickoff return to the end zone that gave Miami
its first lead at 6-3
. Miller sliced through the Buckeyes, who looked completely disorganized on the play.
It's amazing to write this about a Jim Tressel-coached squad, but special teams are Ohio State's biggest weakness right now. From the Iowa game to the Rose Bowl to last week's opener against Marshall, the Buckeyes have had a series of major breakdowns.
Ohio State appeared to redeem itself on the ensuing kickoff, as
Jaamal Berry
only had the kicker to beat before falling into teammate Nate Oliver. Berry could have been gone, so the Buckeyes are leaving too many points on the field right now.
Miami leads 7-3 with 4:34 left in the first quarter.
September, 2, 2010
9/02/10
7:49
PM ET
COLUMBUS, Ohio -- Could Ohio State have scripted it any better?


A 2010 season many expect to be special for the Buckeyes started with a huge special teams play. After Marshall won the toss and elected to receive (curious move), return man
Andre Booker
coughed up the ball following a hit from Dorian Bell. Buckeyes' safety Nate Oliver recovered and the offense was in business.
Ohio State's offense has run seven plays so far, and all but one of them, a
Terrelle Pryor
imcomplete pass, have worked out well. Pryor has looked good on short to intermediate throws so far, although he's seeing no pressure from Marshall and poor coverage from the Herd secondary.
Wide receiver
DeVier Posey
and running back
Brandon Saine
are working on big performances. Saine, who I believe becomes Ohio State's featured back, showcased his speed and power on a 40-yard run to set up Ohio State's second touchdown.
It's 14-0 Buckeyes, and Marshall appears to be in for a very long night.
March, 26, 2010
3/26/10
4:30
PM ET
Spending the weekend in the Big Easy, so don't bother me unless it's really, really important.
Adam from Cabot, Ark., writes:
Adam,First off, nice name. Secondly I'd like to ask about Ohio States secondary. I'm a life long Buckeye fan, but I see holes throughout the secondary. Who begins to fill those holes and who gives Ohio State the biggest challenge for the BigTen Championship (minus the championship game)? Thanks!!
Adam Rittenberg: Likewise, Adam. If there's a big hole in Ohio State's two-deep, safety would have to be it. The Buckeyes lose two players with significant starting experience in Kurt Coleman and Anderson Russell, and Coleman earned first-team All-Big Ten honors last fall. Jermale Hines certainly will take on a greater role, but Ohio State needs to identify that No. 2 and No. 3 safety. Keep an eye on Orhian Johnson, a guy I heard a lot of good things about last spring. If Johnson can't nail down a starting job, look for guys like C.J. Barnett, Aaron Gant and Nate Oliver to be in the mix. Cornerback Chimdi Chekwa is another guy who, like Hines, needs to lift his game to All-Big Ten levels.
---
Kelly from Manassas, Va., writes:
While what happens on the field this year will certainly play into Rodriguez's future, the decision has very likely already been made. Make no mistake, his conduct off the field and two very bad seasons have already sealed his fate as he needs an completely unrealistic number of wins for UM to even consider extending him beyond this year. In all likelihood, he needs ten wins to keep his job, so in essence, given that no rational person expects this team to sniff .500 much less a winning record, the decision to fire him with cause has already been made.
Adam Rittenberg: Kelly, gotta say I love getting your e-mails every week. Always a good time. When did you start working in Michigan's athletic department? I thought they didn't let Penn State fans in there. While Rich Rodriguez obviously needs to show significant improvement in Year 3, by no means is his fate sealed. I highly doubt he'd be fired if the team wins nine games this fall. Eight games probably keeps him safe, too. Michigan would have to weigh the desire to make a change versus the potential cost of staying irrelevant for even longer, or getting worse. Keep in mind that Rodriguez has now spent a few years recruiting a specific brand of player for his system, and these players might not translate well to a new scheme, especially a dramatically different one. I'm not saying Rodriguez can breathe easy, but we still have a long way to go.
---
Brian from Aledo, Ill., writes:
I'm sure it's been talked about before but I guess I never heard it. With all this talk about expanding to more teams my biggest question is why not just play all the teams currently in the conference?
Adam Rittenberg: You can't play 10 conference games from a financial standpoint and expect to survive or grow your revenue pool. That's one more guaranteed road game for every Big Ten team, which means one fewer chance to fill up a massive stadium and generate $$$. Teams would be so afraid to leave home for the two nonconference games, and it would create some major headaches with nonleague rivalries, etc. Fans would love it, but it doesn't make any sense financially, given the need to make money.
---
Chad from Montpellier, France, writes:
Hey Adam,Love the blog still haven't missed a day of reading in the 2 months that I've been over here. Firstly, I noticed that you seemed to allude to the ability to post blogs even when you weren't at a computer during your trip to Purdue I believe. Any chance we could get blogs posted throughout the night so us in Europe don't have to wait until the afternoon to get our B10 fill? Secondly, I was thinking that it might be interesting to take a look back at the decade's best and worst rivalries in the B10. Which rivalries had many exciting balanced games, and which rivalries were pretty much one-sided and didn't live up to their usual hype during the past decade (OSU/MICH comes to mind). Thanks and keep up the good work!
Adam Rittenberg: First off, I'm thrilled to hear the Big Ten blog is being read across the pond. I've even been to Montpellier myself, a long, long time ago. While I'd love to have 25 posts a day so that my global audience is satisfied, it just ain't happening. Unless you can double my salary, of course. And even then, my wife would kill me. As to your second point, I like the idea about rivalries. Things are getting a bit busier now with spring ball, but that sounds like a fun post for May or June.
---
Chase from Pittsburgh writes:
Adam, Isn't it a little convenient that the only 4 MSU players reinstated in the group that were charged in the Rather Hall incident (Mark Dell, BJ Cunningham, Chris L. Rucker, and J'Michael Deane) were all starters or major contributors? And the other charged players (Ashton Leggett, Jamihr Williams, Myles White, and Oren Wilson) that were not major contributors are all transferring? They all received the same sentence. Dantonio seems to have history of selective justice. When he needed Winston in the Fall, he reinstated him immediately after he stepped out of jail. Now, with Baker and Caper filling the hole at RB, Winston is no longer essential to the team. In the middle of last season, RBs Caulton Ray and Andre Anderson were dismissed from the team after Caper and Baker had established themselves. Dell and Cunningham are the two leading receivers returning to the team with the loss of Blair White. Deane is a projected starter on the OL, and Rucker is the starting corner. Only Wilson was a contributor to last year's team. but highly rated prospect Blake Treadwell has taken his position. Why has no one taken Dantonio to task on this?
Adam Rittenberg: Chase, you make some pretty compelling points here. I wouldn't underrate the loss of Wilson, who almost certainly would have started on a very young defensive line. And to play devil's advocate, I don't know how much Michigan State really needed Glenn Winston last year. Yes, I know he ascended to a key role before his injury, but the Spartans entered preseason camp in 2009 with plenty of running backs who they liked. I remember thinking at the time, why not just arrange a transfer to cover your bases with a player who assaulted another student-athlete? And to be fair to the four players who were reinstated, none had any previous off-field problems. A lot of college players are convicted of misdemeanors, serve no jail time and return to the playing field. It has happened all around the Big Ten. I would have had a bigger gripe had Wilson be allowed back on the team, as his involvement in the resident hall assault wasn't known until after the Alamo Bowl, a game in which he played. But since Wilson is transferring, it's a moot point.

October, 8, 2009
10/08/09
3:55
PM ET
Posted by ESPN.com's Adam Rittenberg
Ohio State isn't one of the three Big Ten teams to issue official injury reports each week, but head coach Jim Tressel's always provides health updates at his weekly Thursday media briefing. Today's session was no exception, as Tressel addressed the status of several players heading into Saturday's game against Wisconsin (ABC, 3:30 p.m. ET).
Offensive tackle Andrew Miller will miss his second consecutive game because of the flu. Sophomore Mike Adams will get the start at left tackle against the Badgers. There was some talk earlier in the week that Adams also had been affected by the flu, but Tressel on Thursday called it a false alarm. The hope is Miller will return to practice by Tuesday.
Other players who missed Wednesday's practice with the flu included starting left guard Justin Boren, starting tight end Jake Ballard and reserve safety Nate Oliver.
Running back Dan Herron is close to 100 percent after missing last week's game with an ankle injury. Expect Brandon Saine to make his second straight, but Herron should see time as well.
Guard Jim Cordle is making good progress with his ankle injury and participated in part of Wednesday's practice, which surprised Tressel. "I don't think we would put him in the game," Tressel said, "but he may be back a week earlier than we thought, which would be tremendous for us."
BIG TEN SCOREBOARD
Monday, 12/22
Saturday, 12/20
Tuesday, 12/23
Wednesday, 12/24
Friday, 12/26
Saturday, 12/27
Monday, 12/29
Tuesday, 12/30
Wednesday, 12/31
Thursday, 1/1
Friday, 1/2
Saturday, 1/3
Sunday, 1/4
Monday, 1/12
Tweets from https://twitter.com/ESPNCFB/lists/b1g