April, 21, 2011
4/21/11
5:00
PM ET
MADISON, Wis. --
Jon Budmayr
could go down the path to complacency. It's pretty much right there in front of him.
[+] Enlarge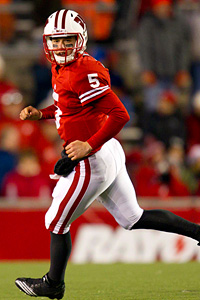 Jeff Hanisch/US PresswireWisconsin quarterback Jon Budmayr is taking advantage of all his reps this spring.
While Wisconsin would like to have a true race to replace All-Big Ten quarterback
Scott Tolzien
, things haven't worked out that way.
Budmayr, who backed up Tolzien in 2010, is taking the lion's share of the reps this spring. The others go to a redshirt freshman (
Joe Brennan
) and a true freshman (Joel Stave). Besides Budmayr, the team's only other healthy quarterback who played last season is
Nate Tice
, best known for his famous father (former Minnesota Vikings coach Mike Tice) and for scoring a touchdown on a 17-yard bootleg against Indiana in an 83-20 Wisconsin win that some pundits considered to be a poor show of sportsmanship.
Curt Phillips
, who competed with Tolzien for the starting job in 2009, was
ruled out for the season
Saturday after undergoing his third knee surgery.
"You don't have a true competition with veteran guys," offensive coordinator Paul Chryst said.
And Wisconsin might not have one, especially with the latest news about Phillips. While both Stave and Brennan show some flashes, Bielema isn't sure if they can accelerate their play enough to start this fall.
Barring a surprise, Budmayr will lead the offense when the season kicks off Sept. 1 against UNLV.
A player in Budmayr's position could slack off this spring. But the redshirt sophomore, who is participating in his third spring practice, sees the path to complacency and goes the other way.
"The one thing Jon does is he really competes every practice and tries to take advantage of every rep," Wisconsin coach Bret Bielema said.
Budmayr benefited from playing behind Tolzien, a perfectionist known for his relentless preparation. Although Budmayr notes he's a different type of quarterback than his predecessor, he wants to mimic Tolzien's approach to practice.
"Each time you cross those lines, you've got to maximize your reps and get better each day," said Budmayr, who completed 8 of 10 passes for 134 yards and a touchdown last season. "You'll have some good days, some bad, and it's never really as good or as bad as you think. There's always good learning, especially in the spring, and if I can learn from some of the mistakes I'm having or certain situations, it will help me in the fall."
Budmayr has had his ups and downs. In last Saturday's scrimmage, he fired a touchdown pass to
Montee Ball
and connected with his tight ends on several completions before tossing an interception in the 2-minute drill.
At Tuesday's practice he showed off a plus arm on several throws but at times looked shaky in the pocket and didn't get rid of the ball fast enough. To be fair, Budmayr hasn't had No. 1 wideout
Nick Toon
available this spring, and the team is very thin at the receiver position.
"He does a good job of practicing like he's playing the game," Chryst said. "Therefore, things continually come up. What's a good play in this situation? Is he making the proper reads? Is he doing it in the proper timing or is he taking too long? All of those things, he's working on and trying to grow from."
Although many point to Budmayr's size as a concern -- he's listed at 6-feet, 195 pounds-- he boasts a strong arm and some skills that could set him apart from Tolzien.
"Jon's probably more along the lines of a Tyler Donovan." Bielema said. "A guy who can use his feet, who can get on the edges. We can use him in the play-action game. Very live arm. He's also a guy who is very conscientious. It's not just, 'Oh, I'm out here playing football.'
"He knows the consequences of every action he has can affect winning and losing."
It's an approach Budmayr will take until Sept. 1 and most likely beyond.
March, 23, 2010
3/23/10
8:57
PM ET
Wisconsin finally seemed to have its quarterback position in order: a clear-cut starter in
Scott Tolzien
, no major competition and two decent backup options in
Curt Phillips
and
Jon Budmayr
.
When I met with offensive coordinator Paul Chryst in Madison last week, I joked that he finally had an easy spring ahead of him.
Not so much anymore.
Phillips is out for the foreseeable future after tearing his right ACL
on Saturday in a situational scrimmage. Head coach Bret Bielema said after Tuesday's practice that the redshirt sophomore will undergo surgery in the coming weeks after the swelling goes down. Phillips wasn't touched on the play.
"There is probably a potential hope for the season next year, but really that's up in the air," Bielema said. "Every knee injury is different."
Phillips was in the mix for the starting job last year and brought some good athleticism to the quarterback spot. The 6-3, 224-pound Tennessee native averaged 9.9 yards a carry last season.
Budmayr, a redshirt freshman who generated a lot of buzz early last spring after enrolling early, now steps into the backup role. I was impressed with Budmayr when we talked last spring, and he might have the strongest arm among Wisconsin's signal callers. He's ready for the challenge, telling the
Wisconsin State Journal
, "I've been preparing myself in the offseason. Nothing really changes, you just keep going and playing football and learn with each rep."
After Tolzien and Budmayr, Wisconsin could be scrambling a bit at quarterback. Central Florida transfer
Nate Tice
is practicing this spring, and Joseph Brennan signed in February. But after Tolzien, there's no one with game experience on the roster.
Wisconsin's veteran offensive line really needs to keep opposing players out of the pocket.
June, 12, 2009
6/12/09
5:56
PM ET
Posted by ESPN.com's Adam Rittenberg
Wisconsin's quarterback competition added another contender as Nate Tice, the son of former Minnesota Vikings head coach Mike Tice, has joined the team as a walk-on.
Badgers head coach Bret Bielema confirmed Tice's arrival Friday in a text message to ESPN.com.
Tice redshirted at Central Florida in 2007 before opting to leave the team weeks before the 2008 season. He attended a junior college last year in Florida. He'll have three years of eligibility left with the Badgers.
Tice, who attended high school in Edina, Minn., told Scout.com (subscription required) that he contacted both Wisconsin and Iowa to gauge their interest about walking onto the team.
"They both called me back in within a week. Iowa told me that were pretty set at quarterback and that I probably wouldn't play. Wisconsin called me a couple days after that and wanted me to come on a visit and were very positive of the whole thing. They were excited and they got me real excited. It's always nice to be back in the Midwest. I grew up in Minnesota, so it's only four hours away, and I always liked Wisconsin."
Wisconsin appeared to get some clarity in its quarterback competition toward the end of spring practice as Dustin Sherer and Curt Phillips created some separation. Still, adding Tice isn't a bad idea because the Badgers have nothing to lose and quarterback play was a major problem last season.
"The whole quarterback situation is perfect," Tice told Scout.com. "It's not like there is going to be a four-year starter. Every year there is going to be a competition. If I play very good, I have a chance, and all I want is a chance. The tradition of playing in the Big Ten and playing for the chance at a Rose Bowl is overwhelming."