January, 16, 2015
Jan 16
4:50
PM ET
A name and a number are grabbing headlines Friday after the NCAA
reached a settlement in the lawsuit
filed against the association by two Pennsylvania state officials.
The name is Joe Paterno, the late Penn State football coach. The number is 409, the total victories Paterno's record once again displays, making him college football's winningest coach.
But Friday's settlement is really about four letters -- NCAA -- and the four-letter words that should be used to describe its repeatedly shoddy approach to crisis management. Two and a half years after the NCAA stepped into uncharted waters, opting to levy historic penalties against Penn State and its football program in the wake of the Jerry Sandusky child sex abuse scandal, the association sunk.
"The NCAA," Pennsylvania state Senate Majority Leader Jake Corman said, "has surrendered."
Corman and state Treasurer Robert McCord justifiably claimed victory in their lawsuit against the NCAA. Friday's settlement invalidates the consent decree Penn State had agreed to in July 2012, and all the remaining penalties imposed on the university, including the 112 vacated wins in football between 1998 and 2011.
The NCAA's intent in pursuing penalties against Penn State was understandable, perhaps even justified, but its methods were flawed right from the very start: July 23, 2012.
Hours after NCAA president Mark Emmert announced historic sanctions against Penn State, penalties the school had agreed to by signing a consent decree, I spoke via phone with Oregon State president Ed Ray, the chair of the NCAA's executive committee. Ray had attended the NCAA's news conference in Indianapolis that day, before flying back to Oregon.
In the interim, Penn State president Rodney Erickson had told media outlets that if he hadn't signed the consent decree, the NCAA would have imposed the so-called death penalty on Penn State's football program, suspending play for the 2012 season.
So I asked Ray about
the possibility of imposing the death penalty
:
President Erickson was quoted today as saying that Penn State accepted that deal because if not, you would have decided to suspend play. Can you confirm that?

Ray: I've known Rod for a long time. I didn't hear what he said. I was on a plane flying back to Oregon. But I can tell you categorically, there was never a threat made to anyone about suspension of play if the consent decree was not agreed to.

So it wasn't as though you said, "Take this deal or we're shutting you down"?

Ray: That was never even a point of discussion within either the executive committee or the Division I board.
So right away, there were questions about how the NCAA had gone about obtaining the consent decree. Emmert had made the decision to step into the mud, and he seemed to get dirty right away.
Penn State bought the apparent bluff at the time, but now it's the NCAA that's folding.
The NCAA's news release announcing the settlement begins with the line: "Programs serving child sexual abuse survivors will now receive millions of dollars as part of the NCAA's proposed settlement with Pennsylvania state officials."
University of South Carolina president Harris Pastides, a member of the NCAA's board of governors, added in a statement: "Continuing this litigation would further delay the distribution of funds to child sexual abuse survivors for years, undermining the very intent of the fine. While others will focus on the return of wins, our top priority is on protecting, educating and nurturing young people."
That's true, but it's also well-spun. Make no mistake, this was a huge loss for the NCAA and once again underscored the association's dysfunctional approach to crisis management.
"The agreement we've reached represents a complete victory," Corman said at a news conference in Harrisburg, Pennsylvania.
He later likened the settlement to achieving the mercy rule.
"They were way behind in the case," he said.
Although Corman's political victory lap and sports-themed statements seemed inappropriate, given the sensitive and tragic nature of what went on at Penn State during Sandusky's tenure, he's right about the NCAA's rush to judgment. It was an incredibly emotional time, days after the university-commissioned Freeh report lambasted top Penn State officials, including Paterno, for their failure to take appropriate action against Sandusky when allegations first surfaced against the assistant coach.
There was unprecedented pressure on the NCAA from both the public and media to act. There also was the fundamental question of whether the NCAA had a role in punishing Penn State. This was new territory, and the NCAA, under Emmert's leadership, had to decide whether to cross into it.
Two and a half years later, it's clear the association veered far off course.
The problems were there from the start in the bumbling way Emmert approached Erickson about the death penalty and consent decree.
In a
deposition obtained by USA Today
, Erickson said Emmert told him, "Presidents want blood. He said they would like to shut your program down for multiple years; never seen them so angry or upset. He thought the only way to head this off would be to craft a package of what he said would be very, very severe sanctions; that he might -- he emphasized might -- be willing to get the boards to look favorably upon."
The NCAA contends that the presidents discussed the death penalty early in the process but removed the option before voting on sanctions. But according to USA Today, on the same day the sanctions were announced, David Berst, the NCAA's vice president for Division I governance, wrote in an email to the Conference Commissioners Association that many presidents had favored the death penalty.
People lied here, either to Penn State or to one another. The NCAA, known for being slow, finalized the Penn State penalties only 11 days after the Freeh report went public. The climate might have demanded action, but prudence would have been a better approach. Or avoidance, as difficult as that would have been.
Not surprisingly, much of the focus is on the restored wins, Paterno's legacy and what's next.
Current
and
former
Penn State players are tweeting #409, a tribute to Paterno's restored wins total. Many want the Paterno statue restored outside Beaver Stadium.
But this is far from over.
The NCAA said it will "aggressively defend" itself in the lawsuit brought by Paterno's family, which in a statement called Friday's proposed settlement "a great victory for everyone who has fought for the truth in the Sandusky tragedy."
The Paterno family statement adds of the sanctions: "It was a grievously wrong action, precipitated by panic, rather than a thoughtful and careful examination of the facts."
After what has surfaced about the NCAA's methods, there's truth to that.
Asked Friday at the NCAA convention whether he had any regrets in pursuing penalties against Penn State, Emmert replied, "We don't ever want to have to repeat this exercise."
It's important to know your limitations.
The NCAA didn't in the summer of 2012, and it paid the price in the winter of 2015.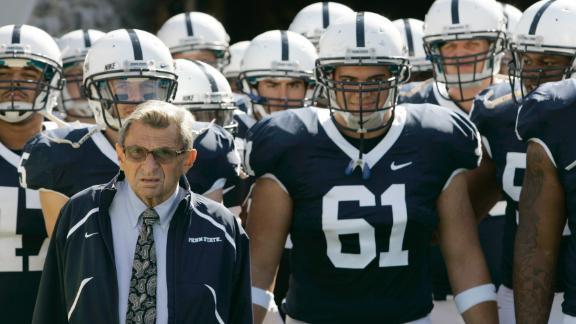 June, 19, 2014
6/19/14
10:30
AM ET
There will be familiar faces around weight rooms and in front of overhead projectors in football complexes this summer: coaches' faces.
Big deal.
Except it is a big deal, at least to the coaches who can now occupy strength and conditioning sessions and hold film study with their players.
The NCAA partially adopted a rule from the hardwood in October allowing a maximum of eight hours of mandatory workouts for players for eight weeks of the summer. What football coaches really care about, however, is the ability to watch those conditioning sessions and meet with their players for up to two hours each week. Any on-the-field work with footballs is still prohibited.
[+] Enlarge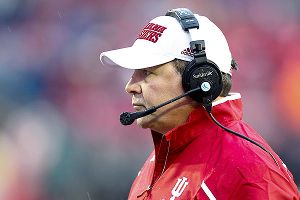 AP Photo/Andy ManisIndiana coach Kevin Wilson is one of many coaches that can visit with players in the summer rather than relying on "spies" to get information on offseason workouts.
"You don't need secret spies anymore," Indiana coach Kevin Wilson told ESPN.com. "You can just watch your football team now. ... It's common sense that if I'm in control and if I want to walk in the weight room and watch them lift weights then I can watch them lift weights."
It is uncharted territories for most coaches, who are used to relying on third-party word of mouth from the program's strength coach and upperclassmen on how summer workouts are progressing and whether freshmen are adjusting. Some coaches began mapping out how they would use their eight hours when the rule was passed, while others will take the pulse of the team and adjust accordingly. For some, they'll protect the details of those hour splits as if it were the playbook.
"We have to carve out [player meetings] with our strength coach, time that we can take away from his hours because you're not adding extra time," Notre Dame coach Brian Kelly said. "There is this model that I'm not interested in giving up to anybody, that we think gives us a balance."
Notre Dame is still debating between
Everett Golson
and
Malik Zaire
as its starting quarterback, so Kelly can spend part of the summer mentally preparing both for the upcoming competition. He will institute a "spring ball installation" of the core offensive plays and defensive structure, "something we've never been able to do in June." He'll also show his quarterbacks all of their mistakes in previous settings in hopes of limiting them once the season begins.
The vast majority, if not all, are in favor of the rule, although to varying degrees. Indiana's Wilson has walk-on players who could eventually earn a scholarship, so those players feel a need to attend summer workouts. He knows that means some will take out additional loans for summer school.
For the coaches, with summers now filled with prospect camps and recruiting visits, there are fewer hours to break away from the football facility. Wilson will take advantage of the change, but he wonders whether coaches will suffer from the burnout a 365-day coaching calendar lends itself to. The NCAA implemented a two-week summer dead period to combat the evolving recruiting calendar, but Wilson knows some coaches will stick around to watch tape with players.
"It's a little ironic they added a rule that for two weeks a recruit can't come in but added a rule so you can spend that time with your players," first-year Wake Forest coach Dave Clawson told ESPN.com.
Added Wilson: "How do we find the balance? It's nice we can work with them, but it's finding a balance where your coaches can find sanity. It's nice we can talk legally but … I think you can overcoach.
"It will be interesting after year one, whether coaches will say they want to do more or do less."
No school returns fewer starters in 2014 than Utah State, so coach Matt Wells is tasked with making sure those players who will be asked to step up this fall are physically and mentally able. He is also cognizant that his staff spending too much time with the team this summer could produce undesired results.
[+] Enlarge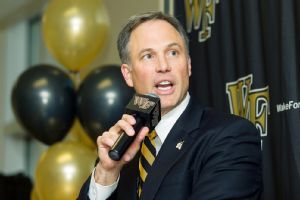 Brian Westerholt/Four Seam Images/AP ImagesThe new NCAA rules are a boon to first-year coaches such as Wake Forest's Dave Clawson, who get a chance to get acclimated with their new players.
In the early portion of the summer, Wells will meet with his team more often than he might in July. He will bring the program's newcomers up to speed with scheme and terminology in meetings, but he also doesn't want to overload them. With the upperclassmen, he believes it will become counterproductive to have extended and repetitive classroom sessions.
"We're going to still lean on player-led meetings, voluntary meetings the coaches aren't in because it builds leadership in your team and in position groups," Wells told ESPN.com. "We've benefitted from that the last three summers from an increased leadership role, and I think it's important for the players to have a break from the coaches."
For first-year coaches such as Clawson, the new rule will narrow the learning curve this fall as his players continue to adjust to his offensive and defensive ideologies. Clawson is seemingly like most coaches, though, in that he does not favor using the full two hours for Football 101 seminars. Wake Forest's new coach is not deviating much from the old summer status quo.
When he and his staff assessed the Demon Deacons following the spring, he felt strength and conditioning was lacking most. So when mandatory summer workouts kicked off, he decided he'd only spend 30 minutes to an hour each week meetings with players.
"It didn't make sense to take two hours away from that," he said.
That could change in the coming weeks, though. While some schools already have their entire incoming freshman class on campus, Clawson won't see all of his until July. He said the previous rule preventing coaches from working with freshmen lacked common sense.
"It used to be awful, the first time a freshman's ever on campus and you can't be around them," Clawson said. "When these guys first get here, you need to have some involvement. Part of recruiting is parents trusting you with their son, and first time they drop them off, to not be allowed around them was very hard."
March, 25, 2013
3/25/13
1:00
PM ET
NCAA president Mark Emmert appeared earlier Monday on ESPN Radio's "Mike & Mike in the Morning" show and discussed several topics, including the Penn State case.
In recent months, the
state of Pennsylvania
and
the NCAA
both have filed lawsuits against one another, the family of the late Penn State football coach Joe Paterno has
released its own report
criticizing the university-commissioned investigation conducted by former FBI director Louis Freeh, and Penn State received a
favorable progress report
from independent athletics integrity monitor George Mitchell. The latest report from Mitchell prompted some, like
ESPN.com's Gene Wojciechowski
, to call for the NCAA to reduce penalties on Penn State's football program, which include a postseason ban for three more years and significant scholarship losses.
Not surprisingly, Emmert, who last summer made an unprecedented decision to impose the penalties without conducting a full investigation -- the NCAA used the Freeh Report in lieu of its own probe -- said it's unlikely the sanctions will be reduced.
"We're confident in the decisions that we made," Emmert told hosts Mike Greenberg and Mike Golic. "The facts were the facts, and we operated on those. I guess if somebody were to come forward with a whole new set of facts, that would change the world, but otherwise, we're comfortable with where we are and know that we did it the right way."
Emmert went on to praise Penn State for being "incredibly cooperative" and is showing great responsibility in "working on changes in their processes and culture."
He couldn't comment on the pending lawsuits but said the NCAA is confident in its position and that he and the NCAA's executive committee assessed Penn State's case with "much greater deliberateness than the world thinks."
You can listen to the entire Emmert interview
here

(he begins discussing Penn State around the 5-minute mark).
March, 12, 2013
3/12/13
5:40
PM ET
The Big Ten coaches and athletic directors last month
asked the NCAA to reconsider three proposals
that would deregulate elements of football recruiting.
They got two-thirds of their wish last week, as the NCAA's Rules Working Group recommended that the
Division I Board of Directors suspend and modify the legislation
at its May 2 meeting in Indianapolis. The recommendations called for additional study and discussion about:
Proposal 11-2, which would eliminate the requirement that only a head coach or assistant coach can perform the functions of a recruiting coordinator. The result of this has been teams hiring player personnel/scouting types in bunches
Proposal 13-5-A, which would have eliminated restrictions on printed materials sent to prospects. Ohio State coach Urban Meyer said last month of the proposal, "Could you imagine what's going to be rolling into kids' driveways? Fatheads and magnets -- it's nonsense. ... I don't agree with that at all."
But no action was taken on arguably the most contentious proposal, 13-3, which would remove numerical limitations and modes of recruiting communication from college coaches to prospects, including text messaging.
The Big Ten coaches still want 13-3 to be tabled for further discussion. The coaches held a teleconference Tuesday and unanimously voted to recommend to their athletic directors and presidents to submit override votes if no action is taken.
"We're very thankful that the NCAA has reconsidered two of the three propositions that we made a statement regarding," Northwestern coach Pat Fitzgerald, who chairs the Big Ten coaches' group, told ESPN.com on Tuesday. "But we still feel strongly that 13-3 should be tabled also. We look forward to working with the NCAA in finding great solutions to not only the recruiting process, but also to make the great game of college football and the experience for our student-athletes even better."
The board must review any proposal that receives 75 override votes, and if 125 override votes are received by March 20, the legislation would be suspended pending a vote of members. The new legislation would go into effect Aug. 1 unless the board suspends it in May.
The coaches mainly want to be involved in the discussion, which they haven't been to this point. Although the Big Ten coaches have been the most vocal about this, coaches from other leagues feel similarly. It would be surprising if additional action isn't taken on 13-3.
March, 8, 2013
3/08/13
10:00
AM ET
The Big Ten was vocal in its concerns over some new recruiting rules passed by the NCAA, issuing a statement last month on behalf of coaches and athletic directors asking for those rules to be halted. Conference leaders will get their wish.
The NCAA's Rules Working Group, which initially drew up the plans, recommended that the Division I Board of Directors
suspend the two most controversial proposals
until it can review and modify them. Those proposed rules would have eliminated the limit on printed materials that could be sent to high school prospects and allow team officials other than the head coach or assistant coach the ability to recruit. Some schools had already started hiring staff members for the main purpose of recruiting.
The NCAA Board of Directors is scheduled to meet May 2, at which time it will consider these rules again.
Plenty of coaches and administrators outside the Big Ten had also expressed concerns about the ramifications of the new rules and a new recruiting arms race it might create. At least the NCAA was willing to listen to those concerns.
December, 31, 2012
12/31/12
1:30
PM ET
Ohio State posted one of the great "What might have been?" seasons in the history of college football this year.
Just imagine what might have happened had the unbeaten Buckeyes, say, anticipated oncoming NCAA sanctions and self-imposed a bowl ban last year, so they would have finished 6-6 instead of 6-7, thereby matching the most losses in school history.
[+] Enlarge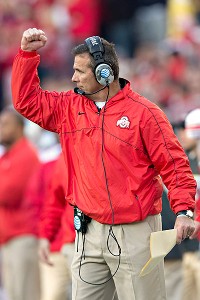 AP Photo/Cal Sport MediaUrban Meyer remembers clearly and fondly a win at Northwestern while at Bowling Green
That might have completely transformed the 2012-13 postseason. It certainly would have made for a much better Rose Bowl, however things played out.
Consider:
It's possible 12-0 Ohio State would be playing Notre Dame for the national title, instead of once-beaten Alabama. That would have ended the SEC's national title streak at six.
If the Buckeyes were headed to South Florida, the Rose Bowl would have had first pick among the remaining BCS bowl eligible teams. That probably would have given us a scintillating Florida-Stanford, SEC-Pac-12 matchup -- No. 3 vs. No. 6 -- instead of the Cardinal vs. five-loss, unranked Wisconsin.
Or, if the BCS standings still had Alabama ahead of Ohio State, which would have been highly controversial, Ohio State-Stanford would have been a classic Big Ten-Pac-12 matchup between elite, highly rated teams.
Of course, this speculation includes the assumption that the NCAA would have been satisfied with the Buckeyes just sitting out the 2011 postseason. It rarely pays to assume what the NCAA will do. Based on wanting to make an example out of Ohio State for a scandal that included extra benefits violations involving memorabilia, tattoos and cash, as well as a cover-up by former coach Jim Tressel, the NCAA quite possibly still could have banned the Buckeyes from the 2012 postseason.
But you never know.
That is the excruciating discussion Ohio State fans have had among themselves all season as the wins piled up in coach Urban Meyer's first campaign. Many have dumped the blame on athletic director Gene Smith, who was admittedly -- and curiously -- surprised when the NCAA opted to ban the Buckeyes from the 2012 postseason.
It's apparently a sore subject around Columbus. Ohio State declined an interview request for this story, with spokesman Jerry Emig saying "A would of, should of, could of, wouldn't read well."
It probably would have read better than the Badgers' record, which features more losses than five other Big Ten teams.
Of course, the Rose Bowl and its participants are trying to grin through the curious circumstances that created a less-than-thrilling matchup. As could be expected, Stanford folks are going out of their way to not slight Wisconsin. The Cardinal, said coach David Shaw, won't take the Badgers lightly.
"We're not built like that," he said. "Our guys aren't built like that. We talk a lot about respecting the game. The game deserves our respect. Our opponent deserves our respect. We can't change how we play based on who we play. How we play never changes. We're going to play fast, we're going to play physical, we're going to play our style of football, and we don't take our foot off the gas pedal. Never, ever anyway. We're going to respect these guys. These guys have earned our respect. Watch the film, look at the scoreboard, and watch the film, and these guys will get your respect."
There is good news here, for Ohio State, for the Rose Bowl and for the Pac-12.
While the Big Ten has been on an extended swoon in terms of national perception, and one of its top teams, Penn State, has been wiped off the map by NCAA sanctions, Ohio State is clearly rising under Meyer. The Buckeyes will be national title contenders next fall. Or, failing that, they could become a worthy Rose Bowl foe.
As college football moves forward in 2014 with a four-team playoff, the Pac-12 needs the Big Ten to produce elite teams -- and vice versa -- or the continuing and evolving Rose Bowl partnership will suffer.
This "What Might Have Been Season" for Ohio State, which has broadly affected teams coast-to-coast, is almost certainly an anomaly.
That might not salve the immediate pain for the Buckeyes, or help make this year's Rose Bowl any better, but a hopeful glance toward the horizon is all we have for you.
September, 24, 2012
9/24/12
4:15
PM ET
The NCAA has never punished a program quite like it did Penn State football and never without first conducting a formal investigation of its own.
NCAA president Mark Emmert hopes neither will happen again.
According to CBSsports.com's Dennis Dodd
, Emmert told a group of Division I faculty representatives Monday in Texas that he never wants to go down the road he did with Penn State in July. Emmert received the green light from the NCAA board to impose severe sanctions on Penn State. In every other infractions case, the NCAA's infractions committee imposes penalties following an investigation and a formal hearing.
"The authority I used in the Penn State case I never plan to use again," Emmert said.
Emmert also confirmed again what myself and others have reported since July -- that the NCAA used the Freeh Report in lieu of a formal investigation. Because Penn State's trustees commissioned the Freeh Report, the NCAA viewed it as an equivalent to a self-report in an infractions case.
If there had been no Freeh Report, the NCAA would have launched its own investigation, Emmert said, but only after all the legal proceedings had concluded with former Penn State officials Tim Curley and Gary Schultz. The Curley and Schultz trials begin in January, and Emmert said Monday the NCAA's investigation would have lasted a year.
If that had been the case, Penn State would have been spared sanctions two full seasons (2012, 2013). While there's little doubt the NCAA still would have imposed some punishments, everything would have been delayed.
More from Monday's meeting:
Emmert was asked specifically by former NCAA infractions committee chairman Jo Potuto if he was willing to say Penn State was a "one and done" case. He replied, "If you're asking me will there be a case like Penn State in next 10-15 years, I would certainly hope not."
Although Emmert had addressed the Freeh Report's significance before, his comments Monday are sure to add fuel for those who believe Penn State didn't receive due process before being hammered and that the Freeh Report isn't viable.
December, 16, 2011
12/16/11
8:36
AM ET
More than 40 years after his death, Vince Lombardi's brand is as strong as ever. Last year, a Broadway play based on his life debuted and ran for more than 200 shows. In January, a movie about the legendary coach featuring Robert De Niro as Lombardi will open in theaters nationwide. Framed copies of his "What It Takes To Be Number One" speech adorn people's offices around the country.
Similarly, Bear Bryant's legend lives on almost 30 years after his death.
[+] Enlarge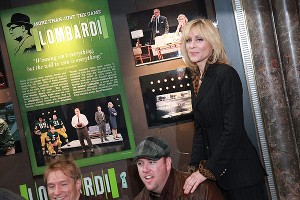 Astrid Stawiarz/Getty ImagesActors Bill Dawes, Chris Sullivan and Judith Light of "Lombardi" On Broadway.
Six months ago, Joe Paterno's legacy at Penn State and beyond was no doubt headed for a similar path.
But given Jerry Sandusky, we know where it stands now -- cemented with Penn State's
recent announcement
that the university will no longer handle licensing Paterno's name and likeness. Retailers can only sell merchandise that associates Paterno with Penn State until supplies run out, and manufacturers have 60 days to sell or dispose of such products. Mary Kay Hort, Paterno's daughter, will handle all future licensing for Paterno under JVP Properties.
It's a necessary end between the school and former coach, says Paul Swangard, managing director of the Warsaw Sports Marketing Center at the University of Oregon.
But the real loss from the controversy surrounding Paterno comes not for Penn State but for the Paterno family, and eventually, his estate.
Sales of licensed items such as T-shirts, coffee mugs and hats don't add up to all that much money in the end. But a Lombardi-like book, movie or play does.
"From a branded entertainment perspective, it is the rare brand that would finance or become a major sponsor of an original production about a disgraced sports figure, especially if related to sexual misconduct," says Frances Page, director of entertainment media for RJ Palmer.
Any future disagreements among family members about future licensing opportunities may lead to unauthorized biographies instead of revenue-producing opportunities, Page says.
Roger Goff, an attorney who has handled life rights deals for movies, says there is generally an initial option fee of anywhere from a few thousand dollars to $75,000. If the option is exercised and a movie goes forward, the license is approximately 1 percent to 2 percent of the movie's budget -- sometimes as high as 5 percent. Profits also might shared – sometimes 1 percent to 4 percent.
Gordon Firemark, an attorney who represents artists, writers, producers and directors in film and theater, says an initial fee in the high-five-figure to low-six-figure range would typically be split between the subject or his estate and writers. Once the show begins its run, royalties of 5 percent to 7.5 percent of the box office would be split between the same parties.
Lynn Guerin, president of Guerin Marketing, worked with John Wooden to create the Wooden Course and other methods to spread Coach Wooden's legendary Pyramid of Success. The Wooden Course is a classroom-based course on leadership customized for corporate clients. Guerin says a course can run anywhere from a couple of hundred dollars per person to more than $2,000 per person. Mercedes Benz, Chick-Fil-A and General Mills are some companies that have participated.
Of considering the Paterno legacy in a similar fashion, Guerin says: "In his lifetime, he has touched hundreds of young men and people who will forever know and love him because of what he did to help them become the men they've become. He's been a great role model. That'll never be forgotten. But the public legacy -- I would not be optimistic that someone could take the books written on him and develop this sort of course."
July, 31, 2008
7/31/08
4:44
PM ET
Posted by ESPN.com's Adam Rittenberg
PARK RIDGE, Ill. -- For Carol Iwaoka, the system of governance in college sports isn't that different from the one in Washington. There are representatives at different levels -- campus, conference and NCAA -- and a drawn-out system for approving legislation.
Iwaoka, who has been with the Big Ten since 1990, oversees it all as the league's associate commissioner for governance. She monitors proposals, corresponds regularly with the NCAA and works with the Big Ten's athletic administrators and faculty representatives. Since proposals are always coming up around the country, Iwaoka collaborates frequently with other conferences, particularly the five BCS leagues.
Here's how the proposal process works:
Coaches or schools submit proposals, which are discussed and voted on at meetings during the year.

Approved proposals go to the Big Ten's joint group, which includes the athletic director, the senior woman administrator and the faculty representative from each member school.

The joint group meets once a year and votes on whether or not to forward the proposals to the school presidents and/or the NCAA. Not every proposal approved by the joint committee must go to the presidents, but the presidents hold veto power. Iwaoka is responsible for preparing the joint group members for their annual meeting.
The NCAA Division I Management Council then reviews the proposals.

Some recent Big Ten-initiated proposals that went into action include instant replay for football and the universal start date for baseball. The Big Ten football coaches have approved a proposal to add a two-week "dead" period to the summer recruiting calendar. The proposal could go to the NCAA.
July, 31, 2008
7/31/08
2:23
PM ET
Posted by ESPN.com's Adam Rittenberg
PARK RIDGE, Ill. -- It's a little odd to enter Rich Falk's spacious office and see all of the furniture pushed into the corners. Falk, a former Northwestern basketball coach, explains that he and Big Ten commissioner Jim Delany, a former basketball captain at North Carolina, use the space to conduct defense demonstrations. It's the coach and player in them.
Falk points to the TV across from his desk and the item sitting above it. "That's the bad-call brick," he said. "It's foam rubber. I've been known to throw it once in a while."
As the Big Ten's associate commissioner for officiating programs and the primary supervisor for men's basketball officials, Falk spends most of the winter looking out for bad calls. He oversees every element of men's basketball officiating, from hiring officials to scheduling to payroll to evaluations to rules interpretations to arena security/atmosphere. Here's what I learned about each area:
Hiring/scheduling
Big Ten officials usually need 3-5 years of experience coaching in another league and must have worked a conference semifinal, a conference final or an NCAA tournament game before being hired. In some cases (usually nonconference games), less-experienced officials are used, mainly to reduce travel costs.
The league's compliance department conducts background checks on each official. The checks are now done annually after allegations of sexual harassment and child abuse surfaced about a football referee last year.

Falk makes the game assignments, which hinge on each official's rating. He never assigns an official more than three games a week, but since college basketball officials don't work for leagues, they can take on as many games as possible. "I don't get many rejections," Falk said. Because the officials are independent contractors, no work restrictions can be placed on them, and Falk admits that fatigue will affect performance.

Falk manages a $3.3 million budget that is used to compensate the officials. Though Big Ten member schools provide the funds, the league makes the payments directly. Falk said officials don't like getting paid by school officials, particularly in the locker room, as it hints of bias.

Evaluation process
Officials are evaluated after every game, receiving a rating between 1-5 (1 is the best). Falk and a staff of on-site officiating observers fill out evaluations, and the head referee must complete evaluations of himself and his two umpires. All evaluations are sent to the NCAA.
Officials also receive mid-year and end-of-season ratings, compiled by averaging the ratings from on-site observers, Big Ten coaches and Falk.
Officials consistently receiving ratings around 1 usually become referees, while those in the 2-3 range are first and second umpires. Falk investigates any ratings of 4 and 5, usually making a call to the official in question. "We can hire and drop people at will," he said. The officials receiving the highest ratings get the most assignments and, in turn, the best chance for exposure. Those with diminishing ratings over time receive fewer assignments. "Big Ten games are on TV, in front of [the NCAA] tournament committee," Falk said. "That serves the officials well for selection into the tournament."
The coaches also evaluate officials and can lodge complaints to Falk, by phone or by sending video of disputed calls. Surprisingly, Falk estimates he received fewer than five calls from Big Ten coaches last season. Coaches fill out midseason evaluations of the officials that only Falk and Delany are allowed to see. "Coaches need to know they have input," Falk said. "They do not have control." The Big Ten and other leagues face severe penalties if they ever blacklist an official based on recommendations from coaches.
Game environment
Before the season, Falk visits every Big Ten school, meeting with players and coaches to discuss new rules and other officiating changes. He also meets with the game-operations staff -- scorer's table officials, the public-address announcer, even the band directors -- to ensure the environments are secure and appropriate for officials.

He usually sticks around for an exhibition game to observe the game operations. "Officials need to know they're respected and can relax and do their job," Falk said.

During the season, Falk spends much of his time in the Big Ten's TV command center, located on the first floor of the league office. The room contains TVs tuned to every Big Ten game and phones so that Falk and other league officials can reach the networks broadcasting the games to interpret rules or make corrections. Dave Parry, the Big Ten's coordinator of football officials, spends every fall Saturday in the room.
Big Ten assistant commissioner for technology Mike McComiskey joins Parry in the control room during the fall. In addition to running the Big Ten's Web site and working with the league's television partners, McComiskey monitors instant replay. If there's a technical issue in the control room or a major instant replay malfunction around the league, McComiskey steps in. After being the "test conference" for instant replay, McComiskey said the system has functioned well since being turned over to a third party. Hi-Definition currently is too expensive to incorporate with instant replay, but McComiskey expects it to be added in the next 1-2 years. The Big Ten could be the first league to try Hi-Def with its instant replay.