Big Ten:

Nebraska Big Ten arrival
July, 1, 2011
7/01/11
4:08
PM ET
By
ESPN.com staff
| ESPN.com
Adam Rittenberg thinks Nebraska will
boast the best defense in the Big Ten.

He also talks about Nebraska's speed and says the Big Ten has been transitioning to that style of game.
July, 1, 2011
7/01/11
10:30
AM ET
By
ESPN.com staff
| ESPN.com

Would a conference crown for Nebraska during its first Big Ten season be a good thing or a bad thing for the league? Bloggers Brian Bennett and Adam Rittenberg break it down.
July, 1, 2011
7/01/11
10:00
AM ET
When Dave Rimington and Boomer Esiason are out raising funds for the Boomer Esiason Foundation, they encounter plenty of people who want to talk football.
Not surprisingly, Esiason gets most of the attention.
"A lot of people who love football gravitate toward the quarterback," Rimington said.
Rimington understands. He's a center, after all. The best center in college football history, but still a center.
But there's one place Rimington and Esiason visit where their roles reverse -- Nebraska.
"When I go back with Boomer, he laughs and goes, 'They don't even know who I am here! They know more about a center than they do a quarterback,'" Rimington said.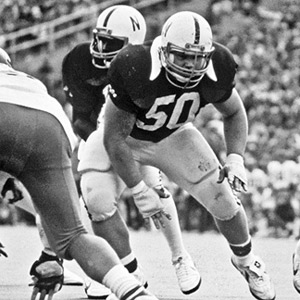 Nebraska Athletic DepartmentDave Rimington is still the only two-time Outland Trophy winner and the only offensive lineman to win Big Eight Player of the Year.
Rimington provided Nebraskans plenty of reasons never to forget him.
The Omaha native is one of the most decorated players in Huskers history. A two-time first-team All-American, Rimington anchored a line that propelled Nebraska's famed rushing attack in the early 1980s.
Rimington is still the only two-time Outland Trophy winner and became the first and only offensive lineman to win Big Eight Offensive Player of the Year honors, doing so in 1981. He earned first-team All-Big Eight honors in each of his final three seasons and capped his career with the Lombardi Trophy in 1982, finishing fifth in Heisman Trophy voting that year.
As ESPN.com wraps up its
Simply Saturday
series, a look at 50 college superstars who didn't quite replicate their success in the NFL, Rimington comes in at No. 7 on the rundown.
The former Nebraska star still has ties to football. The
Dave Rimington Trophy
is awarded annually to the nation's top center and presented every January in Omaha. Rimington also has held a summer football camp in Omaha since 1999 and attends two or three Huskers games per year.
But Rimington's primary focus is more important. Since 1995, he has served as president of the Boomer Esiason Foundation, which raises funds to support cystic fibrosis research and heightens awareness about the disease.
Rimington has been with the foundation since its inception and seen it go from generating $60,000 at its first event to now closing in on $100 million raised.
"If you looked at two former football players starting a foundation, it had disaster written all over it," Rimington said. "But Boomer was extremely motivated and I wanted to do as best I could for a friend."
It all began with a phone call.
Rimington had completed his business degree at Wisconsin -- he served as a graduate assistant football coach during his time in Madison -- and was living in Hong Kong with his wife, Lisa. He was studying Mandarin and looking for work when he received a call from Esiason, his close friend former teammate with the Cincinnati Bengals.
Esiason said he had some bad news. His son, Gunnar, had been diagnosed with cystic fibrosis, a genetic disorder that impacts the entire body.
"We were really good friends," said Rimington, who was in Esiason's wedding and visited Gunnar soon after his birth. "He asked me if I'd come back to New York to help him out, and I've been here ever since."
The foundation started with just three employees. They couldn't afford a Web designer, so Rimington learned HTML and Photoshop. He wore "a lot of different hats" in the early going.
Other than the Cystic Fibrosis Foundation, there were few charitable outlets focused on the disease. Rimington and Esiason looked at ways to leverage Esiason's celebrity -- he was playing for the New York Jets at the time -- to their advantage. Rimington's economics background also helped.
The foundation should reach the $100 million mark within the next year.
"If you had told me that when we first started, I would have laughed," Rimington said. "It's worked out pretty well."
Things worked out pretty well for Rimington at Nebraska, where he started three seasons and earned four letters. He helped the Huskers win back-to-back league championships and the 1983 Orange Bowl title.
Rimington thinks another lineman eventually will win multiple Outland Trophies, although he nearly didn't give himself the chance.
"The money is so much bigger now, and it's a lot bigger temptation to leave early," he said. "I almost tried. It got to the point where I won it the first time and I had really bad knees [and thought], 'Well, maybe I should try to jump right now.' I'm so glad I stuck around and played that senior year."
Rimington was a first-round pick of the Bengals in the 1983 draft and made the NFL's All-Rookie team that season. But his five years in Cincinnati didn't go smoothly and
ended with controversy
.
The Bengals released Rimington before the 1988 season after saying he failed a physical exam -- a questionable outcome after Philadelphia cleared Rimington to play immediately. He retired after the 1989 season.
"I went from one of the best organizations in college football to probably one of the worst organizations in the NFL," Rimington said. "I went from a weight room that was half the size of a football field to a weight room that looked like a junior high weight room, and the strength coach didn't want anybody to lift. ... It was ridiculous the stuff we had to go through there. I just had to shake my head. It's like the black hole of professional football.
"Good players go there and you never hear from them again."
Fortunately, that's not the case with Rimington, who is still doing plenty of good things with the Boomer Esiason Foundation.
"It's been a learning experience for me," he said, "and a lot of fun."
July, 1, 2011
7/01/11
7:00
AM ET
After guiding Nebraska to the doorstep of two Big 12 championships, Bo Pelini is ready to reach the next level in a new league.
Pelini, who enters his fourth year as Huskers coach, leads a talented Nebraska team into the Big Ten this season. Nebraska has recorded back-to-back 10-win seasons and returns a squad Pelini thinks can compete for a championship in Year 1. While many consider the Huskers as a potential favorite in the Big Ten, Pelini's group must survive a difficult schedule and adjust to a new offensive vision, not to mention eight new conference opponents.
Nebraska's Big Ten membership is now official, and Pelini recently took some time to discuss the move and his team.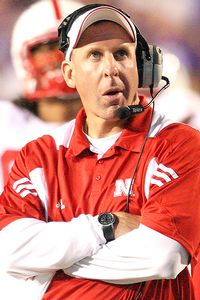 Scott Sewell/Icon SMIWill Bo Pelini and Nebraska be able to win a Big 10 title during their first year in the conference?
How would you describe the transition process of getting ready for the Big Ten?
Bo Pelini:
It has required some extra time, trying to familiarize ourselves with some new opponents. It's almost like taking a new job. It's a job in a new conference, and there's a lot of things to do to acquaint yourselves with what's going on. We've done some work on the Big Ten teams, made some notes, talked about it and watched them. So hopefully that will help us, and when each particular game week comes along, we've already become familiar with what they like to do and what they don't like to do. There are some challenges with it, but you look forward to those.
Some of your players started watching film on Big Ten teams this spring. Did you encourage them to ramp it up this summer?
BP:
Not really. I'm sure guys have looked a little bit, but we really concern ourselves with us at this time of year, through the spring and into the summer. We want our players to work on themselves, learning our offense, our defense, our special teams better. We're taking care of us.
When you've reviewed tape of Big Ten teams, has anything surprised you?
BP:
About what I expected. There's nothing earth-shattering that I said, 'Wow, I didn't expect that.' They're good football teams, they're talented, they're well coached and I expected that. I had a lot of respect for the Big Ten and what it represents for a long time. It sure will be a good challenge for us.
How challenging will it be for the Big Ten to prepare for what you do?
BP:
I think we do some things that are going to present some challenges for people. That's why we do them. I think we're going to be a good football team. How good? It's what we earn. It's one thing watching teams on film. I'm sure we'll have a whole different appreciation and view of them once we've actually gone through the whole schedule. Obviously going to some new venues and playing on the road in some stadiums and atmospheres we haven't been to yet, that will be a challenge for us. But as a whole, players, coaches, everybody, we're looking forward to it.
Do you sense the excitement among the players?
BP:
They're looking forward to it. They're hungry to win a championship, just because it's our next opportunity.
How has being so close the last few years motivated your team?
BP:
They're always motivated, but we were really close. We played in two Big 12 championships in a row and lost two heart-breakers. It makes you hungry. We're really black and white about it. We didn't win because we didn't take advantage of our opportunities. That means you've got to prepare better, you've got to work better and you've got to become a better football team. That's what we're concentrating on.
July, 1, 2011
7/01/11
6:30
AM ET
The Big Ten officially grows to 12 today, as Nebraska becomes a full member of the league. To commemorate the occasion, I spoke with the man who was most influential in making this move happen: Big Ten commissioner Jim Delany.
What will you and the Big Ten office do to commemorate Nebraska's first official day as a member of the league?
[+] Enlarge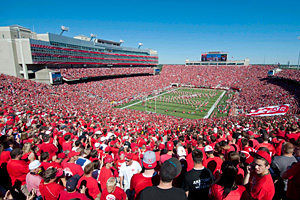 AP Photo/Dave WeaverNebraska enters the Big Ten with one of the most passionate fan bases in the nation.
Jim Delany:
The Big Ten Network will have a good portion of the day on Nebraska's great games and national championship games. The conference is not going to do a whole lot. We have a barbecue with our staff outside our office, and I think everyone will be wearing red. I ran into Nebraska's marketing director in Omaha a few weeks ago, and she said she would send us some hot dogs that were red, but I haven't seen them yet. But hot dogs are red anyway.
There will be a proclamation by the governor in Nebraska. I've got an op-ed piece that's running in the Omaha paper. A lot of our presidents and the CIC [the league's internal academic consortium] sent them a letter of welcome. It's a good day to celebrate and recognize.
What does this day mean for you, as a culmination of all the work you and the league did on expansion?

JD:
It's been a busy year for them, planning and getting ready to come in. And it's been busy for us, planning and getting ready for them to come in. I think our integration meetings have really worked well, whether it's our staff and their staff meeting, or them attending our conference meetings at all levels -- presidential, faculty, coaches, ADs. It's been pretty seamless. They didn't have a vote, but they've participated and spoken up and we wanted to know their opinions. So I think we're ready.
I think one year is necessary, but I don't think more than a year helps very much, to be a lame duck. I think it's going to be great.
Have you ever been to a game in Lincoln?

JD:
I have not. We'll be at some of the early events -- Nebraska vs. Wisconsin in the first conference game, then Ohio State and Nebraska in the first home conference game. I'll be speaking to some of their fans and to a constitutional law class, and then go to a game. We're also hosting a reception for a couple of hundred Nebraska boosters at the Wisconsin game.
You talked about this being a seamless transition. That wasn't really the case when Penn State joined. How has this experience been different and improved?

JD:
[When Penn State joined], we had a new commissioner who was a little inexperienced. We had presidential governance of the conference that had only been incorporated that way for a couple of years. And I don't think, to be honest with you, that the grassroots membership was ready for the change. There was no reason why they would be ready. No one else had really expanded, so there wasn't a textbook on it. There had been some new conferences come into play, like the Big East. But there had been very little change to major conferences -- I think Arizona and Arizona State joined the Pac-10 in 1978. South Carolina left the ACC in 1971, but that was a departure.
I thought it was the right decision, but I also at the time and really in retrospect realized the path would be bumpy, because there was such a lack of consultation. So that put us in a situation where we were playing catchup with our own people. Nobody really contested Penn State as a member or their value as an institution or how they might assist the conference growth. But everybody, except for the presidents, contested the methodology, and probably rightfully so.
I can tell you this has been a lot smoother; there has been a lot better planning, a lot more grassroots receptivity. Our grassroots people had been saying to us for a long period of time, "Let's get to 12." We did a lot of studying. We probably spent nine months to a year looking at what worked in the past and what hasn't worked and how we can avoid those things that didn't work and encourage things that have worked. We did quite a bit of background work on institutions and the marketplace, and I think we served ourselves well with our upfront transparency.
You obviously did a lot of homework on Nebraska before expansion. But since then, now that you've gotten to know the people and the place even better, what have you learned about the culture around the school that makes it unique or makes it a good fit with the Big Ten?

JD:
I think fit is the right word. We really haven't learned anything that's inconsistent with what we thought about them as a result of the due diligence process. The breadth of their programs, the student-athletes' commitment and the passion of the fans and tradition are what we expected. I think maybe the surprising thing is that, in any kind of major change, if you get 70 or maybe 75 percent support, you're way ahead of curve. And I will tell you that inside the Big Ten, inside Nebraska, the level of support has exceeded 90 percent, maybe even more. People have been very enthusiastic at every level -- coaches, fans, faculty. That's in our area of the country and their area of the country.
I think that demonstrates the degree of commonality and fit. We didn't know where we'd end up when we started this process. I think everybody is pleased with that degree of acceptance and integration.
How long do you think it will take before people naturally associate Nebraska and the Big Ten?

JD:
I think it will take a little while. In looking at the past, having experienced it, it does take a while for people to change their emotional compass, to change their feeling of belonging. So that's why we've spent a lot of time in the last year trying to expedite that, to make people feel welcome and comfortable. I expect it's natural that people will have an adjustment cycle. But I think if we really work at it and they really work at it, hopefully it won't take a generation; maybe only half a generation before everybody feels really good.
With Penn State, they can smile and say it's nice not to be the new guy on the block. Nobody in that school, or at least the majority of people, have ever known anything but the Big Ten. It's been 22 years now.
There are some obvious and natural geographic rivals for the Cornhuskers in the Big Ten. But how long do you think it takes to develop real rivalries, games that everyone looks forward to as a big event each year?

JD:
Rivalry games are interesting. The great rivalry games, many of them have been going about 50 to 100 years. You don't create a rivalry that's, say, comparable to Nebraska-Oklahoma or Michigan-Ohio State in one or two or three or four or even five years. You need memories. You need some success. You need some disappointment. And you probably need some hot sauce, too, to throw into the mix.
But I think they've got a lot of natural rivalries, with Minnesota and Iowa, Wisconsin, Penn State, Michigan, Ohio State. I think those games will all pop -- competitively, they'll all pop off the screen right away for the fans, and players. But a rivalry is different from a game that pops. A rivalry takes time to develop, and I don't know exactly what the gestation period for those will be. I think it will largely be a function of competitive play and results.
Speaking of results, let's say that Nebraska wins the Big Ten title in its first year. Is that good for the league, bad for the league or insignificant?
JD:
I think if they win it on the field, then we'll salute them as a worthy champion. We've had a lot of parity. I think we've only had two institutions since I've been here who haven't won a Big Ten title and been to a Rose Bowl -- Minnesota and Indiana. ... So anything can happen, including Nebraska coming in and winning in Year 1.
What would it mean? I'm sure a lot of people would make speculative comments or opine about it. But to me, it just means they were the best team on the field for eight games and therefore would be the full deserving champions. I think a better window is 10 years, not one year.
If Nebraska can come in and maintain a high level of play, even contend for national championships, how much stronger would that make the league as a whole?

JD:
I
think they've got a fabulous brand, and they've had very good teams, great teams and good teams. They've had a couple of disappointing seasons like every great power, whether that's Oklahoma or Texas, which was under .500 last year. Southern Cal has been down, Michigan has been down, so that happens.
I think what they have is a national recruiting area, a national reputation, and when you add them to the games we already have, I don't think there's any question the quality of games that's offered to our fans is pretty special.
How confident are you that the Big Ten Network will be available to all Nebraskans by the start of the season?

JD:
I'm hopeful. I've always been hopeful about distribution. I'm a little too experienced to be confident. I feel like it's a natural thing. I also feel like Nebraska deserves and we deserve to have an equal level of coverage and quality as our other eight states. So I would say we're hopeful about it, but beyond that I can't really put another adjective that's better than that, having been through distribution situations before.
I was hopeful in other situations, but circumstances happened. We had 30 million homes in our first 30 days, but it took another year to bring on more partners, and it was so difficult. I think we're making very good progress. DirecTV is on, and we're making very good progress with three or four companies. From what I heard few weeks ago, things are not going as well with Time Warner.
Does the fact that Nebraska is no longer in the AAU cause you or any of the league presidents concern?

JD:
Not really. I think they knew the AAU was looking at their membership for a decade. For us, it was an indicator, and we were glad they were a member of it, but wasn't our criteria. Otherwise, we wouldn't have had conversations with other institutions over the years who are not members. They are a member of the Carnegie Foundation Top 100 research institutions, as all of our schools are. They are a full unanimous member of CIC. Whatever metric AAU uses, it's not ours.
Lastly, have you learned the words to Nebraska's fight song yet?

JD:
I don't know if I know the fight songs for any of our schools; I'm not that musically inclined. I enjoy them all, but I couldn't sing them all. I can do North Carolina's, though.
June, 30, 2011
6/30/11
11:00
AM ET
Bo Pelini won't be trading his
signature ballcap
for one of
these
on Friday.

The Nebraska coach has no big plans to celebrate the Huskers' official arrival as a member of the Big Ten. Yes, I know you're all shocked.
"It doesn't signify anything for me," Pelini said. "It's just a date, as far as I'm concerned."
Friday will be a slightly bigger deal to Nebraska fans and to the school. After being approved for admission into the Big Ten more than a year ago, Nebraska can finally call itself an official member of the league.
The school will recognize the occasion with a brief, informal ceremony at 9 a.m. local time Friday. Chancellor Harvey Perlman will make a celebratory announcement and read some welcoming statements from key figures from the Big Ten. Gov. Dave Heineman will be on hand to sign a proclamation recognizing Nebraska's entry into the Big Ten.
The event will be held at the Van Brunt Visitors Center at the city campus and is open to the public.
Programming note:
Brian and I will be celebrating Nebraska's Big Ten arrival throughout Friday, so be sure and check the blog early and often.