April, 23, 2013
4/23/13
9:00
AM ET
Unless you've been living in a world without ESPN, the Internet or sports talk radio, you're well aware that the NFL draft begins Thursday night.
What will the weekend hold for Big Ten products? Who will be the top pick from the league? Which players should be garnering more buzz? Big Ten bloggers Adam Rittenberg and Brian Bennett try to answer those questions and more in this blog debate:
Brian Bennett:
Adam, another NFL draft is nearly upon us. What better way to spend 96 hours of a spring weekend than listening to analysts describe a player's upside? At least we won't have to read any more 2013 mock drafts after Thursday afternoon.
But let's get down to Big Ten business. According to our colleagues with the good hair -- Mel Kiper Jr. and Todd McShay -- the league very well
might not produce a first-round pick
for the first time since the AFL-NFL merger. Last year, the first Big Ten player taken was all the way down at No. 23. What's going on here? Is there that big of a talent shortage in the conference, or is this just a blip? And do you think any Big Ten players hear their names called on Thursday night?
[+] Enlarge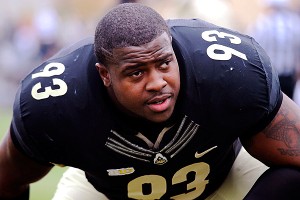 AP Photo/Michael ConroyKawann Short's versatility could make him too attractive for NFL teams to pass up in the draft's first round.
Adam Rittenberg:
I think we can match them follicle for follicle, don't you? The Big Ten's draft downturn has been a trend for a number of years. First, the league was falling out of the top 10 consistently. Then, it started to only see selections in the final 10-12 picks. Now it might fall out of the first round entirely. So, yes, there is a talent shortage at the very highest levels and especially at certain positions. The three we've written about most often are quarterback (last first round pick: Kerry Collins), cornerback and wide receiver. I still think the Big Ten produces a wealth of great linemen on both sides of the ball, as well as its share of quality running backs. But the running back position isn't valued nearly as high in the first round as cornerback and quarterback.
I thought the Big Ten still would have a first-round pick even after Michigan LT
Taylor Lewan
announced he would return in 2012. But now I'm not so sure. Ohio State DT
Johnathan Hankins
and Purdue DT
Kawann Short
both could hear their names called, but it's far from a guarantee.
What do you think this year's draft says about the state of the Big Ten?
Brian Bennett:
I think you hit on several of the reasons, and I'd add in the population and demographic shifts as another. Of course, if Lewan came out as expected, he'd probably be a top-15 pick. And if the NFL were to do last year's draft over, I'm pretty sure Russell Wilson would go in the first round, right?
Still, the downturn in top-level NFL talent, at least from a draft perspective, has to trouble the conference and offers a possible explanation as to why the Big Ten has struggled on the big stage of late. I believe that the way Urban Meyer and Brady Hoke are recruiting will mean more elite players will be entering the pros in the near future, but we shall see.
Let's talk about this year's prospects. Who do you think will be the first Big Ten player selected this weekend? And which Big Ten product do you think
should
be the first one taken?
Adam Rittenberg:
As much as I'd love to see Wisconsin RB
Montee Ball
work his way into the first round, I think the first pick will be either Short or Hankins. Both are potentially great NFL defensive linemen, but I think Short has a little more versatility to his game and can be an effective pass-rusher in addition to his run-stuffing duties. Short wasn't healthy for a chunk of last season, which led to some erratic play, but he has the ability to dominate inside. So does Hankins, but he's more of a space-eater than a difference-maker on the pass rush. I think Short should be the first Big Ten player taken, and I think he will be.
You mention Wilson, who was arguably the biggest steal of the 2012 draft. Which Big Ten player will fill that role this year? Who are the value picks out there from the league?
Brian Bennett:
Wilson slipped in last year's draft because of concerns over his height. And I think there may be a similar thing going on with Ohio State's
John Simon
. He's viewed as a tweener because he's only 6-foot-1, but there's no questioning Simon's motor, heart or leadership. As long as he can stay healthy, he'll be a productive player for a long time in the NFL.
Penn State's
Jordan Hill
is another guy who's shorter than the prototype for a defensive lineman but who also makes up for it with his performance and drive. I also believe Nebraska's
Rex Burkhead
is being undervalued, though running backs aren't the commodities they once were at the next level. A knee injury hurt Burkhead's stock, but he showed at the combine what kind of athlete he is. And I think Michigan State cornerback
Johnny Adams
, who was looked at as a first-round draft pick not that long ago, could be had at a good price this weekend.
Which players do you think are being undervalued? And what do you see as the draft fate for Michigan's
Denard Robinson
?
[+] Enlarge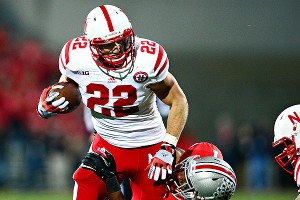 Andrew Weber/US PresswireRex Burkhead showed during pre-draft workouts that he's recovered from a 2012 knee injury.
Adam Rittenberg:
You bring up some really interesting names, BB, especially Burkhead, who, if healthy and in the right system, could be a very valuable NFL player. Simon is another guy who needs to be in the right system and must overcome measurables that aren't ideal for the NFL at defensive end or outside linebacker. I wouldn't forget the group of Illinois defensive linemen --
Michael Buchanan
,
Akeem Spence
and
Glenn Foster
, who wowed the scouts during pro day in Champaign. It's easy to dismiss them because they played on a terrible team, but all three have been on the NFL radar for some time -- especially Spence and Buchanan -- and have the talent to succeed at the pro level.
Ohio State tackle
Reid Fragel
is another guy who could be a great value, although his stock seems to be rising quickly. He started his career as a tight end but really thrived last year at the tackle spot.
Robinson will be one of the weekend's top story lines. He's clearly a work in progress as a receiver, but you can't teach that speed and explosiveness. Robinson is a risk-reward guy, but I'd be surprised if he's still on the board midway through the third round.
The Big Ten sends a fairly small contingent of underclassmen to this year's draft. How do you think those players pan out?
Brian Bennett:
Michigan State has three of 'em in
Le'Veon Bell
,
Dion Sims
and
William Gholston
. I think there's a chance that some team reaches for Bell in the first round, and he's got the body to be a very good NFL running back for a long time. Sims also presents an intriguing option for teams, especially with the increased use of tight ends in the pro passing game. Despite Gholston's impressive physical traits, he didn't test that well in Indianapolis and had a questionable motor in college. Teams could shy away from him.
You mentioned Spence from Illinois, a guy whose stock seemed to climb as he showed some great strength in workouts. Hankins will be a second-rounder at worst. Then there's Wisconsin center
Travis Frederick
, who posted a slow sprint time at the combine. But how many times do centers need to sprint? I still think he'll be a good player, and one who shouldn't fall past the second round.
This is getting to be as long as the draft itself, so we should probably start wrapping things up. Any final thoughts on the Big Ten's outlook this weekend?
Adam Rittenberg:
The big story lines for me, other than whether the Big Ten has a player drafted in the first round, are where running backs like Ball, Bell and Burkhead land, the Denard Watch, how the underclassmen fare and where the potential sleepers we outlined above end up. This won't be a transformative draft for the Big Ten because it lacks elite prospects at the positions we mentioned earlier, especially cornerback and quarterback. But there are always a few surprises along the way. As a Chicago Bears fan, I'm always interested to see if a Big Ten player ends up at Halas Hall.
What Big Ten story lines intrigue you heading into the draft?
Brian Bennett:
You mentioned most of the big ones. I'll also be interested to see if any team takes a chance on Penn State's
Michael Mauti
and whether Iowa's
James Vandenberg
gets drafted after a disappointing senior year. I predict the Big Ten keeps its first-round streak alive -- barely -- and that Robinson stays in Michigan when the Detroit Lions draft him in the fourth round.
And then we can all put the 2013 NFL draft to bed -- and start studying those 2014 mock drafts.
April, 18, 2013
4/18/13
3:30
PM ET
The NFL draft begins a week from today, with the first round taking center stage next Thursday night. But will the Big Ten have any players celebrating before Friday's second round?
Prospects for that are starting to look slim, at least according to our ESPN.com draft experts.
Mel Kiper Jr.'s
latest Big Board

, which ranks the top 25 overall players in the draft, does not contain a single Big Ten product. His
Grade A draft

, in which he presents the best pick for every team, has Wisconsin's
Montee Ball
as the first league player taken, at No. 37 overall. Todd McShay's
most recent mock draft

likewise does not include any Big Ten players in the first round.
How rare would this be? The Big Ten has produced at least one first-round draft pick in every year since the NFL-AFL merger. The league had four first-round picks last year, though the first one didn't arrive until No. 23 (Iowa's Riley Reiff).
Of course, predicting the draft -- especially the back end of the first round -- is no exact science, and it only takes one team to like a Big Ten player enough to ensure that the league's first-round streak survives. Ohio State's
Johnathan Hankins
, Purdue's
Kawann Short
, Wisconsin's Ball and
Travis Frederick
and Michigan State's
Le'Veon Bell
all have a chance at cracking the first 32 overall picks.
McShay has a
list of draft talent tiers

at each position, which gives you an idea of where the Big Ten draft entrants stand. The list includes seven tiers and 109 total players. Here's where the Big Ten checked in on McShay's scale:
Tier 5 -- Value picks early in Round 2 should they fall out of Round 1.
No. 32 overall: Kawann Short, DT, Purdue
Tier 6 -- Worthy of mid-to-late-second-round consideration.
No. 56: Johnathan Hankins, DT, Ohio State
No. 64: Travis Frederick, C, Wisconsin
Tier 7 -- Solid third-round prospects.
No 68: Montee Ball, RB, Wisconsin
No. 77:
Akeem Spence
, DT, Illinois
No. 84: Le'Veon Bell, RB, Michigan State
No. 94:
William Gholston
, DE, Michigan State
No. 96:
Michael Buchanan
, DE, Illinois
No. 98:
John Simon
, DE, Ohio State
No. 106:
Hugh Thornton
, OT, Illinois
We'll see if the experts are right, and had Michigan's
Taylor Lewan
not surprised everybody by returning to school, there would be no doubt about the Big Ten's first-round status. Still, next Thursday night is shaping up as potentially a quiet one for the league.
February, 26, 2013
2/26/13
10:00
AM ET
We've
already told you
how the Big Ten players from the offensive position groups fared at the NFL combine. On Monday, defensive linemen and linebackers had their day in the spotlight. (Defensive backs will wrap up the combine today).
Here is how Big Ten products fared in those two position groups during their job auditions in Indianapolis:

Defensive line
Illinois' Akeem Spence remains third among all combine performers with his 37 reps on the 225-pound bench press.
Former Illini teammate Michael Buchanan was ninth among defensive linemen in the 40-yard dash at 4.78 seconds. Buchanan also tied for 11th in vertical jump at 33 inches.
Ohio State's Nathan Williams ran a 4.88 in the 40. Michigan State's William Gholston posted a 4.96, while Illinois' Spence was at 5.15 and Penn State's Jordan Hill had a 5.23. Ohio State's Johnathan Hankins ran a 5.31.
Williams ranked sixth in vertical leap at 35 inches.
Hill did 28 reps on the bench press, while Williams finished 24, Gholston 23 and Buchanan 22. Gholston, who left Michigan State after his junior year, did not test among the leaders in any category.
Purdue's Kawann Short (hamstring) and Ohio State's John Simon (shoulder) did not work out.
Linebackers
Penn State's Michael Mauti only did the bench press because of his knee injury, but he impressed there with 28 reps at 225 pounds. That was good for third among all linebackers. Ohio State's Etienne Sabino was next best among Big Ten linebackers with 24. Penn State's Gerald Hodges did 22.
Sabino also ran the best 40-yard dash time of any Big Ten linebacker, posting a 4.75 time that was tied for 14th in his position group. Hodges was right behind him at 4.78, and both were faster than Notre Dame's Manti Te'o (4.82).
Hodges was also seventh in the long jump at 119 inches.
Wisconsin's Mike Taylor (sports hernia) did not work out.
April, 27, 2012
4/27/12
9:45
AM ET
On the first day of the NFL draft, the Big Ten was like one of those players sitting in the green room waiting and waiting for his name to get called as everyone starts to feel really uncomfortable.
The first Big Ten player to go off the board was Iowa's
Riley Reiff
, who had been projected as high as the Top 10 or 15 in mock drafts just a few weeks ago. He went 23rd. According to ESPN Stats & Info, it matches the lowest-ever top pick from the league; Minnesota offensive lineman John Williams went No. 23 in 1968.
But after the long wait, the Big Ten had four of the final 10 picks of the first round, including a surprise second selection for Illinois. Let's review:

No. 23: Riley Reiff, OT, Iowa to Detroit Lions
Todd McShay video analysis
here
.
Quotable: ""Words can't describe how happy I am right now," Reiff said. "I'm super excited to be a Lion. I really can't put into words what I'm actually feeling, but I'm excited. The Lion are a great team, and there will be great seasons ahead."
My take: Reiff slipped pretty far from his original projection, but he was still the second offensive lineman drafted, as expected. And he ended up in a good situation, with a young team that appears to be on the rise. Detroit has five starters on the line, so he can learn for a year before potentially taking over for
Jeff Backus
.

No. 26: Whitney Mercilus, DE, Illinois to Houston
Todd McShay video analysis
here
.
Quotable: "When my name was called my emotions just flooded," Mercilus said. "I was getting a little nervous, because I thought I might go a little higher, so I was really happy when I got the call. I can't wait to go to work with the
Houston Texans
. From day one I want to go prove to them that they spent their money well on me."
My take: Mercilus is another guy who could have gone higher, but ends up on a potential playoff team. With
Mario Williams
gone, he has a chance to step in right away and start at defensive end. If he plays with the same high motor and intensity he did last season with the Illini, he should be an effective pass-rusher, though he'll need to bulk up a little.

No. 27: Kevin Zeitler, OG, Wisconsin to Cincinnati
Todd McShay video analysis
here
.
Quotable: "I had a good senior year," Zeitler said. "I tried to put everything I had on the field. Once the draft process started, I just tried to prove to coaches, off the field I take it just as seriously as on the field. I try to improve every day, any way I can. I guess it stuck."
My take: The first-round selection capped a meteoric rise for Zeitler, who was an honorable mention Big Ten performer as a junior. He blossomed into an All-American as a senior, and he rocketed up draft boards late in the process. He might not excite Bengals fans, but he's one of the safest picks of the first round, and has a clear path to starting as a rookie.

No. 30: A.J. Jenkins, WR, Illinois, to San Francisco
Todd McShay video analysis
here
.
Quotable: "I was kind of caught off guard," Jenkins said. "It's just a blessing that I was taken in the first round by a great organization. I think it's a perfect match. I can't wait to go out to San Francisco, work with a great coach in Coach Harbaugh, and go to work with some talented players. It's a great position to be in, and a great organization.
My take: This was the stunner of the first round, from a Big Ten perspective. Jenkins wasn't being projected as a first-rounder by anybody that I saw. But we witnessed Jenkins' explosive ability during the first half of last season, when he was one of the most productive receivers in the nation before Illinois' offense dropped off a cliff. As we saw in last year's playoffs, the 49ers desperately need help at receiver, so the pick makes sense. What doesn't make much sense: the Illini had two first-round picks (at least) on their roster last season, and lost their final six regular-season games.
So that was that for the first round and the Big Ten. Some very good players from the league are left on the board, including Michigan State's
Jerel Worthy
, Wisconsin's
Peter Konz
, Penn State's
Devon Still
, Nebraska's
Lavonte David,
and on and on and on.
April, 26, 2012
4/26/12
9:00
AM ET
The NFL draft begins Thursday night. You probably weren't aware of that, because the draft, like most things associated with the National Football League, gets very little media coverage. Ahem.
Luckily, Big Ten bloggers Adam Rittenberg and Brian Bennett are stepping into this void to talk about the draft, and specifically the Big Ten prospects hoping to hear their name called over the long weekend.

Brian Bennett:
Adam, we usually leave draft talk to people with better hair than us, like Mel Kiper Jr. and Todd McShay. But let's give it a shot. You know the NFL is a different game when Iowa's
Riley Reiff
is widely expected to be the top player taken from the Big Ten. Reiff is an excellent player and terrific pro prospect, no doubt. But if you would have asked league fans to pick a most valuable player from the conference this season, Reiff probably wouldn't have cracked the Top 10.
Speaking of the Top 10, the Big Ten hasn't had a player selected in that range for the past three years and is likely to make it four this year. What, if anything, does that say about the talent the league has been producing? And is Reiff the first guy you would take from the conference if you had an NFL team? (I'll resist from making wisecracks about your Big Ten fantasy team management last year).
Adam Rittenberg:
Hey now, Year 2 will be different, my friend. The Shorties are coming for you. The Big Ten's Top 10 drought is certainly noteworthy, and I think it stems in part from the league producing fewer elite pro-caliber quarterbacks and cornerbacks in recent years. It does surprise me that the Big Ten hasn't had a defensive lineman in the top 10 recently, as the league has been very strong at both line spots. I think that will change in 2013. As for Reiff, he was about as under-the-radar as an elite player could get during his time at Iowa. He certainly performed well, but you didn't hear much about him, even compared to previous Hawkeyes standout linemen like Bryan Bulaga. Reiff is a masher, though, and while some say he's not the most dominant tackle, he should be able to help an NFL team this coming season.
I'd want to start my team with a potential difference-maker on the defensive line. The Big Ten has plenty of options, but Illinois'
Whitney Mercilus
is a natural pass-rusher who can put up big numbers. Have Merci? Yes, please. What's your view of the Big Ten's defensive line crop entering the draft?
BB:
We both agreed that the defensive line, especially on the interior, is where the league's true strength lay in 2011. I'm a bit surprised that some mock drafts don't have Michigan State's
Jerel Worthy
, who has the chance to be a major presence on defense, in the first round and that Penn State's
Devon Still
, who was wildly productive last season, is being projected as a second-rounder at best. I'd rather take one of those guys than roll the dice on Memphis'
Dontari Poe
, a combine wonder who did next to nothing in college. And though Michigan's
Mike Martin
is a little short by NFL standards, I have little doubt he'll be a productive pro.
[+] Enlarge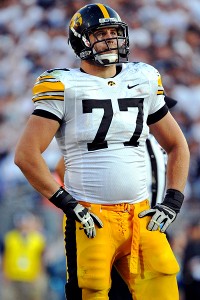 Jeffrey G. Pittenger/US PRESSWIREIowa's Riley Reiff could be the first Big Ten player selected in the NFL draft.
I'm also interested in seeing how the centers get drafted. Wisconsin's
Peter Konz
, Michigan's
David Molk
and Ohio State's
Michael Brewster
were arguably the top three centers in the nation last year. Molk, of course, publicly said he's the best of the three, and he did win the Rimington Trophy. Konz likely will go first, but I will be fascinated to see who ends up having the best career.
You mentioned quarterbacks. What do you think about Michigan State's
Kirk Cousins
and Wisconsin's
Russell Wilson
as potential NFL players? And will
Dan Persa
get a shot somewhere?
AR:
Cousins should be the first Big Ten quarterback off the board, and many projections have him going in the second round. He clearly improved his stock during the predraft process. While everyone raves about the character of both
Andrew Luck
and
Robert Griffin
-- and for good reasons -- Cousins, as we both know, certainly fits into the same category as those two. He's not the fastest or most athletic guy, but he's extremely smart and played in a pro-style system at Michigan State. He could end up being a solid pro quarterback.
The issue for both Wilson and Persa is size, Persa more so than Wilson. While Wilson boasts tremendous arm strength and athleticism, his height scares teams. He does a tremendous job of extending plays and can make all of the throws, but he'll have to prove himself as a consistent pocket passer in a league where everyone is really big and really fast. Looks like a midround selection. Whether or not Persa gets drafted at all will be interesting. The guy obviously has a ton of heart and tremendous leadership skills, but he's small and suffered a major injury at Northwestern. I think Todd McShay summed up the sentiment about Persa when he told
the Chicago Tribune
, "I want to like Persa, but as an NFL prospect, he is limited." Persa will find his way onto a roster, but he'll have a lot to prove.
We've read a lot of draft evaluations in recent weeks. Which Big Ten player could be a real steal for a team this weekend?
BB:
The guy whom I think is really undervalued is Iowa's Marvin McNutt. I've seen him going as late as the fifth or sixth round, which seems (Mc)nuts to me. Sure, it's a deep draft for receivers, and McNutt might not have blazing speed. But we saw him make some absolutely spectacular catches last season, and he closed his career as the Hawkeyes' all-time leader in receiving touchdowns. He has good size and produced 1,300 receiving yards in what was clearly not a gimmicky, pass-happy offense. If I were a GM and he was sitting there in Round 4 or later, I'd happily grab him.
Two other guys I think can be big bargains for teams are Nebraska's
Lavonte David
and Ohio State's
Mike Adams
. Both are being projected as second-rounders for different reasons (David because of size, Adams for off-the-field issues in college), but I think both will have long and stellar careers. They'll bring first-round value without the price.
Who do you see as underrated, or possibly overrated, from the Big Ten in this draft?
AR:
I would have put Wisconsin guard
Kevin Zeitler
in the underrated category, but it seems like teams have caught on to how good he can be. He'll likely be a late first-round pick. Same with Konz and maybe Adams. It baffles me why Devon Still isn't projected higher in the draft. Two others I'd put in the underrated category are Michigan's Martin and Iowa's
Mike Daniels
. You don't have to be Vince Wilfork to be an effective NFL defensive tackle. Both Martin and Daniels are smaller defensive tackles, but they're both extremely strong physical and play with sound fundamentals. Both men have been tutored by excellent defensive coaches, and the teams that select them will be inheriting very hard workers.
Two of the more intriguing Big Ten prospects are Ohio State receiver DeVier Posey and Nebraska defensive tackle
Jared Crick
. Posey, who I chatted with briefly last week in Columbus, played only three games last fall because of suspensions stemming from NCAA violations. He's clearly a gifted guy, but it'll be interesting to see how much the off-field issues and lack of playing time impact his draft position. Crick entered 2011 as an All-America candidate but missed most of the season with injury. He definitely can help an NFL team, but like with Posey, there are question marks.
OK, time to wrap up this draft discussion. What do you think the major story line regarding the Big Ten will be coming out of this weekend's festivities?
BB:
I'll go out on a limb and say Reiff is not the first Big Ten player drafted, as someone reaches for Mercilus, Worthy or Konz first. And I think the other big stories will be with the quarterbacks, as Cousins is drafted in the second round and Wilson is picked higher than people expect. What are your predictions?
AR:
I wouldn't mind if that someone landing Reiff or Mercilus is my
Chicago Bears
, but that's another debate. Worthy's selection will be fascinating, as his stock has been pretty volatile throughout the process. I think both Martin and Daniels go earlier than expect, while Wilson has to wait a while. It'll be fascinating to see where Molk ends up. No matter where he's selected, he'll feel overlooked. As a short guy myself, I'm definitely rooting for the vertically challenged (Molk, Wilson, Persa, Martin, Daniels etc.). Another story line: Nebraska cornerback
Alfonzo Dennard
, whose draft stock already had dropped before
his arrest over the weekend
.
Should be a fun weekend.
April, 25, 2012
4/25/12
1:00
PM ET
Thursday is the start of the 2012 NFL draft, also known as the most important thing in the history of things.
That got me to thinking about which Big Ten teams have been the most successful in producing draft picks and first-rounders. Which led me to doing some research. Which wound up being this post.
I took a look at the last 10 years of NFL draft results. (Why 10 years? Because it's a nice round number. And it's fairly representative of recent success. Also, this is my game and my rules.)
So let's see which schools are the best at churning out the draft picks. First, here's how each Big Ten team stacks up in overall draft picks since the 2002 draft:
1. Ohio State:
66 total draft picks
2. Iowa:
42
3. Nebraska:
41
4. Michigan:
40
5. Wisconsin:
39
6. Penn State:
38
7. Purdue:
27
8. Michigan State:
25
9. Illinois:
22
10. Minnesota:
14
11. Northwestern:
13
12. Indiana:
12
It's no surprise that Ohio State is on top, since the Buckeyes have mostly dominated the league over the past decade and always have blue-chippers. But the fact that they're so far ahead of the rest of the conference schools is impressive. Ohio State has had more draft picks in the past decade than Illinois, Minnesota, Northwestern and Indiana
combined.
The mild surprise here, for me at least, is Iowa's success. We know Kirk Ferentz's program has done a great job of producing pros, but I didn't expect the Hawkeyes to have the second-most picks, ahead of Nebraska, Michigan Penn State and others. That speaks volumes to the development of players in Iowa City. And Michigan State's number is lower than I expected, though the amount of draft picks should be on the rise soon with what Mark Dantonio has done in East Lansing.
Total draft picks is one way to view draft success. Another measurement is the number of first-rounders. That's where every player aspires to be picked, and it's the only round that gets its own day in prime time (did you know the draft is on ESPN tomorrow night?).
Here's how Big Ten schools have fared in producing first-rounders the past decade:
1.
Ohio State
: 14 (
Michael Jenkins
2004,
Chris Gamble
2004,
Will Smith
2004,
Nick Mangold
2006,
Santonio Holmes
2006,
Bobby Carpenter
2006,
Donte Whitner
2006,
A.J. Hawk
2006,
Anthony Gonzalez
2007,
Ted Ginn Jr
. 2007,
Vernon Gholston
2008,
Beanie Wells
2009,
Malcolm Jenkins
2009,
Cameron Heyward
2011).
2. Penn State:
8 (
Jared Odrick
2010,
Aaron Maybin
2009,
Levi Brown
2007,
Tamba Hali
2006,
Larry Johnson
2003,
Bryant Johnson
2003, Michael Haynes 2003,
Jimmy Kennedy
2003).
T-3. Michigan:
6 (
Brandon Graham
2010,
Jake Long
2008,
Leon Hall
2007,
Braylon Edwards
2005,
Marlin Jackson
2005,
Chris Perry
2004).
T-3: Wisconsin:
6 (
Wendell Bryant
2002,
Lee Evans
2004,
Erasmus James
2005,
Joe Thomas
2007,
Gabe Carimi
2011,
J.J. Watt
2011).
5. Iowa:
5 (
Adrian Clayborn
2011,
Bryan Bulaga
2010,
Chad Greenway
2006,
Robert Gallery
2004,
Dallas Clark
2003).
6. Nebraska:
4 (
Prince Amukamara
2011,
Ndamukong Suh
2010,
Adam Carriker
2007,
Fabian Washington
2005).
T-7. Illinois:
3 (
Corey Liuget
2011,
Vontae Davis
2009,
Rashard Mendenhall
2008).
T-7. Purdue:
3 (
Ryan Kerrigan
2011,
Dustin Keller
2008,
Anthony Spencer
2007).
T-9. Michigan State:
2 (
Charles Rogers
2003,
T.J. Duckett
2002).
T-9. Northwestern:
2 (
Luis Castillo
2005,
Napoleon Harris
2002).
11. Minnesota:
1 (
Laurence Maroney
2006).
12. Indiana:
0
Again, Ohio State's success is wildly impressive. The Buckeyes produced more first-rounders in 2006 alone than seven other Big Ten teams managed the entire decade. Half of Penn State's haul came in one year (2003). I expected more from Nebraska, and Michigan State's drought is stunning, though Jerel Worthy might very well end that on Thursday.
How much does it all mean? Like everything with the draft, probably not as much as you think. But this should help get you ready for this weekend's extravaganza.
April, 18, 2012
4/18/12
4:00
PM ET
The 2012 NFL draft is right around the corner, and a group of Big Ten defenders will be in the spotlight next week in New York.
The Big Ten boasts a group of defenders who could be selected anywhere in the first three rounds. ESPN draft analysts Mel Kiper Jr. and Todd McShay have produced their latest mock drafts, which show some disagreement about the Big Ten's top defensive players.
In McShay's
newest top 32 prospects

, he has Michigan State defensive tackle
Jerel Worthy
at No. 22, a jump of 10 spots from his previous ranking. But Worthy is the lone Big Ten defender in McShay's rundown (offensive linemen
Riley Reiff
and
Mike Adams
are Nos. 18 and 32, respectively).
Kiper's latest
Big Board

has Illinois defensive end
Whitney Mercilus
at No. 18 and Nebraska linebacker
Lavonte David
at No. 24. Worthy doesn't appear in Kiper's top 25, and Kiper pegs him as an early-second-round selection. Kiper lists Reiff and Wisconsin offensive linemen
Peter Konz
and
Kevin Zeitler
as first-round picks (outside the top 25).
While projections of the late-first round typically vary a lot, it's interesting to see McShay so high on Worthy but not so high on Mercilus and David, while Kiper favors the latter two. Other potentially high draft picks such as Penn State DT
Devon Still
, Michigan DT
Mike Martin
, Nebraska DL
Jared Crick
and Nebraska CB
Alfonzo Dennard
don't appear on either list.
Kiper also projects the first three rounds for both the
AFC
and
NFC
teams, based on what the teams need the most and which players they value more than others. Some notable Big Ten mentions include Michigan State QB
Kirk Cousins
(third round, Philadelphia), Devon Still (third round, Chicago), Iowa WR
Marvin McNutt
(third round, Minnesota), Illinois WR
A.J. Jenkins
(second round,
New York Jets
), Wisconsin G
Kevin Zeitler
(first round, San Francisco) and Michigan State WR
Keshawn Martin
(third round, Seattle).
April, 26, 2010
4/26/10
9:00
AM ET
The 2010 NFL draft is in the books, so let's take a look at the 34 Big Ten players who heard their names called in New York. When the full list of undrafted free agents comes out, I'll post it later in the week.
ROUND 1
ROUND 2
ROUND 3
ROUND 4
ROUND 5
ROUND 6
No Big Ten players selected
ROUND 7
Here are the selections according to Big Ten team:
Illinois:
3
Indiana:
3
Iowa:
6
Michigan:
3
Michigan State:
1
Minnesota:
2
Northwestern:
3
Ohio State:
4
Penn State:
6
Purdue:
1
Wisconsin:
2
Quick thoughts:
Three of the biggest draft steals from the Big Ten were pass-catchers in 2009: Illinois wideout Arrelious Benn, Minnesota wide receiver Eric Decker and Iowa tight end Tony Moeaki. Benn had first-round skills but a fourth-round college résumé. Decker most often was compared to former Broncos wideout Ed McCaffrey, and if healthy, he could do big things in Denver. If Moeaki stays healthy, the Chiefs might have found the next Tony Gonzalez. Kirk Ferentz puts Moeaki right up there with Dallas Clark in Iowa's top tight ends.
Love the Colts' pick of Angerer, who could be a very good pro in a great situation in Indy. With Angerer and Indiana's Fisher going to Indianapolis, the Colts now have drafted 26 Big Ten players under Bill Polian.
Northwestern's Kafka also goes to a very good situation in Philly, as the Eagles love to pass the ball and will run some shotgun.
Penn State's Lee, Purdue's Neal, Wisconsin's Schofield and Northwestern's Wootton and McManis could all be steals for their teams. Health has been an issue for Lee, Schofield, Wootton and McManis, so they need to find ways to get on the field and stay there.
It was interesting how one Big Ten left tackle, Indiana's Saffold, rose up the draft boards late in the process, while another, Iowa's Bulaga, dropped.
Ohio State had four players drafted, but this has to be the Buckeyes' weakest draft class in recent memory. I thought Gibson would go in the second or third round, but Worthington, Coleman and Spitler barely made the cut. Did Jim Tressel deserve Big Ten Coach of the Year over Ferentz? The case looks stronger now.
Draft snubs included Michigan State wide receiver Blair White, Michigan cornerback Donovan Warren, Penn State quarterback Daryll Clark and Purdue quarterback Joey Elliott. Warren was the only Big Ten junior not to get drafted. His decision to leave looked reasonable at the time, but he clearly could have used another year in Ann Arbor. All four players have reportedly signed free-agent deals.
February, 17, 2010
2/17/10
3:30
PM ET
If Mel Kiper's
latest mock draft
is any indication, the Big Ten will be waiting a while for its first selection on April 22.
Michigan defensive end
Brandon Graham
is the first Big Ten player to appear on Kiper's draft rundown, going at No. 22 to New England. Kiper writes of Graham: "If production were all that mattered, Graham would be long gone by now." Unfortunately, the NFL cares more about those measurables that Graham can't control, but he has given every indication that he'll be an excellent pro. Graham moved up 10 spots from Kiper's
first mock draft
.
Iowa left tackle
Bryan Bulaga
follows Graham at No. 23, going to the
Green Bay Packers
. Bulaga had been No. 18 in Kiper's first mock draft, going to Pittsburgh, but Idaho guard
Mike Iupati
now occupies that spot.
Kiper has Illinois wide receiver
Arrelious Benn
going at No. 25 to Baltimore. Clearly,
I'm not the only one
who thinks Benn has excellent pro potential despite a disappointing 2009 season.
Penn State defensive tackle
Jared Odrick
rounds out the Big Ten first-round contingent, going at No. 31 to Indianapolis.
ESPN's Todd McShay provided a slightly better outlook for the Big Ten in his
most recent mock draft
, which included Bulaga at No. 6 to Seattle, Graham at No. 22 to New England, Benn at No. 29 to the
New York Jets
and Odrick at No. 30 to Minnesota.
February, 1, 2010
2/01/10
3:00
PM ET

Big Ten blogger Adam Rittenberg predicts which Big Ten player will be picked first in April's NFL draft.