December, 26, 2011
12/26/11
9:00
AM ET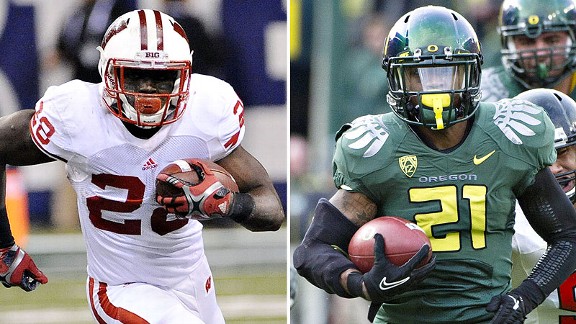 US Presswire
Montee Ball and LaMichael James will highlight a showdown of high-powered offenses.
After a year's hiatus, the Rose Bowl is back to its traditional self: A Pac-12-Big Ten matchup.
And it looks like a good matchup of good teams with contrasting styles.
Sounds like a good time for a blog debate!
Ted Miller
: Well, Brian, we're back to a traditional Pac-12-Big Ten Granddaddy and it looks like a good one: Midwest power versus West Coast flash. I'm a little surprised that Oregon is favored against
Montee Ball
,
Russell Wilson
and that mammoth group of biscuit and gravy eaters you call an offensive line. Give me an idea of what the Ducks are up against with the Badgers' offense. Is it all power football, or is it more sophisticated than that?
Brian Bennett
: You'd better believe the Badgers have the baddest bunch of big uglies in college football, with an offensive line that outweighs many NFL units. Add in a couple of good tight ends, a senior fullback and Wisconsin's dedication to the ground game and you can see why the program has been one of the best running teams in the country for several years now. But it's not just all brute. The thing that makes these linemen stand out is that they are nimble and can really move, and I think many defenses are shocked by that combination of strength and athleticism early in games. Wilson has also given this team an entirely new dimension with his ability to make plays on the move and his outstanding accuracy. Opponents have no choice but to respect the run when playing Wisconsin, and that makes this offense the most dangerous play-action team in America. You'll see receivers getting huge cushions in the passing game, and Ball can break tackles even when the box is loaded.
That's why the Badgers average 44.6 points per game, just a tick below Oregon's 46.2 average. My question for you is, can the Ducks' defense handle this kind of offensive power, especially in a 3-4 scheme?
[+] Enlarge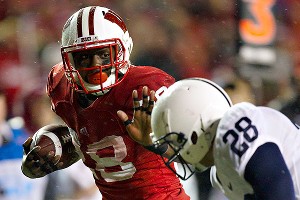 Jeff Hanisch/US PresswireMontee Ball's 1,759 yards and 32 rushing touchdowns on the season have helped the Badgers score an average of 44.6 points per game.
Ted Miller
: Oooooo. I'm telling Chip Kelly that you said the Ducks run a 3-4! He hates that. No idea why. Coordinator Nick Aliotti will tell you that the Ducks throw a lot of stunts and looks -- 3-4, 4-3, 2-5, etc -- and crazy stuff at you. They are fast, underrated and bigger than many think. Their top four defensive tackles, who are in a regular rotation, weigh 321, 300, 283 and 286 pounds.
Oregon has faced big, powerful teams before. Stanford and USC the past two years, in conference, and Auburn and LSU out of conference. Forgotten in the talk about how Auburn and LSU slowed down the Ducks' offense is how the Ducks' defense slowed down both sets of Tigers. Oregon outgained LSU 372-273 but was done in by four horrible turnovers. The Ducks held Auburn and Cam Newton to 22 points, its second-lowest total of the season.
Sure, Oregon's defense ranks 59th in the nation in total yards while Wisconsin ranks eighth. But they yield similar numbers on yards per play: Oregon 4.93, Wisconsin 4.85. And the Ducks are slightly better on third down. Oregon's defense's biggest problem is its offense, which scores a lot of points despite ranking LAST in the nation in time of possession. The Badgers' defense, with an offense that ranks 22nd in time of possession, only faced 786 plays this year. Oregon faced 1,005. That skews numbers.
Wait. Did I get all stats-y there? Sorry. My answer to the size question is what Oregon will say leading up to the Rose Bowl. It's nothing new for them. They play their game, run their stunts, use their speed and see what happens. Stanford, which has two first-round NFL draft choices on its O-line, would be the most natural comparison with the Badgers. And for two years in a row, no team has played good enough defense to beat the Cardinal and
Andrew Luck
other than Oregon.
While Badgers fans expect Whisky to run over the Ducks with size -- Big Ten thinking! -- Ducks fans believe they can exploit the Badgers' defense with speed and misdirection -- Pac-12 thinking! What about some Brian Bennett thinking: Do the Badgers have the speed on defense to keep up with the Ducks? Is Bret Bielema going to use past blueprints to thwart Kelly?