November, 2, 2013
11/02/13
5:15
PM ET
WEST LAFAYETTE, Ind. -- For all the accomplishments, there was a hole on Braxton Miller's résumé that he had to address.
A Big Ten player of the year trophy sits on the shelf at his parents' house. The Ohio State quarterback was productive enough last season to finish fifth in the voting for the Heisman Trophy. And he is the starter for a team that hasn't dropped a game in its last 21 tries.
[+] Enlarge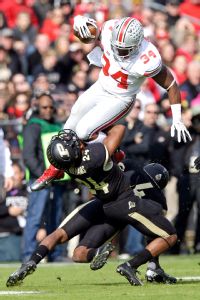 AP Photo/Michael ConroyCarlos Hyde racked up another 100-yard rushing performance in Ohio State's win over Purdue.
But he came up short in a wild overtime loss the last time the Buckeyes hit the road to take on Purdue. Miller was injured in the second half of last season's game as Ohio State ultimately needed another extra session to win while he was being examined at the hospital.
So for all those accolades, Miller still really didn't have a win of his own to point to against Purdue, an omission he quickly addressed in a
56-0 rout
for No. 4 Ohio State on Saturday at Ross-Ade Stadium.
"Absolutely, this was self-comfort," Miller said. "Two years ago was a hard-fought game with a crazy ending. Last year, just crazy how I got knocked out with my collarbone and things like that.
"After the last two years with this team ... you just have to come back the next year stronger with a chip on your shoulder."
Collectively, the Buckeyes played as if there was a boulder on their shoulders as they once again made quick work of a Big Ten opponent while doing everything they can to stay in the national title conversation by stacking up style points.
Ohio State still can't do it all on its own at this point, but Miller & Co. are certainly building a more compelling argument for themselves.
And the quarterback wasn't the only player or position group erasing a few résumé gaps in the blowout.
Tight ends: The Buckeyes always intend to involve their tight ends in the offense, but it usually amounts to little more than lip service. They certainly mean it this season. Purdue had no answer for Jeff Heuerman on Saturday as he was consistently left alone in the secondary and racked up 116 yards on five catches with a touchdown. The junior was the first Ohio State tight end to post 100 receiving yards since 1996. Backup Nick Vannett tacked on 21 yards and a score in the rout.
Defensive backs: The secondary rarely lived up to its billing as the strength of the defense during the first half of the season, but since being publicly challenged by coach Urban Meyer, it has bounced back and, despite the loss of senior safety Christian Bryant to a season-ending injury, asserted itself as perhaps the best unit in the Big Ten. Doran Grant jumped a throw on the second snap of the game for an interception he returned for a touchdown to set an early tone, and the Buckeyes never let up in coverage as they combined with a tenacious pass rush up front to hold Purdue to 89 passing yards.
Kenny Guiton: Purdue's old nemesis continued to add to his credentials as one of the nation's best backup quarterbacks. Guiton was given almost a full half of work, and even lined up in the same formation with Miller for the second consecutive week, and again the offense never missed a beat. The senior captain completed 8 of his 11 throws for 59 yards and a touchdown, and he was explosive as a rusher in accounting for 98 yards and two more scores.
The Buckeyes could point to more feats if they wanted to, like how Meyer's 21-game winning streak to start his tenure is the longest in college football since Larry Coker debuted with 24 straight wins at Miami in 2001-02. Or for another historical perspective, the Buckeyes have scored 50 points or more in consecutive games three times under Meyer -- and had done so only four times in 122 seasons before he arrived.
All that really mattered, though, was beating the next opponent and staying unbeaten, since that will ultimately be the only thing that determines their fate. But the Buckeyes had plenty of icing on the cake along the way.
August, 22, 2013
8/22/13
4:00
PM ET
We are one week from kickoff, people. One week! Remember to breathe.
And if you're not
following us on Twitter
, get to it. We're going to have a lot of great updates on there throughout the season, especially on game days. More than 86,000 followers can't be wrong.
Now back to the old-school way of communicating -- by email.
---
Ryan W. from West Michigan writes:
With all the talk about the Big Ten's perception, tell me why I should even care? Outside of the new playoff committee starting next year, who cares what other people outside of the B1G think? I mean, if us fans enjoy the product on the field, I couldn't care less what someone in Oregon or Florida thinks about my favorite team and conference.
Brian Bennett:
Ryan, if you want to go all Midwest isolationism, have at it. There's something to be said for just following your favorite team and caring primarily about winning the Big Ten. The success of the Big Ten Network validates this. The flip side is, if you want to take that approach, you can't complain about where your team is ranked in the polls, when it is snubbed for a spot in the four-team playoff or when the media incessantly cover the SEC. Perception can also play a large role in recruiting, as some top prospects want to go where they think they have the best chance for a national championship and national exposure. The nature of college football's postseason and the different schedules each team plays has made perception of conferences important in the big picture. But if you like focusing on the small picture, so be it.
---
Tom from Marion, Iowa, writes:
Help me out, fellow Redbird fan. I just don't get it! Well I do get it... the SEC is King. But, in the BCS era, the Big 12 has been in the BCS title game seven times, won two lost five; ACC, Big East, B1G and Pac-12 three times, all with one title; ND o for 1. All I hear is how much the BIG stinks. Where's the hate for the others? Specifically the Big 12; they've lost five out of seven? That's what I don't get.
Brian Bennett:
Huge stretch coming up for the birds on the bat. Anyway, I think there are a few things at play here in terms of the Big Ten's reputation. One is the power of the what-have-you-done-for-me-lately mentality. The Big Ten hasn't had a team play for the national title since the 2006 season, and that's an eternity in our Instagram society. Also, the last two times the league played on that stage, Ohio State got blown out in consecutive years by SEC teams, beginning the whole SEC-speed-trumps-Big-Ten-narrative. Another problem is that the Buckeyes are the only conference team to play for a title, whereas leagues such as the Big 12 (Texas and Oklahoma) and Pac-12 have (USC and Oregon) have had more than one team in the BCS championship game and others right on the cusp of it (Oklahoma State, Stanford). Finally, the Big Ten has not performed well in the past couple of years against the SEC in bowl games or in its nonconference games in general, and its Rose Bowl record in the past decade-plus is abysmal.
Other conferences, as you mention, have had their own failures, and you could argue that Oklahoma has fared just as poorly, if not worse, on the big stage as Ohio State. Why they have escaped the vitriol seemingly directed at the Big Ten is not entirely clear, but some moves by the league that have been viewed as pompous -- ahem, Legends and Leaders -- surely played a role.
---
Darrin from Reedsburg, Wis., writes:
It appears
Tanner McEvoy
is going to be third on the QB depth chart at best. Any chance of seeing him at wide receiver this year?
Brian Bennett:
Darrin, McEvoy worked out at receiver during practice this week. Though he was rather adamant about not playing receiver when
I asked him about it earlier this month
, it makes sense for both him and the team. McEvoy is an excellent athlete who is 6-foot-6, and he played receiver in high school until his senior year. Wisconsin is also very thin at wideout beyond
Jared Abbrederis
. This could be a situation like
Devin Gardner
at Michigan, where McEvoy sacrifices for the team for a while before eventually working his way back to quarterback.
---
Brian from Portland, Ore., writes:
Hey Brian -- cool name! Ohio State offensive coordinator Tom Herman said that he has the two best tight ends in the nation in
Jeff Heuerman
and
Nick Vannett
. To which, I would respond, "Uh, who?" Who's your pick for the top TE in the B1G this year? My bet is on someone wearing blue and white.
Brian Bennett:
As far as tight end groups go, it's hard to beat Penn State. Bill O'Brien seemingly has about a dozen options there, led by
Kyle Carter
and
Jesse James
. I'm also excited to see true freshman
Adam Breneman
-- the nation's No. 1 tight end recruit last year -- in action this season. The Nittany Lions aren't the only ones blessed with outstanding tight ends, however.
Jacob Pedersen
is a proven weapon for Wisconsin.
Devin Funchess
could have a huge year at Michigan.
Ted Bolser
is a big-time receiving threat for Indiana, and Iowa's's
C.J. Fiedorowicz
has a boatload of ability. I even left out a few really good ones. Tight end should once again be a position of strength in the Big Ten.
---
Mike from Macungie, Pa., writes:
Someone posed a question about
Allen Robinson
(I think) being in the running for a Heisman. My question isn't that we do/don't have a Heisman contender, but do you think the sanctions would put a contender from Penn State at a disadvantage? Let's say (and this is a HUGE hypothetical) Allen Robinson has as good of a year, or a better year, than last season. If he's in the top three for the Heisman, do you think the voters would take into account the sanctions against Penn State in possibly not voting for him? Matt Barkley came close two years ago, and you could argue similar circumstances.
Brian Bennett:
It's an interesting question. I don't think probation necessarily hurts a Penn State player's chances of winning the Heisman. Sure, some voters might hold it against a Nittany Lions star, but think about what a great story it would be if a player had a tremendous year and led the team to a 12-0 regular season. That narrative would carry a lot of weight. And remember, Heisman voting is done before the bowls. A Penn State player would potentially be hurt by the lack of a conference championship game, as his season would end a week earlier than some other candidates. The bigger question is, of course, whether the Lions will have enough depth to go 11-1 or 12-0, which is likely a requirement for one of their players to get in the mix. And no matter how good Robinson is, receivers have almost no chance of winning the Heisman. If
this guy
couldn't do it in 2003, or
this guy in 2007
with those ridiculous numbers, forget about it.
---
Shifty from O'Fallon, Ill., writes:
I've seen plenty of references (to include yours in the mailbag Monday), about what Bill O'Brien can do with
Christian Hackenberg
based on how he transformed Matt McGloin. I think they'll likely be great together, but I think everyone underplays how important McGloin's B1G experience was to his breakout season. It's not like McGloin was a 18-year-old walk-on. Dont you think we need to pump the brakes a little before we decide the only thing between Hack and Todd Blackledge is four weeks with BO'B?
Brian Bennett:
Shifty, huh? Remind me not to enter into a real estate deal with you. Anyway, I agree that they hype is probably getting a little out of control for Hackenberg, since he's only a true freshman. But that's what happens when you're the No. 1 quarterback recruit in the nation. I don't think anyone is suggesting that he will put up McGloin's numbers from last year (3,266 yards, 24 touchdowns) right away. McGloin, as you mentioned, had a lot of experience. But as much as I loved watching McGloin's bust out last year, let's not forget that A) he really struggled at times before O'Brien came along; and B) he never had the biggest arm. Hackenberg simply has better physical tools. Does that mean he'll grasp the system and play with McGloin's moxie this year, or ever during his career? Not necessarily. But when you combine his pure skills, O'Brien's quarterback acumen and an offense loaded with receiving targets, the outlook is pretty bright for Hackenberg.
---
Enrique from Grand Rapids, Mich., writes:
Brian, put yourself in Mark Dantonio's shoes.
Damion Terry
has performed admirably the first two fall scrimmages. Your other quarterbacks have been lackluster, failing to make big plays. Meanwhile, your exciting true freshman is 14 of 21, for 341 yards in the air, 40 on the ground, with four touchdowns and no interceptions, and much of that has come against the first-team defense. If (yay, hypotheticals!) Terry can continue to perform this well in the fall practices, would you, the head coach, go with the young upstart? You might not get a better chance than this year to make it to the Rose Bowl after a prolonged absence. Or do you redshirt him and prep him for next year?
Brian Bennett:
Next question
.
Oh, sorry. I got a little too into my Dantonio role-playing. First all, let's acknowledge that Dantonio and his offensive coaches know a heck of a lot more about who's playing well in practice and who understands the system than you and I can glean from some reports and limited practice viewing. And let's not anoint a true freshman based on one glowing scrimmage performance. But I do believe Michigan State should play Terry this season, especially in the first few games, so he could redshirt if he were to get hurt. I'll be surprised if
Andrew Maxwell
is not the starter vs. Western Michigan next Friday, but I think Dantonio should give Terry snaps in some special packages just to see what the kid can do. He is the future, and the future is now for the Spartans. They have an elite defense and a favorable schedule, so they need to go for it this year. The last thing the team needs is a quarterback who is going to make a bunch of mistakes, and there is a serious risk of that with Terry. But he can likely be very effective in certain situations and in a handful of plays per game, giving Michigan State a much-needed different look on offense.
That's me in Dantonio's shoes, anyway. (
So where's the tread?
).
August, 21, 2013
8/21/13
12:00
PM ET
My dog tried to play with a skunk this week. I think we're all getting stir crazy waiting for the football season.
April, 11, 2013
4/11/13
5:00
PM ET
On Wednesday, the head coach and one player from each Big Ten Legends Division team participated in a
spring football teleconference
with the media. On Thursday, it was the Leaders Division's turn. Here are some notes and updates from the call:

Illinois
Head coach Tim Beckman said the junior college players he brought in helped with depth and age issues on his young team. "We have 40 football players that have never been in our spring football until this year," he said. Of the juco imports, Beckman said wide receiver Martize Barr has quick hands and good playmaking skills, both in the passing game and on kick returns; Eric Finney has earned a starting job at the Star linebacker position; Abe Cajuste is adding depth by playing both defensive tackle and defensive end; and Dallas Hinkhouse is making an impact at offensive tackle.
Beckman sung the praises of offensive lineman Corey Lewis, a sixth-year senior who has battled back from five knee surgeries and has become a team leader. "Corey Lewis comes to my office probably four or five times a week, just to talk," he said. "To me, he is what college football is all about." Beckman said that Lewis has "had a special spring" and hinted that he has earned a starting job.
Quarterbacks Nathan Scheelhaase and Reilly O'Toole will take most of the snaps in Friday's spring game so they can get more experience in the new offense. Beckman said Scheelhaase has "got a step in front" because of his experience, but the competition continues.
Scheelhaase on reasons for optimism in 2013: "Establishing an identity. That's something I don't know that we necessarily had last year, on offense or defense or as a team in general.

Indiana
Like many of you, head coach Kevin Wilson would like to know the new Big Ten division alignment. The reason? It's harder to recruit without being able to tell a prospect where he'll be playing his freshman season. Wilson added that if the league does indeed go to an East/West split, he'd like to see the Hoosiers placed in the East since they're located in the Eastern Time Zone.
Wilson said run defense and takeaways are two huge priorities for the Hoosiers' defense during the offseason. He noted that the Big Ten doesn't boast a large group of elite pass offenses, so IU must prepare better for run-driven attacks. Indiana finished last in the Big Ten in both run defense (231.3 ypg) and takeaways (13). Cornerback Greg Heban said the defense is working on takeaways every day in practice. "Every time the ball touches the ground, the defense is scooping it and scoring it," Heban said, "trying to give us a feel of what it's like."
Both Wilson and Heban praised the play of junior cornerback Tim Bennett this spring. Other spring standouts include linebacker T.J. Simmons, a freshman early enrollee, and Steven Funderburk, a junior-college transfer.
Heban called this "easily the best spring I've been around." He has seen more physical play and better effort on both sides of the ball, and the team also is having more fun than in past springs.

Ohio State
Head coach Urban Meyer said running back Rod Smith won't play in Saturday's spring game because he recently suffered a concussion. Before that, Meyer said Smith was one of the five most improved players on offense this spring. Meyer listed Carlos Hyde and Smith as the team's top two running backs, while Bri'onte Dunn and Warren Ball are even for the No. 3 spot.
Although the receivers have been better this spring -- especially Corey Brown and Chris Fields -- the depth is still nowhere near where it needs to be for Meyer's spread offense. "We're way behind on quality of depth at that position," Meyer said. "That's a major, major concern." Moving Jordan Hall to H-back should help, and Meyer noted that the Buckeyes boast two good tight ends in Jeff Heuerman and Nick Vannett.
Buckeyes offensive tackle Jack Mewhort paid close attention to the way John Simon and others led in 2012. He's ready to take on a greater load this season. "I welcome that," he said. "I see that as an honor, being compared to a guy like John Simon. I also see it as a challenge. I feel the pressure to step up and get guys going in the right direction." Mewhort also has seen quarterback Braxton Miller recognize his leadership responsibilities more this spring and get after teammates when he needs to.
Meyer said he puts more emphasis on spring practice and the spring game than most coaches. He has told his players that there will be a depth chart after spring ends, and while changes are possible in the summer, they're not likely. "In spring ball, you're trying to win a spot," he said. "During the fall, we're trying to win games."

Penn State

Purdue
Head coach Darrell Hazell said the Boilermakers have made major improvements in the last three and a half weeks. "Anytime you put in three different schemes, there's a little bit of a learning curve for the first couple weeks," he said. "You could see guys start to really get comfortable the last five or six practices."
Hazell said he has "three capable guys" right now at quarterback with Rob Henry, Danny Etling and Austin Appleby. He reiterated that he would keep the competition open until two weeks before the opener at Cincinnati. Of Etling, a freshman early enrollee, Hazell said: "For a young guy, a guy that should be at his prom, I think he's got tremendous poise. He's smart and really studies the game."
Hazell said backup tight end Justin Sinz and center Robert Kugler are two guys that have really caught his eye this spring. He called Kugler a "very much a leader on the offensive line."
Cornerback Ricardo Allen said Hazell has instilled an "all is one" mentality. "If one person does something, we all have to do it. We all wear black socks. We all wear the same uniform. We all tuck our shirts in. I feel like we're becoming closer as a team, and it's helping us build."

Wisconsin
Head coach Gary Andersen confirmed Curt Phillips and Joel Stave have separated themselves in the quarterback competition. It's a "mixed bag" of who takes snaps with the first-team offense, but both will continue to rotate through the rest of the spring and into fall camp. "The way they've separated themselves is simply production," Andersen said. "They know exactly where they sit and so does the rest of the team. … If they put all their friendships aside, their depth chart would look exactly like our depth chart."
Andersen praised the offensive line for tackling another transition, as the group works with its fourth position coach (T.J. Woods) since the 2012 Rose Bowl. The line has seen varying looks from the defense in practice and had players move around to different positions, in part because of injuries. Wisconsin had only seven healthy linemen a week ago, but Andersen is hopeful the number will rise to nine or 10 by next week's spring game. "Those kids have grinded through it every single day," Andersen said. "They're a tough-minded group."
Badgers senior linebacker Chris Borland said losing defensive end David Gilbert to recurring foot problems is a blow but the team has others to step in like Tyler Dippel, Brendan Kelly and Jesse Hayes, a redshirt sophomore who has stood out this spring.
Much like his old boss Urban Meyer, Andersen believes in constant competition and declares winners and losers in each practice. Andersen also mixes in some fun with a dance-off and throwing footballs into trash cans. "Some of them are a little bit quirky, but through the years establish some things we like," he said.
Borland said the strength program has brought the biggest changes in the transition to Andersen's staff. Cardiovascular work is stressed more, as is preventative care. Head strength and conditioning coach Evan Simon operates at a faster pace and uses more of an instructional approach than Ben Herbert, who stressed motivation.
August, 27, 2012
8/27/12
5:00
PM ET
It's Depth Chart Monday around the Big Ten as most teams revealed new or updated depth charts for their upcoming season openers.
Indiana
and
Iowa
released depth charts last week, while Nebraska's won't come out until later this week. A few more teams unveil new or updated depth charts Tuesday, and we'll break down those as they file in.
While we won't break down the depth charts each week of the season, the first installments always carry a bit more weight as players have jockeyed for position during camp.
Here are some notes and thoughts from what we learned today:
MICHIGAN
Depth chart
(page 13)
Suspended players Fitz Toussaint and Frank Clark both are listed -- Toussaint is the starting running back, Clark as a backup weakside defensive end -- but their status for the opener against Alabama is yet to be determined. Coach Brady Hoke will make a decision soon. While it seems highly unlikely Clark will play, Toussaint's status will be a big story this week.
Roy Roundtree is listed as a starter at receiver despite missing a chunk of camp following knee surgery. Although Michigan has some decent other options at wideout, it really needs "Tree" on the field at JerryWorld. Speaking of receivers, backup quarterback Devin Gardner is listed as a third-string receiver and should see a bit of work there against the Crimson Tide.
Depth is a bit of a concern for Michigan entering the season, and it's the main reason why the Wolverines list 12 true freshman on the depth chart, four in backup roles. Expect freshmen like linebacker Joe Bolden and safety Jarrod Wilson to see plenty of field time.
As for position battles, Quinton Washington claimed a starting defensive tackle spot, moving Jibreel Black back to the end position. Will Hagerup and Matt Wile are listed as co-starters at punter, but Hagerup will get the starting nod against Alabama.
OHIO STATE
Depth chart
Regarding position battles, Reid Fragel, a converted tight end, claimed the starting right tackle spot ahead of freshman Taylor Decker. Travis Howard maintained his starting cornerback spot ahead of Doran Grant. The team's starting wide receivers entering the fall are Corey Brown, Devin Smith and Jake Stoneburner, a converted tight end. Ohio State's only unsettled position is tight end, where freshman Nick Vannett and sophomore Jeff Heuerman are listed as co-starters.
Like Michigan, Ohio State will have plenty of youth on the field this fall. Coach Urban Meyer lists 13 freshmen on the depth chart, including highly touted defensive linemen Noah Spence and Adolphus Washington, spring game star Michael Thomas at backup receiver and backup middle linebacker Camren Williams. The Buckeyes have three freshmen listed as backup offensive linemen, underscoring the depth issues there.
With projected starting running back Jordan Hall (foot) out at least a week, Ohio State will start Carlos Hyde at running back. Freshman Bri'onte Dunn will back up Hyde.
WISCONSIN
Depth chart
(page 13)
The Badgers put out a depth chart last week but made a few changes, including junior Zac Matthias and sophomore Kyle Costigan being listed as co-starters at right guard. Costigan had been listed as the starter, but Matthias made a push late in camp.
Backup cornerback Peniel Jean will miss four to six weeks after fracturing his foot last week in practice and undergoing surgery. Redshirt freshman Darius Hillary moves into the No. 2 role behind Devin Smith and likely will be the team's primary nickel back.
Sophomore Kyle French is listed as the starter for both field goals and kickoffs (he only occupied the kickoffs role last week). Coach Bret Bielema said freshman Jack Russell (great name) also will see time as a kicker in Saturday's opener against Northern Iowa.
PENN STATE
Depth chart
ILLINOIS
Depth chart
Safeties Steve Hull and Supo Sanni, the projected starters, aren't listed on the two-deep. Earnest Thomas and Pat Nixon-Youman are listed in their places. Both Hull and Sanni are week-to-week with injuries. Coach Tim Beckman said both would practice this week and likely will be game-time decisions.
Illinois shuffled its offensive linemen between positions throughout camp, and there could be more changes before game day. But ... Graham Pocic is listed as the starting center after playing mostly guard in camp. Pocic has started the past 26 games at center. Redshirt freshman Ted Karras, who has recovered from a foot injury, is listed as the starting right guard.
Tim Kynard will start at defensive end in place of Justin Staples, who will serve a one-game suspension against Western Michigan. Offensive lineman Simon Cvijanovic also won't play Saturday for undisclosed reasons.
Illinois lists co-starters at both running back (Donovonn Young and Josh Ferguson) and tight end (Jon Davis and Eddie Viliunas). Both Young and Ferguson should get plenty of carries against Western Michigan.
NORTHWESTERN
Depth chart
(Page 7)
After a strong camp, Venric Mark will start at running back for Northwestern. The 5-foot-8, 175-pound Mark, who came to Northwestern as a return specialist, moved from wide receiver after the season. Mike Trumpy, who comes off of ACL surgery, is the backup, and Northwestern likely will spread the carries around. Treyvon Green has recovered from a scary neck injury midway through camp and will play at Syracuse.
USC transfer Kyle Prater is listed as a backup receiver. Northwestern will start Demetrius Fields, Christian Jones, Rashad Lawrence and Tony Jones at receiver against the Orange. Prater saw some time with the first-team offense in camp and will be part of the rotation, but he still seems to be lacking a step as he gets back into game shape.
The Wildcats have no unsettled starting spots, and while there are a number of young players on the depth chart, only two true freshmen, defensive end Dean Lowry and superback Dan Vitale, made the two-deep. Heralded incoming freshman defender Ifeadi Odenigbo likely will redshirt and isn't listed on the depth chart.
PURDUE
Depth chart
(Page 6)
The Boilers have four unsettled starting spots, three on the offensive side. Juniors Kevin Pamphile and Justin Kitchens are battling at the left tackle spot, while juniors Devin Smith and Cody Davis are co-starters at right guard. Junior Gabe Holmes and fifth-year senior Crosby Wright are still competing for the top tight end spot. The lone unsettled spot on defense is at end opposite Ryan Russell, as Ryan Isaac and Jalani Phillips continue to compete.
No surprises in the starting backfield as Caleb TerBush, Robert Marve and Rob Henry are listed at quarterback in that order. It'll be interesting to see how Purdue uses Henry this year. It doesn't make much sense to waste his talents on the bench. No Ralph Bolden on the depth chart as the senior running back is still working his way back from the knee injury. The Akeems (Shavers and Hunt) will carry the rock against Eastern Kentucky.
The placekicking spot is also up in the air with three players -- Sam McCartney, Paul Griggs and Thomas Meadows -- in the mix to replace standout Carson Wiggs.
More depth chart fun comes your way Tuesday, so be sure and check in.