July, 3, 2012
7/03/12
5:00
PM ET
Let's get down to business. I received many good responses from Nebraska fans about the Huskers' first year in the Big Ten, and I've listed several of them below.
Here we go ...
Jamie from East Lansing, Mich., writes:
Adam, How would the B1G look if it was going into its first year with 12 team this season? I imagine that after everything that happened on and off the field last season, there would be a lot more discussion as to how to split the two divisions. With the new playoff system, the current situations at Penn State and OSU, and with emergence of Michigan State and Wisconsin, would we more likely be looking at two divisions split by time zones? (Think how easy it would be to remember the Eastern and Central Divisions, and never having to use the M,N, and Iowa trick.) Did the B1G build into the new conference format a plan to evaluated and revises the divisions if necessary? With change becoming the norm in college football these days, how will the B1G look in 5, 10, 15 years?
Adam Rittenberg:
Jamie, I still think the historical data from 1993 onward would have indicated the tiers that led the Big Ten to divide the league the way it did. The divisions weren't assigned based on geography. They weren't done to make it easy for fans to understand. There were assigned based on competitive balance -- and brand names. The league wanted to evenly split its four major brands -- Ohio State, Michigan, Nebraska and Penn State -- into the divisions. The league also wanted to evenly split Wisconsin and Iowa, which had put up strong numbers during the time period considered. Michigan State's emergence eventually might lead to some reconsidering of the divisions, but Purdue had a similar emergence in the late 1990s. So did Northwestern in the mid 1990s. A lot depends on whether Michigan State can sustain its success, and if other teams rise or fall. The Big Ten isn't going to scrap the division alignments after a year or two. While a revision is possible, the data during a long period of time must support it.
---
Drew from Milwaukee writes:
Hey Adam - you can definitely count me among the long suffering Wisconsin fans that are clamoring for an upgraded non conference schedule. As much as it pains me to say this, I think Ohio State deserves a ton of credit for its approach of scheduling a home and home with an out of conference big name opponent every two year cycle. Two questions: Was this approach more a product of Gene Smith or Jim Tressel, and do you see this as a good model for Alvarez and/or Bielema to follow in their own scheduling moving forward? As a side note, how epic would a September 1 night game match up between Alabama and Wisconsin at Camp Randall be?
Adam Rittenberg:
That would be epic, Drew. Too bad
Nick Saban didn't want to come to Mad-town
. Ohio State's scheduling approach was a collaboration between Smith and Tressel, and both men supported the approach to have one marquee non-league opponent and three regional opponents (typically MAC schools from within the state). It will be interesting to see how this model changes when the Big Ten-Pac-12 partnership begins, specifically whether Big Ten teams will play a Pac-12 opponent and another team from a major conference. It would be great to see Wisconsin do this. I'm not saying the Badgers need to play USC and Oklahoma every year, but it'd be nice to see games with, say, Washington and Notre Dame in 2018. Wisconsin needs to figure out what works best, but the school's current philosophy thankfully doesn't work in a playoff environment where schedule strength is valued.
---
Jerome from Toronto writes:
I know you guys are ranking the best facilities, and the best stadiums in the Big Ten. What about the best overall gameday experience for opposing fans? Take a look at their before game experience with tailgating, the things going on in the local community leading up to the game, the game atmosphere itself, and the partying after the game. Obviously, you need to look at the fan base as well to see which fans are good sports and are out having a fun time without being classless.With all this in mind, rank the top 5 Big Ten Game day experiences for any opposing fan. What are the must-see away games for an opposing fan to travel to? Any destinations that should be avoided due to poor fan behavior?
Adam Rittenberg:
Jerome, while every fan base has a few idiots who can spoil the experience for visiting fans, I'd encourage Big Ten fans to visit as many opposing venues as possible. The Big Ten might not have the best football, but it has the best stadiums in the country. There also is great tailgating throughout most of the league, and a nice mix of different size stadiums -- from humongous to cozy -- and locations. As far as best overall game-day experiences, I'd definitely have Wisconsin and Penn State at the top. Great combination of stadiums and tailgating scenes. Iowa is up there for me -- love Kinnick and the atmosphere around it. Nebraska is lacking a bit tailgating-wise, but Memorial Stadium is awesome. You have to go to Michigan Stadium and Ohio Stadium at some point if you're a college football fan. Both offer different pros/cons and surroundings, but you just have to go. I'd also include Michigan State as a very solid game-day experience. The stadium will be improved with upgrades, and the tailgating scene is terrific.
---
L. Narrative from Land of 3 Rs writes:
Adam,You were big on highlighting the "lazy narrative" when discussing the Big Ten/SEC positions on a college football playoff, an emphasis with which I agreed. Given this, do you see the lazy narrative with all the Sandusky stories? Reading comprehension failures seem to permeate the news cycle these days, but given the number of articles on this Sandusky subject, I think your readers would benefit from an assessment of the lazy narrative in this situation.
Adam Rittenberg:
There's definitely a bit of laziness with every major news story, as everyone feels they need to weigh in but not everyone does their homework. I've tried to link people who know what they're writing about. While I'm sure I've missed on a few, I know there has been some good commentary done on the Sandusky case. My guess is you're referring to the belief that the NCAA "has to give Penn State the death penalty." This is a bit lazy because those who understand how the NCAA works and how its death penalty works know it relates to being a repeat violator of NCAA rules, not a violator of state or federal laws. While there's pressure on the NCAA to do something, it comes largely from those who don't understand what the NCAA really does (usually nothing).
SI.com's Andy Staples
had the best take on the situation:
This may seem cold, but nowhere in the 426-page Division I manual is there a rule forbidding the cover-up of a violation of state statute. There is no obstruction of justice charge, no way to punish someone for his or her failure to call the police. The NCAA has rules to handle free tattoos, excessive phone calls and couch surfing (maybe not even that), but it is way out of its league here. So even though NCAA president Mark Emmert inserted the organization into the case with one of the most misguided missives ever to emerge from NCAA headquarters,* please stop suggesting the NCAA needs to crush Penn State's football program because of the Sandusky tragedy. It may make a bunch of rival fans feel better if a bunch of players who were in elementary school in 2001 suffer, but it won't solve anything. It won't help anyone heal. It won't send any message that matters.
Here is how these things work. Something awful such as the Sandusky case happens, and people at powerful organizations such as the NCAA feel they have to say something. This is partially the fault of people in my business who constantly call for comment and partially the fault of the people inside NCAA headquarters who failed to realize that they needed to butt out of this issue in the absence of actual NCAA violations.
There you have it.
---
Grant from Cedar Falls, Iowa, writes:
In light of this great American Holiday coming up I'm curious. Which BiG team is the second most patriotic? Obviously Iowa is number 1 ( It's not hard when your previous QB was "A Great American", Air Force fly-overs well below there minimum elevation, need I even mention the card stunt at the NW game last year ) I know Purdue has a pretty cool thing with the "I am an American speech," but what do the other schools do during home games to celebrate and honor America, and whose the 2nd most patriotic?
Adam Rittenberg:
Ha, good topic, Grant. You forgot the Nile Kinnick Heisman speech -- very patriotic. I do enjoy the
"I am an American"
reading at Ross-Ade Stadium. Perhaps the only recent Big Ten player who could give Ricky Stanzi a run for most patriotic might be former
Illinois linebacker J Leman
(love the tie). Ohio State has earned some patriotic points in recent years, particularly with its
Take the Field tribute to Navy in 2009
. There also was
Jim Tressel's spring game getup
in what turned out to be his final appearance at Ohio Stadium. Michigan often has cool pregame flyovers and tributes, including
this one before last year's game against Nebraska
. Wolverines coach
Brady Hoke took the team's seniors to work out with Navy SEAL's in May
. Nebraska and other schools also have been very patriotic on game day. If I had to pick the second most patriotic school behind Iowa, I'd go with Ohio State. But it's close.
---
Glenn from Kilburn, Ohio, writes:
Adam, regarding Penn State, can you start talking about the upcoming season and let the "Scandal" be handled by regular news outlets? In today's lunch links, you mention current team related items for every other team, but for PSU you only list things to click on that relate to the negative news instead of what's happening with the team. It's obvious that you drink ESPN's kool aid.
Adam Rittenberg:
It's obvious you can't handle reality. For those thinking about sending similar emails, let me save you the time. The scandal will be covered in the blog because it's a significant national news story affecting a school in the Big Ten. I don't make the news. It happened. It will be covered here. That's just the way it works. We didn't overload you with Sandusky trial updates, and most of the news will appear in our news rail on the main page. We've also been posting many items related to Penn State's team and the upcoming season (feel free to find another national sports outlet doing that). But if there are items that relate to former coach Joe Paterno, the football program and investigations that could impact the program, they will be posted here or linked to from the blog.
---
OK, now time for some Nebraska reflections on Year 1 in the Big Ten ...
Roy from Omaha:
I'm not a native Nebraskan, but have grown to love the passion and class of the NU fan base. Originally from Austin and a naturally a decided Longhorn fan, I was slowly swayed to the power of Red (much to the dismay of many relatives). When NU joined the Big 12, I was all for it and thought it would be great to play the teams I grew up watching. It was. We had some great games and rivalries (never seemed to get Texas' number, even when they were down). We lost our favorite rivalry with OU, and that was sad, but it couldnt be helped. The Big 8 is long, long gone, and we'll miss some of the annual contests. It was satisfactory, but I dont think we ever felt like we fit. We fit with the old Big * brethren and enjoyed playing the SWC teams, but something wasnt quite right. I dont feel any bad blood. The worst fans *were* our old Big 8 brethren and you cant blame them for their animosity - hell I'm sure it sucks to get beat up by the cafeteria bully every year. I cant describe the level of excitement though when it was started to be rumored that we might make a move to the Big 10. I can honestly say that no one I know wasnt for it 100%. We just seemed like a perfect fit. Throw in a protected rivalry with Penn State and a Thanksgiving game with Iowa, and you couldnt ask for more. B1G fans have been accomodating in so many ways - welcoming us and sincerely happy to have us in the fold. We fit. Finally after 15 tyears we feel like we belong. Thanks to all the B1G folks for that. We're so happy to be here.
Joshua from Chicago:
Nebraska coming into the Big Ten was a blessing to Husker Nation. Our culture as a program and fan base simply fits better than that of the Big 12. It is good to be in a conference that puts the standards of being a student athlete first! It has been great blog this last year Adam! Keep it up and can't wait for this year to begin.GBR!
Chad from Mount Vernon, Wash.:
i know, i know...i'm writing from Washington stat, but i'm a Cornhusker for life! you asked about thoughts on the Huskers first year in the Big 10, and that's what you'll get...it's weird. i still find myself watching Oklahoma, hoping they lose; Texas, hoping they somehow fall off the planet and lose every game; Kansas State, hoping for an even worse fate.so now I'm supposed to care about Ohio State, Michigan, Michigan State, and Wisconsin? i just don't...yet. in fact, for so long i hated the Big 10 - thought it was weak as it was filled with so many pushovers (Northwestern, Indiana, Minnesota, Purdue). all that said, the move was a good one for the future of Husker football. other sports, not so sure. as a baseball enthusiast, the Big 10 is not such a good move. for football, this was a good move for the Huskers. the Big 10 blue collar attitude is more akin to what Nebraska football has always been about. i look forward to many great seasons, even if in my gut i still somehow hate the Big 10!
Gene from Omaha:
Although the football team needs to adjust and take it up a notch(no doubt Bo Pelini feels the same), on a basis of atmosphere, the B1G beats the big 12 hands down. Having a commissioner who's actually in charge makes a huge difference. It's amazing how much acting as a cohesive unit makes things work easier. Just being able to watch games without having one ham-fisted school trying to dictate policy makes for an easier to watch, more competitive on-the-field game. The only thing I, as a Husker fan, would suggest is the league take a slightly different view on the Rose Bowl. While a very important goal, a national championship should be top priority.
JP from Washington D.C.:
You asked for Nebraska fans to share their opinions on NU's first year in the B1G. As a Husker fan living on the East Coast, I have to say that I could not be happier that NU made the move to the B1G. For the first time in forever, I was able to see every single game of the season televised. This is in no small part thanks to the B1G Network, but it is also due to the fact that the B1G simply gets more national exposure than the Big 12. I can remember more than one season being unable to watch big games... huge games like NU vs Oklahoma (!!!!)... because primetime Big 12 games were part of the ABC regional coverage package. Instead of one of the game's greatest historical rivalries, my local broadcast would inevitably be some ACC or (god forbid) SEC match-up. This is simply not a problem now that NU is in the B1G. Being able to watch NU-Wisconsin was a pleasure (despite the fact we only played one quarter) because I didn't have to spend hours trying to figure out whether or not the game would be broadcast in my area. I just knew the game would be on.
August, 24, 2011
8/24/11
4:00
PM ET
The people spoke, and the Iowa Corn Growers Association listened. The
Cy-Hawk Trophy will be getting another new look
, and hopefully a better one.
A temporary trophy will be used for this year's Iowa-Iowa State game, while a permanent design will debut in 2012. The Iowa Corn Growers Association wisely is reaching out to fans for their input on the trophy.
We did the same, and the response, not surprisingly, was tremendous. Kudos to you folks.
[+] Enlarge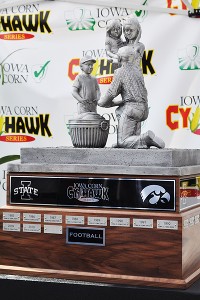 iowacorn.orgThe reviled new Cy-Hawk trophy, given to the winner of the annual Iowa-Iowa State football game, has been scrapped just four days after its unveiling.
Here are some of the best suggestions:
Mike from St. Louis:
Simple. Jack Trice in his Iowa State uniform shaking hands with Nile Kinnick in his Iowa uniform at mid-field.Captures Iowa/Iowa State, the two stadium names, two great icons, and the feeling of sportsmanship and state unity.
Gary from Houston:
How about making a bronze trophy of Chief White Cloud, the Chief of all Iowa, on a budding bronze field of corn on top of a walnut base. The total weight of the trophy should be 109 pounds equal to the distance in miles from Iowa City to Ames. Chief White Cloud's 1845 portrait appears to have scarlet, yellow and black in it. Of course he'll be holding a football to answer the "Hayden Fry" question.
Bob from South Elgin, Ill.:
The new trophy for the Iowa-Iowa State rivalry should have Jack Trice (Iowa States stadium namesake) and Nile Kinnick (Iowa's stadium namesake) facing each other on the gridiron. The slogan could be "we fight for our home turf". The symbolism of each man's heroic effort for freedom and equality goes WAY beyond the field of battle. It talks to the enduring qualities they both brought to each of us.
DZ from Waterloo, Iowa:
New Cy-Hawk Trophy Ideas-Go with the corn theme, have an oxidized copper ear of corn pulling down revealing a bronze football.Or have it be a football being peeled down like and ear of corn to reveal the corn beneath.
Derrick from Marion, Iowa:
My suggestion for a revised trophy would be to have a background with an agricultural setting (i.e. cornfields, barns, windmill, etc.) that transitions into the foreground which is representative of a football field. On that field have statues of Nile Kinnick and Jack Trice posing in prototypical poses used during their era in photographs. Locally the stories of each of these young men is well known; however, their story is less known outside the Midwest. I see their inclusion on the trophy an opportunity for their stories of equality and service to country to be told to those outside the Midwest. Each of these young men truly represented all that is good with sports and a trophy honoring them would be fitting and worthy of competing for.
Dave from Orange County, Calif.:
A big silver ear of corn, and each year the winners name is carved into a new kernel.. Think Stanley Cup of corn!! relevant and exciting.
Jason from Kansas City, Mo.:
Adam,I'm a Husker fan but thought of a great idea for the Cy-Hawk Trophy. Now picture this: On the base of the trophy is a field of corn in the shape of a Hawkeye, but where the eye of the Hawkeye logo would normally be, there is a twister (or cyclone) rising up from the field of corn, and either in or on top of the twister is the eye of the Hawkeye. Now, there's your trophy.
Brodie from Davenport, Iowa:
The trophy should be a giant thank you card from Iowa State saying "thank you for still putting us on your schedule"
Yvonne from California:
Keep it simple. The best college football trophies are a single symbol: a victory bell, a jug, a giant ax, a pig, the Axe. Take the basket of corn that's in the center of the current trophy and make a version of that the trophy. Then either put a base with the game scores under it, or have a plaque with the scores on the front of the basket.
A. McFadden from Cedar Falls, Iowa:
My suggestion for the annual Cy-Hawk Trophy:Showing the two mascots in a heated battle of "upper hand," with the usual stick being a stalk of corn with one of the visible ears of corn near the top of the stalk replaced with football with the usual corn husk surrounding it. This would embody the rivalry of "getting the upper hand" every year.
My take:
I absolutely love the suggestions that incorporate Jack Trice and Nile Kinnick. The legacies of both men should be celebrated as much as possible, and a rivalry trophy would be a great way to do so. My concern, as many of you point out, is that the trophy also likely needs a connection to corn because of the sponsor (Iowa Corn Growers Association). Would having a trophy with Kinnick, Trice and corn be too crowded? Perhaps. As Yvonne points out, the best rivalry trophies are simple symbols. I like the idea of a corn stalk being peeled to reveal a football. But if there's a way to display Trice, Kinnick and corn in a design both fan bases would enjoy -- as would the game sponsor -- it seems like the way to go.
July, 26, 2011
7/26/11
5:00
PM ET
In case you're wondering if Bennett and I are on Twitter, we are.
Check us out
.
Now let's get to those emails.
FFX from The Magic Kingdom writes:
Adam, love the blog. And, I'll have you know that I spoke to Mickey told me he enjoys it as well. Here's my question: With the B1G dividing into 2 divisions and having a conference championship game do you think that will lessen their chances at sending two teams to the BCS? And, if they do get two into the BCS, who do you think will have the better chance of getting in: The CCG loser, or the second place team from the winner's division?
Adam Rittenberg:
Tell Mickey wazzup. The addition of a championship game likely will impact the Big Ten's ability to send two teams to BCS bowls every season. Looking at conferences that have championship games, the losing team typically gets left out of the BCS bowl mix. We always hear how it's better to lose early than to lose late in the national championship race, and the same holds true for BCS at-large berths. So I'd fully expect there to be some seasons where a second-place team from a division gets a BCS berth ahead of the title game loser.
---
Paul from Owatonna, Minn., writes:
Final suggestion for Iowa/Neb trophy after your clue from the invite. Something to do with Nile Kinnick. He was born in Iowa and won a Heisman Trophy as a Hawkeye, and went to high school in Nebraska (I believe in the Omaha area). Hero reference because of the tragic way Kinnick's life was cut short.
I-Like-Iowa-Teams from Iowa writes:
In regards to the possibilities for the Iowa-Nebraska Trophy: Wings of Heroes Trophy Oversized airman's wings with Kinnick and Berringer's names inscribed below, with room for the winner and game MVP for each game played to be inscribed below. "Last year, Iowa took the Wings, we'll see who grabs them this year"
Drew from Milwaukee writes:
When you said that your invitation to the Nebraska-Iowa trophy game included the definition of a hero I immediately thought of Nile Kinnick on the Iowa side. A little research showed that John Pershing (commander of US forces in WWI) is a Nebraska alumnus. Any chance you think it could be the Pershing-Kinnick Hero trophy or something? If so would just like to point out this would mean Heroes, Legends and Leaders are all represented in the B1G - sounds like a great summer blockbuster!
Jim from Dubuque, Iowa, writes:
Iowa/Nebraska Trophy - Name it for John Wayne. He was from Iowa and his mother from Nebraska.
Adam Rittenberg:
Interesting suggestions, guys. While putting Kinnick's name on the trophy might turn off some Nebraska fans, his status as a hero shouldn't be questioned. We could see Kinnick combined with another name (more Nebraska-centric) on the trophy.
---
Andy from Boulder writes:
Hey Adam, you answered my last questions so I am hoping that you will answer this one as well. The media has completely blown the Ohio State case out of proportion. During the entire investigation the media was doling out punishments and reporting stories that had no factual basis. In typical fashion the media has made no apologies nor have they commented on the unfair treatment the University received. Lets not forget that the actual charges levied against Ohio State were almost never talked about especially in comparison to the speculation of what "journalists" wanted the charges to be. I have to say ESPN is by far the most guilty of this. I know you guys are an entertainment company and you really don't make claim to any real journalism but I was just curious about your opinions on the topic. Did the media unjustly crucify Ohio State and if so why hasn't anyone apologized? I ask you because I do value your opinions.
Adam Rittenberg:
Andy, I would agree that media members should apologize more than they do. There have been instances where the media goes too far and then doesn't offer an apology or a retraction when the circumstances change. Pride sometimes gets the best of people. In relation to Ohio State, I do think it was premature for everyone to assume a bowl ban was coming down without seeing an additional Notice of Allegations from the NCAA. You're right that the attention seemed to go away from the actual charges and toward assumed charges that hadn't arrived. People seemed to forget that the NCAA must prove allegations to drop the hammer on a program. But to say a bunch of stories were reported without factual basis isn't necessarily true, either.
There might have been some inaccuracies and those should absolutely be corrected, but a lot of folks are standing by their stories and their sources. I'd add that the NCAA's investigation into Ohio State absolutely can be questioned. Did the NCAA even attempt to talk to all the key figures? I'm not so sure about that. On the other hand, an investigative group without subpoena power is pretty weak. There has been a lot of smoke around Ohio State and some of it might be true, but I would say it's a mistake to assume severe penalties without seeing additional allegations from the NCAA.
---
Mark from Atlanta writes:
Adam,In your Key Stretch analysis of Illinois, you said that Michigan is a team that many Illinois fans view as their top rival. Is that true? Ohio State, Michigan State, ND, and probably Nebraska now are all ahead of Illinois, and I don't think many Michigan fans view them as a main rival. Just a little curious, as I had never heard that before
Adam Rittenberg:
Yes, Illinois fans definitely look at Michigan as a rival, even if it's not really mutual. When we did our series on college football hate in 2008, I heard from quite a few
Illinois fans who listed Michigan as their most hated opponent
. The teams have had some pretty exciting games, including last season's wild 67-65 triple overtime shootout in Ann Arbor.
---
Walter from Harrisonburg, Va., writes:
I have a big question for you guys. If the Big 12 erupts by Oklahoma and Texas A&M leaving for the SEC, what will the move from the Big 10 be? Would they scoop up the Big 12 North teams (Missouri, KU, KSU, ISU) to make a 16-team super conference? Would they only take Missouri and maybe raid the ACC for Pitt or Syracuse? What would your advice for Delany be? Thanks fellas, your hard work in the Blog is appreciated!
Adam Rittenberg:
Thanks, Walter. If and when there's another round of expansion, I doubt the Big Ten would look to the Big 12 North necessarily. The Big Ten already added the most valuable piece from the Big 12 North in Nebraska, and I've heard the league would be more interested in looking to the East. Big East teams like Syracuse, Pitt and maybe Rutgers could be on the radar, and I wouldn't be surprised if the Big Ten looked to the ACC and a team like Maryland.
---
Nick from St. Louis writes:
Adam, big FAIL on the article about fresh faces at MSU. The redshirt feshman right tackle you were trying to name is Skyler Schofner. I've never heard of Skyler Burkland. Do a little research man.
Andrew from Chicago writes:
Adam:In your "Fresh Faces" piece on Monday, I was delighted to see that Michigan State has a promising RS Frosh OT in Skylar Burkland. I'm sure he'll pair nicely with another 6'7 305lb RS Frosh OT named Skylar Schofner. Come on Adam, there isn't even a "Burkland" on MSU's roster. I know you're better than this.
Adam Rittenberg:
Ah, assumptions. I love 'em. Here's the deal, Spartans fans. Skyler Schofner is now going by Skyler Burkland. Michigan State informed me of the change after the
Fresh Faces post
on Monday. Skyler made the name change after spring practice, taking his father's surname, and will be referred to as Skyler Burkland from here on out.
---
Ryan from Champaign, writes:
Adam,As a lifelong Illini fan, I am compelled to wonder...if the Illini want to win their division, they will (most likely) have to beat Ohio St., Penn St., and Wisconsin, in the same year. I was just wondering the last time a Big 10 team accomplished that feat. Has it ever happened?
Adam Rittenberg:
Ryan, not trying to embarrass you, my friend, but your Illini were the last team to accomplish this, in 2007. Illinois beat Penn State and Wisconsin in back-to-back weeks in Champaign, and then stunned No. 1 Ohio State in Columbus that November. So there's a blueprint for Ron Zook's team this fall.
March, 12, 2010
3/12/10
12:00
PM ET
Spring ball in the Big Ten is less than 24 hours away. Check your pulse.
February, 25, 2010
2/25/10
1:30
PM ET
The traditions series marches on with Iowa, which generated a ton of responses from you fine folks. I had the chance to attend three games at Kinnick Stadium in 2009, including a night game against Michigan that might have provided the best atmosphere of the fall.
[+] Enlarge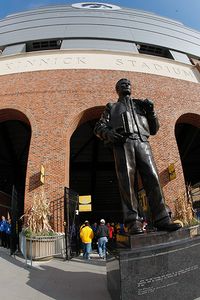 Scott Boehm/Getty ImagesIowa players and coaches touch the statue of Nile Kinnick before filing into the stadium.
Up next on the traditions list is Purdue, so Boiler fans, send in your suggestions before Friday morning.
Here's a look at some of Iowa's top game-day traditions:
In Heaven, There is No Beer/Hawkeye Victory Polka: After every Iowa win, the marching band delights fans with the playing of this song, which features the lyrics, "In Heaven, there is no beer... That's why we drink it here... And when we're gone from here... Our friends will be drinking all the beer."

Back in Black/entrance video: One of the best pregame intros you see, Iowa players are shown walking down the tunnel from their locker room to the field as AC/DC's appropriately titled hit blasts through the speakers in the stadium. On the video screen, Herky Hawkeye drives Iowa's equipment truck over the logo or mascot of that day's opponent.

I-O-W-A chant: Whether Iowa is playing at home or on the road, groups of fans will often spell out I-O-W-A, with each group representing a corner of the stadium. This chant is always done after Hawkeye touchdowns.

Touching the Kinnick Statue: After the buses arrive at the stadium, Iowa players and coaches make sure to touch the 20-foot statue of Nile Kinnick before going through the team entrance.

Kinnick's Heisman acceptance speech: Before every home game, Iowa plays video of Nile Kinnick's memorable Heisman Trophy acceptance speech in 1939. The speech took place during World War II and concludes with, "I thank God I was warring on the gridirons of the Midwest and not on the battlefields of Europe. I can speak confidently and positively that the players of this country would much more, much rather, struggle and fight to win the Heisman award than the Croix de Guerre."

"Big ass turkey leg": There's only one acceptable pregame meal at Kinnick Stadium, as fans flood the food stand selling, well, big ass turkey legs on Melrose Avenue. Yum. The guy hawking the turkey legs is rather entertaining.

Beer band: Not technically a game-day tradition, but on Friday nights before home games, a pep band makes its way to the Iowa City bars and plays the fight song, Victory Polka and other numbers.

Magic Bus: Widely recognized as the No. 1 tailgating spot before Hawkeyes games, the bus, operated by the Iowa City Rugby Football Club, is a can't-miss destination.
TESTIMONIALS
Joe from Iowa City, Iowa:
Hey Adam, Just throwing some more Iowa traditions at you. 1. I-O-W-A cheerthe Spirit Squad ways the four l-O-W-A flags at the corners of the field while the stadium cheers in Unison2. Back in BlackKirk always brings the team out to the field a bit early so they can get pumped up by the crowd and Back in Black is blasted through Kinnick to signal their arrival.3. Nile Kinnick's Heisman Award acceptance speech.During every pregame an excerpt of Nile Kinnick's Heisman award acceptance speech is played. Its considered to be one of the Best!4. The Hawkeye Victory Polka(This one is special for me because I'm the Drum major of the Hawkeye Marching Band and the only one who gets to conduct it!)At the End of a Hawkeye Victory the Drum Major of the Hawkeye Marching Band starts the victory polka. And depending on the importance of the Win or opponent such as a rival it can go on for quite some time. For Example....We played it at Iowa State till we were told to leave.
Zach from Iowa City:
Another set of Iowa Gameday traditions, obviously tailgating is huge in Iowa City and one of the best spots is the Magis Bus, also as the team leaves the locker room and heads toward the field ACDC's Back in Black gets the entire stadium buzzing inside and out within earshot, The team arrives with a police escort at 9 am and a new tradition has started as players rub Knile Kinnicks bronze foot as they enter Kinnick to get ready for the game.
Leighton from Iowa City: in re: to your posting on team traditions:sure many are repeats from other emails you've received, but for the Hawks they include:- "In Heaven There Is No Beer" after each Hawkeye win (all sports)- touch the Kinnick statue on the way into Kinnick Stadium (football)- dominating (wrestling)- trophy games (about which I'm sure you're aware)- "Big As* Turkey Legs"- Friday night the band plays in the bars downtown ('pedmall') - not sure if this is unique or not- pink locker room in Kinnick for visitors- "The Hawkeye State"
Mike B. from Iowa City:
Hi Adam,I'm writing to chip in some game day traditions for Iowa Hawkeye Football. I'm a student at Iowa and here are some of the traditions i've noticed at games.1. The Hawkeye victory polka or as the students call "in heaven there is no beer". This song is sung after every victory and i'd say that most students and fans know the lyrics. Some people don't like it because it promotes drinking but they won't ever get rid of the song because there was a lot of negative feedback when the university tried to get rid of it last time.2. Before the national anthem a portion of the end of Nile Kinnick's heisman Speech is played in the stadium3. Like many schools we do a chant of our name. I-O-W-A4. ACDC's "Back in Black" is always played as players enter the field5. Adam if you are ever in Iowa City on Game day, you have to get a "big ass turkey leg" from Chuck. It's a big part of Iowa tailgating.
September, 17, 2009
9/17/09
1:00
PM ET

Posted by ESPN.com's Adam Rittenberg
A secondary knows it has things rolling when two of its members have a conversation like the one Tyler Sash and Brett Greenwood had on the Iowa bench last Saturday at Jack Trice Stadium.
Iowa led 28-3 over Iowa State, and both Sash and Greenwood had recorded two interceptions against Cyclones quarterback
Austen Arnaud
. As the two safeties took a few moments to relax and celebrate a big day, Sash turned to Greenwood.
| | |
| --- | --- |
| | |
| | Stephen Mally/Icon SMI |
| | Tyler Sash had three interceptions in the Hawkeyes' win over Iowa State. |
"On the bench, I said, 'If I get another one, you owe me dinner. If you get one, I owe you dinner,'" Sash recalled. "A couple plays later, I got my third one."
Sash admits one of his picks should have gone to Greenwood, but he's not about to give it back. The two players tentatively scheduled a dinner date for Monday night.
"He told me he was going to buy me a quarter-pounder or something, but I don't think coach [Chris] Doyle, our strength coach, would like that," Sash said. "So it'll probably be something a little healthier."
Opposing quarterbacks and ball carriers are always on the menu for Iowa, which led the Big Ten in takeaways last fall (32) and already has a league-high seven in the first two games. Sash and teammate Pat Angerer shared the league lead in interceptions with three in 2008, and Sash's three picks against Iowa State tied a single-game team record.
He's tied for second nationally in interceptions and needs just 10 picks to tie the team career record of 18 shared by Nile Kinnick and Devon Mitchell.
Defensive coordinator Norm Parker can't explain the spike in takeaways, and neither can head coach Kirk Ferentz. Angerer admits he didn't play much pass coverage in high school but was always around the ball last season.
"We just practice hard, play hard and things happen," Sash said. "We, as a team, try to be around the ball, if it's fumbles, fumble recoveries, interceptions, whatever it is. There's really no answer to that."
June, 12, 2009
6/12/09
8:30
AM ET
Posted by ESPN.com's Adam Rittenberg
After a brief layoff, College Football Live's 50 States Tour returns to Big Ten territory as Iowa will be featured on Friday's show (ESPN, 3:30 p.m. ET). As I've found out doing this job, Iowa fans are extremely passionate and vocal about their teams, and the state boasts a good deal of history for both college and high school football.
Expect coverage of Nile Kinnick, the Cy-Hawk rivalry and Hayden Fry's creative color schemes on the show. And be sure to weigh in on several Iowa-related questions over at SportsNation.
Here's one to whet your appetite.
Which is the best team in state history?
1958 Iowa (8-1-1)
1976 Iowa State (8-3)
1985 Iowa (10-2)
2002 Iowa (11-2)
2007 Northern Iowa (12-1)
February, 24, 2009
2/24/09
4:43
PM ET
Posted by ESPN.com's Adam Rittenberg
I'm putting a bow on the Big Ten's Mount Rushmore series with the league-wide version. Before getting to the final four choices, here are the links to each football team's Rushmore.
In many ways, the Big Ten's Rushmore was the easiest list to compile. The league has so much history that it's really hard to go wrong. At least that's what I'm telling myself before I see your e-mails.
You can quibble all you want about guys like Bronko Nagurski, Red Grange, Nile Kinnick, Fielding Yost, Archie Griffin and Dick Butkus, but all those guys are legends in this league. And trust me, there were a few very tough choices here.
I wanted to find a mix of players and coaches that truly represented the Big Ten's rich history, so I tended to look more at players and coaches from the distant past. I also wanted to have representatives from four different schools, even though Michigan and Ohio State had multiple candidates for selection. I realize that might not be the popular approach, but I think it's good to get a broad representation of the league.
You won't find any Penn State players or coaches on the list, but that's solely because the football team fully joined the league only 16 years ago.
OK, enough babbling. The envelope, please ...
Ohio State coach Woody Hayes -- A Big Ten and college football icon, Hayes won five national titles and 13 league championships in 28 years at Ohio State. His battles against archrival Michigan and Bo Schembechler in the "Ten Year War" will always remain a huge part of the sport's fabric. Hayes won more Big Ten games (152) than any other coach.
Michigan coach Bo Schembechler -- If Woody's on Mount Rushmore, Bo should be, too. I'll tell the engraver to put them at opposite ends of the mountain. Schembechler coached Michigan to 13 Big Ten titles and ranks second to Hayes in all-time conference victories (143). He won 194 games at Michigan and later served as the school's athletic director. Though Fielding Yost made a greater impact on the national stage with six championships, Schembechler has a deeper connection to the Big Ten.
Illinois halfback Red Grange -- ESPN's pick as the greatest player in college football history certainly deserves a spot in this esteemed group. Grange put the Big Ten and college football on the sporting map with a dominant career in the early 1920s. He was the first recipient of the Big Ten MVP award and earned All-America honors in each of his three seasons at Illinois.
Minnesota fullback and defensive lineman Bronko Nagurski -- Considered one of the greatest football players of all-time, Nagurski was the first player to earn consensus All-America honors at two different positions in the same year. He helped build Minnesota into a national powerhouse and has his name on the trophy given annually to college football's top defensive player. He was a charter member of both the college and pro football Halls of Fame.
Others considered for the Big Ten's Rushmore: Fielding Yost, Archie Griffin, Nile Kinnick, Duffy Daugherty, Dick Butkus, Charles Woodson, Hayden Fry, Joe Paterno, Bubba Smith and Barry Alvarez.
February, 23, 2009
2/23/09
9:00
AM ET
Posted by ESPN.com's Adam Rittenberg
The Big Ten Mount Rushmore series concludes today with Iowa, Indiana and Illinois (reverse alphabetical order, remember). Iowa is up first.

Unlike other long-standing Big Ten members, Iowa has some strong candidates from both the distant past and recent memory. There's at least one slam-dunk choice on my list, though I'm sure Hawkeye Nation will have some opinions of its own to share. That's what makes it fun.
Iowa also produced one of the more controversial candidates for selection, former head coach and athletic director Forest Evashevski, who didn't make the final cut.
Here's Iowa's rundown.
Nile Kinnick -- His name is on the stadium, and no figure means more to Iowa football. Kinnick is undoubtedly the greatest Iowa football player of all-time, winning the Heisman Trophy in 1939 after a dominant performance running, throwing and punting the football. He was an All-American both on and off the football field, and his moving Heisman acceptance speech and wartime death added to his legend.

Hayden Fry -- Fry not only resurrected a sputtering Iowa program, but he changed the culture around the team. From the pink visitors' locker room to the Pittsburgh Steeler-like uniforms to the way Iowa players entered the field, Fry shaped the Hawkeyes program into a winner again. He coached Iowa to three Big Ten championships, three Rose Bowl appearances and 14 bowl games. The College Football Hall of Famer went 143-89-6 at the school and mentored numerous assistants who went on to lead other programs.

Chuck Long -- Long rewrote the record books at Iowa and remains one of the program's most beloved players. A four-year starter at quarterback, Long led Iowa to a 35-13-1 record and four bowl appearances (he actually played in five bowls total). In 1985, he won the Maxwell Award and Big Ten Player of the Year honors, and was the runner-up to Bo Jackson for the Heisman Trophy. The College Football Hall of Fame selection was the first Big Ten player to eclipse 10,000 passing yards.
Cal Jones -- One of only two Iowa players to have his number retired, Jones dominated the line of scrimmage in his three seasons as a Hawkeye. He was the first black player to earn the Outland Trophy in 1955 and won first-team All-Big Ten honors in all three seasons he played. Jones, who died in a plane crash in 1956, is one of only two two-time consensus All-Americans at Iowa and a College Football Hall of Fame selection.

Others considered for Iowa's Rushmore included: Evashevski, Alex Karras, Tim Dwight, Bump Elliott, Calvin Jones, Randy Duncan, Kirk Ferentz and Duke Slater.
August, 1, 2008
8/01/08
12:30
PM ET
Posted by ESPN.com's Adam Rittenberg
Here's a look at 10 players who earned the title of "Captain Clutch" during their Big Ten careers:
Anthony Carter, WR, Michigan [1979-82] -- Carter was only a freshman when he played a part in one of the greatest plays in Michigan history, hauling in a 45-yard touchdown pass as time expired to beat Indiana in 1979. The wideout/return man had 37 touchdown receptions in three seasons.
Kerry Collins, QB, Penn State [1991-94] -- Penn State joined the Big Ten in 1993, and Collins made his mark the next year. He led the Nittany Lions to a 12-0 record, which included three road victories (Michigan, Indiana, Illinois) by seven points or fewer.
Ron Dayne, RB, Wisconsin [1996-99] -- The NCAA's all-time rushing leader made his mark in big games, winning back-to-back Rose Bowl MVP awards after rushing for 246 yards and 200 yards in Badger victories. Dayne also had a 246-yard effort in his first bowl appearance, a Cotton Bowl win against Utah.
Bob Griese, QB, Purdue [1964-66] -- Griese's near-flawless performance in Purdue's upset of No. 1 Notre Dame in 1965 stands as one of the greatest in team history. The next year he led the Boilermakers to their first Rose Bowl appearance and a 14-13 win against USC.

Brian Griese, QB, Michigan [1994-97] -- After coming off the bench to rally the Wolverines past Ohio State in 1996, Griese cemented himself as a clutch quarterback the next season. He led Michigan to a 12-0 record and a national championship, winning five games by 10 points or fewer, including a 21-16 triumph over Washington State in the Rose Bowl.
Jim Harbaugh, QB, Michigan [1983-86] -- Considered by many to be the best quarterback in school history, Harbaugh led Michigan to a 27-23 win against Nebraska in the 1986 Fiesta Bowl. He won four games by three points or fewer as a senior.
Nile Kinnick, RB, Iowa [1937-39] -- The stadium is named after him for a reason. Kinnick did it all for Iowa, including a 63-yard punt that pinned No. 1 Notre Dame at the 6-yard line in a 7-6 Hawkeyes win in 1939.
Craig Krenzel, QB, Ohio State [2000-03] -- He took heat for his arm strength, but no one could question his late-game toughness. The two-time Fiesta Bowl MVP led Ohio State to a national title in 2002 with his arm and his legs.
Chuck Long, QB, Iowa [1981-85] -- A dramatic fourth-down touchdown run against Michigan State kicked off a memorable 1985 season for the Hawkeyes and Long, who many believe should have won the Heisman Trophy. Two weeks later, Long rallied Iowa past Michigan.
Mike Nugent, PK, Ohio State [2001-04] -- Record-setting kicker was nearly unshakable under pressure. He kicked game-tying and game-winning field goals to beat Purdue in overtime in 2003, and his game-winning 55-yard kick against Marshall stands out in an otherwise forgettable 2004 season.