Big Ten:

Northern Iowa Panthers
November, 28, 2014
Nov 28
10:00
AM ET
Hopefully you've already recovered from a day's worth of turkey and pumpkin pie because the games start in about two hours.
It's the final week of the Big Ten's regular season, and there are still quite a few questions left to be answered: Will
Tevin Coleman
surpass 2,000 yards on the season? Who will face Ohio State in the Big Ten championship? Will Northwestern or Illinois find its way to bowl eligibility?
There are no night games or byes this week. So shake off that tryptophan, make another turkey sandwich – possibly to go with that bowl of turkey soup – and get that remote ready. Here's a glance at what you should look forward to (all times ET):
Noon Friday
Nebraska (8-3, 4-3 Big Ten) at Iowa (7-4, 4-3), ABC:
Ameer Abdullah
admitted he's been frustrated the past two weeks – because of his injury and back-to-back losses – and even said matter-of-factly,
"It sucks. It definitely does suck."
Bo Pelini is on the hot seat again and can't afford a third straight loss; Kirk Ferentz wants to secure another eight-win season and have some kind of trademark Big Ten victory. (Iowa hasn't beaten a Big Ten team with a winning record.) Something has to give.
[+] Enlarge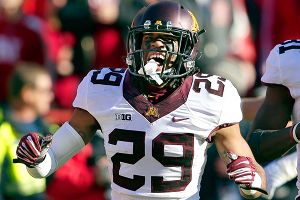 AP Photo/Nati HarnikMinnesota and defensive back Briean Boddy-Calhoun are playing for a Big Ten division title at Wisconsin.
Noon Saturday
Illinois (5-6, 2-5) at Northwestern (5-6, 3-4), ESPNU:
Let the (unlikely) battle for bowl eligibility begin. Northwestern bounced back from a 3-6 record with victories over Notre Dame and Purdue, while Illinois played its best special-teams game of the year last week to beat Penn State. The Wildcats are without senior QB
Trevor Siemian
, who suffered a torn ACL, so their postseason hopes are pinned to backup
Zack Oliver
.
Purdue (3-8, 1-6) at Indiana (3-8, 0-7), BTN:
Don't let the records fool you. Sure, these are two of the worst teams – recordwise – in the Big Ten. But this one might be worth watching for no other reason than
Tevin Coleman
, who could be playing in the final college game of his career. Coleman needs just 94 yards to reach 2,000 on the season and he's also a finalist for the Doak Walker Award. He might be the best running back in the nation not named
Melvin Gordon
.
Michigan (5-6, 3-4) at No. 6 Ohio State (10-1, 7-0), ABC:
The Ga_e will always _ean so_ething special. Especially as long as Ohio State continues with its tradition of
crossing off every "M" on campus
. The Buckeyes are the big favorite, while the Wolverines have been a big disappointment. But nothing would make Wolverines fans happier than knocking Ohio State out of the playoff picture. Of course, Ohio State is also currently scoring an average of 24 points more per game than Michigan -- so that's not going to be easy.
3:30 p.m. Saturday
No. 10 Michigan State (9-2, 6-1) at Penn State (6-5, 2-5), ABC:
The Nittany Lions are hoping to experience some déjà vu this season. Last year, they entered their home finale as 24-point underdogs to Wisconsin and some way, somehow, came out on top in an upset. This season, they're only 13-point underdogs. And while the Penn State defense is historically good this season, the offense is historically bad. Michigan State, on the other hand, is a well-rounded team that's fighting for a trip to one of the New Year's Six bowl games.
No. 18 Minnesota (8-3, 5-2) at No. 14 Wisconsin (9-2, 6-1), BTN:
It all comes down to this in the West. The winner will advance to the Big Ten title game to face Ohio State; the loser will have to lament watching it from the dorms. Gordon needs just 1 yard to break the Big Ten single-season rushing record, and Minnesota's
David Cobb
is "very questionable" for the contest. Jerry Kill is arguably the front-runner for Big Ten Coach of the Year and, if he pulls this out, we can probably take "arguably" away from that sentence. This is a must-watch.
Rutgers (6-5, 2-5) at Maryland (7-4, 4-3), ESPNU:
Both teams have met or exceeded expectations this season, but it's been a difficult second half for Rutgers. After starting 5-1, the Scarlet Knights have won just one of their past five and have looked really overmatched against the B1G's best. Maryland has looked like the better team – and beat both Iowa and Penn State – but Rutgers would like to change the conversation here. A victory for either team would go a long way; Rutgers could grab some second-half respect or Maryland could climb its way to a better bowl.
Required reading
June, 21, 2013
6/21/13
4:30
PM ET
Wishing you a great summer weekend. Check us out
on Twitter
.
To your emails ...
Martin the Spartan from Okemos, Mich., writes:
Adam,
you said
, and I quote, "Speaking of Michigan, the Wolverines are no longer the program Michigan State outperformed on the field and on the recruiting trail from 2008 to 2011." Since when has Michigan State ever out recruited Michigan? Michigan had Top-10 recruiting classes those years, while Dantonio was developing 1-stars into defensive giants! What gives?
Tom from Grand Ledge, Mich., writes:
Adam, in your article, "Built for this year in the Big Ten," you stated:"Speaking of Michigan, the Wolverines are no longer the program Michigan State outperformed on the field and on the recruiting trail from 2008 to 2011. Michigan's recruiting has surged under Brady Hoke, and the Wolverines currently boast the nation's No. 1 class, according to RecruitingNation. "My question is this, what are you smoking? In the entire history of the very RecruitingNation rankings that you reference, MSU has not once been ranked ahead of UM. In fact, other than Brady Hoke's first year (2011), UM has not been ranked lower than 14th in those rankings, while MSU has not cracked the top 25 even once. Why should we rely on these rankings as evidence that the tide is turning when they have never been a good indicator in the past? Pardon my Spartan brethren and me as we politely ask you to stop spewing this nonsense.
Adam Rittenberg:
Martin and Tom (and other Spartan fans), outperformed probably was the wrong word to use to describe the Michigan State-Michigan recruiting trend between 2008-11. It certainly applies more to the on-field results. For that, my apologies. But you can't deny that Michigan State's in-state and regional recruiting efforts improved during that period, in large part because of the Spartans' success but also because of Michigan's on-field struggles and Rich Rodriguez shifting the recruiting focus to other areas (i.e. Florida). Michigan State didn't have a bunch of 1-stars those years, Martin.
Brady Hoke not only has improved Michigan's overall recruiting but targeted the state and the region for top prospects. While Michigan State is still recruiting pretty well, there has been a bit of a drop-off in my view, at least with local recruiting, that can be attributed to Hoke and Michigan's success.
RecruitingNation's rankings are one metric, but they're not everything and they don't always reflect some of the specific trends between two programs. Under Hoke, Michigan has become a bigger challenge for Michigan State both on the field and in local recruiting.
---
Mike from Denver writes:
Adam - I noticed a trend in all the responses you are posting for non-conference match-ups ... drum roll please, SEC. Obviously, this is not surprising coming from a fan base tired of SEC national championships, built-in advantages (recruiting, bowl locations), and the hard to swallow truth that the B1G is playing catch-up. What sense do you get from the league office and AD's that this is a priority? There is no comparison between these two conferences and any other in terms of fan base and support. A scheduling agreement (similar to what the Pac12 ducked) would further increase the "inventory" for the next B1G TV deal and with the B1G open to late season non-conference games, maybe you could actually get an SEC to fly north after Sept (I don't think that is against NCAA regulations is it). Could this happen?
Adam Rittenberg:
Mike, while I wish it could happen and would welcome such an agreement in a heartbeat, it's highly doubtful. As the Big Ten found out with the
short-lived Pac-12 scheduling alliance
, it's still about the individual schools and their interests/priorities rather than the league's. While Big Ten commissioner Jim Delany had the entire conference on board, Larry Scott couldn't deliver the same with the Pac-12, a league that, unlike most of the SEC, has been aggressive with its non-league scheduling and willing to take on all comers.
Delany often uses the phrase "big stadium vs. big stadium" in describing Big Ten-SEC matchups, and the reluctance of either side to give up the money they get from filling those big stadiums likely prevents a full-blown alliance. The growing trend of neutral-site games has helped create more matchups, whether it was Michigan-Alabama last year or Wisconsin-Alabama in 2015 (and most likely Wisconsin-LSU in 2014). There are a few Big Ten-SEC series on the books, including Michigan State-Alabama, Michigan-Arkansas and Nebraska-Tennessee. But I can't see every SEC school getting on board, especially when some are shying away from programs like
Rutgers
,
Northwestern and Ohio State
, and others have non-league series they want to keep (i.e. Florida-Florida State).
June, 20, 2013
6/20/13
2:30
PM ET
When the
Big Ten in February decided to gradually eliminate all FCS games
from future schedules, I labeled it a victory for the league's fans.
Fans get only 6-8 chances per season to see their team play at home, and it's unfortunate when one of those games comes against a vastly overmatched foe from a lower division with fewer scholarship players. The elimination of FCS teams, part of a larger Big Ten initiative to beef up non-league schedules, benefits players, fans, television partners and the league's national perception.
But not everyone is thrilled about the Big Ten's FCS ban.
Iowa athletic director Gary Barta
and
Minnesota AD Norwood Teague
are somewhat reluctant about the league's new policy. And they have understandable reasons to be a bit resistant. They're called Northern Iowa and North Dakota State.
[+] Enlarge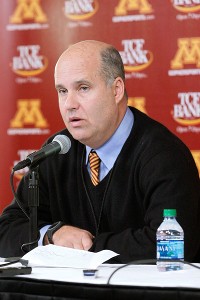 AP Photo/Paul BattagliaMinnesota AD Norwood Teague attributed the ban on playing FCS teams to having to appease the Big Ten's TV partners.
One problem with league-wide scheduling policies is that they can be countered with specific examples. Most FCS teams can't compete with Big Ten opponents, and the recent results back this up. But a handful of FCS teams, many located in or near the Big Ten's footprint, can hold their own. They provide early season challenges equal to or better than those from lower-level FBS opponents.
North Dakota State certainly qualifies. The Bison have won the past two FCS national championships. They have beaten an FBS team in each of the past three seasons, including Minnesota in 2011. They're 6-3 against the FBS since 2006.
Northern Iowa hasn't had as much FBS success -- just one win since 2001 -- but the Panthers gave Wisconsin all it could handle in the 2012 opener and nearly knocked off Iowa, the eventual Orange Bowl champion, in the 2009 opener. UNI has won 10 or more games in seven of the past eight seasons.
There are other examples like North Dakota State and Northern Iowa, including many in the Midwest. North Dakota State is
No. 1 in Lindy's magazine's preseason FCS poll
, while South Dakota State (No. 4), Northern Iowa (No. 13), Eastern Illinois (No. 18), Youngstown State (No. 19) and Illinois State (No. 22) also made the Top 25. These are good teams despite their FCS designation. Michigan fans still shudder when FCS Appalachian State is mentioned, but the Appy State team that upset Michigan in 2007 was much, much better than the FBS Toledo squad Michigan inexplicably lost to in 2008.
Minnesota's Teague recently told Chris Murphy of The Forum of Fargo-Moorhead that he would like to keep playing North Dakota State, but he has to be a good Big Ten soldier.
"It is primarily television pressuring and wanting the Big Ten to provide games that are [Football Bowl Subdivision] versus FBS teams," Teague said earlier this week in Moorhead, Minn. "That's understandable. They pay us a lot of money, and it's just the desire of television that they want us to do that. That was their message to the Big Ten."
He continues.
"We operate in a world now in college athletics where we have to balance a budget. [Big Ten Commissioner Jim Delany] needs to go out and redo our television contracts with ABC, ESPN, Big Ten Network, and we've got to be a very good partner with them or we aren't going to get the revenue we need to compete."
And here's more.
"I know it sounds money-oriented, but it is what it is," Teague said. "Balancing our budget is tough. We generate 95 percent of what we balance. We get very little from the university. We have to really fight and claw to do that. We are competing in a league that is very tough with competitors that are way ahead of us with facilities and things like that."
Yes, it's all about the money, and Teague's candor here is refreshing. I understand the FCS-TV argument from a macro level: more attractive matchups get better ratings, and most Big Ten-FCS matchups aren't very attractive. But when you look at specifics, is Minnesota-North Dakota State less appealing to TV than Minnesota-New Mexico State, an FBS vs. FBS game that takes place Sept. 7 at TCF Bank Stadium? Is Iowa-Northern Iowa less appealing to TV than Iowa-North Texas, a game scheduled to take place in 2015 at Kinnick Stadium? That's a hard argument to make.
I'd rather see a fun regional matchup, even if it's against an FCS team, than a snoozer like Minnesota-New Mexico State or Iowa-North Texas. And while Big Ten teams are adding more major-conference foes to their future schedules, which is great to see and long overdue, the guarantee games against lower-level FBS teams aren't going away. Couldn't a good FCS team be substituted for a really bad FBS one?
If there was a way to ensure Big Ten teams would only schedule top-level FCS opponents, I'd be in favor of lifting the ban. But there's no way to effectively regulate it, and as we know with future scheduling, seemingly good matchups can turn lousy by the time they actually take place. Big Ten teams would still find tomato cans, and we'd still see too many blowouts that don't benefit anyone.
It's unfortunate for the good FCS programs, especially from a financial standpoint, as they make great coin for visiting Big Ten stadiums. But if the FCS ban is necessary for the Big Ten's larger push to beef up scheduling, I'm for it.
July, 5, 2012
7/05/12
1:00
PM ET
The 2012 football season is rapidly approaching, and to get you ready, we're providing a very early preview of each Week 1 matchup in the Big Ten. Defending Big Ten champion Wisconsin returns to the field -- with a
new playing surface
, by the way -- at Camp Randall Stadium on Sept. 1.
Montee Ball
begins his quest for the Heisman Trophy,
Danny O'Brien
likely makes his debut at quarterback, and the Badgers start their push toward another Rose Bowl appearance.
Let's see what Week 1 has in store for Bret Bielema's squad.

For more Week 1 matchups,
click here
.
Week 1 opponent:
Northern Iowa
Coach:
Mark Farley (12th season, 99-41)
2011 record:
10-3 (7-1 Missouri Valley)
Returning starters:
15 (8 offense, 5 defense, 2 specialists)
About the Panthers:
Northern Iowa has replaced Southern Illinois as the premier FCS program in the Midwest. Since 2001, the Panthers have recorded six 10-win seasons and claimed seven Missouri Valley Conference titles. They've finished in the FCS Top 25 in 10 of the past 11 years, with six top-5 appearances during the span. But UNI hasn't fared well against FBS foes as of late, and Iowa has won 14 straight against the Panthers. UNI returns most of its core on offense but says goodbye to standout quarterback
Tirrell Rennie
, who accounted for 23 touchdowns (14 pass, 9 rush) in 2011. Running back
David Johnson
returns after racking up 822 rush yards and nine touchdowns last fall. The Panthers lose their top three tacklers from 2011, including linebacker L.J. Fort, who led the FCS with an insane 184 total tackles in 2011. Redshirt freshman quarterback
Sawyer Kollmorgen
stood out during the spring game (237 pass yards, 2 TDs).
Random factoid:
Northern Iowa is challenging itself right out of the gate, traveling to both Wisconsin and Iowa in the first two weeks. The Panthers have recorded three somewhat recent wins against Iowa State (2007, 1994 and 1992) and boast a 3-0 mark against Kansas State, but they have only one win against a Big Ten opponent (an 11-5 triumph at Iowa in 1898).
Series with Wisconsin:
First meeting.
Totally unscientific percentage chance Wisconsin wins:
84 percent. Northern Iowa is a very good FCS program, but it loses several key pieces and must win at a stadium where most FBS programs get pummeled on a regular basis. Wisconsin will be breaking in a new quarterback (most likely O'Brien, the Maryland transfer), but it boasts one of the nation's top rushing attacks and some star power on defense. The Badgers haven't lost at home since midway through the 2009 season, and their ground game will be a handful for a new-look UNI defense.
September, 9, 2009
9/09/09
11:30
AM ET

Posted by ESPN.com's Adam Rittenberg

It's a good thing TV cameras were present at Kinnick Stadium last Saturday to capture the final seven seconds of Iowa's matchup against Northern Iowa.

Without video evidence, it might be hard to convince the outside world of what actually happened.

"I've never seen stuff like that," Iowa linebacker A.J. Edds told me. "If you tried to make a movie with that script, I don't think anybody would believe it."

Edds was on Iowa's field-goal block team as Northern Iowa's Billy Hallgren set up for a potential game-winning 40-yard attempt with his team trailing 17-16. Hawkeyes defensive lineman Broderick Binns blocked Hallgren's kick, and the ball fluttered behind the line of scrimmage.

Edds estimates that any of the 11 Iowa defenders could have scooped up the ball, but they chose to stay away, normally the wise move after a blocked kick. But since the ball never crossed the line, Northern Iowa recovered and got another chance because it was only first down.

Hallgren lined up from 41 yards out, but linebacker Jeremiha Hunter came up with another block, which sealed the victory for Iowa.

"I haven't been a part or around, or even heard of anything similar to that," Edds said. "To have it happen once is pretty long odds. And then to emotionally flush the first [block] and try to find a way to do it again, it leaves you speechless. Big play. We would have loved to not be in that situation, but we were and we found a way to get it done."

Edds had always been instructed to stay away from a blocked kick unless he could easily scoop up the ball and run. He imagines the wild finish will be used by numerous coaches to teach their players the little-known rule about blocked kicks behind the line of scrimmage when it isn't fourth down.

"That's a situation where you live and learn," Edds said. "It's a situation where you don't want to live through it again, but now we know what has to happen.

"After we got the second block, Pat [Angerer] jumped on it. We tried to leave nothing to chance on that one. We had a couple guys jump on. I jumped on Pat to make sure we took care of it."
September, 8, 2009
9/08/09
9:00
AM ET

Posted by ESPN.com's Adam Rittenberg
After several installments of power rankings during the offseason (when no games were actually being played), it's time to assess the league with a bit of concrete evidence.
First, a quick power rankings primer. These rankings are meant to be fluid. If a team loses or struggles in a game it should win, it pays the price. If a team looks impressive in victory or pulls an upset, it usually moves up. Try not to
throw a tantrum
if your team isn't where you think it should be. There are opportunities every week to move up. And move down.
Week 1 wasn't great for the Big Ten, as two ranked teams (Ohio State, Iowa) struggled and a potential sleeper team (Illinois) simply fell asleep. But there was good news in Ann Arbor, as Michigan looks to be respectable again. The top three look very solid to me. After that, it's a bit murky.
1. Penn State (1-0)
-- The Nittany Lions handled their business with no drama against Akron, surging to a 31-0 halftime lead.
Daryll Clark
showed why he's the Big Ten's best quarterback, and for now, Penn State is the league's top team. Joe Paterno wants to see better play from his offensive line, but the wide receivers looked impressive.
2. Ohio State (1-0)
-- Sure, Navy is a tricky team with a tricky offense. Tell me something I don't know. Bottom line: Ohio State was bigger and more talented at pretty much every position. The Buckeyes had a chance to put away the game early in the fourth quarter, but head coach Jim Tressel made
a poor decision
and his players had several breakdowns. It will take a much better performance across the board to simply keep pace with USC.
3. Michigan State (1-0)
-- The Spartans hold a firm grip on the No. 3 spot after a stress-free win against Montana State. Quarterbacks
Kirk Cousins
and
Keith Nichol
continue to pace one another in a good way, and linebacker
Greg Jones
picked up where he left off in 2008. Michigan State's line play still concerns me a bit, but I like the team's depth at most key positions.
4. Northwestern (1-0)
-- Iowa's near disaster allows Northwestern to move up a spot. Towson didn't present much of a challenge for the Wildcats, who could have easily put up 60 points in Saturday's game. They might not get a true test until Week 3 or 4, but they had to be pleased with quarterback
Mike Kafka
and wide receiver
Andrew Brewer
in the opener.
5. Iowa (1-0)
-- Hawkeye fans are already spreading the Northern Iowa gospel after their team was a 41-yard field goal away from a crushing defeat on Saturday. True, the Panthers are an excellent FCS program, but Iowa should feel free to take care of business and perform like a ranked team. It didn't happen, and the Hawkeyes' run game seems a bit shaky with
Jewel Hampton
lost for the season. There will be chances to move up, and Iowa needs to look like the team that ended last season on a great run.
6. Michigan (1-0)
-- No team in the Big Ten had a more impressive debut, especially considering the circumstances. Rich Rodriguez's team showed unity, toughness and, most important, better execution on both sides of the ball as it totally dismantled Western Michigan. Rodriguez finally has the right quarterbacks in place to run his offense (
Tate Forcier
,
Denard Robinson
), and the defense looked extremely well coached and energized as it ruined
Tim Hiller
's day. A chance to make a national statement and move up the rankings arrives Saturday against Notre Dame (ABC, 3:30 p.m. ET).
7. Wisconsin (1-0)
-- Finishing games will continue to be a theme in Madison after Wisconsin allowed two late touchdowns to Northern Illinois. But for the most part, the Badgers had a nice debut as
Scott Tolzien
performed well at quarterback and
Isaac Anderson
distinguished himself as a playmaker at wide receiver. Wisconsin will need a more complete performance against Fresno State to move up the rankings.
8. Minnesota (1-0)
-- A come-from-behind road win certainly means something, but Minnesota probably shouldn't have been in such a desperate position against Syracuse. The Gophers easily jumped ahead 14-3 but endured an offensive lull similar to the ones that cropped up late last season. Linebacker Lee Campbell led an admirable defensive performance. Air Force provides a good test this week as Minnesota opens TCF Bank Stadium.
9. Purdue (1-0)
-- Boilers fans have the right to be a bit ticked off with this placement, but I need to see a little more from Danny Hope's team before buying in. If Purdue heads to Eugene and pulls the upset -- or merely keeps pace with Oregon for the second straight year -- I'll be happy to move the Boilers up the rankings.
Ralph Bolden
's performance was extremely impressive, though the defense needs to be better against
Jeremiah Masoli
and the wounded Ducks.
10. Illinois (0-1)
-- Granted, Illinois played a tougher opponent (Missouri) than its Big Ten brethren in Week 1, but a complete collapse in St. Louis is simply unacceptable. The Illini were the deeper and more experienced team, but they looked flustered and lifeless at times, delivering the type of performance that kept them out of a bowl game last year. A 1-4 start isn't out of the question for Illinois, which needs to bounce back strong to avoid a trip to the basement.
11. Indiana (1-0)
-- A win's a win, but there won't be many more in Bloomington if Indiana doesn't pick up its play on both sides of the ball. The pistol formation was supposed to spark the rushing attack, but the Hoosiers gained just 73 yards on the ground against Eastern Kentucky, an FCS team. Indiana had three turnovers and endured several breakdowns in the secondary. Western Michigan and Hiller provide a bigger test this week, and Indiana needs to meet it.
August, 31, 2009
8/31/09
9:00
AM ET
Posted by ESPN.com's Adam Rittenberg
Big Ten football is here!
If you could see me right now, I'd be doing my happy dance. On second thought, it's probably better you don't see me.
Anyway, after this Sahara of an offseason, I'm excited to start blogging about actual games again.
Here's a quick rundown of what's on tap for the opening weekend in the Big Ten:
THURSDAY
Eastern Kentucky at Indiana, 8 p.m. ET, Big Ten Network
Indiana debuts the pistol offense against FCS Eastern Kentucky, a team that enjoyed good success under current Purdue head coach Danny Hope from 2003-07. Keep an eye on the Hoosiers' running back race, as three or four backs, including dynamic redshirt freshman Darius Willis, are expected to get carries. Coming off a 3-9 season, Indiana needs a strong start from its defense, who will face Colonels quarterback Cody Watts, a converted wide receiver who led the team in touchdown receptions (5) last season.
SATURDAY
Towson at Northwestern, noon ET, Big Ten Network
The Wildcats shouldn't have much trouble with Towson, a team that went 3-9 last season and still hasn't decided on its starting quarterback. But this will be a chance for Northwestern senior quarterback Mike Kafka and a new crop of starting skill players to get comfortable and gain confidence. Star defensive end Corey Wootton returns to the field after recovering from a torn ACL, and true freshman running back Arby Fields likely will see a lot of work.
Montana State at Michigan State, noon ET, Big Ten Network
All eyes will be on the Spartans' offensive backfield, where position battles at both quarterback and running back have intensified. Quarterbacks Kirk Cousins and Keith Nichol both are expected to play a lot, but who creates separation will be key. Michigan State coaches told ESPN.com last week that running backs Caulton Ray, Larry Caper and Edwin Baker likely will enter the season as the top ball carriers. Montana State also remains unsettled at quarterback with Mark Iddins and Cody Kempt competing for the top spot.
Navy at No. 6 Ohio State, noon ET, ESPN
Before a much anticipated rematch with USC, Ohio State must get past Navy, which always provides a challenge but doesn't appear to be as strong as it is in most years. Terrelle Pryor's progress from Year 1 to Year 2 will be interesting to watch, and I'm also very curious about the left tackle position. Will Andrew Miller or J.B. Shugarts emerge as the answer to protect Pryor's blind side?
Akron at No. 9 Penn State, noon ET, Big Ten Network
Whether it's fair or not, everyone expects a blowout here, and Penn State needs to deliver. The Lions' schedule forces the team not only to win, but win in very impressive fashion. Penn State can build confidence at wide receiver and offensive line against Akron, which ranked 90th nationally in total defense last fall. Akron quarterback Chris Jacquemain is pretty solid and will provide a good test for a new-look Penn State secondary.
Minnesota at Syracuse, noon ET, ESPN2
What is it about Minnesota and dome stadiums? The Golden Gophers thought they had rid themselves of domes for good by moving out of the Metrodome last fall, but they head indoors again to face Syracuse. Emotions will be high in the Carrier Dome as the Doug Marrone era begins and former Duke basketball player Greg Paulus starts at quarterback. Minnesota is the better team here, and as long as the Gophers keep their composure and don't struggle too much with their new pro-style offense, they should be fine.
Toledo at Purdue, noon ET, Big Ten Network
The Danny Hope era begins in West Lafayette as Purdue takes on Toledo, which also welcomes in a new coach (Tim Beckman). It will be interesting to watch how much the Boilers offense has changed under coordinator Gary Nord. Running back is arguably Purdue's deepest position, and backs like Jaycen Taylor, Ralph Bolden and Frank Halliburton all should get work. Boilers quarterback Joey Elliott needs to be aware of Toledo star safety Barry Church, a Nagurski Award candidate.
Northern Iowa at No. 22 Iowa, noon ET, Big Ten Network
This isn't your run-of-the-mill FBS vs. FCS beatdown. It could turn out that way, but Northern Iowa is pretty good and Iowa has some issues at running back. Former walk-on Paki O'Meara likely will get the start at running back for the Hawkeyes. Former Wisconsin linebacker Elijah Hodge, whose brother Abdul starred for Iowa, is making his debut with Northern Iowa at Kinnick Stadium. Iowa has won the last 14 meetings in the series stretching back to 1898.
Western Michigan at Michigan, 3:30 p.m. ET, ABC
There's plenty of intrigue here, and I'll be on hand to watch it. Michigan tries to win its first opener since 2006 and close the book on a disastrous 2008 season. The Wolverines could use three quarterbacks (Nick Sheridan, Tate Forcier and Denard Robinson) in the game, and they must try to contain a really good signal-caller (Tim Hiller) on the other side. Perhaps the biggest question is how Michigan will come out after the allegations from players about NCAA rule violations within the program. Can Michigan keep it together for a critical opener?
Illinois vs. Missouri (at St. Louis), 3:40 p.m. ET, ESPN
Easily the best matchup of a pretty bland opening weekend, Illinois and Missouri meet in what is usually an extremely entertaining game. Illinois returns more experience on offense and really needs a win to start a tough opening stretch. A key matchup pairs Illini quarterback Juice Williams and Missouri star linebacker Sean Weatherspoon, who recently Tweeted he'd "squeeze the pulp out of Juice." Williams set the total offense record at Edward Jones Dome in his last appearance against Missouri and needs a repeat performance.
Northern Illinois at Wisconsin, 7 p.m. ET, Big Ten Network
Week 1 wraps up with a night game at Camp Randall Stadium, where Wisconsin's surprise starting backfield of Scott Tolzien and Zach Brown takes on Northern Illinois. The Badgers likely will play both Tolzien and redshirt freshman Curt Phillips at quarterback, but Tolzien will have the first chance to create some separation. Versatile NIU quarterback Chandler Harnish provides a good challenge for a Wisconsin defense replacing five starters in the front seven.
February, 9, 2009
2/09/09
2:47
PM ET
Posted by ESPN.com's Adam Rittenberg

The Big Ten schedule is nearly complete after Indiana added its final nonconference game today. The Iowa Hawkeyes are up next on the rundown.
NONCONFERENCE SCHEDULE
Sept. 5 Northern Iowa
Sept. 12 at Iowa State
Sept. 19 Arizona
Oct. 3 Arkansas State
My take: This is a solid nonconference slate that should prepare Iowa for a Big Ten opener -- Sept. 26 at Penn State -- that could go a long way in deciding the league championship. Northern Iowa reached the FCS playoff semifinals last year before losing to eventual national champion Richmond in the final minute. Iowa State is a transitioning program with a new head coach (Paul Rhoads), but the Cyclones always play Iowa tough in the Cy-Hawk series. Arizona also might be rebuilding in 2009 but comes off a solid 2008 season capped by a Las Vegas Bowl victory over BYU. Iowa will be favored in all four games but should be tested at times.
BIG TEN SCHEDULE
Sept. 26 at Penn State
Oct. 10 Michigan
Oct. 17 at Wisconsin
Oct. 24 at Michigan State
Oct. 31 Indiana
Nov. 7 Northwestern
Nov. 14 at Ohio State
Nov. 21 Minnesota
Byes: Purdue, Illinois
My take: Iowa's trip to Penn State will be one of the Big Ten's marquee games this fall, but the Hawkeyes must avoid a hangover or a letdown, depending on the result at Beaver Stadium. The stretch following Penn State is crucial, as Iowa hosts a transitioning Michigan team before visiting Wisconsin, a team it embarrassed last year, and making a second consecutive trip to Michigan State. If the Hawkeyes survive the first four games, they'll be in good shape for another road showdown against Ohio State on Nov. 14. The home schedule is manageable, but Iowa gets no breaks away from Kinnick Stadium.