Big Ten:

Ohio State Buckyes
May, 7, 2013
5/07/13
11:00
AM ET
By
ESPN.com staff
| ESPN.com

Tom VanHaaren discusses the ESPN 150 offensive tackle who trimmed his list to four at the Chicago NFTC and the quarterback who stole the show. And Jared Shanker joins via Skype to discuss Ohio State's recent trio of QB offers, and a weekend addition for Northwestern.
February, 10, 2012
2/10/12
11:15
AM ET
If Ohio State wants to make a national championship run in 2013, its non-league schedule shouldn't stand in its way.
The school on Friday announced it will host Buffalo on Sept. 21, 2013, completing a nonconference schedule that includes home games against Vanderbilt and Florida A&M and a road game at California.

Not exactly murderer's row.
Ohio State also announced it will host Cincinnati in 2018 in a game that had originally been scheduled for 2012. The schools mutually agreed last fall to postpone the 2012 game. The Buckeyes and Bearcats also will meet Sept. 27, 2014, in Columbus.
Ohio State will pay Buffalo a $1 million guarantee for the 2013 game.
The Buckeyes' schedules for the next three seasons are now complete:
2012
Sept. 1 –- Miami (Ohio)
Sept. 8 –- Central Florida
Sept. 15 -– California
Sept. 22 -– Alabama-Birmingham
Sept. 29 -– at Michigan State
Oct. 6 –- Nebraska
Oct. 13 -– at Indiana
Oct. 20 -– Purdue
Oct. 27 –- at Penn State
Nov. 3 –- Illinois
Nov. 10 –- Open
Nov. 17 –- at Wisconsin
Nov. 24 –- Michigan
2013
Aug. 31 –- Vanderbilt
Sept. 7 –- Florida A&M
Sept. 14 -– at California
Sept. 21 -– Buffalo
Sept. 28 –- Wisconsin
Oct. 5 –- at Northwestern
Oct. 12 -– Open
Oct. 19 –- Iowa
Oct. 26 –- Penn State
Nov. 2 –- at Purdue
Nov. 9 –- Open
Nov. 16 –- at Illinois
Nov. 23 –- Indiana
Nov. 30 –- at Michigan
2014
Aug. 30 –- at Navy
Sept. 6 –- Open
Sept. 13 –- Kent State
Sept. 20 -– Virginia Tech
Sept. 27 -– Cincinnati
Oct. 4 –- Purdue
Oct. 11 –- Open
Oct. 18 –- at Iowa
Oct. 25 –- Northwestern
Nov. 1 -– at Wisconsin
Nov. 8 –- Illinois
Nov. 15 –- at Penn State
Nov. 22 –- at Indiana
Nov. 29 –- Michigan
The 2013 schedule, which includes two open weeks, is set up for the Buckeyes to make a run. Cal's program is on the decline, and Ohio State might not face a taxing road test until Michigan in the regular-season finale. The Buckeyes will have to get over the hump at Purdue, where they've dropped their past two games.
While Ohio State is maintaining a nonconference model of one marquee opponent and at least one in-state opponent, the degree of difficulty seems to be dropping. Virginia Tech and Cal aren't exactly USC and Texas.
September, 3, 2011
9/03/11
11:37
AM ET
COLUMBUS, Ohio -- First, the most important news. Luke Fickell, as promised, is indeed wearing black. He came out in a black warm-up jacket despite temperatures in the mid-90s. We'll see how long that jacket lasts.
In actual important news,
Joe Bauserman
took the warm-up snaps with the first team offense. No surprise there. He should start, but
Braxton Miller
will play a lot.
Everyone will be watching the quarterbacks, of course, but I'll also be keeping a close eye on the running backs. With Daniel "Boom" Herron and
Jordan Hall
suspended, the Buckeyes' once deep stable has thinned.
Jaamal Berry
was supposed to be questionable today with a hamstring problem, but he warmed up and took snaps with the first team. If he is slowed or doesn't play, it's basically down to
Carlos Hyde
and
Rod Smith
at tailback. Both are bigger backs but not particularly shifty.
And how much will Akron try to challenge young cornerbacks Bradly Roby and Dominic Clarke? Surely the Zips will test them, but do they have enough talent to make Ohio State nervous?
April, 23, 2011
4/23/11
5:34
PM ET
COLUMBUS, Ohio -- The official score of Saturday's Ohio State spring game was 59-27 in favor of the offense. But it wasn't that one-sided. In fact, the defense dominated early, holding the offense without a touchdown until the ninth series. And the offense scored often after being placed at the defense's 25-yard line.

The score didn't mean much in the grand scheme of things. Here a few things that did:
Coach Jim Tressel was happy the team managed to avoid injuries, for the most part. Defensive lineman Johnathan Hankins appeared to suffer a head injury on the 12th series and didn't return. Tressel said Hankins got "dinged up" and should be fine for the fall.
The injury bug, though, hit the Buckeyes pretty hard in the secondary and on the offensive line this spring. Tressel said his top eight offensive linemen played every one of the 89 snaps of the scrimmage, mixing and matching throughout the day. "They got a workout today," he said.
The depleted position groups did give some young players a chance to show their stuff. One who did just that was freshman safety Jeremy Cash, who spent a lot of time on the field and finished with six tackles, including a sack. "We wanted to have a competitive offense-defense scrimmage," Tressel said, "but more important was putting guys out in front of some people and see if they can line up. Sometimes it's good for young guys to see just how far they have grown."
Overall, though, the secondary struggled, especially late. It also wasn't a great day for running back Carlos Hyde, who had just seven yards on six carries.
Linebacker Etienne Sabino, who appeared ready to step into a role this time last season before eventually taking a redshirt season, was all over the field. He was credited with six tackles and 1.5 tackles for loss.
One thing Tressel had to love: there were no turnovers during the scrimmage.
Tressel sounded happy with the progress of the receivers, a real point of concern heading into the spring. "After about three practices, I'm thinking, 'Oh, my gosh, we might be in three tights, a fullback and a tailback because they're so young,'" he said. "And I think they came along and are starting to understand. [But] they need to have tremendous progress between now and September."
This will be an inexperienced team, with seven defensive starters gone and -- at least for the first five games -- seven starters from the offense not available. But Tressel liked the approach of the players this spring. "Sometimes in the spring when you've got this veteran team coming back, guys sit in the back of the room and think, 'I'm not going to play anyway.' They're not razor sharp. I sensed our guys knew that every person in that room will have to make a difference in 2011."
Center Mike Brewster said the best outcome of the spring was the maturation of the younger players, which didn't come easily. "We really used these 15 practices to our advantage. We didn't sit around doing a little bit here and a little bit there. We had live reps every day. There were a couple jersey scrimmages a week, to be honest with you. That's what you have to do when you have young guys. "
Ohio State announced an official crowd 44,276, though many of those likely bought tickets in advance and stayed home because of the threatening weather. The crowd looked to be about half that official number, as the upper decks and end zones at the Shoe were mostly barren.
April, 23, 2011
4/23/11
5:09
PM ET
COLUMBUS, Ohio -- The sweater vest stayed in the closet for Jim Tressel at Ohio State's spring game on Saturday.
[+] Enlarge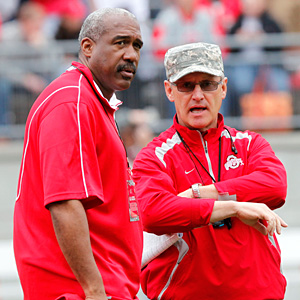 AP Photo/Terry GilliamAthletic director Gene Smith, left, chats with coach Jim Tressel before Ohio State's spring game.
Instead, the Buckeyes coach wore camouflage pants and a matching hat to honor the Ohio National Guard members and their families in attendance. Of course, that sartorial choice lent itself to a lot of easy wisecracks, like the notion that the embattled Tressel was using the outfit to hide from NCAA investigators and his own athletic director.
Though just a scrimmage, Saturday marked the last time Tressel will stand on the sidelines at Ohio Stadium for any kind of game until Oct. 29 against Wisconsin. He is suspended for the first five games, along with quarterback
Terrelle Pryor
, running back
Dan Herron
, receiver
DeVier Posey
, left tackle Mike Adams and defensive end Solomon Thomas. To no one's surprise, Tressel didn't feel like talking about that situation Saturday, ending his news conference after just five question when a reporter asked how his next few months would be different.
"I'm not worried about what lies forward," he said.
Plenty of Buckeyes fans are, and Saturday gave them a chance to preview the 2011 season and how life might look without those five key starters.
Pryor stood behind the offense wearing a headset and a jacket over his jersey, not playing as he continues to recover from offseason foot surgery. The four quarterbacks who are battling to replace him for the first five games each threw a touchdown pass and got snaps with the first-team offense. The most impressive of the group was freshman early enrollee Braxton Miller, who led the offense on a 92-yard scoring drive. He finished 7-of-12 for 73 yards and showed off his athleticism by wiggling for extra yards on scrambles.
Miller probably ensured that he'll get a longer look this summer -- and guaranteed that he'll get more hype than he deserves in the meantime.
"People want excitement," said senior
Joe Bauserman
, who has backed up Pryor the past two seasons and took the first reps on Saturday. "A guy they've never seen before gets them thinking about it."
Bauserman went 4-for-11 for 42 yards, Kenny Guiton was 5-for-11 for 43 yards and
Taylor Graham
was 4-for-9 for 91 yards. Graham was also sacked five times.
"I thought Braxton probably played a little more relaxed and had a little bit more fun than he has, in part because we really limited what we were doing today," Tressel said. "Joe and Kenny showed they've been around and are able to manage our offense and know what's going on. Taylor had a big home-run throw, but he took a couple too many minus-yard plays."
After Pryor, the biggest loss for the Buckeyes in the suspensions is Posey, their lone proven playmaker in the passing game. So it was encouraging to see young receivers make their presence felt in the spring game.
Redshirt freshman
T.Y. Williams
caught three passes for 83 yards, including a 68-yard bomb from Graham. Williams had let a pass slip through his hands on the previous play before the touchdown. Corey Brown,
Ryan Ross
and
Verlon Reed
also caught scores, albeit against a secondary severely depleted by injuries.
"I felt like a proud dad watching them score touchdowns and make plays," Posey said. "To me, that shows growth. At the beginning of the spring, I didn't know if they would make those plays. Now I can look forward to the next four months."
Herron looked like the best player on the field early when the offense had trouble moving the ball in its first dozen series. He ripped off runs of 16 and 17 yards and averaged 6.2 yards per carry on his six attempts.
"I really went out there and gave it my all today, because it's going to be a little while until I get out there again," he said. "During this offseason, I've got to work hard and stay conditioned, because my day will come again."
Herron will be missed, but his loss does not cause a crisis.
Jordan Hall
(37 yards on eight carries),
Jaamal Berry
(two carries for 16 yards) and
Rod Smith
(seven for 36) showed they can carry the load while Herron is sidelined.
Ohio State still has issues, including a lack of depth on the offensive line that forced Tressel to abandon the traditional spring game format for a modified offense vs. defense scrimmage. The quarterback position needs to be figured out, and the young receivers must prove they can get it done against better competition -- Williams' long score, for example, came against walk-on cornerback Vincent Petrella.
"All in all, we had a good spring," Tressel said.
The coach ended the spring game after 89 snaps and fewer than 90 minutes because severe weather approached the stadium on an overcast day. Saturday offered some encouraging signs, but it remains to be seen if Tressel and the Buckeyes can stay ahead of the storm this fall.
December, 31, 2009
12/31/09
10:27
PM ET


ESPN's Adam Rittenberg and Ivan Maisel discuss Ohio State and Oregon on the eve of the game.

August, 12, 2008
8/12/08
12:31
PM ET
Posted by ESPN.com's Adam Rittenberg
It's hardly a revelation that the Big Ten has fallen off a bit in recent years, but just how far?
SI.com put together a comprehensive formula to see how the power balance has shifted among BCS conferences from the first five years of the BCS compared with the last five. The Conference Power Index included: "BCS bowl record, percentage of teams in the final AP poll, nonconference performance [as measured by the RPI formula used for basketball], record in other bowl games and NFL draft picks per teams."
The Big Ten led all conferences in the first five years (1998-2003) but slipped to fourth in the last five (2003-08), the biggest tumble of any league. Here's the Big Ten breakdown. Purdue coach Joe Tiller tells SI.com's Stewart Mandel that although these things are cyclical, high school football in the Midwest has declined a bit. As the chart shows, Big Ten continues to produce NFL draft picks at a high rate, but the recent bowl record, particularly in BCS games, really hurts.
As I've mentioned before, the biggest key for the Big Ten to change its sagging national perception might not be Ohio State winning a national title, but other teams closing the gap with the Buckeyes. More bowl wins from Michigan, a return to national prominence from Penn State, a BCS bowl appearance from Wisconsin and continued progress from Illinois and Michigan State would do more for the league than an Ohio State championship. It wouldn't hurt to have Iowa back in the BCS bowl mix, either.
My only issue with the formula is I have a really hard time buying the fact the ACC improved much when I look at the league's BCS bowl record. I know the Big Ten has struggled big time in BCS bowls lately, but 1-9 doesn't scream, "Respect us."