September, 8, 2011
9/08/11
9:00
AM ET
The Big Ten is stepping up its game in Week 2, and we hope to do the same. After mediocre results the opening weekend, we're both shooting for perfection, or something like it.
The slate features some tricky games, a potential upset special or two, and a handful of gimmes.
Let's get picky.
IOWA at IOWA STATE
Brian Bennett: The Cyclones have barely scratched the scoreboard recently against Iowa, and I liked the way the Hawkeyes defensive line played in the opener. Feel free to sigh, Hawks ...
Iowa 24, Iowa State 9
Adam Rittenberg: He's the resident comedian, folks. Be sure and tip your waitress. Speaking of tips, here's one: Go with
Marcus Coker
on your fantasy team. Oh, wait, I already have him. Coker rebounds with 3 touchdowns as the Hawkeyes roll. ...
Iowa 27, Iowa State 13
FLORIDA ATLANTIC at NO. 17 MICHIGAN STATE
Adam Rittenberg: The Spartans have a cleaner start, limit silly penalties and rack up a bunch of rushing yards against Howard Schnellenberger's crew.
B.J. Cunningham
gets the receptions record in the first quarter. ...
Michigan State 33, Florida Atlantic 10
Brian Bennett: Pipe down. Michigan State's offensive line shows some improvement, and the Spartans will roll into South Bend next week at 2-0. ...
Michigan State 35, Florida Atlantic 7
TOLEDO at NO. 15 OHIO STATE
Brian Bennett: The Rockets pose far more of a threat than Akron, and they might catch Ohio State peeking ahead to Miami. Still, the Buckeyes defense is too much despite some offensive struggles ...
Ohio State 28, Toledo 10
Adam Rittenberg: I agree, the Buckeyes can't space out against the Rockets (I know, lame), who have a good coach (Tim Beckman) and provide a much better test for Ohio State's defense. Still, I see another big game for
Carlos Hyde
and the Ohio State running backs
... Ohio State 31, Toledo 13
OREGON STATE at NO. 8 WISCONSIN
Adam Rittenberg: The Beavers rarely fare well in early season big games, and you have to wonder about their confidence level after the Sac State debacle. Wisconsin's defense is hungry and makes a statement. ...
Wisconsin 35, Oregon State 13
Brian Bennett: I could see the Badgers taking this one too lightly with that Sacramento State score fresh in their minds. But
Montee Ball
and
James White
still run wild. ...
Wisconsin 42, Oregon State 20
SOUTH DAKOTA STATE at ILLINOIS
Brian Bennett: I like South Dakota State's nickname: Jackrabbits. That's about all I like about them. Illini roll behind another big passing day from
Nathan Scheelhaase
...
Illinois 44, SDSU 7
Adam Rittenberg: Fear the bunnies. They nearly knocked off Minnesota in 2009. But Illinois avoids the same fate as Scheelhaase steps up more in the run game and gets help from
Jason Ford
. ...
Illinois 40, SDSU 12
EASTERN ILLINOIS at NORTHWESTERN
Adam Rittenberg: Northwestern's offensive line builds off of a strong opening performance and gets the run game going against overmatched Eastern Illinois, while
Dan Persa
sits again. ...
Northwestern 38, EIU 10
Brian Bennett: No Persa, no problem -- at least for another week. ...
Northwestern 31, EIU 13
NEW MEXICO STATE at MINNESOTA
Brian Bennett: The Aggies are bad. Real bad. Perfect opponent for Jerry Kill's debut, as Troy Stoudermire sets Big Ten return record ...
Minnesota 35, NMSU 14
Adam Rittenberg: You worry a bit about a letdown as Minnesota has been hearing how impressive they looked in the opener at USC. The Gophers start off a little slowly before MarQueis Gray and the offense surge against the Aggies. ...
Minnesota 31, NMSU 13
NO. 3 ALABAMA at NO. 23 PENN STATE
Adam Rittenberg: OK, time to get serious. Penn State's defense keeps the Lions in this one, but I don't have enough faith in either Nittany Lions quarterback to predict an upset.
Trent Richardson
has a big fourth quarter as Alabama squeaks out a win.
... Alabama 19, Penn State 13
Brian Bennett: It sure would be great for the Big Ten if Penn State could pull this one off. Alabama's quarterback situation is a little shaky, too. But the Tide's defense is just too good against a Penn State offensive line that wasn't overly impressive against Indiana State. ...
Alabama 24, Penn State 12
PURDUE at RICE
Brian Bennett: I'm putting Purdue on upset alert for the second straight week against a team that battled Texas pretty well for three quarters. For the second straight week, the Boilers eke one out, this time on a late
Ralph Bolden
touchdown. ... Purdue 19, Rice 16
Adam Rittenberg: Purdue has a lot to fix on both sides of the ball, but Rice doesn't seem like a team that can capitalize, even at home.
Caleb TerBush
builds on his late-game heroics and the defense makes enough plays to improve to 2-0. ...
Purdue 26, Rice 18
VIRGINIA at INDIANA
Adam Rittenberg: Thing is, Indiana didn't look that shaky on offense in the opener. But getting pushed around by Ball State at the line of scrimmage is inexcusable. IU gets a better effort, but it's still not enough.
... Virginia 27, Indiana 17
Brian Bennett: Agree with you on all counts but think there will be more points scored, especially after the Hoosiers gave up 27 to Ball State. ...
Virginia 34, Indiana 23
FRESNO STATE at NO. 10 NEBRASKA
Brian Bennett: Bo Pelini didn't sound too excited about the Cornhuskers' 40-7 opening win over Chattanooga (not that he ever sounds that excited). Nebraska has a few more hiccups on offense but shuts down the Bulldogs on defense. ...
Nebraska 31, Fresno State 10
Adam Rittenberg: I agree it'll take some more time for Tim Beck's offense to click. But Fresno disappointed me in Week 1, and Pat Hill's crew isn't nearly the giant killer it once was. Rex Burkhead has a big night. ...
Nebraska 33, Fresno State 14
NOTRE DAME at MICHIGAN
Adam Rittenberg: Either Notre Dame implodes or the Irish come together behind
Tommy Rees
and a defense that actually looks better. Call me crazy, but I think the Irish bounce back. ...
Notre Dame 24, Michigan 21
Brian Bennett: Notre Dame is better than it showed against South Florida and would have won if not for a slew of turnovers. Crazy things happen in this game. But Michigan just seems to have the Irish's number, and that atmosphere will help immensely as
Denard Robinson
pulls off more heroics. ...
Michigan 31, Notre Dame 30
Season records
Bennett:
10-2 (.833)
Rittenberg:
9-3 (.750)
May, 20, 2011
5/20/11
1:30
PM ET
My team-by-team breakdown of each Big Ten schedule continues with the league's newest member, the
Nebraska Cornhuskers
.

Nonconference opponents (with 2010 records)
Sept. 3: Tennessee-Chattanooga (6-5)
Sept. 10: Fresno State (8-5)
Sept. 17: Washington (7-6)
Sept. 24: Wyoming (3-9)
Legends division games
Oct. 22: at Minnesota
Oct. 29: Michigan State
Nov. 5: Northwestern
Nov. 19: at Michigan
Nov. 25: Iowa
Crossover games
Oct. 1: at Wisconsin
Oct. 8: Ohio State
Nov. 12: at Penn State (protected)
No plays
Illinois
Indiana
Purdue
Gut-check game:
At Wisconsin. Nebraska's first Big Ten game as a league member will provide an excellent gauge for the program. The Huskers face a Wisconsin team that boasts a 43-4 mark at Camp Randall Stadium under coach Bret Bielema. Camp Randall will be electric at night, and both teams likely will enter the game at 4-0. Wisconsin doesn't resemble many of the Big 12 teams Nebraska faced, so the Huskers will need a polished effort with few mistakes to come away with a win.
Trap game:
At Minnesota. The Huskers will be coming off of a bye week, which can lead to a lackluster performance. Also, Nebraska will enter a tough closing stretch after the Minnesota game. The Gophers likely will be pegged to finish at the bottom of the Legends division, and while Bo Pelini will try to keep his troops focused, there's always a chance they overlook this game.
Snoozer:
At Wyoming. It's between the Wyoming game and the Tennessee-Chattanooga contest, but at least Chattanooga is the season opener and we'll finally get a look at Nebraska's new offense under coordinator Tim Beck. I can't get too excited about Nebraska's trip to Laramie to face a Cowboys team that went 3-9 last year and had some ugly losses (Utah, TCU, Boise State and Texas).
Non-con challenge:
Washington. Pelini will have his players geared up after the Holiday Bowl debacle, and Nebraska should be on its game in Lincoln. But Washington still likely poses a bigger threat than Fresno State, although Pat Hill's crew loves upsetting teams from power conferences. Washington loses Jake Locker but returns eight starters on a defense that shut down Nebraska in San Diego. The Blackshirts also must contain talented Huskies running back
Chris Polk
.
Key stretch:
The Wisconsin and Ohio State games will garner most of the attention, but Nebraska's more important stretch begins in late October and early November. Nebraska plays all five of its Legends division opponents in the final six games, beginning with the trip to Minnesota. The final five games really stand out as Nebraska hosts division title contenders Michigan State, Northwestern and Iowa and travels to both Michigan and Penn State. There are no gimmes down the stretch for Pelini's crew.
Analysis:
Nebraska has the Big Ten's toughest overall schedule when you factor in the crossover games and the no-plays. The Huskers face the three traditional powers in the Leaders division and miss Illinois, Purdue and Indiana. But here's the good news for the Huskers: they play three top division opponents at Memorial Stadium. Although they don't want to start 0-2 in league play, Nebraska could survive if it sweeps its division schedule. The games against Wisconsin and Ohio State should prepare Nebraska for what to expect in its new league, and no matter what happens, the season likely will come down to those final five games.
More B1G schedule analysis
December, 2, 2010
12/02/10
9:00
AM ET
»
Predictions
:
ACC
|
Big 12
|
Big East
|
Big Ten
|
Pac-10
|
SEC
|
Non-AQ
The
Pig
and the
Bucket
got me.
While players from Minnesota and Indiana raised rivalry trophies Saturday afternoon, my record took a dive. A 3-2 week simply isn't good enough, although my decision to switch the Michigan State-Penn State prediction paid off as the Spartans came through.
There's only one Big Ten game on the slate this week, so I had better get it right.
Illinois 34, Fresno State 28:
Pat Hill doesn't have his best team this season, and the Bulldogs have dropped home games to both Nevada and Hawaii. Still, it's never easy to travel West and win, and Fresno can be a very tough place to play. Illinois knows it's going bowling, and I think a rested Illini team comes off of the open week loose and fresh and continues to build on the momentum it generated from the Wrigley Field game. No one has slowed down Illini running back
Mikel Leshoure
in recent weeks, and Fresno State struggled to stop him last season. The teams trade touchdowns for a while before Illinois pulls away behind Leshoure and quarterback
Nathan Scheelhaase
, who combine for four rushing touchdowns. Illinois secures a winning season and possibly moves up in the Big Ten bowl pecking order.
Last week:
3-2
Season record:
71-16 (.816)
December, 5, 2009
12/05/09
4:06
PM ET
I feel sick for
Juice Williams
. And
Arrelious Benn
. And Ron Zook.
If there's a more heartbreaking way to lose a football game, please feel free to let me know. Illinois seemingly had a shootout victory in hand, up 52-45 in the closing seconds. But Fresno State reached the end zone on an incredible stretch by wide receiver
Jamel Hamler
on a 19-yard reception.
Hamler's touchdown set up The Craziest Play of the 2009 Season.
Fresno State head coach Pat Hill went for the 2-point conversion and the win, which didn't surprise me one bit. Illinois got the penetration it wanted and had quarterback
Ryan Colburn
in its grasp, forcing a desperation throw to Hamler. Illinois couldn't knock down the pass, and it caromed to Devan Cunningham, a 6-6, 350-pound offensive tackle, who rumbled into the end zone to put Fresno State up
53-52
.
A replay review upheld the call, though it looked like the ball hit Hamler first, which would have prevented a teammate from advancing it. What a tough blow for Illinois.
The Illini offense really showed up today, especially sophomore running back Mikel Leshoure, who rushed for 184 yards and two touchdowns on only 11 carries. Williams passed for 211 yards and three scores, though he also had two interceptions. Still, Juice deserved to win this game.
Illinois' defense didn't show up when it mattered, and it likely will lead to changes on the staff. Williams is gone, and Benn could join him.
You can't fault the effort from the Illini today. But the results are still ugly: 3-9.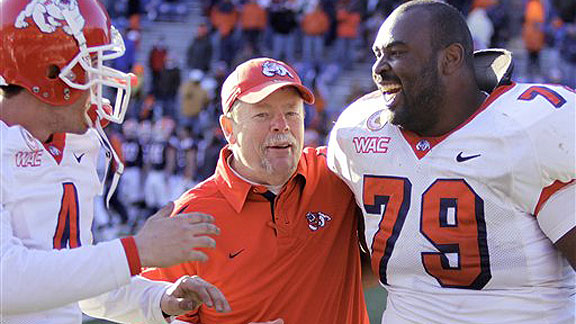 September, 18, 2009
9/18/09
4:30
PM ET

Posted by ESPN.com's Adam Rittenberg
Your questions, my answers.
Brandon from Columbus, Ohio, writes:
Outside of being comfortable and Tressel not wanting to allow anyone else to have power, why doesn't Ohio State ever open up coaching positions to a national search?Florida's QB coach had vast D-I experience, same with Jeremy Bates at USC (who just was hired). And other teams have ex-Division I players as quarterbacks coach.What can Siciliano say when he recruits because he never played college football and his only experience is as a video coordinator? OSU fans are frustrated because other teams have more high-profile QB coaches and Pryor seems to not be developing.
Adam Rittenberg: I understand the frustration, but I don't think Nick Siciliano deserves the blame for what's happening in Columbus. It's a combination of things (youth, system, development) and no one position is totally at fault. As The Columbus Dispatch's Tim May recently wrote, Ohio State has an identity crisis on offense, and it's the whole unit. Obviously, Terrelle Pryor is the engine, and I think he'd do best in a total spread offense, one where he can constantly make plays with his feet. Some of Craig Krenzel's comments in the story are pretty interesting, especially about Pryor's inconsistent footwork. Then again, if Ohio State's offensive line play had been what it should the past few years, many of these questions wouldn't be asked. A lot of this falls in Jim Tressel's lap, but the Buckeyes have a lot of time to get better.

---
Brian from Ann Arbor, Mich., writes:
I was wondering what kind of odds you see michigan having at finishing in the top two or three in the big ten. I'm assuming we will stumble in a couple of games, most likely at michigan state, at Iowa, and/or against penn state and ohio state. Do you think two or possibly three loses within the conference will still put us in the top tier of the big ten?
Adam Rittenberg: It could, Brian. Tough to know what to make of the league so far. Penn State hasn't played anybody, Ohio State has been shaky on offense, Iowa had a scare and then looked good and Michigan State really melted down against Central Michigan. Michigan has been the one team that impressed me in both weeks. That said, the Wolverines remain very young and haven't gone on the road yet. This could be a year where 6-2 keeps a team among the Big Ten leaders. Harder to stay there with three losses, so that's a big difference.
---
Mark from Detroit writes:
Adam, if you want to do something useful to help the Big Ten football and everyone involved, press them to improve scheduling. They must play every team in the conference -- round robin if you like that wimpy term, and real BCS non-conference contenders. I know other teams (Florida) and conferences take the easy (cheaters) way, but that's not the sign of real leadership -- they will get their due rewards. You need to hammer on this endlessly, otherwise the Big Ten willl keep embarassing themselves and the NCAA by going 1-6 in the bowl games. It's just NCAA-sanctioned cheating; of everyone involved in college football!
Adam Rittenberg: I'll do my best, Mark, but playing a round-robin Big Ten schedule is a total pipedream. There's too much money at stake for these teams to give up home games, much less to add another very losable road game to the schedule. It's more likely the Big Ten plays nine conference games (yes, I know the math doesn't work perfectly with 11 teams) or adds a 12th member. But you're not going to see a 10-game round-robin, not for a league that sends more teams to BCS bowls than any other. I feel your pain in wanting to see better nonconference matchups for Big Ten schools, and I think things are slowly improving. Better nonconference games is the fight worth fighting, not a round-robin league schedule.
---
September, 10, 2009
9/10/09
9:00
AM ET

Posted by ESPN.com's Adam Rittenberg
My forecast of Big Ten perfection in
Week 1
came up a little short, thanks to a miserable performance by Illinois. Still, 10-1 isn't bad, but things will get much tougher for myself and the league this Saturday. Big Ten players and coaches agree that big nonconference victories are the only way to repair the league's national reputation, and Week 2 will go a long way toward helping or hurting the conference.
How will things shake out? Not so good for the Big Ten.
Michigan State 37, Central Michigan 17:
Central Michigan is one of those non-BCS programs that looks like it should beat the big boys. But the Chippewas rarely come through, with last week's game at Arizona serving as the latest example.
Dan LeFevour
makes a few more plays against the Spartans, but Michigan State has too much talent on both sides of the ball. The Spartans will get a little more clarity at quarterback, though I'm not sure who separates himself.
Western Michigan 31, Indiana 27
-- Until the Hoosiers establish a consistent rushing attack and get tougher in the secondary, they're not going to win many games. Western Michigan quarterback
Tim Hiller
bounces back from a subpar performance against Michigan and tosses three touchdown passes in Memorial Stadium. IU's
Ben Chappell
has another nice game but the Broncos score late to secure a road win.
Northwestern 38, Eastern Michigan 9 --
For the second straight week, the Wildcats should have little trouble on their home field. Eastern Michigan comes off a 13-point home loss to Army and faces a Northwestern defense that coach Pat Fitzgerald really challenged this week. NU quarterback
Mike Kafka
continues to build confidence and some separation occurs in the running back group, with either
Stephen Simmons
or
Arby Fields
emerging as the top man.
Penn State 41, Syracuse 10
--
Greg Paulus
looked impressive in Syracuse's opener, but reality strikes for the former Duke point guard at Beaver Stadium. Penn State's defensive front takes no mercy, with or without Navorro Bowman, and Paulus should be in for a long afternoon. Nittany Lions quarterback
Daryll Clark
delivers another gem and running back
Evan Royster
eclipses 100 rush yards as Penn State rolls again.
Wisconsin 28, Fresno State 24
-- Pat Hill's team won't be intimidated at Camp Randall Stadium and could very well pull the upset Saturday. Wisconsin gets a big performance from running back
John Clay
, while
Scott Tolzien
maintains his steadiness at quarterback. The flu bug that swept through Wisconsin's team earlier this week doesn't figure to keep many key players off the field. The Badgers escape this one, but just barely.
Iowa 23, Iowa State 17
-- It won't be easy for the Hawkeyes at Jack Trice Stadium. Then again, it never is. Iowa State jumps ahead early before Hawkeyes quarterback Ricky Stanzi and tight end
Tony Moeaki
bring their team back with a pair of touchdown connections. Redshirt freshman
Adam Robinson
capitalizes on his opportunity at running back and scores the decisive touchdown midway through the fourth quarter. Iowa wins in Ames for just the second time since 1997.
Notre Dame 30, Michigan 27
-- Easily the toughest game to pick this week, and one that could go either way. Michigan will win if its defensive line consistently pressures
Jimmy Clausen
, but it'll be tough for the Wolverines' secondary to contain Notre Dame's offensive weapons for 60 minutes. Clausen starts slow before picking things up in the second half, while
Tate Forcier
and
Denard Robinson
make a few more mistakes in a narrow defeat.
Minnesota 27, Air Force 24
-- The first game at TCF Bank Stadium will be a memorable one, as Minnesota and Air Force pace one another for four quarters. Air Force's offense will test Minnesota's discipline on defense, and the Gophers need to find more options on offense besides star wide receiver
Eric Decker
. In the end, Minnesota's run game wears down the Falcons as
Duane Bennett
rushes for two touchdowns in an exciting victory.
Illinois 44, Illinois State 10
--
Arrelious Benn
should be
back on the field
, which means better things for the Illinois offense. Illinois State will be without its starting quarterback, and Illini linebackers Ian Thomas and Martez Wilson take advantage. Illinois gets well against an overmatched and wounded opponent before beginning a brutal stretch to Big Ten play in two weeks.
USC 30, Ohio State 23 --
It won't be another debacle for the Buckeyes, but I can't see them winning this game without major improvement on both sides of the ball. And really, when was the last time Ohio State hit on all cylinders against a top 15 team? Was it 2006?
Terrelle Pryor
delivers a strong performance, but USC wins the battle at the line of scrimmage more often than not, and its stable of running backs takes advantage.
Matt Barkley
isn't a huge factor but makes enough plays to win.
Oregon 38, Purdue 31
-- I really want to pick Purdue here because Oregon could be on the brink of self-destruction, but I'm just not sold on the Boilers' defense after the Toledo game. Open-field tackling means everything against the spread offense, and even without
LeGarrette Blount
, Oregon's attack will be better. Could see the Ducks in a blowout; could see the Boilers in an upset. Oregon ends up winning a fairly tight contest, though
Ralph Bolden
has another big game for Purdue.
Season record:
10-1 (.909)
September, 10, 2009
9/10/09
8:00
AM ET

Posted by ESPN.com's Adam Rittenberg
A full slate of games is on tap Saturday, and the Big Ten has several excellent opportunities to improve its national reputation -- or make things worse.
Here are 10 things you should be watching out for this weekend:
1. Terrelle's time
-- He's only a sophomore making his 12th career start, but Ohio State quarterback
Terrelle Pryor
faces a defining game Saturday against USC (ESPN, 8 p.m. ET). The Buckeyes need Pryor to make big plays with his feet and limit mistakes against a USC defense unlikely to miss a beat despite losing several standout players. The time has come for Ohio State to win big nonconference games again, and to do so, it needs excellence from the quarterback position.
2. Michigan's defensive line speed
-- Boasting improved speed up front, Michigan generated a strong pass rush with only its down linemen last week against Western Michigan. The Wolverines need to do the same against Notre Dame quarterback
Jimmy Clausen
, who is hitting his stride and has two of the nation's top wide receivers in
Golden Tate
and
Michael Floyd
. I'm not a believer in Notre Dame's offensive line -- more experienced players doesn't automatically mean better ones -- and Michigan can find ways to turn up the heat on Clausen.
3. Outdoor football returns to the Twin Cities
-- Big Ten fans are going to love TCF Bank Stadium, which finally opens its doors for a game as Minnesota takes on Air Force. It should be an electric atmosphere in Minneapolis as the football team returns to campus for the first time in 28 years. The Golden Gophers will undoubtedly be amped up, but they'll need a more polished performance than last week to beat the Falcons.
4. Purdue goes Duck hunting
-- Oregon could be ripe for an upset after falling apart both during and after a loss to Boise State last week. Many forget that Purdue outplayed the Ducks for much of last year's game in West Lafayette before falling in overtime. Running back
Ralph Bolden
leads the Boilers after rushing for 234 yards in his first career start last week. Purdue's defense will need to be much sharper against
Jeremiah Masoli
and the dynamic Ducks offense.
5. Spartans QB race, Take 2 --
As long as
Kirk Cousins
and
Keith Nichol
both continue to perform well, Michigan State will have a hard time playing only one quarterback. Still, my sense is that the Spartans want a clear field leader when they head to Notre Dame next week. Cousins' and Nichol's performances against Central Michigan (ESPN2, noon ET) could loom large in determining the starter and the backup for the rest of the season.
May, 7, 2009
5/07/09
10:00
AM ET
Posted by ESPN.com's Adam Rittenberg
No football league in the country is better configured for road trips than the Big Ten. From my home base in Chicago, I can drive to eight of the 11 schools in five hours or less. If I'm feeling ambitious, Columbus and Minneapolis are within driving range. After a case of Red Bull, so is State College.
While my blog colleagues Ted Miller and Tim Griffin rack up frequent-flier miles in the sprawling Pac-10 and Big 12 conferences, I only have to worry about the occasional toll or blown tire.
Piggybacking off a fabulous idea from colleague Brian Bennett, I've decided to outline the perfect Big Ten road trip for the 2009 season. Follow this route and you're bound to get a good feel for the league, and have a blast along the way.
February, 11, 2009
2/11/09
2:35
PM ET
Posted by ESPN.com's Adam Rittenberg
The schedule snapshots finish up with Wisconsin, which will end the regular season later than any other Big Ten team.

NONCONFERENCE SCHEDULE
Sept. 5 Northern Illinois
Sept. 12 Fresno State
Sept. 19 Wofford
Dec. 5 at Hawaii
My take: Wisconsin's decision to move back its series with Virginia Tech took something away from a nonconference slate that still features a few challenges. The Badgers' win at Fresno State last year lost some luster after the Bulldogs struggled down the stretch, but Pat Hill's squad is usually solid and a Wisconsin victory this fall should mean more. Northern Illinois is on the rise under head coach Jerry Kill and will provide Wisconsin's new starting quarterback with a decent opening test. Hawaii is always tough at home, as Big East champ Cincinnati found out last year, and Wisconsin will need to put up points to beat the Warriors in Honolulu.
BIG TEN SCHEDULE
Sept. 26 Michigan State
Oct. 3 at Minnesota
Oct. 10 at Ohio State
Oct. 17 Iowa
Oct. 24 Open
Oct. 31 Purdue
Nov. 7 at Indiana
Nov. 14 Michigan
Nov. 21 at Northwestern
Byes: Penn State, Illinois
My take: The Badgers are the only team with a bye in the middle of the Big Ten schedule -- Illinois likely will have one before league play opens -- and it comes at a good time. The opening stretch is brutal with trips to rival Minnesota and Ohio State bookended by tough home contests against Michigan State and Iowa. Wisconsin can do some damage during the second half of the conference slate, but it needs to avoid another slow start after dropping its first four league games in 2008. Road games at Northwestern and Hawaii could go a long way toward determining Wisconsin's postseason fate or bowl destination.
September, 12, 2008
9/12/08
6:00
PM ET
Posted by ESPN.com's Adam Rittenberg
The games are finally back Saturday, and what a slate it is. Before putting the blog to bed for a bit, here's what's on your minds.
Josh from Redwood Falls, Minn., writes: Thoughts about Minnesota. Are they improved enough to get to a bowl game? Also, starting center Jeff Tow-Arnett tore his ACL in the win over Bowling Green. He will try to play through it if possible.
Adam Rittenberg: Minnesota should have no trouble on Saturday and gets Florida Atlantic at home next week, so a perfect non-league record is within reach. But Tow-Arnett's injury is definitely a concern for a fairly inexperienced line that looked to him as a leader. The Gophers not only need to find a running back after losing Duane Bennett, but above all they must protect Adam Weber. I see the Gophers right on the cusp of bowl eligibility, six wins, maybe seven. But if the defense continues producing takeaways, Weber can take this team a long way.
---
Colin from Brooklyn (N.Y. or Mich.?) writes: What is your take on UOM's recent 2009 de-commits? I get Newsome looking elsewhere but how big of a blow is Campbell's renig? Does he end up at another Big 10 (MSU) or down south? Thank you.
Adam Rittenberg: I agree that Kevin Newsome's decommitment wasn't a huge shocker, and Michigan already has two solid quarterbacks for '09. William Campbell's decommitment could be more costly, though Michigan is going to work hard to get him back on board. The Wolverines might try for a package deal with Campbell's high school teammates Teric Jones (already committed) and Thomas Gordon. Defensive line will be a position of need next season after Terrance Taylor, Will Johnson and Tim Jamison depart, so it's important for the Wolverines to bring in top talent.
---
Kevin from Raleigh, N.C. writes: While I understand that the USC-Ohio St. game is a big one, it seems to me like you are providing an extended amount of coverage to them at the expense of other Big Ten schools. Perhaps the blog should be changed to the Ohio State blog if this trend keeps up.
Adam Rittenberg: I don't like to fire on my readers, but please go back and read the blog a little more carefully before writing. I think you'll be satisfied with the distribution of coverage. There are features this week on Purdue, Iowa, Michigan, Wisconsin, Penn State and even a short item on Illinois' Juice Williams. That's pretty equitable in my book. It's my top goal with this blog to be as fair as possible, and I think we achieved that this week. Ohio State-USC is one of those rare mega matchups between powerhouse programs in an age of fearful scheduling, so the game deserves all the hype it's getting.
---
Ty from New Bern, N.C. writes: What is going to happen in the Wisc, Cal St Fresno game that decides who wins?
Adam Rittenberg: It will come down to Wisconsin's ability to control the line of scrimmage on offense. If the Badgers' mammoth line can overpower Fresno State and create interior rushing lanes for P.J. Hill, Zach Brown and John Clay, they should be in good shape. But quarterback Allan Evridge still will need to make a play or two. He'll be helped by having All-American tight end Travis Beckum back in the mix.
---
Jonathan from Westerville, Ohio, writes: Back-to-Back losses in the BCS Title game and a potential lopsided loss to USC in a nationally televised game. If Ohio State doesn't live up to expectations in 2008, would changes be in order on the OSU coach staff in terms of coordinators or others? Just a new direction?
Adam Rittenberg: That's an interesting point, Jonathan. I know both coordinators -- Jim Bollman and Jim Heacock -- have taken some heat for their playcalling in recent years. There's certainly a question of whether the Buckeyes are too conservative on offense. And with Terrelle Pryor taking over at the starter in 2009, they could go in a different direction, especially with another big-game stumble or two. But Jim Tressel is pretty loyal to his guys and probably would need some external pressure to make changes. That's kind of hard to do to a coach who consistently wins 10-12 games a year.
---
Tom from Charlotte, N.C., writes: nice job on College Football live. Maybe I watched a little too closely, but was your tie selection a nod to Fresno State this weekend? You're listening to Herbstreit's Badger hate too much.
Adam Rittenberg: I was worried the tie would make me seem too pro-Ohio State, but thanks for noticing. Seeing that I picked Wisconsin to escape Bulldog Stadium with a victory on Saturday night, there's no Fresno State love. Though I'm a big Pat Hill fan and love what he does with that program year in and year out.
---
Don from Chicago writes: Love your blog, reading Big Ten: What to watch in Week 3. I know its the Big 10 but they like to fudge the math and there are 11 teams. Can't you streth that to 11 things to watch for? I know NU plays SIU, but you could note that offense needs to gain more yards on first down, get more consistent on third down (function of the first), establish Sutton, Bacher and WR timing sharpened up.
Adam Rittenberg: Thanks for the note, Don, but you've got to read the fine print before What to Watch. It's the 10 best items to watch in a given weekend, not the single best item for each team. There will almost always be multiple items listed for a game or two, so that means several teams will be left off the list. For what it's worth, Northwestern's offense has to get going Saturday, particularly on first down. Quarterback C.J. Bacher seems to come up big on third-and-long, but when that offense is truly clicking, it gains 5-8 yards on first down.
September, 5, 2008
9/05/08
3:49
PM ET
Posted by ESPN.com's Adam Rittenberg
A much better response the last two days, so job well done, everyone. Let's take a look at what's on your mind.
Tom from Charlotte, N.C., writes: Hey Adam. Looking ahead, what are your thoughts on the Wisconsin at Fresno State game? Is it just me, or is ESPN hyping up the Fresno State football program more than a June Red Sox/Yankees series? Granted the Bulldogs put up a solid win last week in New Jersey, but Rutgers wasn't even ranked. Everyone talks about when Fresno State ALMOST beat USC in 2005. The reality is they haven't beat a ranked team since Virginia...which was in 2004. Which "Hill" are you more impressed with; Pat or PJ?
Adam Rittenberg: Fresno State gets a decent amount of hype for a non-BCS team, but most of it is deserved. Pat Hill's approach to scheduling is unique in an era where bland weekends like this one are becoming more and more common. I'll agree that Fresno State has fallen off in recent years, and the Bulldogs are behind Boise State and Utah on the non-BCS hierarchy, but the 2008 team looks solid, especially on defense. They'll give Wisconsin an excellent test next week. The Badgers' Hill and the other backs should be able to wear down the Bulldogs over time, but I have a sense the game will come down to Wisconsin quarterback Allan Evridge and whether or not he can make a clutch play. Both Hills are very impressive for different reasons, and they add spice to an appetizing matchup next week.
---
Andy from Greensboro, N.C. writes: First off, great blog. I love how you update it many times a day. Second off, I am hearing a lot of criticism coming towards Jim Tressel for having Beanie Wells in the game when he got hurt. Do the same 'critics' know that at the same point in the game, other Heisman candidates such as Bradford, Tebow, Moreno, Stafford, and even Sanchez were playing as well. All of these players had big wins like OSU, yet Tressel is the only coached to get ripped for leaving the star in. I know this is a touchy subject when it comes to at what point to take a player out of a game, but the play in question would have given Wells something like 3 more yards, 1 more carry, and 1 more TD. That doesn?t sound like padding the stats to me. Would you have taken him out or let him rush for that last TD in question?
Adam Rittenberg: This is one of those situations that only matters when a coach gets burned, or, as Pat Forde puts it, loses at cupcake roulette. As you point out, every coach plays their superstars into the second half of these games, and usually it doesn't matter. I don't fault Tressel as much as some for keeping Wells in the game. It was the first drive of the second half, a little early to pull everyone off the field. These players train all year for 12 shots at this thing, and though potential injuries to superstars have to be taken into consideration, I say let 'em play -- at least until the fourth quarter.
July, 24, 2008
7/24/08
6:40
PM ET
Posted by ESPN.com's Adam Rittenberg
CHICAGO -- Wisconsin doesn't play the easiest nonconference schedule in the Big Ten. Not even close.
The Badgers are doing what several BCS teams are too afraid to do: travel to Fresno State. Given what Pat Hill's team has coming back this season, Wisconsin could easily be the underdog entering the Sept. 13 game. But take Fresno State out of Wisconsin's non-eague slate and there isn't much left: dates with Akron, Marshall and Division I-AA Cal Poly.
A reporter asked Bielema about Wisconsin's nonconference schedule Thursday, wondering if it's suitable for a team contending for the Big Ten championship. Bielema defended the slate, saying Wisconsin scheduled Marshall when the Thundering Herd were a non-BCS powerhouse.
He scheduled Cal Poly to create a bye week before a rough stretch when Wisconsin plays Michigan, Ohio State and Penn State. The Badgers originally had been scheduled to play Virginia Tech on Sept. 20, but Bielema didn't want to face the Hokies before three critical league games. Needing a team to fill the Nov. 22 date, Bielema had few options and settled on Cal Poly.
"What you have to take into perspective," he said, "is find out when those games were scheduled. The only game that was scheduled in the last year was Cal Poly. ... The reason I think we've been successful is because we've had good scheduling."
Here's a look at the Big Ten nonconference matchups:
Illinois: Missouri (St. Louis), Eastern Illinois, Louisiana-Lafayette, Western Michigan (Detroit)
Indiana: Western Kentucky, Murray State, Ball State, Central Michigan
Iowa: Maine, Florida International, Iowa State, at Pitt
Michigan: Utah, Miami (Ohio), at Notre Dame, Toledo
Michigan State: at California, Eastern Michigan, Florida Atlantic, Notre Dame
Minnesota: Northern Illinois, at Bowling Green, Montana State, Florida Atlantic
Northwestern: Syracuse, at Duke, Southern Illinois, Ohio
Ohio State: Youngstown State, Ohio, at USC, Troy
Penn State: Coastal Carolina, Oregon State, at Syracuse, Temple
Purdue: Northern Colorado, Oregon, Central Michigan, at Notre Dame
Wisconsin: Akron, Marshall, at Fresno State, Cal Poly
July, 9, 2008
7/09/08
5:14
PM ET
Posted by ESPN.com's Adam Rittenberg
Reading Bruce Feldman's list of the nation's softest nonconference schedules got me thinking about August/September and how critical it will be for the Big Ten. Four Big Ten teams made Feldman's top 10 -- Indiana (1), Northwestern (3), Minnesota (7) and Iowa (10) -- and Wisconsin likely would have been there if not for an intrepid trip to Fresno State (can't wait for that game). I know bowl bids are gold and stacking up early wins is the way to get there, but this league needs to make an early statement, especially after what happened in Pasadena and NOLA earlier this year.
Fortunately, several teams passed on cupcakes and will play games that will determine whether the Big Ten regains national respect. You probably know about the one in Los Angeles on Sept. 13, but here's a rundown.
Illinois vs. Missouri (at St. Louis), Aug. 30: The general feeling when the BCS selections came out was that Illinois didn't deserve a spot and Missouri did. The two teams' bowl performances didn't do much to change that. Missouri enters the Braggin' Rights game with national championship aspirations. Illinois lost its best player (Rashard Mendenhall) but brings back quarterback Juice Williams and wideout Arrelious Benn. A win here vaults Illinois into the Big Ten title picture with Ohio State.
Michigan State at Cal, Aug. 30: The Spartans appear to be on the right track under Mark Dantonio, but a solid road win would undoubtedly raise their national profile. Michigan State won only two road games last season -- one against hapless Notre Dame -- so a win in Berkeley would further the argument that the Spartans can be this season's Illinois.
Utah at Michigan, Aug. 30: The notion that Michigan should win this type of game no longer exists after Appalachian State. Add to that a new coach, a completely new offense, a new quarterback, a new running back, new wide receivers -- do I need to go on? Oh yeah, and Utah is very good. Brian Johnson understudied for Alex Smith and has boatloads of experience. The Utes' backfield is stacked. A win here wouldn't guarantee a ton of respect for Michigan, but the Wolverines certainly wouldn't lose any.
Oregon State at Penn State, Sept. 6: Penn State's new quarterback -- Daryll Clark or Pat Devlin -- faces a rebuilding Oregon State defense in a game the Nittany Lions should win at home. But given Oregon State's recent success, this would qualify as a solid early win for Penn State.
Ohio State at USC, Sept. 13: Don't miss this one. The nation's premier nonconference game pairs two teams that have combined for 12 BCS bowl appearances and five national title game appearances. Ohio State can silence talk of its back-to-back title game stumbles with a road win against USC, which has some issues on the offensive line but always boasts top-shelf talent. An Ohio State win puts it in prime position for another national title push.
Oregon at Purdue, Sept. 13: The knock on Purdue, from coach Joe Tiller on down to quarterback Curtis Painter, is that it no longer wins big games. Here's an early chance to prove otherwise. Oregon lost Dennis Dixon and Jonathan Stewart but boasts a defense that will test an iffy Boilermakers passing game. Purdue played it bold in scheduling this year with Oregon, Central Michigan and as always, Notre Dame, and a win against the Ducks would be a great start.
Michigan at Notre Dame, Sept. 13: Neither team is expected to contend for a BCS bowl berth, but the annual matchup of the game's two winningest programs always merits plenty of attention. The scary thing for the Wolverines is that they have a lot of the same issues Notre Dame had in 2007, especially with personnel on offense. A strong performance on the road against a team Michigan embarrassed last season would give RichRod and the Wolverines a major boost before league play.
Wisconsin at Fresno State, Sept. 13: Props to Wisconsin for doing what most teams avoid at all costs -- playing a game in Fresno. Pat Hill has had too many BCS teams back out of games at Bulldog Stadium, so it's nice to see one squad follow through on its word. Wisconsin's new starting quarterback faces his first major test, and the Badgers must stop Tom Brandstater, Ryan Mathews, Bear Pascoe and Co. If Wisconsin leaves the Central Valley with a W, people will take notice.
Notre Dame at Michigan State, Sept. 20: Dantonio is changing the culture in East Lansing, but it's hard to forget the Spartans' collapse in the rain two years ago against Notre Dame. The loss spelled the end for John L. Smith. Beating Notre Dame doesn't carry the glitz it once did, but Michigan State has the opportunity to continue its success against a rival and notch another eye-catching win.
BIG TEN SCOREBOARD
Saturday, 12/20
Monday, 12/22
Tuesday, 12/23
Wednesday, 12/24
Friday, 12/26
Saturday, 12/27
Monday, 12/29
Tuesday, 12/30
Wednesday, 12/31
Thursday, 1/1
Friday, 1/2
Saturday, 1/3
Sunday, 1/4
Monday, 1/12
Tweets from https://twitter.com/ESPNCFB/lists/b1g