July, 2, 2012
7/02/12
12:00
PM ET
Congrats to the Big Ten blog's own Brian Bennett, who tied the knot Saturday in St. Louis! Now we're both officially outkicking our coverage.
No word on whether St. Louis native Montee Ball performed the ceremony. I can confirm wedding security had to restrain
Zooey
by using one of her crocheted scarves.
Onto the links:
January, 13, 2012
1/13/12
4:00
PM ET
Hope everyone has a great weekend.
Nate from Moline, Ill., writes:
Hey Adam,I read your article about Illinois hiring Gonzales and the positives and negatives associated with it. I agree that it's great that's he's been around a TON of winning, has produced a great amount of NFL talent, and is an excellent recruiter. However, I don't agree with some of the negatives. LSU's offense has been pretty efficient. They just haven't ranked higher because they have struggled with QB play.
Adam Rittenberg:
Nate, that's a good point. I was only noting that hiring LSU's pass game coordinator a few days after the BCS title game debacle might sway fan perception a bit. Billy Gonzales is a very good recruiter and developed plenty of NFL wide receivers at Florida. It'll be interesting to see how he fares as the primary playcaller at Illinois. LSU has struggled at the quarterback position, while Illinois has had mixed results with
Nathan Scheelhaase
. It'll be important for Gonzales to help Scheelhaase recapture the form he showed early this season and in the 2010 Texas Bowl. It's interesting that Illinois' last two offensive coordinators -- Gonzales and Paul Petrino -- both have worked with wide receivers more than quarterbacks.
---
Michael from St. Louis writes:
In the final third of the season, it felt like Nebraska was held back most by its lack of a down-field passing threat, particularly on third-and-long. Would
Taylor Martinez
overhauling his throwing mechanics help matters in 2012, or would it do more harm than good?
Adam Rittenberg:
Michael, you mean you don't like the T-Magic shot put? His mechanics are what they are, and I don't know how much tweaking you can expect. He did throw the ball well at times, like in the games against Ohio State and Northwestern. But I also think Nebraska's wide receiving corps will be much better in 2012 as players like
Kenny Bell
and
Jamal Turner
get another year of experience under their belts. Most offenses aren't built to succeed in third-and-long, and Nebraska's is no exception, but I do see the Huskers getting more production in the passing game and particularly more YAC (yards after catch) from Bell and the others.
---
Josh from East Lansing, Mich., writes:
What do you expect out of Michigan States receivers for next year? Gaining Arnett was a big addition, but outside of him nobody is proven. Do you think Aaron Burbridge and
Juwan Caesar
can be a big enough impact as freshmen to make MSU a top team for next year?
Adam Rittenberg:
Josh, young players certainly will have opportunities to see the field in 2012 for Michigan State.
DeAnthony Arnett
should be in the mix if he gets his NCAA waiver.
Bennie Fowler
didn't play much this season but showed some promise in 2010 and likely will be a part of the plan. After that point, you're looking at young guys like Burbridge and Ceasar. I also think Michigan State will return to more of a run-based offense in 2012 with a more experienced offensive line and
Le'Veon Bell
back in the fold.
---
Eric from Chicago writes:
Adam,There's one issue related to the Penn State situation that never gets addressed. Being that Paterno, Curly, McQuerry, et al interviewed in front of a grand jury why was every thing such a shock to Penn State when this news became public? Penn State knew about this months before it became public so how did they not have a plan in place for handleing it from a public relations standpoint?
Adam Rittenberg:
Eric, I'd disagree that this issue hasn't been discussed. It's very much in the minds of Penn State fans and alumni who want answers from the school's administration. The (Harrisburg) Patriot-News reported
Jerry Sandusky being the subject of a grand jury investigation
back in March. People at Penn State clearly knew about the report, but it certainly seemed like the school was unprepared for the storm in November. Penn State has been playing catchup from a public relations standpoint from the beginning.
---
Paul from Grand Rapids, Mich., writes:
Hey Adam, what are the odds that Cardale Jones could make a push against
Braxton Miller
? I love Braxton, but Cardale looks like a Vince Young re-incardalded(haha). Braxton might be a better runner, but Cardale sure looks like a solid runner with a rocket for an arm. Am I crazy? Also what about the running backs? What is the order looking like?
Adam Rittenberg:
Paul, I'd say you're a bit nuts on the Miller-Jones thing, but who knows? Maybe I'll be the crazy one a year from now. I do think Miller will thrive in Urban Meyer's offense, which will give him much more freedom to create and make plays, which is what he does best. Although Ohio State should keep other quarterbacks in the mix, the coaches seem very excited about Miller and for good reason. The running back rotation will be very interesting, to say the least.
Jordan Hall
has experience and versatility as a guy who can catch passes out of the backfield. Smaller backs typically thrive in the spread, and both Hall and
Jaamal Berry
seem to fit the profile. Berry has to get his off-field issues straightened out, but he's clearly a talented player. I'm interested to see what happens to a guy like
Carlos Hyde
, who looked good at times during the 2011 campaign but might not be the best fit for this system.
---
Dam from Miami writes:
Read your column about football players running track in the spring. Was curious if any B1G football players play any other sports like basketball? I know in the late 90's early 2000's there were many football athletes who doubled to play basketball as well like Julius Peppers, Jimmy Graham, Tony Gonzales, etc...
Adam Rittenberg:
Dam, it's becoming less and less common as football is a year-round activity and specialization is encouraged more these days. You see football players run track in other leagues more than you do in the Big Ten. As a guy who grew up cheering for Cal's Tony Gonzalez at both Memorial Stadium and Harmon Gym, I wish we'd see it more. The Big Ten has had some football players also play basketball, like Michigan State wide receiver/forward Matt Trannon. Purdue tight end
Patrick Bade
played two years of basketball for the Boilers before joining the gridiron squad, but he no longer does both.
---
Keith from Phoenix writes:
Hi Adam love the blog. A lot has been made about how UM's schedule is hard in 2012 similar to how hard MSU's was in 2011. My question is whose schedule is harder? They are similar in the challenging road games but MSU had Wisconsin and UM at home after a bye week while UM travels to Dallas to take on Alabama and has MSU at home. Another key factor is how OSU improves under Urban Meyer compared to Luke Fickell.
Adam Rittenberg:
Keith, it's a little tough to assess this without knowing how good certain teams will be in 2012. But it appears as though Michigan will play a tougher schedule than Michigan State did this past season. The Alabama opener increases the degree of difficulty by a lot. Like MSU, Michigan will visit both Notre Dame and Nebraska -- the two places where the Spartans stumbled during the regular season. I also think Michigan will face a much better Ohio State team than the one the Spartans faced this season. But again, it's hard to tell at this point. We should get a very good gauge of the Michigan program after the 2012 season.
---
Jesse from Superior, Wis., writes:
Will
Russell Wilson
's performance at Wisconsin this season encourage other athletic quarterbacks to consider Wisconsin a place to excel? I think Wilson's numbers prove that a quarterback with skills can have plenty of success, especially under Bielama. Thoughts?
Adam Rittenberg:
Jesse, Wisconsin's appeal for quarterbacks certainly has increased because of Wilson. The Badgers have a highly touted QB recruit (Bart Houston) arriving next year, and Bielema said he heard from several quarterbacks looking to transfer (
Dayne Crist
among them). The key for Wisconsin going forward is replacing offensive coordinator Paul Chryst. Wilson thrived under Chryst, and Chryst's system can prepare quarterbacks for the next level. Wisconsin will keep a similar identity on offense with its next coordinator, but the new coach and the new assistants on the offensive side will be integral in luring signal callers who boast Wilson's skill set and potential.
---
Lance from Greensboro, N.C., writes:
Adam,Just read your chat transcript. I'm a little surprised that you'd be against a 16 team playoff, and even have problems with an 8 team. While I'm not a playoff fan myself, if there is one I think you have to give automatic bids to the conference champs. Even if you limit this to the BCS conferences, that means 6 of the slots are taken, which doesn't give much room for deserving at-large teams. And if you don't give bids to the other FBS conference champs, that seems unfair. If you don't give automatic bids, you really hurt deep balanced conferences where it's really hard to run the table and help top heavy conferences (remember when FSU played for a national championship every year because there was no way they'd ever fail to go 8-0 in the ACC?). What do you think?
Adam Rittenberg:
Lance, a 16-team playoff would be a logistical nightmare with different schools having final exams at different times and so forth. I'd be in favor of an eight-team playoff if it was organized the right way. I might be in the minority, but I still believe the bowl experience is a nice reward for the players. I'm also not crazy about having the Big East champ or the ACC champ in a playoff every year, especially over more deserving teams that didn't win their league. I would have liked to have seen Arkansas in a playoff this year. Same for Stanford. I didn't need to see Clemson or West Virginia. I'd rather tweak the BCS formula or have a committee select the eight most deserving teams based on a specific criteria. The champions from leagues like the SEC, Big 12 and most likely Big Ten and Pac-12 would be in the playoff most seasons, but I don't think there should be automatic bids.
August, 15, 2011
8/15/11
12:00
PM ET
Hope everybody had a great weekend. Only a couple more of those left without football.
June, 22, 2011
6/22/11
1:00
PM ET
We've been ranking each position group in the Big Ten, and so far we've looked at
running backs
and
quarterbacks
. Today, let's finish off the offensive skill positions with receivers and tight ends.
The Big Ten is blessed with plenty of standout wide receivers, but remember these rankings heavily account for overall depth at the position, not just isolated star power. We're also including the tight ends in this group while acknowledging that the best ones aren't necessarily big-time pass-catchers.
Here's how we rank them:
[+] Enlarge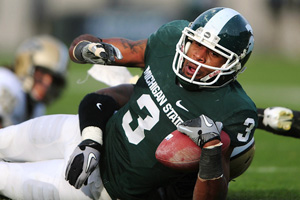 Andrew Weber/US PresswireB.J. Cunningham had the best numbers last season among a deep group of receivers and tight ends.
1. Michigan State:
The Spartans may lack a true superstar, though senior
B.J. Cunningham
(50 catches for 611 yards and nine touchdowns in 2010) is pretty darn good. What Mark Dantonio can really count on is depth. Cunningham has good size at 6-foot-2, while
Keshawn Martin
is a speed-burner.
Keith Nichol
and
Bennie Fowler
fill out a solid cast of receivers, and when you throw in
Brian Linthicum
and
Dion Sims
at tight end, this group deserves the top spot.
2. Michigan:
If Darryl Stonum weren't suspended indefinitely, this group might be No. 1. It's still pretty good as things stand now.
Roy Roundtree
leads the way after catching 72 passes for 935 yards and seven touchdowns last year, and
Junior Hemingway
is a strong secondary option for
Denard Robinson
. Tight end
Kevin Koger
is a third-year starter who can occasionally make big plays in the passing game.
3. Northwestern:
Senior
Jeremy Ebert
(62 catches for 935 yards and eight touchdowns last season) was a first-team All-Big Ten performer as voted by the media.
Demetrius Fields
had 25 receptions last year, and the Wildcats are counting on big improvements from sophomores
Rashad Lawrence
,
Tony Jones
and
Venric Mark
. Northwestern uses its superback position as a tight end, and
Drake Dunsmore
had 40 catches from that spot last year.
4. Indiana:
The Hoosiers languish at the bottom of many of these rankings, but receiver/tight end is a point of pride. Senior
Damarlo Belcher
led the Big Ten with 78 catches last year on his way to 832 yards. Even with the loss of Tandon Doss and
Terrance Turner
, who each had more than 60 catches in '10, new coach Kevin Wilson has a solid corps behind Belcher with
Duwyce Wilson
and
Kofi Hughes
, among others. And
Ted Bolser
is a highly productive tight end who had 27 catches for 407 yards and five scores a year ago.
5. Penn State:
Three of the top four receivers from last year return, including No. 1 target
Derek Moye
(his 16.7 yards per catch average was second in the Big Ten a year ago).
Justin Brown
and
Devon Smith
need to continue moving forward. Will the Nittany Lions get anything out of
Curtis Drake
, who's trying to return from his second broken leg? Penn State hopes to get something out of the tight end position, where
Andrew Szczerba
and
Garry Gilliam
dealt with season-ending injuries last year.
6. Wisconsin:
Once we reach the middle of these rankings, the units start to become interchangeable and a little indistinguishable. Wisconsin doesn't have to throw it too much because of its stellar running game, but the Badgers have some solid choices when they do go to the air. Senior
Nick Toon
has the talent to record more than the 36 catches and 459 yards he produced a year ago.
Jared Abbrederis
should continue to come along after a nice freshman campaign. There's potential but not much experience among the rest of the receivers. Star tight end Lance Kendricks will be tough to replace, but
Jake Byrne
is an outstanding blocker and
Jacob Pedersen
caught two touchdowns last year.
7. Nebraska:
Brandon Kinnie
is the leader here, and the 6-foot-3 senior isn't afraid to make the big catch. Freshmen Jamal Turner and
Kenny Bell
had nice springs and could add some playmaking skills to a largely unproven crew around Kinnie.
Kyler Reed
might be the most dangerous pass-catching tight end in the Big Ten, if not the country, after hauling in eight touchdowns and 18 yards per reception a year ago.
[+] Enlarge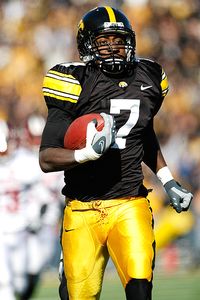 Scott Boehm/Getty Images Marvin McNutt will be expected to be the No.1 wideout for the Hawkeyes this season.
8. Iowa:
Senior
Marvin McNutt
is the go-to option after recording 861 yards and eight touchdowns last season. The Hawkeyes will look to junior
Keenan Davis
to improve and become the No. 2 target. Just about everyone else is green. Tight end is usually a strength for Kirk Ferentz and should be again with senior
Brad Herman
and a group of talented backups behind him.
9. Ohio State:
Seems like we write this a lot, but the Buckeyes would be ranked higher if their star player in this group were available an entire season. But
DeVier Posey
's five-game suspension means this is an awfully young corps, and that inexperience showed with some inconsistent play this spring. Ohio State will need talented sophomore Corey "Philly" Brown to take a big leap forward and youngsters like
Chris Fields
,
T.Y. Williams
and
James Louis
to contribute in Posey's absence. Tight end
Jake Stoneburner
might have to become a bigger presence in the passing game.
10. Purdue:
The Boilermakers have some decent depth but no proven stars.
Antavian Edison
is the leading returning receiver with just 314 yards last year, though the junior does have good speed.
Justin Siller
is talented but has had trouble staying healthy. Purdue lost two solid veterans at tight end in
Kyle Adams
and
Jeff Lindsay
and added a couple of potential replacements, including former basketball player Patrick Bade, this summer.
11. Minnesota:
Da'Jon McKnight
tied for second in the Big Ten last year with 10 receiving touchdowns. But the Gophers' second-leading receiver last season was
MarQueis Gray
, who's now their starting quarterback.
Brandon Green
could help after an injury-plagued season. Tight end
Eric Lair
can grab a few passes, as he did 39 times in 2010.
12. Illinois:
The good news:
A.J. Jenkins
is a reliable weapon who had 746 yards and seven touchdowns last season. The bad news: There's not much experience behind him. Perhaps
Ryan Lankford
, who starred in the spring while Jenkins was out with an injury, will emerge as a star his sophomore year.
Evan Wilson
is back at tight end after starting 11 games as a freshman.
June, 9, 2011
6/09/11
12:00
PM ET
I think the Rapture has arrived in Chicago.
June, 8, 2011
6/08/11
4:00
PM ET
This possibility was mentioned in one of the
lunchtime links
, and now it is official: Purdue's
Patrick Bade
is leaving the Boilermakers' basketball team to try and make it on the school's football team as a tight end.
We've seen plenty of players over the years play both football and basketball or quit one sport to concentrate on another. Rarely have we seen a player who has focused on one sport -- Bade played in 58 games for the basketball team, averaging 1.2 points and 1.6 rebounds -- to try another sport midway through his career. Bade is a junior.
Bade, in fact, hasn't played football since his junior year of high school. But he's 6-foot-8, and you can't teach that.
"I've seen his junior film, and he looks like a pretty good prospect for us," Purdue coach Danny Hope said. "He's a big-body guy who plays a position where we have a quite a bit of youth and not a lot experience, so he'll be able to compete right away. We're happy to have him aboard."
Hope has been trying to add depth at tight end following the departure of seniors
Kyle Adams
and
Jeff Lindsay
. Recruit Carlos Carvaja joined the team in May, and junior college transfer Sterling Carter participated in spring practice. The Boilermakers also have sophomore
Gabe Holmes
, who had one catch last season.
Whether Bade turns out to be a notable addition remains to be seen. Purdue fans can only hope this hardwood-to-tight-end transition works out as well as it did for
Antonio Gates
.