July, 9, 2012
7/09/12
9:00
AM ET
Joe Paterno has become a polarizing figure in recent months, but all parties would agree that he defines Penn State football.
Paterno was affiliated with the Nittany Lions program for 62 years of its 125-year existence. He served as Nittany Lions coach for nearly 46 seasons before being fired in November. And his impact is particularly significant in the program's victories total.
[+] Enlarge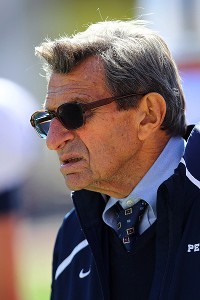 Michael Hickey/US PresswireAccounting for nearly 50 percent of the program's wins, Joe Paterno was the face of Penn State.
Of Penn State's 827 all-time victories in football, Paterno coached the team for 409, the most of any coach in Division I history. Other than former Florida State coach Bobby Bowden, who accounts for an astounding 64 percent of the Seminoles' all-time wins (304 of 475), Paterno's percentage of Penn State's wins (49.4) places him in select company. Only Air Force's Fisher DeBerry (49.1 percent) and BYU's LaVell Edwards (49.2 percent) have accounted for a similar chunk of program wins -- among FBS programs that have been around for more than 30 years -- as Paterno has at Penn State.
ESPN.com is taking a closer look at coaches this week, and today's topic examines which programs are defined by one coach. Penn State fits the description because of Paterno's long and successful career. Penn State also is unique because its program has been around so long, and while there was success before JoePa -- eight undefeated seasons between 1894-1947, a Rose Bowl appearance in 1923 -- almost all of the program's significant achievements (two national titles, 24 bowl wins) occurred on Paterno's watch.
What about the other Big Ten teams?
In terms of winningest coaches, here's how they look:
Illinois:
Robert Zuppke, 131 of program's 580 wins (22.6 percent)
Indiana:
Bill Mallory, 69 of 449 (15.3 percent)
Iowa:
Hayden Fry, 143 of 593 (24.1 percent)
Michigan:
Bo Schembechler, 194 of 895 (21.7 percent)
Michigan State:
Duffy Daugherty, 109 of 638 (17.1 percent)
Minnesota:
Henry Williams, 136 of 646 (21.1 percent)
Nebraska:
Tom Osborne, 255 of 846 (30.1 percent)
Northwestern:
Lynn Waldorf, 49 of 488 (10.04 percent)
Ohio State:
Woody Hayes, 205 of 837 (24.5 percent)
Purdue:
Joe Tiller, 87 of 586 (14.8 percent)
Wisconsin:
Barry Alvarez, 118 of 635 (18.6 percent)
As you can see, no coach comes close to Paterno in terms of percentage of his program's wins. But this ratio is just one gauge of a program-defining coach.
Another important factor is a team's history both before and after a coach took the job. Look at Wisconsin before Alvarez arrived in 1990. The program had endured five consecutive losing seasons and had just six winning seasons since 1963. Wisconsin's previous two coaches, Don Morton and Jim Hilles, had gone a combined 9-36 at the helm.
Alvarez transformed Wisconsin into an upper-tier Big Ten program, leading the Badgers to three Big Ten titles and three Rose Bowl championships. His hand-picked successor, Bret Bielema, has carried on Wisconsin's momentum, but Alvarez fostered the change. He is Wisconsin football, period.
Two iconic coaches regarded by many the faces of their respective programs are Ohio State's Hayes and Michigan's Schembechler. They tied for the most Big Ten championships with 13. Hayes won the most Big Ten games (152 to Schembechler's 143), while Schembechler owns the record for best winning percentage in conference games (.850).
But both men led programs that had success under other coaches. Michigan was a national superpower under the likes of Fielding Yost (.888 career win percentage), Harry Kipke, Fritz Crisler and Bennie Oosterbaan, while Schembechler never won a consensus national title. The Wolverines boast six coaches who have served 10 or more years, most recently Lloyd Carr (1995-2007).
Ohio State carved a place among the nation's elite under shorter-tenured coaches like Francis Schmidt and Paul Brown, while Jim Tressel won a national title and more than 81 percent of his games during his 10 years in Columbus.
Are Michigan and Ohio State defined by Schembechler and Hayes, respectively? Depends on your perspective. My take: both are iconic, but Hayes is more defining.
Iowa's Fry fills a similar role to Alvarez. He took over a program on the downturn for several decades and put it in the Big Ten's top half. Fry is the coach people think of when Iowa comes to mind, although his successor, Kirk Ferentz, has put his own stamp with a solid run since 1999.
Other Big Ten programs seem to fit into different categories.
Programs with two great coaches:
Nebraska -- Osborne (255-49-3) and Bob Devaney (101-20-2)

Purdue -- Tiller (87-62) and Jack Mollenkopf (84-39-9)
Programs that had its most successful coaches many years ago
Illinois -- Zuppke (131-81-13 from 1913-41); Arthur Hall (27-10-3 from 1907-12)

Minnesota -- Williams (136-33-11 from 1900-21; Bernie Bierman (93-35-6 from 1932-41 and 1945-50)

Michigan State -- Daugherty (109-69-5 from 1954-72); Biggie Munn (54-9-2 from 1947-53); Charles Bachman (70-34-10 from 1933-46); Chester Brewer (58-23-7 from 1903-10, 1917, 1919)
Historically weak programs with a lot of coaching turnover
Indiana -- No coach with career winning record since Bo McMillin (1934-47), no coach with 70 or more wins at school

Northwestern -- No coach with 50 or more wins at school, only one coach with tenure longer than 10 years
You could argue Zuppke remains Illinois' defining coach, even though he hasn't coached in more than 70 years. Osborne is undoubtedly the face of Nebraska's program, but is he the Huskers' defining coach? Tough to say that after looking at what Devaney did (two national titles, eight Big Eight titles).
Could any current Big Ten coach end up being a program-defining figure? None will occupy his job as long as Paterno did at Penn State. Northwestern's Pat Fitzgerald is just nine wins shy of Waldorf's victories mark, and he turned 37 in December. Fitzgerald's strong ties to the program, plus Northwestern's poor history and absence of coaching greats, create an opportunity should Fitzgerald have success for a long period.
What are your thoughts? Which Big Ten programs are defined by a coach, and which are not? Share them
here
.
March, 5, 2009
3/05/09
6:48
PM ET
Posted by ESPN.com's Adam Rittenberg
Jim Tressel grew up watching Bob Hope's USO shows and remembers Woody Hayes visiting troops in Vietnam.
But possibly the biggest reason why Tressel accepted an invitation to visit troops in the Middle East late this spring hits a little closer to home. The Ohio State head coach will join colleagues Mack Brown, Rick Neuheisel, Houston Nutt and Tommy Tuberville for a week-long trip on the Under Armour Coaches Tour.
"I recall vividly, as I learned more and more about my dad," Tressel said, "that serving his country came first to him, even more than his football playing and wanting to live a civilian life."
In 1943, Lee Tressel enrolled at Ohio State and went through a successful spring practice as a back. Coaching legend Paul Brown had recruited Tressel to the Buckeyes.
"He had a real good spring game," Jim Tressel said. "I think he threw a touchdown to [1944 Heisman Trophy winner] Les Horvath and Les Horvath threw one to him or he ran one or something like that.
"Then he made the decision that despite that thrill and lifelong dream of playing at Ohio State, he thought that he needed to serve his country, just like so many of the kids did at that time."
Lee served in the Navy in the South Pacific and then returned to Baldwin-Wallace, where he starred as a fullback and later coached for 23 seasons.
The younger Tressel shares his father's admiration for those serving in the military and looks forward to interacting with troops in Afghanistan, Qatar and the United Arab Emirates during the trip, which takes place May 28-June 4. Numerous military personnel have visited Ohio State in recent years, and a display case filled with pictures, flags, battalion coins and Buckeyes memorabilia sits in the football offices.
Tressel had been invited to join last year's tour but declined so he could attend his daughter's college graduation. When tour organizer Mike Whalen asked again, Tressel didn't hesitate.
"It's a tremendous honor," Tressel said. "When the Ohio State coach is there, the Texas coach is there, the UCLA coach is there, that's like bringing home right into their tents or wherever they stay. It will just be a sense of warmth for them, and they'll see from us that we believe they're the ones people should take note of. They're the ones doing the tough duty.
"What we do over here is a lot of fun, and I'm sure people recognize Ohio State football and all of that, but it's not as recognizable as that flag with the stars and stripes."