August, 30, 2013
Aug 30
9:00
AM ET
Who'll start Saturday --
Christian Hackenberg
or
Tyler Ferguson
?
Whatever the answer is, the quarterback will face the same challenge on Saturday by making his first career start. We can't peer into the future to see what the end result will be. (Hey, as Bill O'Brien likes to say, we're no genies.)
But we can look back to see how the last five Penn State quarterbacks fared in their first career starts. Here they are:
Matt McGloin, redshirt sophomore
vs. Michigan on Oct. 30, 2010
Outcome:
PSU 41-31
Stats:
17-of-28 for 250 yards, one touchdown, no interceptions
Synopsis:
After Rob Bolden suffered a head injury against Minnesota the week before, McGloin became the next man up. He was the first former walk-on to ever start under Joe Paterno.
After holding on to a 14-10 lead late in the second quarter, McGloin led PSU on two touchdown drives to give the Lions a 28-10 advantage by halftime. Said Paterno after the game: "That's about as well as we can play."
[+] Enlarge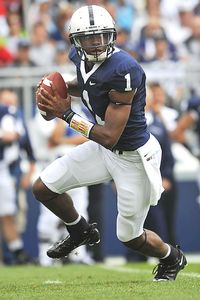 Randy Litzinger/Icon SMIRob Bolden made history in 2010 as the first true freshman quarterback to start an opener for Penn State under coach Joe Paterno.
Rob Bolden, true freshman
vs. Youngstown State on Sept. 4, 2010
Outcome:
PSU 44-14
Stats:
20-of-29 for 239 yards, two touchdowns, one interception
Synopsis:
He was the first true freshman in a century to start an opener for Penn State, and he fared relatively well against lesser competition.
PSU started off slow and led just 16-7 at halftime, but Bolden was able to get some breathing room when Chaz Powell returned the second-half kickoff 100 yards for a touchdown. Bolden didn't get much help from the running game -- Evan Royster had 40 yards on 11 carries -- but PSU dominated after the touchdown return.
Daryll Clark, redshirt junior
vs. Coastal Carolina on Aug. 30, 2008
Outcome:
PSU 66-10
Stats:
11-of-14 for 146 yards, one touchdown, no interceptions
Synopsis:
Penn State performed as expected against an FCS cupcake and didn't even really need to pass. PSU rushed for 334 yards and led 38-0 by halftime.
Pat Devlin and Paul Cianciolo played later in the game because, well, there was really no reason for Clark to risk injury. Clark said this afterward: "When you first start, you want everything to go right. I don't think I got touched today."
Anthony Morelli, junior
vs. Akron on Sept. 2, 2006
Outcome:
PSU 34-16
Stats:
16-of-32 for 206 yards, three touchdowns, no interceptions
Synopsis:
Morelli started off hot and drove the Lions to a score on their first drive, on a 42-yard touchdown pass to Deon Butler. He was 7-of-10 passing for 110 yards and two scores on just his first three drives -- and he was the first PSU quarterback since joining the Big Ten to throw three TDs in his first career start.
Said Akron coach J.D. Brookhart: "That kid can throw from one half to the other, 20 yards deep. You won't see a better arm this year."
Michael Robinson, redshirt sophomore
vs. Wisconsin on Oct. 4, 2003
Outcome:
Wisconsin 30-23
Stats:
22-of-43 for 379 yards, two touchdowns, no interceptions; nine carries for 19 yards
Synopsis:
Robinson stepped up when Zack Mills went down the week before with a sprained left knee, and he performed admirably. Although PSU didn't win, Robinson guided PSU on touchdown drives of 74, 80 and 70 yards. And, at the time, only one other PSU quarterback (Mills) had thrown for more yards in a game.
Robinson said this to the Philadelphia Inquirer: "Before the game, I kind of thought they would blitz me a little more, because that's what you usually do to a guy making his first start. You kind of want to get in his head a little bit. They played back and basically told me, 'Look, if you're going to beat us, you're going to have to throw the ball.' And I think we did a pretty good job."
December, 12, 2008
12/12/08
5:25
PM ET
Posted by ESPN.com's Adam Rittenberg
Penn State head coach Joe Paterno met with reporters Friday to preview the Rose Bowl, but most of the discussion had little to do with USC or Pasadena.
In his first news conference since undergoing hip-replacement surgery Nov. 23, Paterno showed up without a cane and reiterated his plan to return to the sideline for the Rose Bowl. He has every intention of returning in 2009 and already has had some discussions with athletic director Tim Curley.
Paterno said he plans to coach "for a while."
Paterno also addressed the departure of backup quarterback Pat Devlin earlier this week. Devlin and his parents met with Paterno and informed the coach of the decision to transfer.
"It was clear he was going to leave," Paterno said. "I asked if he would consider going to the Rose Bowl. Pat was not sure and had not really thought about it. He asked what I thought and I said I thought it might be a distraction."
Devlin had been considering transferring for some time.
"The timing may have not been the best, but it was the best for him," Paterno said. "It's a loss. The timing -- that was his call, it's his life and he had to do what was best for him."
Devlin's departure leaves Penn State in a bit of a bind at quarterback for the Rose Bowl. Senior Paul Cianciolo will serve as Daryll Clark's primary backup, and Paterno said wide receiver Derrick Williams, who was used late in the season in the "Wildcat" formation, also will be in the mix.
Center A.Q. Shipley hasn't spoken to Devlin in recent days and first heard the news of the departure while he was in Orlando to receive the Rimington Trophy.
"It was as shocking to me as it was to most people," Shipley told me this morning. "He's a good quarterback, he's going to go wherever and I wish him the best.
"He seemed fine, no different than he has. You never know what he's thinking inside. I don't know what triggered it, but he made the decision and I hope for the best for him."
December, 12, 2008
12/12/08
3:41
PM ET
Posted by ESPN.com's Adam Rittenberg
Let's see what's on your mind.
Andy from Greensboro writes: In regards to the awards ceremony last night on ESPN, I think the Big 10 got snubbed in the Bednarik. Yes Rey Maualuga missed a couple games this year, but his stats in the games he played were nothing special. He played against weaker teams in the Pac-10 than the Big 10 and I dont think he should have won. James and Aaron had much better stats (not only because they played a full season) against tougher offenses. Glad to see Malcolm win the Thorpe however.
Adam Rittenberg: I would have liked to have seen Aaron Maybin win the Bednarik Award, but Maualuga is a heck of a player who makes that defense go. Laurinaitis might have better numbers, but 75 of his 121 tackles were assists, so the stats a bit inflated. As I wrote earlier, Maybin was probably hurt a bit by only being a sophomore. He'll get his due in the years to come. Malcolm Jenkins is an excellent player and deserving of any national awards he receives, though I thought Eric Berry from Tennessee would win the Thorpe.
---
Jason from Reading, Va., writes: Adam- I have to take exception with your comment that Fitzgerald and Spurrier are the only active FBS coaches in the CFB Hall of Fame- What about one Joseph Vincent Paterno? ...and although the whole 'active' thing may be debatable here, what about Bobby Bowden?
Adam Rittenberg: Jason, you have to read a little more carefully. I wrote that Pat Fitzgerald and Steve Spurrier are the only active FBS coaches to be inducted into the Hall of Fame as players. Joe Paterno's playing career at Brown didn't him a Hall of Fame nod. Same goes for Bowden at Samford.
---
Andy from Evanston, Ill., writes: Hey Adam, great job all year. I've really enjoyed reading all your posts! Do you have any preliminary thoughts on the quarterback situation at Northwestern next year with [C.J.] Bacher graduating? Do you think Kafka will get the nod, or will they give it to someone like Evan Watkins to start getting some experience?
Adam Rittenberg: Mike Kafka will go into 2009 as the overwhelming favorite to win the starting job. In some ways, the injuries Northwestern had this year became a blessing in disguise. Kafka's performance at Minnesota helped save a promising season, and he can go into spring ball knowing it's his job to lose. Head coach Pat Fitzgerald has always liked Kafka, naming him the opening-day starter back in 2006, and he would have to see something major from Watkins or Dan Persa to change his mind. My sense is Watkins will be the team's quarterback of the future, beginning in 2010.
December, 11, 2008
12/11/08
9:27
AM ET
Posted by ESPN.com's Adam Rittenberg
The transfer of a backup quarterback usually doesn't set off alarm bells, but Penn State has to be a bit concerned about its quarterback situation after Pat Devlin cleaned out his locker Wednesday.
| | |
| --- | --- |
| | |
| | Matthew Emmons/US Presswire |
| | Pat Devlin (7) played a key role in Penn State's win over Ohio State earlier this season. |
Devlin and his parents reportedly met with head coach Joe Paterno on Monday to discuss his status.
"By the end of the meeting, Pat Devlin had informed Paterno that he was leaving, the source said. With one game to play, however, Devlin's decision over whether he would play in the Jan. 1 Rose Bowl against Southern Cal was left dangling.

[Wednesday], according to another source close to the team, Paterno asked Devlin if he had reached a verdict. The sophomore said he had not. Paterno made the decision for him, and by the end of the day, Devlin's locker was cleaned out."
All-Big Ten quarterback Daryll Clark was granted a fifth year of eligibility before the season and will return in 2009, but Penn State has no one behind him. Third-stringer Paul Cianciolo is a senior who will back up Clark in the Rose Bowl, his final collegiate game.
Recruiting now becomes paramount for Penn State, and it's an area that still creates anxiety in Happy Valley despite the program's renaissance this fall. The Lions' mediocre 2009 class currently features only one quarterback, Curtis Drake from Philadelphia.
Penn State undoubtedly will try to add another signal caller.
Tahj Boyd backed out of his commitment to Tennessee after meeting with new coach Lane Kiffin and would be an excellent late pickup for the Lions. Former Michigan commit Kevin Newsome also is a possibility. Newsome has Penn State among his top group of schools, and the chance to back up Clark next fall and start in 2010 could push him toward Happy Valley.
October, 28, 2008
10/28/08
3:21
PM ET
Posted by ESPN.com's Adam Rittenberg
The bye week has come at a good time for Penn State and quarterback Daryll Clark, who will be limited this week in practice but is expected to play Nov. 8 at Iowa.
Clark sustained an apparent concussion in the third quarter of last Saturday's win against No. 12 Ohio State. He remained in the game for several plays but did not come out for the next offensive series. Backup Pat Devlin led Penn State on its final two scoring drives.
Clark sat out practice Monday but is expected to do some running at today's workout. Head coach Joe Paterno will spend much of the week evaluating Devlin and third-stringer Paul Cianciolo.
"The other kids can use the work, and I think we will use them, practice them," Paterno said. "But everybody seems optimistic he is going to be fine."
Clark is among the 13 semifinalists for the Davey O'Brien Award.
Also, Paterno will have his injured hip examined by doctors this week, most likely Wednesday. He hopes to receive any necessary treatment, including surgery, immediately after the season so he can "get on the road and go out and recruit."
In other words, Paterno has no plans to step down after the season.
"They might say, 'Hey, let's go in there and fix it up, it needs to be fixed up,'" Paterno said. "And, obviously, it would be my option as to what the alternative may be. If it meant I didn't have to have an operation and I can do what I've been doing -- I've operated fairly well, really, you know. Obviously, I don't run around on the practice field, and I've been upstairs because I've not wanted to be a distraction on the sideline.
"I really honestly don't know what I'm going to do."
September, 24, 2008
9/24/08
3:26
PM ET
| | |
| --- | --- |
| | |
| | Rob Tringali/Getty Images |
| | Daryll Clark has seven TD passes and only one interception this season. |
Posted by ESPN.com's Adam Rittenberg
Shortly after being named Penn State's starting quarterback, Daryll Clark used some word play with the title of the team's new offense -- the Spread HD -- to illustrate whether the unit would sink or swim this fall.
"Hopefully HD will stand for hi-def, highly diverse," Clark said. "And hopefully it doesn't turn out to be a huge dud."
Four games into the season, the former looks like the correct interpretation. Few teams in the country have been as multifaceted on offense as No. 12 Penn State, which ranks among the top eight nationally in scoring (52.8 ppg), rushing (274.3 ypg) and total yards (538.5 ypg).
The Nittany Lions have four regular ball-carriers, including Clark, who average at least 5.9 yards per carry. Leading rusher Evan Royster averages a blistering 8.1 yards per carry, and speedy backup Stephfon Green isn't far behind (7.3 ypg). The team's three senior wide receivers -- Jordan Norwood, Deon Butler and Derrick Williams -- all average at least 14 yards per reception.
Penn State has had six different players rush for a touchdown and the same number catch a scoring strike from Clark, backup Pat Devlin and third-stringer Paul Cianciolo.
That qualifies as diverse.
Comparing the current system to its predecessor, it's as if the Lions traded in their black-and-white TV for one with hi-def capabilities.
"Being able to use all the weapons we have has really helped," Royster said. "I don't think [the switch] needed to happen. I just think it fits our personnel. We could have success with a pocket quarterback that can throw the ball. It's really all about the people you have and what you have to work with."
Running a system that uses all of its available resources has built greater confidence across the board.
"Everybody's trusting each other a lot more than they did last year," center A.Q. Shipley said.
August, 26, 2008
8/26/08
2:17
PM ET
Posted by ESPN.com's Adam Rittenberg
| | |
| --- | --- |
| | |
| | AP Photo/Carolyn Kaster |
| | Senior Daryll Clark has been named the Penn State starting quarterback. |
After listing two possible starters at quarterback on Penn State's Week 1 depth chart, coach Joe Paterno made his decision and tabbed senior Daryll Clark to lead the Nittany Lions offense against Coastal Carolina. Clark had been expected to get the starting nod over sophomore Pat Devlin, mostly because of his experience last season as Anthony Morelli's backup.
The 6-2, 231-pound Clark turned in an impressive performance in the Alamo Bowl, helping rally Penn State to a win against Texas A&M. His combination of size and speed seems to fit Penn State's new offense, the Spread HD, but Paterno doesn't discount Clark's ability as a passer, which will be key as the Lions return three senior wide receivers.

"He's a good all-around quarterback," Paterno said on the Big Ten coaches teleconference. "People think he's a runner. He's a good thrower. Smart kid, good leader."
Paterno reiterated that both Devlin and third-stringer Paul Cianciolo remain in the mix and that more than one quarterback could see the field this fall. It will be interesting to see what happens to Devlin, a highly touted prep quarterback who reneged on a verbal commitment to Miami to play for his home state school. Clark is on pace to earn a fifth season of eligibility in 2009, while Devlin has three seasons of eligibility remaining.
Devlin still should see the field a decent amount this fall, and Paterno downplayed the belief that Clark's skills fit the offense better than the other candidates.
"The system's got to fit the quarterback," Paterno said. "You've got a quarterback and we have three, and you can't put a system in for one quarterback because he could go down halfway through the first quarter or the first game, so you put in something they all can do without being a strain."
Clark appeared in eight games last season, completing 6 of 9 passes for 31 yards. Though Paterno said he named a starter to prevent Clark from looking over his shoulder, the junior doesn't appear to lack any confidence and has the demeanor to command respect right away.
"They're all bright as can be, but I had to make a pick and Clark right now is the best of the three," Paterno said. "But the other two guys will be pushing."