August, 13, 2014
Aug 13
1:00
PM ET
We're barely two weeks from the start of the 2014 season. As the countdown continues, we're putting each Big Ten team's schedule under the microscope.
Up next: the
Ohio State Buckeyes
.
Nonconference schedule (with 2013 records)
Aug. 30: Navy (9-4)
Sept. 6: Virginia Tech (8-5)
Sept. 13: Kent State (4-8)
Sept. 27: Cincinnati (9-4)
East Division games
Oct. 4: at Maryland
Oct. 18: Rutgers
Oct. 25: at Penn State
Nov. 8: at Michigan State
Nov. 22: Indiana
Nov. 29: Michigan
Crossover games
Nov. 1: Illinois
Nov. 15: at Minnesota
No-plays
Iowa
Nebraska
Northwestern
Purdue
Wisconsin
Gut-check game:
Michigan State handed Urban Meyer his first loss as Buckeyes coach and spoiled Ohio State's quest for a Big Ten championship and a shot at the national title last season. The Buckeyes-Spartans showdown under the lights Nov. 8 is the Big Ten's premier game entering the 2014 season. Ohio State was fortunate to escape East Lansing with a one-point win in 2012. These are two physical, talented teams with strong quarterbacks and excellent defensive linemen. If Ohio State wants to reclaim its place atop the Big Ten, it must get through the Spartans.
Trap game:
Win or lose, the Michigan State game will take a lot out of the Buckeyes both mentally and physically. Ohio State then has to travel to Minnesota the following week. It will probably be about 16 degrees at TCF Bank Stadium before the wind chill, and Minnesota uses a power-oriented offense that, if effective, can limit possessions and shorten the game. The Gophers are only getting better under Jerry Kill and will be searching for a true signature win. Ohio State can't look past this one.
Snoozer:
Ohio State's overall nonconference slate is much better than last year's, but the Kent State contest doesn't do too much for me. The return of Golden Flashes coach Paul Haynes, a former Ohio State assistant, is a nice storyline, and Kent State had some decent performances in 2013, but the Buckeyes should have little trouble in this one.
Nonconference challenge:
The schedule lacks a true marquee name, but Navy, Virginia Tech and Cincinnati all pose different challenges. I'll go with Virginia Tech, as the Hokies are almost always strong on defense and special teams, which could allow them to hang around with Ohio State. There are questions on offense, but running back
Trey Edmunds
should bolster a rush attack that really struggled in 2013. It's a big year for coach Frank Beamer, and Virginia Tech will be anxious to show it can still compete with the nation's elite.
Analysis:
This is an upgrade from 2013, even though Ohio State could be favored in every game and faces only one preseason playoff contender in Michigan State. The crossover games in the Big Ten largely stink this season, and Ohio State misses the top West Division title contenders. The Buckeyes face what should be an improved Michigan team at home, and while a trip to Penn State could be tricky, Ohio State is deeper than the Nittany Lions on both sides of the ball. The big question is whether Ohio State must run the table to qualify for a playoff spot, or if it could afford a loss along the way. Despite a 24-0 mark in regular-season Big Ten play under Meyer, Ohio State has had several close calls. Michigan State should be the Buckeyes' toughest test, but there aren't as many easy wins as there were a year ago.
May, 7, 2012
5/07/12
2:30
PM ET
COLUMBUS, Ohio -- Like most coaches, Ohio State's Luke Fickell has neither the time nor the desire to look backward.
Fickell isn't going to publish his memoirs about his 182-day term as Ohio State's head coach last year, when he guided his alma mater through an adversity-filled season that produced subpar results on the field. After Ohio State named Urban Meyer as its head coach on Nov. 28, Fickell's life didn't exactly slow down. He coached the Buckeyes through their bowl game,
interviewing for Pitt's head-coaching vacancy
during the span, before opting to remain with Ohio State as defensive coordinator. When
Meyer introduced his staff
at a Jan. 15 Ohio State men's basketball game, Fickell received the loudest ovation.
Since then, Fickell has spent most of his time recruiting, with some coaching sprinkled in this spring.
[+] Enlarge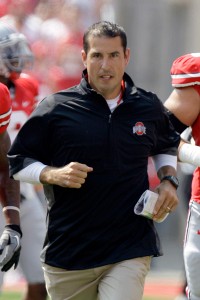 AP Photo/Jay LaPreteLuke Fickell says he learned a lot during his brief stint as Ohio State's head coach.
"From the day after the [bowl] game, I pretty much started moving on into the next page," Fickell told ESPN.com. "Since then, we've had spring break off, so that was probably about the only time you may have had to reflect, but you were so far into everything else. ... Then again, I'm not a person that is going to dwell upon the past."
He might not dwell on what happened, but he hasn't forgotten, either. The unique situation provided lessons for a young coach.
"There's things you take from every experience, but especially that one," Fickell said. "Not just about being a head coach, but being in the midst of adversity. It's everything from how you react and respond to how others around you react and respond to how an 18-year-old reacts and responds, to a 22-year-old. There was an incredible amount of things learned, not just about what things would I do different, but more emotionally."
Fickell is back in the familiar role of assistant coach, a position he held at Ohio State from 2002 until Jim Tressel's resignation on Memorial Day of 2011. The 38-year-old shares coordinator duties with coaching veteran Everett Withers, and he'll also coach the linebackers, as he did from 2005-2010.
Fickell shared defensive coordinator duties with Jim Heacock before taking over the head-coaching duties, but Heacock was regarded as the unit's leader. The 2012 season marks the first where Fickell moves into the primary play-calling role, although he downplays the idea that he'll have more ownership with the defense.
"In 2002, it wasn't Mark Dantonio's defense," Fickell said. "It was Ohio State's silver bullet defense. In '05, when Jim Heacock and myself were doing our thing, it wasn't our defense. It was every bit [former assistant] Paul Haynes' defense and [former assistant] Tim Beckman's defense."
Withers has been a defensive coordinator at three FBS programs (North Carolina, Minnesota and Louisville) and boasts NFL experience with the Tennessee Titans and New Orleans Saints. He also shares a kinship with Fickell after serving as North Carolina's interim head coach last season.
While Fickell stepped into a tough situation on Memorial Day, Withers' promotion came even later, as
he took over July 28 for the fired Butch Davis
. Although they occasionally joke around about their experiences, Withers, like Fickell, hasn't had much time to look back.
"When Coach Withers and I had some opportunities to sit down and spend some time together, there were no egos involved," Fickell said. "That's Coach Meyer's biggest thing. He said, 'The most important thing is I want an alignment with the staff.' ... That's why we've been successful here and been good, not just at Ohio State but on defense as well."
Fickell inherits a defense that returns nine starters, including All-America defensive end
John Simon
, but backslid at times last season. Although Fickell spent most of his time with the defense last fall, he's no longer burdened by head-coaching duties.
"He's awesome," Simon said. "With the passion and fire he brings every day, especially with his knowledge of defense, it's great to have him back."
The scheme will remain more or less the same -- "Nothing that anybody would notice unless you were really studying us," linebacker
Etienne Sabino
said -- and so are the demands.
"We always talk about, 'Be on the same page,'" Sabino said. "We can both look at a play and he'll ask me, 'Is that good or not?' And if I say no, he's probably thinking the same thing. We're on the same page. He would never let you get complacent.
"He's still pushing me just as hard as when I first walked in here. That's great."
April, 19, 2012
4/19/12
6:45
PM ET
COLUMBUS, Ohio -- Paul Haynes and Taver Johnson were among the coaches entrusted to guide Ohio State through a storm 2011.
The last thing the two men could have expected at their next coaching stop was another tempest. And, in many ways, a more damaging one.

Haynes and Johnson are part of an Arkansas staff left to pick up the pieces from the Bobby Petrino scandal. Johnson, the Razorbacks' assistant head coach/linebackers coach, is in charge until a head coach is named, while Haynes serves as the Hogs' defensive coordinator after leaving Ohio State in December. Johnson had a chance to remain with Ohio State but left to join Hayes in Fayetteville.
Ohio State defensive coordinator Luke Fickell, who served as the Buckeyes' head coach last season after Jim Tressel's departure, has been in touch with Haynes since the Petrino scandal broke.
"A very, very difficult situation," Fickell told ESPN.com on Thursday. "Different in a lot of ways, but similar in some ways, too. Everybody learned from last year, whether they were an administrator here, whether they were an intern, a defensive coordinator or a head coach, you learn a lot of different things, and it's going to help them in the long run."
Fickell and Haynes are close friends and remain in regular contact, as do their wives. Fickell hasn't spoken as often with Johnson, but he's confident the two men don't need his advice despite another difficult situation.
"Hell, they were here, they know what happened," Fickell said. "Now if the situation [at Arkansas] stays the way it is, before they start a season, I'm sure just like I had, they'll have an opportunity to communicate with some different people and pick some brains. Right now, they're probably just trying to keep the whole ship afloat."
Through some very choppy waters.
January, 15, 2012
1/15/12
9:46
PM ET
Urban Meyer's approach to discipline will be closely monitored at Ohio State after off-field problems piled up under his watch at Florida.
Meyer's first actions took place Sunday as the team confirmed he
dismissed
defensive backs
Dominic Clarke
and
DerJuan Gambrell
.
Clarke, a backup cornerback who started three games last season, has had several legal issues in recent months. He was charged with misdemeanor operating while intoxicated and two other misdemeanors following a Jan. 7 traffic stop. He was arrested Oct. 9 for allegedly discharging a BB gun at an on-campus restaurant, which resulted in a one game suspension. Clarke had been ticketed for speeding near campus.
In other words, he had plenty of chances and kept squandering them.
Gambrell, a freshman, was dismissed for an unspecified violation of team rules.
In other Ohio State news, cornerbacks coach Taver Johnson is leaving to become co-defensive coordinator at Arkansas alongside former Buckeyes colleague Paul Haynes. Johnson's departure leaves Meyer one staff vacancy to fill.
December, 13, 2011
12/13/11
12:00
PM ET
These links are verbally committed to the Big Ten blog.
December, 10, 2011
12/10/11
9:25
AM ET
Ohio State defensive assistant
Paul Haynes has left the program to become defensive coordinator at Arkansas
.
Haynes has spent the past seven seasons with the Buckeyes, primarily coaching safeties. He was promoted to co-defensive coordinator before the 2011 season after Luke Fickell took over the head-coaching duties. Haynes came to Ohio State from Michigan State, where he served under John L. Smith, a former Arkansas assistant.
It's no surprise to see Haynes depart, especially for a good opportunity. New Ohio State coach Urban Meyer is assembling his staff, and Haynes likely wouldn't have remained in a coordinator role with the Buckeyes. His departure means the Buckeyes will be working with a limited staff against Florida for the TaxSlayer.com Gator Bowl on Jan. 2.
Haynes is the second Big Ten assistant to leave for Arkansas this week. Illinois offensive coordinator Paul Petrino returned to the Razorbacks and his brother Bobby's staff to replace Garrick McGee, recently hired as UAB's head coach.
August, 4, 2011
8/04/11
2:43
PM ET
Ohio State coach Luke Fickell on Thursday announced assistants Paul Haynes and Dick Tressel will have additional responsibilities for the 2011 season.
Haynes, the Buckeyes' safeties coach, has been promoted to co-defensive coordinator, the title Fickell previously held when he coached the team's linebackers. Running backs coach Dick "Doc" Tressel will serve as special teams coordinator for 2011.
"Paul Haynes is an exceptional coach who has worked extremely hard for this football program," Fickell said in an official statement. "He deserves to take on a greater role with our defense alongside coordinator Jim Heacock. And I felt it was important to get Doc [Tressel] more involved in all aspects of our special teams. He has so much experience, and he brings so much knowledge to the field every day, that I really wanted him to be responsible for coordinating our special teams efforts."
Heacock will continue to be the point man for the Buckeyes' defense, but this is a good move for Haynes, who enters his seventh year on the Ohio State staff.
Ohio State is used to having a Tressel focused on special teams as Dick's younger brother, former Buckeyes head coach Jim Tressel, made the kicking game a top priority during his tenure. Ohio State had several uncharacteristic special-teams breakdowns in 2010 -- the Buckeyes allowed two returns for touchdowns against Miami and had a punt blocked against Arkansas in the Allstate Sugar Bowl -- so Dick Tressel has some areas to address.
"We won't change the responsibilities that each coach has had," Dick Tressel said in a statement, "other than I'll take over the punt unit from Luke, but there will be an added level of attention and emphasis from me in all areas."
Ohio State also promoted operations staffers Amy Burgess and Tom Dunlap.
January, 30, 2009
1/30/09
11:37
AM ET
Posted by ESPN.com's Adam Rittenberg
When Minnesota head coach Tim Brewster checked into his hotel Tuesday morning in Shreveport, La., the woman working at the front desk spotted the Golden Gophers logo on his shirt and smiled.
"The coach from Michigan just left," she told him.
Both Minneapolis and Ann Arbor, Mich., are located more than 850 miles from Shreveport, making it an odd place for Brewster and one of his Michigan counterparts to cross paths. But these days, Big Ten coaches are just as likely to bump into one another in Shreveport, Atlanta, Fort Lauderdale, Fla. and Houston as they are in Chicago, St. Louis, Pittsburgh and Detroit.
When Purdue head coach Danny Hope called ESPN.com on Wednesday afternoon, he was navigating a road near Bay City, Fla. An hour earlier, Wisconsin defensive line coach Charlie Partridge phoned in from the Fort Lauderdale area.
The Big Ten recruiting range is expanding far beyond the Midwest, and coaches are spending much of their time in the fertile states of the south and southeast.
If one incoming recruit symbolizes the recruiting change in the Big Ten, it's a safety expected to sign Wednesday with Wisconsin.
His name: Dezmen Southward.
His hometown: Fort Lauderdale.
"There's certainly great, great players in the Midwest, but just in terms of numbers, all you have to do is look at Division I signing day and the number of kids who play Division I out of this region here," said Partridge, who has recruited the Florida area for Wisconsin, Pitt and Iowa State, among others. "You can come down and get two to three kids who can have an impact on your program.
"People are recognizing the value of recruiting down here."