December, 29, 2010
12/29/10
2:30
PM ET
Not surprisingly, the NCAA's decision to allow five suspended Ohio State players to participate in the Allstate Sugar Bowl against Arkansas has been greeted with a good deal of criticism.
My take: punishment shouldn't be deferred, especially when the violations were committed more than a year ago.
Both the NCAA and the Sugar Bowl's top official defended their positions Wednesday.
The
NCAA issued a statement
in response to media criticism about the Ohio State situation and the
Cam Newton
drama at Auburn.
It reads in part:
In relation to the decision last week involving rules violations with football student-athletes at Ohio State, several current student-athletes were interviewed as part of our fact-gathering process. They indicated they were not aware there was a violation and learned of the issue based on later rules education, which was confirmed by OSU through interviews and supporting documentation.
Inadequate rules education is often cited in student-athlete reinstatement and other waiver cases (such as inaccurate or misguided academic advising), but it is just one of many factors considered in these types of situations.
The NCAA restated its withholding policy that allows for "suspending a reinstatement condition" -- I love that phrase -- in situations involving championships or bowl games.
Finally, the NCAA responded to claims that its decision was based around money, especially the revenue BCS bowl games like the Sugar Bowl generate.
Money is not a motivator or factor as to why one school would get a particular decision versus another. Any insinuation that revenue from bowl games in particular would influence NCAA decisions is absurd, because schools and conferences receive that revenue, not the NCAA.
Sugar Bowl CEO
Paul Hoolahan also addressed the Ohio State situation
with The Columbus Dispatch, telling the newspaper that he encouraged Ohio State to keep the players eligible for the game against Arkansas. Big Ten commissioner Jim Delany and others also pushed for the players to appear in the bowl.
"I made the point that anything that could be done to preserve the integrity of this year's game, we would greatly appreciate it," Hoolahan said. "That appeal did not fall on deaf ears, and I'm extremely excited about it, that the Buckeyes are coming in at full strength and with no dilution."
Hoolahan knows that a portion of Ohio State fans feel the suspended players shouldn't play in the Sugar Bowl and told The Dispatch, "I appreciate and fully understand the Midwestern values and ethics behind that, but I'm probably thinking of this from a selfish perspective."
Hey, at least he's honest.
I understand that a lot of folks benefit from the NCAA's decision, including the fans who will attend or tune into the Sugar Bowl on Jan. 4.
But a phrase like "preserve the integrity" probably doesn't apply to this situation.
December, 2, 2010
12/02/10
1:30
PM ET
It's a pretty good bet that the Big Ten will be partying in the Big Easy in a few weeks.
The Allstate Sugar Bowl has the first at-large pick among the BCS games this season. If the Sugar Bowl loses the SEC champion to the BCS title game, it will make two picks right off the top.
What are the chances one of those picks comes from the Big Ten?
"If we lose Auburn, I'd say it'd be pretty good," Sugar Bowl CEO Paul Hoolahan told me this week.
If Auburn beats South Carolina in Saturday's SEC championship and advances to the BCS national title game, the Sugar Bowl would look first to the SEC for a replacement. Arkansas is widely projected to be the next choice, although LSU also is under consideration.
At that point, Hoolahan and the rest of the Sugar Bowl selection committee likely would look to the North.
[+] Enlarge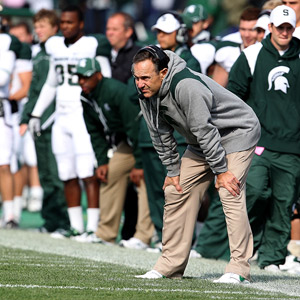 Jonathan Daniel/Getty ImagesMark Dantonio has been working to get the word out about his Spartans.
"I've got to believe with the likes of Wisconsin, Ohio State and Michigan State, and all of them ranked in the top 10, any one of those teams would be very desirable," Hoolahan said.
As the highest-ranked Big Ten team in the BCS standings, Wisconsin is expected to receive the league's automatic BCS berth and head to the Rose Bowl.
"The conventional wisdom suggests that both Ohio State and Michigan State are viable options for us and very attractive options," Hoolahan said.
Michigan State has launched a major awareness campaign this week to
put itself on the radar for BCS bowls
. Coach Mark Dantonio has conducted interviews with several national and regional media outlets as the Spartans try to outline why they should be in the discussion for the big bowls.
Hoolahan has spoken with Dantonio and athletic director Mark Hollis, and while he doesn't characterize Michigan State's P.R. push as unusual, the message is coming through.
"People that know they're being looked at in the at-large pool, they certainly want to put their best foot forward and present themselves in the most favorable light," Hoolahan said. "That's happened quite obviously with Michigan State, also with Ohio State and Wisconsin and everybody else in the last week or two. ... I don't find it a hard press. [Michigan State is] excited, and they want us to feel their excitement, and we certainly do."
Michigan State and Ohio State didn't meet on the field this year, but they're certainly in competition for an at-large bowl spot. Hoolahan has had several conversations with Ohio State AD Gene Smith and coach Jim Tressel.
The Michigan State-Ohio State debate comes down to selecting a proven brand with a strong track record (Ohio State) or a new option boosted by its best season in recent memory (Michigan State).
"If you're looking at the uncertainty factor, you know you have a group that hasn't been," Hoolahan said. "Generally speaking, when a group that hasn't been to a BCS [bowl] gets a chance to go, they usually bring a healthy following with them. But that's not the end-all, be-all in the final analysis."
And the Sugar Bowl knows what to expect with the Buckeyes.
"We've known them and we have a little more background and experience," Hoolahan said. "They're less of an unknown."
One factor that could work against Michigan State for the Sugar Bowl is the potential opponent. While Arkansas is a good team, the Hogs don't move the needle as much nationally as Alabama or Florida most years or Auburn this year.
Pairing Arkansas against Michigan State could be a tough sell to casual fans, while Ohio State is a team that always attracts attention, especially as if it's trying to end its struggles against the SEC.
"Anything that adds flair, you certainly want to do that because it helps your broadcast partner," Hoolahan said. "They're always looking for good ratings. They're looking for games that can sell, as we do."