October, 24, 2014
Oct 24
10:00
AM ET
It's an interesting weekend for the Big Ten. On one hand, we have an intra-state rivalry on tap along with a nationally televised night game at one of the best atmospheres in the country.
On the other, only one of the conference's five games is expected to be close. Four of the underdogs are picked to lose by double digits this week, and the closest game isn't exactly a hot ticket: Minnesota at Illinois.
For the first time all season, we Big Ten writers all picked the same winners. But will there be an upset? Can someone surprise in the Big Ten? Let's take a closer look at the matchups:
Noon
Minnesota (6-1) at Illinois (3-4), ESPNU:
The Gophers are still fighting for respect, as they appear at No. 24 in the USA Today poll -- but they're still left out of the Associated Press' top 25. They've quietly put together a solid season, with their only loss coming against TCU, and running back David Cobb could be the most underrated player in the conference. Illinois coach Tim Beckman is fighting for his job, and he and his offensive coordinator
can't even seem to agree
on whether a two-quarterback system is best for the team. The Illini have a plethora of defensive problems, and they can't afford to have their offense stumble.
Maryland (5-2) at Wisconsin (4-2), BTN:
Melvin Gordon
is one of the most dynamic backs in all of college football, and the Terrapins are one of the worst rushing defenses in all of college football. That's not exactly a recipe for success for the Terps. That being said, Wisconsin's woes through the air have been well-documented, and it would be no surprise to see the Terps dare Wisconsin to throw. Randy Edsall needs to get his own house in order, too. Maryland has a lot of firepower on offense, but C.J. Brown needs to find more consistency for this team to hang with the Badgers. Backup Caleb Rowe is out for the season, so it's Brown or bust. And Brown has thrown three picks to zero touchdowns in the last two games.
Rutgers (5-2) at Nebraska (6-1), ESPN2:
The Scarlet Knights just can't catch a break with their schedule. They were dismantled by Ohio State 56-17 on Saturday and they play Wisconsin next week. Rutgers was the surprise team of the conference in the first half of the season, but it will have to show something in this second half to retain that title. It won't be easy. Like the Buckeyes, Nebraska boasts a balanced offense -- and
Ameer Abdullah
is the best back the Knights have seen since ... well ... it's been years. With one Big Ten loss already, Nebraska can't afford a slip-up. But it might just have the most talented team, overall, in the West.
3:30 p.m.
Michigan (3-4) at Michigan State (6-1), ABC:
Since 2008, this rivalry has basically been owned by the Spartans. Mark Dantonio's team has won five out of the last six, with the Wolverines winning only once in a 12-10 game in 2012. Michigan is coming off a bye week -- and actually won its last Big Ten game, against Penn State -- but the Spartans are on another level. If U-M can pull off this upset, maybe Brady Hoke has an outside chance to save his job and the Wolverines really have sparked a turnaround. If not, expect the same Michigan storyline that you've heard since Week 2.
8 p.m.
Ohio State (5-1) at Penn State (4-2), ABC:
The Buckeyes have scored at least 50 points in four straight games, but they haven't faced a defense quite like Penn State's. On the flip side, the Nittany Lions haven't faced any offense resembling Ohio State's, either. The key to an upset here is two-fold: Penn State's weak offensive line must somehow keep one of the nation's best front fours at bay (unlikely), or Penn State's defense has to play out of its mind and force turnovers (more likely). Ohio State pounded Penn State 63-14 last season, and the Lions would like nothing more than to avenge the worst loss in program history since 1899 (a 64-5 loss to Duquesne). This game will act as a good measuring stick for both J.T. Barrett and the PSU defense.
Required reading
January, 11, 2010
1/11/10
2:30
PM ET
As we put the bowl season to bed today -- the Big Ten certainly will have sweet dreams -- here's one final look back at my picks.
Much like the Big Ten, I started slow in the picks this fall but finished pretty strong.
CHAMPS SPORTS BOWL (Wisconsin vs. Miami)
The pick: Wisconsin 27, Miami 24
Actual score: Wisconsin 20, Miami 14
20-20 hindsight: A pretty solid pick overall, as Wisconsin generated pressure with defensive linemen J.J. Watt and O'Brien Schofield and employed a balanced attack on offense. I expected more from Jacory Harris and Miami's offense, and the game easily could have been a blowout as Wisconsin controlled the pace on both sides of the ball.
INSIGHT BOWL (Minnesota vs. Iowa State)
The pick: Iowa State 17, Minnesota 14
Actual score: Iowa State 14, Minnesota 13
20-20 hindsight: Another pretty solid pick here, although it didn't take much expertise to see these two offenses would struggle a bit. Minnesota's defense battled extremely hard and the offense generated yards but not points. A MarQueis Gray fumble in the Iowa State red zone ended Minnesota's potential game-winning scoring drive, as Iowa State handed the Gophers their seventh loss.
OUTBACK BOWL (Northwestern vs. Auburn)
The pick: Northwestern 31, Auburn 28
Actual score: Auburn 38, Northwestern 35 (OT)
20-20 hindsight: Few could have forecast exactly how wacky this game would get, but as expected, both offenses came to play and put up huge numbers. Northwestern quarterback Mike Kafka had the craziest stat line you'll ever see. As predicted, the Wildcats rallied in the fourth quarter, but the kicking game once again let them down as Auburn thwarted a trick play on fourth-and-goal in overtime.
CAPITAL ONE BOWL (Penn State vs. LSU)
The pick: Penn State 21, LSU 17
Actual score: Penn State 19, LSU 17
20-20 hindsight: Nearly nailed the score here as Penn State's veteran defense helped my cause by shutting down LSU for all but one stretch in the second half. Nittany Lions senior quarterback Daryll Clark led the definitive drive of his career to set up Collin Wagner's fourth field goal, and the defense held off LSU to preserve another bowl victory for 83-year-old head coach Joe Paterno.
ROSE BOWL GAME PRESENTED BY CITI (Ohio State vs. Oregon)
The pick: Oregon 27, Ohio State 21 (scroll down)
Actual score: Ohio State 26, Oregon 17
20-20 hindsight: I'll be the first to admit I was dead wrong on this one. The Ohio State offense I watched all season didn't resemble the one I saw in Pasadena. Neither did the Buckeyes quarterback. Terrelle Pryor's complete performance combined with a suffocating defensive effort against Oregon star QB Jeremiah Masoli led to a convincing victory for the Buckeyes, who really needed this. Ohio State executed its game plan to perfection and limited big plays from the Ducks.
VALERO ALAMO BOWL (Michigan State vs. Texas Tech)
The pick: Texas Tech 31, Michigan State 27
Actual score: Texas Tech 41, Michigan State 31
20-20 hindsight: Despite all of the bizarre circumstances surrounding this game, things went more or less as planned on the field. Texas Tech's offense showed few effects from head coach Mike Leach's dismissal, while Michigan State's secondary continued to struggle. The Spartans played admirably without 14 of their teammates (suspended or dismissed), but they didn't generate enough offense or make enough stops in the second half to hold off the Red Raiders.
FEDEX ORANGE BOWL (Iowa vs. Georgia Tech)
The pick: Iowa 28, Georgia Tech 27
Actual score: Iowa 24, Georgia Tech 14
20-20 hindsight: I picked the right outcome, but the score ended up way off. I expected much more from Georgia Tech's offense, and evidently so did Paul Johnson. I knew Norm Parker would have Iowa's defense ready to go after a month's preparation, but the Hawkeyes thoroughly dominated Josh Nesbitt and the Yellow Jackets, holding them to just one offensive touchdown. And despite rallying for wins all year, Iowa got the lead and held on to cap a sensational season.
Bowl record:
5-2
Regular-season record:
64-24 (.727)
Final record:
69-26 (.726)
January, 5, 2010
1/05/10
8:00
AM ET
A winning bowl record is on the line for both the ACC and the Big Ten as No. 9 Georgia Tech takes on No. 10 Iowa in the FedEx Orange Bowl on Tuesday night (Fox, 8 p.m. ET). Georgia Tech makes its first Orange Bowl appearance since 1967, while Iowa hopes for a better showing in Miami after getting crushed by USC 38-17 in the 2003 game.
As kickoff approaches, bloggers Heather Dinich (ACC) and Adam Rittenberg (Big Ten) break down an intriguing matchup that has largely flown under the national radar.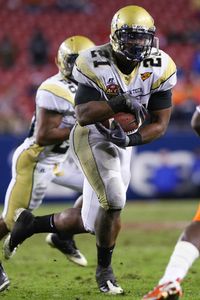 Tim Larson/Icon SMIGeorgia Tech has a lot of weapons on offense, including running back Jonathan Dwyer.
Heather Dinich:
Well, Adam, it's almost time for the showdown of the two conferences whose recent bowl history has been suspect at best. Both the Big Ten and ACC have 3-3 records this postseason entering the Orange Bowl. Consider this game the tiebreaker. It's been one of the most difficult games of the season to predict, but I think Georgia Tech's offense will come through as it has all season, the ACC will finish with a much-needed winning bowl record and the Big Ten will fall to 3-4 in the postseason. Besides, the Big Ten only has three teams with winning bowl percentages (granted, Iowa is one of them), so why should this year be any different?
Adam Rittenberg:
You're right about the records, HD, but I'd like to challenge the ACC or any other league to go through the Big Ten's bowl lineup. No other lineup comes close in terms of difficulty with matchups and locations. I doubt the ACC would enjoy facing USC in its backyard every Jan. 1, especially after stumbling in all those Orange Bowls. I definitely agree with you about picking this game. It ain't easy (more on that later). Let's talk more about the game's premier matchup, Georgia Tech's triple option offense vs. Iowa's fundamentally sound defense. The Hawkeyes are very solid in all three phases of their defense, especially the front seven with Adrian Clayborn, Broderick Binns, Pat Angerer and others. Veteran defensive coordinator Norm Parker has had about a month to prepare for the triple option, and it still might not be enough time to stop
Jonathan Dwyer
and
Josh Nesbitt
.
Do you think a team has a major advantage with more time to prepare for Georgia Tech's offense, or are the Yellow Jackets simply too good on that side of the ball?
Dinich:
As Iowa coach Kirk Ferentz said, there is simply no way for Iowa – or any other team for that matter – to simulate what Georgia Tech can do, in terms of the precision, speed and playmakers who will execute it on Tuesday night. Yes, there is some advantage to having more than a week to prepare -- both Clemson and Miami devoted some of their summer camp to getting a head start on that conference game and it paid off (especially for Miami). The key is how long it will take Iowa's defense to get comfortable with it? Norm Parker will have his players as prepared as they can be, and Iowa has the discipline it will take to stop them, but my question is whether or not the Hawkeyes have the offense to keep Georgia Tech off the field. The best defense against the Jackets is for Iowa to sustain its own drives and control the clock. Do the Hawkeyes have the offensive line to make that happen?
Rittenberg:
That's an excellent question, Heather. Iowa's offensive line gets a lot of accolades, and the group boasts two first-team All-Big Ten performers in tackle Bryan Bulaga (Big Ten Offensive Lineman of the Year) and guard Dace Richardson. But most of us who have watched Iowa all season agree that at times, the line has underachieved. It's far from a bad O-line, but Iowa certainly has the potential to stall. According to ESPN's Stats & Information group, Iowa averages just 3.3 yards rushing on first down, which is seventh worst in the country. The Hawkeyes should have backs
Adam Robinson
and
Brandon Wegher
on the field Tuesday night, and Richardson's return from injury will be huge, but they'll need to run the ball decently to set up the play-action passing attack. The line also needs to keep Derrick Morgan away from
Ricky Stanzi
, which won't be easy.
I was struck by something you wrote Monday, about Georgia Tech
not being a catch-up team
. That description fits Iowa, which has rallied in eight of its 10 victories. Iowa has been a pretty average team in the first three quarters, but a great one in the fourth.
Should Georgia Tech grab the early lead, how do you see things playing out?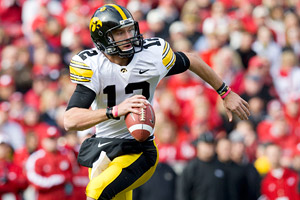 Jeff Hanisch-US PRESSWIREIowa quarterback Ricky Stanzi's Hawkeyes have come from behind in eight of their 10 victories this year.
Dinich:
If Georgia Tech starts fast, it could be a long night for Iowa. On the flip side, though, it could make for one heck of an interesting fourth quarter. We both know Iowa has been one of the most exciting teams in the country to watch in the final minutes, but Georgia Tech has come from behind in seven of its last eight games, including in the ACC championship, when it trailed Clemson 34-33 in the fourth quarter. In fact, they had to come from behind to beat Clemson both times this season. I'll be honest, I have no idea who's going to win this game, but I think how Iowa's defense starts will go a long way in revealing that answer to that. So what's your final prediction on this one, Ritt?
Rittenberg:
Ah, so they are a catch-up team. You trying to trick me, HD? As you know, Georgia Tech has several NFL-ready players and an offense that seems to be working well in other bowl games (Air Force, Navy). But having been around Iowa a lot this season, I can say there's something special about this Hawkeyes team, which just won't go away and continues to find ways to win games. The combination of Parker with a month to prepare and Stanzi's return to the lineup gives Iowa enough confidence to pull out another thriller, in come-from-behind fashion, of course. Iowa wins this one, 28-27. What say you?
Dinich:
Haha yes, always trying to baffle the Big Ten. :) But really, if Iowa is the hot team early, that means they've figured Georgia Tech out, and the Jackets won't be able to overcome that, especially knowing how they've struggled defensively. That being said, I think Paul Johnson controls the clock, Stanzi gives up a gift or two (not five) and GT wins, 28-24. And knowing my picks and the ACC, that adds up to a win for the Hawkeyes.
January, 4, 2010
1/04/10
11:00
AM ET
Here's a quick look at the final Big Ten bowl game, as No. 10 Iowa (10-2) takes on No. 9 Georgia Tech (11-2) on Tuesday night in the FedEx Orange Bowl.


WHO TO WATCH:
Iowa quarterback
Ricky Stanzi
. He hasn't played a meaningful down since Nov. 7, but his presence should provide a major boost for the Hawkeyes' offense. Despite Stanzi's ups and downs, Iowa never lost a game that he finished and mounted several amazing comebacks with No. 12 calling signals. Stanzi needs to avoid star pass-rusher Derrick Morgan, but he faces a Georgia Tech defense that isn't anything special. Iowa certainly needs to run the ball to win this game, but Stanzi also bolsters an effective downfield passing attack with wideouts
Marvin McNutt
and
Derrell Johnson-Koulianos
. The junior must limit turnovers and try to avoid a slow start, which plagued him most of the season.
WHAT TO WATCH:
Iowa defensive coordinator Norm Parker matching wits with Georgia Tech head coach Paul Johnson. These are two coaching veterans who have done things their own way forever and enjoyed excellent success. Parker has been instrumental in Iowa's season, but will have his hands full with Johnson's tricky triple-option offense. This matchup pairs an Iowa defense known for sound fundamentals and cohesion against a Georgia Tech offense that tests those exact principles. Parker will have his defenders prepared for the Yellow Jackets, but Iowa can't let
Jonathan Dwyer
or
Josh Nesbitt
get into the open field.
WHY TO WATCH:
The Big Ten's bowl record stands at 3-3, so Iowa's outcome will go a long way toward shaping national perception about the league. A 2-0 mark in BCS bowls to go along with wins in the Capital One and Champs Sports Bowl would cement a very solid bowl season for the Big Ten. A Hawkeyes loss drops the Big Ten below .500 in bowls for the fifth consecutive season. Iowa also has been the most exciting team to watch in the Big Ten this year, with eight come-from-behind victories and several unforgettable finishes. Stanzi's return to the lineup will be fascinating to watch. He could implode for three picks or lead Iowa to another fourth-quarter comeback. Or both!
PREDICTION:
Iowa has been underestimated all season and undoubtedly will be overlooked again by most of the country. Georgia Tech has the sexy offense and the NFL prospects, but the Hawkeyes are a special team this year. And with a month to prepare for the triple option, Parker's defense will be ready. Iowa falls behind (no surprise) but rallies behind Stanzi in the fourth quarter to beat Georgia Tech, 28-27.
December, 21, 2009
12/21/09
9:00
AM ET
No coaching matchup intrigues me more this bowl season than Iowa's veteran defensive coordinator Norm Parker going up against Georgia Tech head coach Paul Johnson and his dynamic triple-option offense.
Parker has had a tremendous year orchestrating the Iowa defense, but he'll face arguably his toughest test Jan. 5 in the FedEx Orange Bowl.
"The triple option goes back to like 1965," Parker said Friday in a rare appearance before reporters. "There was a time in the late '60s, up to the '80s, that really all you defended was the triple option. [The Georgia Tech coaching staff] has refined it and never gotten away from it. They know what they're doing, they're excellent teachers, their kids play hard and they're sort of the masters of this offense."
The 68-year-old Parker is the master of Iowa's defense, but he has had some personal struggles this year.
Parker, a diabetic, had to have a toe amputated before the season because of an infection. He remained on the sideline, but pushed things too far after Iowa's dramatic win against Michigan State on Oct. 24.
"I went into the locker room, they took off my shoe and it was full of blood," he said.
Parker was hospitalized and coached Iowa's final four games from the press box, where he'll likely be for the Orange Bowl.
Though confined to a wheelchair, Parker is locked in on the task at hand and
plans to remain Iowa's defensive coordinator in 2010
.
"If I didn't think I could do it, I'd be the first guy to say,' that's it,'" Parker said. "I don't want to do it, if I don't really believe I can do it. That's not fair to the team and that's not fair to the other coaches. I don't want to try to do something that I know I can't do.
"When I think I can't do it, this cowboy's heading the other way."
It'll be a big loss for Iowa when Parker steps aside, but Hawkeyes fans should be pleased that he'll be back next fall.
December, 10, 2009
12/10/09
12:26
PM ET