August, 2, 2012
8/02/12
11:05
AM ET
Indiana opened preseason camp Thursday morning, and the team announced several roster updates, including one-game suspensions for two starters.
Top wide receiver
Kofi Hughes
and cornerback
Lawrence Barnett
, along with reserve safety
Forisse Hardin
, will miss one game because of an undisclosed violation of team rules. Indiana hasn't specified which game they'll sit out.

Hughes and Barnett are both significant pieces. Hughes led the Hoosiers with 35 catches for 536 yards and three touchdowns in 2011. Barnett made nine starts last season and recorded 46 tackles, six pass breakups, a forced fumble and a fumble recovered and returned for a touchdown.
Hardin started two games last season and had 17 tackles and an interception.
It'll be interesting to see which game they miss. The opener with Indiana State seems like a decent bet.
Some other Hoosiers' roster notes:
Running back Matt Perez (back), tight end Paul Phillips (ankle), linebacker Ishmael Thomas (shoulder) and tight end Jordan Jackson (knee) will miss preseason camp because of injuries. Perez, who has battled injuries for much of his career, had 58 carries for 195 yards and four touchdowns last season. "We look forward to getting these men back on the field as soon as possible," coach Kevin Wilson said in a news release.
Incoming defensive line recruit Adam Kranda didn't report to camp because of a personal issue. "It is our intention to work with him to have him here in the near future," Wilson said. "Adam has a bright future and will be a valuable piece on our defensive line."
Wide receiver Jay McCants has been dismissed from the team for an unspecified rules violation, while safety Shaquille Jefferson and wide receiver Logan Young have left the program and will seek transfers. McCants had six receptions for 54 yards last season, while Jefferson played in five games last season, mostly on special teams.
Indiana added 18 walk-ons to the program Thursday.
September, 9, 2011
9/09/11
12:00
PM ET
Greetings from cloudy Ann Arbor. This place could use some lights.
August, 19, 2010
8/19/10
5:09
PM ET
By
ESPN.com staff
| ESPN.com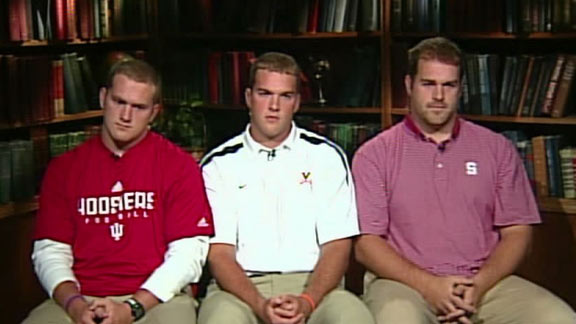 Indiana tight end Paul Phillips and his brothers Andrew and Colter remember their father Bill Phillips, who was killed in a plane crash last week with Alaskan Senator Ted Stevens.
August, 11, 2010
8/11/10
8:04
AM ET
The
tragic plane crash
that killed former U.S. Senator Ted Stevens and four others in Alaska has a Big Ten connection.
Bill Phillips Sr., the father of Indiana freshman tight end Paul Phillips, was among those killed in the crash. Paul Phillips' brother, Willy, was among the four survivors.
Paul Phillips has left Bloomington and Indiana's training camp to be with his family, while Hoosiers head coach Bill Lynch informed the team of what had happened at a meeting Tuesday night.
"The thoughts and prayers of the entire Indiana University community are with Paul, his family and everyone touched by this tragedy," Lynch said in a statement. "Please be respectful of the family as they deal with this private matter."
Bill Phillips Sr., a lobbyist in Washington, played football at Evansville and has two other sons, Andrew and Colter, who play football at Stanford and Virginia, respectively.
Needless to say, a very sad situation.
Please keep Paul Phillips and the rest of his family in your thoughts and prayers today.
June, 23, 2010
6/23/10
5:30
PM ET
It's no longer a coincidence.
Indiana's approach to recruiting can now be labeled a strategy, and it appears to be paying off.
Of the 25 players Indiana signed in February, 21 made verbal commitments before the 2009 season kicked off. Head coach Bill Lynch and his staff received six commitments last June and a whopping 11 commits last July. Tight end Paul Phillips was the only Hoosiers recruit to say yes after the calendar flipped to 2010. And Indiana's total doesn't even include players like Jibreel Black, a decorated defensive end who committed to IU in June before re-opening his recruitment and eventually landing at Michigan.
The Hoosiers once again have started extremely fast for 2011 recruiting, landing their 17th verbal commitment Tuesday from offensive lineman
Jalen Schlachter
, who had offers from Wisconsin and Missouri, among others. Indiana has surged past Ohio State (15 verbals) for the most in the conference. The Hoosiers have more commits than Wisconsin, Illinois, Iowa, Michigan and Penn State combined. They have 16 more verbals than the Nittany Lions (1).
Does a bunch of early verbals equate to a great recruiting class? No. But Indiana seems to be doing a job of not only targeting solid prospects, but ones who will say yes early in the process. The Hoosiers also have covered themselves if a few commits decide to sign elsewhere.
Colleague
Bill Kurelic
writes:
Other than Schlachter, Lynch's other big commitments include one of the top athletes in the state of Michigan in defensive back Raymon Taylor (Highland Park, Mich./Highland Park) who picked Indiana over Wisconsin and Illinois, linebacker Max Pirman (Orrville, Ohio/Orrville) who turned down offers from Nebraska and Kansas, as well as in-state prospects quarterback Tre Roberson (Indianapolis, Ind./Lawrence Central), defensive back Ken Mullen (Fort Wayne, Ind./Bishop Luers), tight end Jake Reed (Columbus, Ind./North) and defensive back Nick Stoner (Greenwood, Ind./Center Grove).

Lynch and the Indiana staff have a very solid base of commitments. They can now hone in on prospects to fill their remaining open spots and have plenty of time remaining to do so.
The (Bloomington) Herald-Times' Chris Korman
further explains Indiana's approach
(subscription required):
Five years into the post-Gerry DiNardo era -- and those years, of course, were not stable due to the illness and death of Terry Hoeppner -- this staff has established strong roots in the area around Detroit. It has mined Ohio heavily, and especially the smaller schools; several of IU's coaches played college ball in the state and most of them coached there. That they have an intimate knowledge of parts of the state that aren't tread upon regularly by other major programs has become quite apparent.
The final verdict on Indiana's recruiting class won't be known until February. But you have to like the aggressive approach and early scouting from a program that doesn't have the luxury to sit back and wait for prospects to come knocking on its door.
January, 11, 2010
1/11/10
3:30
PM ET
It was a big recruiting weekend around the country, though not a particularly productive one for the Big Ten. Three top Midwest prospects decided to play ball
outside the Big Ten region
, colleague Bill Kurelic writes. Then again, all of this could change in the coming days and weeks as several top players, including all of those USC commits, finalize their college choices.
Here are a few recent Big Ten-related recruiting nuggets from ESPN's Scouts Inc.
Wide receiver James Green drops Gophers for Toledo
The Rockets have landed receiver James Green, a 6-foot-2, 200-pound prospect from Leon (Tallahassee, Fla.) for the Class of 2010.
Green, who decommitted from Minnesota, also considered Rutgers.
He originally picked Tennessee as a prep in 2009, but was not able to enroll and has since re-qualified.
Top defensive end Javarie Johnson drops Miami for Maryland
Four-star senior Javarie Johnson (Washington, D.C./Dunbar) has decommitted from the Hurricanes and is now set to play to the Terps, ESPN affiliate Web site InsideMDSports.com reports.
"Basically, he just wanted to be closer to home and he chose Maryland over Miami," said Dunbar High assistant coach Ashaa Cherry.
Michigan
,
Michigan State
, West Virginia, Florida, UConn,
Illinois
, N.C. State, Pittsburgh, Louisville,
Minnesota
, Virginia Tech, Iowa and New Mexico also offered Johnson, who originally picked Miami in June.
Hoosiers gain three-star tight end Paul Phillips
6-foot-5, 220-pound tight end Paul Phillips of Georgetown Prep (Bethesda, Md.) has given a commitment to the Big Ten Hoosiers for the Class of 2010.
He was also offered by Syracuse.
Indiana now has 25 pledges.