May, 10, 2013
5/10/13
4:30
PM ET
Wishing you a great weekend. Be sure to follow us
on Twitter
if you aren't already.
To your questions ...
Tons of fun from Champaign, Ill., writes:
I've seen a lot of comments and disgruntled fans talking about the neutral site games for the Big Ten and how it takes away from the student and campus atmosphere that college football is known for. As a graduating senior however, I remember some of the most memorable games I attended being neutral site games. The Arch Rivalry games between Illinois and Mizzou were some of the most exciting college atmospheres I had experienced despite never winning (I wish it would come back). Also, the Illinois/Northwestern game at Wrigley Field was a blast being able to go out in Wrigleyville before and after the game (fortunately for me I was in the "scoring" endzone), and I look forward to the Washington game at Soldier Field next year. I feel that the neutral site games bring the campus atmosphere to these NFL stadiums and it creates a unique experience away from campus. The fans for the most part show unprecedented sportsmanship that you don't often see at the campus tailgates. As a current student who has experienced these neutral site games I hope they don't go away just because of poor attendance and traveling distance. Or maybe I'm just the only one... Thoughts?
Adam Rittenberg:
Some good thoughts here, especially about better sportsmanship at these games. You're definitely not the only person who likes neutral sites. From a tradition standpoint, there's a drawback as teams only play 6-8 home games a year, and each of those dates is special for the fans. There are different types of neutral-site games, from rivalries like Illinois-Missouri, Oklahoma-Texas and Florida-Georgia that have strong ties to a neutral site, to novelty games like Illinois-Northwestern at Wrigley Field. My take: if neutral-site games get us more attractive non-league games, I can sacrifice a campus-site game here and there. I'm so tired of unappealing non-league games, and if this is the only way certain schools will upgrade their schedules, fans should get on board. Who wants to see Nebraska-Idaho State or Illinois-Charleston Southern? I'd much rather trade those clunkers for appealing neutral-site games.
---
Seth from Chicago writes:
Hey Adam - Bobby Stoops recently ruffled some southern feathers by suggesting that while the top few SEC teams are ahead of the rest of college football, the rest of the conference is no better than any other conferences bottom group. Sports Nation lined the SEC up with the Big 12 - any chance you and/or Brian will line the Big 10 and the Pac 12 up (something we actually could have seen on the field if the scheduling agreement didn't blow up before it started)?
Adam Rittenberg:
Absolutely, Seth. Maybe we'll do a more in-depth comparison with the Pac-12 blog, but here's my very quick analysis of the matchups, based on the most recent
Pac-12
and
Big Ten
post-spring power rankings.
Ohio State vs. Stanford (edge: Ohio State)
Michigan vs. Oregon (edge: Oregon)
Northwestern vs. Arizona State (edge: Northwestern)
Nebraska vs. UCLA (edge: Nebraska, but we'll find out Sept. 14)
Wisconsin vs. Washington (edge: Washington)
Michigan State vs. Oregon State (edge: Michigan State)
Penn State vs. USC (edge: USC)
Minnesota vs. Arizona (edge: Arizona)
Indiana vs. Utah (edge: Indiana)
Purdue vs. Cal (edge: Cal)
Iowa vs. Washington State (edge: Iowa)
Illinois vs. Colorado (edge: Colorado, I guess)
It's a true 6-6 split in my view, and several games (Northwestern-ASU, Penn State-USC, Michigan State-Oregon State) are really tossups. The leagues are comparable entering 2013. Ohio State and Stanford both are national title contenders, and you can never count out Oregon. The Pac-12 might have a slight edge at the top, while the Big Ten seems a little stronger in the middle of the league.
---
Dan from Pittsburgh writes:
Adam, Now that the B1G divisions are set for the foreseeable future, how do you think the conference will be handling Thanksgiving Weekend rivalry games? Aside from what has already been announced (UM/OSU and Nebraska/Iowa), the conference could set itself up with some very appealing match-ups, think Paul Bunyan's Axe or the Battle for Chicago. No disrespect to a steadily improving MSU, but I'm hoping my Nittany Lions will finally get a real end of the year rivalry with either UMd. (not sure if the B1G can make a trophy out of the Mason-Dixon Line) or Rutgers (the losing state must claim Filthadelphia for the next 365 days).
Adam Rittenberg:
Dan, I think you can pencil in most of the rivalry weekend matchups right now. Two factors to keep in mind are division games and proximity, as many fans won't have as much time to travel because of the Thanksgiving holiday. Ohio State-Michigan and Purdue-Indiana are guarantees. In splitting up Purdue and Indiana, the Big Ten agreed to keep the Bucket game on its traditional day. Although the Nebraska-Iowa series needs a little bit of juice, it makes sense for Thanksgiving weekend because of proximity. I really like the Friday game because it provides an exclusive national TV window, and I think Iowa fans will warm up to it in time.
Illinois-Northwestern isn't a huge rivalry and has moved dates a lot in recent years, but it also makes sense for that weekend because of the schools' proximity. So that leaves four East division teams: Penn State, Michigan State, Maryland and Rutgers. PSU-MSU was more of a faux rivalry with a hilarious/hideous trophy than anything else, but it could go there and then the Big Ten could pair the two new members. I'd also be fine with Penn State-Maryland and Michigan State-Rutgers. The proximity component doesn't really work for Michigan State, but there really aren't other options. What I like is that aside from Purdue-Indiana, every game is in the division. Right now, the Big Ten has way too many cross-division matchups on that Saturday and down the stretch in November.
---
Fred from the Land of Sky Blue Waters writes:
Hi Adam,Will Wisconsin continue to be one of the better B1G teams? Last year they struggled to get through their non-conference schedule, and then were basically gifted a ticket to the conference championship game. And now you add in a new coaching staff, which may or may not work out. As much as everyone seems to think they are one of the B1G elite and the ship will continue to sail as usual, things could also start taking a slide (see Iowa), don't you think?
Adam Rittenberg:
Fred, last season was unusual all around in the Big Ten, and Wisconsin definitely went through a transition period with its new assistants. Another transition period could be on the way with Gary Andersen coming in and seven new assistants. But remember that Wisconsin returns 25 seniors, a group that only knows winning. Bret Bielema pointed to 2014 before last season as the year when he could possibly have his best team in Madison. It's possible Wisconsin takes a step back, but the foundation is in place, the facilities are finally being upgraded (long overdue) and Andersen understands the positions (wide receiver, defensive back) that need an upgrade in recruiting. I get the Wisconsin-Iowa comparison, but Wisconsin has been consistently good longer than Iowa has, and while both programs face some recruiting challenges, I like what Wisconsin is doing so far. So we'll see, but I'd be surprised if Wisconsin falls back too far, especially in the seemingly easier West division.
---
Samuel from Iowa City, Iowa, writes:
Adam, let's not go too far. "Everyone wants to know who will have the important and unenviable task of choosing the field of four for the Playoff each year." Important. Sure. Millions of dollars are involved. Unenviable? How many college football fans do you think would find the task of picking the playoff unenviable?
Adam Rittenberg:
Samuel, most fans I deal with freak out at the mildest critique (read: truth) about their team. You honestly think they could handle the immense pressure and scrutiny the selection committee members will face? No way. Sure, it's a huge responsibility, but there are a
lot of smart, qualified people in the business who want no part
of being on the committee because of the intense spotlight. I deal with a portion of irrational Big Ten fans in my job -- not everyone, but some of you are -- and it can grade on you. I can't imagine the lengths some college football fans (cough, SEC, cough) would go to contact, criticize and pressure committee members. It'll be a largely thankless job, and a tough one.
---
Randy from Marengo, Iowa, writes:
It looks like a lot of B1G schools are working to upgrade their schedule. Iowa is stuck playing Iowa State, and with the 9-game schedule coming, that may be the only decent out of conference game they get. Assuming Iowa gets their act together and gets back to the level of 2009-2010, and ISU stays where they traditionally have been, what harm might that cause Iowa, if any?
Adam Rittenberg:
Randy, while we could talk about Iowa's lack of recent success against Iowa State and Iowa State's recent upgrade under Paul Rhoads, your point about Iowa State being Iowa's only marquee non-league opponent every year is a valid one. I'm not opposed to Iowa playing good mid-major teams like Northern Illinois, but there's a lack of diversity on Iowa's schedule that seems a little troubling. Like all Big Ten teams, Iowa needs to decide its program goals and whether the College Football Playoff is realistic. If so, Iowa needs to think seriously about adding a bigger-name opponent to its non-league schedule. How that would impact the annual Iowa State rivalry remains to be seen. I'd be all for Iowa playing Iowa State and bigger-name non-league foe, but that might not be realistic for the Hawkeyes. If so, do you suspend the Iowa State series for a year or two and play a big-name SEC/Big 12/Pac-12 team? I'd be OK with that.
---
Corey from Lansing, Mich., writes:
Hey Adam, I know I'm beating a dead horse here, but when you say MSU hasn't won an outright B10 title since 1987, it bothers me greatly. OSU had the loss to Wiscy, Wiscy lost to MSU and all three had one loss. not to mention OSU (vacated) all of its wins from that season. I understand why it was a co-championship before the scandal (even though I never agreed with it). But why was the outright title never given to MSU after the "Tattoo 5"? Is there a 2010 B10 championship trophy still at Wisconsin? Again I'm sorry for bringing up something so old, but to me these are important questions that I have yet to find answers to
Adam Rittenberg:
Corey, there still wouldn't have been an outright champion in 2010. Both Michigan State and Wisconsin finished with one loss (MSU to Iowa, Wisconsin to MSU), so they share the title. The Big Ten didn't have a championship game at the time so any teams that tied atop the conference shared the title, even if one beat the other. The same thing happened in 2008 with Penn State and Ohio State (shared title even though Penn State beat Ohio State). The bigger issue for MSU is that the Spartans would have gone to the Rose Bowl, based on their win against Wisconsin, if the Ohio State scandal had broken earlier. But it still would have been a shared title.
December, 6, 2012
12/06/12
1:10
PM ET
Search committee? Barry Alvarez don't need no stinking search committee.
"I won't use a search committee," Alvarez said Thursday. "Most search committees use me."
Boom! And we're off and running.
Barry's bluster came through loud and clear during a highly entertaining news conference in Madison earlier Thursday. Alvarez confirmed he'd coach Wisconsin in its upcoming Rose Bowl appearance, and he also discussed his search for Bret Bielema's successor, as well as Bielema's surprising departure from the school.
Alvarez is "not in a big rush" to name Wisconsin's next coach. He has reached out to some potential candidates and will begin face-to-face interviews next week. Like any AD, he has a short list of candidates and has made contact with several of them. Alvarez said he
won't pursue former Badgers offensive coordinator Paul Chryst
, but he told "The Dan Patrick Show" following the news conference that he might reach out to Boise State's Chris Petersen. He'll have to manage the search while also overseeing the football program.
[+] Enlarge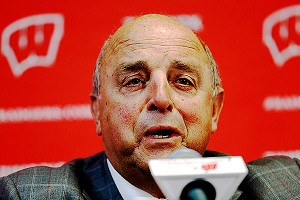 AP Photo/Morry GashWith Barry Alvarez making the hire, don't expect Wisconsin's next head football coach to radically change the offensive scheme.
"There's been a lot of interest shown in the position," Alvarez said. "It's on solid footing, good facilities and a good nucleus coming back."
For what it's worth,
Wisconsin's official job posting
for a head coach includes an anticipated start date of Dec. 24.
Alvarez's search will start with current head coaches, although he didn't eliminate qualified assistants. Direct ties to Wisconsin aren't a priority, although Alvarez will be looking for candidates who know exactly what the program is all about.
"You want to hire somebody that understands the culture here, understands Big Ten football," Alvarez said. "You always want to bring someone in that brings something more to the table, whether that be in recruiting [or other areas]. I don't have a problem with our scheme."
Translation: don't expect Wisconsin's next coach to be running a no-huddle spread with five wide receivers.
"You know what the plan is," Alvarez said. "It starts with those big palookas up front."
Bielema noted Wednesday that
assistant coach salaries played a role
in his move to Arkansas. He had lost several top assistants in recent years, six after the 2011 season.
"Our pay scale for assistant coaches is more than competitive and fair," Alvarez said. "As athletic director, I know what people are making, and every time someone has a hint that they may take another job, it's not prudent to jump and throw a pile of money at them. I see what the salaries are. ...
"We can get good assistants here … and we'll have stability here."
Alvarez reiterated he was "totally caught by surprise" when Bielema asked to speak with him late Tuesday morning. By the time Bielema approached Alvarez, the deal with Arkansas basically was done. Still, Alvarez knew Bielema had received other offers in the past and didn't feel betrayed by the move.
In a delicious little contradiction, Alvarez said he was surprised Arkansas athletic director Jeff Long never reached out to him to ask permission to pursue Bielema, noting, "There's some protocol in this." Alvarez then added that five minutes after being informed Bielema was leaving, he had a representative of a potential successor in his hotel room in New York.
Wonder if Alvarez contacted that coach's boss beforehand? Hmmm ...
Alvarez expressed pride in the job Bielema did at Wisconsin, noted that Bielema's record speaks for itself, and the three straight Rose Bowl appearances are "uncharted waters."
But he also had a few zingers:
On the next coach: "Bret used my game plan to win. The coach I hire will have to understand who we are and how we go about our business."

On whether the program is better now than when he retired after the 2005 season: "It's not worse. It's at least as good."

On Bielema's possible issues with fan criticism at Wisconsin: "In this business, you are going to be criticized."
It seems a little easier to understand why Bielema wanted to get out of Alvarez's shadow after listening to Alvarez on Thursday. Wisconsin fans never would love Bielema as much as they do Alvarez, and they'll get to see Alvarez one last time Jan. 1 at the Rose Bowl.
The best news for the next coach? As Alvarez said, "It's always easier to come in two after [the program changer]."
September, 7, 2012
9/07/12
11:00
AM ET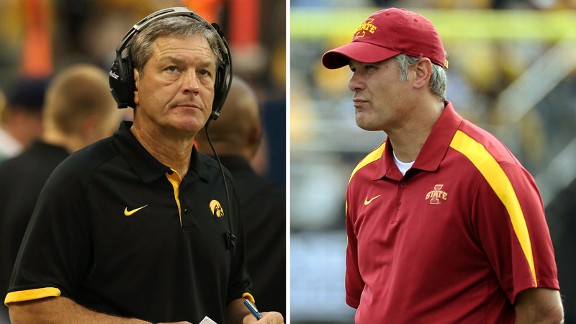 Getty Images, US PresswireWho is better in the state of Iowa, Kirk Ferentz or Paul Rhoads?
So, it's that time of year again, Brian. Let us
kneel by this bushel of corn
and debate the merits of two men on Iowan sidelines. Ultimately, we're debating Paul Rhoads versus Kirk Ferentz, but let's start with the basics.
Ferentz is the guy whose name seems to come up every other offseason for an NFL opening, but yet, here he is well beyond the seven-year itch in Iowa City. How would you describe his place in the collective opinion of the Hawkeyes fan base?
Brian Bennett:
Unless you're winning national titles every other year like Nick Saban, it's hard to coach somewhere for 14 years and not hear some grumbling. I don't think you could have found many Iowa fans who would have been upset with Ferentz in 2009, when the team started 10-0 and won the Orange Bowl. Unfortunately, the Hawkeyes have stalled a bit since then, going 7-5 in the last two regular seasons. There are some who want to see a more dazzling offense -- even though
James Vandenberg
threw for more than 3,000 yards last season -- or bigger-name coordinators. Iowa fans have high expectations for a guy who makes $3.8 million and is one of the top 10 best paid coaches in the country. But I think most reasonable Hawkeyes fans know, at least deep down, that they'd be hard pressed to land a better coach in Iowa City.
I know you're very high on Rhoads, and not just because he's highly quotable. He's masterminded some great upsets in his short tenure with the Cyclones. Still, he's got a 19-20 record. Should we be that excited about him?
David Ubben:
It's unfair to look simply at his overall record and draw conclusions from there. Simply put: It's hard to win at Iowa State. Maybe harder than any other school in the Big 12, though Kansas State and Kansas have a strong argument. All you need to do is look at history.
Iowa State's been to 11 bowls in a little more than a century of college football. Rhoads has brought the Cyclones to bowl games in two of the past three seasons, and almost made it 3-for-3 if not for a missed throw on a windy day against Nebraska in 2010. Nobody knows the danger of crossing paths with Rhoads more than Nebraska. Find me another coach who could lose his starting quarterback, running back and a handful of linemen, but still go into Memorial Stadium and beat a Big 12 North (check your history books if y'all don't know what that is) champion like Nebraska for the first time in Lincoln in more than three decades. (I don't care how many turnovers Nebraska had in that game, by the way. Somebody had to force them, no?)
[+] Enlarge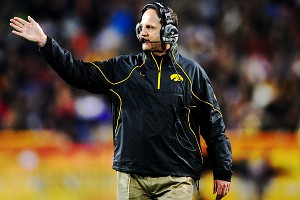 Mark J. Rebilas/US PresswireDefensive coordinator Phil Parker has been with Kirk Ferentz for 14 years.
Rhoads is unbelievable. Coaching is all about getting the most out of what you have. Rhoads does that as well as anybody in the country. Gene Chizik won a national championship at Auburn ... and went 5-19 in two seasons in Ames before he did it. Rhoads took the same two-win team from Chizik and turned them into a seven-win team, winning the first bowl game for the school since 2004. Not many guys can do that.
You also have to consider the kinds of coaches Rhoads has brought on his staff. He's only been at Iowa State a little more than three years and Urban Meyer already jacked his offensive coordinator, Tom Herman. For the uninitiated among us, who are a few coaching names we'd recognize from Kirk Ferentz's coaching tree?
BB:
Ferentz's coaching staff at Iowa has been so strongly-rooted that no new tree has needed to sprout. He had the same offensive and defensive coordinators for his first 13 years at Iowa before Norm Parker retired and Ken O'Keefe left for the NFL this past offseason. Many of his other assistants are also virtual Hawkeye lifers, like new defensive coordinator Phil Parker, who's in his 14th year with Ferentz. I guess you could point to his son, Brian, who was an offensive assistant with the New England Patriots before moving on to -- you guessed it -- Iowa this offseason.
Ferentz must be doing something right for all those coaches to want to stay on his staff for so long. Besides, wouldn't you rather have long-term stability with your coaches instead of assistants who can't wait to jump at the next opportunity? Continuity has been a hallmark of Ferentz's tenure, as has tremendous player development. NFL scouts know they must make a stop in Iowa City, because Hawkeyes players are so well-coached and prepared for the pro game. Iowa has had 18 players selected in the NFL draft in the past three years alone, which is pretty impressive. Can Rhoads make the same claim?
DU:
He can't, but you could make the argument that it only makes Rhoads' accomplishments at Iowa State even more impressive. He's only had two players drafted since he arrived, highlighted by second-rounder Kelechi Osemele last year, a four-year starter along the offensive line for the Cyclones.
Bottom line: Iowa State is the school with less tradition in a state that doesn't have a ton of Division I talent. Rhoads has to go elsewhere, and most often for him, that means Texas. He's found some gems down there, including
Jared Barnett
, the guy who engineered last year's upset against No. 2 Oklahoma State--the best win in school history. Rhoads is a great developer of talent, but ultimately, the NFL loves its measureables. Iowa State doesn't churn out many players that wow you with their physical skills. Still, the wins come, and last year, his linebacker,
A.J. Klein
, shared Big 12 Defensive Player of the Year honors. Klein and teammate
Jake Knott
may have NFL futures, and future Cyclones may as well, but Rhoads is still building. That NFL pipeline is still under construction.
The thing that ISU fans have to love most about Rhoads, though, is how much he's changed the perception of the school. It's similar to what Mike Leach established at Texas Tech. Teams fear Iowa State, and after last year's win over Oklahoma State, how could they not? Iowa State's anything but a gimme win these days. That alone is worth a lot.
What's Ferentz done for Iowa's perception across the Big Ten?
February, 9, 2009
2/09/09
2:47
PM ET
Posted by ESPN.com's Adam Rittenberg

The Big Ten schedule is nearly complete after Indiana added its final nonconference game today. The Iowa Hawkeyes are up next on the rundown.
NONCONFERENCE SCHEDULE
Sept. 5 Northern Iowa
Sept. 12 at Iowa State
Sept. 19 Arizona
Oct. 3 Arkansas State
My take: This is a solid nonconference slate that should prepare Iowa for a Big Ten opener -- Sept. 26 at Penn State -- that could go a long way in deciding the league championship. Northern Iowa reached the FCS playoff semifinals last year before losing to eventual national champion Richmond in the final minute. Iowa State is a transitioning program with a new head coach (Paul Rhoads), but the Cyclones always play Iowa tough in the Cy-Hawk series. Arizona also might be rebuilding in 2009 but comes off a solid 2008 season capped by a Las Vegas Bowl victory over BYU. Iowa will be favored in all four games but should be tested at times.
BIG TEN SCHEDULE
Sept. 26 at Penn State
Oct. 10 Michigan
Oct. 17 at Wisconsin
Oct. 24 at Michigan State
Oct. 31 Indiana
Nov. 7 Northwestern
Nov. 14 at Ohio State
Nov. 21 Minnesota
Byes: Purdue, Illinois
My take: Iowa's trip to Penn State will be one of the Big Ten's marquee games this fall, but the Hawkeyes must avoid a hangover or a letdown, depending on the result at Beaver Stadium. The stretch following Penn State is crucial, as Iowa hosts a transitioning Michigan team before visiting Wisconsin, a team it embarrassed last year, and making a second consecutive trip to Michigan State. If the Hawkeyes survive the first four games, they'll be in good shape for another road showdown against Ohio State on Nov. 14. The home schedule is manageable, but Iowa gets no breaks away from Kinnick Stadium.