November, 17, 2012
11/17/12
3:57
PM ET
STATE COLLEGE, Pa. -- It was a record-breaking day for Penn State.
Allen Robinson
set the Nittany Lions' single-season receptions record in the first quarter, and
Matt McGloin
set a school record for yards in a single season and career touchdowns.
Behind a strong offensive effort -- highlighted by performances from Robinson and McGloin -- the Nittany Lions overcame a slow start to
throttle Indiana 45-22
Saturday.
Robinson now has 73 receptions, surpassing the record of 63 set by former PSU greats
Bobby Engram
and
O.J. McDuffie
. McGloin boasts 3,071 passing yards this season and 45 career passing touchdowns.


With the win, Penn State's record improves to 7-4 (5-2 Big Ten), while Indiana falls to 4-7 (2-5 Big Ten).
It was over when
:
Zach Zwinak
crossed the goal line for a 1-yard touchdown late in the third quarter. The Hoosiers were building momentum, but that score put an end to it. PSU led 35-22 at that point, and Indiana wouldn't threaten again.
Game ball goes to
: Robinson. Not only did he set the single-season receptions record on his first catch of the game, but he caused problems for Indiana all day. He was responsible for the Nittany Lions' first three touchdowns and finished with 10 catches for 197 yards.
Stat of the game
: 482 -- Penn State's offensive yardage in the first three quarters, when the game was still in doubt. Indiana couldn't stop the Nittany Lions on the ground or through the air.
Turning point
: In the third quarter, with Indiana trailing by only six, Bill O'Brien found his team facing fourth-and-10 on his opponent's 33. He decided to go for it -- surprise, surprise -- and McGloin found
Brandon Moseby-Felder
for a 12-yard gain. That key play set up a touchdown.
Unsung hero
:
Gerald Hodges
. With the
injury to Michael Mauti
, Penn State's other outside linebacker stepped up. He showed just why he's a Butkus Award candidate with 12 tackles and an interception. Hodges was this defense's playmaker Saturday.
Unsung hero, part deux
:
Cameron Coffman
. With no help from the running game, Coffman was forced to throw often -- and he did a pretty good job. He threw two interceptions, but one came when he pressed while trailing by three touchdowns. He finished with 454 passing yards.
October, 27, 2012
10/27/12
11:37
PM ET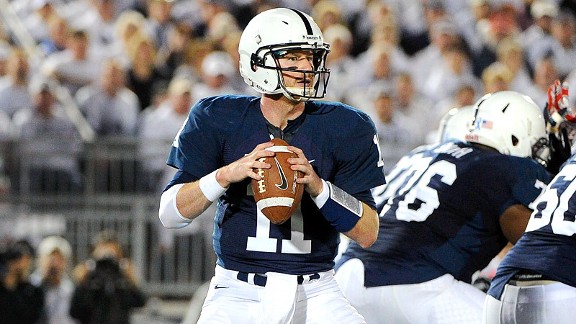 Rich Barnes/US PresswireMatt McGloin threw for 327 yards against Ohio State, but his third-quarter interception directly cost the Nittany Lions seven points.
STATE COLLEGE, Pa. -- Bill O'Brien folded his arms after the game and furiously chewed a white piece of gum as the alma mater played.
Some players declined to remove their helmets. Center
Matt Stankiewitch
didn't even move his lips; backup QB
Shane McGregor
rested a right hand on his shoulder.
This was a statement game, the game that was supposed to show sanctions couldn't beat these Nittany Lions. That Bill O'Brien couldn't be out-prepared. That Penn State was the best team in the Big Ten.
Instead, Penn State showed it's good, not great. That those first two losses weren't just exceptions -- but were as tied to this team's identity as the five consecutive victories.
Penn State showed Saturday it belongs, right now, with the Wisconsins of the Big Ten -- not the Ohio States.
"I didn't do a very good job tonight as the head football coach," said O'Brien, whose eyes seemed to glimmer beneath the bright lights of the postgame news conference.
O'Brien often smiled before this contest and told the press he wasn't a genie, but a strong fan base still believed in O'Brien as if he were. His squad beat teams with better talent and somehow improved a patchwork offense that lost 10 starters. But Penn State's luck ran out Saturday. It turned into a pumpkin three hours before the clock struck midnight.
October, 6, 2012
10/06/12
5:35
PM ET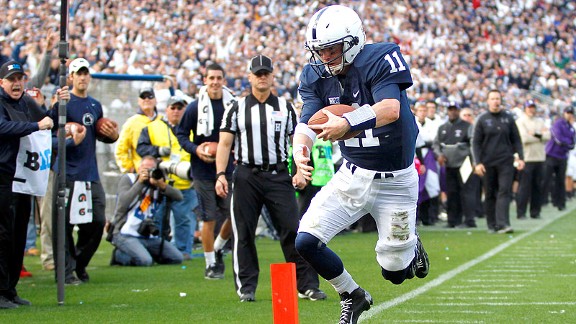 Justin K. Aller/Getty ImagesMatt McGloin's touchdown run gave the Nittany Lions the lead in the fourth quarter.
STATE COLLEGE, Pa. --
Matt McGloin
gathered his teammates into a tight huddle, while many in the crowd stared at the scoreboard -- Northwestern 28, Penn State 17 -- and figured the game was over.
The fifth-year signal-caller swore he wasn't nervous. He didn't yell, didn't raise his voice. He just looked into his teammates' eyes, and they could tell from his look the game was far from over.
"I don't know about you all,"
Kyle Carter
remembered him saying, "but I love this."
[+] Enlarge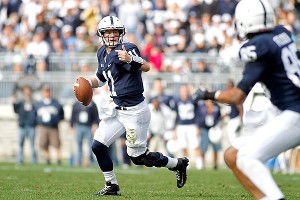 Justin K. Aller/Getty ImagesMatt McGloin threw for 282 yards to help Penn State rally past No. 24 Northwestern.
McGloin welcomed the pressure. "There was no panic," he said. "We had a full quarter to play."
The former walk-on made the most of those final 15 minutes. He led his team to three touchdown drives, 22 points and a comeback win.
After marching the Nittany Lions 73 yards for a touchdown, McGloin wasn't done. On the next offensive drive, the game-winning drive, he went 6-of-7 for 49 yards until Penn State found itself on the Northwestern 5-yard line.
McGloin again gathered his team into a tight circle. On third-and-4, he took the snap. The Wildcats pressed up the middle. The 6-foot-1 quarterback, who's never been confused for a dual-threat, rolled to his right and saw an opening.
With the crowd rising to its feet, he sprinted for the end zone, dove for the goal line, and a referee raised his arms to signal a touchdown. Penn State fans began jumping on the bleachers to the tune of "Zombie Nation," and the press box swayed.
"I was unsure what to do," McGloin said. "I didn't know if I had to dive or not, but my brace unfortunately got stuck in the ground so I looked like a complete fool."
The crowd didn't seem to mind. More than a dozen Penn State students were launched into the air by their classmates, mimicking 32 push-ups for each point the Nittany Lions' offense had earned to that point.
Bill O'Brien appears to be running out of compliments for his senior quarterback. Every week, the first-year head coach has been asked about the surprising play of his quarterback and, every week, he tries to give a similar answer.
"He's grown up a lot," O'Brien said with a smile. "I can't say enough about Matt McGloin."
On the first score of the fourth quarter, McGloin found
Allen Robinson
streaking over the middle on a fourth down conversion. If no one believed Penn State could rally before that play, McGloin was the exception.
"We have a quarterback with a lot of confidence, and it gives you confidence," Carter said. "He's not going to shy away from the pressure."
He certainly didn't Saturday.
October, 6, 2012
10/06/12
3:45
PM ET
STATE COLLEGE, Pa. -- Northwestern has waited half a century to start a season with a 6-0 record.
The Nittany Lions made sure it will have to wait at least one more season.
Penn State quarterback
Matt McGloin
composed himself and led the
Lions to a 39-28 victory
after trailing by 11 points in the second half. McGloin dove in the end zone for the go-ahead touchdown late in the fourth quarter.
Penn State's defense answered by forcing a Northwestern three-and-out, and
Michael Zordich
added another touchdown. Penn State improves to 4-2 with the win, and Northwestern falls to 5-1.


It was over when
:
Mike Hull
deflected Northwestern's last chance at a comeback. On 4th-and-7 from the Wildcats' own 28,
Trevor Siemian
attempted a pass over the middle, but Hull got his hand on it right in front of the receiver. The sideline erupted after the stop.
Game ball goes to
: McGloin. Trailing 28-17, McGloin put the team on his shoulders and didn't make a mistake. He led Penn State to two scoring drives and rumbled for a 5-yard TD run to put his team up 32-28. He finished 35-of-51 for 282 yards and two touchdown passes.
Stat of the game
: 161. Rushing yards by Penn State. Northwestern came in with the nation's 13th-ranked run defense, and PSU entered with the No. 86 rushing offense. Still, somehow, PSU was able to have one of its best rushing games of the season.
Unsung hero
:
Zach Zwinak
. Against a tough run defense, the Penn State fullback-turned-tailback finished with 121 yards on 28 carries. He entered this season as the team's last option at tailback, but he has shown in the past three games that he might just be the best running back on the team.
What it means
: Penn State is a legitimate contender for the title in the Leaders Division. The Nittany Lions showed they can make a comeback, and it showed this offense is for real. For Northwestern, it showed it still has some defensive issues to fix -- but the offense is certainly dynamic.
September, 22, 2012
9/22/12
8:57
PM ET
STATE COLLEGE, Pa. --
Allen Robinson
could sense his quarterback's confidence in the huddle Saturday.
So whenever
Matt McGloin
told him they were going to score, Robinson believed him. He broke from the huddle, jogged to his spot as the outside wideout and reflected on McGloin's tenacity.
Even on second-and-long and third-and-forevers, Robinson's faith in the offense didn't waver -- because McGloin's belief never did.
"He comes in the huddle and makes everyone believe that we can score," Robinson said. "He brings a lot of fire."
[+] Enlarge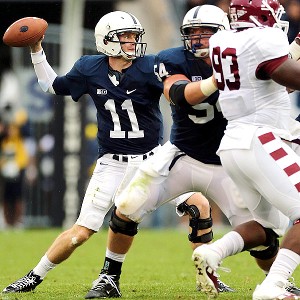 Rob Christy/US PresswireMatt McGloin threw for 318 yards and a touchdown and ran for two more.
McGloin smiled and joked underneath a blue ball cap after Saturday's
24-13 win
against Temple. He passed for 318 yards and had a hand in every Penn State touchdown -- so he had cause for satisfaction.
He passed for one score and peeled himself off the ground following two rushing TDs. Bill O'Brien praised his signal caller and, after thanking the offensive line and remarking about his tailbacks, McGloin admitted this performance was special.
"I definitely think it was one of the better games of my career," McGloin said.
The fifth-year senior has now thrown for a trio of 300-yard games in his career. That puts him second overall in PSU history, behind only former NFL first-rounder Kerry Collins, who boasts four.
McGloin's first big play Saturday may have been his most memorable. On fourth-and-5 from the Temple 41, the Nittany Lions arguably shouldn't have gone for it. They probably shouldn't have converted. And they most certainly shouldn't have scored a touchdown.
But McGloin was confident he could convert. And Robinson was confident in his quarterback.
The red-headed quarterback scrambled inside the pocket, avoided a sack and tossed a long ball to Robinson -- who adjusted on a backpedal between two DBs -- for a 41-yard strike that set the tone and gave PSU the lead.
"He kept his poise today better than I did," O'Brien said with a smile.
On a busted play late in the second quarter, McGloin carried two Temple defenders over the goal line for a hard-earned 1-yard touchdown. He was supposed to hand off, but he wound up with Penn State's first rushing touchdown of the season.
A quarter later, he rushed for another touchdown.
"We watch a lot of (Tom) Brady, and in 12 years, he's never been stopped on a (goal-line) quarterback sneak," McGloin said. "So that's something we watch, that's something I watch."
McGloin never had a doubt he'd make up those yards. And his team never doubted him -- or that he'd lead PSU to its second win of the year.
September, 22, 2012
9/22/12
7:49
PM ET
STATE COLLEGE, Pa. -- Twelve different Owls coaches have barked orders from the sideline and more than 1,500 players have graduated from the two schools since Temple last beat PSU in 1941.
After Saturday's
24-13 Penn state victory
, the Owls will have to wait two years for another shot to break that 71-year streak.
Penn State dominated a Temple team that struggled with the passing game and couldn't bottle up the Lions' young offense. Temple was outmatched and couldn't rebound even as Penn State struggled finishing its drives in the first half.
Penn State improves to 2-2 with the win, while Temple drops to 1-2.


It was over when
: Quarterback
Matt McGloin
topped an 11-play, 80-yard drive with his second rushing touchdown of the day in the third quarter. Penn State led 21-3 at that point, and that TD put the game away over a Temple team that struggled moving the ball upfield.
The game ball goes to
: McGloin. He had another strong first half and finished 24-of-36 for 318 yards, one passing touchdown and two rushing TDs. He spread the ball around to nine receivers so Temple couldn't key in on just one guy.
Stat of the game
: 254. That's the yardage difference between Penn State's offense and Temple's.
What it means
: Temple has an experienced secondary, and some PSU players believed this would be the stiffest test yet for the Lions' young offense. This showed McGloin & Co. will be a threat all season. And it showed Temple still needs some seasoning before it competes with the bigger teams.
What we learned
:
Chris Coyer
can definitely run the ball ... but passing appears like another story. He twice missed wide-open targets for sure touchdowns, and he couldn't take advantage of the soft spot in Penn State's defense.
Best call
: On fourth-and-5 from Temple's 41-yard line, coach Bill O'Brien decided to go for it in the first quarter -- and his play call paid off. McGloin managed to avoid a sack and found
Allen Robinson
for a 41-yard touchdown. The play put Penn State ahead 7-0.
September, 6, 2012
9/06/12
9:43
PM ET
Tailback
Derek Day
will start over an injured
Bill Belton
against Virginia, Bill O'Brien said Thursday night on his weekly radio show.

O'Brien said Belton remained "day-to-day," but Day will now get the nod even if the sophomore's ankle improves. Belton was sidelined in the third quarter against Ohio, and an ice pack was wrapped around that left ankle.
Belton did not practice Wednesday when the media arrived during an open 30-minute session, and Day took reps with the first team.
Day, a fifth-year senior, has just 15 career carries and was listed as the No. 3 tailback in the spring. With
Silas Redd
's departure and Belton's injury, he now climbs to No. 1.
"He always gives his best effort and I'm real excited to watch him play and for him to get that opportunity," linebacker
Michael Mauti
said earlier this week. "I know he's going to make the most of it."
September, 1, 2012
9/01/12
8:02
PM ET
STATE COLLEGE, Pa. -- Bill O'Brien crossed his arms while his ball cap nearly hid his eyes. The first-year head coach wasn't happy.


O'Brien hoped to silence the questions surrounding his team with a Penn State victory: Can Penn State's football team overcome nine transfers? Will this season mark the return of those three- and four-win seasons? Will the offense impress?
He answered those questions with short replies Saturday afternoon and tried to leave his seat and return to the locker room at least twice. "We lost to the better team," he said minutes after the 24-14 loss.
Players spoke in hushed tones, and offensive guard
John Urschel
's voice cracked. Some players looked as if they just heard a eulogy.
They talked about losing with class, moving forward and still having a good season. But it was clear this game was emotional.
"We're definitely upset," quarterback Matt McGloin said.
This wasn't the emotional statement the Nittany Lions were supposed to make, players said. McGloin said the team came in ready, Urschel said the team felt good at halftime -- but a barrage of issues bubbled up in the second half.
The secondary, long thought to be a weak link, struggled mightily against Ohio and dual threat
Tyler Tettleton
. The defense allowed nearly 500 yards, including 324 passing yards from Tettleton.
Historically, Penn State's strength has been defense. It wasn't on Saturday. Players didn't try to pretend otherwise. And with cornerback
Stephon Morris
' injury -- the severity of which is unknown -- this season could be a hard one for a unit short on depth.
"We need to execute better all around," center
Matt Stankiewitch
added.
Sophomore wideout
Allen Robinson
said he wished the Lions could have one play back. Watching from the sideline, he became upset when he watched a 43-yard touchdown strike from Tettleton on a tipped ball.
Plays like that typified Penn State's afternoon. The Nittany Lions allowed more than four passes of longer than 25 yards, failed to execute on a key fourth-and-5 play and watched Ohio make two key third-down conversions on a 93-yard touchdown drive.
Players said they'd watch tape, get over the loss and continue on. "One game doesn't make a season," Urschel said.
Penn State hoped to answer some questions Saturday and prove it's focused. Instead, it faces even more questions after a second half that saw it outscored 21-0.
September, 1, 2012
9/01/12
4:31
PM ET
It was over when:
Tyler Tettleton
ran up the middle for a 1-yard touchdown in the third quarter. Penn State trailed for the first time all game after that -- 17-14 -- and couldn't recover. Tettleton made his presence felt after throwing two passes longer than 30 yards on back-to-back drives, but that short run clinched it.


Game ball goes to:
Tettleton. He disappeared in the first half but came on strong in the second. The Ohio signal-caller led his team to three touchdown drives, and threw for 207 yards in the second half. The Bobcats wouldn't have won without him.
Stat of the game:
Four. That's the number of passing plays longer than 25 yards that Penn State's defense allowed. Three of those came during Ohio's three touchdown drives.
Second guessing
: Putting in a linebacker on the kick returns was a gutsy idea ... but definitely an unusual one. Gerald Hodges returned three kicks and made at least two questionable plays before he was pulled. He fumbled a punt return and brought the ball out of the end zone, ending up at the 12 on the opening kickoff. This experiment might be over.
Best call
: With 2:59 left in the game, on 3rd-and-Goal from the 5, Ohio lined up with three receivers in the shotgun. Tettleton found
Donte Foster
in the corner of the end zone to ice the game and put the score at 24-14.
What we learned about PSU
: Penn State's offense has potential, and the secondary's in trouble. The offense had a few mistakes -- one fumble, at least four dropped passes -- but it moved the ball downfield better than last season. The secondary was picked on in the second half and, as most thought, appears to be the weak link to the defense. Ohio's fourth-quarter drive -- 14 plays, 93 yards -- showed Penn State's defense might not dominate like past years.
Who we should see more of
: For Ohio,
Beau Blankenship
appears to be a guy to watch in both the running game and passing game. He ran for 109 yards and led the team in receptions (7). For Penn State,
Allen Robinson
had a strong debut. He had six catches for 74 yards in the first quarter. Yes, just one quarter. His route-running separates him from other receivers here, and he'll lead the team in receptions this season.
January, 24, 2012
1/24/12
3:23
PM ET
It looks like those trying to cash in on Thursday's public Joe Paterno memorial service --
tickets were distributed by Penn State on Tuesday morning
-- are getting crushed by Internet users.
A few sets of tickets popped up on eBay and craigslist not long after they were distributed, but the postings were either removed by the original poster or flagged for removal.
One set of tickets slowly escalated from a $0.99 initial bid to $500 before bids moved into the ridiculous range of $10,000 and $90,000 -- eBay users' way of protesting the sale to the seller. At least two other auctions were put up by different sellers and then removed.
At least two craigslist ads were removed by early Tuesday afternoon, though a handful of people have posted "wanted" listings for tickets.
In the case of the first set of tickets on eBay that drew the $90,000 bid, the seller amended the posting with this message: "To those opposing this auction: no one is forcing you to buy tickets; it is a choice. And yes, there are much worse ways to make a dollar, judge not lest ye be judged. You do not know my situation. Thank-you."
Penn State and eBay have an agreement that no free tickets can be auctioned. Penn State officials are urging those who see such sales to report them to eBay.
December, 16, 2011
12/16/11
8:36
AM ET
More than 40 years after his death, Vince Lombardi's brand is as strong as ever. Last year, a Broadway play based on his life debuted and ran for more than 200 shows. In January, a movie about the legendary coach featuring Robert De Niro as Lombardi will open in theaters nationwide. Framed copies of his "What It Takes To Be Number One" speech adorn people's offices around the country.
Similarly, Bear Bryant's legend lives on almost 30 years after his death.
[+] Enlarge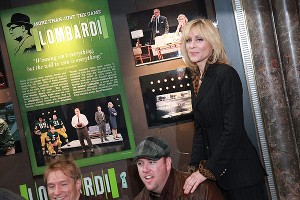 Astrid Stawiarz/Getty ImagesActors Bill Dawes, Chris Sullivan and Judith Light of "Lombardi" On Broadway.
Six months ago, Joe Paterno's legacy at Penn State and beyond was no doubt headed for a similar path.
But given Jerry Sandusky, we know where it stands now -- cemented with Penn State's
recent announcement
that the university will no longer handle licensing Paterno's name and likeness. Retailers can only sell merchandise that associates Paterno with Penn State until supplies run out, and manufacturers have 60 days to sell or dispose of such products. Mary Kay Hort, Paterno's daughter, will handle all future licensing for Paterno under JVP Properties.
It's a necessary end between the school and former coach, says Paul Swangard, managing director of the Warsaw Sports Marketing Center at the University of Oregon.
But the real loss from the controversy surrounding Paterno comes not for Penn State but for the Paterno family, and eventually, his estate.
Sales of licensed items such as T-shirts, coffee mugs and hats don't add up to all that much money in the end. But a Lombardi-like book, movie or play does.
"From a branded entertainment perspective, it is the rare brand that would finance or become a major sponsor of an original production about a disgraced sports figure, especially if related to sexual misconduct," says Frances Page, director of entertainment media for RJ Palmer.
Any future disagreements among family members about future licensing opportunities may lead to unauthorized biographies instead of revenue-producing opportunities, Page says.
Roger Goff, an attorney who has handled life rights deals for movies, says there is generally an initial option fee of anywhere from a few thousand dollars to $75,000. If the option is exercised and a movie goes forward, the license is approximately 1 percent to 2 percent of the movie's budget -- sometimes as high as 5 percent. Profits also might shared – sometimes 1 percent to 4 percent.
Gordon Firemark, an attorney who represents artists, writers, producers and directors in film and theater, says an initial fee in the high-five-figure to low-six-figure range would typically be split between the subject or his estate and writers. Once the show begins its run, royalties of 5 percent to 7.5 percent of the box office would be split between the same parties.
Lynn Guerin, president of Guerin Marketing, worked with John Wooden to create the Wooden Course and other methods to spread Coach Wooden's legendary Pyramid of Success. The Wooden Course is a classroom-based course on leadership customized for corporate clients. Guerin says a course can run anywhere from a couple of hundred dollars per person to more than $2,000 per person. Mercedes Benz, Chick-Fil-A and General Mills are some companies that have participated.
Of considering the Paterno legacy in a similar fashion, Guerin says: "In his lifetime, he has touched hundreds of young men and people who will forever know and love him because of what he did to help them become the men they've become. He's been a great role model. That'll never be forgotten. But the public legacy -- I would not be optimistic that someone could take the books written on him and develop this sort of course."
August, 26, 2008
8/26/08
2:59
PM ET
Posted by ESPN.com's Adam Rittenberg
Penn State named senior Daryll Clark as its starting quarterback Tuesday, but three Big Ten schools remain undecided under center. Michigan, Iowa and Indiana face some key decisions later this week, and the coaches from all three teams weighed in on their situations Tuesday during the Big Ten coaches' teleconference.
Here's a closer look:
IOWA

Kirk Ferentz wants to evaluate quarterbacks Jake Christensen and Ricky Stanzi throughout the week of practice before naming a starter. Christensen held the job last season and seemed likely to reclaim it, but Stanzi has made a charge in training camp after a shoulder injury caused him to miss the first few practices.
Stanzi, a 6-foot-4, 225-pound sophomore, played in two games last fall and didn't complete any of his four pass attempts.
"He's a year younger than Jake and he's grown and become more comfortable," Ferentz said. "He's improved in all phases, throwing the football, knowing the offense. He just looks like a guy that belongs out there on the football field. He's a viable candidate now where a year ago he was more down the line."
Christensen's struggles last season could be partly attributed to personnel losses at wide receiver and a poor offensive line, but Ferentz is looking for greater consistency from the junior. Though the offense struggled in an Aug. 16 scrimmage, Ferentz remains optimistic.
"Both guys are performing well," Ferentz said. "We have confidence in both guys."
MICHIGAN

Rich Rodriguez reiterated that he's more interested in getting both Steven Threet and Nick Sheridan ready to play in Saturday's opener against Utah than identifying a clear starter. Rodriguez admitted he wouldn't mind having another month of practice to prepare his new-look offense but expects both Threet and Sheridan to be able to run the system.
"Steve's maybe a little bit taller and Nick might run a little bit better, but their skill sets are pretty similar," Rodriguez said. "We want guys to execute the system, not make the big turnover. They're in their first year in the system, so everything is going to happen to them faster than it will as the season goes along."
INDIANA

Unlike his colleagues at Penn State and Michigan, Indiana coach Bill Lynch isn't entertaining thoughts of using multiple quarterbacks. But Lynch has yet to decide on whether Ben Chappell or incumbent Kellen Lewis will start Saturday's season opener against Western Kentucky.
Chappell took most of the snaps this spring while Lewis served a suspension and has continued to push the second-team All-Big Ten selection. Lewis has started the last 21 games for the Hoosiers.
"We're getting close," Lynch said of the quarterback decision. "We're not in a position to say right now that they'll both play. I've done that before and in all honesty, it didn't work the way we had hoped. When you guarantee a guy at that position that you will play in the third series, the second quarter or whatever, sometimes the flow of the game dictates that it's not in your best interests."