August, 7, 2012
8/07/12
12:00
PM ET
March, 12, 2012
3/12/12
10:30
AM ET
Purdue is getting a little bit of a buzz as a sleeper team for 2012 after breaking through with a bowl game (and win) in 2011. The Boilermakers opened spring practice last week and went for a couple of days straight before taking off for spring break. I had a chance to catch up with Purdue head coach Danny Hope to talk about how things are going in his program and the areas of concentration this spring.
Did you sense any different attitude this offseason after getting to that bowl game last year?
[+] Enlarge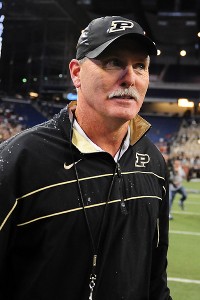 Andrew Weber/US PresswireCoach Danny Hope said the momentum from boilermakers' bowl win last season has carried over into the spring.
Danny Hope:
I think we ended the season on a high note and with some momentum, and I think it carried over into the offseason. I think we're really hitting on all cylinders with our new director of sports performance, whom we hired last year about this time. It's the first time since I've been the head coach at Purdue that we're going into spring with a quarterback that's healthy that's played any football.
Caleb TerBush
wasn't penciled in as the No. 1 [quarterback], but he became No. 1 about a week before the opener. He had to get his feet wet and learn throughout the course of the season, but by the end of the season he was playing pretty good. That momentum carried right over into the bowl preparation and the win carried right into the weight training offseason and that carried into spring practices. And having experienced quarterbacks is important. It's the first time since I've been here we've been able to do something as simple as getting signals in early in spring. It's a little different tempo out there right now as a result. We've got some good players back and we've got some confidence as a football team.
You have quite a few experienced quarterbacks now, in fact. How are you splitting up the reps for them this spring?
DH:
Well,
Sean Robinson
is playing on defense right now. It's hard to get four quarterbacks ready in spring ball, and he wasn't going to get as many reps as he needed to. So we're going to try him some at the linebacker position. That leaves TerBush and
Robert Marve
, who's finally healthy. I think Robert did some good things last year, but I think he's in position to take some big steps in his development because this is the first time since he's been here that he's been able to get a lot of reps without concern about an injury or an eligibility situation. Then
Rob Henry
is back. He's a little bit limited right now because he's coming off knee surgery, but I'm really pleased with where his recovery is, and most of the time when he's out there right now you can't tell much of a difference. But you have to limit his reps a little just because you don't want to overdo it and create a swelling issue. So the numbers are kind of taking care of themselves in some ways. We went into the spring with TerBush as No. 1 and all those other guys are competing.
Your leading rusher, Ralph Bolden, tore his ACL again, but you have two pretty good running backs in Akeem Shavers and Akeem Hunt. How do you feel about the depth at running back this spring?
DH:
We had a real strong running attack last year. We were fifth in the Big Ten in rushing. The past couple of years, we've been able to establish a strong running game. I like the progress that we've made and having good running backs is a big part of that, and any more, having a couple of running backs you can play is a big part of it. We had a lot of different guys rush for us last year, probably 10 different guys who were utilized as ball carriers. We really like Akeem Shavers. He's a fast, physical back who finishes runs. Akeem Hunt is an excellent sprinter who's a member of our track team and was a state champion track performer in Georgia. So he's a class sprinter in a lot of ways for a football player.
We've also got a kid we redshirted last year in
Doug Gentry
, and he's a skilled player. We have
Gavin Roberts
, who has good size but was injured last year. He's a big back we can utilize in the backfield. Then we've got a couple fullbacks in
Derek Jackson
, who weighs about 240 pounds, and
Kurt Freytag
. So we've got some guys still in the stable even though Ralph is out. And we've utilized
Antavian Edison
and
Raheem Mostert
some as ball carriers out of their slot position, and both those guys are really skilled players. So we've got some athletes who can tote the mail, and we spread the wealth out around here.
Were you upset about the new kickoff rules because you have such a weapon at kick returner in Raheem Mostert?
DH:
Well, we all play by the same rules. You'll have to make decisions about bringing some out, so the return man is going to have to be a good decision-maker. From a kickoff standpoint it might change some things. You can kick them all deep and try to force the touchback if you want to, but you're going to be giving the opponent the ball at the 25. Or you can kick the ball high and deep and try to pin them down and do a great job covering. So there's going to be some game planning and schemes involved. I think it will all even out. ... I don't think it's going to shut down all kick returns, but I think there will be about 25 percent less, is my guess.
December, 15, 2011
12/15/11
1:00
PM ET
Gary Nord's Christmas wish list is pretty short.
It contains one item: A season without major injuries to Purdue's key offensive players.
"I'd love to have that," Nord, the Boilers' third-year offensive coordinator, told ESPN.com this week. "I'm beginning to think that may never happen. I'm beginning to get a bit paranoid."
Paranoid but not panicky.
Nord and the Boilers have received zero luck on the injury front the past two seasons. Nada. Zilch.
[+] Enlarge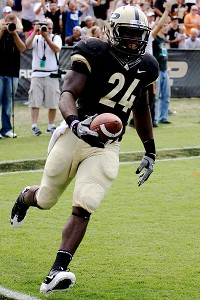 Brian Spurlock/US PRESSWIREAkeem Shavers will see an increased role in Purdue's bowl game as the Boilermakers play without Ralph Bolden.
In 2010, Purdue played most or all of the season without its top quarterback, top running back and top wide receiver. Weeks before this season's opener against Middle Tennessee, projected starting quarterback
Rob Henry
tore his ACL during a noncontact play in practice. Quarterback
Robert Marve
, who has suffered two ACL tears since arriving at Purdue, wasn't ready for the opener because of lingering knee soreness. So
Caleb TerBush
, academically ineligible for the 2010 campaign, moved into the starting role.
While the injury bug didn't strike as hard during the season, two starting offensive linemen (Justin Kitchens and Peters Drey) went down. Then, in the regular-season finale, top running back
Ralph Bolden
suffered a torn ACL, his second at Purdue and his third since his senior year of high school.
Bolden's injury puts Nord and the Boilers in an all-too familiar position heading into the Little Caesars Pizza Bowl against Western Michigan on Dec. 27.
The silver lining: Nord and his staff know how to make adjustments.
"He was probably our fastest guy, so we've lost tremendous speed," Nord said of Bolden. "He was also our best blocking back and he caught the ball out of the backfield very well. When you lose your leading rusher, it's never a good thing. The only bright side is if we had to lose anyone, we have more depth at the running back position than any position on our football team."
While Bolden leads Purdue in both carries (148) and rush yards (674), several other backs have contributed.
Akeem Shavers
is tied with Bolden for the team lead in rushing touchdowns (6), and seven players have recorded 17 or more carries.
Nord said Shavers will move into Bolden's role.
Reggie Pegram
and
Jared Crank
both should see their carries load increase in the bowl game.
Like Bolden, the 5-11, 203-pound Shavers boasts good speed, can catch the ball out of the backfield and has improved his blocking.
"I never really called the game any different when one was in versus the other one," Nord said. "A lot of times I didn't know which one was in there because they'd roll in and out. If we didn't have Shavers, we would be a little more concerned."
Western Michigan struggles to defend the run (107th nationally), but has been stout in the red zone, tying for sixth nationally (70 percent scoring chances allowed). Bigger backs like Crank and Pegram could be key for Purdue in goal-line situations.
Nord plans to play both TerBush and Marve at quarterback, as he did for most of Big Ten play. While TerBush's ability to stay healthy has provided Purdue some much-needed continuity at quarterback, the offense, like the team, has been up and down.
"This is my third season here, and I've not had a guy started for us in spring that started for us in the fall," Nord said. "To give the offense a legit chance to be as productive as we would like to be, you need to have some continuity from the spring to the fall at quarterback spot.
"Hopefully, we can have that next spring."
November, 9, 2011
11/09/11
12:00
PM ET
Once again, we'll split up the links between what's going on in State College and the rest of the Big Ten:
Penn State
Elsewhere in the Big Ten
June, 24, 2011
6/24/11
1:30
PM ET
The preseason position rankings march on with the offensive lines. Team rankings are below, and we'll take a look at the individual rankings for tackles, centers and guards early next week.
Looking at the league landscape, offensive line could be a major strength throughout the Big Ten this season. Although standout players such as Outland Trophy winner Gabe Carimi and All-American Stefen Wisniewski depart, I see improved depth for several teams as well as quite a few multiyear starters.
Honestly, there
aren't any bad lines in the league
; just some with more question marks than others.
Let's get to the rundown.
1. Wisconsin:
Talk about an ability to reload. The Badgers lose All-Americans Carimi and John Moffitt, plus the versatile Bill Nagy, and they still shouldn't take any steps backward. Injuries have allowed Wisconsin to build depth the past few seasons, and four of the five spots look extremely solid. Tackle Ricky Wagner, center Peter Konz and guard Kevin Zeitler lead a group that will block for the league's top running back tandem. Wisconsin's track record up front is impossible to ignore, and this year's line should continue the trend.
[+] Enlarge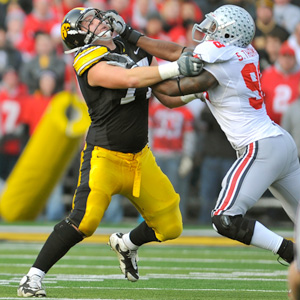 David Purdy/Getty ImagesWill arm length be an issue for former Iowa left tackle Riley Reiff in the NFL?
2. Iowa:
The line is undoubtedly Iowa's biggest strength and should be one of the nation's elite units in 2011. Iowa returns starting experience at all five positions and should have decent depth. Left tackle Riley Reiff, projected as a first-round pick in the 2012 NFL draft, will enter the fall as a leading candidate for the Outland Trophy. James Ferentz is one of the league's top centers, and Markus Zusevics is poised for a big year at right tackle.
3. Ohio State:
Depth is the only reason the Buckeyes' line isn't higher in the rankings. Ohio State boasts arguably the nation's top center in Mike Brewster, and first-team All-Big Ten tackle Mike Adams will be back after a five-game suspension to begin the season. The Buckeyes need big things from tackle Andrew Norwell during Adams' absence, and tackle J.B. Shugarts must play like a veteran. After struggling to put two sets of capable linemen on the field this spring, Ohio State has to find more depth in preseason camp.
4. Michigan:
This is another group that could climb up the rankings by season's end. Center David Molk is a terrific piece to build around, and if gifted players like Taylor Lewan and Patrick Omameh continue to develop, Michigan's line will be a major strength. The concerns are Molk's ability to stay healthy and an adjustment to a new offensive system under Al Borges. The line did an excellent job of protecting
Denard Robinson
in 2010, allowing a league-low 11 sacks.
5. Illinois:
The Illini flat-out punished opponents at the line of scrimmage on several occasions last season, and I really like the potential for the front five in 2011. The biggest reason? Left tackle Jeff Allen, one of the Big Ten's most experienced linemen. Allen and center Graham Pocic will contend for All-Big Ten honors, and if Corey Lewis gets healthy, this should be one of the league's top offensive lines.
6. Purdue:
Expectations are high for a line that coach Danny Hope thinks will be Purdue's strength in 2011. Left tackle Dennis Kelly is an All-Big Ten candidate with NFL potential who has started the past 24 games. Center Peters Drey and tackle Nick Mondek help anchor the group. The big question is whether mammoth guard Ken Plue, a multiyear starter, can get out of Hope's doghouse to help lead the way. Plue will be pushed by James Shepherd this summer. The combination of experience up front and the return of running back
Ralph Bolden
bode well for the Boilers.
7. Northwestern:
The Wildcats boast the nation's second most experienced line (137 combined career starts), but experience must start translating to production. This group still must prove it can spark a decent rushing attack after several years of decline. Left tackle Al Netter is an All-Big Ten candidate and center Ben Burkett enters his fourth season as the starter. If Northwestern gets more consistent play from right tackle Patrick Ward and others, it should be a solid group.
8. Penn State:
This is a big year for Penn State's O-line, which has heard the criticism and has vowed to erase it in 2011. The tackle spots look solid with Quinn Barham and Chima Okoli, but Penn State needs to shore up the interior after losing Wisniewski, a mainstay for the past four seasons. If veterans like Johnnie Troutman and DeOn'tae Pannell step up and turn in consistent performances, the line should hold up nicely.
9. Nebraska:
The Huskers ranked ninth nationally in rushing last season but have quite a few question marks up front. Center Mike Caputo is a building block and sophomore tackle Jeremiah Sirles is a returning starter, but Nebraska has little proven experience. The Huskers will benefit from a healthy Marcel Jones at right tackle, and Yoshi Hardwick adds depth. This could turn out to be a decent group, but the experience issue combined with a scheme change creates some uncertainty.
10. Michigan State:
Not to put too much pressure on the line, but arguably no position group will have more influence on Michigan State's season. The Spartans must replace both starting tackles and their starting center, never an easy task. All-Big Ten guard Joel Foreman returns to lead the group, but Michigan State needs immediate contributions from unproven players. The coaches feel they've upgraded the athleticism up front by moving players like Dan France and Blake Treadwell over from the defensive side.
11. Minnesota:
The Gophers boast a mix of veterans and youth, and it'll be interesting to see whether the group comes together this fall. Hopes are high for young tackles Eric Olson and Jimmy Gjere, but they'll need help from seniors like Ryan Wynn and Chris Bunders on the interior. Minnesota needs to regain its swagger as an elite rushing offense, and it starts up front this fall. This is a group that certainly has a chance to make strides.
12. Indiana:
I like some of Indiana's individual pieces, but as a group, the Hoosiers must show they can create space for the running backs. Indiana switched to the pistol offense in hopes of sparking the ground game but produced barely 100 rushing yards a game in 2010 (112th nationally). The line allowed only 12 sacks and must continue to protect its unproven quarterbacks this fall, but getting the run game going is paramount. Returning starters Will Matte, Justin Pagan and Andrew McDonald give Indiana hope.
July, 21, 2010
7/21/10
11:15
AM ET
The depth chart means a lot everywhere, but especially at Purdue.
Head coach
Danny Hope has been known to post a different depth chart
at the entrance to Purdue's practice field every day of spring ball or preseason camp. Boilermakers players constantly know where they stand with the coaches, and that they can't let up, even for one practice.
Given the ever-changing nature of Purdue's depth chart, the
pre-camp version revealed Tuesday
(page 16) should be studied accordingly. Still, it provides some clues about what the coaches are thinking entering preseason practice, which kicks off next month.
We already knew that
Robert Marve
will
enter camp as Purdue's No. 1 quarterback
, but here are a few more notes:
Ralph Bolden is still listed at Purdue's starting running back despite undergoing ACL surgery in May. From the moment Bolden went down, Hope has remained very optimistic about the junior's status for the season despite the severity of the injury. Al-Terek McBurse is listed as the backup but likely will start the opener Sept. 4 against Notre Dame. Former wide receiver Keith Carlos is the third-string running back.
Former quarterback Justin Siller, who rejoined the team this summer after a year-long dismissal from the university, is listed as a starting wide receiver alongside Keith Smith and Cortez Smith.
The offensive line figures to feature some competition this summer, and here's how the starting five looks entering camp: left tackle Dennis Kelly, left guard Justin Pierce, center Peters Drey, right guard Ken Plue and right tackle Nick Mondek, who switched to offensive from defensive tackle this spring.
The secondary is another group with some question marks. Charlton Williams and Josh Johnson are listed as the starting cornerbacks, while Albert Evans and Logan Link are tabbed as the starting safeties. Evans looks like the guy at strong safety, but the other three spots are fluid.
Redshirt freshman Kevin Pamphile is listed as a starting defensive tackle next to Kawann Short. It'll be interesting to see if Pamphile maintains the top spot throughout camp, as there should be some good competition.
Carson Wiggs could once again be a busy man this fall. He's listed as Purdue's starting kicker and a co-starter at punter with freshman Cody Webster. Wiggs or freshman Jonathan Linkenheimer will handle kickoffs.
BIG TEN SCOREBOARD
Saturday, 12/21
Monday, 12/23
Tuesday, 12/24
Thursday, 12/26
Friday, 12/27
Saturday, 12/28
Monday, 12/30
Tuesday, 12/31
Wednesday, 1/1
Thursday, 1/2
Friday, 1/3
Saturday, 1/4
Sunday, 1/5
Monday, 1/6
Tweets from @ESPNCFB/big-ten