March, 7, 2012
3/07/12
4:00
PM ET
Our series ranking each position group from the 2011 Big Ten season comes to a close today with the final group, and one that is often overlooked but is always important: special teams.
Special teams is a broad spectrum, so we're combining performances in punting, kickoffs and field goals to come up with each team's position on this list.
And away we go:
1. Nebraska:
Boy, did we mess this up in the preseason by ranking the Huskers 11th out of 12. Though we wrote at the time that Nebraska would almost certainly outperform its low rankings, we thought replacing star punter/kicker Alex Henery would be tough. Not really, as
Brett Maher
was one of the best punters and kickers in the league and the country. Freshman
Ameer Abdullah
was a star in kick returns, finishing ninth nationally in that category. So just remove one of the ones from that preseason number, and then we've got it right.
[+] Enlarge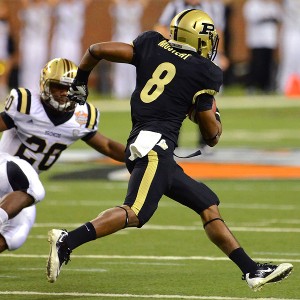 Mark Cunningham/Getty ImagesRaheem Mostert took a kickoff return back 99 yards for a score in the Little Caesars Pizza Bowl.
2. Purdue:
The Boilermakers were mostly mediocre on offense and defense but did some great work on special teams. Freshman
Raheem Mostert
led the nation in kickoff returns
,
while sophomore
Cody Webster
finished second in punting. The strong-legged
Carson Wiggs
tied Maher for most field goals made in the league, though he still needs to improve his accuracy. Blocked kicks helped secure wins over Middle Tennessee and Ohio State, but Purdue lost on a blocked field goal try at Rice.
3. Penn State:
When
Anthony Fera
returned from suspension and took over field goal duties, the Nittany Lions' special teams became truly special. Fera hit 14 of 17 field goals after Penn State had looked very shaky in that area early in the year, and he was also one of the league's top punters.
Chaz Powell
and
Justin Brown
were dangerous return men.
4. Ohio State:
The Buckeyes ranked among the top third of Big Ten teams in just about every special-teams category. Field goal kicker
Drew Basil
made a dozen in a row at one point, and
Ben Buchanan
was solid at punter.
Jordan Hall
added some big returns.
5. Michigan State:
We ranked the Spartans No. 1 in the preseason, and they came up with some game-changing plays, particularly in the first game against Wisconsin and in the Outback Bowl win over Georgia. But statistically speaking, Michigan State was average in most aspects of the kicking game. But
Mike Sadler
had some big moments punting, and
Keshawn Martin
did excellent work on punt returns.
6. Wisconsin:
A tough team to rank, as there was both good and bad here.
Jared Abbrederis
led the nation in punt return average at 15.8 yards per attempt.
Brad Nortman
was a very reliable punter, while
Philip Welch
made five of his six attempts at field goals, something the Badgers didn't need very much with
Montee Ball
assaulting the end zone. But we can't ignore the big special-teams breakdowns against Michigan State and Ohio State that had as much as anything to do with ruining a potential undefeated season.
7. Michigan:
The Wolverines weren't outstanding at any one area on special teams, but they proved much better than the No. 12 ranking we saddled them with in the preseason.
Brendan Gibbons
solidified what looked like a scary place-kicker situation and played a large role (along with brunette girls) in the Sugar Bowl victory. Michigan was also strong in punt returns and kick coverage, though its punting and kickoff returns left much to be desired.
8. Iowa:
The good news first: Iowa led the league in net punting, thanks to a strong showing by senior
Eric Guthrie
in his first year starting. Now the bad: The Hawkeyes ranked second-to-last in kickoff coverage, and
Mike Meyer
missed six of his 20 field goal attempts, including both tries in the humbling loss to Minnesota.
9. Minnesota:
Even without premier return man Troy Stoudermire, who missed most of the year with an injury, the Gophers ranked fifth in the league in kickoff returns, and they led the league in kickoff coverage. But a team that punted as much as Minnesota did in 2011 needed to do better than 11th in the conference in that category. Bonus point for the perfectly executed onside kick in the Iowa win.
10. Northwestern:
The Wildcats' defense got the brunt of the blame in Northwestern's losses, but special teams didn't hold up its end of the bargain, either. Northwestern made only six field goals all year and ranked near the bottom of the conference in most categories. The bright spot was a league-best punt return unit.
11. Indiana:
Mitch Ewald
went 13-of-16 on field goals, but the Hoosiers weren't very good in most other areas. They returned more kickoffs than anyone in the Big Ten -- a product of a crummy defense -- but didn't do enough with them in finishing 108th nationally in that stat.
12. Illinois:
Ron Zook didn't help his case to be retained as head coach through the performance of his special teams, a part of the game that was supposed to be his field of expertise. Illinois was simply dreadful in creating advantageous field position, finishing last in the nation in kickoff returns and third-to-last in punt returns. The Illini also weren't very good at kickoff coverage, though at least
Derek Dimke
made 10 of 12 field goals. Even that was marred by his missed 42-yarder at the end of a 10-7 loss at Penn State.
October, 25, 2011
10/25/11
11:00
AM ET
The
Play of the Year in college football
came courtesy of Michigan State quarterback
Kirk Cousins
and wide receiver
Keith Nichol
, but Bret Bielema also played a role.
If the Wisconsin coach hadn't called timeouts in an effort to regain possession, Michigan State likely wouldn't have had an opportunity for the Hail Mary heave that beat the Badgers 37-31.
To recap: Bielema used a timeout with 42 seconds left after Wisconsin sacked Cousins to set up a second-and-20. After Michigan State gained 12 yards, Bielema used another timeout with 30 seconds left. The Spartans converted on third-and-8 with an 11-yard pass and added a 9-yard pass before calling timeout with 10 seconds left.
Bielema defended his decision after the game and
elaborated on the topic Monday
at his news conference in Madison.
"I thought if they were trying to go into overtime in any way, shape or form, that I wanted to get the ball back. We have the No. 1 offense in the country. We've got a quarterback who I've seen in four, maybe even five of our first [six] games, score at the end of a half. [Kicker] Phil Welch had hit a 50-plus yarder going that direction in pregame warm-ups. So if there was any way I could get the ball back I wanted to do that."
Bielema faced a tough decision, and he could be receiving praise right now had Wisconsin found a way to win in regulation.
Like Brian Bennett, my issue was with the second timeout, after Michigan State had set up a more manageable third down. The Spartans had converted several key third downs, and even if they didn't convert, Wisconsin would have had only 20-25 seconds. Sure, Wisconsin could have blocked a punt or had a long return, but Michigan State wasn't exactly backed up in its own end. Also, the Badgers would have had all the momentum going into overtime and an offense that's practically unstoppable in the red zone -- which is basically what overtime amounts to. Wisconsin has scored 32 touchdowns in 38 red zone opportunities, while Michigan State has scored 18 touchdowns in 29 red zone chances.
Again, it was a tough call.
Was it the right one? Here's your chance to weigh in. Hindsight is easy, but try to put yourselves in Bielema's shoes on Saturday and let me know what you would have done.
July, 8, 2011
7/08/11
11:00
AM ET
Time for more preseason watch list action, and it gets even more exciting when you're talking about kickers.
Seriously, you can make fun of kickers until your team needs a 40-yard field goal with three seconds left to win the game. Then it's not so funny. The following four Big Ten players have been nominated to the preseason list for the Lou Groza Award, which goes to the nation's top place-kicker:
Dan Conroy, Michigan State, Jr.
Derek Dimke, Illinois, Sr.
Mitch Ewald, Indiana, Soph.
Phillip Welch, Wisconsin, Sr.
Conroy and Dimke were both Groza semifinalists last season. Conroy was the first-team All-Big Ten kicker, while Dimke was second. Both have a chance of taking home this award in 2011. Would have liked to see Purdue's Carson Wiggs on this list, since nobody in America has a bigger leg than him.
September, 13, 2009
9/13/09
1:11
PM ET

Posted by ESPN.com's Adam Rittenberg
The Big Ten is announcing its players of the week on Sunday nights this season, so my plan to one-up the conference office also moves up a day. Check out my picks, and then check back Monday morning to see how many matches I had with the league.
OFFENSE -- Michigan QB Tate Forcier
The true freshman helped Michigan make a national statement against No. 18 Notre Dame, making plays with both his arm and his feet. After briefly showing his age early in the fourth quarter, Forcier was masterful on Michigan's game-winning drive. He completed 6 of 7 passes, including a 5-yard score to
Greg Mathews
, and his only incomplete pass should have been caught. Forcier finished with 240 pass yards, 70 rush yards and three touchdowns (2 pass, 1 rush).
DEFENSE
--
Iowa S Tyler Sash
An obvious choice here as Sash tied a school record with three interceptions against Iowa State. The Big Ten's co-interceptions leader in 2008 is just 11 picks shy of Nile Kinnick's Iowa record. Sash also had a forced fumble, two tackles for loss and a team-high 10 total tackles.
CO-SPECIAL TEAMS -- Wisconsin K Phillip Welch and Northwestern K Stefan Demos
I usually don't like giving shared awards, but when you make game-winning kicks, you deserve to be recognized. Welch drilled a 57-yard field goal after missing his first three attempts of the season and hit a chip shot in double overtime to lift Wisconsin past Fresno State. Demos saved Northwestern from a potentially devastating loss by drilling a 49-yard field goal in the final seconds. The junior only started handling field goals this season but came up big.
September, 12, 2009
9/12/09
3:54
PM ET

Posted by ESPN.com's Adam Rittenberg
It has been a very shaky start to a defining day for the Big Ten, except in Ames and State College, where both Iowa and Penn State handled their business. Iowa really made a nice statement with its win against Iowa State, but the Big Ten hasn't changed its perception one bit. Michigan State took a huge hit with the loss to Central Michigan.
Before I head to The Shoe here's a quick look at what has happened around the league:
Penn State 28, Syracuse 7 --
It wasn't the blowout many had expected from the Nittany Lions, and Syracuse clearly isn't the doormat it has been under Greg Robinson. For the second straight week, Penn State seemed to lose some steam after a strong start from quarterback
Daryll Clark
and running back
Evan Royster
. Clark had a pretty nice day with three touchdown passes and an interception, but Penn State has to be a bit concerned about its offensive line after generating only 79 rush yards against the Orange. The defensive front continues to look pretty solid, though
Greg Paulus
completed 14 of 20 passes in the loss.
Northwestern 27, Eastern Michigan 24
-- The Wildcats are still too prone to letdowns, and they nearly had a disastrous one against an Eastern Michigan team coming off of a 13-point home loss to Army. Northwestern appeared to be in the clear up 21-0, but very shaky tackling on defense and the inability to make big plays on offense let Eastern Michigan claw back into this one. Ironically, special teams saved Northwestern after leading to a costly turnover earlier, as Stefan Demos drilled a 49-yard field goal for the victory. Pat Fitzgerald's defense needs to get a lot tougher in a hurry.
Central Michigan 29, Michigan State 27 --
Mark Dantonio's defense really let him down in the fourth quarter, as decorated Chippewas quarterback
Dan LeFevour
finally led his team to a victory against a BCS team (he sat out last year's win against Indiana). This is a major blow for Michigan State, which appeared to be the Big Ten's third best team until today. Most troubling for the Spartans is the fact that their secondary, the deepest unit on the team, really struggled against LeFevour (328 pass yards, 3 TDs). It was also surprising to see Michigan State's miscues on special teams, particularly the offside penalty that allowed Central Michigan a second chance at the game-winning field goal. On the plus side,
Kirk Cousins
might have established himsef as the team's No. 1 quarterback.
Iowa 35, Iowa State 3 --
Sure, Iowa State is the inferior team, but Iowa usually struggles in Ames and came off a shaky performance against Northern Iowa. The Hawkeyes made a major statement today, especially on defense. They picked off
Austen Arnaud
four times and sparked Ricky Stanzi, who rebounded from two early interceptions to throw for four touchdowns. Most important, Iowa might have discovered its running back in freshman
Brandon Wegher
(101 rush yards, TD). Iowa State didn't help itself with six turnovers, but Iowa is back on track heading into a crucial stretch against Arizona and Penn State.
Wisconsin 34, Fresno State 31 (2OT) --
This game will be lumped in with the other Big Ten close calls, but you've got to give Wisconsin a lot of credit for rallying. The Badgers' overall defense was shaky. Their third-down defense was horrendous. But they found a way to come back against a very good non-BCS team in Fresno State. Wisconsin has found its quarterback in
Scott Tolzien
, and
John Clay
resurfaced as the team's top running back with a 143-yard performance. Team MVP? The kicker, Phillip Welch, who hit a crucial 57-yard field goal as well as the game-winner in double overtime.
Indiana 23, Western Michigan 19
-- I've been saying it all summer. The Hoosiers need to win with defense, and they stepped up today to bottle up Western Michigan's ground attack (22 yards). Perhaps more important, Indiana discovered its run game in the pistol formation and got a huge lift from
Demetrius McCray
(134 rush yards, TD). Indiana was in control for most of the way and came up with some big plays near its own goal line at the end to hold off the Broncos. A big win for Bill Lynch, who needs them.
September, 4, 2009
9/04/09
3:30
PM ET
Posted by ESPN.com's Adam Rittenberg

The 11th and final installment in a series examining the best and worst outcomes, within reason, for each Big Ten squad.

BEST CASE

The Badgers get back to the basics, running backs John Clay and Zach Brown punish defenders, the quarterbacks limit mistakes, the defense remembers how to finish and head coach Bret Bielema's seat cools down.

Wisconsin's surprise starting backfield of quarterback Scott Tolzien and Brown prove why they earned the top jobs against Northern Illinois, combining for four touchdowns in a 35-10 rout. Curt Phillips also plays several series and showcases his speed on a 50-yard scoring run. Wisconsin needs no drama to beat Fresno State and has little trouble with Wofford.

Michigan State comes to Madison and Wisconsin mounts a come-from-behind win. The Spartans lead by 10 early in the foruth quarter when head coach Mark Dantonio draws an unsportsmanlike conduct penalty for looking too intense and angry. Dantonio's blunder leads to a downward spiral, and Wisconsin's Phillip Welch hits a 50-yard field goal as time expires for a 24-23 win. The Badgers retain Paul Bunyan's Axe the next week in Minneapolis, as safety Jay Valai collects another helmet decal from a Minnesota running back for his wall.

The Badgers drop games to Ohio State and Iowa but respond against the Indiana schools to go 7-2, as wideout Nick Toon becomes a star. Michigan visits Camp Randall Stadium and Wisconsin builds a big lead, this time hanging on for an impressive victory. Wisconsin splits its last two games to finish 9-3.

A trip to the Outback Bowl comes next, and Wisconsin beats Mississippi for its 10th win. Sales of red windbreakers skyrocket in the greater Madison area and Bielema gets another few years tacked on to his contract. Clay keeps his weight down as Wisconsin leads the Big Ten in rushing with two 1,000-yard backs. The Badgers get some clarity at quarterback and enter 2010 with BCS bowl hopes.

WORST CASE

The downward slide continues, a lack of discipline shows up again, the quarterbacks crumble, the defense caves and the head coach gets more heat.

Despite a nonconference schedule that doesn't include a BCS opponent, Wisconsin manages just a 2-2 split, with one of the wins against FCS Wofford. Tolzien starts off shaky, throwing two interceptions against Northern Illinois after a steady preseason. Phillips doesn't fare much better, and the Badgers go through another year with below-average quarterback play.

At 2-1 entering Big Ten play, Wisconsin suffers another mental meltdown against Michigan State, drawing 12 penalties in a 30-17 loss. Bielema continues to ride the refs too hard, and Valai gets ejected for headhunting. Minnesota reclaims the axe a week later at TCF Bank Stadium, as former Wisconsin safety Kim Royston records two interceptions in the win. Losses follow against Ohio State and Iowa, which thumps its alum Bielema by 21 points.

Wisconsin scrapes by against Purdue and Indiana and needs to win two of three to reach a bowl game. After building a 21-point halftime lead against Michigan, the Badgers collapse for the second straight year as Tate Forcier rallies the Wolverines in overtime. A week later, former Wisconsin defensive coordinator Mike Hankwitz avenges his surprising dismissal by helping Northwestern to a shutout of the Badgers in Evanston.

Out of the postseason picture, Wisconsin heads to Hawaii and sleepwalks through a 44-20 loss. Clay can't stay below 250 pounds. The wide receivers continue to drop passes. Athletic director Barry Alvarez decides to keep Bielema but loses a chunk of season-ticket holders in the process. Bielema fires both of his coordinators. Minnesota and Iowa go to January bowls.
August, 19, 2009
8/19/09
4:15
PM ET
Posted by ESPN.com's Adam Rittenberg
Thought the position rankings were over? Think again.
We don't forget the specialists on the Big Ten blog, so after a lengthy lull -- blame training camp -- it's time to examine the kicking game around the league. The rankings are based on kickers and punters, return men and coverage units.
Let's begin.
1. Michigan State -- The Spartans return two second-team All-Big Ten picks in kicker Brett Swenson and punter Aaron Bates, who averaged 42 yards on 71 punts. The return game looks a little suspect but a healthy Mark Dell should help.
2. Michigan -- It helps to have the best punter in the league in senior Zoltan Mesko, a leading candidate for the Ray Guy Award. Michigan should be more dynamic on returns with Martavious Odoms and others. The big question here is at kicker.
3. Penn State -- Punter Jeremy Boone didn't get many chances last fall but executed well when called upon. There are questions at kicker after the loss of first-team All-Big Ten performer Kevin Kelly, and Derrick Williams will be missed on returns. Penn State is always good on coverage teams.
4. Ohio State -- A few more question marks here than normal, but Ohio State's special teams track record under Jim Tressel can't be denied. Aaron Pettrey should be fine at kicker and has a strong leg. Ohio State brings back the league's top punt return man in Ray Small. The Buckeyes need to upgrade their kick return unit after finishing 108th nationally in 2008.
5. Iowa -- Punter Ryan Donahue is a stud and likely will set school records by the time he's done. Daniel Murray showed he could make a clutch kick against Penn State, though he remains in competition with Trent Mossbrucker. Andy Brodell is a big loss at punt returner, and Jewel Hampton might not be available to return kicks.
6. Wisconsin -- I really like Wisconsin's young specialists, kicker Phillip Welch and punter Brad Nortman. But you can't rank last nationally in kickoff returns and expect to be high on this list. Wisconsin needs to jump start its returns with David Gilreath.
7. Indiana -- Chris Hagerup is a terrific young punter after nailing 13 punts for more than 50 yards last fall. Demetrius McCray looks solid on kickoff returns. Indiana must replace former All-Big Ten kicker Austin Starr, but Starr really struggled last fall (10-for-17). Heralded freshman kicker Mitch Ewald joins the mix.
8. Purdue -- Carson Wiggs did a nice job at kicker after taking over for Chris Summers, who will handle the punting duties this fall. Purdue needs to improve its punting after finishing last in the league in 2008, but the return game looks solid with Aaron Valentin and Royce Adams.
9. Minnesota -- The Gophers are starting over after losing both of their top specialists. They'll be relying on junior Eric Ellestad and freshman Dan Orseske to step up. It helps to have the league's most dynamic return man in Troy Stoudermire.
10. Northwestern -- All too often, the kicking game has cost Northwestern, most notably in the Alamo Bowl against Missouri. Stefan Demos is finally healthy and could handle both the kicking and punting duties this fall. The Wildcats could use a boost in the return game from Stephen Simmons or Andrew Brewer.
11. Illinois -- I really like sophomore kicker Matt Eller, who beat Iowa with a field goal last November. But it's no secret the Illini need significant upgrades on their punt teams after finishing 10th in punting and last in returns. Florida transfer Jarred Fayson should boost the return game. The Illini must improve their kickoff and punt coverage.
August, 12, 2009
8/12/09
4:57
PM ET
Posted by ESPN.com's Adam Rittenberg
We don't forget about the specialists on the Big Ten blog -- special teams rankings coming soon, by the way -- and the league has a nice presence on the Lou Groza Award preseason watch list. Four Big Ten kickers made the list, led by Michigan State's Brett Swenson and Wisconsin's Phillip Welch.
The Big Ten candidates are:
Brett Swenson, Michigan State
Aaron Pettrey, Ohio State
Phillip Welch, Wisconsin
Carson Wiggs, Purdue
As a freshman, Welch led the Big Ten in field goals and percentage made (1.7 per game, 85 percent) and ranked second in kick scoring (8.1 ppg). Swenson connected on 22 of 28 field-goal attempts and was perfect on extra-point tries (34-for-34).
Pettrey handled the longer field-goal attempts for Ohio State last fall and connected on seven of eight attempts, six of which came from beyond 40 yards. Wiggs replaced Chris Summers as Purdue's top kicker last fall and converted 8 of 11 attempts. He was a perfect 6-for-6 from inside 40 yards.
July, 14, 2009
7/14/09
4:00
PM ET
Posted by ESPN.com's Adam Rittenberg
Like many of you, I'll be watching the All-Star Game tonight in St. Louis, and I thought it'd be fun to do a Big Ten football version on today's blog.
Before getting to the selections, let's get into the always tricky process of dividing the league into two teams. As we all know, the Big Ten doesn't do us any favors with an odd number of teams, and the theories on how to split the league are seemingly endless. For this exercise, let's go with North and South designations. The North squad will be made up of six Big Ten teams, while the South draws from only five squads but can access more players from contending teams.
The geography isn't perfect by a long shot -- yes, I know Ann Arbor is south of East Lansing -- but here's the breakdown:
North: Minnesota, Wisconsin, Michigan, Northwestern, Purdue, Penn State
South: Iowa, Illinois, Michigan State, Ohio State, Indiana
Now for the lineups.
NORTH ALL-STARS
Offense
QB: Daryll Clark (Penn State), backup is Adam Weber (Minnesota)
RB: Evan Royster (Penn State), John Clay (Wisconsin)
WR: Eric Decker (Minnesota), Keith Smith (Purdue)
TE: Garrett Graham (Wisconsin)
C: Stefen Wisniewski (Penn State)
OL: Stephen Schilling (Michigan), Dennis Landolt (Penn State), Gabe Carimi (Wisconsin), Al Netter (Northwestern)
Defense
DE: Brandon Graham (Michigan), Corey Wootton (Northwestern)
DT: Jared Odrick (Penn State), Mike Neal (Purdue)
LB: Navorro Bowman (Penn State), Sean Lee (Penn State), Obi Ezeh (Michigan)
CB: Traye Simmons (Minnesota), Sherrick McManis (Northwestern)
S: Brad Phillips (Northwestern), Torri Williams (Purdue)
Specialists
K: Phillip Welch (Wisconsin)
P: Zoltan Mesko (Michigan)
Returns: Troy Stoudermire (Minnesota)
SOUTH ALL-STARS
Offense
QB:Terrelle Pryor (Ohio State), backup is Ricky Stanzi (Iowa)
RB: Brandon Saine (Ohio State), Jewel Hampton (Iowa)
WR: Arrelious Benn (Illinois), Mark Dell (Michigan State)
TE: Michael Hoomanawanui (Illinois)
C: Mike Brewster (Ohio State)
OL: Bryan Bulaga (Iowa), Justin Boren (Ohio State), Kyle Calloway (Iowa), Jeff Allen (Illinois)
Defense
DE: Jammie Kirlew (Indiana), Thad Gibson (Ohio State)
DT: Corey Liuget (Illinois), Doug Worthington (Ohio State)
LB: Greg Jones (Michigan State), Pat Angerer (Iowa), Matt Mayberry (Indiana)
CB: Amari Spievey (Iowa), Chris L. Rucker (Michigan State)
S: Kurt Coleman (Ohio State), Anderson Russell (Ohio State)
Specialists
K: Brett Swenson (Michigan State)
P: Ryan Donahue (Iowa)
Returns: Ray Small (Ohio State)
My thoughts: I like the matchup, and not just because I created it. The North squad has a stronger offensive backfield but more questions along the offensive line. The South team lacks a proven running back but boasts two of the league's most talented skill players in Pryor and Benn. Plus, the South team has a stronger offensive line led by Iowa tackles Bulaga and Calloway. Both defenses boast strong linebackers. The North team gets the edge up front with Wootton, Graham and Odrick, while the South squad boasts a very strong secondary. The special teams are pretty even, although Stoudermire's breakaway ability and Mesko's consistency give the North a slight edge.
Prediction: North wins, 24-21
June, 19, 2009
6/19/09
10:45
AM ET
Posted by ESPN.com's Adam Rittenberg
Thanks to several of you for reminding me about special teams, a subject I had planned to tackle during spring ball but got bogged down with too many other things.
Here's a quick look at where each Big Ten team stands on special teams heading into the summer. A more comprehensive position-by-position ranking will come your way a little closer to the season.
GOOD SHAPE
Michigan State -- The Spartans return Lou Groza Award candidate Brett Swenson along with punter Aaron Bates, who averaged 42 yards per boot last season. Punt return man Otis Wiley is gone, but Mark Dell should step in nicely and the Spartans boast some exciting, young talent in Keshawn Martin, Jairus Jones and others.
Ohio State -- The Buckeyes don't have as many special teams certainties as most years, but history doesn't lie. Ohio State will always be strong on special teams under head coach Jim Tressel. Punter is a question mark, but Aaron Pettrey should be fine on field goals. Ray Small is one of the nation's best punt return men, and the kickoff return unit should be much more dynamic than it was last year.
Illinois -- The Illini return both of their starting specialists, and kicker Matt Eller looks like a keeper after connecting on 8 of 10 field goal attempts from beyond 40 yards last year. Illinois' return game also should be much improved as Florida transfer Jarred Fayson enters a mix that includes Arrelious Benn.
SO-SO
Penn State -- Jeremy Boone is one of the league's best punters, and odds are Penn State will be fine on special teams by the end of the season. But Kevin Kelly is a big loss at kicker, and the Nittany Lions will miss the dynamic Derrick Williams on punt and kickoff returns. Penn State will look to Chaz Powell to provide a spark on returns.
Iowa -- Ryan Donahue has established himself as a solid Big Ten punter, and the Hawkeyes have two options at kicker in Daniel Murray, the hero of the Penn State victory, and Trent Mossbrucker. The big loss comes at punt returner, as Andy Brodell was one of the best around. Iowa also might need a primary kick returner if Jewel Hampton moves into a starting spot at running back.
Minnesota -- The Gophers have the Big Ten's most dangerous return man in Troy Stoudermire, who averaged 25.8 yards on kickoff returns and racked up more than 1,000 return yards last year. Marcus Sherels is a very solid punt return man, but the Gophers must replace both of their starting specialists. Hopes are high for heralded freshman punter Dan Orseske.
Michigan -- Bad seasons usually equal a lot of work for the punter, and Zoltan Mesko came through in a big way for Michigan last fall. The Big Ten's best punter is back, and Michigan also boasts return men Martavious Odoms and Boubacar Cissoko. The situation at kicker looks a bit messy, and Rich Rodriguez will need some of his incoming freshmen to contribute right away.
Wisconsin -- Kicker Phillip Welch comes off a stellar freshman season in which he connected on 17 of 20 field goal attempts. Punter Brad Nortman also comes back, and David Gilreath remains a dangerous man on punt and kickoff returns.
A LITTLE SHAKY
Purdue -- From field goals to punt coverage, Purdue had its adventures on special teams last fall. But if Carson Wiggs continues to perform well on makeable kicks, the Boilers should be fine. Purdue loses Desmond Tardy, who led the Big Ten in kickoff returns (28.8 yards per return), as well as Kory Sheets. Hopes are high for Aaron Valentin on kickoff returns after the wideout averaged 25.7 yards per runback in 2008.
Indiana -- Austin Starr didn't have the senior season he envisioned, but the All-Big Ten kicker most certainly will be missed in Bloomington. Indiana also loses Marcus Thigpen, who made his mark as a kickoff returner. Punter Chris Hagerup looks like a keeper but comes off knee surgery, and the Hoosiers are looking for help on returns.
Northwestern -- The Wildcats need to reach a point where special teams no longer costs them games. It happened again in the Alamo Bowl, a game Northwestern should have won. Punter Stefan Demos did a lot of nice things last season but can't afford critical mistakes like the one he made in the bowl (kicking to Jeremy Maclin). The Wildcats bring in a scholarship kicker in Jeff Budzien, and they need some help on returns.
June, 5, 2009
6/05/09
9:49
AM ET
Posted by ESPN.com's Adam Rittenberg
The Big Ten top 30 player rankings are finally complete, and it's time to take a look back at the rundown during the last few weeks (I feel like I channeled my inner David Stern with how long the series dragged on).
There were two basic parameters for evaluating players -- past performance and future potential. Here's the team-by-team and position-by-position breakdown:
Penn State -- 6
Iowa -- 4
Ohio State -- 3
Minnesota -- 3
Illinois -- 3
Wisconsin -- 2
Michigan State -- 2
Northwestern -- 2
Michigan -- 2
Indiana -- 2
Purdue -- 1
LB -- 6
DE -- 6
QB -- 5
RB -- 3
WR -- 2
S -- 2
CB -- 2
OL -- 2
TE -- 1
DT -- 1
Let's take a look at some of the trends/surprises in the rankings.
FIVE QUARTERBACKS
As much as I've ragged on the quarterback play in the league, many of you were understandably surprised to see five signal callers on the list and two in the top eight. We'll see what happens this fall, but the quarterback position should be much improved. I've heard a lot of good things about Ricky Stanzi from football people around the league. Adam Weber had no offensive line last year and still threw for 2,761 yards. People forget that Juice Williams was probably the Big Ten's offensive MVP for the first half of last fall. Terrelle Pryor should make a major jump this season, and Daryll Clark doesn't get nearly enough credit for what he did as a first-year starter in 2008. Keep in mind that while Penn State imploded for much of the Rose Bowl, Clark had a pretty decent game against the heralded USC defense.
ONLY THREE OHIO STATE PLAYERS
It's rare to see a top 30 list not filled with Buckeyes -- or Michigan Wolverines, for that matter -- but Ohio State lost a lot of star power during the offseason. Running back Chris Wells likely would have topped the rankings had he stayed for his senior year, and linebackers James Laurinaitis and Marcus Freeman, cornerback Malcolm Jenkins and left tackle Alex Boone also would have been in the rankings. I fully expect the end-of-season rankings to include more Ohio State players -- Dan Herron, Brandon Saine, Justin Boren, Mike Brewster, Anderson Russell, Ray Small and Dane Sanzenbacher are all possibilities -- but there is still a lot to prove.
ONLY TWO OFFENSIVE LINEMEN
I've heard from several Big Ten traditionalists out there who are shocked that a list of the league's best could include only two offensive linemen. Keep in mind that 30 players isn't that many, and the league returns many more proven players at defensive end, linebacker and even running back. I see a lot of good offensive linemen in this league, but not a ton of great ones right now. Do I expect more than two offensive linemen in the end-of-season rankings? Absolutely. This season provides an excellent opportunity for players like Boren, Brewster, Iowa's Kyle Calloway, Wisconsin's Gabe Carimi, Michigan's Stephen Schilling, Penn State's Dennis Landolt, Michigan State's Joel Nitchman and others to cement themselves as elite linemen.
TOP FIVE PLAYERS ALL ON OFFENSE
The Big Ten was hardly an offensive juggernaut last fall, especially next to the Big 12 or Pac-10, so some were surprised to see so many offensive players at the top of the rankings. By almost any measure, the Big Ten has two of the best wide receivers in America in Arrelious Benn and Eric Decker, and those two deserve to be at the top of the list. Clark made very few mistakes last year and led an offense that finished 14th nationally and 11th in scoring. Royster is on the cusp of very big things if he gets the ball more. And Iowa's Bryan Bulaga has legit NFL potential and could be one of the nation's top left tackles this fall.
WHO JUST MISSED THE CUT?
I've heard from many of you wondering why a certain player or two didn't make the rankings. I'll reiterate that 30 players really aren't that many, but here are some guys who just missed the cut and should be in the mix of the end-of-season rundown.
Iowa -- RT Kyle Calloway, DE Adrian Clayborn, LB A.J. Edds
Michigan -- P Zoltan Mesko, LB Obi Ezeh, RT Stephen Schilling
Michigan State -- PK Brett Swenson
Northwestern -- CB Sherrick McManis, S Brendan Smith
Ohio State -- LG Justin Boren, C Mike Brewster, S Anderson Russell, DE Cameron Heyward
Purdue -- DT Mike Neal
Wisconsin -- PK Phillip Welch, LT Gabe Carimi