October, 7, 2011
10/07/11
4:30
PM ET
Hope you enjoy the games this weekend. I'm geared up for my first game in Lincoln!
Looks like a lot of folks are miffed by my Penn State prediction. Hey, did you expect me to copy Bennett's picks again?
Jojo from Johnstown, Pa., writes:
Adam, Let me preface this comment by saying that I am a huge PSU loyalist. With that out of the way, how in the world can you possibly pick PSU over Iowa? Really? I just looked at PSU's schedule and other than Purdue, I'm not sure there is another winnable game. Did you make that pick the same way Jaypa and Galen Hall decide which plays to call? You know, with the help of a Ouiga Board?
Adam Rittenberg:
Jojo, I know you're down about the Lions right now, and I totally understand why. The offense still has no quarterback, no direction and no identity. But the Penn State defense excites me. Defensive tackle Devon Still has been a beast, and the linebackers are playmakers. Iowa has struggled to run the ball consistently all season, and I expect Penn State to stuff the rushing attack Saturday. The Lions have been excellent against the pass -- sixth nationally in pass yards allowed, only three passing touchdowns allowed -- although Iowa's receivers provide a good test. I could be wrong (check my record, it happens a lot), but I see an ugly, low-scoring affair that Penn State somehow wins. We'll see.
---
John from Eagan, Minn., writes:
Adam, Seriously 10 points for the Hawkeyes on Saturday. I will bet you a bag of Garrett's Popcorn at Navy Pier that Iowa scores more then 10 points. With their top LB and one of the top DB players out for the game, it will be tough for PSU to keep it that low.
Adam Rittenberg:
Mmmm, Garrett's. You're on, John. Although if I lose, you might receive a half-eaten bag. Good points about Penn State not having linebacker Michael Mauti and cornerback D'Anton Lynn, but the Lions are a much deeper defense this year, and it all starts up front with Mr. Still at DT.
---
Joe from Columbus, Ohio, writes:
Adam, It seems that Ohio State's offensive line is coming under intense scrutiny after the MSU game. I have to make the point that of the 9 sacks that MSU had, maybe two or three of them were actually the result of poor line play. The Oline is the least of Ohio State's concerns right now. Their biggest concern is the playing calling ability of Jim Bollman. Bottom line, they are not setting their qb's up for success. They are running plays that have limited creativity and there are no adjustments as the game goes on. OSU was running the same plays in the 4th quarter as they were in the 1st.
Braxton Miller
looks totally lost and I have to say, it isn't entirely his fault. Though he has had time, he cannot get off his first read.
Adam Rittenberg:
Joe, while I agree there are problems with the overall play calling and the quarterbacks, you're letting the offensive line off way too easy. Michigan State manhandled Ohio State up front for stretches in the game, and even veteran players like center Mike Brewster struggled with the likes of Jerel Worthy. The line didn't look that bad in the Miami loss, but I saw something change last week against Michigan State, which, to be fair, boasts an excellent defense. It was a lousy performance up front, and as colleague Trevor Matich said Thursday on "College Football Live," Ohio State is having fundamental breakdowns everywhere, including the offensive line. I'd expect a better performance Saturday in Lincoln, and Mike Adams' return at left tackle should provide a boost.
---
Toby from Smithland, La., writes:
Hey Adam, I know the expansion talk is not wanted to be talked about but it is still out there. My question is this. With Missouri wanting to come to the Big Ten, why wouldn't we look at taking them and putting them in the leaders division. If we would need someone in the legends division, why wouldn't we go after a big east team to fill that spot. Someone like West Virginia or Louisville. Geographically, it would be a good choice.
Adam Rittenberg:
Toby, of the three teams you mention, Missouri is the only one the Big Ten would seriously consider adding. West Virginia and Louisville simply don't fit the Big Ten's profile in several areas, namely academics. I know it's hard for fans to understand, but it's not only about geography. Also, I've talked with Big Ten ADs and a league administrator in the past week and there's still no movement on expansion. The Big Ten is happy at 12, and unless all heck breaks loose elsewhere -- which it might --- the league won't be forced to expand just to expand.
---
Jon from Chicago writes:
Adam, You seem surprised that my man Bob Asmussen picked the Illini in the Rose Bowl. This is pure speculation at this point, but I don't think that it's too far fetched. Wisconsin looks basically unbeatable, and an undefeated season would likely put them in the BCS National title game. The Illinois/Michigan game in Champaign looks like a toss-up at this point. The Illini will lose to Wisconsin. Now, if the Illini are able to get past Michigan, and - this is a HUGE and, given recent history - win the games they are supposed to, that leaves the Illini with one regular season loss. Whoever loses to Wisconsin in the B1G championship game (NU or Michigan) will likely have at least two losses, and I doubt would be ahead of Illinois in the BCS picture. I understand that there is a long way to go, but Bob's prediction certainly doesn't appear to be unfathomable. Especially, Adam, since you have the Illini way up on your power rankings, I'm surprised by your surprise!
Adam Rittenberg:
Jon, you're right, I probably shouldn't have been so surprised. Just to see an Illinois team no one ranked in the preseason projected in the Rose Bowl after five home wins was a bit startling. Yes, Illinois could get there if everything falls right, and the schedule is so beneficial that 10 or 11 regular-season wins is realistic. I like the Illini a lot, but they've been fortunate the past three weeks on their home field. Now the road schedule is really, really easy, but the Penn State contest isn't a gimme. Neither is Ohio State next week in Champaign. The Buckeyes will be desperate, and while Illinois always plays Ohio State tough, the Illini will be in the unfamiliar position of being favored in that matchup. Could Illinois reach Pasadena? Sure. But a lot of things have to go its way.
---
Mike from Boston writes:
My fantasy team has been terrible the past few years so I decided to go with an all-Big Ten team this year. I had no expectations but all of a sudden I'm 3-1 and contending (thank you, Eric Decker). Mendenhall looks questionable this week and it's decision time: do I pick up a non-B1G replacement or stick with what's working and hope Pierre Thomas or Roy Helu finally gets some touches?
Adam Rittenberg:
Mike, you're seriously asking
me
for fantasy football advice? Have you seen how my fantasy team has fared this year against Bennett's? I like Pierre Thomas a lot, but don't blame me if you struggle this week. My track record speaks for itself. Ugh.
---
Ryan from Afghanistan writes:
Hey Adam, first and foremost thanks to you and Brian for keeping us up to date over here on B1G news. I think by now we can say that MSU has one of the most impressive defenses in the country, especially considering their youth. That being said, their offense has had obvious struggles this year and most people point to the offensive line as the issue. I cannot watch the games here so I am just going by what I read, but it sure seems as though MSU's offensive woes could be coming from play calling. Coach D is a primarily defensive oriented coach, and maybe I am being too hard on Roushar... but what he is calling seems as though it is not working. Nobody has mentioned the departure of Don Treadwell as a possible cause for the lack of offensive production. He did orchestrate an impressive win against Wisconsin last year when coach D was in the hospital. What are your thoughts? Go Green!
Adam Rittenberg:
Ryan, first of all, thanks for everything you're doing over there. We really appreciate it! Michigan State's offensive line still remains the primary area of concern as the team hasn't generated a consistent rushing attack. Some of the play calling concerns are warranted, too, and you bring up a good point about losing Treadwell, who did a heck of a job last season. It will be interesting to see what type of game plan Dan Roushar has for Michigan, especially with an extra week to prepare for the Wolverines. Again, there's only so much you can do when the run game is spotty, and Michigan State needs
Kirk Cousins
to be a bit better with his decision-making, but Roushar isn't immune from critiques.
---
Jeff from Ann Arbor, Mich., writes:
Rittenberg, how do you have a worse record than Brian in predictions? 42-10 vs. 39-13, you're 3 games back! In light of this, I did some digging and based on (A) your first post to The Blog [ed. http://espn.go.com/blog/bigten/post/_/id/1/welcome-to-big-ten-football ] and (B) the welcome post for Brian [ed. http://espn.go.com/blog/bigten/post/_/id/27523/big-ten-blog-gets-bigger-and-better ] you have over 1000 days more experience than he does. I'm starting to lose faith in you Old Timer... the cake games are over, we're in conference play now!
Adam Rittenberg:
Jeff, he's killing me. I'm thinking of ways to eliminate him, including sending him back to the lowly Big East. On the bright side, I am 6-0 so far in Big Ten games after a perfect Week 5. The problem: Bennett went 6-0, too. The predictions differential upsets me more than the fantasy team deal. I'd still take my team, led by
Russell Wilson
,
Marvin McNutt
and others, over his one-dimensional quarterbacks.
May, 24, 2011
5/24/11
4:00
PM ET
Michigan State running back
Larry Caper
is a big
Paula Patton
fan.
He also prefers jeggings to leggings on the opposite sex.
Caper and fellow Spartans running back
Le'Veon Bell
would build their NFL offense around speedy Tennessee Titans star Chris Johnson, although Caper also really likes New Orleans Saints back and Big Ten alum Pierre Thomas (Illinois). Both Caper and Bell love Vikings star Adrian Peterson but have concerns about his ability to hold onto the football.
Both MSU backs didn't understand the Rapture talk and aren't worried about the world ending.
They do disagree about some things, like who will win the Bulls-Heat series in the Eastern Conference finals.
And they love their moms.
How do I know all this?
I watched the
latest segment of Spartan Dawg TV
, a YouTube clip produced by Caper and Bell. If you have some spare time, it's pretty entertaining as the backs weigh in on sports, women, pet peeves and even religion. They have a good rapport and seem to be having a blast. In a sport where players are often presented publicly as robots, it's nice to see Caper and Bell enjoying themselves away from the field.
My one complaint: the elevator music in the background. Is that Kenny G? C'mon, fellas. You can do better.
Caper
is promoting the segments on Twitter, so you can keep up pretty easily.
February, 8, 2010
2/08/10
11:15
AM ET
About a month after Iowa cemented a strong Big Ten bowl performance at Miami's Sun Life Stadium, the Big Ten once again stood out on the same field in a huge game.
[+] Enlarge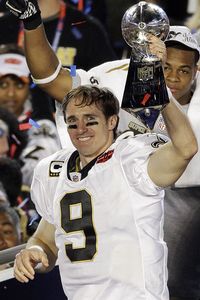 AP Photo/Charlie RiedelFormer Purdue signal-caller Drew Brees took home Super Bowl XLIV MVP honors.
Former Big Ten players had major roles for the
New Orleans Saints
in a
31-17 win
against Indianapolis on Sunday in Super Bowl XLIV.
Saints quarterback
Drew Brees
took home MVP honors after completing 32 of 39 passes for 288 yards with two touchdowns and no interceptions. Brees, a standout at Purdue, became the fourth former Big Ten player in the last nine seasons to earn Super Bowl MVP honors, joining former Michigan quarterback
Tom Brady
(2002, 2004) and former Ohio State wide receiver
Santonio Holmes
(2009).
Brees was brilliant Sunday, but the game's biggest play came from former Indiana cornerback
Tracy Porter
, who intercepted a
Peyton Manning
pass and raced 74 yards to the end zone with 3:12 left. Porter finished the game with four tackles.
Former Illinois running back
Pierre Thomas
recorded six receptions for 55 yards, including a 16-yard touchdown that gave the Saints their first lead early in the third quarter. Thomas also had 30 rush yards on nine carries.
Former Iowa tight end
Dallas Clark
recorded a game-high 86 receiving yards on seven receptions for the Colts.
And who can forget former Wisconsin linebacker Jonathan Casillas, who recovered the onside kick for New Orleans at the start of the second half.
Other Big Ten notables:
In case you missed it, here's the
full list
of former Big Ten players and coaches who participated in the game.
February, 2, 2010
2/02/10
10:30
AM ET
It's Super Bowl week, and here in Chicago, we're celebrating the
hiring of Mike Martz
as Bears offensive coordinator after a month-long search. Hope
Jay Cutler
has a life insurance policy.
OK, moving on to less depressing topics, like the Big Ten and Super Bowl XLIV.
Once again, the Big Ten has plenty of connections to the game, including 20 former players on the two teams, more than any other conference.
All 11 member schools will be represented by a player and/or coach participating in the game. Michigan has the highest number of former players (four), followed by Ohio State (three) and then six teams -- Illinois, Indiana, Iowa, Northwestern, Purdue and Wisconsin -- each with two former players. Penn State and Minnesota will have former coaches on the sideline Sunday.
Both head coaches have Big Ten roots, as the Colts' Jim Caldwell played at Iowa and served as an assistant at Iowa, Northwestern and Penn State. The Saints' Sean Payton had a one-year stint as an Illinois assistant in 1996.
Here's the full lineup of Big Ten links to Super Bowl XLIV, courtesy of the league office:
INDIANAPOLIS COLTS
Players
Kelvin Hayden
, DB, Illinois
Dallas Clark
, TE, Iowa
Bob Sanders
*, DB, Iowa
Mike Hart
, RB, Michigan
Marlin Jackson
*, DB, Michigan
Ervin Baldwin
, DE, Michigan State
John Gill
, DL, Northwestern
Anthony Gonzalez
*, WR, Ohio State
Curtis Painter
, QB, Purdue
Jim Sorgi
*, QB, Wisconsin
Coaches
Jim Caldwell, Head Coach (Played at Iowa from 1973-76; Assistant at Iowa in 1977, Northwestern in 1981 and Penn State from 1986-92)
Larry Coyer, Defensive Coordinator (Assistant at Iowa from 1974-77 and Ohio State from 1991-92)
Gene Huey, Running Backs (Assistant at Ohio State from 1988-91)
Tom Moore, Offensive Coordinator (Played at Iowa from 1957-60; Assistant at Iowa from 1961-62 and Minnesota from 1972-73 and 1975-76)
Ray Rychleski, Special Teams (Assistant at Penn State in 1991)
Bill Teerlinck, Defensive Assistant (Assistant at Indiana from 2003-04)
John Teerlinck, Defensive Line (Assistant at Illinois from 1980-82)
NEW ORLEANS SAINTS
Players
Pierre Thomas
, RB, Illinois
Tracy Porter
, CB, Indiana
Courtney Roby
, WR, Indiana
Adrian Arrington
, WR, Michigan
Jonathan Goodwin
, C, Michigan
Zach Strief
, OT, Northwestern
Malcolm Jenkins
, CB, Ohio State
Will Smith
, DE, Ohio State
Drew Brees
, QB, Purdue
Jonathan Casillas
, LB, Wisconsin
Coaches
Sean Payton, Head Coach (Assistant at Illinois in 1996)
Greg McMahon, Special Teams (Assistant at Minnesota from 1983-84 and Illinois from 1992-2004)
Bret Ingalls, Running Backs (Assistant at Northwestern from 2006-08)
Aaron Kromer, Offensive Line/Running Game (Assistant at Northwestern from 1999-2000)
Mike Mallory, Assistant Special Teams (Played at Michigan from 1982-85; Assistant at Indiana from 1986-87 and Illinois from 2001-05)
Terry Malone, Tight Ends (Assistant at Michigan from 1997-2005)
*-Injured reserve