Big Ten:

PSU 2012 week 1 prep
August, 31, 2012
8/31/12
1:24
PM ET
Editor's note: Ivan Maisel has the latest from Penn State as the Nittany Lions prepare for their season opener versus Ohio.
STATE COLLEGE, Pa. -- In the staff meeting on the day before the season opener, Penn State head coach Bill O'Brien went around the table, coach by coach, to discuss the Nittany Lions' freshmen. The topic: to redshirt or not to redshirt.
There is the obvious reason for having the discussion -- once a freshman enters a game, that year of eligibility is used. At Penn State, with the NCAA sanctions limiting the team to 65 scholarship players beginning next season, roster management is never far below the surface.
But the coaches also must deal with the expectations of a freshman and his family. O'Brien conducted the discussion in part so that every coach would know the status of every freshman. Parents have been known to call, sometimes with ideas that differ from the plans of the coaches.

"They want to play," wide receiver coach Stan Hixon said. "They
think
they want to play. Then they get out there."
When O'Brien came around the table to Hixon, the head coach said, "
Trevor Williams
is going to play. I told
Malik Golden
we're going to redshirt him. We're trying to redshirt Geno Lewis."
Hixon: "I talked to his Dad yesterday."
O'Brien: "What is he thinking?"
Hixon: He's fine. He said, 'Coach, whatever you think is best.'"
Here was the discussion regarding safety
Jordan Lucas
, a 6-foot-0, 188-pound first-year player from New Rochelle, N.Y.
"Lucas will play only on special teams," secondary coach John Butler said.
"He will not redshirt?" O'Brien asked.
"He will not redshirt and he will not play [defense]," Butler replied. Then, to clarify, he said, "He's not in the game plan."
There's a distinction there. Any plan to redshirt a freshman will remain in effect only as long as the players ahead of him remain healthy. Injuries will rip a redshirt off a freshman in the blink of a play. O'Brien wants to redshirt the linemen on both sides of the ball. He doesn't want to use quarterback
Steven Bench
. But that's a luxury in which he can indulge only if starter Matt McGloin remains healthy and productive.
"I tell my guys, 'we're not planning on playing you,'" Hixon said, "'but be ready. Just in case.'"
And sometimes, in the heat of the sideline moment, even the best coach will move to send a freshman in without thinking. College Football Hall of Fame wide receiver Ken Margerum of Stanford got sent into the last game of the 1977 season. The coach who made that decision? Bill Walsh.
Walsh may have won three Super Bowls, but that's not a road that Hixon wants to go down. He said he always tells his freshmen receivers, "If I say go in, say, 'Are you sure, Coach?'"
August, 30, 2012
8/30/12
9:16
PM ET
Editor's note: Ivan Maisel has the latest from Penn State as the Nittany Lions prepare for their season opener versus Ohio.
STATE COLLEGE, Pa. -- As the Penn State coaching staff prepares the Nittany Lions in the first game week that they have spent together, there has been one constant. The offensive coaching staff has liked the work of fifth-year senior quarterback
Matt McGloin
.
"That's a good read!" head coach Bill O'Brien has said more than once as the offensive staff has watched practice video.
O'Brien admires McGloin's grit. "He's got a lot of Scranton (Pa.) in him," the head coach said Monday. O'Brien likes that McGloin won't back down in quarterback meetings. Words, you might say, have been exchanged.
[+] Enlarge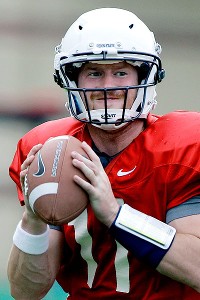 AP Photo/Gene J. PuskarPenn State's coaches see QB Matt McGloin as a good fit in their new offense -- and the fifth-year senior "couldn't be happier."
But what the coaching staff really likes is the way that McGloin has taken to the offense that O'Brien brought with him from the New England Patriots. It is to the previous Penn State offense what trigonometry is to multiplication. And McGloin loves it.
"I couldn't be happier," McGloin said. "I couldn't be more lucky to have this happen in my fifth year."
McGloin is listed at 6-foot-1, 199 pounds. He looks undersized for the modern FBS quarterback. But from the neck up, McGloin fits this offense and its intricacies.
"McGloin has flourished because he's sharp mentally and he's fast mentally," quarterbacks coach Charlie Fisher said. "That's why [Jay] Cutler flourished for us at Vandy [Fisher coached at Vanderbilt from 2002 to '10]. … Knowledge is power. McGloin's brain is speeding up and the game is slowing down. You can watch how fast the ball is coming out of his hand. Put in a tape from the first day of spring, you could tell the difference."
McGloin compared learning the offense to learning a foreign language. Rosetta Stone couldn't help him learn like the diplomats. He just had to dive into it the old-fashioned way -- video and repetition.
"You're at the point where you think, 'Am I ever going to learn this? When are things going to start clicking?'" McGloin said. "Toward the end of spring ball, you feel yourself getting better and better at it. You get comfortable with the terminology all throughout the summer. When camp starts and it starts clicking, it's a good feeling. You feel like you can do so much to help out your team."
He feels fluent in the language. Where the Penn State offense is the native tongue -- and that might be only in State College, Pa., and Foxborough, Mass. -- McGloin believes he could be a local.
"I think I'm very comfortable about being over there," he said, laughing. "I think I could live there for a while."
August, 29, 2012
8/29/12
9:47
PM ET
Editor's note: Ivan Maisel has the latest from Penn State as the Nittany Lions prepare for their season opener versus Ohio.
STATE COLLEGE, Pa. -- The Penn State football team began arriving at its warehouse-sized training facility at 6 a.m. Wednesday. The players came in 30-minute waves, although strength coach Craig Fitzgerald affords the seniors the luxury of sleeping in until 10 a.m.
Shortly after 7 a.m., a slight woman wearing coaching gear slipped in the front door to watch the Nittany Lions work. For the second time in three days, Erica Walsh, coach of the No. 9 Penn State women's soccer team, and one of her assistants, Joel Bancroft, wanted to see how the football team works.
Walsh is in her 10th season as a collegiate head coach, her sixth at Penn State. She has won nearly two-thirds of her games (122-61-8, .660) and taken eight teams to the NCAA tournament. She has been an assistant coach on both the U.S. Olympic team (2008) and the U.S. World Cup team (2011). Yet she leapt at the opportunity to see how newbie head coach Bill O'Brien conducts his program.
[+] Enlarge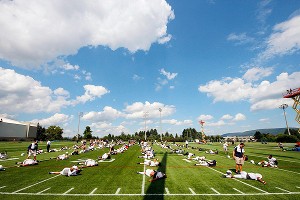 AP Photo/Gene J. Puskar"There's obviously a clear direction and a sense of urgency," Penn State women's soccer coach Erica Walsh said of Bill O'Brien's practices.
Walsh and Bancroft attended practice Monday afternoon, despite being in the middle of their own season. The women's soccer team is 3-1 this season. Walsh couldn't have enjoyed watching it more had she been an NFL scout.
"Everything they do, they do with energy," she said. "There's obviously a clear direction and a sense of urgency. Coaches talk, and players listen. They are doing things the way they should be done. That's not always easy at the college level. They're still 19 [years old]. The injured players are still [attacking] their workouts. You notice how pissed off the players get at themselves. When they don't do it right, the pursuit of excellence is still there."
On Wednesday morning, Fitzgerald, with whom Walsh worked at Harvard in 2006, gave the soccer coaches a quick rundown on the Wednesday workout -- a light 90-minute workout, if there is such a thing.
"They should feel better when they walk out of here," Fitzgerald told them. "This should not be too heavy so that they feel [badly] when they leave."
The soccer coaches had less interest in how Fitzgerald put the workout together. They just wanted to watch the players work.
"Honestly, we wanted to see culture more than anything," Bancroft said. "We feel we're in a pretty good spot in regards to talent, as compared to the other top 10 or 15 programs. ... It's the little things. When you have people over here putting the time in, we want to learn from everyone that we can. And we want to look at how they're training, the equipment."
The soccer coaches' eyes lit up at the football program's plyo boxes. In most gyms, a plyo box is a simple wooden box. Athletes jump onto it as a lower-body exercise. A tired jumper will slam his or her shins into the edge of the box. The football team's plyo boxes are coated in rubber.
"Little things like that really make the difference," Bancroft said.
The Penn State soccer program already has received a significant boost from the football program. When Fitzgerald came in this past January and ordered all new training equipment, some of the old equipment found its way to the soccer program's training facility.
August, 28, 2012
8/28/12
10:21
PM ET
Editor's note: Ivan Maisel has the latest from Penn State as the Nittany Lions prepare for their season opener versus Ohio.
STATE COLLEGE, Pa. -- It took nearly the entire two-hour practice for the Penn State offense to get on head coach Bill O'Brien's good side Tuesday.
Midway through the practice, O'Brien huddled up the entire team and said, "No. 1 is we got to pick this up, especially on offense. We've got to pick this practice up."
He never got to No. 2. He sent them back out on the field.
O'Brien bellowed. He yelled. He demanded. "I'm not talking about
wanting
to be good! I'm talking about doing something!" he said.
He made the offense repeat a practice period, and only at the end, when fifth-year starter
Matt McGloin
moved the starters smartly down the field, did O'Brien see what he wanted to see.
Just like that, practice ended.
[+] Enlarge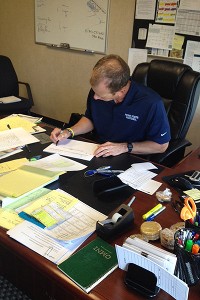 Ivan Maisel, ESPN.com Penn State quarterbacks coach Charlie Fisher writes out playcards.
"If you want to be good," he told his team, "you have to shut up and practice, practice like you did at the end right there. You've got to string drives together. String plays together."
Tuesdays are often the ugliest day of a football week. Game plans are installed. Players are trying to transfer what they saw on video and heard in the meeting room onto the football field. On Tuesday morning, quarterbacks coach Charlie Fisher printed screen grabs off video of the Ohio defense to prepare his quarterbacks.
"In the pros, you can take these pictures during the game and look at them on the sideline," Fisher said. "In colleges, you can't take a picture. I'm trying to give them a visual."
He also "wrote play cards," coachspeak for the X's-and-O's diagrams that players have studied in three-ring playbooks since the dawn of college football time. Fisher drew the offense in with a blue Sharpie, then handed it to graduate assistant Bartley Webb, who diagrammed the defensive look with a black Sharpie.
"I wish I had a dime for every card I've drawn," said Fisher, a coach for 31 years. "You keep everything. Coaches are like pack rats. We're afraid to throw away anything: playbooks, notes, game plans from 1995."
After practice, after the cold pool and the hot tub, ice pack in place, McGloin said, "All that stuff Coach Fisher does, the pictures he gives us, some tips he writes down after every practice, but just going back to the basics and watching film. That's the main thing. You've got to watch as much film as you possibly can to see what they're doing on third-and-5, what they do the most on first-and-10."
McGloin said the offense will be prepared for Saturday, Tuesday's tumult notwithstanding. Penn State will start seven seniors on defense. McGloin is one of four fifth-year seniors on offense. After them, the experience level drops pretty fast.
"He just wants to see us practicing fast," McGloin said of O'Brien, "doing the right thing, me making the right checks, running the routes right, lining up right. It's the little things that irritate him. If you throw an interception, throw a bad ball, he's not going to get mad. He's going to get mad if you make a wrong read or you don't check to this play or that play. We ended on a good note. Hopefully it will carry over to tomorrow. We're trying to do some new stuff out there."
Once upon a time, linebackers coach Ron Vanderlinden said, "We used to call it Bloody Tuesday." Wednesdays are for correcting mistakes -- cleaning up the blood -- and Thursdays are for polishing. If you're still correcting mistakes on Friday, you're going to keep making make them on Saturday.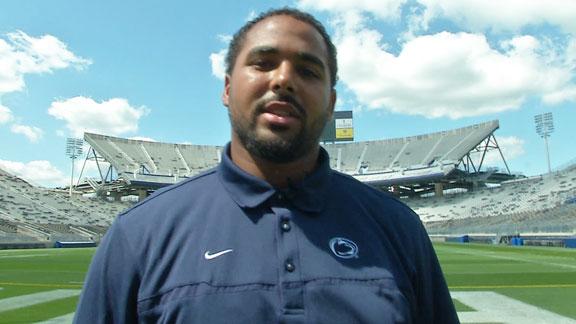 August, 27, 2012
8/27/12
11:07
PM ET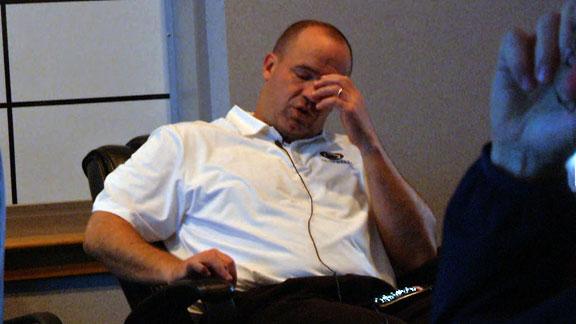 Editor's note: Ivan Maisel has the latest from Penn State as the Nittany Lions prepare for their season opener versus Ohio.
STATE COLLEGE, Pa. -- Shortly after 1 p.m. Monday, defensive coordinator Ted Roof conferred with head coach Bill O'Brien to change the game plan and put the Nittany Lions in shoulder pads for practice Monday. Roof wanted his defense to get some short-yardage and goal-line work as Penn State prepares to open the season against Ohio.
It's unusual to hit on Monday. But as Roof explained, "I don't know what normal is. This is the first one."
Lost in the discussion of everything else that has surrounded Penn State over the Past nine months is the actual transition of a new staff learning to work together. Football is a notoriously who-you-know business, and O'Brien, like most head coaches, called his guys together to come work for him at Penn State. Tight ends coach John Strollo came from Ball State. He and running backs coach Charles London worked with O'Brien for Roof at Duke.
"When he went to the Patriots," Strollo said of O'Brien, "I kept calling him and bugging him. 'Don't forget about me.'"
In the offensive staff meeting, you could tell the coaches had a history. O'Brien, receivers coach Stan Hixon and offensive line coach Mac McWhorter worked together at Georgia Tech. They interjected anecdotes from their days under offensive coordinator Ralph Friedgen. Though the staff sat at a long oval table, O'Brien ran the meeting from the corner of the room. He sat at a desktop computer to work the video he had assembled of the Ohio defense.
Roof had never worked with defensive line coach Larry Johnson or linebackers coach Ron Vanderlinden, the two assistants whom O'Brien hired from Joe Paterno's staff.
"One of the reasons that I hired Ted," O'Brien said, "is his ability to get along with people."
Roof, like quarterback coach Charlie Fisher, has an accent that you could pour over waffles (for extra thick, listen to McWhorter). He made sure that he, Johnson, Vanderlinden and secondary coach John Butler learned how to work together.
"We've had three dry runs with headsets, sidelines, to rehearse the whole thing," Roof said. "Who's going to make the call, who's responsible for signing it in, who's going to be quiet when they're making a call. They are good guys and good coaches. As long as we're on the same page, we'll be fine. It's my job to tie it all together."
As for practice in shoulder pads, O'Brien liked what he saw. He liked the focus -- perhaps because, for the first time all season, he turned off the music at practice. He liked enough of what he saw that he cut it 20 minutes short.
"I don't know much about what I'm doing," he said afterward, "but I sensed that they had given really good effort to that point. A lot of the things we cut we're going to get to later in the week. It's the first day of school. Some of them have to eat and get to study hall by 7:30."
As study hall began, the offensive staff began a meeting to watch the practice video.