June, 26, 2014
Jun 26
9:00
AM ET
It goes against the offensive lineman's credo to crave attention. Despite his size, he would rather go undetected, often a strong indicator that he's doing his job well.
Indiana's offensive linemen are no exception. They don't seek out the spotlight. But it's time to recognize what they've been doing the past few years, because few seem to notice.
[+] Enlarge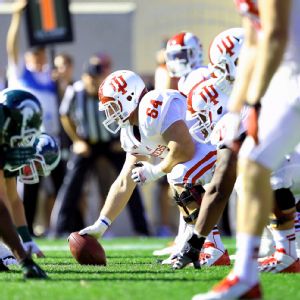 Mike Carter/USA TODAY SportsIndiana's offensive line has quietly become one of the premier units in the Big Ten.
Let's be as clear as possible: Indiana's offensive line is the most underrated unit in the Big Ten.
You might disagree, but I doubt you've actually paid attention to Indiana's line. Maybe because it's Indiana. Maybe it's because the Hoosiers run an up-tempo spread offense rather than a traditional, road-grading one that typically shines a brighter light on the five men up front. Whatever the reason, the Hoosiers line rarely gets much love.
But it's a huge reason why Indiana has had the Big Ten's No. 2 offense in each of the past two seasons. Despite two true freshman starters in 2012, Indiana led the Big Ten in fewest sacks allowed: one for every 31.8 pass attempts. Last season, the line overcame several major injuries -- IU started nine linemen and used seven different lineups -- and prevented sacks in six games. The offense averaged more than 300 pass yards and more than 200 rush yards for the first time in team history.
"When I came in with Coach [Kevin] Wilson, both of us having an offensive line background, we wanted to build a unit that has great flexibility, the ability to run the ball," Hoosiers offensive line coach Greg Frey told ESPN.com "Our goal, as it is with any offensive line, is to control the game. We're going to pick up that third-and-1. If you need more time to throw, we're going to give you more time."
Strong offensive lines are normally stocked with veterans, but Indiana has excelled with youth. Five Hoosiers linemen have earned freshman All-Big Ten honors since 2011, including two in each of the past two seasons. Tackle
Jason Spriggs
and guard
Dan Feeney
both earned freshman All-America honors in 2012, when they set team freshman records by starting all 12 games.
Indiana lost Feeney to a foot injury days before the 2013 season and lost two other starters,
Peyton Eckert
and
David Kaminski
, to season-ending injuries in October. But others stepped up, players such as
Collin Rahrig
, a former walk-on who started 10 games at center, earning honorable mention All-Big Ten honors.
Ralston Evans
, who suffered a major knee injury before the 2011 season and appeared in only one game in 2012, started all 12 games at right tackle last season.
"When we were at Michigan, coaches came up and said, 'Who the hell is this right tackle you've got?'" Frey said. "I said, 'Don't tell me. Tell him he did a good job.' These guys work hard. There's a good culture there."
Indiana returns 130 career offensive line starts
, most in the Big Ten and third most in the FBS behind Appalachian State and UTSA. Frey, who previously coached lines at Michigan, West Virginia and South Florida, thinks this could be his deepest group.
It's a close group, too, one that spends a lot of time together off of the field. If a Bloomington restaurant offers a food special, the Hoosiers' linemen are quick to find it.
Frey doesn't change his expectations for the line in 2014. They've always been high.
"The ability to be a leader or a presence on the team, that part of it changes," he said. "There's some credentials there, a little bit of background, some personal expectations.
"We have more voices there who are respected."
But will the group gain respect? It will take more than yards and points.
"They realize the more you're winning in college football, the more people know about you," Frey said. "Not that it matters in the grand scheme of things, but you'd like to see the fruits of their labor be recognized. Everybody likes to be recognized a little bit.
"Hopefully as we go on, that will naturally happen."
Indiana's offensive line tops my list of the Big Ten's most underrated position groups. Here are four others ...

Minnesota's secondary:
Jay Sawvel does an excellent job with Minnesota's back four. Fourth-round draft pick Brock Vereen will be tough to replace, but safety
Cedric Thompson
had a good spring and
Eric Murray
could become an elite cornerback this season.
Derrick Wells
adds a playmaking presence at corner and
Briean Boddy-Calhoun
, who opened last season as a starting cornerback, returns from injury.

Penn State's running backs:
Quarterback
Christian Hackenberg
grabs the headlines and justifiably so, but he'll need help in the backfield from a talented group of ball-carriers. How many people know
Zach Zwinak
has nearly 2,000 career rush yards?
Bill Belton
had an excellent spring and could be the offense's top playmaker, and junior
Akeel Lynch
has a nice speed-power mix.

Northwestern's receivers/tight ends:
I've stumped for this group and while it hasn't quite blossomed, a two-quarterback system and a shift from a pass-heavy attack didn't help. Northwestern should be much more pass-heavy with
Trevor Siemian
as its sole signal caller.
Christian Jones
and
Tony Jones
are proven veterans, Rutgers transfer Myles Shuler fills a void in the slot and
Kyle Prater
is finally healthy. Tight end
Dan Vitale
is poised for a breakout season.

Maryland's linebackers:
The Terps return three of four starters who combined for 233 tackles last season.
Cole Farrand
is a strong leader, and
Matt Robinson
provides a spark on the outside. Maryland will miss the disruptive Marcus Whitfield but returns five of its top six linebackers from 2013. If the group stays healthy -- a big if given Maryland's recent misfortune -- it could be very good.
July, 3, 2013
7/03/13
2:00
PM ET
Like most true freshman, Indiana offensive tackle
Jason Spriggs
entered his first preseason camp with measured expectations.
"I thought I was going to be redshirted," Spriggs told ESPN.com, "just like all the other freshmen."
It was a reasonable assumption, but one that in recent years often has proven incorrect at Indiana. The Hoosiers in 2011 played 32 freshmen (16 true, 16 redshirt), the most in the FBS. Last season, they played 11 true freshmen and five redshirt freshmen. IU had just eight seniors on its 2012 roster, tied for the fewest in the country.
Offensive line typically is the position group where freshmen are least likely to see the field. Most come to college lacking the physical development to stand their ground against Big Ten defense.
But Indiana's offensive line hasn't been immune from the youth movement. The Hoosiers play fast on offense, and their linemen grow up fast, too.
Spriggs started all 12 games last season, setting a team freshman record. But he didn't reach the milestone by himself: fellow true freshman
Dan Feeney
also started every game at right guard.
The Hoosiers opened the season with two true freshmen (Spriggs and Feeney) and two true sophomores (
Bernard Taylor
and
Peyton Eckert
) on their starting offensive line, flanking fifth-year senior center Will Matte. Both Taylor and Eckert had cracked the starting lineup in the third week of their freshman year in 2011. When Taylor went down with an injury midway through last season, he was replaced by a redshirt sophomore (
Collin Rahrig
) who had made eight starts as a redshirt freshman.
"Getting in the mix early on takes away a lot of the nervousness and the worry of thinking about what it's like," Spriggs said.
Indiana's line remains one of the Big Ten's youngest. But because of the fast-tracking, the Hoosiers are among the league's most experienced groups. They also could be one of the best.
"We're striving to be the No. 1 O-line in the Big Ten," Spriggs said. "And I think that's actually going to happen this year."
Indiana wasn't far off in 2012, despite its youth. The Hoosiers finished second in the Big Ten in total sacks allowed (17). When pass attempts were factored in, IU led the Big Ten, surrendering one sack every 31.8 pass attempts. Indiana led the league in passing by a wide margin, and the line recorded five games with no sacks allowed and two others with just one sack allowed.
Although Matte departs, Indiana brings back its other four starting linemen as well as two others with starting experience.
"We have everybody returning," Spriggs said, "and I feel like the trust is a lot better than last year. Last year, we had me and Feeney and the rest of the freshmen coming in, nobody really knew where we stood. During the season, I was still learning everything, flying by the seat of my pants.
"Now everybody's been in the same room for at least a year, so that's going to help out a lot."
Spriggs got his opportunity when projected starting tackle Charlie Chapman
sustained a concussion in camp
. Feeney simply outplayed the competition into a top spot at the end of camp.
The 6-foot-4, 305-pound Feeney didn't surrender a sack all season, while the 6-7, 280-pound Spriggs led Indiana with 80 knockdowns. Both earned honorable mention All-Big Ten honors and made several all-freshman teams, including
ESPN.com's
.
"It was pretty crazy, playing against people so big and knowing the Big Ten is known for having such big, talented linemen," Feeney said. "I definitely had to adjust to the size of people and the speed. But I felt like I transitioned well."
Taylor came to Indiana targeting a starting job early in his career. But he also was realistic about his development.
"When I got here, I felt like I wasn't ready," he said. "But when coach throws you in there, you're not going to say no. You've just got to step it up and do it. I was in the same boat as Jason. I ended up getting thrown in there.
"But we've all grown together because we're with each other every day."
The linemen are together on the practice field, in the weight room and even away from Memorial Stadium. Feeney lives with Eckert and center
Jake Reed
, Taylor lives with tackle
Ralston Evans
and Spriggs lives with center
Wes Rogers
and tackle
Jacob Bailey
. Spriggs and Feeney roomed together last year.
"When you're with somebody that long," Spriggs said, "working and striving to get better, you start trusting everybody."
Matte is the lone starter lost from an offense that finished second in the Big Ten in yards and put up 49 points against Ohio State, the most the Buckeyes had allowed since 1994. The Hoosiers boast three experienced quarterbacks as
Tre Roberson
returns to the mix, as well as arguably the Big Ten's top receiving corps.
IU's linemen prioritized the run game this spring, as the team finished 10th in the Big Ten in rush yards (1,570) and last in attempts (399). If the Hoosiers achieve better balance, stay a step ahead of defenses and more effectively translate all those yards into points, their goal of becoming the Big Ten's best line could come true.
"We talk about that all the time," Taylor said. "It's our No. 1 agenda."
April, 18, 2011
4/18/11
4:30
PM ET
Indiana wraps up spring ball Tuesday, but the team held its annual spring game Saturday at Memorial Stadium. The team split into two squads, Indiana and Hoosiers, and Hoosiers prevailed 27-24 following a late touchdown strike from
Adam Follett
to
Leneil Himes
.
Here's a snapshot of Indiana's spring game:

Game coverage:
Here
and
here
and
here
and
here
.
Quotable:
"The quarterbacks look good when the guys around them make them look good. They look good when the protection is good, when the guys run the right routes, that kind of thing. But they're all four capable quarterbacks. And they're all in the mix." -- coach Kevin Wilson
Highlights
Wilson has made it clear that the starting quarterback job will need to be earned over time, so there isn't an answer there after the spring game. Kiel led a 75-yard drive early in the game and capped it with a 28-yard touchdown pass to Kofi Hughes, who has had an excellent spring. Kiel also completed a 52-yards pass to Duwyce Wilson and a 12-yard touchdown pass to Damarlo Belcher, and led scoring drives of 93 and 68 yards. Edward Wright-Baker tossed a 41-yard touchdown to Dre Muhammad in the first quarter. Kiel completed 14 of 27 passes for 196 yards with two touchdowns and two interceptions in the game, while Wright-Baker hit on 8 of 10 passes for 82 yards and a score. Follett went 6-for-9 for 74 yards, and Teddy Schell went 2-for-7 with a 13-yard rushing touchdown. I give Kiel a slight edge right now, but there's a long way to go.
Indiana needs more playmakers on defense, and it might have found some at the cornerback position. Greg Heban, who came on strong at the end of last season, broke up two Kiel passes early on and then made a diving interception. Sophomore Lawrence Barnett had a pick-six off of a deflected pass and also recorded a pass breakup. "He's had a productive spring for us," co-defensive coordinator Doug Mallory told The Fort Wayne Journal Gazette.
Very few starting positions are safe right now, and the offensive line is one area that likely will feature several young players in key roles. Redshirt freshman Cody Evers worked as the first-team right guard Saturday and Ralston Evans, an early enrollee, was the first-team left guard. "I don't think they've been here long enough to know how to play soft yet," Wilson said. "They actually play hard. We're just rewarding those guys for playing hard."