July, 26, 2011
7/26/11
2:00
PM ET
The wait is finally over for Big Ten players not selected in April's NFL draft.
Free agent deals are finally taking place during a whirlwind week in the post-lockout NFL.
We'll have
additional updates
as the day goes on, but here's a look at where Big Ten players are landing.
ILLINOIS
CB Travon Bellamy, St. Louis Rams
WR Jarred Fayson: New Orleans Saints
G Randall Hunt: St. Louis Rams
DE Clay Nurse: New England Patriots
INDIANA
QB Ben Chappell: Washington Redskins
WR Terrance Turner: Philadelphia Eagles
IOWA
P Ryan Donahue: Detroit Lions
LB Jeremiah Hunter: New Orleans Saints
TE Allen Reisner: Minnesota Vikings
LB Jeff Tarpinian: New England Patriots
MICHIGAN
T Perry Dorrestein: New York Jets
CB James Rogers: Denver Broncos
TE Martell Webb: Philadelphia Eagles
MICHIGAN STATE
WR Mark Dell: Denver Broncos
LB Eric Gordon: Jacksonville Jaguars
T D.J. Young: Arizona Cardinals
MINNESOTA
T Dom Alford: Cleveland Browns
FB Jon Hoese: Green Bay Packers
QB Adam Weber: Denver Broncos
NEBRASKA
K Adi Kunalic: Carolina Panthers
TE Mike McNeill: Indianapolis Colts
DE Pierre Allen: Seattle Seahawks
G Ricky Henry: Chicago Bears
T D.J. Jones: Miami Dolphins
S Rickey Thenarse: Seattle Seahawks
NORTHWESTERN
DT Corbin Bryant: Chicago Bears
LB Quentin Davie: Detroit Lions
OHIO STATE
G Bryant Browning: St. Louis Rams
G Justin Boren: Baltimore Ravens
RB Brandon Saine: Green Bay Packers
WR Dane Sanzenbacher: Chicago Bears
DT Dexter Larimore: New Orleans Saints
CB Devon Torrence: Minnesota Vikings
PENN STATE
WR Brett Brackett: Miami Dolphins
LB Chris Colasanti: Indianapolis Colts
LB Bani Gbadyu: Oakland Raiders
DT Ollie Ogbu: Indianapolis Colts
PURDUE
TE Kyle Adams: Chicago Bears
WR Keith Smith: Detroit Lions
WISCONSIN
CB Niles Brinkley: Pittsburgh Steelers
RB John Clay: Pittsburgh Steelers
QB Scott Tolzien: San Diego Chargers
April, 28, 2011
4/28/11
9:00
AM ET
During my
Big Ten chat
Wednesday,
Dan from B1G Country
asked about any NFL draft bargains from the conference this year.
With the draft set to begin Thursday night, I thought this would be a good time to look at some Big Ten players who might benefit teams in the middle or later rounds, or even as free-agent pickups.
Here's one potential bargain from each Big Ten squad (heights and weights according to ESPN's Scouts Inc.).
ILLINOIS
Randall Hunt
, G, 6-6, 318
The skinny:
Hunt anchored a formidable Illinois offensive line that helped
Mikel Leshoure
and others run wild in 2010. He shut down Baylor's
Phil Taylor
in the Texas Bowl and brings a sturdy frame to the interior line. Hunt wouldn't be a bad choice in the later rounds.
INDIANA
James Brewer
, T, 6-6, 323
The skinny:
I'm hesitant to call Brewer a bargain because he could be off the board early in the draft. Indiana had another tackle, Rodger Saffold, taken with the first pick of the second round in 2010. Brewer has the size to be good at the next level, and if he's still available on the third day, he'd be a nice pick.
IOWA
Derrell Johnson-Koulianos
, WR, 5-11, 202
The skinny:
The character questions are there, but DJK was an extremely productive player at Iowa and could be a nice late-round addition for a team. He's a strong route runner with good speed and good hands, and he can stretch defenses. If a team is willing to take a bit of a risk, it could be rewarded.
MICHIGAN
Stephen Schilling, G, 6-4, 308
The skinny:
Schilling played a ton of football at Michigan and helped the Wolverines to a record-setting offensive performance in 2010. His measurables might not blow teams away, but he's a smart, solid lineman who could be a nice addition in the middle to later rounds.
MICHIGAN STATE
Eric Gordon
, LB/S, 5-11, 224
The skinny:
Overshadowed by fellow linebacker
Greg Jones
for much of his career, Gordon quietly produced at an extremely high rate for Michigan State. You could argue he was the Spartans' best linebacker during the second half of the 2010 season. Gordon turned in an impressive performance on pro day and would be a nice pickup late in the draft or as a free agent.
MINNESOTA
Adam Weber
, QB, 6-3, 221
The skinny:
Some Gophers fans might scoff at this, but I always felt Weber got a raw deal during his college career. He played for three different offensive coordinators, never complained about it and still set a bunch of team records. While his junior season was a disappointment, Weber did some good things last fall and drew respect around the Big Ten. Not a bad pick in the later rounds.
NEBRASKA
Eric Hagg
, S, 6-1, 209
The skinny:
Hagg is a playmaker, as he showed with a team-high five interceptions plus a school-record 95-yard punt return for a touchdown against Texas. He also brings versatility to the table, having played a safety-linebacker hybrid role last fall for the Blackshirts. Hagg has played on an elite college defense and would be a good get in the middle to late rounds.
NORTHWESTERN
Quentin Davie
, LB, 6-4, 238
The skinny:
Davie entered the 2010 season as a solid NFL prospect and started off strong but disappeared at times down the stretch. He made big plays throughout his career and boasts good size as an outside linebacker. Davie could help a team as a late-round or free-agent addition if he gets back to his 2009 form.
OHIO STATE
Dane Sanzenbacher
, WR, 5-11, 182
The skinny:
If I were an NFL general manager, I wouldn't hesitate to draft Sanzenbacher. He lacks ideal measurables but makes up for it with football intelligence and a fearless approach to the game. Sanzenbacher has great hands and became Ohio State's top threat in the red zone this season. He stood out at the Senior Bowl and would be an excellent pick in the middle rounds.
PENN STATE
Evan Royster
, RB, 5-11, 212
The skinny:
Royster is a patient runner with good vision who could thrive in the right situation at the pro level. His slow start to the 2010 season is a concern, but he picked things up down the stretch and boasts a productive college résumé. If a team needs a running back in the late rounds, Royster would be a nice choice.
PURDUE
Keith Smith
, WR, 6-2, 224
The skinny:
There's risk here as Smith comes off of tears in two knee ligaments, but a team could get a major steal if the Boilers receiver can stay healthy. He has the size to excel at the pro level and might have been the Big Ten's top receiver had he stayed on the field last season. Smith is a class act who has a chance to be a solid NFL receiver.
WISCONSIN
Scott Tolzien
, QB, 6-2, 209
The skinny:
He might never be a full-time starter in the NFL, but teams certainly can benefit from having Tolzien on the roster. He's an extremely smart player who makes up for mediocre measurables with superb intangibles. Tolzien is accurate and efficient, and he'll prepare harder than anyone. If a team needs a quarterback in the later rounds, Tolzien would be a great pick.
January, 24, 2011
1/24/11
9:00
AM ET
As promised, I wanted to catch you up on how the Big Ten draft hopefuls performed Saturday at the East-West Shrine Game in Orlando.
The East squad rolled to a
25-8 victory
against the West as its defense forced three first-half fumbles and recorded a safety. Several Big Ten players contributed to the East's dominant defensive performance, including Ohio State linebacker Brian Rolle, who forced a fumble on the first play from scrimmage.
Despite a
strong week of practice
, Wisconsin quarterback
Scott Tolzien
had a rough outing for the West team, completing 2 of 5 passes with a fumble that fellow Big Ten teammate Randall Hunt recovered in the end zone for a team safety.
As for some of the other Big Ten notables:
Penn State running back Evan Royster (EAST) had nine carries for 38 yards and a 4-yard touchdown run late in the first quarter
Indiana receiver Terrance Turner (EAST) recorded two receptions for 20 yards, while Purdue tight end Kyle Adams (EAST) had two catches for 13 yards
Iowa punter Ryan Donahue (EAST) averaged 38 yards on five punts, placing two inside the 20-yard line
Michigan State linebacker Eric Gordon (EAST) recorded four tackles
Ohio State's Rolle (EAST) had two tackles, a forced fumble and a pass breakup
Penn State defensive tackle Ollie Ogbu (EAST) recorded a sack and a quarterback hurry
Despite his touchdown run, Royster's stock dropped during the week, colleague
Todd McShay explains

. Donahue earns some praise in the
Shrine Game blog

, while our experts detail a tough afternoon for both Tolzien and Adams.
All in all, not the greatest performance for the Big Ten contingent.
The Senior Bowl is up next this week, and I'll have updates on how the Big Ten players perform in Mobile.
January, 14, 2011
1/14/11
11:00
AM ET
Let's put a bow on this year's Big Ten postseason by taking a look at the league's All-Bowl team.
OFFENSE
QB:
Terrelle Pryor
, Ohio State
Pryor won MVP honors in a BCS bowl for the second consecutive season as he led Ohio State to a victory in the Sugar Bowl. The junior maintained his focus after the suspension controversy and recorded 222 pass yards and two touchdowns to go along with 115 rush yards on 15 carries. Illinois'
Nathan Scheelhaase
merits a mention after a strong effort in the Texas Bowl.
RB:
Marcus Coker
, Iowa
The true freshman rushed for an Iowa bowl record 219 yards and two touchdowns as the Hawkeyes beat Missouri in the Insight Bowl. Coker was the team's only proven option at running back for the bowl, and he stepped up in a big way, averaging 6.6 yards per carry.
[+] Enlarge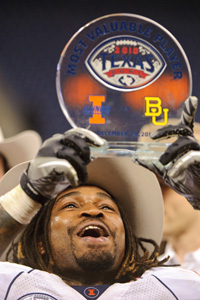 AP Photo/Dave EinselMikel Leshoure earned MVP honors in the Texas Bowl.
RB:
Mikel Leshoure
, Illinois
The Big Ten's best running back ended his season -- and, as it turned out, his college career -- in typical fashion, rushing for 184 yards and three touchdowns as Illinois blew out Baylor. Leshoure broke five team records and tied a sixth with his bowl performance, most notably breaking Rashard Mendenhall's single-season Illinois rushing record with 1,697 yards.
WR:
Dane Sanzenbacher
, Ohio State
Sanzenbacher caught three passes for 59 yards and a touchdown in the Sugar Bowl, but his biggest contribution came on the game's opening drive. After Pryor fumbled the ball near the goal line, Sanzenbacher swooped in for the recovery and his first career "rushing" touchdown. The Great Dane showed why he was voted Ohio State's team MVP.
WR:
Derek Moye
, Penn State
His quarterback threw too many passes to Florida defenders, but Moye did his part for Penn State with five receptions for 79 yards and a touchdown. He nearly had a second touchdown following a 44-yard reception but the ball was placed at the 1-yard line. Penn State scored on the next play to tie the score at 14-14.
TE:
Jake Stoneburner
, Ohio State
Ohio State featured its tight ends in a 28-point first half at the Sugar Bowl, and Stoneburner benefited with three receptions for 39 yards. Fellow tight end
Reid Fragel
added a 42-yard reception. Wisconsin's
Lance Kendricks
, Iowa's
Allen Reisner
and Michigan's
Kevin Koger
all merit mentions here.
OL:
Josh Koeppel, Iowa
Koeppel and fellow linemen James Ferentz and Markus Zusevics got Coker going early by creating a huge hole for the freshman early in the second quarter. Coker zipped through it for a 62-yard touchdown as Iowa surged out to a 14-3 lead.
OL:
Jeff Allen, Illinois
Allen helped the Illini rack up 38 points and 291 offensive yards in the rout of Baylor. He also protected Scheelhaase, who completed his first 13 pass attempts and finished the game 18-for-23 passing.
OL:
Gabe Carimi, Wisconsin
The Badgers didn't have the dominant offensive performance they envisioned against TCU, but they still rushed for 226 yards and two touchdowns. Carimi, the 2010 Outland Trophy winner, did his part in his final collegiate game.
OL:
Randall Hunt, Illinois
Hunt and Allen earned the highest grades from the Illini coaches after the team dominated Baylor in the Texas Bowl. Illinois mounted seven drives of 53 yards or longer, including two fourth-quarter touchdown drives that overpowered the Bears and put away the game.
C:
Mike Brewster, Ohio State
Ohio State physically dominated Arkansas up front in the first half, and Brewster led the way from the center position. He helped clear the way for Herron's walk-in 9-yard touchdown run late in the first quarter. Ohio State racked up 28 points and 338 yards in the first half and finished with 225 rush yards against Arkansas.
DEFENSE
DL:
Cameron Heyward, Ohio State
Heyward delivered the best performance of his college career in his final game as a Buckeye. The senior racked up 3.5 tackles for loss, a sack, two quarterback hurries and a pass breakup. He also caused a critical holding penalty by Arkansas midway through the fourth quarter.
DL:
Corey Liuget, Illlinois
Liuget showed Baylor why he was the Big Ten's most disruptive defensive tackle this season. The junior recorded 2.5 tackles for loss and a sack and caused a ton of trouble in the Bears' backfield.
DL:
Dexter Larimore, Ohio State
Heyward drew most of the praise in the Sugar Bowl, but Larimore caused almost as many problems for the Arkansas offensive line. The senior recorded six tackles, two sacks and a forced fumble as Ohio State held Arkansas' offense in check for a good portion of the game.
DL:
Devon Still, Penn State
Still set a career high with 3.5 tackles for loss in Penn State's Outback Bowl loss to Florida. He tied for second on the team with seven tackles as Penn State prevented Florida from mounting long scoring drives.
LB:
James Morris, Iowa
Like Coker, Morris raised hope for the Hawkeyes' future with a strong performance in the Insight Bowl. He recorded seven tackles, including one stop for loss, and showed more aggressiveness than some of his older teammates.
LB:
Quentin Davie, Northwestern
The TicketCity Bowl wasn't a banner day for Northwestern's defense, but Davie did his part with 15 tackles, including two tackles for loss. His tackles total marked a career high in his final collegiate game with the Wildcats.
LB:
Martez Wilson, Illinois
Wilson was a noticeable presence in what turned out to be his final game in an Illini uniform. Tez recorded seven tackles including one for loss in the win against Baylor.
DB:
Micah Hyde, Iowa
Hyde made the biggest play of the Big Ten bowl season, picking off a
Blaine Gabbert
pass and returning the ball 72 yards for the game-winning touchdown midway through the fourth quarter. Iowa appeared headed toward another second-half collapse before Hyde made Gabbert pay for his only bad decision of the game.
DB:
D'Anton Lynn, Penn State
Lynn made a huge impact at the start of the Outback Bowl, recording an interception and recovering a fumble in the Penn State end zone in the first 10 minutes of the game. He finished the season tied with Nick Sukay for the team lead in interceptions with three.
DB:
Terry Hawthorne, Illinois
The sophomore cornerback set career highs in both tackles (9) and tackles for loss (1.5) in the win against Baylor. Hawthorne made his first start of the season after battling a foot injury for much of the fall.
DB:
Devon Torrence, Ohio State
The Buckeyes' secondary once again needed a boost after losing a standout player to injury, and Torrence provided it. After All-Big Ten corner Chimdi Chekwa went out with a wrist injury, Torrence picked up the slack and recorded eight tackles, a tackle for loss, a forced fumble and a pass breakup.
SPECIAL TEAMS
K:
Derek Dimke, Illinois
Dimke showed why he's known as the Big Ten's steadiest kicker in the Texas Bowl, going 3-for-3 on field goal attempts from 28, 38 and 43 yards out. He became the first Illinois player to make more than one field goal in a bowl game and connected on multiple kicks for the ninth time in the 2010 season.
P:
Aaron Bates, Michigan State
Bates provided the lone bright spot for the Spartans in the Capital One Bowl, averaging 43.4 yards on seven attempts with a long of 55 yards and two punts placed inside the 20-yard line. Honorable mentions go to Illinois' Anthony Santella, Wisconsin's Brad Nortman and Iowa's Ryan Donahue.
KR:
Martavious Odoms
, Michigan
The fact that Odoms played in the Gator Bowl following a broken foot was pretty incredible, and unfortunately for Michigan, he got plenty of work on returns. Odoms racked up 163 kick return yards on seven attempts with a long runback of 43 yards. Honorable mentions go to Michigan State's
Bennie Fowler
, Iowa's Paul Chaney Jr. and Northwestern's
Venric Mark
.
August, 10, 2010
8/10/10
3:45
PM ET
Randall Hunt didn't stand a chance.
Although Hunt has played a ton of football for Illinois and will enter the fall as the team's starting strongside offensive guard, he didn't have luck on his side at practice Tuesday morning. As offensive and defensive players revved up for the always-anticipated Oklahoma drill, Hunt had a virtually impossible draw for his 1-on-1 matchup.
"I was going to make sure I won any battle," Fighting Illini linebacker Martez Wilson said, "whoever I go against."
[+] Enlarge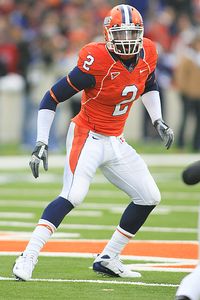 Chuck Rydlewski/Icon SMITo put it mildly, Martez Wilson is excited about his return to the football field.
Hunt was Wilson's first victim, as he won his Oklahoma drill matchup and took another step toward his first full-contact football action in nearly a year. Wilson, as you might recall, suffered a herniated disk in his neck in the 2009 opener against Missouri and underwent season-ending surgery weeks later.
Illinois' starting middle linebacker practiced this spring but was held out of some contact drills. After getting full medical clearance before camp, Wilson's wait to hit someone ends Saturday when Illinois holds its first scrimmage at its off-site training area in Rantoul, Ill.
Who will Wilson be targeting?
"Anyone who's got the ball," he said.
"I'm excited," Wilson continued. "Just being able to hit someone and have a whole different mentality, it feels good."
Wilson has had an interesting run at Camp Rantoul. As a highly touted recruit billed as the next Simeon Rice, he wasn't too fond of the no-frills, all-football setting about 20 minutes away from campus.
Last summer, Wilson
thrived in Rantoul
, displaying greater maturity and a more positive attitude as he claimed a leadership role. But his season never really got started.
"It's funny being back here again," he said, "but it's all for the better."
For the second straight year Illinois will look to Wilson to be the centerpiece of the defense. Wilson expects to blitz more in new coordinator Vic Koenning's system, and he's practicing much more zone coverage than he did a year ago.
But most of his assignments are the same.
"Every day, I'm learning new things for the defense," said Wilson, who recorded 69 tackles and three sacks as a sophomore in 2008. "I'm having less MAs [missed assignments] than last year. And I just feel comfortable. The defense doesn't allow you to think as much. The more I study the playbook and study film, the more it helps me on the field, so I like it a lot."
He'll like it even more Saturday, when he gets to tee off on a ball carrier again.
"It's been a long year," he said. "The fans get to see what I can do again, get to [judge] me. The coaches as well, and my teammates, and most importantly, myself.
"I can showcase my talent once again."
March, 31, 2009
3/31/09
3:42
PM ET
Posted by ESPN.com's Adam Rittenberg
Illinois did a lot of learning last fall, even if it didn't do a lot of winning.
"I learned an awful lot last year," head coach Ron Zook said Tuesday morning. "Our coaches learned an awful lot last year. More importantly, our players learned an awful lot last year."
Zook hopes the learning experience pays off for the Fighting Illini in spring practice, which opens this afternoon in Champaign. The team comes off an extremely disappointing 5-7 season, one that began with a top-20 ranking and tons of national buzz following a run to the Rose Bowl.
Illinois returns the Big Ten's most experienced quarterback (Juice Williams), its most NFL-ready wide receiver (Arrelious Benn) and talented players at other spots, but Zook doesn't take much for granted after last season, where the team won consecutive games only once. Team chemistry wasn't a strong suit for Illinois in 2008, but Zook already has seen major progress in that department.
"This is a team," he said. "These guys are all excited about the University of Illinois football program. ... We all learned an awful lot last year. We got away from what's important. We started worrying about winning instead of letting the wins and losses take care of themselves.
"They're excited about being type of team they know they can be."
Here are some other nuggets from Zook's pre-spring news conference.
March, 23, 2009
3/23/09
6:06
PM ET
Posted by ESPN.com's Adam Rittenberg
It seems like more and more teams are holding offseason competitions to maintain the intensity level during college football's dead period. Illinois recently held its strength and conditioning championship, which took place during eight early morning workout sessions.
Eight teams of players went through eight strength and conditioning stations, including the tire pull and shuttle run. Players went head to head in each competition. Check out video here. Some good stuff.
The team led by co-defensive coordinator Dan Disch won the competition, beating out defensive line coach Keith Gilmore's squad in the final. Safety Nate Bussey and tight end Michael Hoomanawanui finished the competition 8-0, while tackle Jon Asamoah went 7-1.
Disch's team featured Asamoah, Bussey, Randall Hunt, Antonio James, Eddie Viliunas, Evan Frierson, Mikel Leshoure, Jeff Cumberland and Mark Burgess.
September, 16, 2008
9/16/08
3:33
PM ET
Posted by ESPN.com's Adam Rittenberg
Some unfinished business from today's Big Ten coaches' teleconference, which thankfully had no prank callers.
SECONDARY IMPRESSES TILLER
The result wasn't what he wanted, but Purdue coach Joe Tiller had few complaints about a Boilermakers secondary that flustered Oregon for much of last Saturday's 32-26 loss in two overtimes. Purdue recorded two interceptions and five pass breakups in the game, as Oregon wasted three red-zone scoring chances.
"They played their best game they've played in maybe two or three years," Tiller said of the defensive backs.
Starting strong safety Frank Duong, who had a team-high 11 tackles in the game, will be back for Saturday's game with Central Michigan after rolling his right ankle against the Ducks. Duong, who was wearing a walking boot after the game, has led the Boilers in tackles in each of the first two contests.

"Our red-zone defense is something we want to focus on because in the past, we haven't been very good," Duong said. "It's just another stepping stone for us to become a better defense. [Oregon is] one of the best teams in the country, and we hung with them for four quarters into overtime. We'll be able to say we can hang with anybody. I think we'll be OK the rest of the way."
Tiller expects to get senior guard/center Jared Zwilling (ankle) back this week and tackle Sean Sester (back) should be able to play about 40 snaps against Central Michigan. Starting linebacker Jason Werner (back) and tight end Kyle Adams (knee) will miss Saturday's game.
OTHER INJURY UPDATES
Illinois wide receiver Jeff Cumberland returned to action against Louisiana-Lafayette but will benefit from the bye week to heal his injured foot, Illini coach Ron Zook said. Zook expects promising safety Donsay Hardeman (knee) to return next week at Penn State, and reserve offensive lineman Randall Hunt was 100 percent in Monday's practice after sitting out a week with an injury.
The bye week also should benefit Michigan's work-in-progress offensive line. Redshirt freshman guard Mark Huyge -- great name for a lineman -- will be back from an ankle injury and starting left tackle Mark Ortmann (elbow) could have a chance to play next week against No. 8 Wisconsin. Coach Rich Rodriguez praised Perry Dorrestein's play in his first start but added, "We need to have those guys healthy to have a viable competition next week."
PRAISE FOR YOUNG RUNNING BACKS
Last Saturday was a bit odd for Rodriguez. His team made a multitude of mistakes, many unforced, in a 35-17 loss to Notre Dame. But the game also provided some bright spots at quarterback and running back. Freshman Sam McGuffie had 131 rushing yards to go along with four catches for 47 yards and a touchdown.
Several coaches around the league took notice, including Wisconsin's Bret Bielema, whose team faces McGuffie and Michigan next week.
"He's a tremendous football player," Bielema said. "I've YouTubed him as well, as everybody else in the country has. He's got a lot of raw talent. ... It seems like he's a great effort guy and a very hard guy to defend."
Michigan State coach Mark Dantonio doesn't face Michigan until Oct. 25, but he saw McGuffie while preparing for Saturday's contest against Notre Dame (ABC, 3:30 p.m.).
"If you're watching the film and don't notice him, you're not watching the film," Dantonio said.
Another freshman runner stepped up as Minnesota's DeLeon Eskridge had 114 rushing yards and three touchdowns against Montana State. Eskridge moved several steps closer to claiming the starting spot that opened after Duane Bennett's season-ending knee injury.
"DeLeon has done a great job with his preparation," coach Tim Brewster said. "As harsh as this is, one man's misfortune is another man's opportunity. DeLeon did a great job."
TEMPLE WILL TEST LIONS
Not sure what this says about Oregon State and Syracuse, but Penn State coach Joe Paterno called Temple the best team the 16th-ranked Nittany Lions will face to this point in the season. Paterno is impressed by the job his former player, Al Golden, has done with the Owls, who come off two hard-luck losses to Connecticut and Buffalo.
"This is the best Temple team we've seen in a long time," Paterno said. "I have to go back to Wayne Hardin, when Wayne almost beat us in Philadelphia [in the late 1970s]. They're well coached. They line up properly. They hustle."
Paterno also declined to comment about suspended defensive linemen Maurice Evans and Abe Koroma, who aren't listed on this week's depth chart. "We'll let that situation develop and if there's something to say, we'll say it," Paterno said.
August, 13, 2008
8/13/08
5:46
PM ET
Posted by ESPN.com's Adam Rittenberg
RANTOUL, Ill. -- I rolled up to Camp Rantoul just as Illinois players finished stretching before Wednesday's morning practice. Though the team worked out in shorts, the workout had plenty of intensity -- and four-letter words from a geeked-up coaching staff.
Here's a closer look:
"He came back ahead of the game," Locksley said. "He's come in in awesome shape. Like most quarterbacks at this time, he's got a little bit of sore arm, so we're resting it up a little bit by limiting his throws. But mentally, he's right where we want him to be. The leadership part of it is there."
Backup quarterback Eddie McGee seemed to struggle Wednesday, particularly near the goal line. He threw an interception to sophomore safety Garrett Edwards. Then Ashante Williams stepped in front of a receiver to pick off a McGee pass in the end zone. "You can't make mistakes in the red zone like this, 10!" Locksley shouted. Williams also broke up a Juice Williams pass to Chris Duvalt, and cornerback Dere Hicks recorded an interception.
Illinois lost both starters at safety and rotated several players at both spots on Wednesday. Sophomore Travon Bellamy is the likeliest candidate to start, but Donsay Hardeman and Bo Flowers are also getting reps with the first-team defense.
The receivers could be better than many have forecasted, including yours truly. They'll create matchup problems with Jeff Cumberland, a 6-foot-5, 251-pound junior, and boast speed with both Duvalt and Chris James. Cumberland and James likely will start alongside Benn. Wilkins seemed to be getting a lot of work Wednesday. And look out for Alex Reavy, a sophomore walk-on who is working heavily with the second-team offense. True freshman Cordale Scott looks ready to play at 6-foot-3 and 208 pounds, and coach Ron Zook expects all the freshmen wideouts -- Scott, Jack Ramsey and A.J. Jenkins -- to play this fall in an accentuated passing attack. Ramsey and Scott also could be factors in the return game, as Illinois might want to rest star cornerback Vontae Davis as much as possible.
"Right now, they're swimming a bit," Zook said, "but once those guys get it down, which they will, it's got a chance to be a deep group, a very explosive group. That's exciting."
Running backs coach Reggie Mitchell had an animated exchange with fullback Rahkeem Smith after a carry during 7-on-7s. "Hey dog, how much you weigh?" Mitchell asked the 255-pound junior. "You go and run full steam."
Early in practice, pairs of reserve offensive linemen went through resistance training by attaching what looked like a bungee cord between them. Things were going well until Randall Hunt's cord came off the harness, nailing teammate Ryan Palmer just above the groin. Ouch.