January, 20, 2012
1/20/12
11:00
AM ET
Bret Bielema made a rapid rise up the college coaching ladder.
Big Ten position coach at 26 ... Big 12 co-defensive coordinator at 32 ... Big Ten defensive coordinator at 34 ... Big Ten head coach at 36.
[+] Enlarge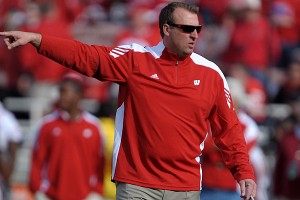 Kirby Lee/Image of Sport/US PresswireWisconsin coach Bret Bielema says he isn't upset after losing 11 assistants in the past three seasons.
Bielema's ambition helped put him on the fast track. And when he's hiring assistant coaches at Wisconsin, he wants to see the same qualities.
"When you talk to a coach, if he doesn't want to advance in this profession, we probably won't talk very long," Bielema told ESPN.com on Thursday. "I want guys that want to be coordinators, or guys that are coordinators who want to be head coaches. If they don't want to sit at the front of the room, we're probably dealing with the wrong type of coach. I want guys who want to advance."
Bielema has had plenty of assistants advance in recent years.
He lost two after the 2009 season, one of whom, Randall McCray, went from position coach to coordinator. He lost three after the 2010 season: defensive coordinator Dave Doeren became head coach at Northern Illinois, while running backs coach John Settle and nickel backs coach Greg Jackson both departed for posts in the NFL.
Wisconsin has lost six assistants in recent weeks, a number that has raised eyebrows in college football circles. The team is coming off of back-to-back Big Ten titles and back-to-back Rose Bowl appearances. Bielema's job is very secure. While one assistant (Paul Chryst) left for a head-coaching job and two others (Bob Bostad, Dave Huxtable) went from position coaches to coordinators, the exodus has left some wondering whether there's something wrong at Wisconsin.
Bielema views things differently.
"It's really not that unusual," he said. "It's unusual at a program that has as much success as we've had, where we're able to keep that continuity of winning in place. I take it as a compliment to what we've been able to do. All those coaches are moving on. Two of them didn't get coordinator jobs, but everybody else got coordinator jobs or titles that made it significantly better for them where they were going.
"To me, it's a tremendous challenge that I love, I embrace and I have a lot of fun with it."
Bielema has filled two vacancies with offensive coordinator Matt Canada and wide receivers coach Zach Azzanni. After an extensive interview process for the coordinator job, Bielema went with Canada, in large part because Canada has called plays in different systems (spread, pro style) and can adapt.
"I interviewed a lot of coaches of different levels: NFL, college, big college, small college," he said. "I'm not a résumé guy. I want a football coach. And as this thing gets moving forward, I kept coming back to him. I just think he's going to be a great fit for what we're going to blend together at Wisconsin. I'm going to hire four new offensive coaches that are going to come from different areas of the country and come together and play the style of football we like at Wisconsin."
Wisconsin's staff will be two-thirds new in 2012, but Bielema won't be surprised if he's doing more hiring a year from now.
"I have every year," he said. "Usually the NFL takes two, took two from me last year. It's just one of those things, the beauty of the beast here at Wisconsin."
March, 2, 2010
3/02/10
9:00
AM ET
The Big Ten was the only major conference to avoid head-coaching changes this offseason, but the league certainly had its share of staff shuffling with assistants coming and going. Indiana's
hiring of Mo Moriarity as offensive line coach
on Monday marked one of the last turns on this year's Big Ten coaching carousel. Wisconsin still needs to hire a defensive assistant, but things are just about wrapped up.
Barring any late coaching changes, here's a look at who's gone, who's back and who's in new roles.
ILLINOIS
Offensive coordinator
Who's out: Mike Schultz (fired)
Who's in: Paul Petrino (previously offensive coordinator/wide receivers coach at Arkansas)
Defensive coordinator
Who's out: Dan Disch and Curt Mallory both were demoted to position coaches. Disch is staying on staff as linebackers coach.
Who's in: Vic Koenning (previously co-defensive coordinator at Kansas State)
Quarterbacks coach
Who's out: Kurt Beathard (fired)
Who's in: Jeff Brohm (previously quarterbacks coach at Florida Atlantic)
Tight ends coach
Who's out: Jim Pry (fired)
Who's in: Greg Nord (previously running backs coach/recruiting coordinator at Louisville)
Running backs coach
Who's out: Reggie Mitchell (left to become running backs coach/recruiting coordinator at Kansas)
Who's in: DeAndre Smith (previously running backs coach at UNLV)
Other moves
Mallory left his position as secondary coach to become defensive coordinator at Akron.
Special-teams coordinator Mike Woodford was fired along with Schultz, Beathard and Pry.
Ron West was hired as a defensive assistant. His official responsibilities have not been announced.
INDIANA
Offensive line coach
Who's out: Bobby Johnson (left to become assistant offensive line coach with the Buffalo Bills)
Who's in: Myron "Mo" Moriarity (previously served as head coach at Carmel (Ind.) High School
IOWA
No staff changes, but recruiting coordinator Eric Johnson was named tight ends coach. Wide receivers coach Erik Campbell previously had worked with the tight ends, while Johnson had helped Darrell Wilson with the linebackers.
MICHIGAN
Linebackers coach
Who's out: Jay Hopson (left to become defensive coordinator at Memphis)
Who's in: Quality control assistant Adam Braithwaite was promoted to outside linebackers/strong safeties coach. Defensive coordinator Greg Robinson will take a more active role with the linebackers in 2010.
Other moves
Secondary coach Tony Gibson will continue to work with cornerbacks and free safeties, and also serve as special-teams coordinator.
MICHIGAN STATE
Running backs coach
Who's out: Dan Enos (left to become head coach at Central Michigan)
Who's in: Brad Salem (previously served as head coach at Augustana College)
MINNESOTA
Offensive coordinator/quarterbacks coach
Who's out: Jedd Fisch (left to become quarterbacks coach with the Seattle Seahawks)
Who's in: Jeff Horton (previously served as quarterbacks coach with the Detroit Lions)
Wide receivers coach
Who's out: Richard Hightower (left to become assistant special-teams coach for the Washington Redskins)
Who's in: Steve Watson (previously served as associate head coach with the Denver Broncos in 2008)
Other moves
Running backs coach Thomas Hammock was named co-offensive coordinator
NORTHWESTERN
No coaching changes
OHIO STATE
No coaching changes
PENN STATE
No coaching changes
PURDUE
Defensive line coach
Who's out: Terrell Williams (left to become defensive line coach at Texas A&M)
Who's in: Gary Emanuel (previously served as defensive line coach at Rutgers). Emanuel also was named co-defensive coordinator with a focus on run defense.
WISCONSIN
Defensive backs coach
Who's out: Kerry Cooks (left to become outside linebackers coach at Notre Dame)
Who's in: Chris Ash (previously served as defensive backs coach/recruiting coordinator at Iowa State)
Other moves
Randall McCray, who served as Wisconsin's recruiting coordinator and assistant secondary coach, left to become defensive coordinator at Middle Tennessee. Wisconsin has yet to fill the vacancy.
February, 12, 2010
2/12/10
12:30
PM ET
Liz:
I will spend half the day in twilight sleep and then I will go home to watch the Lifetime movie 'My Stepson Is My Cyber-Husband.'
Jack:
That's inspired. You truly are the Picasso of loneliness.
February, 11, 2010
2/11/10
2:26
PM ET
Wisconsin assistant coach Randall McCray has left to become the defensive coordinator at Middle Tennessee.
McCray coached several positions in four years with the Badgers, including outside linebacker and safety, but his larger role was serving as the team's recruiting coordinator for the last two seasons. Wisconsin brought in two very solid classes during McCray's watch.
This move isn't a major surprise after Wisconsin
hired Iowa State assistant Chris Ash
as its new secondary coach last week. Ash had been Iowa State's recruiting coordinator, so don't be surprised if he takes on the same role with the Badgers.
It will be interesting to see how head coach Bret Bielema goes about filling this vacancy. He could hire someone in a similar role to McCray, or enhance the coaching for another position group. Coordinators Paul Chryst (quarterbacks) and Dave Doeren (linebackers) both handle position groups.
October, 16, 2009
10/16/09
9:00
AM ET

Posted by ESPN.com's Adam Rittenberg
The comparisons to Robert Gallery were made throughout the summer, but Iowa left tackle Bryan Bulaga simply shrugged and smiled when he heard them. Bulaga always handled his hype well, and the affable junior took the same approach when he faced a bout with adversity in early September. Bulaga was hospitalized following a practice and missed three games with a thyroid condition. He's back on the line now and leads No. 11 Iowa into Madison, where the Hawkeyes put their perfect record (6-0) on the line against Wisconsin on Saturday (ESPN, noon ET).
The 6-foot-6, 312-pound Bulaga is regarded as Iowa's latest superstar offensive tackle and the Big Ten's top offensive lineman, at least according to
this guy
. While watching "Monday Night Football" earlier this week, Bulaga took a few minutes to talk about his illness, his return and the challenges ahead.
| | |
| --- | --- |
| | |
| | Scott Boehm/Getty Images |
| | Bryan Bulaga and the Hawkeyes look to improve to 7-0 Saturday at Wisconsin. |
The last time Iowa was 6-0 [1985] was before most of you guys were born. How has the atmosphere been around campus?
Bryan Bulaga:
In Iowa City, everyone's pretty fired up about it. Going to class today, everyone seemed pretty excited, a 6-0 start, first time in a while. Everyone in the locker room is pretty positive and fired up. We know we still have a lot of work to do. Obviously, we haven't played a perfect game yet, but we're excited. To start 6-0 is the best you can be at this point.
You guys finished the season strong last year. Has it been a matter of carrying that over to this year? What have you noticed being on the field or being on the sideline that has been different?
BB:
We've learned from last year what it took to finish those close games. From that win at Penn State last year, we figured out what it took. A lot of the guys on the team last year are back this year, and we bring that same mentality. You just learn from game to game how to pull out these close ones. We've had a couple of them this year [laughs]. We just stay positive and upbeat, that never-quit attitude, and that's what we learned from all the seniors last year.
You guys have a lot of rivalry games, but where does this one rank for you?
BB:
Every year, this is a big game for us. If you look at both sides of the ball, we're very similar in a lot of ways. I know a lot of guys get recruited to both these schools. This is a big game. There's a lot of history there. I get excited for each game, but it's a big one for both programs, and the
trophy
makes it a little bit more interesting.
Was Wisconsin a school that looked at you?
BB:
Yeah, I got recruited pretty heavily by Wisconsin. I thought they were a great program. Coach [Bret] Bielema is a great guy. Coach Randall McCray, he's with the [safeties] now, he was the guy that recruited me. I liked Wisconsin, they were great coaches, I just thought Iowa would be the better fit, and that's how it turned out to be.
Are you feeling more comfortable being back in there, or is it still a work in progress?
BB:
Every practice, you get a little more comfortable. But you've got to settle in a little bit. From a comfort standpoint, I feel good, but from a technique standpoint and a fundamental standpoint, there are still some things I need to clean up, for sure. I showed that [against Michigan]. But just having continuity with the guys on the line, I definitely feel I'm back in the full swing of things.
How frustrating was it for you to miss time? You never expect for something like that to happen.
BB:
It was really frustrating. It wasn't something that physically hurt me. It wasn't my knee or a shoulder or anything that was really bothering me. It was something that was internal. I really didn't feel anything besides that one day where I was pulled out of practice. When you don't feel something and you just sit on the sidelines and watch, it's very frustrating. I wasn't too worried that I was going to be sitting out for a season. Once I was in the hospital and they found out it wasn't anything with my heart or a cardiac issue, I got a sense of relief, knowing that, 'Hey, it's something that's a lot smaller and not as significant.' It was just a matter of getting that blood level down. Until that happened, it was just frustrating to watch. I was able to run and bike and lift weights, but not play.
August, 12, 2009
8/12/09
4:44
PM ET
Posted by ESPN.com's Adam Rittenberg
Official practice reports are few and far between in the Big Ten -- I'm definitely jealous of ACC blogger Heather Dinich -- but several teams put together some notes on the early workouts.
Here are a few tidbits from around the league.
WISCONSIN (Tuesday's practice)
One notable thing from the position drills was the defensive backs were putting a lot of emphasis on catching whatever was thrown their way from assistants Randall McCray and Kerry Cooks. During one of the interception drills, if a player dropped a ball, they had to do push-ups, much like the wide receivers had to do during spring practice. I only noticed three players doing push-ups during the drill.
After the position work, the Badgers broke down onto 7-on-7 drills and punters Brad Nortman and Ryan Wickesberg had the opportunity to punt in special teams work. Aaron Henry and David Gilreath worked as the punt returners and after that, the team did a tempo drill to work on getting substitutions from the sideline and in and out of the huddle at a fast pace.
Offensive linemen Bill Nagy and John Moffitt were both kept out of practice today, but they were seen riding on the stationary bikes.
Freshman wide receiver Kraig Appleton had a lot of throws coming his way, but the most impressive one came during the freshmen vs. freshmen drill. Jon Budmayr found Appleton, who was heavily defended at the sidelines, but caught the pass and broke the defense before going out of bounds.
MINNESOTA (Tuesday's practice)
The passing game is coming along. Junior Hayo Carpenter showed some very sticky hands on a couple of passes that maybe shouldn't have been caught. One day after a dropped pass on what could have been a big gain, sophomore Brandon Green made a great diving catch along the far sideline for a 30-plus yard gain. Last but not least, in seven-on-seven drills, senior Eric Decker got free down a seam in the defense and out-ran the secondary to the end zone.

Cornerback Traye Simmons had a big day defensively. Simmons put together quite a nice sequence late in practice, during some team scrimmage work. In the span of four plays, he tallied a pick and a pass break-up. Simmons grabbed the interception on a tipped ball and got the PBU by knocking away a pass that looked like it would surely come down in the hands of Decker.