September, 5, 2013
9/05/13
4:00
PM ET
Northwestern linebacker
Collin Ellis
emerged from relative obscurity to help save the Wildcats in their opener at California last week. Ellis returned a pair of interceptions for touchdowns in his team's 44-30 win, earning Bronko Nagurski national defensive player of the week honors.
The best thing about the night, Ellis said, was that his mother and stepfather were in the stands watching.
"My mom was crying a little bit," he said this week. "I teared up a little bit, too."
It was an emotional breakout performance for Ellis, who almost didn't make it to Northwestern because of a family tragedy.
Ellis grew up in Baton Rouge, La., just minutes from LSU's Tiger Stadium, but decided early on in high school career that he wanted to use football as his way into an elite academic university. He committed to Northwestern the summer before his senior year and told every college that was interested in him that he'd made up his mind.
[+] Enlarge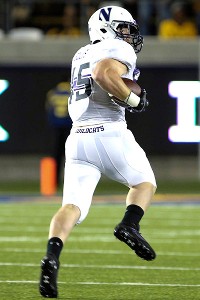 Kelley L Cox/USA TODAY SportsNorthwestern LB Collin Ellis' huge performance in the opener justified the coaches' belief in him.
But his father, Greg, died unexpectedly on March 21, 2010 -- Collin's senior year of high school. In the aftermath, Collin -- who has two brothers and a sister -- initially thought he would stay closer to home for college to help his mother, Becky, with the family.
"It's easy after something like that to say, 'Hey, look, you've got to move on and deal with it,'" said Joey Thibodeaux, his prep coach at The Dunham School. "But he was making a very major decision in moving thousands of miles from home and away from his family. That was tough. Collin did feel a tug to stay home."
Ellis' family told him that going to Northwestern was the right thing to do and that it was what his father wanted. Ellis knew he had found the right school when Wildcats coach Pat Fitzgerald and assistant Randy Bates came to Louisiana for Greg Ellis' funeral.
"My dad wanted me to come to Northwestern more than any other school in the nation," Ellis said. "I feel like I'm making him proud by doing that. It's obviously a very hard deal, but football was my outlet and way to get away from it."
The 6-foot-2, 230-pound junior had shown promise earlier in his Northwestern career but had trouble staying healthy. He suffered broken bones in both hands that held him out of action, and he entered this year locked in a battle with
Drew Smith
for the starting job at outside linebacker. He impressed the coaching staff with his work during preseason practice.
"This is probably as healthy as he's been in two years," Fitzgerald said. "He's a very talented athlete, and for the first time in probably two years we got a glimpse of him at close to 100 percent healthy."
Wildcats fans liked what they saw from Ellis in Week 1. He grabbed both his interceptions on tipped balls before sprinting to the end zone. The first one covered 54 yards, while the second went 40 yards and gave his team a 10-point fourth-quarter lead. When he grabbed the second pick and saw daylight, Ellis remembers thinking, "I can't believe this is actually happening."
That he possessed such good ball skills came as no surprise to Thibodeaux. At The Dunham School, Ellis played fullback in a Wing-T offense and rushed for about 1,200 yards as a senior, earning district offensive MVP honors. Ellis would occasionally line up at receiver and Wildcat quarterback as well. Playing for a small school, though, Ellis received only mild interest from Southern schools including LSU, where his family still has season tickets. Bates found out about Ellis and invited him to a Northwestern camp, where the connection was born.
"He was a great athlete who could do a lot of things, but schools didn't know what to recruit him as," Thibodeaux said. "He was 205, 210 pounds, and they didn't know if he would grow. I don't even think Northwestern knew where to play him at first."
Ellis has spent time at all three linebacker spots for the Wildcats and started 10 games in 2012, though he finished with only nine tackles. His production had yet to match his potential until last weekend.
"I got to the point where I was tired of not performing," he said. "That motivated me every morning to get up and make myself better in any possible way, and it all started in the weight room.
"Then it really came down to this summer, when I started excelling at what I was doing. It all clicked. I finally know where all the help is, when I can be aggressive and when not to be aggressive. Coaches always say 'Do your job,' but it never really resonated with me that if you actually do your job, you'll make more plays."
Ellis doesn't want to be a one-hit wonder with those two pick-sixes. He says he missed out on making several other plays in that Cal game, including another possible interception. He wants to make a season-long impact.
His toughest adjustment at Northwestern was leaving the South and all the outdoor activities he loves in Louisiana. Ellis is an avid fisher and hunter whose favorite pastime is bowhunting deer. Thibodeaux remembers Ellis showing up to practice in his hunting gear.
Ellis saves most of his hunting these days for school breaks when he goes home, though he has found some good spots for salmon fishing in Lake Michigan. Evanston might not be much like Baton Rouge, but Ellis knows he's in the right place. The place where his father wanted him to be.
"He lived vicariously through me because he never got to play football," he said. "It feels so good to get to honor him and his memory this way."
October, 17, 2012
10/17/12
3:30
PM ET
EVANSTON, Ill. -- Northwestern running back
Venric Mark
doesn't need a doctor to make the diagnosis.
Like most things in his life, he can do it all by himself.
"I have little man's syndrome," Mark told ESPN.com. "I've had that all my life, since Day 1. I've always been the small guy in the group. I've always been the guy that people go, 'Oh, no, let's not pick him.' So in my head, I'm thinking, 'OK, you're not going to pick me. I'm going to show you why you should have.'"
Any college coach who wouldn't pick Mark after the first half of the 2012 season hasn't been paying attention.
[+] Enlarge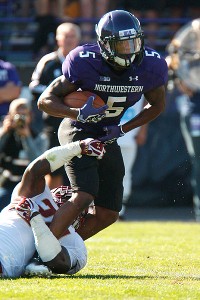 AP Photo/Matt QuinnanRunning back Venric Mark is on pace to break 1,000 yards.
Mark might be 5-foot-8 and 175 pounds, but he's the single biggest reason why Northwestern sits at 6-1, right in the thick of the Legends division race. Along with Iowa running back
Mark Weisman
and Penn State wide receiver
Allen Robinson
, Mark has been one of the Big Ten's surprise offensive stars through the first seven weeks, rushing for 792 yards and eight touchdowns.
He ranks fifth in the league and 15th nationally in rushing average (113.9 ypg). He also leads the league and ranks fourth nationally in all-purpose yards (184.6 ypg), recording two punt returns for touchdowns and 15 receptions, one for a touchdown. After putting himself in position to break most of Northwestern's career return records, Mark's emergence at running back has put the team's all-time career all-purpose yards mark (5,271 by Damien Anderson) very much in play.
"He's just playing at a high level right now," Northwestern coach Pat Fitzgerald said. "... He's a joy to coach."
Northwestern had 1,000-yard rushers every season from 2002-06, but none since. The team has lacked a true threat at running back since Tyrell Sutton departed after the 2008 season. For an offense born out of the Rich Rodriguez-style spread, it was a problem.
Few would have pegged Mark, a return specialist who struggled to find a true position for two years, to be the answer. Just don't tell him that.
"He has a level of intensity that if he was Muhammad Ali, he'd be knocking everybody out," said Northwestern linebackers coach Randy Bates, who recruited Mark out of Houston's St. Pius X High School.
Several times after runs, Mark has confronted defenders more than a half-foot taller than him.
"With football, emotions run high, people talk," Mark said. "For me, that's fuel. When they say, 'You ain't getting this,' that just motivates me."
Mark's edginess is his defining trait, even more so than the top-level speed that got him on the field at Northwestern as a returner and has been showcased on long runs, like scoring bursts of 48 and 26 yards last week against Minnesota. He's not a scat back who spends all his time on the perimeter.
He's a between-the-tackles runner who, along with quarterback
Kain Colter
, has boosted Northwestern's red zone run game, a weakness of the offense in previous years.
"Inside zone is his favorite play," Northwestern running backs coach Matt MacPherson said. "You have to be a special kid, a tough kid, and Venric is pound-for-pound one of the toughest guys on our team. He embraces that role. He wants it."
McPherson likened Mark to former Northern Illinois star Garrett Wolfe, who checked in at 5-7 and 185 pounds and while displaying tremendous speed in space, also had success between the tackles. Wolfe led the nation in rushing (1,928) in 2006.
When Bates began recruiting Mark, he heard some doubts about whether Mark could play in the Big Ten because of his size. Mark won Bates over with his intensity, a quality they share ("We're both pretty whacked-out in our own way," Bates joked).
The question always seemed to be where Mark would play.
Special teams was a given, and Mark became Northwestern's primary returner as a true freshman in 2010, averaging 26.2 yards on kick returns with a touchdown, and 12.9 yards on punt returns. He also stood out on kick coverage.
"There's no doubt in my mind if ever played anywhere at the next level, he could be on all special teams," Bates said. "He was a punt gunner and he was a kickoff guy, and obviously great returning. All that special teams value, even if he never played a snap on offense or defense, he already was a good player."
The coaches tried Mark at slot receiver, but he had just six receptions in his first two seasons, playing behind All-Big Ten selection Jeremy Ebert. There was some talk of using him on defense, but it never materialized. Although Mark came to Northwestern with the idea of simply being the team's starting returner, he wanted more and wasn't happy at receiver.
"I wanted the ball," he said. "I'm that type of player, I'm not going to lie to you. I like having the ball in my hands."
The coaches moved Mark from receiver to running back midway through the 2011 season.
"We weren't quite sure what position we were going to start him at, and as you can see, we were wrong," Fitzgerald said. "Hindsight being 20-20, we wish he would have started in the backfield sooner."
MacPherson knew Mark could make plays in space. His concern was how Mark would handle the mental challenge of being a running back in the Big Ten, where "you get the crap beat out of you," while remaining effective as a receiver and a blocker in Northwestern's offense.
Offensive coordinator Mick McCall wants to get Mark 25 touches per game. While MacPherson admits those won't be 25 inside zone plays, Mark has shown he can be a featured back, despite his size.
"I can take licks," Mark said. "Being a running back, you're going to get bumps and bruises. But it's how you play with them, it's your mindset. Coach MacPherson always talks about [defenders as] nameless, faceless victims. That's what they are."
How many victims has Mark taken this season?
"A lot," he said. "Us as a team, we've taken a lot. And we plan on taking a lot more."
February, 3, 2012
2/03/12
1:15
PM ET
Urban Meyer has been receiving a lot of accolades for his recruiting work at Ohio State. But don't forget the hard work his assistants did in compiling one of the best classes in the country.

ESPN.com has named Buckeyes assistant Mike Vrabel as its 2012 Big Ten
recruiter of the year
.
"Vrabel moved from linebackers coach to defensive line coach with the hire of Urban Meyer. And in the process the two-year assistant helped secure one of the nation's best defensive line classes. Five-star prospect Noah Spence was the biggest signing in the class, but four-star prospects Adolphus Washington, Se'Von Pittman and Jamal Marcus give the Buckeyes four of the nation's top 16 players at the defensive end position. Vrabel deserves much of the credit for that."
It's an impressive achievement for the former New England Patriots star linebacker, who only became a college coach last summer following his retirement from the NFL. Vrabel should have a lot of fun coaching up the talent on that Ohio State defensive line.
Other recruiters who earned honorable mention in the ESPN.com evaluation were Nebraska's John Garrison, Northwestern's Randy Bates, Michigan's Jeff Hecklinski and Michigan State's Mark Staten.
September, 21, 2010
9/21/10
9:00
AM ET
When Northwestern coach Pat Fitzgerald started to recruit Quentin Davie, he saw a player who played multiple positions and was "a jack of all, master of none."
Davie played quarterback, tight end and linebacker for Cardinal Ritter College Prep in St. Louis, where he also earned letters in basketball and track. Long and lean at 6-4 and 200 pounds, Davie drew interest from some colleges that wanted him to play wide receiver. He settled on Northwestern, which planned to use him at his desired position: linebacker.
But the shuffling didn't stop in college. Davie's unique size and skill set prompted Northwestern's coaches to play him at both outside linebacker spots.
"When the NFL scouts come by," Fitzgerald said, "I'm not trying to make an excuse for Q, but we've had him play two positions for multiple years.
"I can only imagine how good of a player he could be and will be if he only had to play one position."
[+] Enlarge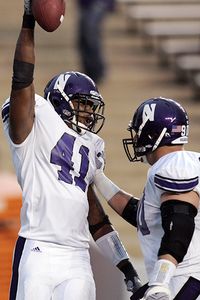 Brett Davis/US PresswireQuentin Davie of Northwestern was named Big Ten Defensive Player of the Week for his efforts against Rice.
Davie's versatility is paying off so far this season. He leads the Big Ten in both interceptions (3) and passes defended (5), and is on pace to lead Northwestern (3-0) in tackles for the second consecutive season.
After recording the first pick-six of his career in
Saturday's win at Rice
, Davie earned Big Ten Defensive Player of the Week honors. But he's far from satisfied.
"It's an accomplishment," he said Monday. "Obviously, I want to keep getting better and be consistent throughout the season. It'd be great if I could get [Big Ten] Defensive Player of the Year. That'd be a better honor."
Davie has put himself in the mix with the quick start.
He made plays as an effective blitzer throughout his first three seasons, recording 22.5 tackles for loss, four forced fumbles and two fumble recoveries. But he had only one interception entering his senior year.
Davie spent much of the offseason working on his drops in pass coverage with linebackers coach Randy Bates. His interceptions have been relatively easy, in part because he's consistently in the passing lanes.
"Last year, there were some times [Bates] pointed out to me where I didn't drop at all and they just threw the ball over my head," Davie said. "I knew I was hurting my DBs by not dropping, so to help them out, I worked on that and tried to get deeper drops. It goes with being older and getting more patient to know you're not going to go get the quarterback all the time, so you have to get back."
Davie could have had another interception at Rice but dropped the ball, a fact Fitzgerald doesn't hesitate to point out.
"I make fun of him when he drops one because I only had two and I dropped about 12 in my career," said Fitzgerald, a Hall of Fame linebacker at Northwestern. "I can't forget those drops."
Davie showed flashes as a young player but truly blossomed in 2009 after transforming his body in the prior offseason. He went from 215 pounds in 2007-08 to 225 in 2009 and has since bulked up to 230.
Despite his height, adding the weight was a challenge. He became a Chipotle regular.
"Every offseason, I'd hear smack from coach Fitz, like, 'Go eat a sandwich,'" Davie said. "That was his favorite phrase. It wasn't easy. At first, I thought I had tapeworm or something.
"But we have a great nutritionist and I got up to the weight I needed to be, 230."
Davie's physical development is only one step in his maturation process.
In May, he proposed to his longtime girlfriend Alexandra Richardson underneath the Gateway Arch in St. Louis. Davie had planned a Mother's Day dinner for both his family and Richardson's, and gathered everyone by the Arch. He told his brother to take pictures.
When Davie dropped to a knee, everyone was surprised, including his brother.
"He only got one picture," Davie said.
No date has been set for the wedding, as Davie's focus remains primarily on football. He already achieved one of his senior-year goals to be a co-captain. Another goal is to be All-Big Ten.
Davie also finds himself on the NFL radar.
"I'm looking forward to [the NFL] a lot," he said, "but when I get in this football facility, I have to erase all those thoughts and think about this season and how I can help this team reach the goals that we set and that I set for myself."
July, 27, 2009
7/27/09
11:00
AM ET
Posted by ESPN.com's Adam Rittenberg
CHICAGO -- Big Ten media day really picks up during the lunch period, so your links come to you a little bit early.
March, 11, 2009
3/11/09
1:45
PM ET
Posted by ESPN.com's Adam Rittenberg
Northwestern head coach Pat Fitzgerald often jokes that despite his age (34), his line of work makes him go gray in a hurry.
Fitzgerald won't have to worry about his hair color after Wednesday night.
In an effort to raise money for childhood cancer research, Fitzgerald and at least three of his assistants will have their heads shaved tonight at a barber shop in Evanston. The proceeds from the event go to the St. Baldrick's Foundation, which funds cancer research.
Fitzgerald, defensive backs coach Jerry Brown, linebackers coach Randy Bates and offensive line coach Adam Cushing are among the men losing their locks.
Fitzgerald, Bates and others are participating in honor of former Wildcats fullback Matt Hartl, who teamed with Fitzgerald on the 1995 Rose Bowl team and died of Hodgkin's disease in 1999. They also will honor Ainsley Bates, the daughter of Northwestern assistant athletic director Betsi Burns, who is undergoing treatment for Langerhans cell histiocytosis.
"Our entire coaching staff has a great passion for this organization and its mission," Fitzgerald said. "We hope our small contributions will create more awareness for pediatric cancer and the individuals it has impacted."
After Fitzgerald's recent dental mishap and now this, you have to wonder if his wife will look at him again after tonight. But this is for a great cause, and there should be some good pictures from the event.