July, 31, 2012
7/31/12
1:00
PM ET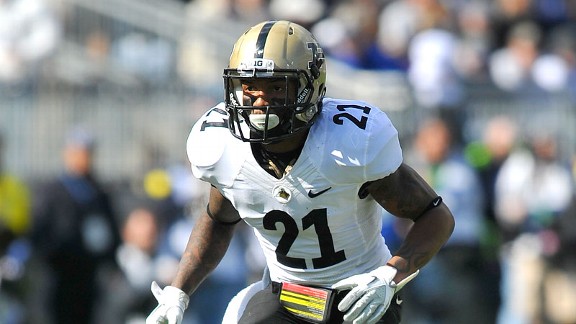 Randy Litzinger/Icon SMIPurdue cornerback Ricardo Allen enjoys the challenge of going one-on-one with bigger receivers.
CHICAGO -- At 5-foot-9 and 176 pounds, Purdue junior cornerback
Ricardo Allen
is a small man in a big-man's game.
The key to his success: not playing like a small man.
Allen, who has started all 25 games of his Boilers career, describes his playing style with one word -- aggressive -- and backs it up on the field. He typically lines up just inches from opposing receivers, even if those men stand more than a few inches taller than him, as they usually do. Whether a receiver is 5-10 or 6-6, Allen's goal is to challenge them from the moment the ball is snapped.
"I used to play down to my size and think because I was small, I'd have to be an off corner," Allen said. "But most big receivers aren't really good on the line. So I have changed."
Allen enters his junior season among the Big Ten's most accomplished cornerbacks. He has led the Boilers in interceptions with three in each of the past two seasons. He has returned three picks for six points, which ties Rod Woodson and Mike Rose for the all-time team record.
Like all cornerbacks, Allen gets burned on occasion. But his production is undeniable: 164 total tackles (118 solo), 6.5 tackles for loss, six interceptions and 14 passes defended.
Not bad for a guy some considered too small to play in a major conference.
"Miami originally offered me, but Mr. [Randy] Shannon didn't like me for my height," said Allen, referring to the former Hurricanes coach. "I had a lot of people who offered me but didn't like my height. South Carolina pushed away from me because of my height. I was recruited by a lot of schools, but when the time came down to it, everybody kind of shied away from me."
The Daytona Beach, Fla., native eventually landed at Purdue, part of a 2010 recruiting class heavy on players from the Sunshine State. Allen rose atop the depth chart immediately and sparkled as a freshman, earning second-team All-Big Ten honors (media) and leading the team in interception return yards (129).
The 2010 season convinced Allen that he could play at a high level.
"It gave me confidence that my size doesn't really matter anymore," he said. "I play with the biggest and I play with the best receivers around."
December, 1, 2010
12/01/10
4:00
PM ET
There has been a ton of rumored candidates for Minnesota's head-coaching vacancy, but one of the issues appears to be establishing mutual interest.
Well, recently ousted Miami coach
Randy Shannon is interested in the Gophers' job
, colleague Bruce Feldman reports (ESPN Insider).
The Minnesota job hunt has been going on for a while. Add former Miami coach Randy Shannon's name to the mix. I spoke with Shannon on Tuesday. He's interested. He said he would love to stay in college coaching because "you can make a difference in young people's lives."
Could Shannon go from the U. to the U?
He's certainly an intriguing candidate. Shannon got fired from Miami because he didn't win enough, but he cleaned up the program and had very few issues with player discipline or academics. In fact, the Hurricanes excelled from a conduct standpoint during his tenure.
While Shannon has no ties to the Big Ten or to the Midwest, he knows the city of Miami inside and out. In case you haven't heard, there are recruits in Miami. Lots of 'em. Really good ones. If Shannon could convince them to head North to Minneapolis, the Gophers would have some solid players.
Shannon also likely wouldn't be that expensive.
(Side note: Minnesota and Indiana both have expressed interest in minority candidates. The Big Ten has had only three black head coaches in its history, a number that needs to increase at some point. Shannon would obviously add to it.)
The big concern is he was unable to take all that talent at Miami and convert it into division titles in the mediocre ACC. Could he make Minnesota a factor in what figures to be an even tougher Big Ten?
The two names I've heard for Minnesota from the start have been San Diego State's Brady Hoke and Air Force's Troy Calhoun. But there seems to be some hesitancy on the coaches' part.
Feldman breaks down why:
I spoke to another coach about the Gophers job, which reportedly has not been well received by some coaching targets. The school had a bold list that was interested in. The problem is with a lame-duck AD and an unstable power structure, the stability of the job scares some folks. Yes, it's a Big Ten school and has a great new stadium, but the kind of deal the school has been willing to dangle, according to sources, isn't going to be enough.
"They need to be offering a minimum of six years," said the coach. "Who is going to take that job because you just don't know what will happen in two years when your new boss could walk in and say 'we don't like this guy,' and then you're stuck. Most of these coaches that are on their list have more stability and better chances to win where they're at. Yeah, it's a Big Ten school, but it's not Michigan or Ohio State."
Very interesting.
Athletic director Joel Maturi's biggest task might be selling candidates on the stability factor at Minnesota. The school has a retiring president, and Maturi's time as AD likely won't last much longer. Coaches want to know they'll be OK during a transition period.
It's a tough sell.
August, 18, 2010
8/18/10
11:00
AM ET
Couldn't get to this Tuesday, but I didn't forget you guys.
As always, contact me
here
and follow me
here
.
Jesse from Little Rock, Ark., writes:
Adam, I cannot disagree with your ranking of the defensive lines until the season begins but I believe by the end of the year Michigan's line will be among the best in the conference. Craig Roh was outstanding as a freshman last year. Mike Martin and RVB will continue to improve and if Will Campbell can turn in a solid year this line could be scary. Just something to keep an eye on this season.
Adam Rittenberg:
That's a fair take, Jesse. Brandon Graham really carried the line in 2009, and his production will be next to impossible to replace. But there's some potential up front. Mike Martin needs to have a big year at nose tackle, and he clearly has the ability to take things up a notch. Ryan Van Bergen also has a chance to be very good, and we'll see if William Campbell becomes the star many thought he'd be. Roh is a lineman-linebacker hybrid and likely will spend more time outside a three-point stance this fall. Again, there are too many question marks to put this unit in the top five, but I wouldn't be surprised if the line performs well this fall.
---
Everett from Philadelphia writes:
I thought you might want to reference the new USNews academic rankings that just came out. While not directly football related, the academics did play a part in the decision to admit Nebraska to the conference, so it does seem relevant to follow the release of the most respected rankings. By the way, Northwestern went up to 12.
Adam Rittenberg:
Here are
the US News rankings
, if you haven't seen them. Northwestern leads the Big Ten contingent at No. 12, followed by Michigan (29th), Wisconsin (T-45th), Penn State (T-47th), Illinois (T-47th), Ohio State (T-56th), Purdue (T-56th), Minnesota (T-64th), Iowa (T-72nd), Indiana (T-75th) and Michigan State (T-79th). Nebraska's ranking at No. 104 (tie) has surprised people, although it shouldn't. It's not a huge drop from last year's ranking (tied for 96th). We all knew Nebraska would be at the bottom of this particular gauge for universities. But is the Big Ten seriously compromising its academic standards? I don't think so. Notre Dame, by the way, comes in at No. 19.
---
Matt from Grand Rapids, Mich., writes:
Hey Adam, with the addition of Nebraska, the Big Ten is obviously going to get a little shook up, including potential rivalries lost. Please tell me that none of the Notre Dame rivalries in the Big Ten will be affected, they're my favorite team to hate. On the other hand, how many potential or developing rivalries do you see having the opportunity to become legitimate rivalry games? And can MSU please leave the Old Brass Spittoon and Land Grant Trophy behind? Neither of those games seem to be particularly anticipated by either side. I would much rather see the Spartans have a rivalry with Northwestern or Wisconsin.
Adam Rittenberg:
Matt, I don't think you need to worry about any of the Notre Dame rivalries going away. Purdue AD Morgan Burke has said multiple times that as long as he's in his current position, the Boilers will play the Irish every year. Michigan State AD Mark Hollis feels the same way, and Michigan and Notre Dame have a long-term deal in place. Although nine conference games will change how some folks schedule, playing Notre Dame still has a ton of value for those teams, especially Purdue and MSU. I agree with you that Michigan State is in an interesting position when it comes to forming new rivalries. Northwestern and Wisconsin certainly could become bigger rivals for the Spartans, depending on division alignment. Michigan State and Northwestern have played some memorable games in the last 20 years (2007, 2006, 2001, 1997, 1993, 1992).
---
Brian from Richmond, Va., writes:
Adam, just read your article on Robert Marve and how he is progressing at Purdue. I dont think you did enough research on this academic matter. You just took one side of the story from a kid that was very immature while at Univ. of Miami. But the one quote I have issue with is quote, "Marve didn't have those worries at Miami. That was part of the problem." Have you seen Miami's graduation rate and where they stand academically among other D-1 college football programs? The penalty for missing a class is a 1 game suspension under Coach Shannon. Maybe you didnt mean to imply that Miami doesnt care about its players academics but that could be farther from the truth. Thanks, Brian
Adam Rittenberg:
Brian, thanks for writing, but I think you misunderstood what I wrote. That line had everything to do with Marve and nothing to do with Miami's program, Randy Shannon or the academic standards there. Marve has admitted that he didn't put enough into his studies while at the U., and being near South Beach as an 18-year-old certainly didn't help matters. But my intent had to do with Marve's mindset at Miami, not the Miami program.
---
Ben from State College, Pa., writes:
Hey Adam, great blog.. keeps me goin through the boring offseason that is college football (with an exception to this year) So I've been hearing a lot about Bolden and Redd having fantastic summers. Do you think they are the real deal and this is a sign of good things to come for PSU? Maybe a 10-2 season or dare i say 11-1 or 12-0?!?! How high should PSU fans get their hopes on these guys?
Adam Rittenberg:
Ben, I wouldn't pin my hopes for an 11-1 or 12-0 season based on the preseason performances of two true freshmen. While it's certainly encouraging to hear how Robert Bolden and Silas Redd are progressing, particularly, Bolden, given the situation at quarterback, let's see how they do when things really count. The beauty of Penn State's schedule is that we'll find out pretty soon what these young guys can do. The Lions are at Alabama in Week 2 and at Iowa in Week 5. If Bolden and Redd perform against those defenses, you can start getting excited.
---
Joe from East Lansing, Mich., writes:
Now I may be biased, but you're seriously putting Ohio States linebackers ahead of Michigan State? Excuse me? Returning big ten defensive POY, ranked the number one linebacking core by sporting news, incredible amounts of experience and depth, the big tens freshman to watch. All that and you still choose Ohio State? Michigan State's defense doesnt have much to be proud of, but the linebacking core is one thing we can be proud of... and subsequently one thing I'm a little upset about being considered number two in.
Adam Rittenberg:
Greg Jones is the best linebacker in the Big Ten, if not the country. Eric Gordon also is a fine player. But I think the combination of Ross Homan and Brian Rolle, combined with the good players behind them and the fact Ohio State's defense is always rock solid, and the Buckeyes have a slight edge. One other factor is big plays. Homan led Big Ten linebackers with five interceptions last fall. Interceptions is the only knock against Jones, who doesn't have one in his outstanding career. I'm a huge Greg Jones fan, but I want to see him make some game-changing plays this fall. The order certainly could change by the end of the season, especially if Michigan State's incoming freshmen (William Gholston and Max Bullough) perform as expected. But I'm comfortable with Ohio State at No. 1 and Michigan State just behind.
March, 15, 2010
3/15/10
10:30
AM ET
WEST LAFAYETTE, Ind. -- Danny Hope has a philosophy on football players who transfer.
"A transfer is a lot like a divorcee," the Purdue head coach said. "It's not a defect of character. It just didn't work out, and it may not always be all their fault."
Quarterback
Robert Marve
's divorce from Miami was a messy one, particularly at the end.
[+] Enlarge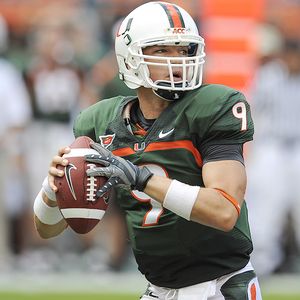 Joel Auerbach/US PresswireRobert Marve started 11 games for Miami in 2008, passing for 1,293 yards.
The former Florida Mr. Football winner twice was suspended from the team, endured academic struggles and was arrested for breaking a car mirror and then trying to elude police, though charges were later dropped. He sat out the 2007 season because of left hand injuries sustained in a car accident the summer before. Marve started 11 games for Miami in 2008, but he was suspended for the Emerald Bowl for missing a class. (Marve said he showed up late because he was talking with another professor.)
As tension mounted between Marve, his family and Hurricanes head coach Randy Shannon, Marve announced in late December 2008 that
he was leaving the team
, saying, "I can't play for Coach Shannon." Shannon granted Marve's release but put heavy restrictions on
where the quarterback could go
. Marve considered walking on at Tennessee before settling on Purdue in late May.
"We did our homework," Hope said. "We don't just invite anybody to come into our family, regardless of the talent level. We knew all about his past and have known him for years. We recruited him a long time ago. Things didn't work out for Robert at Miami. Some of it was Robert, and some of it wasn't. It doesn't matter.
"There were no skeletons in the closet that were of any magnitude to make me think he wouldn't be a great teammate. He had to grow up some. And he has."
Marve has been a model citizen both on and off the field at Purdue, his new coaches and teammates say.
The quarterback "didn't have a great academic history in college," Hope said, but carries a B average at Purdue. Marve, who tore the ACL in his left knee last summer, spent last season learning Purdue's offense and his new teammates.
Fully recovered from the knee injury, Marve will compete for the starting job when Purdue opens spring practice March 24.
"What happened to him was the best thing in the world for him," said Boilers offensive coordinator Gary Nord, who began recruiting Marve immediately after things went south at Miami. "He got kicked real hard in the rear, and sometimes your toughest lessons are your best lessons learned. He got his priorities in life straight.
"He's done excellent academically, he's been great with his rehab and he's studying it as well as anybody I've ever coached."
Purdue isn't making Marve available to reporters until after spring ball starts, but his teammates have had plenty of access to him the last 10 months. Starting running back
Ralph Bolden
was surprised and impressed with how quickly Marve absorbed the offense and a leadership role.
"A lot of us knew what went on [at Miami]," Boilers wide receiver
Keith Smith
said, "but it's a fresh start, completely different style of program, everything's completely different. We didn't want to judge anything by prior actions because everybody has mistakes and you've got to move on.
"He matured a lot, and that's one of the key things of being a good quarterback and a good leader of a program."
Marve will have to earn the starting job, and Nord expects
Caleb TerBush
to provide strong competition. Last year's starter,
Joey Elliott
, was known for his high character and commanded respect in the locker room. After working behind Elliott, the Boilermakers will be able to spot a phony.
And while no one has ever doubted Marve's talent, his coaches and teammates see a lot more there.
"He has outstanding leadership ability," Hope said. "He's a tremendous worker, he's as committed as any football player that I've been around. He's a pied piper of men in some ways. They follow him, and he's fit in very well.
"The players have accepted him, based on his actions."
December, 10, 2009
12/10/09
2:00
PM ET
Most will bill the Champs Sports Bowl as a matchup of opposites, but the two head coaches in the game aren't so sure.

Wisconsin and Miami might seem very different on the surface. The Badgers win with size and power, while the Hurricanes' depth chart bursts with speed and athleticism. Miami always will have the reputation for being one of the nation's flashier programs, while Wisconsin isn't known for its glitz.

But Bret Bielema and Randy Shannon don't see drastic differences between their teams, which meet Dec. 29 in Orlando (ESPN, 8 p.m. ET).

"It's not going to be a situation where we're going to be faster than those guys or they're going to be faster than us," Shannon said. "We have a big offensive line, they have a big offensive line. They have big guys on defense, we have big guys on defense. It's going to work itself out. It's just a myth that if you're down south you run faster."

Myth or fact, Bielema has heard the speed argument a lot lately, especially during the Big Ten's recent bowl struggles. He hopes to debunk it against the Canes.

"Everyone is going to talk about the Florida speed versus the Midwest size of Wisconsin," he said. "We have big people, but I think a couple of our guys can run as well."

Bielema and Shannon have known each other for some time and Bielema is good friends with Miami offensive coordinator Mark Whipple.

"When you look at both teams, its kind of equal," Shannon said. "I'm a defensive coach, Bret is a defensive coach. Both of us believe in running the football, playing great on special teams and playing hard defense. It's going to be a matchup that you'll want to see."
June, 11, 2009
6/11/09
10:02
AM ET
Posted by ESPN.com's Adam Rittenberg
What if Penn State resumed its rivalry with Pitt? What if the Iowa-Missouri series finally happened? Why can't Wisconsin man up and play a solid BCS team every year? How about a Big Ten-ACC Challenge in football?
We've all pondered these scheduling questions and many others in recent years. When it comes to college football scheduling, you can dare to dream a bit. Although you'll rarely be satisfied in this climate of home games or bust, it's fun to play around with the possibilities.
Here are some nonconference matchups I'd like to see for each Big Ten team.
ILLINOIS-NOTRE DAME
There's no love lost between these two coaching staffs, especially as Illinois has become more competitive as a national recruiter (i.e. Arrelious Benn). This game won't happen any time soon, but it would be extremely entertaining to watch Ron Zook and Charlie Weis stand on opposite sidelines. Both schools constantly compete for recruits, especially in the Chicago area, so why not meet on the field?
INDIANA-KENTUCKY
The teams used to play almost every year, and it would be nice to see the series resume. Indiana and Kentucky have a great rivalry in basketball, and both football programs face similar uphill climbs in major conferences. The proximity between the two schools would make it extremely easy for fans to travel to the games.
IOWA-MISSOURI
Many Iowa fans wish this series had happened already -- Missouri backed out of an agreement several years back -- and it makes a lot of sense for the two teams to meet. You already know my view on Missouri joining the Big Ten, and a natural rivalry with Iowa plays a major role. Both schools recruit in the same area, and both programs have elevated their profiles in recent years.
MICHIGAN-UCLA
Two of college football's greatest settings would make this series a must-see. Michigan always fills up the Big House for games, and Wolverines fans would be guaranteed a trip to the Rose Bowl every other year even if their team doesn't reach the big game on Jan. 1. The two teams have met nine times in the regular season, most recently in 2000, and it would be great to see them celebrate the Pac-10-Big Ten rivalry.
MICHIGAN STATE-NORTH CAROLINA
The Big Ten should be more aggressive in scheduling the ACC for football, and this series would be a good start. Both programs are on the rise under third-year coaches (Mark Dantonio and Butch Davis), and both have been recruiting better in recent years. Let's just hope for better games than the two basketball matchups this past season.
MINNESOTA-WASHINGTON
Minnesota has taken a more aggressive approach to nonconference scheduling, and a series against Washington would fall in line with the new philosophy. Both schools are located in major cities on the northern edge of their respective conferences. Both are trying to revive tradition with energetic coaches (Tim Brewster and Steve Sarkisian). And selfishly, I wouldn't mind making the trip to Minneapolis or Seattle each year.
NORTHWESTERN-VANDERBILT
This isn't really a fantasy matchup because these teams will begin a four-game series in 2010. It's long overdue. Both Northwestern and Vanderbilt face a similar challenge as private institutions with limited football success trying to compete with storied programs in major conferences. Both schools are among the nation's academic elite. There are way too many similarities for the teams not to play.
OHIO STATE-FLORIDA/LSU/ALABAMA/GEORGIA
Though I like colleague Heather Dinich's suggestion for an Ohio State-Miami matchup, Buckeyes fans want the SEC, and they want it bad. No league has damaged Ohio State's national reputation more than the SEC, and the hatred between Buckeye Nation and SEC fans runs deep. Florida makes the most sense for Ohio State, but any of the SEC title contenders would suffice.
PENN STATE-PITT
This is a no-brainer. Fans on both sides desperately want to see the rivalry resume, and it's a shame there are no immediate plans for a series. The game means a lot to folks in the state of Pennsylvania, and the teams' frequent recruiting battles would only add fuel to the series. Although Pitt doesn't have the wow factor it had several decades ago, the game would generate a ton of local interest.
PURDUE-MIAMI
Something tells me Robert Marve wouldn't mind another crack at Randy Shannon and the Canes in 2010. And Marve isn't the only connection between the schools. New Purdue head coach Danny Hope is a Miami native who signed 14 players from Florida in his first recruiting class.
WISCONSIN-NEBRASKA
Wisconsin's hesitancy to schedule big-name teams has irritated its fan base, but athletic director Barry Alvarez can win some support by scheduling his alma mater. Imagine the sea of red from both fan bases when these teams meet at Camp Randall Stadium or Memorial Stadium, two of the nation's most hostile venues. It would be great to see Nebraska play a Big Ten team every year, and Wisconsin certainly needs a marquee opponent.
May, 29, 2009
5/29/09
10:52
AM ET
Posted by ESPN.com's Adam Rittenberg
Big Ten commissioner Jim Delany has called league expansion a "back burner issue" more than once in recent weeks.
Well, here's one for the conference to put on the front burner.
The hiring rate of minorities to head coach and coordinator positions remains well below what it should be in college football, and it's reflected in the Big Ten.
The league has one minority head coach -- Michigan's Rich Rodriguez is Hispanic -- and only two minority coordinators in Michigan offensive coordinator Calvin Magee and Michigan State offensive coordinator Don Treadwell.
The league had six coordinator changes during the offseason, including the departure of Illinois offensive coordinator Mike Locksley, who became one of six black head coaches in the sport when he took over at New Mexico. But none of the vacancies was filled with a minority candidate.
The Big Ten has had only three black head coaches and only one, Michigan State's Bobby Williams, since 1991. Northwestern had consecutive black head coaches from 1981-91 in Dennis Green and Francis Peay.
Before Michigan hired Rodriguez, the Big Ten had only one other minority head coach in the last two decades -- Wisconsin's Barry Alvarez, one of the most successful coaches in recent league history.
"It's not more of a concern today than it was a year ago or two years ago, but it's a constant focus," Iowa athletic director Gary Barta said of minority coach hiring. "We want diversity on our campus from the president's office to the faculty, including the athletic department. And the only way you get that is through purposeful recruitment. It's not just who applies. It's who you're looking at and who you're developing through your ranks."