June, 13, 2014
6/13/14
9:00
AM ET
The ball is snapped and
Ra'Zahn Howard
explodes, big-footing across the line of scrimmage to maul running back
Akeem Hunt
, jarring the ball free. About an hour later, as Purdue's workout ends with team sprints, a huffing and puffing Howard is the last man to cross the line.
The two moments during one of Purdue's practices in March encapsulated the defensive tackle's prodigious potential and how far he still must go to maintain that level of play.
Boilermakers coach Darrell Hazell isn't big on hyperbole. He answers questions directly and succinctly, but the Jim Tressel disciple doesn't heap undue praise upon a player, especially an unproven one. Still, Hazell can't hide his excitement about the 6-4, 315-pound sophomore this spring.
"The most exciting football player on our team right now," Hazell told ESPN.com. "He's got uncommon quickness. He's got unbelievable power. He can be very disruptive.
"He's really special."
[+] Enlarge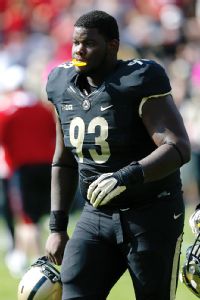 AP Photo/Scott BoehmRa'Zahn Howard appeared in six games last season.
Whether Howard becomes a special player for Purdue remains to be seen. The Boilers could use one after a 1-11 season where nearly nothing went right on either side of the ball.
For now, he's an interesting player -- from his backstory, to his path to Purdue, to his conditioning challenges as a Boiler, to his versatility, to his confidence.
"When we line up in one-on-one, I don't lose," Howard said. "And as far as the run game as far as my get-off, me being the big, explosive athlete that I am, I am aware of the things I can do.
"I just want to continue to humble myself and get better."
Alrighty then ...
Howard, a New Jersey native from what he calls a rough background, didn't start playing football until his junior year in high school. He inherited his size from his father, a 6-foot-8, 330-pound giant who, according to Ra'Zahn, had a scholarship offer to Ohio State before taking "the street route."
Howard played his junior season at Winslow Township High School in southern New Jersey before moving north to Asbury Park, N.J., where he earned all-state honors and led Asbury Park High School to a state championship in 2011. Howard recorded 31 tackles for loss and 12 sacks as a senior.
He committed to Towson a few months later, where his cousin, Marcus Valentine, played defensive tackle and served as a co-captain. But in an effort to boost his stock and his grades, Howard attended a prep school, Atlanta Sports Academy in Dawsonville, Ga., where he "just blew up."
Former LSU defensive tackle Brandon Washington coached Howard at Atlanta Sports Academy, telling him he had the ability to take over games.
"I got bigger and stronger, of course, and I just got better offers," Howard said. "I got better as a defensive tackle."
One recruiting service rated Howard as the
nation's No. 4 defensive tackle
. His suitors included Tennessee, Penn State and Mississippi State.
So why did he pick Purdue? His jersey offers a clue. Howard wears No. 93, the same number as former Purdue's standout defensive tackle
Kawann Short
, a three-time All-Big Ten selection and a second-round pick in the 2013 NFL draft.
"He's one of the reasons I committed here," Howard said. "I had watched a lot of his film. Originally coming out of prep school, I was going to go to Tennessee, but when I came here and met him, it was like a dream come true."
Despite his late introduction to the sport, Howard is somewhat of a football film junkie. He studies defensive linemen such as
Timmy Jernigan
,
Anthony Johnson
and
Adrian Clayborn
, picking up moves and nuances to evolve his game. In his mind, he's making up for lost time.
At prep school, Howard played the 5-technique, the 4-technique, nose guard and even a bit of defensive end. He spent most of the spring playing nose guard at Purdue.
"Ra'Zahn, he might be the most talented person on the defense," Boilers senior defensive end
Ryan Russell
said. "I've seen a lot of players come through and I've had great tackles,
Bruce Gaston
and Kawann Short. I definitely think his talent level is up there with them."
The challenge is keeping that talent on the field. Howard was pushing 350 pounds when he arrived at Purdue. He trimmed down to 315 by spring practice and, according to Hazell, is now south of 310.
Howard recorded four tackles, including a sack, in six games last season. Hazell expects much more from him this fall.
"I saw flashes last year," Hazell said. "You saw the power more so than the quickness. Now you're seeing the power along with, he ran stride for stride with a back down the line on a toss play. He just put his foot in the ground and redirected."
Asked about his sprint struggles at practice and whether there would be a different result in preseason camp, Howard smiled.
"I'm going to have the same ability, of course, but I'm going to be much faster," he said. "I'm going to be around 303, 305, more cut-up."
With size, speed, power, confidence and, potentially, fitness, Howard could be the man to provide a spark for a Purdue defense that desperately needs one.
"He's a different cat," Hazell said. "He really is."
May, 16, 2014
5/16/14
11:00
AM ET
With spring practice officially behind us, we're taking a look at each Big Ten team and identifying a player who announced himself as a potential key performer this fall.
[+] Enlarge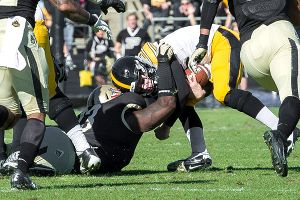 Zach Bolinger/Icon SMIRa'Zahn Howard has lost weight to be more of an every-down defender.
These are guys who haven't played big roles yet but showed enough during the 15 spring practices -- not just some fluky, spring-game performance against backups -- to factor heavily into their team's plans.
The penultimate name on this list hails from Purdue, which is looking for a boost along its defensive line this season.
Spring breakout player: DT Ra'Zahn Howard
When a team goes 1-11 with zero FBS victories, the rebuild always begins up front. While Purdue needs help on both sides of the ball, Howard provides a much-needed disruptive presence in the middle of the defensive line.
The 6-foot-4, 315-pound Howard has shed about 40 pounds since he arrived at Purdue, and while he still must make strides in conditioning, he displayed explosiveness during practice this spring. He worked at nose guard and showed not only the ability to fill space but defeat blocks and penetrate the backfield. It's why coach Darrell Hazell, midway through the spring, called Howard "the most exciting football player on our team right now."
"He's really special," Hazell said.
Howard, who started playing football late in his high school career and blossomed at a prep school (Atlanta Sports Academy), originally committed to Tennessee but switched to Purdue in part because he connected with former Boilers defensive tackle Kawann Short. He wears Short's number (93) and has drawn comparisons to the All-Big Ten standout, a second-round pick in the 2013 NFL draft.
Howard played all the defensive tackle positions and even some defensive end in high school. He wants to play at around 300 pounds to ensure he stays on the field. Howard had a sack and two pass deflections in two games last season.
Conditioning is still lacking for Howard. Confidence is not.
"When we line up in one-on-one, I don't lose whatsoever," he said. "And as far as the run game as far as my get-off, me being the big, explosive athlete that I am, I am aware of the things I can do. I just want to continue to humble myself and get better.
"I would love to start because I know what I can do. But if that's not my calling this year I'll contribute any way possible."
May, 2, 2014
5/02/14
4:30
PM ET
Happy Derby weekend. Brian Bennett has already started his. Me? I might get a jump on Cinco de Mayo on Dos de Mayo.
Some people like to follow us
on Twitter
.
Inbox revealed in 3 ... 2 ... 1 ...

Chris from Bellport, N.Y., writes:
Adam, I saw a projection for Michigan this year of 8-4, which seems reasonable at this point based on the unanswered questions remaining for the team. My question is everyone looks at the three tough road games as three potential losses. I think if they can win one of Ohio or MSU they could go 2-1 in those, but what about the fact that they don't have Wisconsin, Iowa, or Nebraska on the schedule this year? Is that cause for a little more optimism, not having the potential top three in the west on the schedule?
Adam Rittenberg:
It could be, Chris, but Michigan shouldn't look past anyone on its schedule. I know Michigan owns Minnesota, but the Gophers should give the Wolverines a better game Sept. 27 when they visit Ann Arbor. Michigan needed miracle plays to beat Northwestern the past two seasons. Indiana gave the Wolverines' defense all sorts of problems last season at the Big House. Don't get me wrong: Michigan's season likely hinges on those three road games. But just because Michigan beats Michigan State or Ohio State doesn't mean it's guaranteed to sweep the other nine contests. Fifteen years ago? Sure. But those days are over.
---

Jack from Champaign, Ill., writes:
In your last mailbag, you answered a question about [Tim] Beckman's latest recruit and talked how he needs to end his bowl drought with Illinois. However, what if this ends up being a surprisingly stellar recruiting year in which the Illini go 5-7? Obviously I know we're not talking about a top-10 recruiting class, but in general a very strong one, above the ones in recent years. Would that be enough to buy Beckman an extra year, or is that all that matters for him at this point?
Adam Rittenberg:
This scenario would put athletic director Mike Thomas in a tough spot. Some Illini fans have wanted Tim Beckman gone from the middle of his first season. Attendance has been poor and enthusiasm remains tepid. It's really not that hard to make bowl games in this environment, and three consecutive seasons without a bowl would make it tough for Beckman to return. Remember that Ron Zook's teams still made bowls -- and won them -- in his final two years. Recruiting definitely plays a part and Thomas wants to see his hire work out, but there could be too much external pressure for a change.
---

Tom from Fort Worth, Texas, writes:
Hypothetical question or pipe dream, but nonetheless I will ask: Say Rutgers comes into the Big Ten and surprises a few teams and wins more than expected this coming season. Does the perception of the Big Ten go down or does Rutgers gain more respect?
Adam Rittenberg:
Tom, not to dodge your question, but it really depends on what happens around the league. Conference perception really depends on what's happening at the top, not the middle, where Rutgers would presumably be if it surprises some teams. Are the Big Ten's elite teams beating top teams from other leagues in nonconference play or in bowls? Is a Big Ten team reaching the playoff or winning the national title? Those are more important factors. So if Rutgers prevents Michigan State or Ohio State from reaching the playoff, some will say it points to a weak Big Ten. But if the Big Ten performs well in nonleague games and bowls, and if Rutgers happens to finish 8-4 with a nice win or two, it enhances the perception of both the conference and Rutgers.
---

PurdueMan from Chicago writes:
Adam, Mitch Sherman's
Purdue spring wrap
article states that Purdue will win a Big Ten game. I'm not so sure. The team I saw at the spring game was essentially the same team I saw the second half of the season with the exception that the defense did tackle better, but they were playing the Purdue offense, so ... Did you see Purdue's spring game and enough other teams to make a good comparison to how far my Boilers are still behind? I saw a little MSU, not that I expect Purdue to be as good as them, and was reminded at what football can look like.
Adam Rittenberg:
Chin up, PurdueMan. The Boilers will be better in 2014. I watched a practice this spring and take more from those workouts than spring games, which are often misleading and overblown by fans. Don't get me wrong; there are concerns, from depth along the offensive line to linebacker to certain spots in the secondary. Purdue was a mess last season, and it's hard to fix all those problems in one offseason. But I see more cohesion on offense and multiple options at running back (
Raheem Mostert
,
Akeem Hunt
) and wide receiver. The defensive line could be a strength, as tackle
Ra'Zahn Howard
has a chance to be one of the league's surprise players. I also get the sense Purdue had no team chemistry last season. Things have changed. As quarterback
Austin Appleby
told me
, "The guys that aren't all about it are getting suffocated by us. Those guys eliminate themselves."
---
rtXC from Denison, Texas, writes:
After the SEC's "groundbreaking" announcement to
stay at eight conference games
and have each of its teams play one team from the Power 5, would you like to see the other conferences band together and make a stand? Other than certain SEC-ACC rivalries and current contracts for future games, how about the four conferences band together and abstain from scheduling SEC teams in the future?
Adam Rittenberg:
It would be interesting to see this, rtXC, after the current contracts expire. Several playoffs would be competed by then, so we would have a better idea if the SEC's model helped, hurt or didn't impact itself or other leagues. It comes down to how united these other leagues would be in their opposition to the SEC's model. The Pac-12 coaches seem pretty ticked, but I don't know if other leagues would care enough to band together in this way. Maybe if one of their champions is shut out of the playoff in favor of a SEC division runner-up, things would change.
April, 15, 2014
4/15/14
12:00
PM ET
Heading to Hawkeye Country later today. Any recommendations?
April, 11, 2014
4/11/14
3:00
PM ET
Ten Big Ten teams wrap up their spring sessions this weekend with a game, or something resembling one. Our look at each team's spring finale wraps up with the
Purdue Boilermakers
.

When:
1 p.m. ET Saturday
Where:
Ross-Ade Stadium in West Lafayette, Ind.
Tickets:
Admission is free, and free parking is available in the A Lot, F Lot, G Lot, H Lot (upper and lower), R Lot and Z Lot
TV:
Streamed on
BTN2Go.com
Weather forecast:
Mostly sunny, highs in the high 60s and lower 70s, winds between 15-17 mph
What to watch for:
The Boilers will play four 12-minute quarters and could use a running clock in the second half, depending on how many plays are run. Quarterbacks will be live at times during the game. Seniors
drafted the rosters earlier this week
, and quarterback
Danny Etling
went to the Gold team, while quarterback
Austin Appleby
will lead the Black squad. Freshman
David Blough
will call signals for both teams.
Purdue coach Darrell Hazell wants to see more production out of the quarterbacks, who likely will continue to compete well into preseason camp. Etling will face a Black squad secondary featuring several projected starters, including cornerback
Frankie Williams
and safety
Taylor Richards
. Although Etling has
DeAngelo Yancey
, the Boilers' top wideout in 2013, at his disposal, Appleby leads a team featuring wideouts
Danny Anthrop
and
Dan Monteroso
, as well as running back
Raheem Mostert
, the most impressive offensive performer of the spring. The Gold team counters with
Akeem Hunt
at running back.
The Gold squad features several experienced linebackers as well as defensive tackle
Ra'Zahn Howard
, Purdue's top defensive standout this spring. It should be fun for fans to see Howard, who has superstar potential, go against veteran center
Robert Kugler
, drafted No. 1 overall by the seniors.
Purdue cut down on turnovers and other mistakes this spring, and it's important for the team to show its fans that things are getting better, especially on offense.